Thirty-seven TCM readers reveal their favorite camping chairs and one seat is hard to beat. For back support, comfort, and overall build quality, the winner is…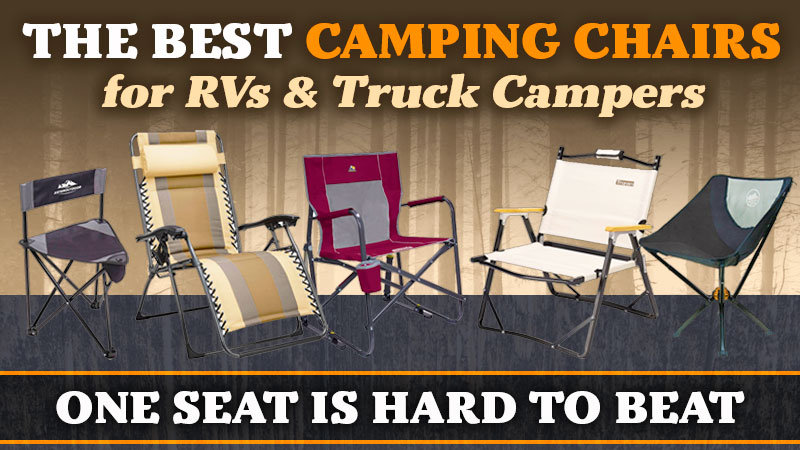 Camping chair comfort is highly subjective, but one specific make and model got more nods than any other.
THE BEST:

Strongback Elite

The Strongback Elite camping chair with its renowned lumbar support ran away with the most votes for the best camping chair.

Although we don't own Strongback Elite chairs ourselves, we can confirm that these offer superior posterior and back support and are built to last. We see Strongback Elite chairs at truck camper gatherings and rallies all the time and their owners rave about them year after year.
RUNNERS UP:


YETI Trailhead
Nemo Stargaze
Timber Ridge Folding Director's Chair
GCI Outdoor Freestyle Rocker

The Strongback took the title, but four other camping chairs earned nearly as many nods; the YETI Trailhead, the Nemo Stargaze, the Timber Ridge Folding Director's Chair, and the GCI Outdoor Freestyle Rocker.

Angela's choice has long been a GCI Outdoor Freestyle Rocker and it's fantastic. If you want a portable camping chair that rocks, this one is hard to beat and has held up beautifully for over five years. I think she's personally talked 27 people into getting one for themselves.

The YETI Trailhead looks to be a serious and direct competitor for the Strongback Elite. We love everything else YETI makes, so why not chairs? Take careful note of the YETI build quality on display in the below results. Lookout Strongback. There's a YETI on your tail.

Here are the results: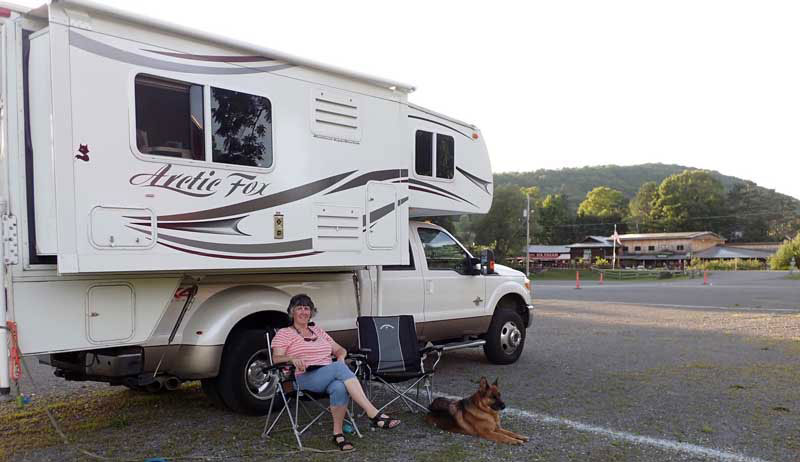 "We absolutely love our Strongback Elite chairs. The Strongback chairs are super comfortable, don't sag, and have great back support. They are very well built and are very stable when you sit in them. They are on the expensive side and are a bit larger and heavier than many other chairs, but are definitely worth it.
We also carry a couple of Helinox chairs. The Helinox chairs are great if you want to take a chair with you when you need to carry it some distance. They pack up very small, are lightweight, and are surprisingly comfortable to sit in. They also provide us with a couple of extra chairs for those times when we have company while out on the road." – Celina and Brett Binns, 2022 Ford F-550, 2014 Arctic Fox 1150
"I am perhaps a little evangelistic, or possibly obsessive about my camping chair. Lots of people have a favorite camp chair, but mine is my favorite chair, period. I use it everywhere.
To find this chair, I went through three brands from retail stores (two returned), four online (all four returned), before finally finding the holy grail of chairs. Overly poetic? I don't think so.
The HGoC (Holy Grail of Chairs) is the ALPS Mountaineering Escape Camp Chair.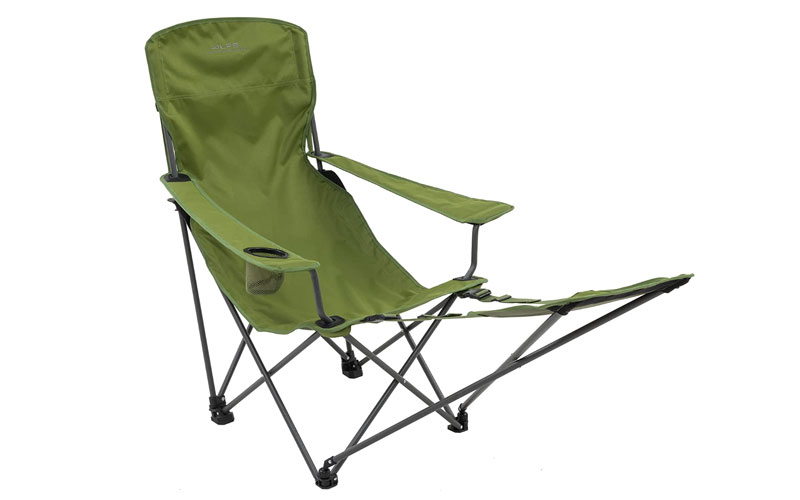 No quest required. Dragons optional.
I like to relax in my chair, so I want a recliner. I've tried the zero gravity things, but they make me feel like my laptop and I are about to be launched. The ones with the zip-on footrests are impossible to get out of. I needed something that was stable, sturdy, and yet takes up minimal space (doesn't everyone?), and this chair ticks all boxes.
It has a single flaw. Mind you this failure came after a solid year of daily heavy use, so I'm not going to complain. The aluminum pin under the footrest is way too fragile, but can easily be replaced with a 1/4-inch bolt once you drill it out. Other than that, the fabric and joints are still perfect.
Totally amazing chair. It's worthy of any knight or damsel taking a break while on their camper quest." – John Johnson, 2000 Ford F-250, 1992 Caribou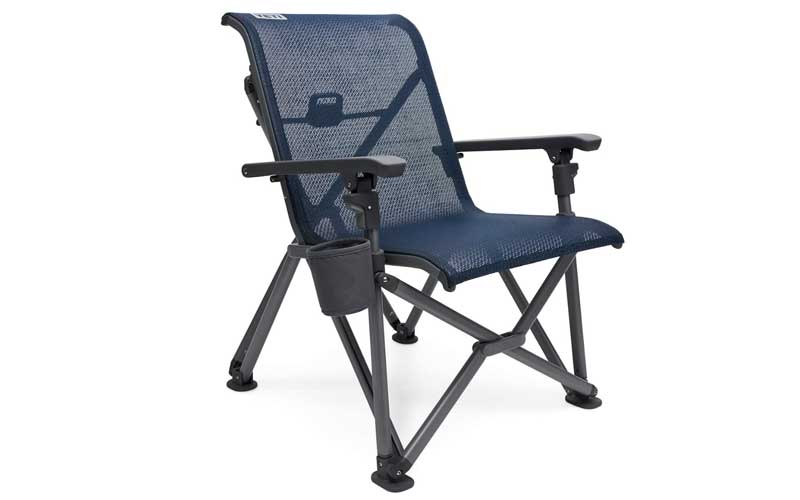 "I like my YETI Trailhead Camp Chair. It's pricey, but you get what you pay for.
I think it's very comfortable. I am 6'4" and 280-pounds and it fits me just fine. This is a very well-built chair. You will be passing this one down to future generations." – Gary Swope, 2008 Toyota Tundra, no camper yet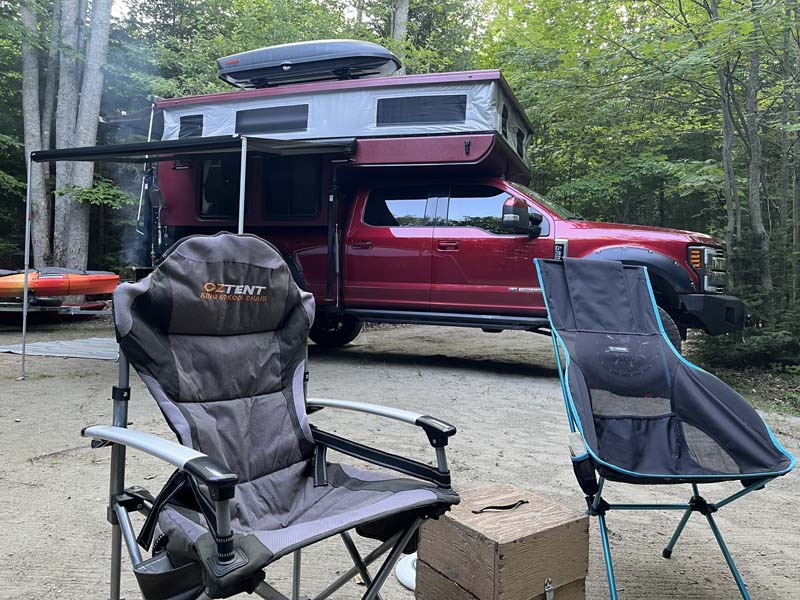 "We have an OZ Tent King Kokoda chair and an Helinox Savannah chair.
Being two completely different body types, 6'5" versus 5'5", we have equally different taste in chairs. Dave prefers the OZ Tent King Kokoda chair because of its sturdy nature that has supported a sizeable frame for going on nine-years. The chair's arm rests are at the appropriate height for a tall man, plus it has adjustable lumbar support for the princesses of the group.
I love the Helinox Savannah chair which packs down to practically nothing and fits seamlessly to my body. The chair has wings which are essentially arm rests. They're there when you need them but don't get in the way when you don't. Since it packs away nicely and dries fast, it is also great for taking to the beach. The coffee table is two washer boxes (East Coast game) connected with hasps." – Andi Dekker, 2019 Ford F-350, 2020 Hallmark Guanella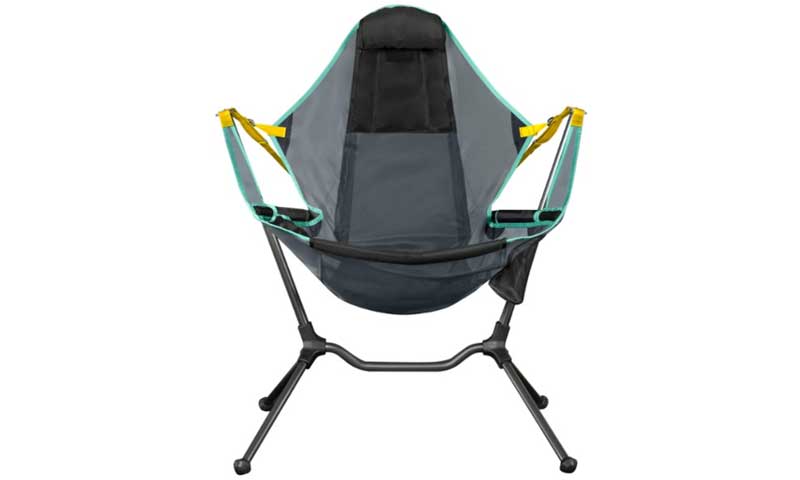 "The Nemo Stargaze recliner camp chair is by far our favorite camping chair, which we purchased at REI, but it can be found at many outdoor recreational retailers.
This is by far the most comfortable and ridiculously expensive portable chair purchase we have ever made. The retail price was $210 when we originally purchased ours, and that price has climbed over the past few years to over $300.
How could it possibly be worth this much, you ask? It is sturdy, well-designed, and has many great features, including the ability to recline (hence the name Stargaze). It has a movable headrest, pockets for both a beverage and phone, and it is very stable.
It took us a minute to navigate the best way to get in and out of the Stargaze but, once mastered, it's a breeze. Assembly also was not initially very intuitive, and even the REI employee couldn't figure it out. The collapsible metal supports for the backrest took more than a little elbow grease to get them into their insertion points, but they're easy now." – Deb Hurlbut, 2017 Ford F-250, Northern Lite 9-6SE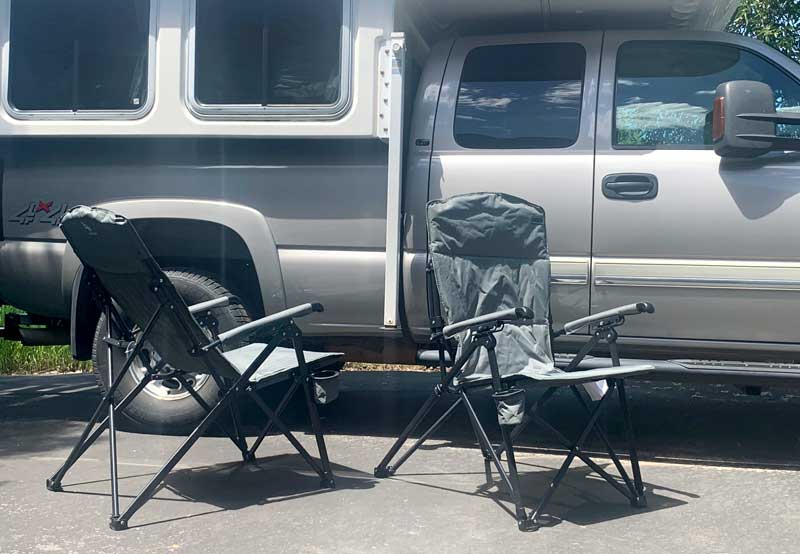 "We have Woods Siesta reclining camp chairs. We got these chairs after a long search. We loved our old chairs, but they were getting embarrassing. The new ones are comfortable, well padded, well built, and easy to set up. They have cup holders and they recline. At $75 per chair they seemed like a good value." – Carl Dunham, 2005 Chevrolet Silverado 2500HD, 2010 Hallmark K2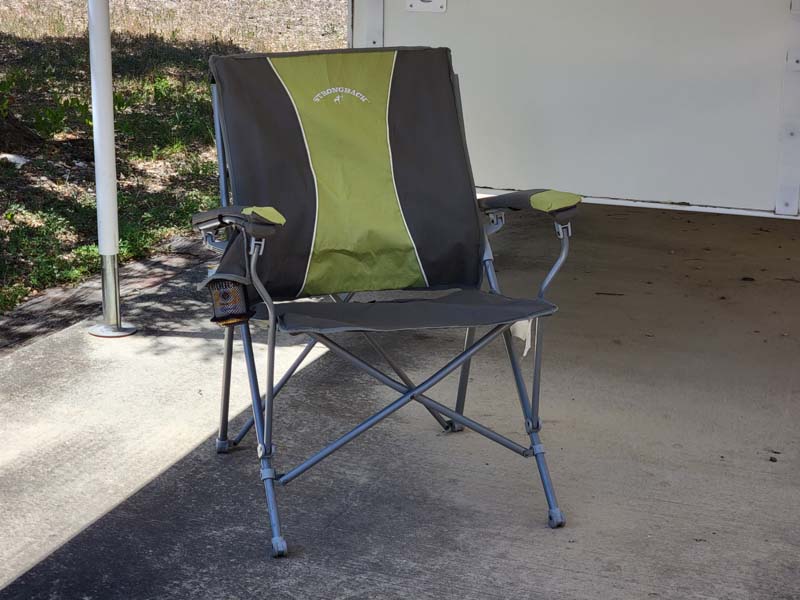 "I purchased a Strongback chair several years ago and it is still in good shape today. I don't know the model of the one that I have, but the available Elite model is very close to the one that I have. You can purchase them with a three-year warranty directly from Strongback, or with a two-year warranty from Amazon.
This is an expensive chair, but it is by far the most comfortable camping chair I have ever sat in. It has excellent back support compared to other chairs I have had which becomes more noticeable the longer I sit in it. The build quality and materials are excellent. It also comes with a very good carry bag that is relatively easy to remove and to get the chair back into." – Eldon Rhodes, 2008 Chevy 3500 HD, 2011 Lance 1050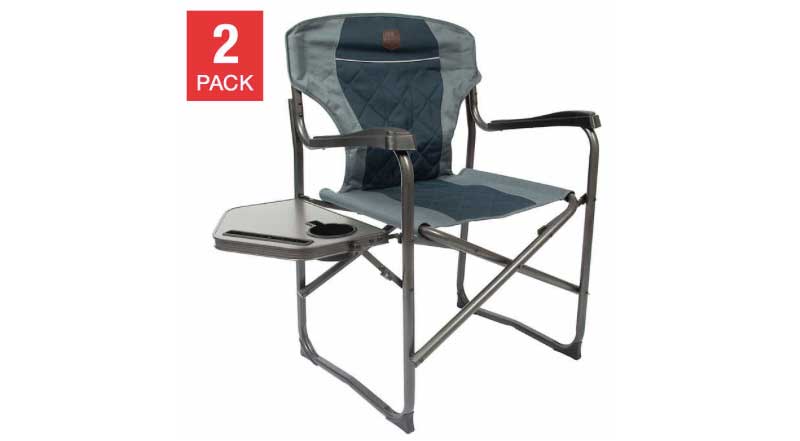 "I have the Timber Ridge Folding Director's Chair. They are available at Costco at the store as a single chair and as a two-pack online.
The Timber Ridge is comfortable and lightweight and well made. The lightweight aluminum frame is both strong and easy to set up, while the durable polyester fabric makes for a comfortable seat that should last a long time. The little table has a drink holder and slot for a phone, tablet, or whatever. They are also easy to fold and unfold." – Donna Grein, 2018 Ram Laramie 3500, 2002 Citation 10'9″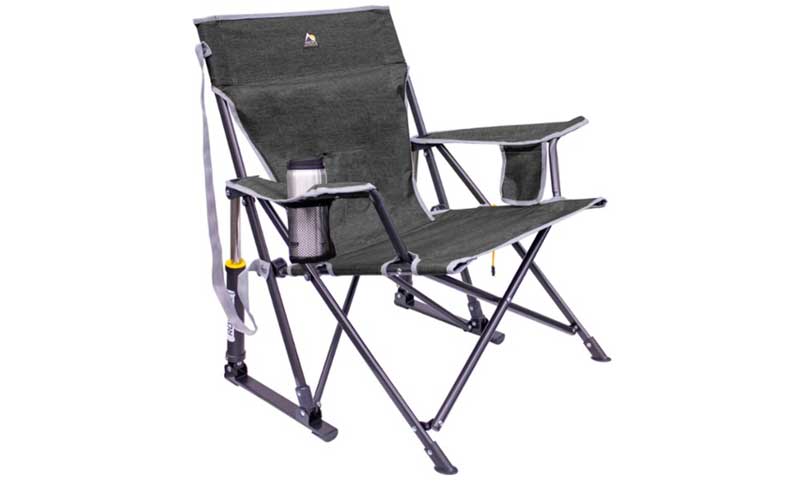 "We decided to upgrade our chairs after I got tired of fixing legs and broken press fittings. Our chairs had definitely outlived themselves. We took time and test drove a bunch of different models and styles. We finally chose the GCI Outdoor Kickback Rocker Chair.
It's comfortable. The rocker allows us to lean back and stare at some of the stars. The cup holder fits most drinkware, and the phone holder is more convenient than I ever imagined. These chairs sit a little lower to the ground, but it works for us. We are on our second season of using them and haven't had any issues or defects." – Jeff Knowles, 2013 Ford F-350, 2019 Lance 975
"I have a GCI Easy Rider. It's a rocker on any soil, well built, and has a lifetime guarantee." – Bob Vandenburgh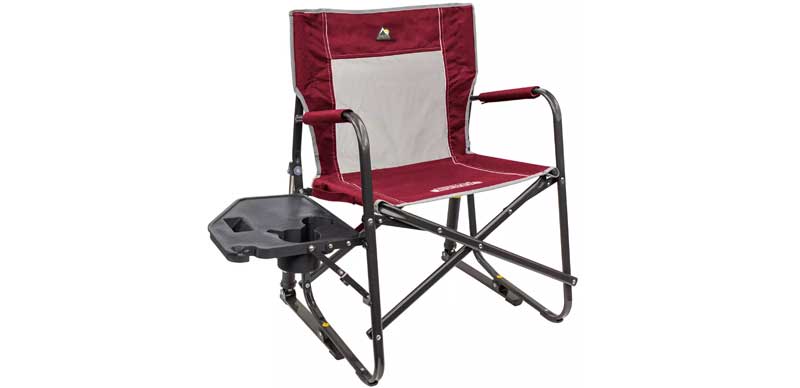 "I love the rocking feature of the GCI Outdoor Freestyle Rocker chair. It's a strong lightweight chair that holds my 200-pound butt without so much as a creak. Never have I ever had to worry about flipping, which is always a plus.
It's compact. Two chairs fit securely on our rear ladder hang. It easily folds and light enough to easily carry to a neighbor's fire ring." – Kenneth Beal, 2008 Chevrolet 2500HD, 2018 Adventurer 89RBS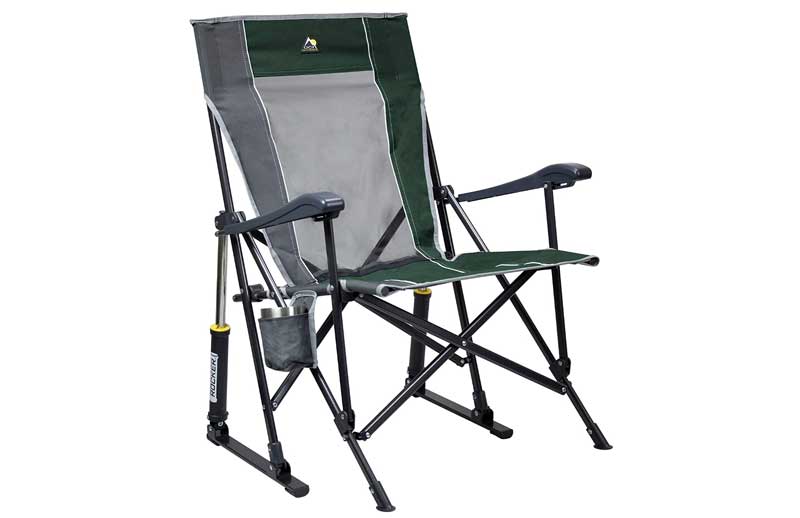 "We have a GCI Outdoor Pod Rocker Collapsible Rocking Chair.
We love these because they rock, have a high back, and fold into a bag that's easy to carry." – Marcia Hopper, 2016 Ram 3500, 2016 Arctic Fox 992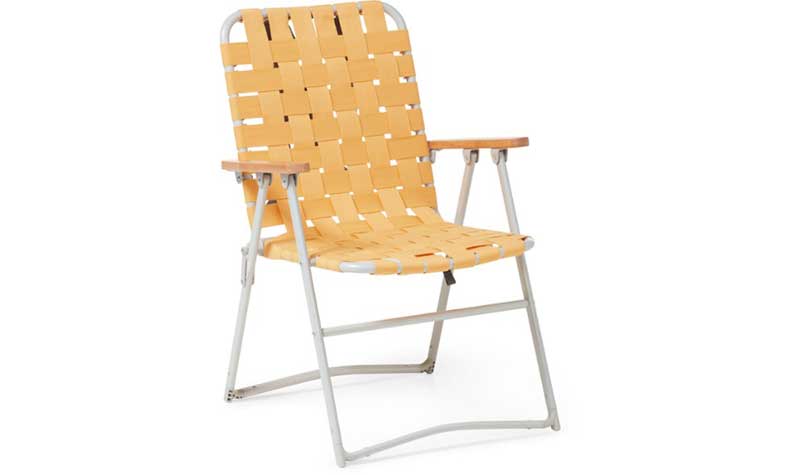 "I have the REI classic folding chair. It is light, folds flat, is comfortable, and durable. It's very stable on the uneven ground even if you are more than 200-pounds. It does not sink into soft ground. It is easy to hose off and dries quickly.
This chair is easy to strap down or throw around. Best of all, it has simple little shoulder straps so that you can throw it on your back and take it for a walk. It can be repaired or rebuilt easily after many years of hard service. It is durable and doesn't need to be thrown away like so many of the nylon chairs when the fabric ages." – Scott Runde, 2020 GMC 3500, Arctic Fox 990 2020
"My chairs are branded Gander Mountain, but similar chairs are sold under different names. The important features are a high-back, lumbar pad, and that they are rocking chairs. They are strong and comfortable, and a little heavier than cheap chairs. I bought them during a two-for-one sale." – Philip Tron, 2009 Chevy 3500, 2012 Lance 1050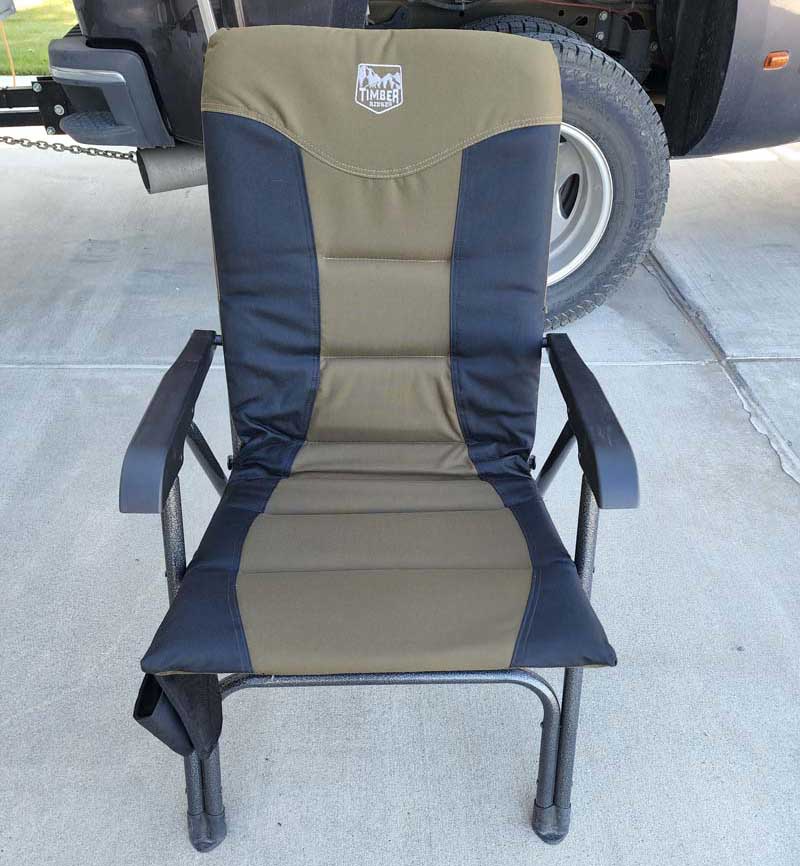 "I have a Timber Ridge portable fully-padded camping folding chair. It has a carry bag and high back, with a lightweight aluminum frame supporting up to 300-pounds.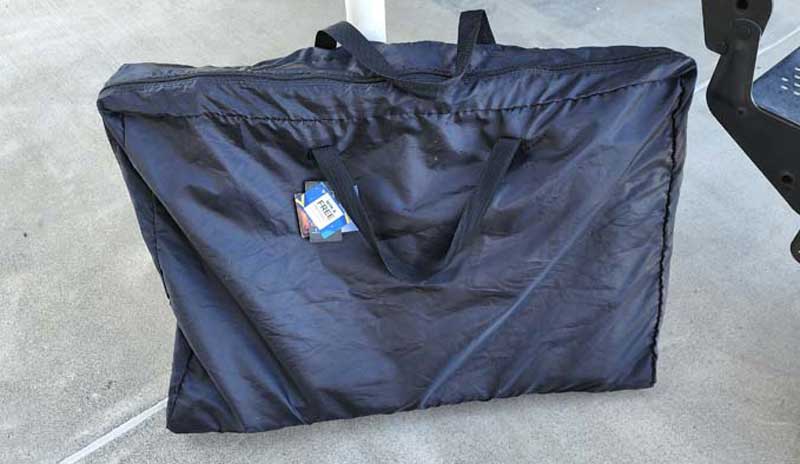 We have tried various camping chairs over the years and definitely the Timber Ridge is the best. We like the padding and high backs and they are really stable as well. We also appreciate that they came with a nice carry bag and, when we're not in camp or when it's raining, they fit nicely on top of the dual wheels, out of sight and dry.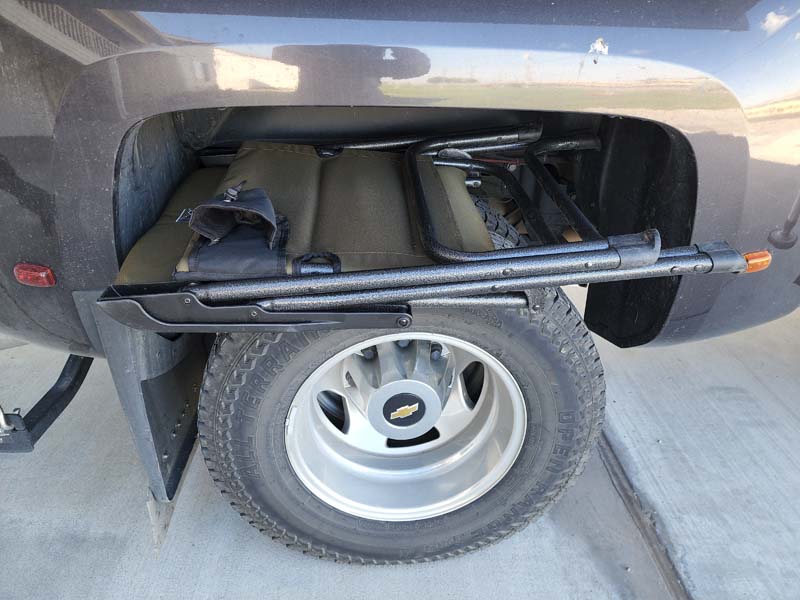 We store them inside the camper when traveling. We also have a second set that we use in the boat when fishing." – Dave Riddle, 2015 Chevrolet 3500 HD, 2017 Host Mammoth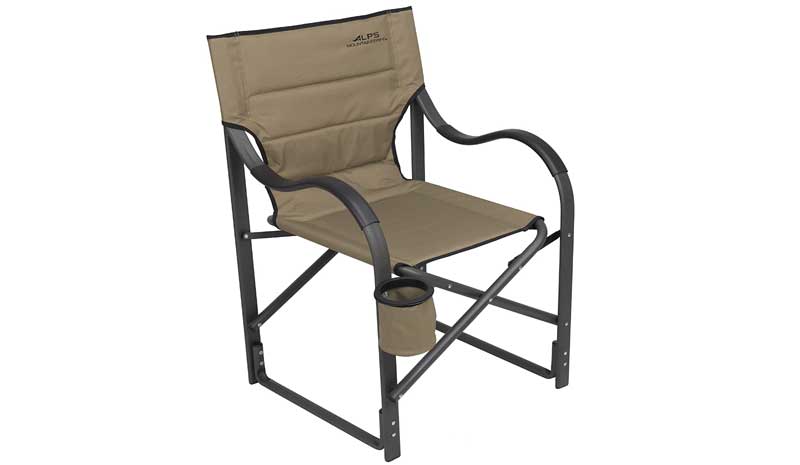 "I have ALPS Mountaineering camp chair that is also sold under the Browning name.
Of the big man chairs, this one actually supports your weight. The bad news is that it's bulky and heavy. The padding on the arms is poor, and the cup holder is in an inconvenient spot.
The good news is that it's very sturdy. I've actually used it as a fishing chair on a boat and it supported my weight fine." – Robert Castle, 2021 Ford F-550, 2021 Arctic Fox 990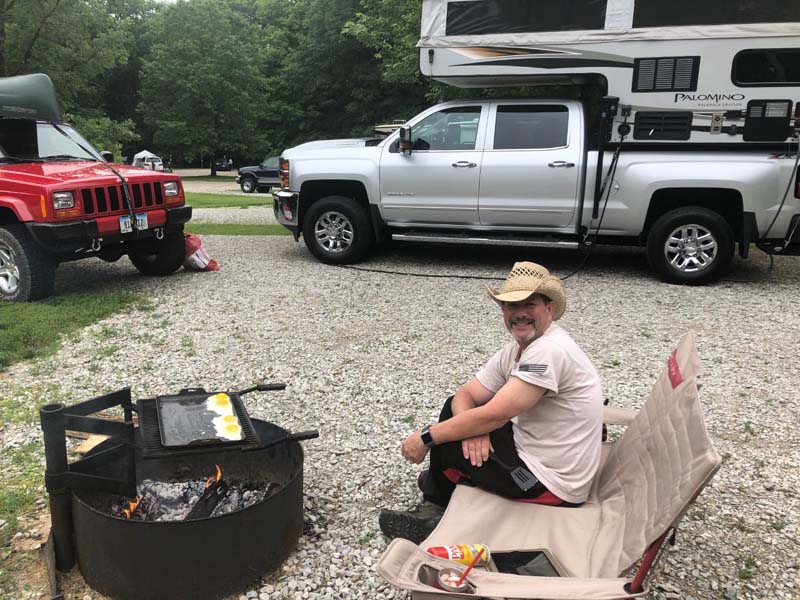 "We love our Kelty Low Loveseat (#61510719). It is durable, comfortable, and perfect for lounging by the campfire with my husband by my side. It has cupholders with two compartments for large and small beverages and a very nice carrier with a shoulder strap. It also works well for soccer and baseball games.
We love ours so much that we have given two as gifts. The recipients love theirs as well. Ours is an older model in beige/red but it's now offered in three colors.
The photo above is from Palisades-Kelpler State Park in Iowa. The Kelty Low Loveseat also is perfect for Bloody Mary's while cooking breakfast." – Dawn Roll, 2018 Chevrolet 3500HD Z71, 2016 Palomino SS-550
"We have Strongback chairs. They have lower back support and strong construction." – Philip Reid, 2016 GMC SIERRA 2500HD, 2016 Four Wheel Camper Grandby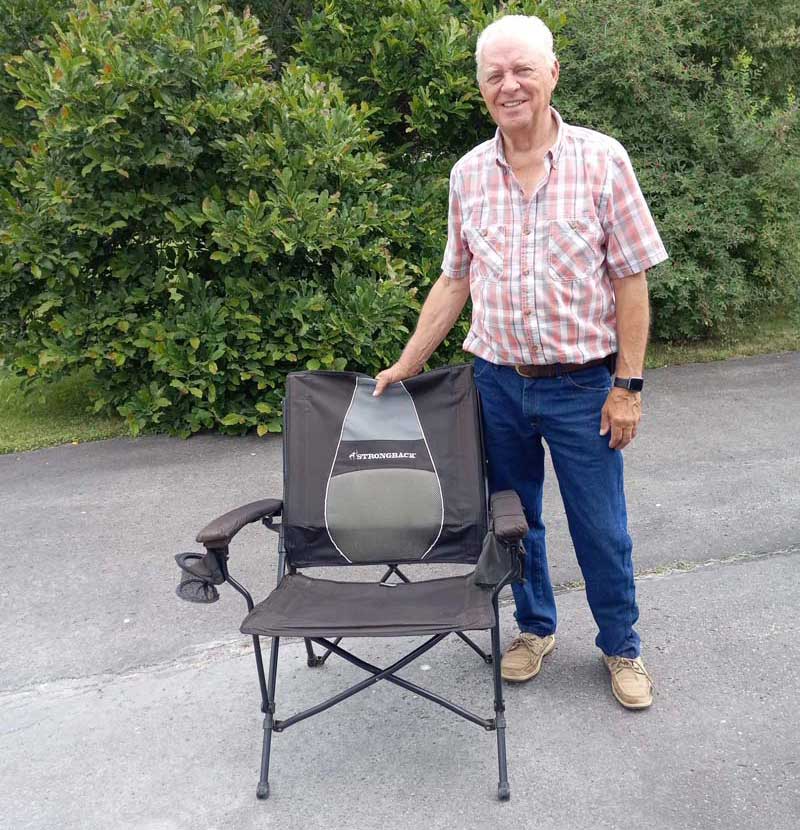 "I have a Strongback Elite camping chair. It's a little pricey but, by the time you come to this chair after ditching the others, it will have paid for itself.
The Strongback is the most comfortable chair to sit in with excellent support and no sag. It is easy to rise out of and comes in a variety of colors. I have been using this chair for six years and nothing has broken or frayed." – Darryl Hyson, 2018 Ford F-350, 2004 Adventurer 810WS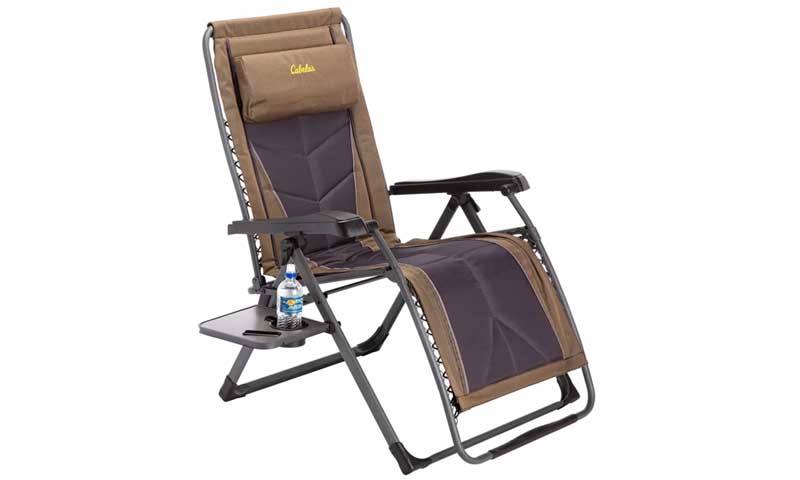 "We have Cabela's Zero Recliners; one wide and one slightly narrower. We also have a Cabela's Zero Recliner love seat. The love seat is fifteen years old and has had no problems. It was available only for two years and stays in our toy hauler.
The Zero Recliners recline back and give support to our feet and legs after a day of hiking. They also have an adjustable neck pillow, and the all-important "liquid" holder for rehydration." – Seigurd Van Der Wall, 2020 Ram 3500, 2017 Wolf Creek 850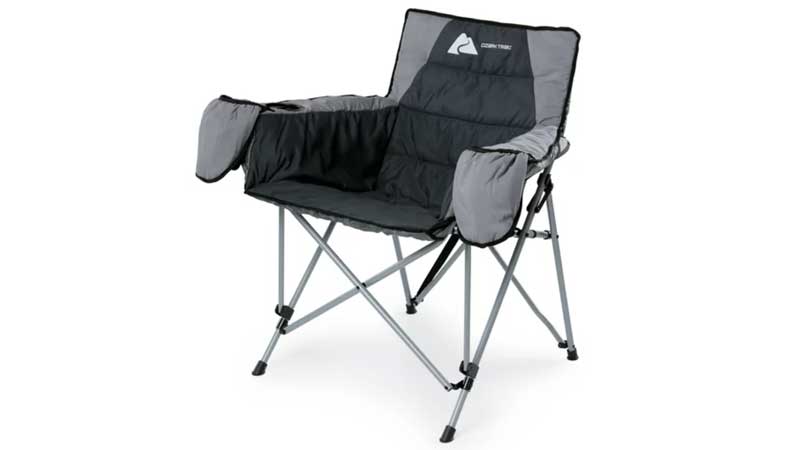 "We love Ozark Trail all-season convertible camp chairs. At one point we owned 16 chairs! We've since whittled down to these for all occasions.
For warm weather, they have webbing on the back. For cooler weather, there are separate insulated covers that fit over the entire chair part with hand-warming insulated pockets. They are comfy all year long. The only thing we would change would be to make the back a bit higher to block the cold wind." – Bob Perry, 2002 Ford F-350, 2021 Northern Lite 10-2 EX CDLE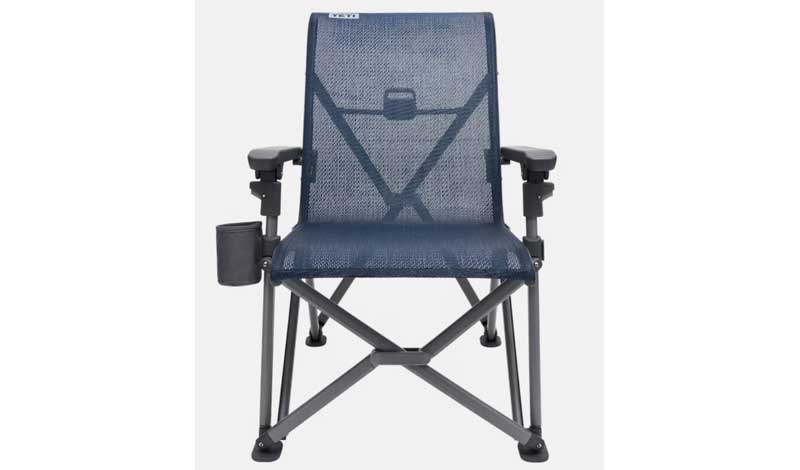 "I recommend the YETI Trailhead camp chair for easy setup and takedown, and for people with back problems. The seat height is perfect. It only came in grey when we purchased it. Having one cup holder pocket suitable for either drinks or a cell phone and keys is its only downside. They really should make an available setup to add a second one.
I also recommend the Nemo Luxury Stargaze chair for those who like to swing, stargaze or sit a bit differently. These are almost so comfortable that if you have somewhere to put your feet you could sleep in it.
The downside is taking it apart and back together again. If you don't follow the marked directions on where to hold it when sitting or getting up, you could fall on your rear. My teen and I love these chairs and sat in them for months when we were moving and got rid of furniture." – Sarah Pickering, 2014 Ram Laramie 1500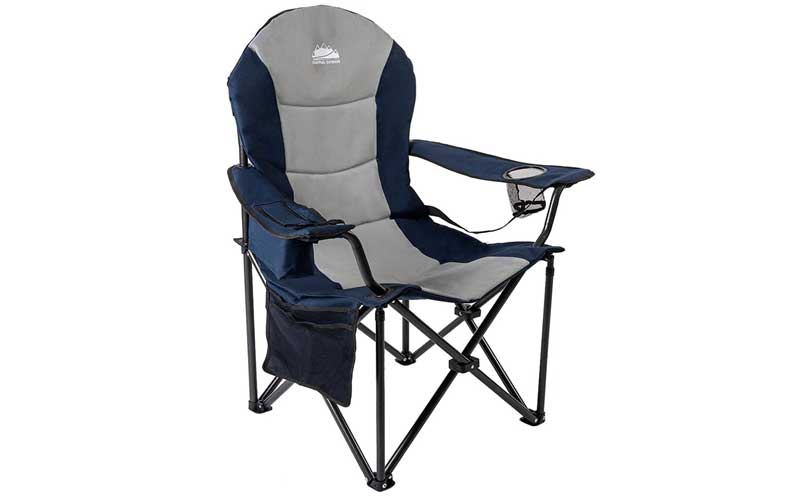 "We have two Coastrail oversized chairs. They fold nicely and fit easily in the rear storage bay of our Lance 1172. At 12-pounds each, they aren't crazy heavy like some others, and are clearly very well built.
The Coastrail chairs are also comfortable, large, have a padded back, and have a seat with lumbar support, which we really appreciate at the end of the day. Also, they have a small armrest cooler, side pocket, and cup holder which comes in handy. At $54.99 each for the grey/blue they're a bargain." – Larry Ford, 2015 GMC 3500HD, 2018 Lance 1172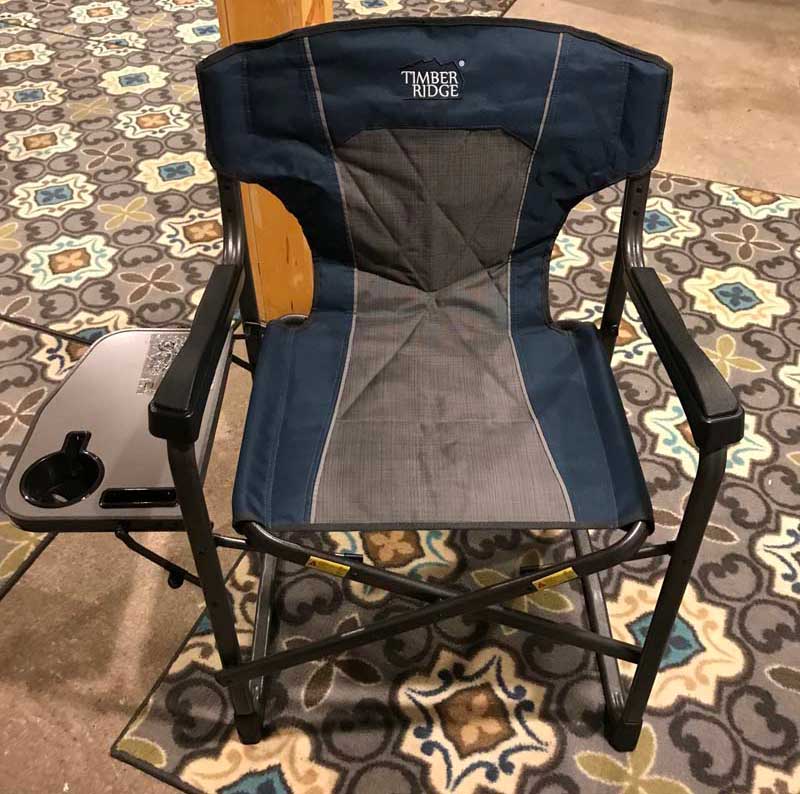 "I have a Timber Ridge chair from Bass Pro Shop. It has great upright support. It's lightweight, sturdy, has a folding side table that stays up, has a coffee cup holder, and a cell phone holder. We like them so much that we have two in our camper and two at home." – Kurt Greening, 2001 Chevrolet 2500HD, 1993 115 Colman Ranger with side door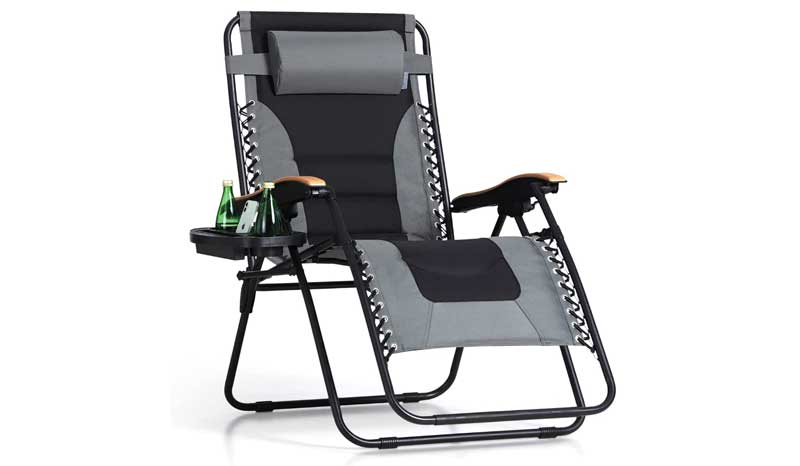 "I have a PHI VILLA Oversize XL, a padded zero-gravity lounge chair with a wide armrest, adjustable recliner, cup holder, and a 400-pound capacity.
It's very comfortable, and it's nice to put your feet up. This chair takes up little space and it's a nice place to take a snooze." – Felix Grygorcewicz, 2021 Ford F-350, 2021 Northern Lite 9.4
"The YETI chair I have seems to have the best back support and is well built. It is expensive, but it's worth it." – Lynn Cleveland, Chevy, Silverado 3500, 2014 Adventure 86SBS
"The red and gray one in your picture is the type we like. We like this chair for the comfort, the ease of getting up out of it, and the fact that it is easy to store. We have three different sets of two. At a group campout, our chairs are always filled first." – Ron Williams, 1997 Ford F-250, 2003 Lance 1010
Editor's Note: The red and grey chair in the graphic is a GCI Outdoor Freestyle Rocker.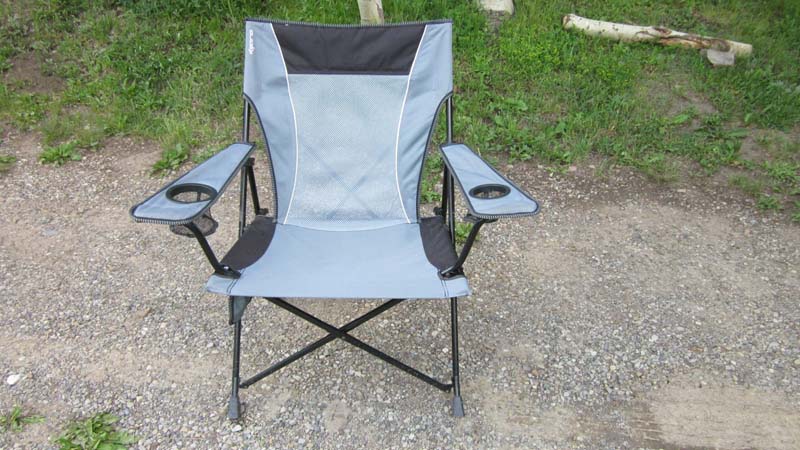 "We have the Kijaro Dual-Lock chairs. We have had these chairs for five or six years. They are definitely the best-built and most durable chairs we have ever owned. They are also very comfortable and sturdy.  You can get it from kijaro.com, Cabela's, or Amazon.
The arms are strong enough that you can use them to help lift yourself out of the chair. Once set up, everything locks in place. Push a button and the chair unlocks to fold up.
There are two different size cup holders (one large enough for a can in a koozie) and a zippered side pouch for phones, cameras, etc. I also like the vented backrest.
They come with storage bags and fold up small enough to store easily. They come in twelve colors. We saw these originally at Cabela's but didn't like the colors they had, so we ordered two off of the Kijaro website. These might be the last chairs we have to buy." – Lee Nelson, 2015 Ford F-350, 2015 Lance 1052
"We have a Harbor Freight folding camp chair. It has a canvas seat and the back is cooler. The right side has a fold-up tray that is perfect for holding a dinner plate. The left side has pockets for anything you want." – Kim Pesko, 2017 Ram 1500, 2019 Palomino 1240
"I have a River Trail aluminum director's camping chair with a side table and cooler. It has a high back, solid seat area, and a side table and built-in cooler for those warm, sit back and relax days." – Gord Jopling, 2015 Ram 2500HD, 2006 Palomino Bronco 1250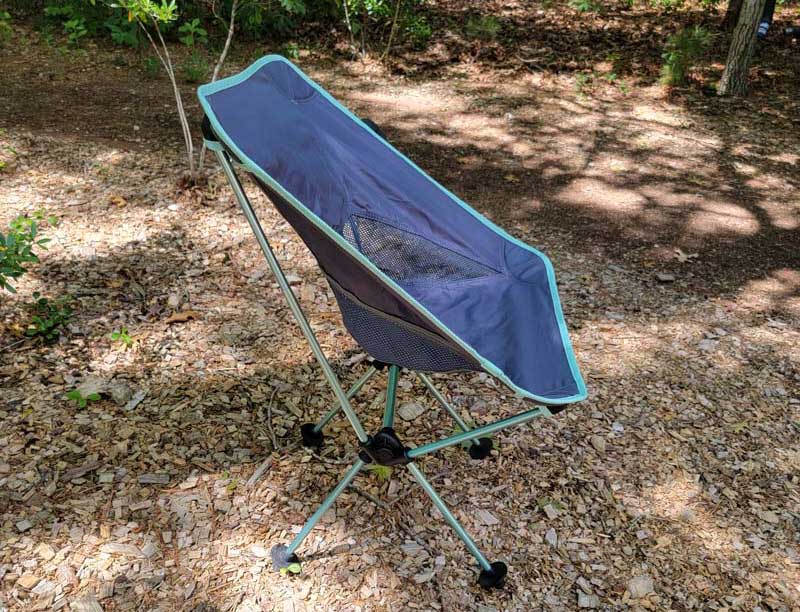 "When we started back into truck camping six years ago, we took along camping chairs that folded up to about seven inches in diameter and 40-inches long.   We quickly realized that they just took up too much room in our regular cab pickup or the basement of our camper.   Space was too much of a premium. I needed a chair that was comfortable, light, sturdy and had a seat height of at least 16-inches.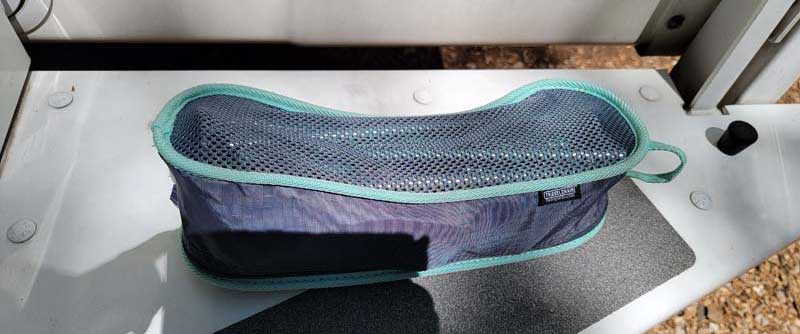 The Joey Travel Chair met all my criteria.  It is 2.5-pounds, comfortable, rated for 300-pounds, and has a seat height of 16-inches.  It also has wide feet for soft surfaces.  We can store three of them in the side compartment of our Northern Lite 10.2 EXCD with no problem.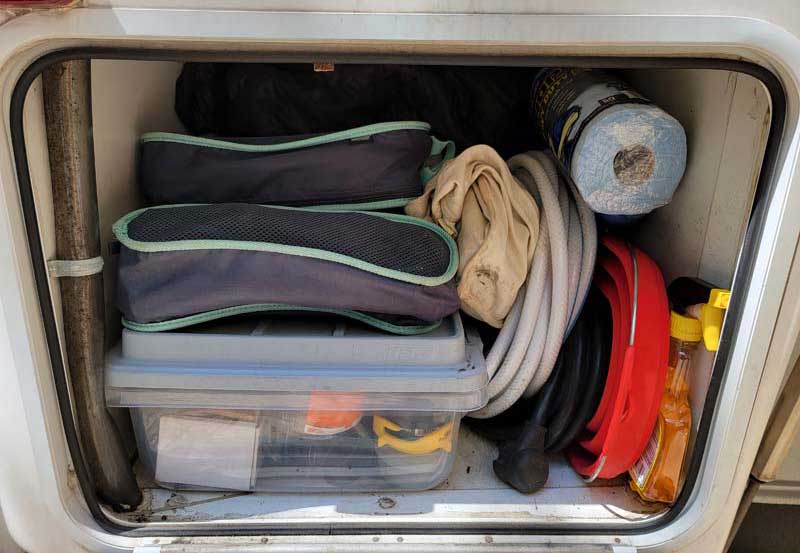 We are on Cape Cod right now and spent several hours in them waiting for and watching the fantastic fireworks on the beach in Falmouth.  After five years of use, they are still in excellent shape with no repairs needed.
Remember to shop around. The prices range from $45 to $70.  They are not cheap, but worth it. We've enjoyed 90,000 miles of truck camping over the last six years." – Mark Harrison, 2005 Dodge Ram 3500, 2017 Northern Lite 10.2 EXCD
"I have two ARB Directors chairs because I prefer to sit straight up. I do not like recliners or slouching chairs. That's why I like the dinette in my trailer. It just needs stiffer cushions. You can get this chair on Amazon.
I do have a pair of Raptor-branded zero-gravity recliners. Zero-gravity seems to be a generic marketing term nowadays. They are comfortable but extremely heavy and bulky, even when folded. It's not truck camper material but okay for a pickup with a Leer top and a trailer." – Charles Hanna, 2003 RAM 2500, Bigfoot 21RB trailer
"I have E-Z UP brand folding chairs. I love them because they fold up and store in their own bags. They are also super strong and stable. They are very comfy for sitting and have a fold-out tray for drinks and a phone." – Mark Robedeau, 2002 Chevy 3500HD, 2021 Arctic Fox 811
"I have a CLIQ chair. The small pack-up size is good, but it's not my favorite." – Gary Blumenthal, 2019 Ford F-150, 2020 Sportz Truck Tent
"I have a Strongback chair. It is the most comfortable with lumbar support." – Daniel Osterhout, 2015 Ram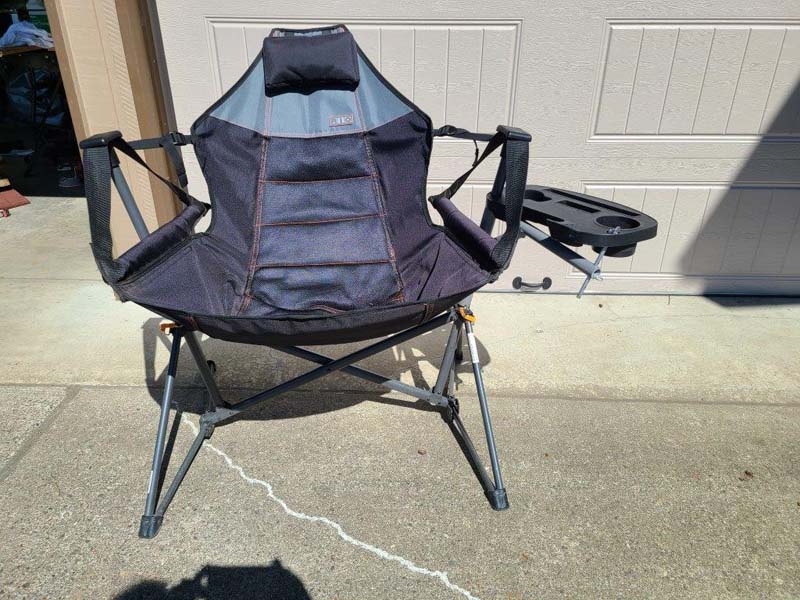 "My favorite chair is the Rio Sling chair.  I like it because it's a rocking chair and it's a sling chair.  The amount of back recline is adjustable.  It has a high back so I can lean my head back.  It's perfect for both campsite use and star gazing. You can adjust the straps to recline a lot. It also comes apart in two parts, so it is easy to store.
What I don't like is that it doesn't have a cup holder, but I recently saw a version of this chair at Costco that does. I don't like the soft pocket style of the holder because I can't put a coffee mug in it.  So I built an accessory out of PVC pipe that slips over the support stand and now I have a great cup holder and I can hold a plate and/or cell phone.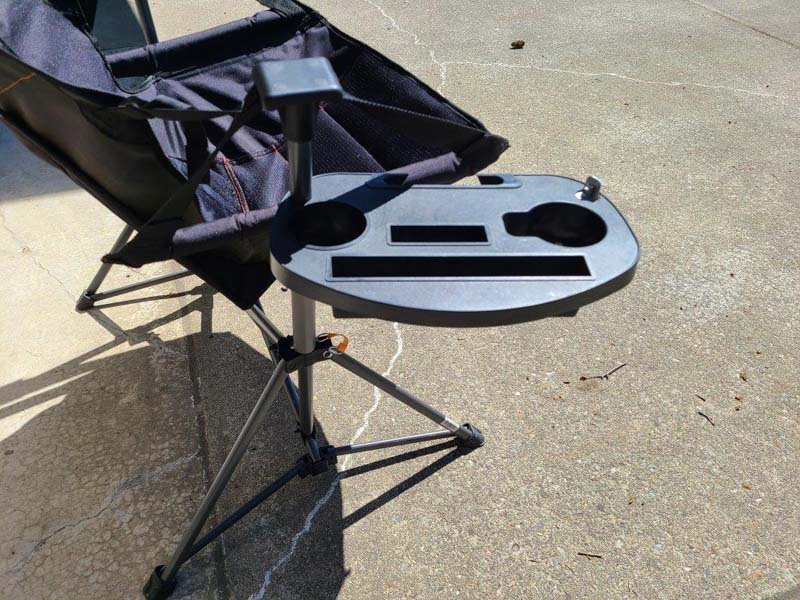 The cup/plate/phone holder is actually something I found on Amazon for camping chairs, but I modified it and adapted it to my PVC pipe accessory.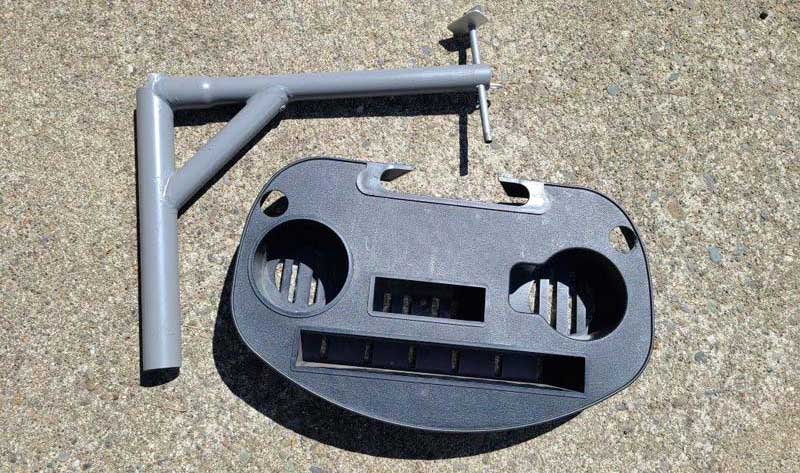 It takes about five extra seconds to put the cup holder on, and the holder must be taken off and separately stored when I break camp, but it's worth it to me to have a chair with a drink/plate/phone holder.  I built it so that I can move the holder to either side of the chair and have some ability to adjust it so it is level." – Steve Osburn, 2019 Ford F-350, 2020 Lance 1172
"I have the Nemo Stargaze. This chair allows users to sit upright or recline. It's super comfortable in camp and takes up minimal space when packed. The downside is initially the price and the setup seeming complicated, but it becomes easy with repetition." – John Bailey, 2017 Ram 3500, 2017 Arctic Fox 1140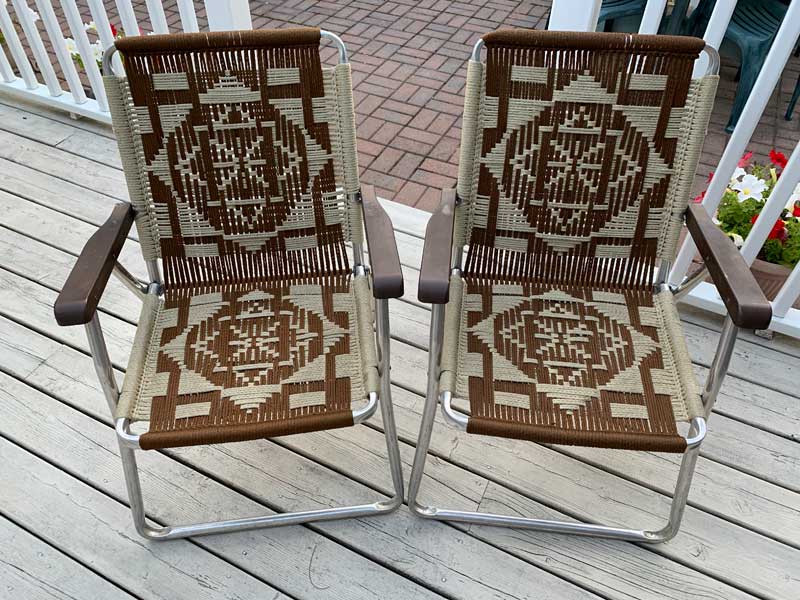 "Our chairs have a story all their own. When we visited friends of ours in Plant City, Florida he mentioned how he attended several yard sales during the winter and would purchase old lawn chairs with good arms and not so good webbing. Remember the 1.5/ 2″ webbing that would deteriorate over time? He would strip it out and purchase Macamara yarn (polyester). By following different weaving patterns, he refilled the frame seat and back and resold them.
We mentioned that we liked them. He has a summer home in Nova Scotia and said that he would be willing to do a pair for us during his trip to Nova Scotia.
We picked our colors, brown and beige, and the pattern. Out came the cross weave, down to the frame of our chairs, and by mid-July we had our new reconditioned chairs.
They have served us well and have been well worth every penny we spent to have them redone. They have traveled many miles, in three different rigs, all truck campers. They also go in our cars for many functions and outings when we are not camping. We find them to be very comfortable with good back support.
We presently carry them behind the passenger's seat strapped in with a belt or in the bunk area if we have passengers. In the winter, they remain in the truck or camper as necessary."  – Lewis and Elaine Turner, Ford F-350, Northern Lite 9-6