After talking to thousands of truck camper owners, I believe more people graduate from a tent to a truck camper than from a motorhome or trailer to a truck camper.  That's certainly true for pop-up truck campers, and would be an interesting poll for the hard side truck camper market.  I bet tents would win.
Do truck camper owners go tent camping?  Or are their tenting days long gone?  It turns out they do, and they don't, with a few twists, turns, frogs, and stormy nights along the way.
This week's Question of the Week was, "Do you bring a tent along with your truck camper?"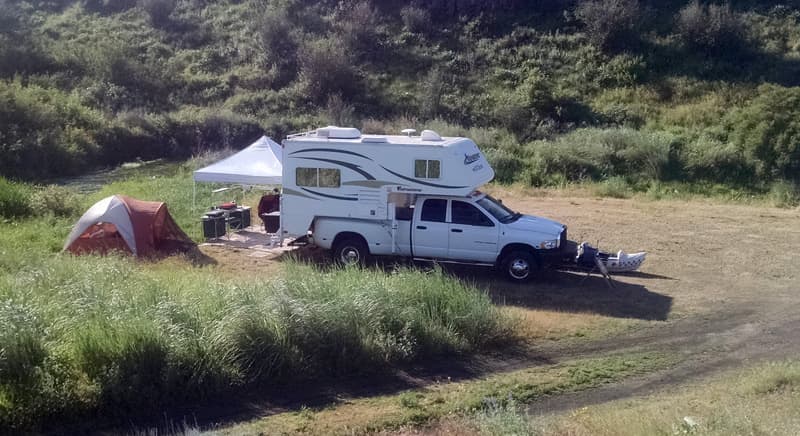 "During the warmer months we bring a tent for our son, Cody.  If we are staying at least a couple nights in one location, he sleeps in the tent next to the camper.  Of course it also depends where we are for the tent to be set up.
He seems to frown upon the idea of using the tent when we winter camp.  I wonder why.
Right now he uses a medium sized Coleman dome tent." – Rich Bain, 2004 Dodge 3500, 2010 Adventurer 810
"While I could still enjoy a backpacking trip here and there, my wife's days of sleeping on the ground are clearly done.  That being the case, I now prefer truck campers." – Bruce Bowens, 2015 Ram 3500, 2017 Eagle Cap 1165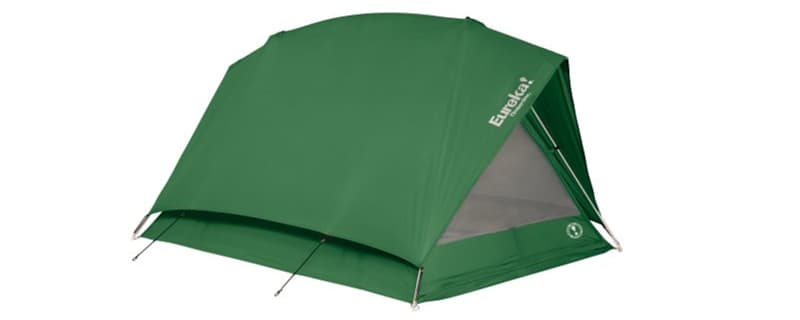 "We carry a four-person Timberline for emergency use if the opening mechanism of our Flip-Pac camper fails.  This has happened to us twice in 20 years.
In addition, having the tent makes it possible to camp in areas that are reserved for tent-only use like Death Valley's Emigrant Springs Campground." – Kurt Herzog, 1997 Chevrolet Cheyenne K1500, 1997 Flip-Pac
"Unless we plan on backpacking into a wilderness area, we do not take a tent.  I'm too old, and the ground is too hard." – Bill Peters, 2017 Chevy Silverado, 2013 Four Wheel Camper Hawk
"We use a 12×12 quality screen tent which we use exclusively in Alaska and the Yukon for outside kicking back.  The mosquitoes in Alaska can carry a 100-pound dog away, so the screen tent is used there for sure.  Here in northern Michigan we don't use it." – Shellie Barnes, 2014 Ford F150, 2017 Palomino SS-550
"Once you arrive at your campsite and plan to stay awhile, it is a big help to have somewhere to stow supplies.  I have a small 5×7 tent that we use as a supply tent.
Things that don't need frequent use are stored there until needed including duffle bags, a dirty clothes bag, extra fishing supplies, extra pillows, etc.  All of these items take up living space in the camper." – Claire Owen, 2005 GMC Sierra, 2015 Lance 865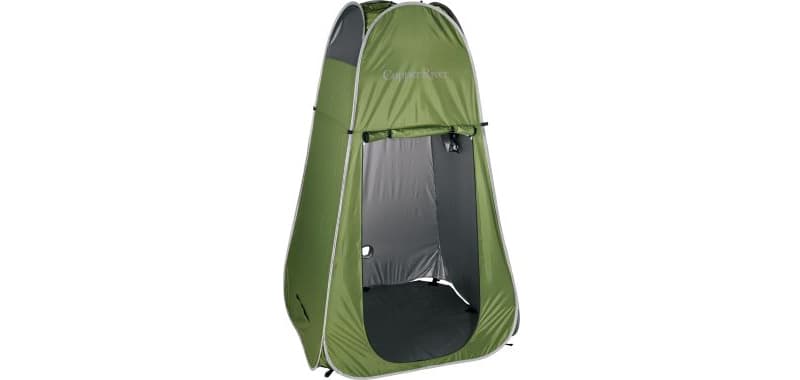 Above: Copper River Fold-a-Privy
"We take two tents in our camper.  The one we use often is our outhouse tent that provides privacy and shelter for taking a shower outside the camper.

Above: Big Agnes Backpacking Tent