After talking to thousands of truck camper owners, I believe more people graduate from a tent to a truck camper than from a motorhome or trailer to a truck camper.  That's certainly true for pop-up truck campers, and would be an interesting poll for the hard side truck camper market.  I bet tents would win.
Do truck camper owners go tent camping?  Or are their tenting days long gone?  It turns out they do, and they don't, with a few twists, turns, frogs, and stormy nights along the way.
This week's Question of the Week was, "Do you bring a tent along with your truck camper?"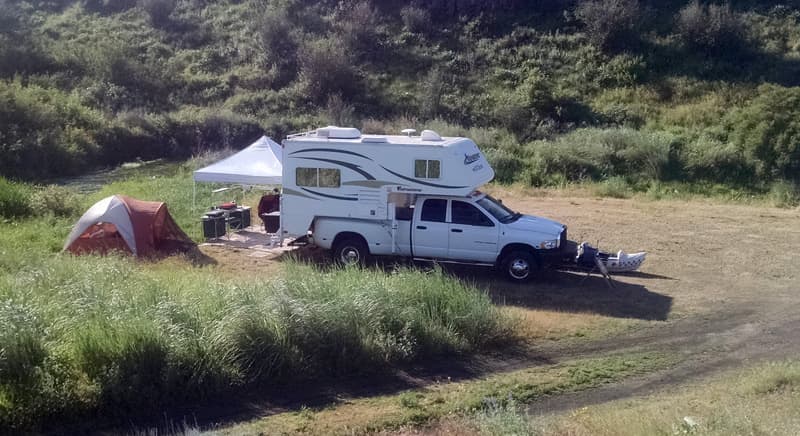 "During the warmer months we bring a tent for our son, Cody.  If we are staying at least a couple nights in one location, he sleeps in the tent next to the camper.  Of course it also depends where we are for the tent to be set up.
He seems to frown upon the idea of using the tent when we winter camp.  I wonder why.
Right now he uses a medium sized Coleman dome tent." – Rich Bain, 2004 Dodge 3500, 2010 Adventurer 810
"While I could still enjoy a backpacking trip here and there, my wife's days of sleeping on the ground are clearly done.  That being the case, I now prefer truck campers." – Bruce Bowens, 2015 Ram 3500, 2017 Eagle Cap 1165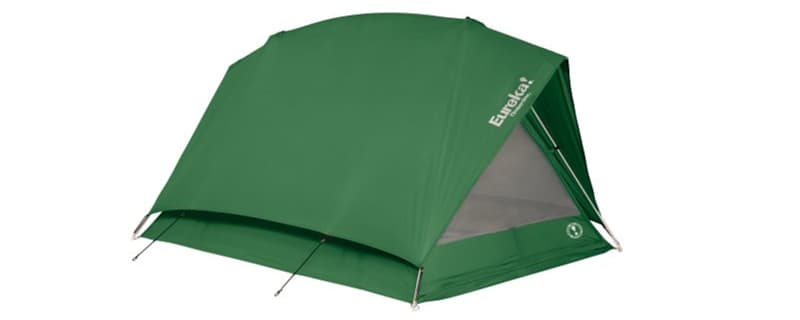 "We carry a four-person Timberline for emergency use if the opening mechanism of our Flip-Pac camper fails.  This has happened to us twice in 20 years.
In addition, having the tent makes it possible to camp in areas that are reserved for tent-only use like Death Valley's Emigrant Springs Campground." – Kurt Herzog, 1997 Chevrolet Cheyenne K1500, 1997 Flip-Pac
"Unless we plan on backpacking into a wilderness area, we do not take a tent.  I'm too old, and the ground is too hard." – Bill Peters, 2017 Chevy Silverado, 2013 Four Wheel Camper Hawk
"We use a 12×12 quality screen tent which we use exclusively in Alaska and the Yukon for outside kicking back.  The mosquitoes in Alaska can carry a 100-pound dog away, so the screen tent is used there for sure.  Here in northern Michigan we don't use it." – Shellie Barnes, 2014 Ford F150, 2017 Palomino SS-550
"Once you arrive at your campsite and plan to stay awhile, it is a big help to have somewhere to stow supplies.  I have a small 5×7 tent that we use as a supply tent.
Things that don't need frequent use are stored there until needed including duffle bags, a dirty clothes bag, extra fishing supplies, extra pillows, etc.  All of these items take up living space in the camper." – Claire Owen, 2005 GMC Sierra, 2015 Lance 865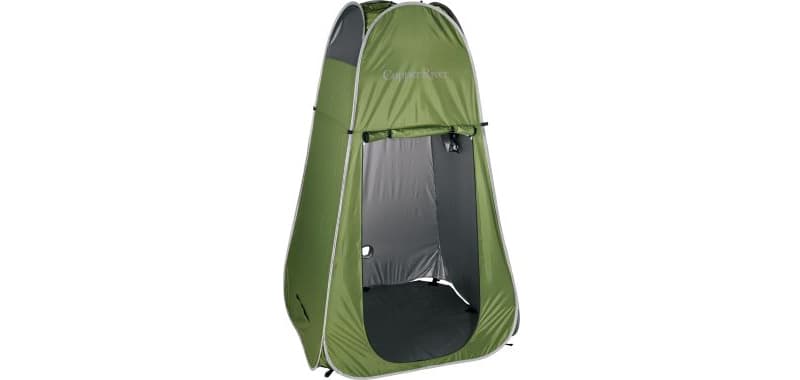 Above: Copper River Fold-a-Privy
"We take two tents in our camper.  The one we use often is our outhouse tent that provides privacy and shelter for taking a shower outside the camper.

Above: Big Agnes Backpacking Tent
The other tent is a backpack version that we use when hiking in wilderness areas too far to walk back to the camper each night." – Laurel Wilson, 2013 Ford F350, 2016 Four Wheel Grandby Shell
"Yes and no.  I always take a dining fly along packed in a stuff sack.  I hardly ever use it.  It gets used as a garage for the quads to keep the dew or rain off them.  Wet quad seats are a PITA, literally.
We started out with a COX tent camper many years ago and graduated to a truck camper.  Tent campers are nice, but a truck camper offers much more weather protection and ease of use.
We aren't trailer people because we primarily camp off-road.  Trailers don't do well in an off-road situation, at least not tent campers with small wheels and low slung axles.
The tent camper was an advance from my years as a Scout and sleeping in a tent on backpack trips.  I spent many a rainy night in a tent getting soaked or sleeping on an errant rock under the tent floor.  It works when you are young (sort of).  When you get older, tenting becomes a chore.
I like to do guided hunts.  We always sleep in tents when spike camping, but they are usually wall tents.  We sleep on cots.  Plus, the tents are heated with wood stoves.  No worries about sleeping on a rock, or getting wet." – Daryl Davis, 1997 Ford F350, 2015 Palomino SS-1500
"We don't carry an actual tent.  We do carry a few tarps we can put up as shade/rain tents." – Ron Pucul, 2016 Ford F350, 2007 Lance 1055
"Last time I went tent camping (many years ago) I was woken up at dawn by a frog jumping on my face.  Now that I am a senior citizen, I like more comfort.  I also like to sleep a bit later.  My tent camping days are behind me." – James Gartner
"I have a 34 year old, 4.5-pound, North Face tent that has served me well.  I take it with me for extra room to store gear, provide shade (with the rain fly) for the dog.  I even sleep in it if the back of the truck is too full of gear." – James Miron, 2016 Toyota Tundra, 2016 Snugtop Sport Highliner

Above: Clam Corporation 9281 Quick-Set Escape Shelter is set up behind the van
"We bring along a Clam outdoors screen tent.  It provides infinite room for cooking outside and keeps pesky bugs away.  It sets up in under a minute (not exaggerating) and packs very easily into a nice tidy bag for easy storage.  It's not for sleeping, but you could with the wind screens on if you wanted to, but why?" – Brian Plourde, 2007 GMC Sierra 2500 HD, 2015 Adventurer 80RB
"The expensive tent and cots now sit on a shelf in the garage.  But, we are still dragging our Cabela's Alaskan Guide Model Gazebo along just in case the weather settles in and we wish to experience the days of old.
We consider the tent our ride out the storm shelter.  Being cooped up in the camper while it's storming for days doesn't sound like fun.  It's better than the tent ordeal of course (been there, done that), but it's still an unpleasant experience.  The gazebo at least allows one to get out in the fresh air and enjoy the storm.
We have yet to use it.  And we're still lugging it around, just in case.  Most likely it will eventually land on the same shelf with the tent, cots, air mattresses, etc." – Mark Bench, 2017 Ford F350, 2017 Hallmark Everest
"A tent is the last thing I want to bring with the truck camper.  I did plenty of tenting in the Army.  Nothing beats a comfortable mattress, bathroom, shower, refrigerator, kitchen, etc.  You just don't find those features in a tent." – George Randall, 2012 Ford F350, 2016 Arctic Fox 865
"Not me!  My adult son brings a tent because the dinette bed really isn't made for a six-foot man.  Besides, he's 20 years old.  His back can still take sleeping on the ground." – John Pysarchyk, 2016 Ford F-350, 2016 Palomino HS-2910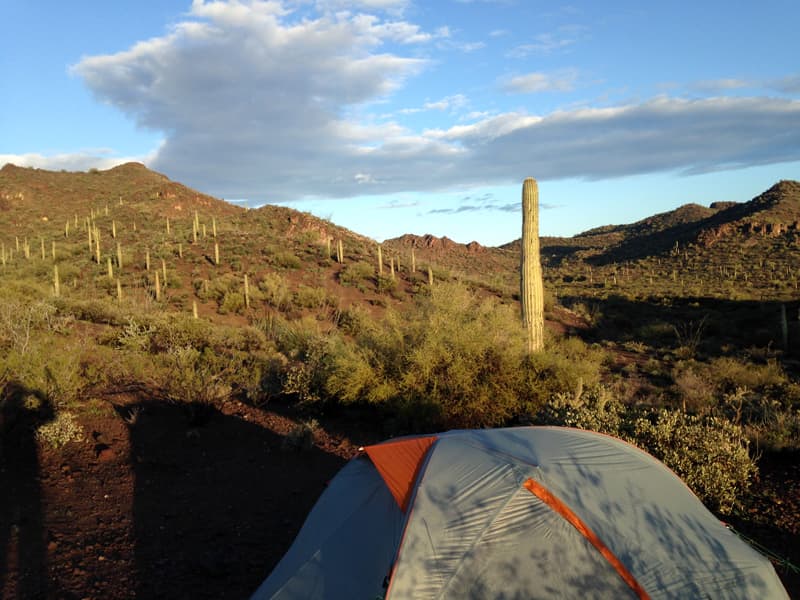 "Kathy and I have always backpacked and tent camped.  Early in our relationship (in our 20s), we would tent camp using my motorcycle to take us into the wild.  Then came a long period of using only a truck camper.  In the last eight years we've moved back to a combination of the two.
Now entering our 60s, most of our truck camping now involves flat towing our Jeep and using the truck camper as a base camp for exploring the southwestern USA.  We'll take the truck camper as far into the outback as possible (for a two-wheel drive, single-slide rig), and then use the Jeep to go to the outer boundaries of wheeled travel.  Then, we'll backpack further into the backcountry.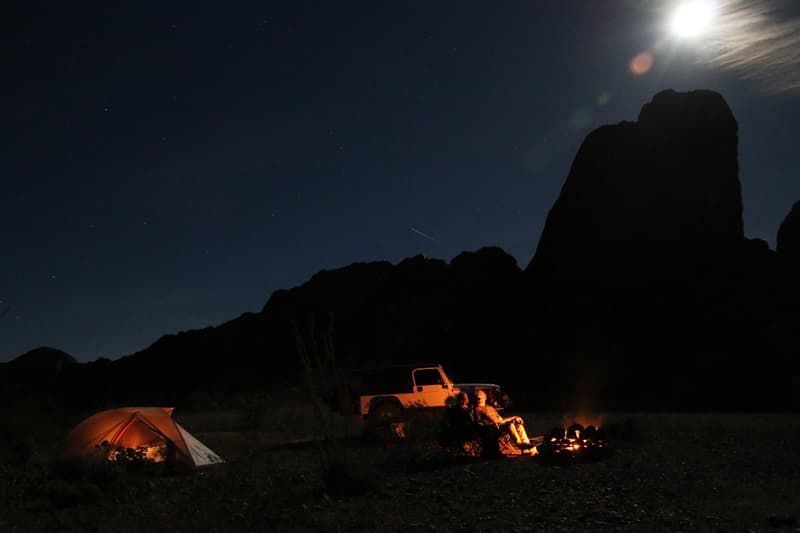 Even if we're not backpacking, we'll keep the tent, camping gear, and two days of food with us in the truck camper/Jeep – just in case we break down or get stuck.  We have a satellite communication device, too." – Bruce Allison, 2000 Ford F350, 2012 Adventurer 910 FBS
"We did when our son was younger and he would bring a friend camping.  Our 920 only sleeps three comfortably.  I still use a tent when I'm off on a motorcycle camping trip." – Mark Obert, 1999 Ford F250SD, 1999 Lance 920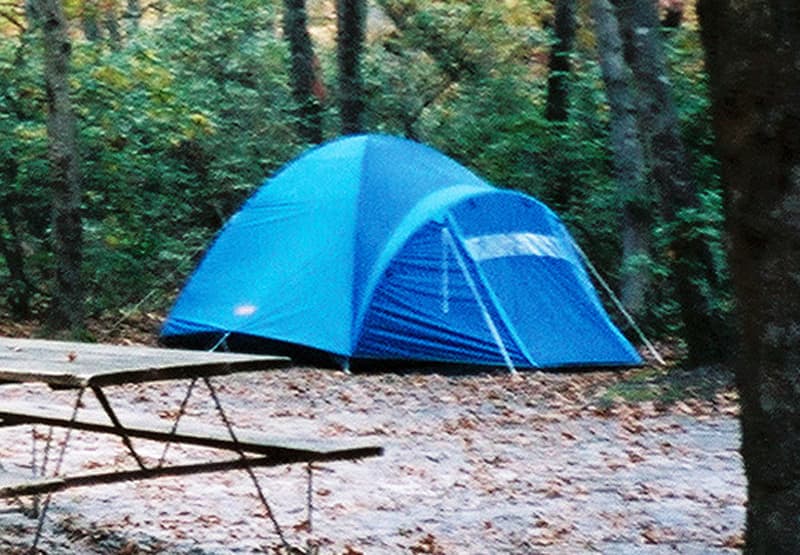 "I use tents for camping at events with a lot of people.  When I started camping again at these events in 2003, I didn't have a tent, but there were extras available.  These tents were two-people pup tents that only fit one person.  The bottom cross zipper was not attached to the bottom of the tent.  One one event we had 6-inches of snow in April.
Needless to say, I bought a tent.  It is a Coleman 7×7 with a rain fly that has a vestibule.  It has served me well since.  It's supposed to fit four, but I have fit two people in it.
The events I go to are usually from fall to spring, meaning October to April, with an occasional summer event.  I have often set up my tent in the snow.  I enjoyed all seasons in a tent, but decided a camper would be more comfortable.  Indeed, it is.
When I got my camper in 2014, I just couldn't leave the tent behind.  It not only felt like I was abandoning part of myself but, what if someone else needed a tent?  And, yes, I did lend my tent to someone who couldn't bring one.  So, now I always take my tent with me." – Marcia Liedigk, GMC Sierra K3500, 1998 Fleetwood Elkhorn
"My fishing buddies and I tented for a number of years.  A few years ago I said, "Enough cold damp mornings".
In our mid to late 60s we wanted more creature comforts so I went out and bought the works.  I got a long bed truck, which allows for a nice size camper for the two of us.  My wife and I also do some short trips as well. No more tenting." – Terry Carlyle, 2016 Chevrolet Silverado 3500, 2016 Northern Lite 9.6 QSE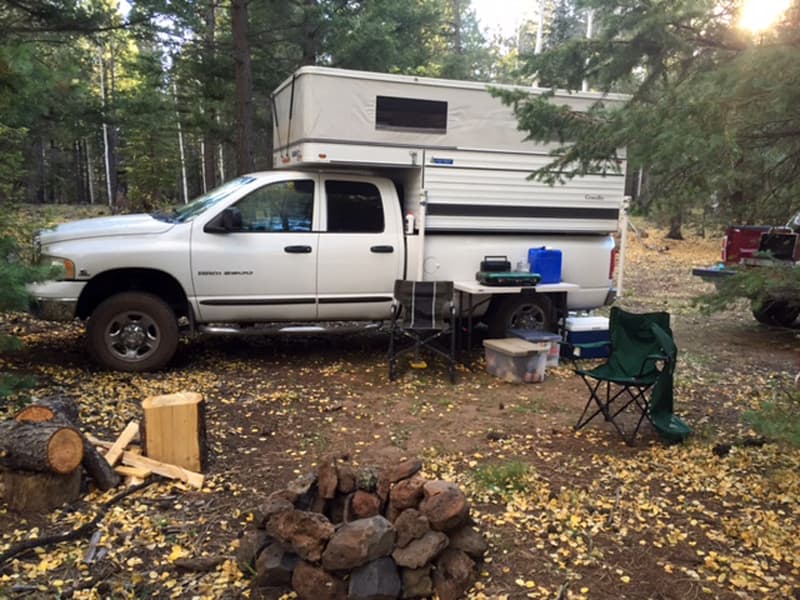 "I no longer use a tent.  I tent camped for close to 50 years.  The last 30 or so included week-long hunts in single digit temperatures and in all kinds of weather.
My choice in a truck camper indicates that I still like to have minimal equipment, but I want to be dry and off the ground in my advancing years.
I still have the stove and heater from my tenting days, but the rest of the stuff has been given to my sons.  I hope it gives them as many years of good use and good memories as it did for me.  I do not regret my decision." – Tom Waters, 2003 Dodge 2500, 2014 Four Wheel Grandby Shell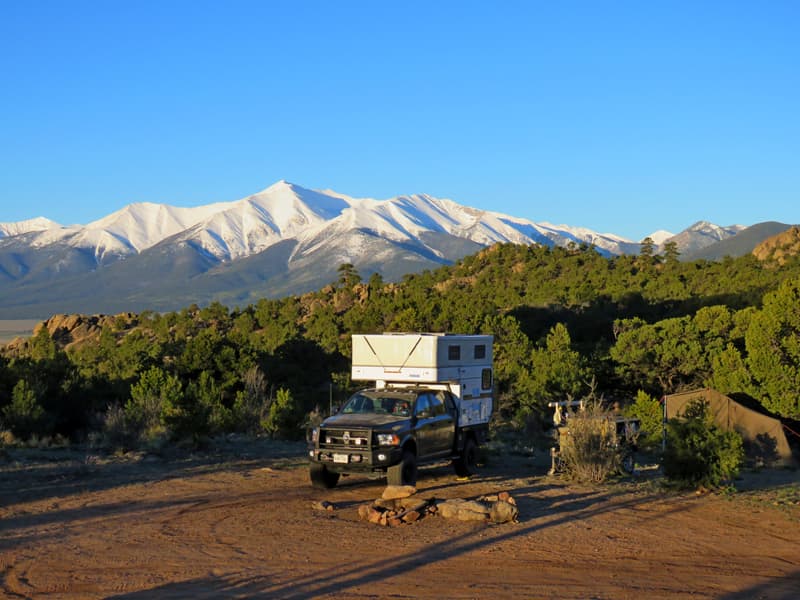 "We bring along an Oz Tent, RV-2 with added sides.  We are long time tent campers.
The previous ten years we've been in a roof top tent mounted on top of a trailer.  We still bring the trailer to haul toys, gear, and supplies (water, fuel, firewood).
The Oz tent goes up quickly and is very weather and wind proof.  We use it as our outside cabin and wind break when the conditions require a little extra shelter to be comfortable.
Above is a recent picture from a trip out west.  It was 23 degrees in the morning with a light breeze.  The tent provided a nice spot to eat dinner and breakfast and enjoy the view with a propane fire pit going in front to provide a little warmth." – Bill Elwell, 2016 Ram 2500, 2016 Four Wheel Camper Flatbed Hawk
"We did all that roughing it when our kids were growing up.  Those were great experiences making memories, but we're not into wet tents and hard ground anymore!  There is nothing like having an electric mattress pad turned on when you climb into bed at night regardless how cold it is!" – Lori Hall, 2010 Ford F250, 2012 Wolf Creek 840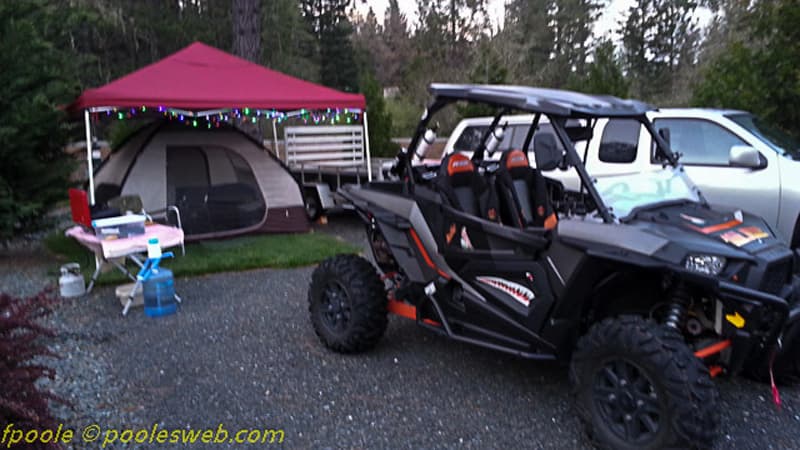 "I used to tent camp when backpacking.  I had a three (actually fit three) person tent for Dive Campouts.  I also had an eight-person tent for RZR rally trips.
The older I got, the mattresses got thinner and the ground got harder.  So upgraded to a Teardrop trailer, and loved it, but couldn't bring the Teardrop and RZR along at the same time.  So, a flatbed truck camper was the answer.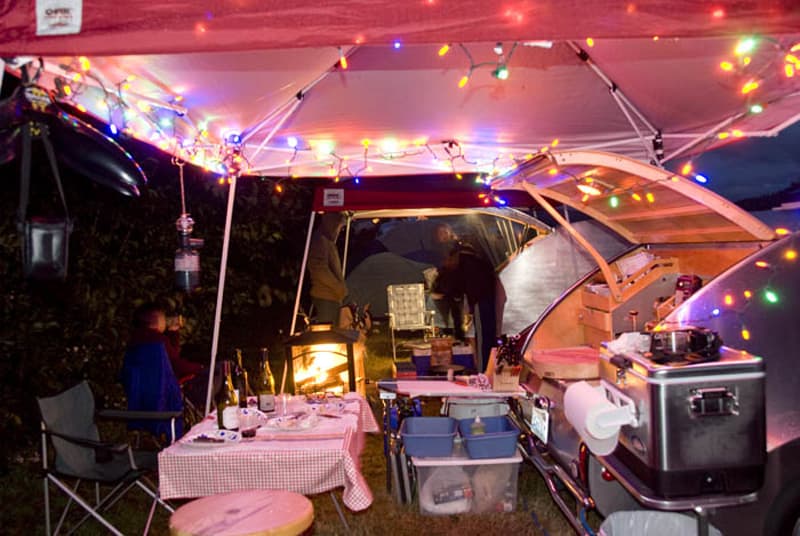 I miss the Teardrop (6+ years), but I don't miss the tents. I'm done with tenting." – Frank Poole, 2016 Ram 5500 HD, 2016 Arctic Fox 990
"I spent many years tent camping in my youth, and then with the kids and my spouse.  Once the family grew up and I found myself alone, I started to wander northern Maine using the back of my pickup like an off-ground tent.
Finally, I stumbled on this one owner, barely used Shadow Cruiser and I was hooked.  It is nice being off the ground.  And it's certainly drier and warmer!" – Bill Lenz, 2014 Ford F150, 1992 Shadow Cruiser with modern upgrades
"We do not use a tent.  There is just the two of us.  However, that's subject to change as the grandkids multiply.  Stay tuned." – Greg Ruebusch, 2001 Chevrolet Silverado 2500, 2015 Northern Lite 8.10

"We very rarely bring a tent.  We did one time when my daughter and her husband moved back to Montana.  We took the tent so her and her husband would have a place to sleep – a Eureka 3-Season, three-person model.
But, there are grizzly and black bears where we went in the Beartooth Mountains.  I am not sure if it was the bears that actually spooked her or just the name of this particular range, but needless to say my daughter and her husband took my cabover bed, mother slept on the dinette, and I wound up in the tent.
The night was very pleasant.  I brought along an air mattress, so I slept like a baby.
I still use the tent when I go on my motorcycle rides along with the air mattress.  So my tent camping days are not behind me, but I enjoy my truck camper very much.  I would say, "once a tent camper always a tent camper" is true." – Wayne Erhart, 2002 Dodge Ram 2500, 2017 Northstar 950SC
"My wife and I were die-hard tent campers and would stay in the camper only when the weather was bad.  As we moved into our mid to late sixties, we found that the ground seemed to be getting harder!
The nice soft bed in our camper has won us over and now we leave the tent home.  It is also nice to spend more days hiking and exploring because we can park and set up the camper in less than ten minutes.  Setting up a tent took much longer.
We still tent camp on our kayak trips, but our truck camper has won us over for road trips." – Jim Holland, 1995 Chevy K1500, 2010 Hallmark Milner
"No, we don't use the truck camper for staging a backpacking trip.  And tent camping is not always synonymous with backpacking.
We do not backpack any more because my wife comes from a family line with lower spine problems, and that is one of the reasons we gave up backpacking decades ago.  But do we tent camp?  Yes.
We have a 38 foot fifth-wheel trailer, a truck camper, and three tents.  The largest of the tents is a four room unit for group camping.  Others in our excursion nicknamed our tent The Taj Mahal.
Our smallest tent was bought for a ten day kayak trip down the wild and scenic part of the Missouri River.  The only way we could have used the truck camper for those nights would have been to have it helicoptered in.  There was not a road closer than twenty miles away.
We have boondocked in both our truck camper and fifth wheel for up to six months without a hookup.  For traveling, the truck camper is the way to go in our opinion.  But it is not our exclusive means of recreation.
With the invention of self inflating air mattresses (it helps to add a little extra air pressure yourself) sleeping on the ground remains practical. Those are better than an eight inch thick standard air mattress, so we are not limited to only one way to go.
We do stage extensive hiking trips from the truck camper.  We are happiest in our truck camper, but we are not truck camper snobs." – Michael Turner, 2007 Ram 3500, 1988 Rebuilt Lance
"Nope!  We don't even consider tenting as an option." – Buzz and Sherri Merchlewitz, 1998 Dodge Ram 2500, 2015 Hallmark Ute
"No.  The last time I tent camped it got down to 20°F.  Luckily a friend was camping nearby with his trailer and I ended up sleeping on his floor along with several other tent camping friends.  Although truck camping is considerably more expensive than tent camping, I actually go camping now!" – Randy Brewer, 2001 Ford F150, 2016 Capri Retreat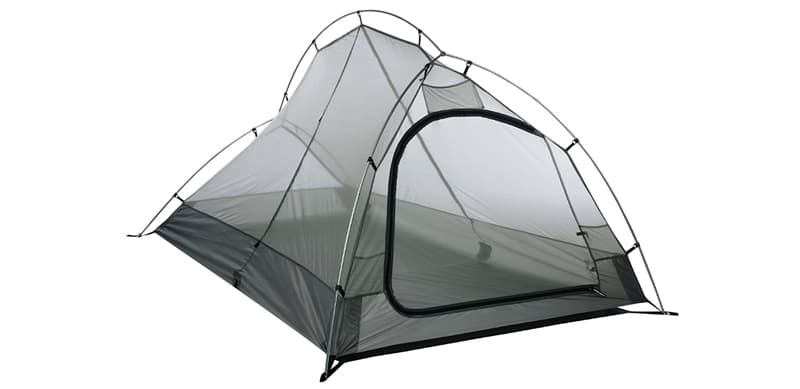 "I do extensive multi-day backpacking trips!  I carry a Big Agnes Seedhouse ultralight tent which is a great tent.  I have used for approximately 12 years!" – Ray Stallings, 2010 GMC Sierra 2500 HD, Travel Lite 890SBRX
"No tents for me!  In 1981 I had a two-person orange pup tent and used it for many years on countless camping excursions.  One rainy evening the ground was soaked like a moat around the tent and the humidity inside the tent seemed to suffocate me.  Never again would I sleep in it.
On a subsequent two week trip, I rented the pop-up tent trailer, and the constant rain made everything damp and began to smell moldy.  Then I tried a small pickup truck with canopy and a couple of mattresses.  It was not the most comfortable, but at least I was dry and off the ground.
In 1981 I made the wonderful transition to a full-size truck and camper with all the amenities of a home.  Then, I upgraded the truck and camper in 1997, 2013, and 2015." – Vic Smith, 2015 Ford F350, 2013 Adventurer 89RB
"Sometimes we bring a small tent.  If we're going to be leaving campground during the day, it looks like we're still there.  It's for our chairs, etc.  The tent also helps if you have wood for a fire at night because that wood will disappear if the site looks abandoned.  We have learned this from experience." – Joseph Tamulevicius, 2017 Chevy Silverado 2500HD, 2016 Palomino SS-1240
"Nope.  If we have guests, they can pick a couch in the camper.  No more tenting for us.  Too much gear to get ready.  With a camper there's no three days of packing and three days of unpacking.  Plus the potty and refrigerator are really nice to have along." – Lois Zell, 2005 Ford F350, 2010 Lance 1040
"No, I don't tent camp.  I tent camped once as an adult/family man, and that was enough for me.  Too much work.  I like the appliances already in the camper and not having to load, unload, set up, put away, reload, unload at home, restore in the garage, etc.  Just put food and clothes in the camper and go." – Ron Williams, 1997 Ford F250, 2003 Lance 1010
"We plan on bringing a tent with us when one of our grown sons goes with us with his significant other.
We still tent camp.  Last year we flew from Virginia to Death Valley and were able to pack all our camping gear into two checked pieces of luggage.  We rented a SUV and had a blast exploring the Super Bloom there.
We are planning another adventure soon.  Since we both work, we just can't afford the time it would take to drive out and back to some of the places we want to go." – Eddie Fort, 2016 Ford F350, 2016 Hallmark Everest
"No tent.  Our last one was a canvas Eureka Space 12.  It weighed 100 pounds, and took up a lot of space.  We're too old and worn out to even put up a tent any more." – Philip Tron, 2009 Chevy 3500, 2012 Lance 1050
"No, there's no need.  I have graduated from that." – Harvey Melcher, 2002 Chevy 2500, Lance 1050
"We started out as tenters.  As you said, the ground seems to get harder with each passing year.  We moved up to one of the smallest pop-ups made.  Only one side pulled out.  When folded up, it was so small that most gear had to ride in the bed of the truck leaving no space for toys and no way to trailer them.
After a couple of years with that set up, we decided that a truck camper would offer the same basic layout and enable us to pull a trailer as well.  We did carry a tent for company for a while, but have since stopped.  If visitors wish to stay over, they have to fend for themselves." – Scott Johnson, 2014 Ram 2500, 2014 Camp Craft Lighthouse 8.0
"No, but we still tent camp once a year during our Family Camp event.  We rent the group campsite at Minnesota State Parks every year and invite all of our extended family.  Sometimes there are camping trailers, but mostly everyone is in a tent.
We also tent when visiting the BWCA (Boundary Waters Canoe Area Wilderness) every year for the brothers' outing." – Ben Hansen, 2006 Ford F350, 2005 Lance 981 Max
"In 1959, my mom, dad, and five kids ages 9 months to 20 years loaded up the 1957 Buick with two tents and set out for California from Pennsylvania.  We had never traveled before.  My parents, thinking it would never happen again, took a month to do the trip.
Since then, my family has owned a 1963 Reliart pop-up, 1967 10.5-foot Del-Ray truck camper, and 1975 Corsair travel trailer.
In 1976, I got married.  My wife came from a camping family.  For our honeymoon we went to New Hampshire in the truck camper.  Oh I failed to mention we were married January 3rd and left on the 4th for New Hampshire.  It was 26 below one night.
We are still married and, five fifth wheels later, I still carry one of the tents with me in a compartment.  I guess it's a keepsake." – C.S. Mobley, 2016 Ram 3500
"I bring along a Walmart 10×12 easy pop-up tent for the grandkids.  We have a Jeep, so we also do extreme off-road camping!" – Vickie Welch, 2016 Dodge 2500, 2016 Lance 850
"No way.  I tent camped for years.  Now that I'm in my 60s those days are long gone.  Call me a wimp, but I bought a truck camper so I could continue to camp with more creature comforts." – Bob Padgett, 2011 Chevy 3500, 2011 Lance 992
"Most of us started in tents in the Boy Scouts, then US Army, and even a few years afterwards.  But then we matured and figured out there was a better way than sleeping on the ground and being at the mercy of the weather.
Deb and I took tents for our kids when they were young to camp beside us.  We were prepared to have everyone invade the camper when the weather went bad.
Now the kids have grown up and are out.  Now we can camp in very hot and very cold weather in our truck camper.  Tents are great.  Truck campers are better." – Fred Patterson, 2013 Ford F350 SD, 2002 Lance 1161
"We bring a tent with us when we go up to Canada for an extended (10 to 14 days) kayaking trip in Quetico Provincial Park.  It's less crowded than the American side of the Boundary Waters Canoe Area and doesn't have designated campsites.
We still love tent camping in wilderness areas.  A truck camper and a kayak helps us get to those places without carrying everything on our backs!" – Nancy McKibbin, 2009 Ford F250, 2006 Northstar 850SC
"Never tent camped and never will." – Mark McVicker, 2005 Ford F250, 2014 Camp-Lite 11S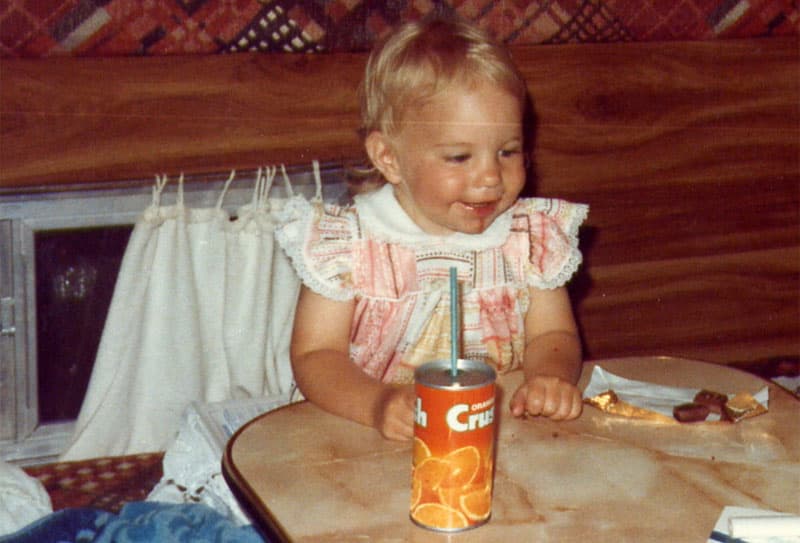 Above: Melissa camping as a kid in a 1980 Okanagan Camper
"My story is a little different.  I practically grew up in a 1980 Okanagan camper.  My parents got it when I was only a few months old and my first camping trip was when I was six months old.
The camper had sliding doors across the bunk and my parents didn't close them enough.  I rolled out in the middle of the night, bounced off the bench/step and was on the floor in the absolute pitch black.
My dad didn't want to get out of bed for fear of stepping on me, so he tried to find me by reaching down (from the table-turned-bed).  You'd think that experience would have turned me off camping, but it didn't.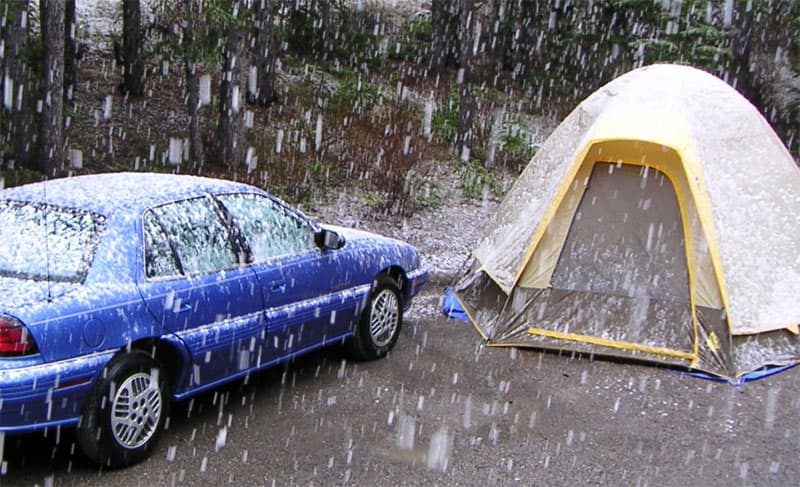 When my sister and I got older, we would sleep in a tent and my parents slept in the camper.  When I was 12, for some reason I still don't understand, my parents bought a motorhome and said goodbye to the truck and camper.
Depending on the trip after that, I slept in the tent or the motorhome.  As an adult, my now husband and I did tent camping because he had a tent and all the stuff.  However, the car was jammed pretty much to the roof and we had a baby on the way.  It didn't take too much convincing to talk him into a truck and camper.
We got the camper first; an Okanagan nearly identical to the one I grew up in (including age).  A week before our daughter's due date, we bought the truck after test-driving it on icy rutted roads.  Yes, that was really comfortable for me (not!) but didn't convince our daughter to come as she was born two weeks late.  Our first camping trip in the camper was when our daughter was about four months old.
Eventually, I think we'll take along the tent and she'll sleep in it though maybe not every time because sleeping in a tent alone in bear country can be a little frightening.
I didn't enjoy tent camping very much and am very happy to have our camper.  I only very rarely feel jealous of the backcountry hike in campsites as the peace and tranquility can be hard to come by in campgrounds, but I'm not willing to go back to the hassles of tent camping!" – Melissa Malejko, 2002 Chevy Silverado 2500HD, 1981 Okanagan
"We bring the tent only if we also bring the raft, frame, oars, camp kitchen and overnight equipment for a river trip!  I still remember the pure joy of reaching down and clicking on the heat in our first truck camper, and the relief to not have to pack up a wet, soggy tent!  There's no going back.  No way." – Pat Jones, 2007 GMC 3500, 2005 Bigfoot
"I still carry a backpacking tent.  It goes where the Ural sidecar motorcycle goes on extended trips in the backcountry.
I'm too old to really backpack any longer so the sidecar rig is my mule to take me places that I don't want to take the hard side camper.  The sidecar will take me places that truck campers cannot go.  It expands our horizons and is street legal and comfortably cruises at 60 miles per hour." – Mark Harrison, 2005 Dodge 2500, 2017 Northern Lite 10.2 EX CD
"I bring a North Face tent with me when I truck camp.  A lot of times I use the truck camper as a base camp.  I still like to backpack and do canyoneering.
If I am going to be in the backcountry for an extended time, I take the tent with me backpacking.  I never tent camp anymore if it is someplace I can take the truck and camper." – Jim Hignite, 2016 Dodge Ram 350, 2007 Lance 1055
"I never use a tent.  I always sleep out unless chased into the truck by mother nature." – Chuck Cox, 2005 Ford F-150, Range Rider Cap
"Yes, I stay in a 10×10 tent with a queen size ultra bed!  While my 18 year old son Christian, aka Bubba, and his two friends stay in the luxury truck camper!" – Jeremy Nelson, 2015 Toyota Tundra, 2002 Lance Lite 845
"I started tent camping with my dad.  We evolved from there into a panel truck that we put two bunks in for storage with room on top for two sleeping bags.  From that point on it's been a truck camper.
My wife and I have owned several truck campers, but we always carry a tent.  To begin with, it was to give our son and Airedale their own space as each grew.
Now we carry a simple inexpensive small dome with two cheap folding chairs.  If we plan to stay a few days and don't unload our camper, we will set up the tent and extra chairs to show we're camped there and save our spot.  If some woodland creature should make off with them while we're gone, we'll we're not out much and we hope they enjoy them." – David Pracht, 2015 GMC Sierra K3500, 1987 Lance LC900
"Yes, we have two tents.  The first tent is for place keeping.  In our local parks (Alberta and British Columbia) they want a camper or tent to always be on the campsite.  Since we are always off hiking or exploring, we need to set up a small tents to "place keep" our site.  It's a pink children's toy tent, which we fill with fire wood and our chairs while we are off for the day.
The second tent is for guests.  We sometimes have friends joining us on our hikes or exploration trips (wilderness parks) and they occasionally stay over.  "This is such a great place", "Wow, you can camp here" or "I'm too tried to drive back" are some of the lines we have heard." – Martin Thomas, 2000 Ford F150, 1980s modified Alaskan Camper, 8 foot NCO
"A few weeks ago I confirmed that my tent camping days are definitely a thing of the past.  On a springtime whim I did a quick overnighter in my REI Half Dome tent.
In the middle of the night, as I slid off my sleeping pad on the slightly sloping ground while listening to a large animal snuffling nearby, I reflected on why I bought a minimalist pop-up truck camper 18 months ago.
My camper is basically a truck-mounted tent with a comfortable bed, and I absolutely love it!  Friends who camp with me can sleep on the couch that becomes a second bed, but I also take the Half Dome for those intrepid or shy souls who want their privacy in a separate sleeping space." – Christine Dyer, 2012 Chevy Silverado 1500, 2016 Four Wheel Camper Hawk Shell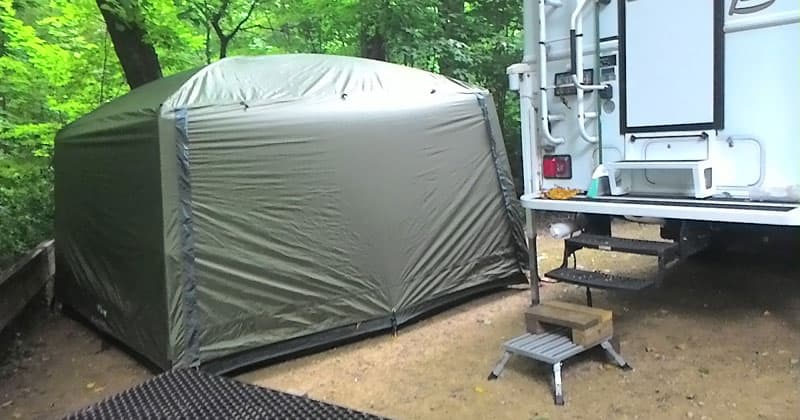 "Yes. I have a Woodlands Screen House 10×10 screen house with a floor and rain fly that we got from LL Bean.  It seems to be very stout and weather proof.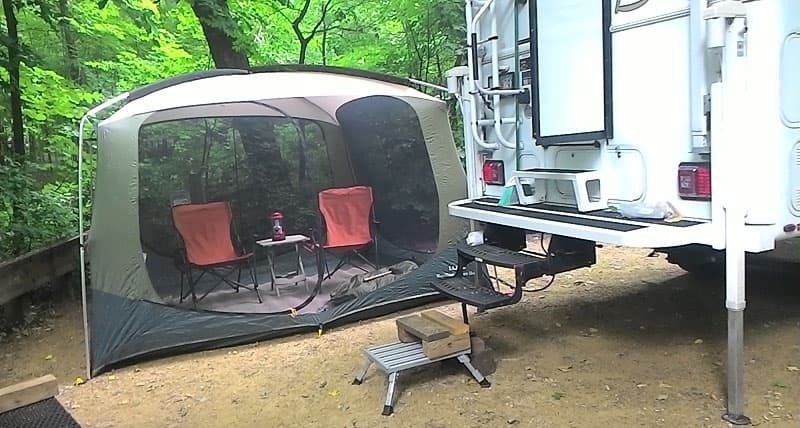 My wife and I spend half our year in the camper.  I got the screen house to provide a place for R&R if so much togetherness turned tough.  I haven't used it yet, although we are in the Upper Peninsula now, and the mosquitoes may make me use it for the intended use." – Tom Scholtens, 2010 Chevy 2500HD, 2013 Bigfoot 25c10.4
"We have a small two person tent that we bring with us and use to store extra items in if we are going to stay for a day or two.  It also gives the campsite an occupied look when we are off sightseeing.
This can be very beneficial in places like Yellowstone National Park when the campsites are first come, first serve.  It saves the argument of who had the campsite first and, "The site was empty so we took it".  That happens even if we had our tag on the post.
As far as tenting, we did it until we had 13-inches of rain in one day and everything got wet.  We went home and bought a used truck and camper that we used for 15 years.
Then, we went back to tenting, and then to a boat that we could sleep in.  Then, we went back to a truck camper because we were getting to the age that getting dressed in a sitting position in a pickup topper was getting to be a pain.
We just upgraded our truck to a F250 so we can move up to a larger camper with a queen bed.  The old, but trusty 1985 American Pilgrim 8.5 only has a east-west double bed over the cab.  When our daughter travels with us she has to put her feet through the front sliding pass through window to stretch out in the dinette bed.  But, it still beats getting wet in a downpour." – Mike and Nancy Pohl, 2015 Ford F250, 1985 American Pilgrim 8.5 hard side
"We do not bring a tent, but we are very interested in reading and seeing pictures of others with truck campers that somehow incorporate a tented room or some kind of enclosed area.  It would be great to have a mud room to leave wet things or an outside screened area to sit and hang out without having to unzip something to get into the camper." – Garnet Simms, 1997 Dodge 3500, 2013 Lance 992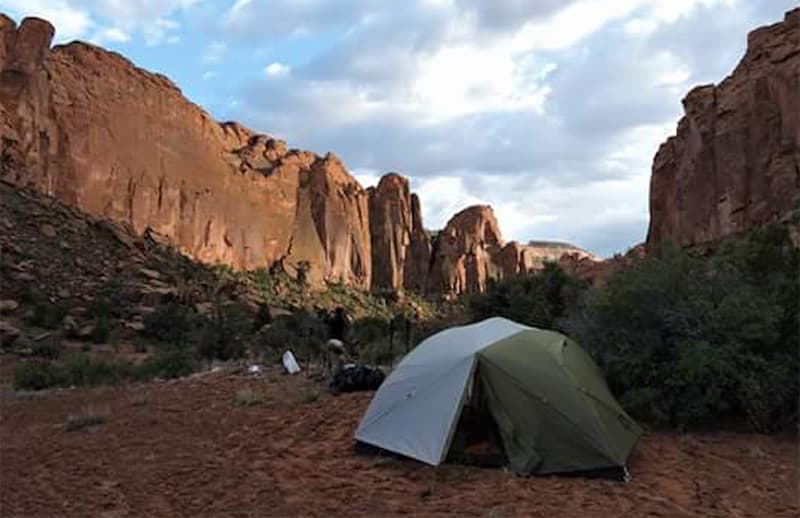 "We bring our REI Quarter Dome 3 so we can backpack.  We used it in May to backpack the Little Death Hollow-Wolverine Loop in The Grand Staircase Escalante Wilderness Area." – Patrice Loucks, 2013 Toyota Tundra, 3014 Phoenix Custom Pop-Up
"No!  Tenting days are over!  We are sleeping inside and staying dry!" – Janet and Jim Manis, 2014 Dodge Ram 2500HD, 2015 Travel Lite 960R Illusion
"I do not bring a tent, but I do have tents in case I ever get to backpacking again.  On the other hand, the reason I bought my truck camper is so I can cook inside and have a warm place to go to the bathroom!" – Jim Loy, 2016 Ram 2500, 2014 Four Wheel Camper Hawk
"If I take a tent, it is for my adult children.  They might travel in after a short drive (800 miles) to a long flight (4-6 hours) away.  The tent becomes their sleeping area since I don't have room in the truck camper for two more adults who are over 6-feet tall.
I actually have three tents.  Two of them are large enough for six to eight people.  The small one is for three people.  One of these days, I'll find a charitable group to donate the two older tents so they can be used.
My body doesn't like being on the ground.  It requires the 6-inch foam mattress I sleep on.  My wife says she doesn't care until she wakes up in the morning and tries to find her way out of the tent door, which I've already ripped off trying to get outside to visit the nearest tree." – Harry Palmer, 2008 Dodge Ram 2550, 2008 Lance 915
"I have been tent camping from about age 10 to the present, at 73 years old.  Most of it has been backpacking some of the most beautiful trails in north central Pennsylvania.  I also went canoe camping to Allagash, Maine many times and Algonquin in Canada.  You can't do these beautiful trips on wheels.
I have stopped carrying the 40 pounds.  My sweetheart can't go tenting anymore because of physical problems, but I still get out once in a while.
I learned about ultralight backpacking from Ray Jardine and my pack weight is about 12 to 14 pounds without water in summer and about 18 to 20 pounds in winter.
We bought our camper in 1989 because the company I worked for gave us a 13 week vacation after 13 years of service.  So, we traveled to the southwest, then to Alaska and then east through southern Canada.
I love to fly fish (catch and release) for Brookes in north central Pennsylvania.  I go to small streams and my sweetheart joins me using the truck camper.  We are doing that right now.  We usually can't get cell service up here, but we are on top of Pennsylvania's highest mountain on Route 44.
Thank you guys for making this online magazine.  It is great!" – Terry Mechler, 2001 Dodge 2500, 1989 Sun Line C-1150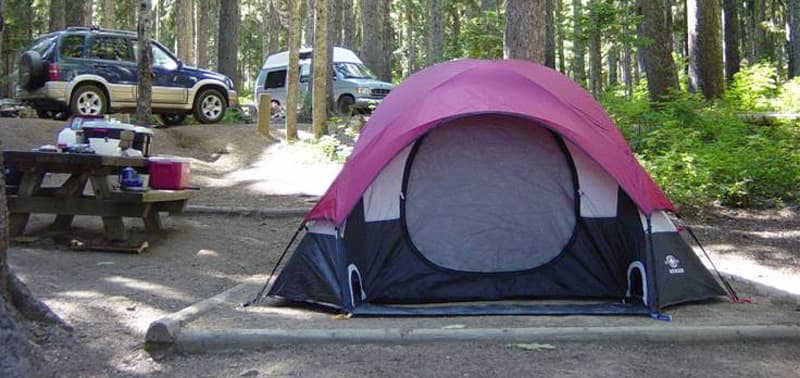 "No, I do not bring a tent in the camper.  The last time I used a tent was September 2005 at Taklakh Lake near Mt. Adams.  I really like the tent and I still have it.  It's a great size, at 9×9 with plenty of room for two cots (for sleeping off the ground) and a porta-potti.  I also had set up an overhead light to run off my 12-volt battery which is used to power the electric motor in the Zodiac.  Tent camping was fun at a certain point in life and part of the adventure of roughing it outdoors.  Plus, you hope you remembered everything needed for a pleasant experience; sleeping bags, cots, air mattress, Coleman stove, ice chest, lanterns, flashlights and the list goes on.  Our Eagle Cap is now the preferred mode of travel making road trips so much more comfortable.  But I'm still keeping the tent.  Maybe the grandkids will want it someday!" – Roger Odahl, 2008 Dodge Ram 3500, 2004 Eagle Cap 950
"My wife and I haven't purchased a truck camper, yet.  However, I grew up camping in one, in the 70s.  My wife and I also went on to be tent campers for many years.  We have given up tent camping for all of the same reasons this article suggests, and more.  For example, we're always a little worried about wildlife (particularly bears) when tent camping.  Additionally, I'm absolutely had it with what my vehicle looks like every time we've went tent camping in the past.  It's like a traveling with a three-ring circus!
The back seats were down, loaded from the back of the two front seats all the way to the back, from the floor to the ceiling.  It was ridiculous!  Not to mention, you always have to be so careful with food, the garbage, and even the utensils that you used to prepare food.
One slip with food (depending upon what region you're in) and you never know what will wander into your site, right next to your tent. It just became more work and stress than it was worth.  The last time I went tent camping, that was it.  I vowed that this would be the last time.  That was in the recent past.
To clarify, I don't need all that much when I go camping.  Certainly, it's nothing that a truck camper couldn't handle.  I'm certain of that. Furthermore, I've seen these guys pulling their huge triple axle monstrosities down the highway, and my opinion is this, "If you need that much square footage while you're one with the great outdoors, just stay home!"  Gah!  For crying out loud, it'll take you all day long just to find a site to back that thing into, and then situate it, level it, etc.  Too much work and too much effort.
It's moronic as far as I'm personally concerned.  Today's truck campers are absolutely perfect!  Additionally, as far as tents are concerned, aside of the obvious lack of convenience, when you take all of those things and stuff them into a small to medium sized hatchback (with no compartments, etc.), it fills up quickly.  Regardless, at this point, I do not see myself ever putting up a tent again (or even having one on hand) even once we purchase our truck camper.  No sir.  Perhaps the exception will be of some kind of a screen tent.  But, that would be it." – Kevin Walhof, Future Truck, Future Camper