This week's Question of the Week was, "What make and model of television do you have in your truck camper, and do you like it?"
"I have been married 52 years, 8 months and 22 days to a very wonderful young lady.  I cherish the moments we get to spend together in our camper and talking about anything and everything.  We play card games and we both work word games and Sudoku.  If it is news I want, I can listen to XM/Sirus radio during day along with Willies Roadhouse.  We do carry a computer for our pictures and financial matters.  We do not have a smart phone.  Now, after saying all of this, if our granddaughters keep going with us, I might have to give in to their desire to have a TV." – Ed Krech, 2006 Dodge 3500, 2011 Northern Lite 8-11
"We just installed a 15 inch Jensen 12-volt LED television.  The camper came with a King Jack HDTV antenna and SureLock Digital TV signal finder.  The TV and antenna work great!  The 15″ screen is just the right size and mounted on the rotating arm, so we can watch it in bed or while sitting at the table.  We don't watch much TV, so there is no reason to go with a big screen or even a 19″ screen.  We are very satisfied with our setup." – David Miller, 2012 GMC 2500, 2012 Travel Lite 890SBRX
"I just upgraded from a 13″ CRT to Seiki 26″ 720p 60Hz LED HDTV, model number SE26HQ04I.  I run a Direct TV 18″ round dish.  I love it.  It's a super easy to setup and I'm able to watch Westerns while camping." – Bryan Malone, 1999.5 Ford F250SD, 1997 Shadow Cruiser 851
"I have a Polaroid TV with a DVD player.  I purchased it at Walmart.  I just converted my sensor to the new Rayzar Air that Winegard just introduced. I haven't had a chance to test it out much, but seems to do what is advertised.  I have never had a satellite dish on any of my RVs." – David Donovan, 2007 Chevy 3500, 2012 Chalet TS116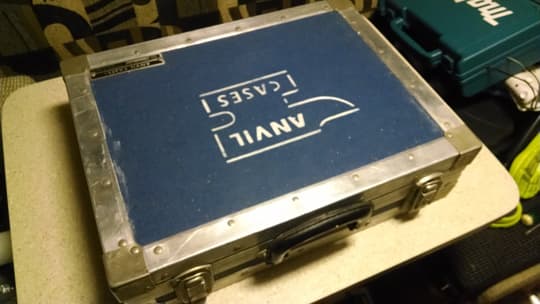 "We have a 15 inch Toshiba flat screen LCD/DVD combo.  We store it in an Anvil briefcase with the stand detached but can use it inside or outside on a table.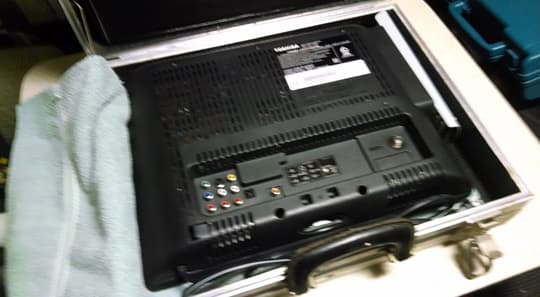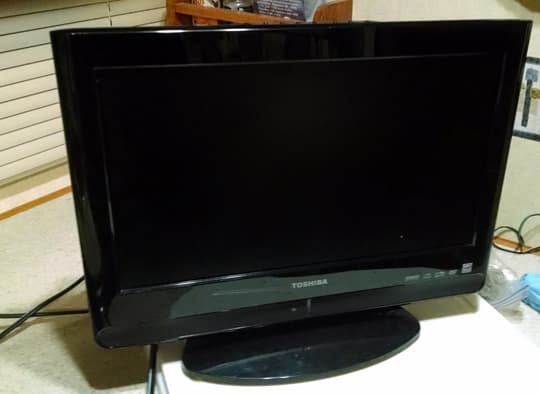 I have a King Jack rooftop antenna, and no satellite yet.  I'm thinking about a portable system down the road." – Chuck Currie, 1995 Ford F250, 2009 Lance 815
"We removed the television when we bought the camper.  Going camping means enjoying the outdoors, the wildlife, the scenery, the peace and quiet and nature.  Who needs a television for entertainment with all that surrounding us?  If it's raining?  Read a good book!" – Beverly Stellges, 2007 Chevy Silverado 2500, 2007 Northstar 8.5 Adventurer
"We have only had a very small 7″ TV that couldn't pick up a signal worth a hoot.  We thought we should have it for emergency weather information.  We rarely put it on and finally gave up on it.  When we travel we are TV free.  We also really don't need any extra clutter in our small rig.  We mostly read in our spare time.  Most of the stuff on TV doesn't interest us anyway.  We have an amplified TV antenna system, but have never used it.  Maybe after hearing from some other campers, we will try something else that might work better for us." – Allen Brummel, 2008 Dodge Ram 1500, 2008 Northstar TC650
"We don't have a television in our camper and prefer it that way.  I go camping to get away from the daily garbage that spews from it.  I don't use an antenna." – Jeffrey Hall, 1996 Ford F250, 1986 Real Lite 950
"We use camping to get away from the day to day world.  We do not have a TV." – Randal Rice, 2012 GMC Sierra 3500HD, 2002 Bigfoot 10.6C
"I have a Visio 24" HD television that is fully transportable from the inside to the outside.  Presently I have a Winegard batwing, but I'm going to upgrade over the winter to Dish HD." – Eric and Jacki Devolin, 2007 GMC 3500, 2006 Adventurer 106DBS
"I have a 2011 Westinghouse television, which has a nice picture but must use 110v or a power converter to run both the television and satellite receiver.  I should have gotten a 12-volt television.  I cheap out.  For $125 more, the 12-volt television came with a satellite dish and a built in antenna.
Over the years, the aluminum wore out on the old Wineguard roof dish and it started cutting into the roof.  I have no antenna, only Direct TV (which is $6.00 a month if you have it at home).  I use an auto tune Wineguard dome, two 50-foot cables, and a power line to the dish with push connecters.
Simply find a open view of the sky (south) and push on the three lines (I have them taped together).  Then do the same at the truck camper wall.  The power cable goes over to the battery and you need alligator clips to connect to the battery." – James L Tedford, 2012 Ram 3500, 2007 Arctic Fox 990
"I have a Jensen HDTV.  It's a great TV that came with my camper!  I get over the air and Satellite.  I have the King Jack antenna for over the air.  I have a Wineguard Pathway X2 for Dish service." – Donald Kingfield, 2008 GMC 2500HD Sierra, 2008 Lance 861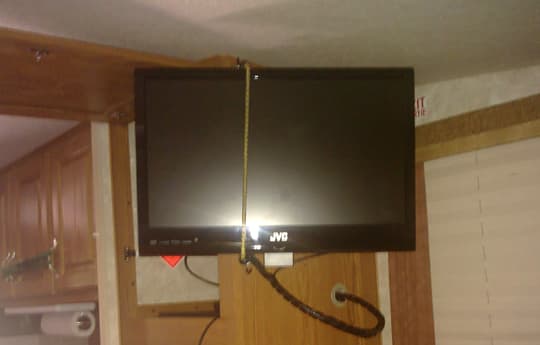 "I have a JVC 23-inch screen.  It's a good television for the money.  It's a thin screen, so it's light weight.  It's on a swivel and can be seen from anywhere in the camper.
It's also has a LED/LCD display for low electric draw.  I have a Wineguard in motion dome and an antenna that we can raise and lower.  That works very well in and around the large cities with towers." – Don Pryor, 2011 Ford F350, 2009 Arctic Fox 1150
"I have a NAXA NTD-1952.  It has good sound and a DVD slot for movies.  It is very easy to set up.  The other thing I like is the NTD will work with 12 volts or 110 volts.  The camper came with a Jensen, and I could not get it to work.  I have two antennas.  If I just want local I use the King Jack antenna, which is very easy to set up quickly.  Then if I want more, I use a Tailgater.  The Tailgater is more time consuming, but works great." – Jesse, 2012 Chevy 3500HD, 2009 Lance 1055
"I use an Emerson television with built-in DVD player.  I also have a Dish network and Tailgater, which is new and not hooked up yet.  Previously I had a Wineguard Carry Out, but it died.  The old one worked fine for the most part for about five years.  Both motors quit while unsuccessfully trying to locate and lock on satellite.  We always just sat it on the ground if level or tripod if not.  I always hated the two cables.  The new one just has one cable." – Cheryl Nelson, 2004 Chevy 3500, 1990 Shadow Cruiser 9.5
"We have two televisions, but have never used them since getting the camper in 2011.  We never stay in one place more than two nights.  So we don't have much time to spend watching TV.  Our previous RV was a 37 foot fifth wheel with a 40 inch flat screen TV and we never watched that one either.  The analog antenna got damaged recently and the dealer can't replace it!" – Michael Conlin, 2011 GMC 3500, 2011 Chalet DS116
"We have upgraded our TV to a 19-inch Samsung LED.  It is far superior to the smaller 15 inch TV that came with the camper.  Included with the TV is our Direct TV receiver, Sony Wireless Blue Ray player with Netflix, and a Cobra 400W inverter.  When boondocking, we use the inverter to power the TV and Direct TV receiver.
We presently have the typical Wineguard 18-inch dish that came with the camper.  We also carry a portable 18-inch dish when obstructed with trees.  Next year, we will install a King Dome Rover, stationery antenna.  A benefit is that we can use the present satellite RG6 cable, and power the dome with a small separate receiver attached to the Direct TV box." – Warne Todd, 2000 Ford F250, 2005 Lance 981
"I have a Seiki 13-inch twelve-volt LED television on an articulating wall mount.  So far, so good.  It's big enough to be watched in both places we sit.  It does not take up much room, and it's very light.  I use it only on the 12-volt system.
The Winegard Wingman (Bat Wing) was built into the camper.  After trouble shooting what was wrong with it, it now works well.  If I were you, there is supposed to be a excellent new antenna that can be mounted inside the camper even in a closet.  Check it out.  There would be no holes in the roof, and as we all know, the less holes in a roof the better." – Jeff Hagberg, 2002 Ford F250, Travel Lite 800SBX
"The Axess 1701-19 is a replacement TV that I ordered from Amazon.com.  It's a 12-volt and television that also works on 110-volt.  I want to be able to watch television without having to plug in or use the generator.  For the price, $170, you can't beat it.  The only complaint I have is side viewing is poor.  You have to be directly in front of the TV in order to have quality viewing.  My TV is connected to my surround sound so I can not speak about the sound quality of the TV itself.  This TV has all the receptacles for Din plugs, USB and RCA.  We do not have an antenna or satellite system. We don't use the TV often enough to justify the expense.  When we have time or just before bed time, we watch movies or plug into cable when we have hook-ups." – Dennis De Ville, 2008 Ford F-350, 2008 Lance 1191
"We have a Axess (TVD1801-15) 15.6-Inch LED HDTV.  The Axess includes 12-volt and 110-volt compatibility, HDTV, DVD player, and HDMI, SD, and USB inputs.  The camper had an old 13″ Sanyo analog TV installed from the factory but it would not pick up digital broadcast TV stations.  So I installed the Axess HDTV along with the following PVR:
Mediasonic HW-150PVR HomeWorx ATSC Digital TV Converter Box with Media Player and Recording PVR Function/HDMI Out (Black).
I bought the converter prior to the TV upgrade but I left it in the camper because it will play TV shows and movies from a USB thumb drive.  This way, I can copy recorded shows to the USB drive and we can watch them in the camper.  We love the TV!  It has a great picture and is the perfect size.  It also saves us a lot of battery power since it is an LED TV.
We have a Winegard bat wing antenna that was installed by the factory.  It has excellent reception for digital broadcast TV and comes with a powered reception booster also installed by the factory.  There is no need for an HDTV antenna to be able receive digital channels and the range of this antenna is great!" – Hugh Redmon, 1997 Ford F350, 1998 Lance Legend 990
"I have a 17″ Jensen 12-volt television.  It works very well and pulls little from our batteries.  It has a DVD remote system that allows plug in headphones so one can sleep while the other watches television.
We mostly use Direct TV with a manual crank-up dish.  The dish has an HD antenna attached to it.  It's extremely easy to find the satellite as long as you know either the GPS coordinates or the zip code where you are located.  We use a 200 watt 12-volt plug-in inverter to power the satellite receiver.
With a 130 watt solar panel on the roof, it allows continuous TV watching during sunlight hours (which we never do) or about three to four hours on a fresh battery charge." – Jim Cornwell, 2011 Chevy 3500HD, 2012 Lance 1191
"I have a 12-volt 19-inch Pyle with a built in DVD Player and a Jack Digital HD antenna.  We love it." – Rodger Greene, 2004 GMC 2500HD, 2012 Travel Lite 700
"We have a 19″ JVC LCD TV/DVD Combo (Model LT-19DE62) that we enjoy very much when we watch TV or a movie.  It is attached to a swing-out bracket for viewing either from the sofa or in the bedroom cabover.
We had a King Jack Digital HDTV over-the-air antenna with built-in SureLock Digital TV Signal Meter installed to replace the one that came with the truck camper.  This antenna sure brings in clearer and sharper pictures and is a vast improvement from what we had before.  We also bought a Tailgater by Dish and a VIP 211K receiver so that we could have a satellite system handy just in case we can't find over the air stations from the antenna in remote areas." – John Patterson, 2009 Chevrolet Silverado 2500HD, 2012 Travel Lite 960RX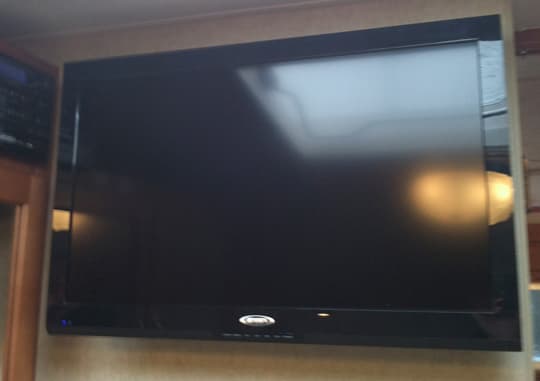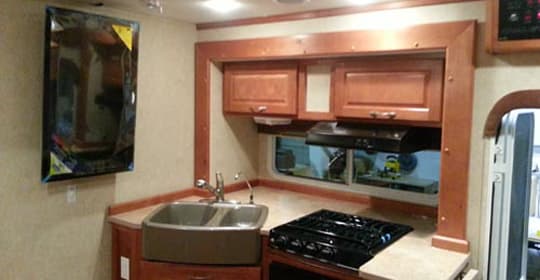 "We have two 32" Jensen LED 12-Volt HDTVs in our Chalet.  There is one in the kitchen/living room and the other is in the bedroom.  When we ordered the camper, we had it wired so we could move the television from the bedroom to a mount on the outside under the awning.  We could play movies or watch football games or the Indy 500 with our friends without having to crowd inside the camper.  We are pleased with our choice in TVs so far.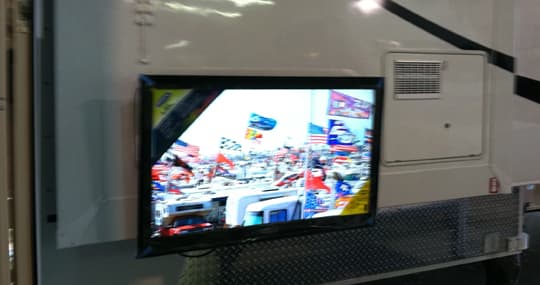 As for programming, we use a Winegard Roadtrip roof mounted satellite dish with a Dish VIP receiver which we added to our home account.  One thing we would have changed is to not mount the dish above the bedroom but instead near the back of the camper.  It tends to be a bit noisy as it tracks the satellites and will wake you up in the middle of the night.  These are the things you don't find out until after you drive it off the lot!  If reception is available, we'll use the Digital HDTV antenna.  We usually get a dozen or so channels if camping near a metro area." – Scott Elliott, 2007 Ford F350 , 2013 Chalet TS116
"We have no TV and we never will.  The camper is our way to escape, not take it with us!" – Chuck Krause, 2011 Ford F250 turbo diesel, 2012 Adventurer 86FB
"I have a 19-inch Visio HDTV.  It fits in the TV cabinet bolted down to the factory swivel and can turn toward the bed or dinette.  I have a Dish Network Tailgator antenna with Dish receiver.  We like this system as we have Dish and receiver that we bring from home.  Plus, if we're camping under trees, we can move the satellite antenna to a clear spot for reception.  It is HDTV compatible." – Jim Hunter, 2004 Dodge 3500, 2005 Arctic Fox 1150
"I have a Visio, 21-inch LED HDTV.  It was the lowest power consuming model I found.  I use it with a Western Digital Media Player with a one-Terabyte HDD with 1,782 movies on it." – Steve Lowery, 1999 Toyota Tacoma, 2010 Travel Lite 690FD
"I have a 22-inch Vizio LCD TV and Winegard Batwing – and I hardly use it.  When I'm using my TV, I'm usually watching movies through my DVD player.  To tell you the truth, when I'm out camping, my favorite pastime is to stargaze.  I prefer to listen to music more than watch TV or movies." – Bob Chan, 1989 Ford F250, 1988 Lance 780
"I have a NAXA.  I like it because it is a 12-volt, so I don't need 110-volt to watch TV.  I use a Wingard antenna and have a subscription to DISH network.  I like the system, but a 12-volt converter box would be a nice option." – John L Moriarty, 2006 Ford F350, 2004 Lance 1071
"We do not have a television. We go camping to get away from society and do not miss it.  We do have a radio to get weather reports and other news." – Tricia Mason, 2009 ford f350, 2009 Montana Ponderosa 9.5
"I have a 19-inch Sharp HDTV.  I have found that a larger screen can be accommodated, so I might go to a 21-inch, but viewing the 19-inch from the Everest couch has been fine.  Small TV speakers typically lack low frequency response, so I had a BOSE Cinemate II system built in to provide excellent sound (also coupled to Sony HD DVD, AM/FM radio and iPOD.
The Winegard Slimline 3 (SK3005) satellite dish provides HDTV capability.  It's an excellent system and I'm very happy with it.  It is expensive, but well worth it if you want HDTV capability and a fully automated, no touch, antenna system.
For over-the-air, I use the Winegard Sensar with Wingman featuring a built-in amplifier and I am generally satisfied.  I do have to remember to crank it down before departure.  The biggest complaint
I have with over-the-air reception is in locations where I don't have internet access (via smartphone).  Knowing which direction to point the antenna to pick up stations by having the TV scan channels can be challenging in fringe reception areas." – Ken Sanders, 2001 Ford F350, 2012 Host Everest
"When we purchased the camper in 2010, it still had the original analog TV.  I would have had to purchase a converter box to play it.  So out with the old and in with a new Toshiba 15″ flat screen with built in DVD player ($150 on Amazon).
I mounted the new TV on the original rotating turntable that has its own cabinet.  It's convenient to watch from the bedroom or the dinette slide.  It's powered by 110-volt.  I should have considered a TV with 12-volt power, but I only have one battery and would be concerned about how much power would be drained from the battery for two to three hours of nightly viewing.  I also use RCA wireless headphones as to not disturb my wife while she reads in her girl cave.
If I don't have power for the TV, it's no big deal.  I enjoy reading.  I do like the TV, especially with the built-in DVD player that I have used many times.  I have the original crank up antenna that came with the Eagle Cap 950.
Most of the time we are in campgrounds that have cable hook-up.  I enjoy watching cable on the road since I won't subscribe to it at home.  When I need to use the antenna it cranks up easily and has a power booster button inside the cabinet.  Depending on how close we are to larger cities, it pulls in normal network channels quite easily.  The remote for the TV has a set up feature that changes from cable to roof antenna which you must activate at each new location and then it will search for available channels in the area." – Roger and Elaine Odahl, 2008 Dodge Ram 3500, 2004 Eagle Cap 950
"Due to space and weight constraints with this wee truck, and given the fly fishing and hunting gear we carry, not too mention Harley the Lab, we have elected to stay with the Apple iPad and "stream" what news broadcast and occasional programs we select.
We often have WIFI access at campgrounds or retain cellular service when freedom camping.  For the times we are very remote and do not have internet service, there is the option of downloaded movies and reading material.  Besides, even with a paid subscription to a TV satellite service, one cannot avoid continual intrusive commercial adds here.  Forget the "idiot box".  Cheers." – Gene and Cathy Klein, South Island of New Zealand
"I have a 19″ Jensen LED 12VDC TV.  The Jensen 12VDC TVs are made specifically for RVs.  They use a heavy conformal coating on the circuit board which is supposed to make them better able to withstand the shock and vibration from being on the road.  We carry an extra 50′ of coax cable so we can set the TV outside under the awning if we want to.  The TV is connected to a Winegard MiniMax satellite receiver that is mounted on the roof of the camper.  The MiniMax signal feeds into a Direct TV box mounted under the TV shelf.
If I had to do it over again, I'd probably go with a portable Winegard MiniMax.  That way, I could set it on the roof or move it to a picnic table when a TV is blocking our reception.  We also have a portable DVD player that we can feed into the TV." – Rex Carroll, 2004 Ford F350, 2006 Alpenlite Cheyenne 950
"I have a Samsung Syncmaster with a 1501MP Winegard dual antenna system." – Kevin Fox, 2011 Dodge 3500, 2005 Lance 981
"I have an Insignia 22 inch TV with a DVD player.  We use it at least one night per camping trip.  I use a Dish Tailgater.  Other than having to periodicaly call Dish to reset the system (if it's let off too long between uses), it is great (the wife has to keep up with her soaps).  It works well on solar and batteries with the inverter provided." – Greg Romig, 1996 Ford F250, Okanagan DB96