Angela and I had an absolute blast reading all the responses to this week's question of the week, especially your music preferences.  It's good to know that we're in good company with our insatiable affinity for music on the go.
In addition to listening to music, we also enjoy tracking down records on the road at flea markets, thrift stores, and the occasional record shop.  Taking one's hobbies on the road and exploring the possibilities that creates can be one of the best parts of truck camping.  We have quite the LP collection to prove it.
As a side note, we completely agree with the comments about not playing loud music when camping near others.  It's bad enough that folks run their generators for hours, or let their screaming kids, barking dogs, and rowdy spouses run wild and unattended.  Noise pollution, no matter what the source is rude and annoying.
Thank you to Gary Usher for recommending this week's Question of the Week, "Have you upgraded your truck camper stereo system, or done anything to enjoy music on the road?"  This was a fun one!
"I added an Alpine stereo system and surround sound speakers, with a stacked six-disc CD player.  MP3 player plug-in, confirmed audiophile.  The system cost over a grand.  I got it out of a car found at a local wrecking yard.
I listen to Rush, Queen, Meatloaf, Asia, and all of the 80s pure rock and roll." – Tim Ubels, 2004 Dodge Ram 3500HD, 1982 Okanagan slide-in
"When I ordered my camper, I did not want the system that came with it.  However I did want the wiring in place for the speakers and the television.
When I took delivery of the camper, I went to my favorite audio shop and had them install Infinity speakers, an Infinity subwoofer, and an amp.  I also installed Sirius XM radio receiver and a Dynamic head unit that receives FM/AM radio.
This head unit also plays CDs and DVDs.  It's one of the few units that plays both that was designed for a vehicle.  Also, I have a connection to plug my phone into it to play the music I have stored.
Last but not least, I had speakers installed outside.  When watching a DVD or TV, I have the option to listen via the sound system or the television speakers.
Euge Groove, Kenny G, and Loose Ends are some of my favorite artists." – Dennis De Ville, 2008 Ford F350, 2008 Lance 1191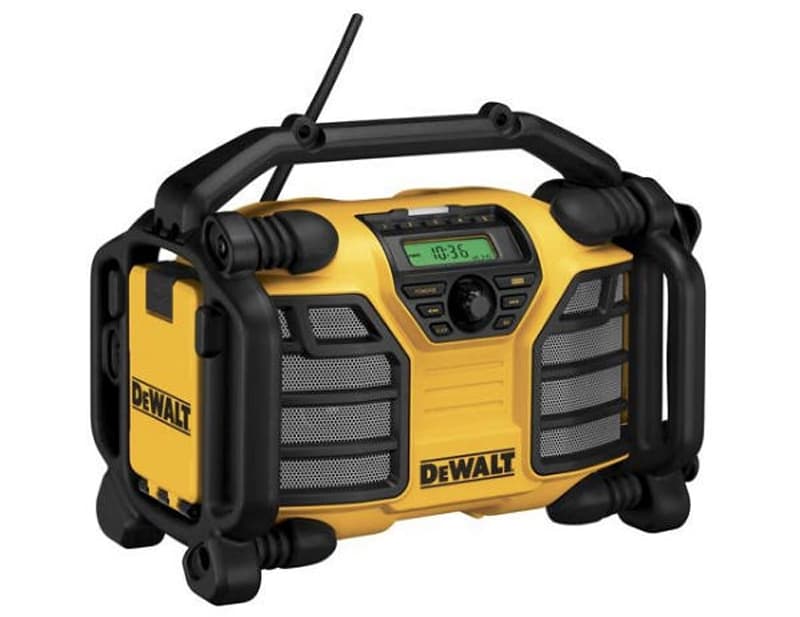 "Outside I use a DeWalt portable unit with Bluetooth option.  It works great and gives me battery and charging options for power tools for working on my UTV.  Inside I'm working on a 12-volt car stereo with Bose speakers and a Sony sub left over from a surround system.
I listen to the Beastie Boys, Sammy Hagar, Van Halen, Boston, Chicago, Eagles, etc." – Winston Gotte, 2003 GMC Sierra, 2016 Four Wheel Camper Hawk Shell
"When we got our new to us camper, it did not have a stereo system.  I have recently installed a fold-down CD deck with detachable face from Pyle with two 6×9 speakers in carpeted speaker boxes.
This system is quite simple, but allows for some decent sound – so my wife can crank her Luke Bryan!  It was very easy to install.  I have also installed a clip on the memory/power wire to the positive battery terminal so not drain the battery when it's not in use." – Shawn Hartman, 2004 Chevy, 2001 Fleetwood
"I installed tweeters, mid-range, base, and sub woofer speakers through an Alpine receiver system with plenty of watts.  It sounds almost good enough and it was about $3,200.  It's in the truck cab.  The camper is next.
I listed to lots of books on tape (Nelson DeMille is fabulous).  Then jazz and blues." – William Pendergrass, 2000 GMC 2500, 2008 Outfitter Apex 8
"I have been avidly reading Truck Camper Magazine for the last 18 months.  I am pretty new to truck camping, so this is my first post.  After removing the stuff I did not want in my new to me old camper, (like the microwave, generator, and TV), the first upgrade I did was the stereo.
I found a Kenwood car stereo that fit the original space and works with my Android phone and iPod.  All my music can be played through it in the camper.  Sorry to not be more technical, but it has been a huge improvement over the previous ancient tape deck and radio.