Angela and I had an absolute blast reading all the responses to this week's question of the week, especially your music preferences.  It's good to know that we're in good company with our insatiable affinity for music on the go.
In addition to listening to music, we also enjoy tracking down records on the road at flea markets, thrift stores, and the occasional record shop.  Taking one's hobbies on the road and exploring the possibilities that creates can be one of the best parts of truck camping.  We have quite the LP collection to prove it.
As a side note, we completely agree with the comments about not playing loud music when camping near others.  It's bad enough that folks run their generators for hours, or let their screaming kids, barking dogs, and rowdy spouses run wild and unattended.  Noise pollution, no matter what the source is rude and annoying.
Thank you to Gary Usher for recommending this week's Question of the Week, "Have you upgraded your truck camper stereo system, or done anything to enjoy music on the road?"  This was a fun one!
"I added an Alpine stereo system and surround sound speakers, with a stacked six-disc CD player.  MP3 player plug-in, confirmed audiophile.  The system cost over a grand.  I got it out of a car found at a local wrecking yard.
I listen to Rush, Queen, Meatloaf, Asia, and all of the 80s pure rock and roll." – Tim Ubels, 2004 Dodge Ram 3500HD, 1982 Okanagan slide-in
"When I ordered my camper, I did not want the system that came with it.  However I did want the wiring in place for the speakers and the television.
When I took delivery of the camper, I went to my favorite audio shop and had them install Infinity speakers, an Infinity subwoofer, and an amp.  I also installed Sirius XM radio receiver and a Dynamic head unit that receives FM/AM radio.
This head unit also plays CDs and DVDs.  It's one of the few units that plays both that was designed for a vehicle.  Also, I have a connection to plug my phone into it to play the music I have stored.
Last but not least, I had speakers installed outside.  When watching a DVD or TV, I have the option to listen via the sound system or the television speakers.
Euge Groove, Kenny G, and Loose Ends are some of my favorite artists." – Dennis De Ville, 2008 Ford F350, 2008 Lance 1191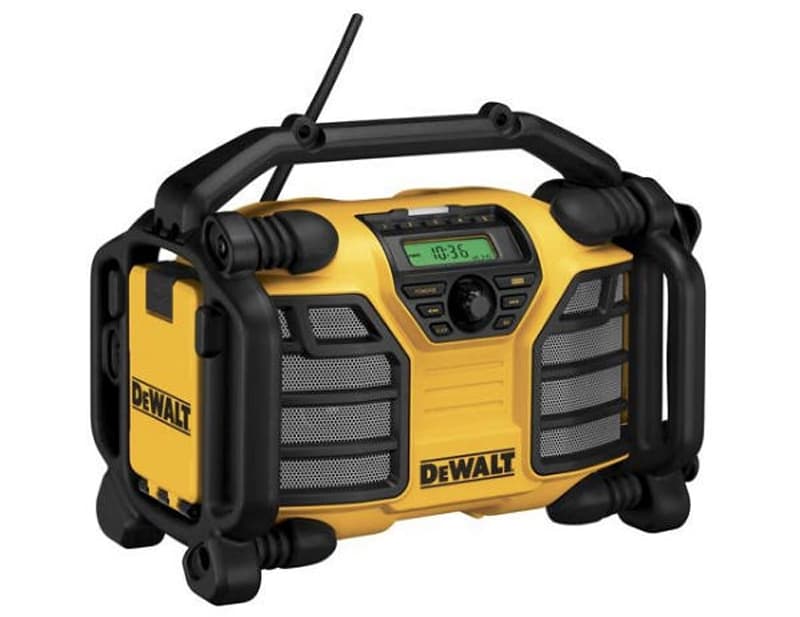 "Outside I use a DeWalt portable unit with Bluetooth option.  It works great and gives me battery and charging options for power tools for working on my UTV.  Inside I'm working on a 12-volt car stereo with Bose speakers and a Sony sub left over from a surround system.
I listen to the Beastie Boys, Sammy Hagar, Van Halen, Boston, Chicago, Eagles, etc." – Winston Gotte, 2003 GMC Sierra, 2016 Four Wheel Camper Hawk Shell
"When we got our new to us camper, it did not have a stereo system.  I have recently installed a fold-down CD deck with detachable face from Pyle with two 6×9 speakers in carpeted speaker boxes.
This system is quite simple, but allows for some decent sound – so my wife can crank her Luke Bryan!  It was very easy to install.  I have also installed a clip on the memory/power wire to the positive battery terminal so not drain the battery when it's not in use." – Shawn Hartman, 2004 Chevy, 2001 Fleetwood
"I installed tweeters, mid-range, base, and sub woofer speakers through an Alpine receiver system with plenty of watts.  It sounds almost good enough and it was about $3,200.  It's in the truck cab.  The camper is next.
I listed to lots of books on tape (Nelson DeMille is fabulous).  Then jazz and blues." – William Pendergrass, 2000 GMC 2500, 2008 Outfitter Apex 8
"I have been avidly reading Truck Camper Magazine for the last 18 months.  I am pretty new to truck camping, so this is my first post.  After removing the stuff I did not want in my new to me old camper, (like the microwave, generator, and TV), the first upgrade I did was the stereo.
I found a Kenwood car stereo that fit the original space and works with my Android phone and iPod.  All my music can be played through it in the camper.  Sorry to not be more technical, but it has been a huge improvement over the previous ancient tape deck and radio.
Road trips have always included camping.  Setting the tone for fun and adventure with the right music makes every trip start off on a high note.  It takes away the packing grouchiness, driving stress, and new place nerves.
I have an evolving and partly kid-dictated road trip playlist that currently gets our fun jump started with Roam-B52s, Bad Reputation-Joan Jett, Come On Get In-KT Tunstall, and All Fired Up-Pat Benatar.
I am always camping with kids and frequently host dance parties in the camper with disco lights and damaging decibels to everyone's delight.  I kind of wonder what the neighbors think is going on in our bouncing and rockin' out camper.  Anyway, a good stereo was way more of a priority that many other amenities." – Darcy Hubbard, 2014 Ram 3500, 1998 Lance Legend
"We have two sources of music on our camper.  First is Pandora, the streaming internet music channel.  We can play Pandora through our iPhone, iPad, and upgraded JVC stereo, and Samsung Bluray player.  The JVC stereo and Apple devices play utilizing Bluetooth technology and the camper's speakers.  For music outside, we have a Bluetooth Jawbone Jambox speaker used with the iPhone.
The second source of music is through a flash drive/zip drive through the television.  With over 5,000 songs on our laptop, we have downloaded many favorites.  The flash drive may also be played with the stereo in the truck as well as Pandora.
Regardless of where we may be, we always have some type of music.
Our favorites are country music artists of Geroge Strait, Brooks and Dunn, Willy, Toby Kieth, Tim McGraw and more.  We also enjoy rock music from the seventies and eighties." – Warne Todd, 2000 Ford F250, 2005 Lance 981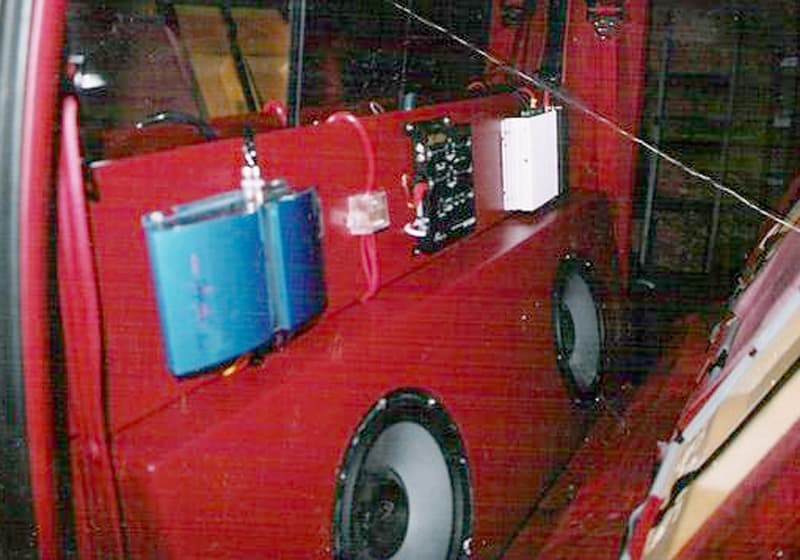 "My camper truck is the same truck I have had since high school and college.  Now it is just the weekend toy.  I sold and installed car audio though college.  The truck still has the upgraded system of a little over 2,000 watts, a few amps, and five speakers in the single cab of the truck.
I have completely Dynomatted the cab to help keep the road noise out and the speakers noise in.  I upgraded to a blue top Optima battery and I have a farad capacitor to help keep the electrical system running strong.
The camper that I've had since November hasn't been upgraded yet as far as the sound system goes.  However, I'm sure I will get around to it.  I have an entire parts bin full of stereo equipment sitting in the garage to install.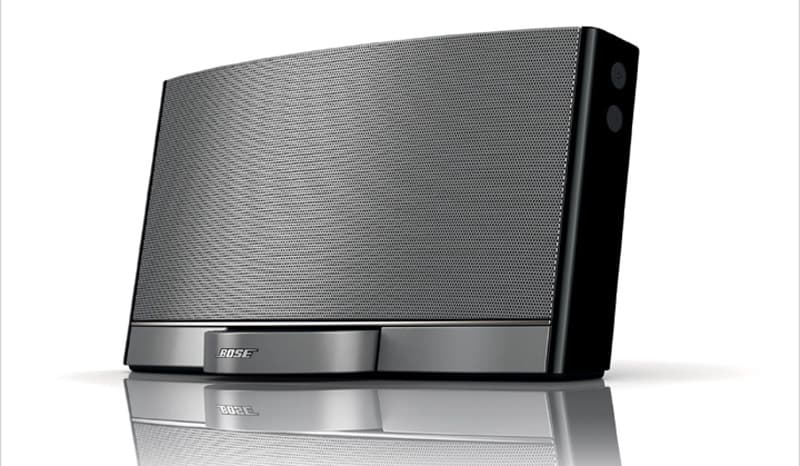 Currently, I just bring along my Bose portable sound dock.  It came with two batteries and each one lasts for about ten hours.  It also can be charged with 12-volt, so that is a nice plus.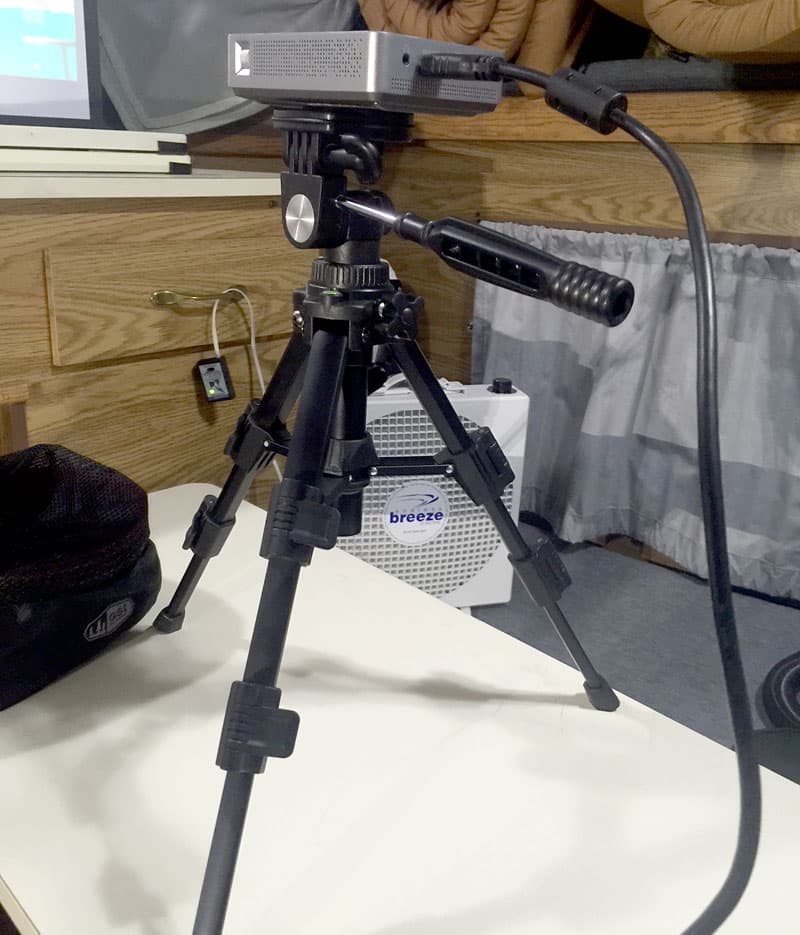 I also have a micro HD projector and a 40-inch portable movie screen that we use on trips.  I just play the sound though the Bose sound dock as well.  The projector has its own battery that is good for three hours, or I just plug it in.  It runs off of an LED light engine so it uses very little power.
I like both kinds of music; Country and Western.  But all kidding aside my favorite artists are all over the place from Garth Brooks, to Jimmy Buffett, to The White Buffalo, to Kelly Clarkson.  It all depends on my mood." – Neal Haymore, 1990 Ford F250, 1997 FWC Grandby
"My camper has its own music playlist.  Sadly, these are played from a CD.  I wish my truck stereo had a USB input like the one in my 2012 Honda Fit.
Most of these tunes were found by searching iTunes for terms such as Chevrolet, four wheel drive, 4×4, back road, etc.  There are more, but these are my favorites.
"I Love My Truck" – Glen Campbell
"Back Roads" – Ricky Van Shelton
"Back Roads" – Kate Wolf
"Wolf Creek Pass" – C. W. McCall
"Forty Miles of Bad Road" – Duane Eddy
"Take a Back Road" – Rodney Atkins
"Rough Road" – Johnny & the Hurricanes
"Six Days on the Road" – Dave Dudley
I do remember playing some magnificent classical music which perfectly fit in both length and mood the long lonely scenic sections of drives – Handel's "Water Music" coming down out of Lassen National Park from Summit Lake campground and something by Corelli along a highway in northern New Mexico." – Karen Smith, 2006 Chevrolet Silverado 2500 HD 4×4, Tiger CX Class C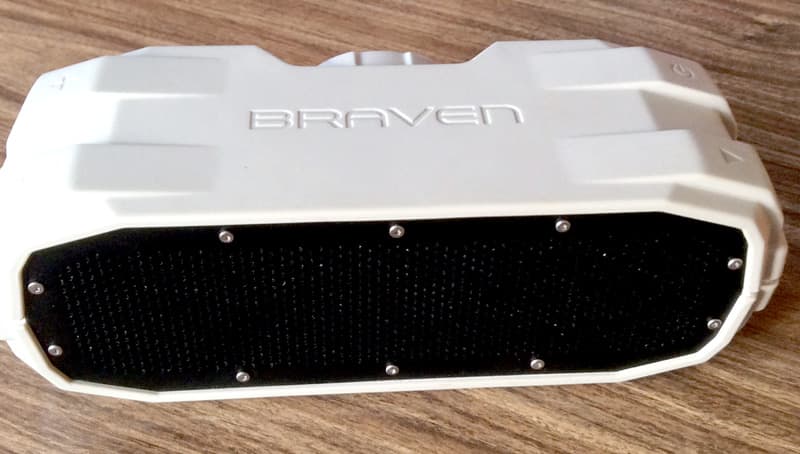 "My camper didn't come with a radio or a sound system and, frankly, I didn't mind.
My sound system is an iPad Air 128G loaded with a lot of tunes – a lot!  To get the sound I need, I use a portable small Braven BRV-X speaker.  I use Bluetooth to get my music where and when I want, either inside or outside the camper.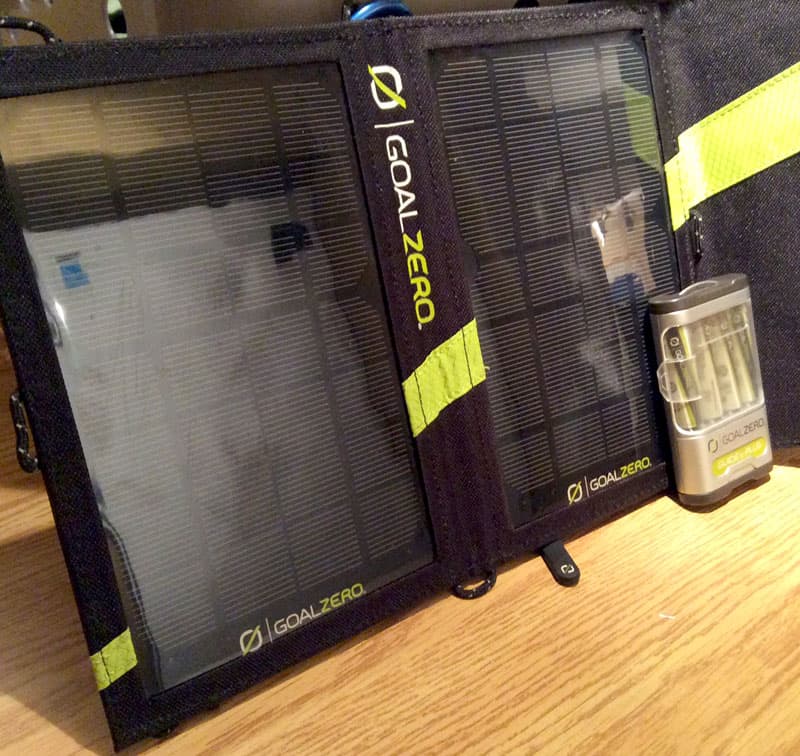 After using the table battery for six to eight hours for power, I use a AA battery pack charged by a small portable Goal Zero Nomad 10 solar panel for eight hours of music.  In extreme measures I can use the camper 12-volt battery pack with my inverter to charge the tablet and the small battery pack when I boondock.  I can also charge the tablet when the truck is rolling!
It's a light, mobile, simple, reliable sound system and I can assure you that some party could get going all night long with this small gear.  Cheers!
When I drive I listen to good Folk, Mississippi Blues, Chicago Blues and old Rock plus some good French Canadian music, which is where I come from.  The list can go forever; CCR, old U2, Daniel Lanois (Acadie), John Lee Hooker, Nina Simone, Led Zeppelin, The Who, Martin Leon, Daniel Belanger, etc." – Roch Nadon, 2007 Toyota Tundra, 2007 Okanagan 89WS

"My truck camper stereo is too complicated.  When it quit, I didn't try to fix it.  I found a fabulous way to exceed the original equipment.  It is called the Bose Mini II.  I use iHeart Radio or Pandora on my iPhone and Bluetooth it to the Bose Mini.
I have it on the dash while driving, on a shelf while in the camper, or on the picnic table outside.  It has great volume and sound which is typical of Bose.
I rock to Stevie Ray Vaughn, Leonard Skynard, David Allen Coe, Eric Clapton, Iris DeMent, and John Prine.  Bluegrass is great road music too.  What's that I hear, it's Stevie Ray Vaughn's, "It's Flooding Down in Texas".  Time to turn it up and get back on the road.  I was on a short rest break while tripping to Key West." – Larry Kelly, 2016 Ford F350, 2015 Palomino 8801
My camper didn't have any system in it, so I added a cassette player with my favorite songs.
I am always aware of my camping neighbors when playing music.  I do not use outside speakers.  Most campsites are way too close to each other to play music without intruding on the next guy.  In my opinion there is nothing worse than the guy who plays his music loud enough to be heard all over or even in the next site.  I do not think it gets any more rude than playing your music so loud it intrudes upon the guy next door.  Well, maybe a cheap generator blasting its noisy exhaust at you, which is pretty much the same thing!
I like music generally from the 50s." – R F, 1999 Ford F250, 1997 Lance
"I had Host install a Bose Cinemate GS system when they built my truck camper. A Bose Acoustimass subwoofer went into a cabinet under the kitchen countertop next to the entry door.  I have it connected to the Winegard Traveler satellite for video or music, the Sony DVD/CD player, or I can plug in my iPhone and play from my iTunes library.  One of these days, I'll upgrade.
Host provided small round speakers inside and outside that hook up to the Host provided Pioneer radio/CD player and wire its output to the Bose." – Ken Sanders, 2001 Ford F350, 2011 Host Everest
"Our rig has a Bose stereo system in the cab.  We don't have one in the camper, but use a powerful portable radio with CD player to play Aerosmith, ZZ Top, Eagles, and Skynrd.  We are usually outside during the day, and keep the music at respectable decibels, to respect other campers.  It's all go when we boondock alone.  Crank it up!" – Mike Kolinski, 2012 GMC 2500, 2012 FWC Hawk
"I have not upgraded our truck camper stereo.  The stereo in the camper is more than sufficient for our needs.  It even works with the television, DVD, and other auxiliary inputs.
I am most likely going to upgrade the OEM stereo in the truck though.  When driving long distances, the AM/FM/CD stereo does not take advantage of my Sirius/XM subscription.  I will probably be getting a head unit that allows satellite radio access.
I listen to Steely Dan, Doobie Brothers, Todd Rundgren, Eddie Money, and, of course, Sinatra!" – S. Frank Lucatorto, 2006 Ford F350, 2013 Lance 1172
"In 2014, I replaced the stock Ford radio with an in-dash Kenwood unit.  The main reason I did this was because it had a Garmin GPS, Bluetooth phone capability, and a back-up camera built in.
The truck already had decent speakers, so the sound I get with the new unit is pretty good.  One drawback to this set-up is when you get those flashing lights telling you about changes in road conditions and instructing you to tune to a specific frequency.  You spend five minutes navigating through menus and, when you get there, you are out of range of the signal.
I listen to smooth jazz and some blues and have a pretty good selection on CDs (this saved my sanity while droning down fifteen hundred miles of freeways going to Overland Expo 2016).  I listen to Special Effects, The Rippingtons, 4play, L A Express, The Crusaders, Stevie Ray Vaughn, etc." – Steve Timmings, 2003 Ford F350, 2013 FWC Hawk SC