This week's Question of the Week was, "Do you subscribe to Sirius XM satellite radio for your truck camper rig?"  Our extra credit bonus Question of the Week was, "Did you need to make any modifications to make your SiriusXM satellite radio installation work with your truck camper rig?"
We have readers who responded with many different camper and truck brands.  Whether you have a pop-up or a hard side, a Dodge, Chevy, GMC, Toyota, or Ford, there are some good answers for you here.  Thank you for sharing your Sirius XM stories and tips!
"Yes.  We added an extra antenna near the front of the truck.  The camper has an antenna installed." – Chris Carver, 2010 Ford F350, 2012 Northstar American Hero
"I did the same modification as you did after I found it didn't work with camper loaded.  Also, the Onstar worked fine since it is a wireless signal through Verizon.  The wireless signal goes sideways so no splitter was needed.  Due to the tremendous expense to continue the Sirius XM service, I cancelled.  I now use the onboard auxiliary port in the radio for the iPod and my cell phone through the ear phone jack.  With the cell phone I have unlimited data service so I use one of two apps, Sky-FM or Pandora's internet radio.  Both have a few commercials to get you to pay over the free service.  But, I found the few commercials are nothing compared to the over the air radio.  So that is what I use.  In the truck camper, I use the same auxiliary port for my iPod and cell phone!" – Donald Kingfield, 2008 GMC Sierra 2500HD, 2008 Lance 861
"No, I have never been tempted to subscribe to Sirius XM even though I have all the information about it in the visor pocket.  We mostly listen to books on tape while driving." – Allen Brummel, 2008 Dodge Ram 1500, 2008 Northstar TC650
"Both my truck and mini-van had Sirius XM when I bought them.  After the trial period expired, I didn't renew.  I mainly like music.  The bandwidth is compressed and the frequency response is limited with Sirius XM.  I just use the 10GB of MP3 stored on my smart phone and, when I get bored with that, there is always Pandora, Striker Radio, and podcasts." – Leonard Pennock, 2006 Dodge Ram 3500, 2003 Eagle Cap 950
"Yes, we have a lifetime Sirius XM subscription (no longer available).  Yes, I did some modifications in order to get 360 degree coverage.  I threaded the antenna cable from the receiver through the rear of the truck cab, through the front window of the truck camper and then placed the Sirius XM Radio Home Antenna and Boombox Antenna in the emergency escape hatch.  Why did we choose this antenna?  We already had it at home." – Alan Bryant, 2002 Ford F250, 1995 Shadow Cruiser

"The XM will not hold a signal with the camper on the truck.  The dealership had no clue as to a cure.  I need an answer.  What product will correct the problem with this model Dodge?" – Mike Stewart, 2012 Dodge 3500, 2012 Lance 855-S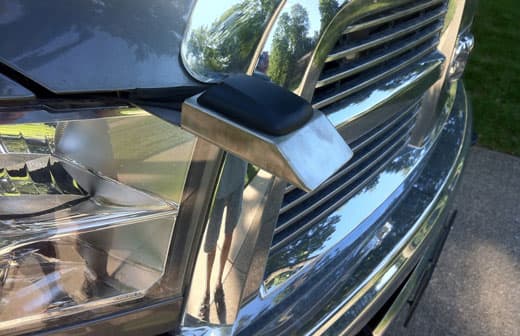 "This is a great cure and works perfectly if you don't have GPS navigation in the radio as well.  Apparently on the Dodges they use one cable for both XM and GPS and the magnet-mount doesn't work.  To resolve that problem on my 2011 Dodge Ram 3500, I bought a second antenna and extension cable (the same components that go to and mount on the roof).  A friend made me a bracket that holds it out in front of the hood.  That resolved my problem.  After a year of trying different solutions this was the only one that worked." – Ken Colvin, 2011 Dodge Ram 3500
"Yes, we have a portable XM receiver.  I added an antenna to my truck camper and we use our XM receiver in our camper.  We have not yet made the modifications for use in the truck.  We use our iPod in the truck.  Nice modification to your truck." – Mike Barrow, 2006 Dodge 3500, 2012 Lance 1191
"My Chevy truck came with the SiriusXM radio.  I enjoyed a few of the stations, but didn't use it very much.  I also had a few local dead spots.  One of which was in my own driveway.  I couldn't see paying the price for the little I used it, so I dropped it.  Sirius XM still is trying to hook me and gives me a couple weeks of free radio several times a year.  I always get reception even with the camper on the truck.  It might be because I have a larger gap than normal between the truck roof and the camper.
My major ongoing complaint to Sirius XM radio is lack of a weather station.  I keep begging them to broadcast the Nation Weather Service, the Weather Channel, or some kind of instant local weather.  It just seems like it would be easy to do and everybody wants it.  But instead of adding a weather station, they actually dropped one they did have a couple years ago.
When I am on vacation, camping, hunting, or fishing, the weather is very important to me.  It doesn't do any good to get a Chicago or Atlanta station when I am in North Dakota.  I have told Sirius XM radio that, until they get an instant weather channel, I cannot see paying the subscription price." – Greg Giese, 2010 Chevy Silverado, 1990 Sunlite Eagle
"I listen to Sirius XM.  For news, I listen to Fox News.  For music, I listen to three different stations; Willie's Road House, the 50's, and, in the evening with my bride, love music.  I had to make the change you did with a new antenna plugged into the receiver.  However, I put a magnetic antenna up between the wipers.  The first one I did as you did (out on front) and someone liked it." – Ed Krech, 2006 3500 Mega cab Dodge, 2011 Outfitter Apex 8
"Yes, we have Sirius XM and I have to move the antenna forward beyond the overhang to get reception.  I have a portable unit.  Even then, if I'm driving north, the signal comes and goes.  The best part is that it re-broadcasts to my FM radio in the truck and camper.  So I can listen to my Tampa Bay Rays anywhere in the USA." – Tom Martin, 2003 Ford F350, 2005 Lance 1030
"Yes, we have Sirius XM.  No modifications were required for it to work with the camper." – Brad Basile, 2008 Ford F250, 2013 Arctic Fox 865
"I subscribe to Sirius XM for my home and use a car kit with an external antenna on the front of the hood.  It works great in the truck and in the camper.  When I have the car kit in the camper, I put a second antenna out the camper window and sometimes just next to the window.  It works great." – Gary, 2012 Ford F350, 2011 Eagle Cap 950
"I just finished reading your article on the installation if the Sirius XM antenna.  I just wanted to let you know that this won't work for Ford owners if they have the factory equipped GPS.  The reason I know this is that I did it and then found my GPS didn't work.
I had Best Buy do the first install and then found out it wasn't going to work.  It cost me $100 when I finished and had to remove all of it.  Ford has both antennas (Sirius and GPS) in their puck on the roof.  I had to order a new antenna from Ford and then I installed it on the driver's side cowl.  This might save somebody some expense so they don't buy a generic antenna and then wonder why their GPS doesn't work.
I'm hoping this might save a Ford person some money.  Thanks for the great magazine." – Butch Evans, 2011 Ford F350, 2012 Northern Lite 10-2 CDSE