This week's Question of the Week was, "Do you subscribe to Sirius XM satellite radio for your truck camper rig?"  Our extra credit bonus Question of the Week was, "Did you need to make any modifications to make your SiriusXM satellite radio installation work with your truck camper rig?"
We have readers who responded with many different camper and truck brands.  Whether you have a pop-up or a hard side, a Dodge, Chevy, GMC, Toyota, or Ford, there are some good answers for you here.  Thank you for sharing your Sirius XM stories and tips!
"Yes.  We added an extra antenna near the front of the truck.  The camper has an antenna installed." – Chris Carver, 2010 Ford F350, 2012 Northstar American Hero
"I did the same modification as you did after I found it didn't work with camper loaded.  Also, the Onstar worked fine since it is a wireless signal through Verizon.  The wireless signal goes sideways so no splitter was needed.  Due to the tremendous expense to continue the Sirius XM service, I cancelled.  I now use the onboard auxiliary port in the radio for the iPod and my cell phone through the ear phone jack.  With the cell phone I have unlimited data service so I use one of two apps, Sky-FM or Pandora's internet radio.  Both have a few commercials to get you to pay over the free service.  But, I found the few commercials are nothing compared to the over the air radio.  So that is what I use.  In the truck camper, I use the same auxiliary port for my iPod and cell phone!" – Donald Kingfield, 2008 GMC Sierra 2500HD, 2008 Lance 861
"No, I have never been tempted to subscribe to Sirius XM even though I have all the information about it in the visor pocket.  We mostly listen to books on tape while driving." – Allen Brummel, 2008 Dodge Ram 1500, 2008 Northstar TC650
"Both my truck and mini-van had Sirius XM when I bought them.  After the trial period expired, I didn't renew.  I mainly like music.  The bandwidth is compressed and the frequency response is limited with Sirius XM.  I just use the 10GB of MP3 stored on my smart phone and, when I get bored with that, there is always Pandora, Striker Radio, and podcasts." – Leonard Pennock, 2006 Dodge Ram 3500, 2003 Eagle Cap 950
"Yes, we have a lifetime Sirius XM subscription (no longer available).  Yes, I did some modifications in order to get 360 degree coverage.  I threaded the antenna cable from the receiver through the rear of the truck cab, through the front window of the truck camper and then placed the Sirius XM Radio Home Antenna and Boombox Antenna in the emergency escape hatch.  Why did we choose this antenna?  We already had it at home." – Alan Bryant, 2002 Ford F250, 1995 Shadow Cruiser

"The XM will not hold a signal with the camper on the truck.  The dealership had no clue as to a cure.  I need an answer.  What product will correct the problem with this model Dodge?" – Mike Stewart, 2012 Dodge 3500, 2012 Lance 855-S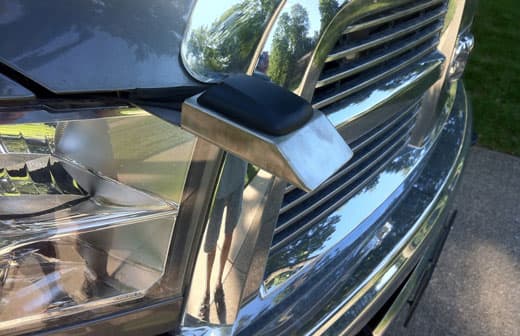 "This is a great cure and works perfectly if you don't have GPS navigation in the radio as well.  Apparently on the Dodges they use one cable for both XM and GPS and the magnet-mount doesn't work.  To resolve that problem on my 2011 Dodge Ram 3500, I bought a second antenna and extension cable (the same components that go to and mount on the roof).  A friend made me a bracket that holds it out in front of the hood.  That resolved my problem.  After a year of trying different solutions this was the only one that worked." – Ken Colvin, 2011 Dodge Ram 3500
"Yes, we have a portable XM receiver.  I added an antenna to my truck camper and we use our XM receiver in our camper.  We have not yet made the modifications for use in the truck.  We use our iPod in the truck.  Nice modification to your truck." – Mike Barrow, 2006 Dodge 3500, 2012 Lance 1191
"My Chevy truck came with the SiriusXM radio.  I enjoyed a few of the stations, but didn't use it very much.  I also had a few local dead spots.  One of which was in my own driveway.  I couldn't see paying the price for the little I used it, so I dropped it.  Sirius XM still is trying to hook me and gives me a couple weeks of free radio several times a year.  I always get reception even with the camper on the truck.  It might be because I have a larger gap than normal between the truck roof and the camper.
My major ongoing complaint to Sirius XM radio is lack of a weather station.  I keep begging them to broadcast the Nation Weather Service, the Weather Channel, or some kind of instant local weather.  It just seems like it would be easy to do and everybody wants it.  But instead of adding a weather station, they actually dropped one they did have a couple years ago.
When I am on vacation, camping, hunting, or fishing, the weather is very important to me.  It doesn't do any good to get a Chicago or Atlanta station when I am in North Dakota.  I have told Sirius XM radio that, until they get an instant weather channel, I cannot see paying the subscription price." – Greg Giese, 2010 Chevy Silverado, 1990 Sunlite Eagle
"I listen to Sirius XM.  For news, I listen to Fox News.  For music, I listen to three different stations; Willie's Road House, the 50's, and, in the evening with my bride, love music.  I had to make the change you did with a new antenna plugged into the receiver.  However, I put a magnetic antenna up between the wipers.  The first one I did as you did (out on front) and someone liked it." – Ed Krech, 2006 3500 Mega cab Dodge, 2011 Outfitter Apex 8
"Yes, we have Sirius XM and I have to move the antenna forward beyond the overhang to get reception.  I have a portable unit.  Even then, if I'm driving north, the signal comes and goes.  The best part is that it re-broadcasts to my FM radio in the truck and camper.  So I can listen to my Tampa Bay Rays anywhere in the USA." – Tom Martin, 2003 Ford F350, 2005 Lance 1030
"Yes, we have Sirius XM.  No modifications were required for it to work with the camper." – Brad Basile, 2008 Ford F250, 2013 Arctic Fox 865
"I subscribe to Sirius XM for my home and use a car kit with an external antenna on the front of the hood.  It works great in the truck and in the camper.  When I have the car kit in the camper, I put a second antenna out the camper window and sometimes just next to the window.  It works great." – Gary, 2012 Ford F350, 2011 Eagle Cap 950
"I just finished reading your article on the installation if the Sirius XM antenna.  I just wanted to let you know that this won't work for Ford owners if they have the factory equipped GPS.  The reason I know this is that I did it and then found my GPS didn't work.
I had Best Buy do the first install and then found out it wasn't going to work.  It cost me $100 when I finished and had to remove all of it.  Ford has both antennas (Sirius and GPS) in their puck on the roof.  I had to order a new antenna from Ford and then I installed it on the driver's side cowl.  This might save somebody some expense so they don't buy a generic antenna and then wonder why their GPS doesn't work.
I'm hoping this might save a Ford person some money.  Thanks for the great magazine." – Butch Evans, 2011 Ford F350, 2012 Northern Lite 10-2 CDSE
"We have never had a problem with our Sirius XM.  Perhaps it is because of the fiberglass construction of the camper.  Fingers crossed!" – Orian Hartviksen, 2011 Ford F350, 2010 Northern Lite 8-11
"Yes. I use XM radio for traveling and at home, as well using a home/auto kit.  No modifications were necessary." – Henry Nelsen, 2007 Toyota Tundra, 2012 Northstar Liberty
"Yes, XM.  I love the Blues, and there are no good blues stations in our area, so XM radio is one extra I treat myself to.  Step by step your modification is exactly what we did and has worked just fine for seven years now." – Bill Tex, 2006 Chevy Silverado 2500HD, 2003 Adventurer 810WS
"Great idea, but if you own a late model Dodge with the Sirius XM and Garmin NAV, what you'll find is that the data comes in over the same wire.  Interesting, with my camper on, I can't get Sirius XM, but I do get the navigation.  I tried this solution (bought the little extra Sirius XM antenna and all, unplugged and plugged in).  The radio worked great, but the navigation not so much." – Nik Rende
"Yes, we had to relocate the antenna.  I put it on the hood on the right side.  We also have a mobile satellite radio that I use in my work vehicles.  Its easy to move it from one to another and to use in the camper come summertime." – Jerry and Tina Rohan, 2008 Ford F450 (without spark plugs), 2011 Chalet TS116
"I had the Sirius XM the first year I had the truck, and overall it was good to have.  But since I didn't make any truck modifications, the station would fade out when driving in certain directions, mostly northwest, I think.  I almost canceled, but then Sirius XM offered me another year at half price, so I took it.  But at the end of that year I didn't renew.  That's mostly because the signal is sometimes blocked.  I only use the truck when camping so it's a lot of money for occasional listening, and I can get almost the same thing from my iPhone." – William Modesitt, 2011 Chevy Silverado 2500 HD, 2011 Hallmark Everest
"I'm very interested in this question since we are taking delivery of our new truck and camper in late April.  We have had a Chevy truck (pulling a fifth wheel) with OnStar which we treat as an emergency tool but expect it to work when necessary.  The White's work around story concerning the Sirius radio antenna is of interest since the radio and OnStar share the same antenna.  Anybody have any experience as to whether the OnStar will work when the truck camper is mounted?" – Peter Staples, 2013 Chevy 3500 HD, 2013 Lance 1172
Editor: As far as we know, the Sirius XM radio in 2013 Chevy trucks works with the modification we made.  Of course you can make the modification and test the OnStar before finishing the installation.
"I bought a Skyfi XM receiver and extra mounting kits for the camper and boat.  The Skyfi mounts on the dash with the little magnet mount antenna out on the front driver's side hood.  When not in use, I stick it on the underside of the hood.  When in use, it plays through the truck stereo and the camper stereo.  I keep the remote in the camper and can control all functions through the cab window.  It works great!  Keep on truck camping." – Bigfoot Dave Miller, 2012 Ford F350, 2002 Bigfoot 10.6E
"We did the same relocation as you, but didn't use the FAKRA adapter.  We used a stock Radio Shack antenna and carefully cut off part of the plug to fit the truck's module.  We remove our camper after each trip so it's easy to replug into the truck's stock system." – Jim Cornwell, 2011 Chevy 3500 HD, 2012 Lance 1191

"I camp off the grid primarily at national park campgrounds in the western United States and overnight at Walmarts or truck stops while on the road.  The Sirius radio works everywhere and uses very little power.  I put a Fusion Marine Radio in the camper with an Sirius receiver.  I used a Shakespeare Marine Sirius antenna mounter on the camper roof.  There are no leak problems as the wire goes inside the mushroom shaped antenna.  I put a Tune Trapper AM/FM antenna inside the overhead cabinet by the bed.  It works fine there.  This radio can be set up with a second zone to use outside or in the truck, but I have not done that yet." – Bernie Neale, 2002 Dodge Ram 2500, 2005 Northstar 8.5 Arrow
"No, we do not use satellite radio.  We depend on the truck's AM/FM radio and a portable weather radio when on the road.  We do make a lot of use of talking books on our long trips.  They help make the long drives pass more rapidly." – Bill and Sue Billyard, 2000 Dodge Ram 3500, 2000 Real Lite 1150
"Yes, I have Sirius and can't live without it.  I have a unit in my camper too.  I did the same modification that you did.  It works great!  Thanks." – William P. Francis, 2011 Ford F250, 2012 Adventurer 80GS
"We love having Sirius XM along on our camping trips.  Neither my wife's 2005 Tahoe or my 2004 F-350 were wired for satellite radio.  In the Tahoe, I installed a cassette adaptor.  In the F-350, I installed a FM adaptor.  Both of the adaptors come with a cradle that the Sirius XM receiver plugs into.
Now my wife can enjoy Sirius XM radio during her daily drive and for our camping trips.  We simply move the receiver to the F-350 and we're good to go.  Both of the adaptors were purchased through Sirius XM.  I believe that they have now discontinued the cassette adapter, but you can still find them online.
Note that I mounted the magnetic antenna on the F-350 about twelve inches in front of the windshield in the center of the hood.  Despite the fact that it's fairly close to the overhead bunk of the camper, we get excellent reception.  It really depends on the construction of the camper.
The satellite signal will travel through fiberglass and insulation pretty easily.  It's metal features like roof racks or aluminum framing that block the signal, so you'll have to experiment with the antenna placement before deciding on a final location.  It is magnetic, so it's not hard to move if you have to do it.
One last note.  As with any antenna wire, it's never a good idea to bundle up excess wire length into a tight loop.  This can lead to loss of signal strength and/or reception quality.  It's best to fold the cable into a loose bundle at least ten inches across and find two points to zip tie the bundle up under the dash." – Rex Carroll, 2004 Ford F350, 2006 Alpenlite 950 Cheyenne
"We own two vehicles that have XM radios.  We can only drive one at a time, and XM doesn't offer a reasonable discount for multiple vehicles.  We let the subscription expire, and don't miss it.  Our camper hauling pickup does have OnStar.  The shark fin antenna works well.  We have cell service wherever there is Verizon service.  Our Garmin GPS also works from the built in antenna.  Of course, our camper has fiberglass laminate sides.  I don't know how well satellite radio or OnStar would have worked with our old aluminum sided camper.  The GPS didn't work if we were driving due north." – Philip Tron, 2009 Chevy 3500, 2012 Lance 1050
"No way!  We won't pay to watch television and I sure as heck won't pay to listen to radio." – Nancy Malicki, 1995 Dodge Ram 2500, 1995 Coachmen Sportsman
"We use Sirius XM with the factory roof antenna and have not had any problems with the camper blocking the signal.  We've wondered if the camper being fiberglass is the reason we have not had any issues the signal getting blocked." – Charlie Cherry, 2009 GMC Sierra, 2008 Bigfoot 15C9.5
"Yes, I have a receiver in both the truck and the camper.  The one in the truck is OEM.  The one in the camper is a portable model (Onyx) with hard-wired outside antenna and powered mount.  We move it from the house to the camper when needed for an Adventure!  Bonus question: I had to stop wearing my tin foil hat in order to get reception!" – John Wells, 2011 Chevy 3500 HD (No spark plugs!), 2012 Chalet Ascent S100F
Editor: Please keep your tin foil hat on.  It's there for your protection.
"Yes, I do have XM radio.  It is an add-on so taking the magnet mount antenna and sticking it to the finder out past the cabover was no problem.  I have a long audio cord that I have used to plug into the stereo inside the camper.  It works out nice." – Jeff Hagberg, 1998 Ford F150, 2006 Travel Lite 800 XBS
"We do not have satellite radio of any brand.  We do have an iPod that we can plug into the radio to listen to on longer road trips.  However, we usually just turn the radio off when we lose the radio signal.  We pass the miles away talking to each other and listening to the sound of driving down the road towards our camping destination." – Rich Bain, 1999 C3500, 2010 Adventurer 810WS
"No, I do not have satellite radio." – Jeffrey, 2000 Ford F350, 2001 Bigfoot 25 C10.6B
"Question #1, No.  Question #2, N/A." – Lawrence Moorehead, 2003 Chevy Silverado 2500HD, 2007 Arctic Fox 811S
"No, I do not have Sirius XM installed on my truck.  I did have a trial subscription when I purchased a new Honda Ridgeline back in 2006.  While I enjoyed the plethora of satellite channel options, the quality was a bit pingy, or grainy.  When driving through the mountains the signal was also sometimes lost, depending on the angle of the satellite that we were connected with.
While traveling, we use our iPod with 3,360 songs on it.  Most of those songs are from our CD collection, but our local public library also uses the Freegal service, where we can legally download three songs for free each week.  Many songs in our collection are from Freegal.  We also get the bulk of our news from NPR so I check the NPR.org station list before going on a trip and see where all of the NPR stations will be as we travel.  They have a NPR Road Trip where you can see all of the stations along your path between starting and ending cities.
My sister does have the satellite radio hardware and paid subscription in her Jeep, and I know she enjoys it very much.  I'm just a cheapskate.  To each his/her own!" – TJ Purdy, 1998 Dodge Ram 2500, 1974 Airstream Sovereign of the Road
"Our truck was built last week and our camper is arriving in May.  Having had multiple trucks and cars with Sirius XM and previously having subscribed, I know the answer.  My truck will have it and I will never use it even during the trial periods.  There used to be a channel that I listened to a lot but they took it off and made it internet only.  There is nothing left that suits me and internet only defeats the purpose. – Jim McCrea, 2013 F350, 2013 Northern Lite 10.2 CD SE
"There is no issue with Sirius reception what so ever, with 10,000 miles since my purchase in December of 2012." – Larry Petty, 2012 Ford F150, 2012 Hallmark Milner
"The prior owner had an XM radio so I simply bought one and used his antenna wire in the hookup.  I installed it the night before leaving on a camping trip.  We had to call on our cell phone to get the service connected.  We spent all day with Sirius trying to get a channel to work.  I even told them I had a camper that extended over the cab.  They said it shouldn't hurt anything, duh!  Anyway after getting an add-on antenna, I was faced with the challenge of the pop-up camper with aluminum fittings.
I screwed a fat fender washer into the aluminum on the upper left front corner to attach the magnetic puck too.  Then I had to deal with needing one length of cable when the camper is down and another length when the camper is up.  If you forget that you tied the excess cable around the rear view mirror when raising the camper you have to buy another antenna.  A small take up reel attached to the rear view mirror (optional wide add-on) would be nice, but I just now thought of it.  I wonder where I can get one that small?" – Gene Lueg, Ruston, Louisiana, 2004 Toyota Tundra, 2011 Northstar 650
"I have the factory installed XM.  I also have a portable Sirius radio.  Since the Dodge has the antenna mounted on the roof at the back of the cab, the XM doesn't work at all when the Lance is on board, neither does the navigation system.  So far, I haven't found my way to install an antenna.  When I do, I plan to install the antenna on the roof of the Lance so the signal won't be blocked.  In years past, I mounted my CB on top of the camper with an L bracket, which worked very well.  I just had to remember to disconnect it before I off-loaded the camper." – Harry Palmer, 2008 Dodge 2500, 2008 Lance 915
"I subscribe to Sirius radio.  I like it because Sirius has NASCAR.  I purchased a Sirius radio external antenna from Best Buy and had my Ford dealer get me a adaptor from Ford.  It's plugged into the antenna adaptor with the wires run to the front of the hood where I used double sided tape to mount the antenna." – Gary Gade, 2011 Ford Super Duty 350, 2010 Lance 1181
"We have the portable Sirius radio going in through the cassette player.  I put the antenna on the front of the hood, centered where a hood ornament would be.  It is partially hidden by a bug deflector, but works great." – Kent Douglas, 2003 Ford F250, 2000 Coachmen
"No.  The stock AM/FM/CD plus dual band amateur radio plus scanner are plenty for me." – Steve Singhose, 2000 Ford F350, 2004 Arctic Fox 1150
"Yes, I had to add an extension to the antenna and mounted it to the top of the Alaskan camper with Velcro.  I need to leave enough slack so that when I raise the camper it does not pull off the antenna." – Mike Troeger, 1995 Ford F350, 2005 Alaskan 10′
"No.  We do not subscribe to the Sirius XM and we don't miss it.  We had it on last three vehicles and did try it on them with the free trial periods.  We enjoy listening to local stations when we travel." – Dee Bartel, 2010 Chevy 2500HD, 2012 S&S Camper
"Yes, we subscribe to Sirius XM radio and enjoy it very much.  We travel quite a lot in the mountains of Washington, Idaho, Oregon, and Montana where there aren't a lot of FM stations that work.  As you know, with the camper overhang above the factory antenna the XM radio doesn't work well.  I bought a factory antenna and cable and installed it permanently in the cowl cover in front of the windshield on the driver's side.  Installed in this location there isn't any interference from the camper overhang.  Being installed this way it will not fall off, as a magnetic antenna can.  I tried this route first and, when the snow was on the hood, the antenna would fall off." – Leonard Eagle, Jr., 2009 Ford F450, 2008 Okanagan TKS126
"I subscribe to Sirius XM satellite radio for my pickup.  When the camper is installed, I use a Roady XT XM Radio module in the pickup connected to my radio with a magnetic antenna on the hood.  I also use the module in the camper with compact speakers.  When not traveling, the module is connected to my home stereo." – Ron Lange, 2004 Chev 2500HD, 2012 Northstar Liberty
"No modification was needed since I have a non-cabover.  If I had a cabover, I would have simply used a remote magnet mount like you have done." – Robert Beckett, 1999 Ford F150, 1963 Alaskan Camper NCO 8′
"Picked up a magnet antenna, a FAKRA adaptor (just like in your published article).  It took a total of fifteen minutes!  I routed the lead-in on the underside of the hood under the insulation blanket and hid the antenna behind the bug deflector.  It works fantastic! I also have a Delco SkyFi in the camper and mounted a marine use XM antenna on the roof!" – John Brantingham, 2011 Chevy 2500HD, 2007 Palomino SL1000
"I mounted the antenna on the hood about six inches from the back edge in the center.  I was expecting to lose signal when heading north, but so far I have not." – Tom Best, 2008 Ford F-450, 2010 Chalet TS 116
"Yes, we listen to XM; no mods needed." – Jim Mallery, 2005 Dodge Ram 3500
"In 2005, I purchased a lifetime Sirius membership and a portable satellite Sirius radio.  I used it on my walk, in different cars, trucks (on my second truck now), at home, and in the camper.  I have no problem with reception at home or with the cabover camper because the radio antenna is next to the windshield." – Ron Oh, 2008 Dodge Ram 2500, 2008 Six Pac D650
"We subscribed to Sirius so we could get radio in places we go where there is no, or limited, radio reception.  We've been subscribers for about ten years.  In addition to enjoying whatever genre of music and other programming we desired while out in the tulles, we had lots of fun playing name that tune with our kids while en route.  Our old radio was a portable model so we could place the antenna on the hood for good reception.  We plan on getting an extension antenna for our F-150's built in Sirius radio since the antenna is on the roof and blocked when the camper is on." – Ken Woodward, 2012 Ford F-150, 1994 8′ Trav-L-Mate
"The XM antenna is now mounted on the truck roof.  I will have to modify and move the antenna.  I'm thinking about a a hood ornament.  Thanks for bringing the issue to my attention." – Jesse Atchison, 2006 Dodge 2500, 2005 Lance 845
"I can only get satellite signal facing certain directions.  I have been wondering about a fix for this for the last two trucks.  Years ago, when way up north in Canada, we pointed the truck southwest to get a signal, just so we could get a weather forecast." – Bob Dobbe, 2011 GMC Sierra 2500HD, 2007 Lance 950
"Yes, I do have Sirius XM radio with no modifications.  It works only when headed south, west, and east.  Going north I lose reception as well as losing reception in the mountain canyons of Idaho." – Virgil Moore, 2007 GMC Sierra 2500, 2007 Arctic Fox 811
"We do subscribe to Sirius XM and it does not work about 30% of the time.  I was looking for a fix.  We will try this one.  Thanks!" – Randall Rice, 2012 GMC Sierra 3500, 2002 Bigfoot 25C 10.6
"No." – David Botkin, 2008 Ford 450, 2007 Lance 1191
"Yes, we use Sirius XM.  We installed the same antenna modification (due to blocked signal) several years ago.  We installed the antenna exactly like shown on Truck Camper Magazine." – Ron Day, 2008 Chevy 2500HD, 2005 Sunlite
"My truck came with XM satellite radio and a six-month subscription.  During that six month period, I found myself often switching to either FM radio as I would lose the satellite signal driving through 200 foot high hills in my area when they blocked the satellite to the south, or switching to my MP3 player.  With my satellite television I am paying for many channels I never watch.  With Sirius XM I knew I would be doing exactly the same with radio.  If they changed the service to where I could pay only for those stations to which I want to listen then, i.e. a free market approach to the medium, then and only then will I subscribe to their service." – Bruce Stenman, 2011 Chevy Silverado 2500HD, 2008 Lance 845
"I purchased an antenna from Best Buy online for $19.  That included the FAKRA adaptor.  I mounted the magnetic antenna centered on the hood just above the grill.  The antenna being black on a black hood looks like it was part of the hood.  I ran the wire thought the grill and between the hood and fire blanket and through the hole for the steering column in the fire wall. I removed the glove box door and had to remove the Sirius unit to make the connection.  The plug was hard to remove in its mounted position.  I made the connection and we now have music.  It works like a charm.  When I take the truck to a car wash, I open the hood, pull the antenna through and attach it to the inside of the hood." – Ray Fair, 2008 Ram 1500, 2012 Lance 825
"We've had SiriusXM for years and love it in our camper.  We bought a dock for it and my husband built a shelf for it and wired up the antenna to the roof and we have never had a bit of problem with it." – Ken and Lynn Gillespie, 2008 Ford F 250, 1988 Lance