"I just sold my 2008 Lance 1191, so I'm in between campers right now.  I have a heavy duty vinyl Thule cargo bag that I attached to the Yakima cargo rack on my camper.  I used it when I wanted to take my Weber Q, the three burner stove, and an aluminum outdoor table.  Each one of those items comes with its own carrying bag.  Believe it or not, they are compact.
I researched this for a while because I did not want all this stuff inside my camper or take up space in my truck and/or damaging the interior.  Now I'm sure you're wondering how I get all of this up to the top of the camper.  At first I looked around for a davit or winch to hoist up these items, but I couldn't find anything that was durable enough to lift the weight for a reasonable price.
In addition there was the issue of where I was going to attach this device.  Then it dawned on me.  Just tie a rope onto the handles of each item (one at a time of course), and hoist it up yourself.  So, I got on top of the camper, had someone on the ground tie the rope onto the item and pull it up using the camper's ladder as a guide.  That way it did not damage the camper.  Don't try this if you're not in fairly good shape.
Everything fits into the bag and I zip it up.  Everything stays nice and dry.  I have had this bag for nine years and it's just now starting to show its age.  I didn't want the hard shell cargo box because it requires a lot of space to store it.  The vinyl bag folds up and fits in a carrying bag.
Also, I didn't want to leave a hard shell cargo box on the camper because I cover the camper when it is not in use.  Is this easy?  Let's just say it takes a little time and effort, but with two people it works.
Why do I bring an outdoor stove with me when I have one in the camper?  There's nothing like the taste and smell of bacon and eggs cooked outside.  Also, I like to fish and I don't want to fry my fish inside the camper." – Dennis DeVille, 2018 Ford F350, 2018 Lance 1172 on order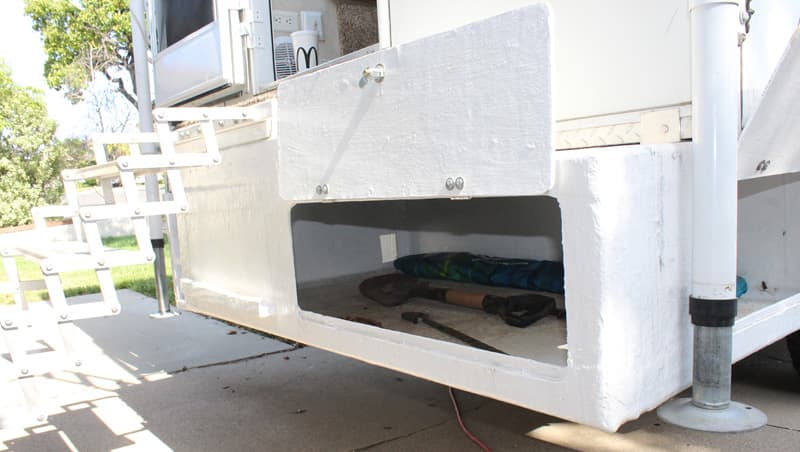 "In the past I used a rooftop cargo box.  It is a Yakima hard shell.  I stored chairs, a bicycle trailer, and other outdoor equipment.
The two concerns that I had with the Yakima carrier were that it added another 18-inches to the camper's height and that it was hard to get to.  My solution was to build a custom fiberglass box under the rear camper overhang.
The fiberglass box works great.  All kinds of outdoor equipment can be stored with easy access and locked." – Ron Richardson, 2014 Ram 3500, 2012 Wolf Creek 850
"Before purchasing my truck and camper, our family did several southwestern tours in a 1992 Ford Explorer.  We used a cargo carrier on its roof, which stored our tent, sleeping bags, and other camping gear.  We had our dogs in the back of the SUV while our young son and his 90's-era devices occupied the back seat.
It was a Sears-branded squarish ABS plastic box.  It was quite simple in construction as reflected in its sub-$200 (90's money) price.  From snow in the Rockies to thunderstorms across the deserts, our gear stayed dry and secure.  We only had one near mishap with the added height and no break-in attempts.
Our Lance has plenty of storage inside.  I hesitate to add to its height or weight, particularly weight up high.  Having said that, occasionally I have strapped down excess equipment, fuel, etc. on the Lance's roof, sometimes with a tarpaulin covering." – Mark Obert, 1999 Ford F250SD, 1999 Lance 920
"Yes.  I have a Pack-Master hard shell roof top carrier.  We use it to store our small propane BBQ grill, our inflatable kayak and life jackets, an extra sewer hose, and stuff that we don't need every day.   The biggest problem with the roof top storage is hanging off the ladder with one arm and trying lift the items with the other arm.  I have used a rope to raise and lower things." – Erwin Greven, 2002 Chevrolet 2500HD, 2002 Lance 921
"I have a factory installed rack.  I don't put anything up there as I'm too old to climb up there and get stuff up and down.  Anything put up there will sit on the roof and I don't want anything sitting on the roof that could damage it." – Dave Erickson, 2011 Ford F350, 2006 Arctic Fox 990
"We are on our third truck camper.  Our previous two had storage cargo carriers on them, but they were smaller campers with much less storage.  We used the carriers for items we rarely used but liked to keep with us.  We stored extra shore power extension cords, coax for satellite tv and cable hookups, and plastic pads to go under the jacks.  There have been in a couple of campgrounds in Florida that have required something under our jacks to protect the blacktop if we leave the camper behind.  We also kept a small grill in it.  I was younger then and didn't mind scampering up a and down the ladder.  Both cargo pods had locks on them." – Bob Key, 2013 Chevy 3500, Lance 1055
"We do not have a rooftop carrier, but we do have have two cargo bars that span across the roof.  I would like a carrier, but it could be no taller than the air conditioner unit as we only have a half-inch of clearance to the storage shed.
On the bars we plan to mount the kayaks.  If we had a cargo carrier, I think we would put life vests, maybe extra bag chairs in it, and stuff I do not always use like the air compressor.  I am looking forward to reading what others have." – Ben Hansen, 2006 Ford F350, 2005 Lance 981 Max
"I really would like to mount my Thule cargo carrier topside, but I would be concerned regarding putting the weight of maybe 100 pounds up there.  I am concerned about whether the roof is strong enough and the power lifts are capable.  I have no idea." – Shellie Barnes, 2017 Ford F250, 2017 Palomino SS550
"The factory roof rack is there, but it's totally useless given the height above the ground.  The ladder is a joke except as a patio chair holder.  Climbing it, you'd have to climb over and around the rear awning to get on and off the roof, which is useless!" – Mike and Sharon Nervik, 2002 Chevy 3500, 2004 Eagle Cap 1150