This week's Question of the Week was, "What is your contingency plan should you experience a mechanical breakdown while truck camping and require a tow?"  We asked readers if they have been towed while truck camping, to tell us about their experience.
"I've run out of fuel and nearly had a tire blow, but spares kept the hook at bay.  I don't have a roadside recovery plan that is camper-specific.  However, the Ford's insurance by State Farm does provide some tow coverage.  If ingenuity won't get me out of a roadside fix, my contingency, I suppose, is to call a tow service and ask for a flat bed." – Mark Obert, 1999 Ford F250, 1999 Lance 920
"I have had AAA auto and home insurance for over thirty years, and have always had a AAA membership.  I do my own maintenance and prefer to do repairs in the relative comfort of my own garage at my own pace/schedule.  So far I have been successful in avoiding becoming immobile and needing a tow.  Not to say I haven't done some roadside, and off-road, repairs to avoid needing outside assistance.  I guess my contingency plan (Plan C), after doing regular maintenance at home and using my tools out on the road, is AAA." – David Schmitt, 2007 Ford F350, 2014 FWC Grandby
"I have Good Sam Roadside Assistance.  Fortunately, I have never needed them to tow, but have used them twice for a jump start due to a dead battery.  They were very responsive and got me going in a timely manner." – Eldon Rhodes, 2008 Chevy 3500HD, 2011 Lance 1050
"Good Sam Club has the absolute very best service for all campers!  They respond immediately and follow up an hour later with a phone call to check the status." – Bev Stellges, 2007 Chevrolet Silverado, 2007 Northstar
"Knock on wood!  We have never had to be towed.  We have a 1994 truck, so we elected to tow a 1995 Suzuki Sidekick 4×4 for our breakdown security backup.  That can  take us to the nearest auto parts store to purchase the thing we need and return to the truck to fix it.  We changed a fan belt in fifteen minutes, a tire in ten, and a beer breakdown in about a three hour drive, round trip.  Life is good!" – Sylvie and Jake Mathis, 1994 Dodge Ram 2500, 2004 Northern Lite 9.6Q
"I haven't been towed yet, but I did sign up with Good Sam's and I am not happy with them.  I haven't done anything about it yet.  I bought a used van in Albuquerque, New Mexico six months ago and drove it back to Denver.  On the way back I had a tire blow. The previous owner said there was a jack, wrench and spare in it.  I did check for the jack and tire but didn't look for the wrench.  Guess what was missing?
I called Good Sam and they had trouble getting someone out.  Many questions later, they finally said that it was a commercial vehicle and they wouldn't come out.  I was able to contact a company works with AAA and, in a short time, was out and changed the tire.  He charged me about $120, but I was back on road shortly after by passing on Good Sam's.
I tried to complain by leaving a comment about Good Sam when someone else had problems with them but the procedure to leave a comment was ridiculous and it didn't go through.  So, at this time, don't count on Good Sam.  It seems they don't have the support to get the job done." – Frank Niehus, 2007 F-350, 2007 Arctic Fox
"I've had Good Sam road service for many years due to the fact it automatically includes RV towing.  Every once in awhile, I'll check with other road service offerings and RV towing is either non-existent or you have to get their special RV package at an additional cost.
Good Sam isn't a perfect service, but it has worked very well over the years.  The only time I've had to have my truck camper towed was back in August 2004.  The truck was a total loss and the camper was just fine." – Alex Blasingame, 2007 Ford F250, 2002 Lance 815
"In January of 2009, we were on our way home from a post Christmas trip to Tombstone, Arizona.  We had also visited Bisbee, Arizona and had stopped to tour the beautiful Arizona-Sonora Desert Museum just outside of Tucson.
As we approached the turn off to Gila Bend, Arizona, the truck engine simply stopped.  I had to quickly coast to the side of the highway.  Other than a few gas stations and a McDonalds, there is not much else to see or do in Gila Bend.  Fortunately for us, there is one towing service, Knutson's Towing.  Don Knutson (I think it was Don) was on his way home with his flatbed truck when he stopped to see if we needed help.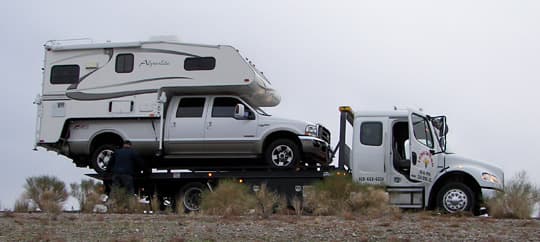 The truck camper is too tall to legally be put on a flatbed tow truck, but we were only about half a mile from his tow yard.  So up we went and into Gila Bend.  We kept an eye out for overhead utility lines and the Arizona Highway Patrol.
There was an internal fuel pump on the engine that had gone out.  It was a known problem with the 6.0 diesel motors which was, fortunately, covered under the extended warranty.  The only problem was that we had to get the truck to a Ford dealership.  The warranty only covered towing to the nearest Ford dealership which was in Phoenix, Arizona.  Phoenix was in the opposite direction of our home in San Diego.
After spending the night in Gila Bend (not recommended), we decided to have Don tow us the 120 miles to Yuma.  The tow cost us almost $700 and Don used his biggest tow truck for the two hour trip to Yuma.  We couldn't fit everyone into into the rig of his tow truck, so he had his daughter use her car to drive my wife and stepson to Yuma.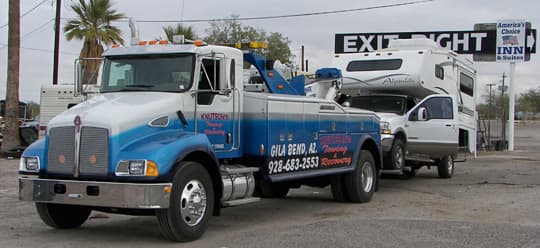 Above: Rex Carroll's truck camper rig gets a big tow
Both he and his daughter were exceptionally nice people and it took some of the sting out of the towing bill.  Once in Yuma, we dropped the truck camper off at the Ford dealership and rented a car for the three hour trip to San Diego.  Three days later, I drove the rental car back to Yuma and drove the truck camper back to San Diego.
Looking back at it, you have to be flexible and willing to make lemonade out of lemons. The whole experience just added to our adventure and the question, "Do you want to spend the night in Gila Bend?" has been a running joke ever since." – Rex Carroll, 2004 Ford F350, 2006 Alpenlite Cheyenne 950
"Lucky for me, my plan is that I'm a ham radio operator.  I can usually get help coming my way pretty much from anywhere.  I took my new camper out last year for its maiden voyage and hit a deer.  Once the state trooper found me, 1.5 hours later, I was towed back to town for a new radiator.  Then I continued my camping trip.  I did not have any venison for the trip." – Chris Buck, 1996 Dodge Ram 1500, 2014 Palomino Bronco 800
"It all depends.  If the camper is in the right spot, the plan would be to unload it from the pickup – if possible – and live in the camper, while the truck is being repaired. 

Although I have not had a break down with the camper (knock on wood), I have had experience with break downs in motorhomes.  Once when I was in in Destruction Bay in the Yukon, Good Sam came through with flying colors.
I experienced an alternator failure and it could not be fixed at that location.  Good Sam sent a repair truck with several fully charged batteries.  Those were used to get us to Whitehorse, Yukon.  It was approximately 160 miles.  I made it there on the last leg of the last battery.  The repair driver would change the going dead battery with a fully charged one every 40 to 50 miles.  On Monday, the following day, we had the alternator rebuilt and we were on our way by noon.
Another time I called Good Sam was when I got an engine light outside of Portland, Oregon.  They had a tow truck there within an hour, and towed us thirty miles to the Chevrolet dealer.  They couldn't get the part we needed that evening, so we stayed at the dealership with electricity hook-up that night.  The dealer had us on our way by 10:00am the next day. 

Good Sam road service has been with me for a lot of years and has not failed me yet.  I wouldn't be without them." – David Donovan, 2007 Chevy 3500, 2012 Chalet TS116
"In 2010, the drive shaft failed on the North rim of the Grand Canyon, near the Navajo Bridge.  The Arizona highway patrol contacted the nearest wrecker service, in Page, Arizona, and they responded in about two hours.  I have Good Sam but, because of the location, we were not able to contact them directly and had to rely on the state police for communication." – George Hughes, 1999 Ford F350, 2004 Arctic Fox 942
"Our truck is covered by Ford roadside assistance.  Our insurance company also covers towing, plus we have AAA." – Tim Chapell, 2013 Ford F150, 2013 Palomino Bronco 1251SB
"Since we camp October through April, we encounter snow.  Over the high Sierra range, in the Siskiyoos, and the Rocky Mountains, we have been in a couple of really bad storms.
Outside of Truckee, California, we got stuck a few years ago at Boca Dam road.  We had a GPS, a small base radio in the camper, AAA, and Good Sam.  I called AAA, and were reached with a monster tow rig.  We were cabled up and turned around.  Ice had prevented us from traction under the deep snow.
We learned our lesson.  Keep an insurance card, GPS, radio, and cellphone handy.  Both AAA and Good Sam offer towing insurance at competitive rates." – Mike Kolinski, 2012 GMC 2500HD, 2012 Four Wheel Camper Hawk
"Knock wood, I have not broke down in over ten years.  This summer I downsized from a 37 foot fifth wheel to a truck camper.  I have had Good Sam roadside assistance for a few years, and used it for friends who have broken down." – Eric Devolin, 2007 GMC 3500, 2006 Adventurer 106DBS
"For the first time in forty odd years, CSAA let us down.  We had been towed successfully by CSAA three years ago.  No problem.

Last November we broke down and were told that our enhanced coverage was not enough.  Now one needs an entirely new level of coverage, pay for the tow, and then be reimbursed when a truck camper is involved.
I bought the new coverage, but they would not cover our tow retroactively, even for a customer of my many years.  Also, the communication between the dispatch center and the tow truck company is faulty.  I very expressly told the dispatch operator that I had a truck camper and the information was not passed on to the tow truck company.
We sat on the side of the road for six hours waiting for a tow.  When the tow truck finally arrived, he could not manage our rig.  Then the dispatcher could not advise me where to contact a commercial tow.
I have always been happy with CSAA, until now.  I have my house and all my vehicles insured through them.  I am interested in hearing how other companies are doing." – Claudia Lawrence, 2004 Ford F350, 2013 Arctic Fox
"We use Good Sam Roadside Assistance as they offer support in both the USA and Canada.  We have not had to use them with our truck camper, but did need their help with our fifth wheel trailer in California.  We were very pleased with the way they handled our call.
A service truck was dispatched to our location, and then they called us back to advise on the expected arrival time.  When the truck arrived, the driver was able to assist us on site and have us back on the road." – Bill Billyard, 2000 Dodge Ram 3500, 2000 Forest River Real Lite 11.5
"We discovered 1-800-Pepboys.  They will tow you to their nearest store 363 days a year.  We found out on Labor Day while towing our pre-truck camper 5th wheel.  They towed us in for free, put the fifth wheel under a shade tree, and had us back on the road in a couple hours.  Our regular road service was still trying to find someone open on Labor Day.  That was before 2010.  Their policy may be different, but we were really impressed." – Lois Zell, Ford F-350, 2009 Lance 1040
"We have roadside assistance from Good Sam Club.  We have not had to use them as yet.  We chose them because they were specialists in RV roadside assistance and cheaper than AAA." – Wade and Becky Johnson, 2004 Ford F-350, 2003 Lance 1161
"We now have Good Sam Roadside Assistance.  We found out that AAA does not cover RVs in New England.  AAA are regional clubs and each club offers various levels of coverage.  Be sure you specifically ask if they cover your RV.  If they do not even know what a truck camper is, you should probably look elsewhere.
Full coverage is important to us as we have a truck camper and a travel trailer and wanted to be sure we have coverage where ever we travel in North America.  We have not needed Good Sam for the truck and/or camper, but have used it for cars.  So far they have been responsive and we are pleased with their coverage." – Bill Tex, 2006 Chevy Silverado 2500HD, 2013 Eagle Cap 850
"I use AAA as it covers all my vehicles.  They do have trouble comprehending the size of a truck camper.  I usually tell them it is a twenty-five foot Class C to make sure they send a large enough truck." – Leonard Pennock, 2006 Dodge 3500, 2003 Eagle Cap 950
"Hoping we never need a plan B?  We have BCAA basic coverage, British Columbia AAA.  They say we are covered for towing with the rig, as we are not a dually.  We shall see!" – Orian Hartviksen, 2011 Ford F350, Northern Lite Q8-11
"We have AAA with RV Rider for breakdowns and we are very happy with it.  On the 4th of July in 2010, with our new to us 2002 F350 dually and Adventurer 106DBS, we lost a front wheel bearing near Big Spring, Nebraska on a dirt road at about 5:00pm.
I called AAA and they sent Steve's Towing from Julesburg, Colorado.  I told Steve's to be sure to bring a big truck for our heavy load.  It went on a big flat bed truck.  They were great, and we stayed at his shop overnight plugged in and watched the fireworks from a few miles outside Julesburg.
Steve was able to get a new bearing unit even though it was a holiday.  He had it on by 2:00pm the next day and we were on our way.  I can't say enough good things about Steve.  He made our problems go away." – Chip Collin, 2002 Ford F350, 2013 Chalet DS116RB
"I bought Good Sam Roadside Assistance because it covered my vehicles, truck camper, and helps others I'm traveling with.  Good Sam's plan will take you and your camper to the nearest true service point, not just up the road to a drop off garage that might service your needs.  They offer specials on upgrades to their insurance also for a fair price.  This is good insurance when you can not do everything by yourself anymore.
Also, we own a truck camper for fishing trips with the family and a 5th wheel for us to see north America.  I have helped many campers with issues along the highway when possible, mostly tire related issues. I would not hesitate to help a camper take their truck camper or 5th wheel to a close-by point, to get them off the road – if my F250 could handle their load.  Who knows, you might even make a friend for life." – Thomas Bender, 2011 Ford F250 4×4 Lariat , 2009 Sun Valley Apache Chief 8.65 WS
"First and foremost is preventative maintenance!  Most breakdowns occur because preventative maintenance was not being done.  This means a pre-trip and post trip inspection under the truck up.  Pick up a cheap Walmart mech creeper for about $15 or so, or just use a large piece of cardboard and look under your truck for fresh oil leaks, lose or missing bolts, etc.  Look at your exhaust pipes and smoke, it should be dry and light colored.  Listen for new or unusual sounds.
In the case of truck campers, there is a high stress placed on U joints.  U joints tell you before they fail.  Listen for the chirp-chirp tick-tick click-click sound.  Bearings do the same.  Also smells: antifreeze, burning oil, burning rubber, and melting electrical connections all occur before failure.

I have a rider on my insurance that pays for towing in the event of a breakdown.  I also carry a breakdown support policy that provides for fuel to be delivered if I run out, tires changed, and other minor issues that may occur on the road.  It's through AAA." – Don Pryor, 2011 Ford F350, 2009 Arctic Fox 1150
"I have not had a breakdown with my truck camper.  I have had three events with the 5th wheel.  For all of these years, I have been a member of the Good Sam Roadside Program and find it to be excellent.  Two of the three problems were fairly local and Good Sam's program was great.
The most serious problem was being in BFE on the way back east from South Dakota.  I lost a wheel and tire.  I pulled off at the next exit and made the call from a parking lot.  I only had to wait an hour and a half for a truck which came with the correct parts from another state.  I would highly recommend Good Sam." – Rich Polak, 2011 Ford F350, 2005 Lance 1191 / 2001 All American Sport 5th Wheel
"We rely on ASA most of the time.  When we go off-the-grid, we go with other campers who usually have all the equipment needed for a breakdown." – Ted and Joan Berger, 2001 Dodge Ram 2500, 2013 Northstar Laredo
"We have had a AAA membership for many years.  Besides the road service for operator head space such as locking the keys in the vehicles, we have had to have the truck camper and trailer towed once.  While on a trip from Arizona to Pennsylvania, a small plastic connector in the cooling system broke leaving us on the side of the road the middle of nowhere New Mexico.  The tow was just over 85 miles to the nearest garage.
AAA put the truck and camper on a flat bed truck and my twenty foot flat bed was towed to the garage.  The membership has been worth every penny for all the times we have had to call.  You would be surprised where AAA will come to your aid!
Besides AAA, I have used both of my Jeeps to self rescue myself or friends on different occasions." – Dave and Vicki Harker, 2004 Ford F350, 2004 Elkhorn LT
"We have Sam Club Auto Club.  They have unlimited mileage for towing and will tow both the truck and trailer (we have a 28′ Cougar 5th wheel) as well as the truck camper.
We live in New Mexico where it is a long way between stops.  Years back we used a different auto club and found it would only pay for 25 miles.  My son, who was on our plan, was stuck and needed a tow out.  It cost him $400 out of pocket and the auto club paid $200.  The tow company didn't have a truck readily available so one was dispatched from the next nearest town, which was over 60 miles away.  My son paid round-trip mileage.

We always have tools with us and now carry an air pump.  Twice we've been on trips and had blow outs.  On one trip we lost two tires in fifteen minutes.  We were lucky and found a place to get off the road.
The Canadians who were driving by stopped and helped change the tire and inflate the second spare, which had lost air.  We had three blowouts on that trip, which was a round trip from Las Cruces, New Mexico to Fairbanks, Alaska.  We traveled 8,000 miles in three weeks and stayed in Fairbanks for over a week.

Good Sam Auto Club has no mileage restriction and is readily available wherever we travel in the West.  Unlike some auto clubs, which charge a premium for each driver, Good Sam is reasonable and all vehicles are covered as is any driver in the household." – Harry, 2008 Dodge 2500, 2008 Lance 915
"I've seen this subject cause so much anxiety and worry in some people that they can't ever have a good time for fear of breaking down.  They take enough spare parts and tools to build a new truck, or spend hundreds per year on a roadside assistance company.  That's no way to travel.
I have towing through my insurance (USAA).  It is $1 per vehicle per month. Granted there is a limitation on distance they tow, which is to the nearest repair facility capable of repair to your vehicle.  But, it gets me off the road and hopefully to civilization where I can get a game plan together.
I'm able to fix most things on the road and carry a small tool box with me.  If it's anything big, I will chalk it up to being "one of those times that makes the good times seem even better", have repairs done, and get on with life.
So, while AAA and the likes might be a good option, check with your insurance as you might find they offer roadside assistance much cheaper.  I also confirmed they will tow my truck, if loaded up, and also a trailer if I have one.  Most of the time I have my Jeep in tow, so there are no worries there (I can use it to go resupply the fridge with beer)." – Keith Fromme, 2006 Ford F250, 2014 Travel Lite 890SBRX
"The plan we rely on is the Good Sam roadside assistance program.  We are so glad we have it.  I signed up for it in August of 2010.  We left on a 25 day tour of California, up through Nevada into Idaho and, returning, followed 84 west.  About 10 miles outside of Baker City our Dodge started spewing smoke, shaking, engine lights coming on and slowing down with no engine power.  I pulled over to the shoulder and the engine died.
We only had Good Sam for about three weeks, so we gave them a call.  After explaining our situation, the representative said that there was a Dodge dealer in Baker City and he would send a tow truck out within an hour.  True to his word, the tow arrived within 40 minutes.  Our vehicle would not fit on his flatbed so he towed it with the front wheels off the ground.  We both had to open up the manual to figure out how to disconnect the drive line from the rear wheels (Neutral position on the 4WD knob).  I should have remembered to turn off the refrigerator while the truck was at such an angle.  But it was only a twenty minute tow back to the dealership.
The service shop scanned for codes and said it was a failure of the DPF (Diesel Particulate Filter).  It was 92% blocked with soot.  These filters are warranted for 100K and our truck only had 51K.  They would have to order parts from Portland and would take about three days to fix it.  And this was only Monday.
The shop recommended an RV park about three miles north of town and said the truck could be driven at around 20 miles per hour.  We arrived at the park and explained our dilemma and they were fine with us off loading the camper.  I had my bike with me and drove back to the dealer and left it to be repaired.
We actually had a good time in Baker City taking the trolley bus system all over town and exploring the walking/bike trails through out the area.
We went back to the dealership on Wednesday.  They were really busy and asked if I would mind doing the recalibration for the computer.  It was no problem, so I took the truck for a twenty mile drive until all the numbers lined up and the system said all was okay.
Back at the dealer the total came to $2,800 dollars and I about fell over.  However, they said Chrysler would cover it under warranty.
The service tech said not to idle the engine for very long and to keep the filter heated up by running the engine at a higher RPM.  So I do a lot of fifth gear driving which keeps the engine at about 1,800-2,000 RPM.  I'll use sixth gear if the roads are very flat and driving at 65 miles per hour.
We went back to the RV park, loaded the camper, drove on to Pendleton, and stayed the night at Wildhorse Casino.  Having Good Sam roadside assistance has been a real positive experience.  When traveling we always say, "Expect the unexpected!" – Roger and Elaine Odahl, 2008 Dodge 3500, 2004 Eagle Cap 950
"When I bought my truck camper and 1997 GMC 3500 dually as a package, the truck had a lot of mechanical issues.  I had them repaired, but resolved to get a new truck for fear of breaking down in the middle of Ogallala (done that before)!
Looking at the roadside assistance plans available, the AAA plan had the best to offer.  It is not cheap but, as I recall, they will pick you up and take you to a garage of your choice with your truck, camper, and all." – Bill Dobbins, 2014 Ford F350, 2013 Lance 1130
Two other past tow articles in TCM about Roadside Assistance that may be of interest:
Truck Camper Breakdown Story and Advice from Ed and Donna Amato
Carving Up the Road from Don and Lucy Seijas