This week's Question of the Week was, "What is your contingency plan should you experience a mechanical breakdown while truck camping and require a tow?"  We asked readers if they have been towed while truck camping, to tell us about their experience.
"I've run out of fuel and nearly had a tire blow, but spares kept the hook at bay.  I don't have a roadside recovery plan that is camper-specific.  However, the Ford's insurance by State Farm does provide some tow coverage.  If ingenuity won't get me out of a roadside fix, my contingency, I suppose, is to call a tow service and ask for a flat bed." – Mark Obert, 1999 Ford F250, 1999 Lance 920
"I have had AAA auto and home insurance for over thirty years, and have always had a AAA membership.  I do my own maintenance and prefer to do repairs in the relative comfort of my own garage at my own pace/schedule.  So far I have been successful in avoiding becoming immobile and needing a tow.  Not to say I haven't done some roadside, and off-road, repairs to avoid needing outside assistance.  I guess my contingency plan (Plan C), after doing regular maintenance at home and using my tools out on the road, is AAA." – David Schmitt, 2007 Ford F350, 2014 FWC Grandby
"I have Good Sam Roadside Assistance.  Fortunately, I have never needed them to tow, but have used them twice for a jump start due to a dead battery.  They were very responsive and got me going in a timely manner." – Eldon Rhodes, 2008 Chevy 3500HD, 2011 Lance 1050
"Good Sam Club has the absolute very best service for all campers!  They respond immediately and follow up an hour later with a phone call to check the status." – Bev Stellges, 2007 Chevrolet Silverado, 2007 Northstar
"Knock on wood!  We have never had to be towed.  We have a 1994 truck, so we elected to tow a 1995 Suzuki Sidekick 4×4 for our breakdown security backup.  That can  take us to the nearest auto parts store to purchase the thing we need and return to the truck to fix it.  We changed a fan belt in fifteen minutes, a tire in ten, and a beer breakdown in about a three hour drive, round trip.  Life is good!" – Sylvie and Jake Mathis, 1994 Dodge Ram 2500, 2004 Northern Lite 9.6Q
"I haven't been towed yet, but I did sign up with Good Sam's and I am not happy with them.  I haven't done anything about it yet.  I bought a used van in Albuquerque, New Mexico six months ago and drove it back to Denver.  On the way back I had a tire blow. The previous owner said there was a jack, wrench and spare in it.  I did check for the jack and tire but didn't look for the wrench.  Guess what was missing?
I called Good Sam and they had trouble getting someone out.  Many questions later, they finally said that it was a commercial vehicle and they wouldn't come out.  I was able to contact a company works with AAA and, in a short time, was out and changed the tire.  He charged me about $120, but I was back on road shortly after by passing on Good Sam's.
I tried to complain by leaving a comment about Good Sam when someone else had problems with them but the procedure to leave a comment was ridiculous and it didn't go through.  So, at this time, don't count on Good Sam.  It seems they don't have the support to get the job done." – Frank Niehus, 2007 F-350, 2007 Arctic Fox
"I've had Good Sam road service for many years due to the fact it automatically includes RV towing.  Every once in awhile, I'll check with other road service offerings and RV towing is either non-existent or you have to get their special RV package at an additional cost.
Good Sam isn't a perfect service, but it has worked very well over the years.  The only time I've had to have my truck camper towed was back in August 2004.  The truck was a total loss and the camper was just fine." – Alex Blasingame, 2007 Ford F250, 2002 Lance 815
"In January of 2009, we were on our way home from a post Christmas trip to Tombstone, Arizona.  We had also visited Bisbee, Arizona and had stopped to tour the beautiful Arizona-Sonora Desert Museum just outside of Tucson.
As we approached the turn off to Gila Bend, Arizona, the truck engine simply stopped.  I had to quickly coast to the side of the highway.  Other than a few gas stations and a McDonalds, there is not much else to see or do in Gila Bend.  Fortunately for us, there is one towing service, Knutson's Towing.  Don Knutson (I think it was Don) was on his way home with his flatbed truck when he stopped to see if we needed help.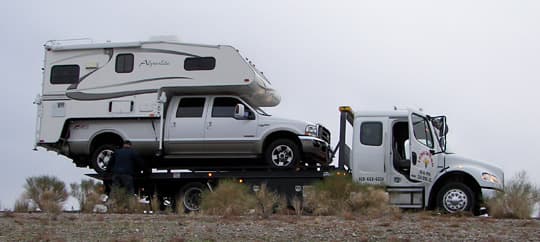 The truck camper is too tall to legally be put on a flatbed tow truck, but we were only about half a mile from his tow yard.  So up we went and into Gila Bend.  We kept an eye out for overhead utility lines and the Arizona Highway Patrol.
There was an internal fuel pump on the engine that had gone out.  It was a known problem with the 6.0 diesel motors which was, fortunately, covered under the extended warranty.  The only problem was that we had to get the truck to a Ford dealership.  The warranty only covered towing to the nearest Ford dealership which was in Phoenix, Arizona.  Phoenix was in the opposite direction of our home in San Diego.
After spending the night in Gila Bend (not recommended), we decided to have Don tow us the 120 miles to Yuma.  The tow cost us almost $700 and Don used his biggest tow truck for the two hour trip to Yuma.  We couldn't fit everyone into into the rig of his tow truck, so he had his daughter use her car to drive my wife and stepson to Yuma.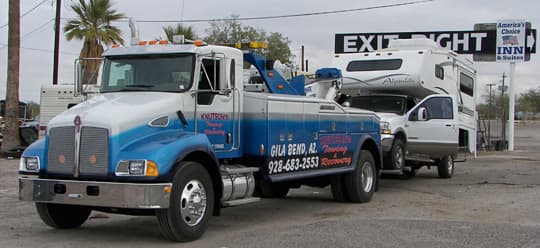 Above: Rex Carroll's truck camper rig gets a big tow
Both he and his daughter were exceptionally nice people and it took some of the sting out of the towing bill.  Once in Yuma, we dropped the truck camper off at the Ford dealership and rented a car for the three hour trip to San Diego.  Three days later, I drove the rental car back to Yuma and drove the truck camper back to San Diego.