This week's Question of the Week was, "When you're truck camping, do you eat fast and simple (like us), or do you go all-out gourmet and live it up?"
WARNING: The reader responses and pictures will probably make you so hungry that you'll eat your computer half way through.  If that happens, don't panic.  Just make sure you're full, buy another computer, and then read the second half of the story.
"In the weeks prior to going on a trip, I make and then freeze single portions of favorite foods.  Some examples are Beef Bourguignon, roasted garlic pasta sauce with locally made organic italian sausages, cooked plain quinoa, pesto, etc.  I bring fresh herbs wrapped in damp paper towels, bottles of sweet chili sauce, Nam Pla, hot sauce, plus snack bags filled with dry herbs and spices.
Each morning I move one (or more if traveling with someone) from the freezer.  Then, at mealtimes, I boil one pot of water and add pasta or rice.  While it cooks, I chop vegetables adding them to the pot when the pasta or rice needs to finish cooking in the same amount of time the vegetables need.  I empty the pot into a drainer, the container(s) of the stew, sauce etc into the hot pot, throw the starches/veggies back in and add the appropriate additions; pesto, cheeses, Nam Pla, nuts, or whatever that dish requires stir it together.  Then I have a lovely tasty meal very easily and readily.  It's relatively easy to move from Thai food, to Italian, to French.
They are not strictly one-pot meals since a slowly simmered sauce or oven baked chicken cacciatore needs a pot at home, but on the road it's most definitely a one pot meal.  I entertain fairly often so it's quite easy for me to freeze up single packs following a big meal.  I also travel with a small propane oven.  I didn't want to try to bake in my tiny truck camper in summer weather.  I use it to bake my own gluten free breads, muffins, etc.
My limitations right now come from maintaining the freezer at a constant temperature.  I am not skilled at managing the three-way settings.  I am considering a small 12V freezer for my truck cab and my next camper will have a compressor refrigerator.
On a long trip I will need a day now and then for cooking several types of food and freezing portions.  Every few days I also make up containers of quinoa salad and coleslaw to speed up assembling meals.  In the mornings, while preparing breakfast, I make and pack my lunch to carry in the cab.
Prior to a trip, I pre-mix gluten free (I am a celiac) batches of various mixes – bread for a small loaf pan, biscuits, muffins, pancakes; each container has a colored sticker on it.  I have a master list of recipes with the color coded stickers for each type of mix, listing required additions, baking times, etc.  My Northstar has cupboards in front of the wheel well with narrow shelves – perfect for cans or, in my case, single flour batches.
I like fast and simple, but also tasty and fresh.  After just one season of truck camping I have much to learn.  It's a work-in-progress." – Michele McLeod, 2013 Ford F150, 2002 Northstar TC800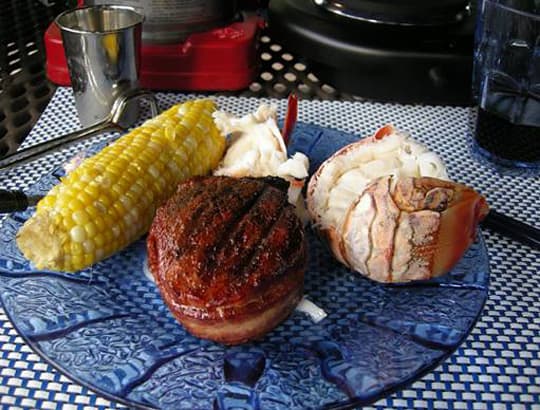 "Eating is the best part of our camping experience.  We do stop for fast food on the road but, once we get to the campsite, we try to do it right.  Our favorite meals are fillets with a Caesar potato salad or homemade fettuccine noodles with Alfredo sauce.  We've also had stuffed trout with rice pilaf and grilled chicken breasts with a tomato cream sauce.  Once, we even had surf and turf for our anniversary.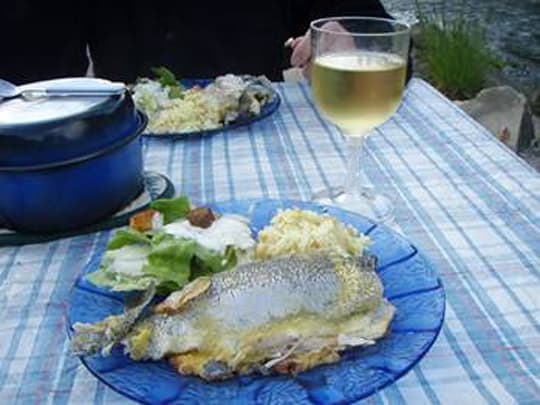 We try to take along a nice wine selection and snacks like smoked salmon or smoked trout.  Breakfasts can be easy like instant oatmeal or biscuits with gravy in the Dutch oven.
We don't skimp with the food.  It tastes so much better camping.  We take along food that we can easily prep ahead of time.  Gary does the cooking while I supervise with a glass of wine!" – Denise and Gary Paton, 2007 Dodge Ram 3500, 2013 Arctic Fox 990
"We eat when we're camping like we do at home.  I must say that I always have something pre-made.  As an example, we love fried rice.  When I cook rice, I always cook more then I need.  It can be refrigerated for about three to four days or I can freeze it.   And when I cook pork chops, I always cook some extras that I will freeze for the future.
When it's finally fried rice day, I fry an egg, some green onions, mushrooms, and pull some pork chops.  Then I warm it up and set it all aside on one plate.  I put some rice in a good peanut oil, and cook the rice.  Then I add some soy sauce, and the previously cooked stuff.  I let it rest with a lid while we set the table.  Bon Appetit.  It's gourmet, cheap and great to cook inside or outside.  We love it outside with a good beer." – Jake and Sylvie Mathis, 1994 Dodge Ram 2500, 2003 Northern Lite 9Q
"A lot of times we pre-cook meals at home, like enchilada pies, lasagna, cole slaw, or other casseroles, and heat them up in camper.  We also use barbecue pits for simple meals.  It works great for us on week long camping." – Mike Kolinski, 2012 GMC 2500HD, 2012 Four Wheel Camper Hawk
"I cook full-course meals.  My truck camper is equipped with a kitchen with all the bells and whistles, including a built-in dishwasher.  Besides the refrigerator/freezer combo, I have another two residential freezers in my camper.  There is one sitting on my flatbed.  I can carry food for at least six months off-the grid living in Canada's wilderness.  I cook old style European and Bohemian cuisine." – Martin Pfitser, Sterling Bullet 5500, 2007 Okanagan 96B
"I love to cook and am constantly on the lookout for easy recipes that are healthy to prepare while camping.  We love to stop at local markets and bakeries to purchase local ingredients.  While on a recent trip to the Olympic Peninsula, we were able to purchase fresh oysters to cook on the grill.  They were so good that we stopped to get more on our way home.  We also will purchase steak, which we rarely eat at home. 

After having carried along recipes that take some prep, I've found that easier is better.  I usually make up pancake mix and special spice mixes at home ahead of time and carry them in baggies.

Often times we will eat breakfast at local establishments when are on the road.  One of our favorite on-the-go breakfasts is granola with yogurt and fruit.  Everything tastes better when you're camping!" – Carol Wegner, 2011 Toyota Tundra, Northstar TC650
"We eat better when we're camping than at home because of the extra time on our hands.  At home breakfast is quick but, while camping, we'll do bacon, eggs, and hash browns.  Lunch is usually just sandwiches.  Dinner is a full meal that ranges from burgers to a casserole." – Leonard Pennock, 2006 Dodge 3500, 2003 Eagle Cap 950
"We usually pack a lot of dry stuff when we're camping.  For meat, we have deer, burgers, deer steaks, wieners, and maybe one more heavy duty meal.  It's not gourmet, but a bigger deal; whatever thaws first in the meat department, or is fastest to get cooked and cleaned-up after while camping.
We mostly snack on fruits and preserved meat while driving.  We have deer jerky, a block of cheese, crackers, and green tea, Pepsi, and water on the road.  When we have the grandkids along, we have to indulge their tastes.
We don't usually stay in one spot very long, so we have to make the most of the free time we get to see and enjoy the most sights.  It doesn't leave a lot of time nor the desire to cook and do dishes." – Cheryl Nelson, 2004 Chevy 3500, 1990 Shadow Cruiser 9.5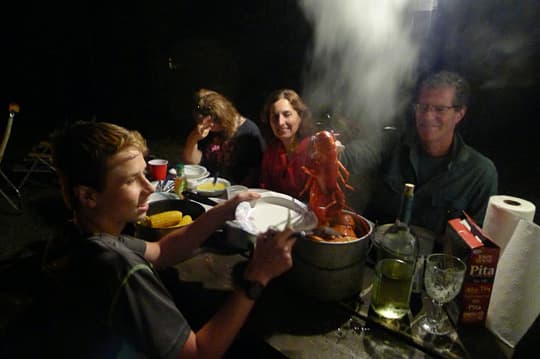 "Do lobsters, steamers, and fresh corn with family and friends in Acadia National Park on the Maine Coast count as gourmet?" – Bill Tex, 2006 Chevy Silverado, 2013 Eagle Cap 850
"A few weeks ago, I was invited to join a gentleman truck camper for a four-day trip to Gettysburg Farm Outdoor World near Dover, Pennsylvania.  I enjoyed a delightful time, feeding crackers to the baby goats and cradling them in my arms.  I was entertained by the fanning of the peacock's feathers and was kissed by Chucky, a real llama.  Mr. Tom Turkey and his two wives were strutting around the campsites with their baby turkettes.  It made me so thankful to be among the many splendid animals and fowl.
The evening meals were cooked very simply on a Coleman outside propane two-burner range at one end of the picnic table.  Porterhouse steaks marinated in mesquite sauce, chili, and freshly sliced tomatoes that were purchased from a farm stand near the campground, was one of the best camping dinners I've ever enjoyed.  Of course the man who invited me enhanced the dining ambience by his charm and humor!
Each evening, our meals centered around cheese-filled Sirloin Burgers, plain Sirloin Burgers, potato salad, more fresh tomatoes, Merlot wine, and a pre-dinner cocktail.
One evening, as we sat around our campfire after a camp out dinner, we were entertained by what were UFOs (about ten in total) flying in formation heading North!
Our romantic truck camping experience was "out of this world!"  Good food, wonderful adventure, and a great truck camper gentleman with whom to share the experience!   Life is good." – Suzanne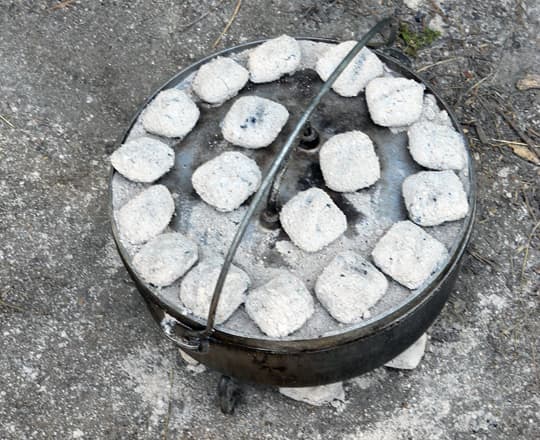 "We have a small galley and limited storage in our camper, so we generally eat simply.  Since we have no microwave or standard oven, we do supplement our cooking with a dutch oven.  With the dutch oven, we are able to make fancier items like monkey bread, cinnamon rolls, and enchiladas." – Dave Neumann, 2010 Toyota Tundra, 2011 Adventurer 80GS
"We eat relatively simply.  We have lots of one-dish meals and almost everything is prepared on a commercial induction unit.  I have a wok-style ceramic pan that works for everything.
Everything we do is designed for quick clean-up.  One example is that one of us needs to have decaf coffee and the other needs all the caffeine he can get.  We use Melita funnels and some kind of generic filters.  The cleanup is just to remove the coffee and filter and rinse the funnels." – Charlie Jordan, 1999 Ford F350, 1999 Lance 1030
"All out gourmet whenever possible.  Why not?" – Steve Larkin, 2012 Dodge Ram 3500, 1989 SunLine slide in
"We eat exactly like we eat home.  When we are on the road, I cook breakfast, lunch, and dinner for five to six days ahead of time.  Once we are set up, I cook everything. We have roasted chickens, pork loin, fish, eggplant parmesan, stir fry vegetables with added garlic and olive oil, Arroz con Pollo, and black beans; dry ones with brown rice.
We have a convection oven we put outside, a Weber Grill, and a two burner hot plate.  I do not like to cook inside the camper so the picnic table is my cooking preference!  Come on down.  You will love it." – Doris Bluth, 2013 Ford F550, 2011 Northern Lite 10-2 dry bath
"We usually keep it very simple.  We barbecue outside.  But, for Thanksgiving, we go all out.  The turkey and many other things are pre-made at home and warmed up at the dry lake bed where we ride quads and dirt bikes.  It always amazes me how much food my wife sends out the camper door to the table for the family to enjoy." – Ron Williams, 1997 Ford F-250, 2003 Lance 1010
"Actually we do some of both.  Breakfast and lunch are on the simple side with fruit, hot or cold cereal, soup, and simple meat and cheese sandwiches.  In the evening I like to cook and Daisy becomes my sous chef.  We tend to prepare three pot comfort meals with gravies and sauces.  Maybe the better question is who carries more than salt, pepper, and Tabasco?" – Chip and Daisy Cartwright, 2000 Ford F-350, 2007 Eagle Cap 1160
"In 2000 we had a Bigfoot 3000 and we had Thanksgiving in our camper with everything made and cooked in the camper.  We had turkey with meat and bread stuffing, mashed potatoes, cranberry sauce, veggies, and salad. Then we had my chocolate cream pie.
We were stationed at Wright-Patterson Air Force Base in Ohio and stayed at a state park.  We ate by the fire pit and then we went around the campsite to share our meal with some of the campers.  It was the best Thanksgiving we ever had." – Gena Simoneau, 2015 Ford F350, 2014 Eagle Cap 1160
"I've struggled with an overweight problem most of my adult life.  I absolutely love food of all kinds and have pretty much overindulged on a regular basis and I'm paying for it dearly now.
However, I'm on the road to recovery (down thirty-four pounds since May).  I'm learning that reduced portions and healthy choices can be just as satisfying as gourmet overload.  So for us, the food fair is very simple, nutritious, and life sustaining.  We save the gourmet adventures for very special occasions and share them with friends so that the adventure isn't just about the food." – Robert Lee Hicks, 2008 Chevy 3500HD, 2011 Lance 992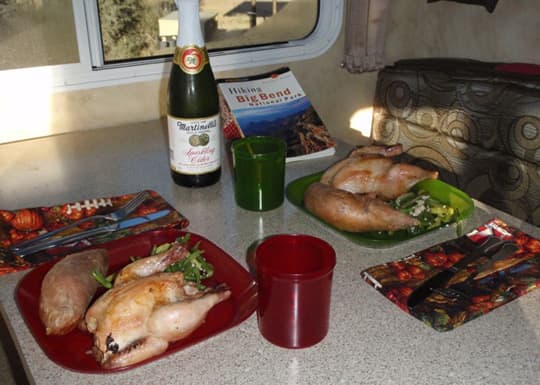 "Our meals tend to be similar to what we eat when we're home.  We try to use fresh ingredients from farmer's markets and roadside stands.  We don't shy away from using multiple pots or using the oven.  Being mariners, we often boil lobsters for dinner in the camper.
Last winter we spent Christmas in Big Bend National Park camped in the Chisos Mountains.  After a five mile hike, we enjoyed a dinner of salad, Cornish game hens, baked sweet potatoes, garlic green beans (I grew the beans), and apple crisp for dessert." – Don and Sue Graf, 2008 Ford F350, 2013 Arctic Fox 865
"We have a couple that comes with us on our camping trip who own a fifth wheel.  We share food we might bring like burgers and hot dogs.  Then there are times where I will grill barbecue chicken.  The women come up with church casseroles (that's what I call them).  We are from the South, so our food is good old grilled.  One more thing is that – if we catch fish – well, that too could be the meal of the day!  I love to cook." – Joseph and Sidonna Brown, 2008 Toyota Tundra, 2010 Travel Lite 800SB
"Generally, we eat similar meals to what we fix at home.  We have a good breakfast of fresh fruit, eggs and toast, or cereal and toast.  Sometimes we make from scratch pancakes or french toast.
Lunch is a sandwich and fruit, or a sandwich and homemade soup (out of the freezer).  Dinner is pasta or meat, vegetables, and sometimes potatoes.  Since we are rolling during the day, we don't use the oven as much as at home.  But we definitely use the oven when we are parked for a few days." – Firman Schiebout, 2004 Ford F350, 2012 Northstar 9.5 Igloo U
"I am a vegetarian.  I'm curious how other veggie heads eat when on the road.  I would think when you can, you cook lots of veggies and freeze.  Please bring this up in your newsletters." – Frank Overton, 2008 Ford F250, I don't have a camper yet
"I've full-timed in a forty-two foot diesel pusher for ten years and now I full-time in my Eagle Cap 850.  I've learned to cook in large and small spaces with minimal utensils.  With a little planning, I've turned out Giada recipes like beef short rib Osso Bucco with Tagliatelle pasta and Insalata Caprese.  And I make simple one dish meals like Jambalaya.
Using fresh, frozen, and semi prepared food like cooked rice or quinoa, you can make awesome stuff.  I also eat hot dogs, salads, and sandwiches.  It depends how I feel.  And it's about priorities when you pack up.  You can have nice meals and take your dog and toys too!" – Mike Cianci, 2004 Ford F350, 2010 Eagle Cap 850
"I usually cook using the stove top.  I will cook steaks, hamburger, chicken, and pork, along with pasta and vegetables.  Desserts are usually store bought.  I'll make fried steaks and ravioli with a simple sauce of milk butter and parmesan cheese and frozen veggies warmed in microwave." – Helen Scurzi, 1991 Chevrolet Silverado, 2008 Lance 9'11″
"Long ago, we developed the habit of picking up food in grocery stores while vacationing in our car.  That sort of thinking carried over into the way we eat while traveling in the truck camper.  The difference being the refrigerator.  Lynn does not have to shop a couple times a day.  When we're actually camped, our repast is as varied as at home.
We have quick meals, elegant cooking, and snacks to meet the occasion.  One time, at the famous open air market in Seattle, we bought live scallops and had the fish guy tell us how to cook them by steaming them instead of the way most restaurants were serving them in those days.  That turned out to be the most elegant meal we ever had in a camper." – Michael Turner, 2007 Ram 3500, 1988 Lance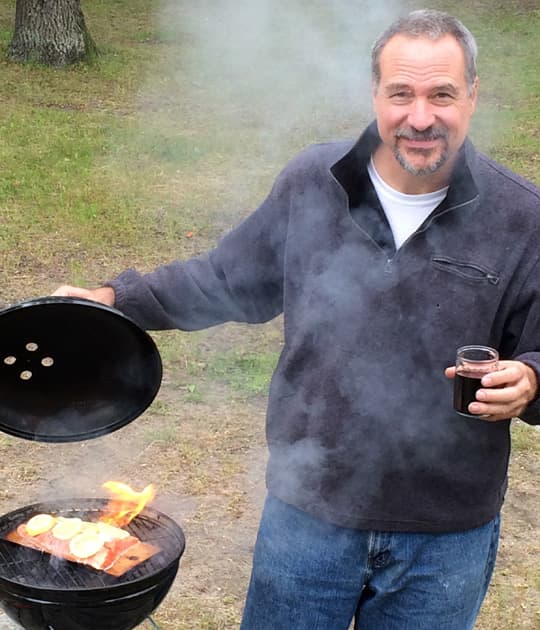 "Grilling salmon on our Weber grill is a must on every camping trip.  It's so delicious that we are proud to say we converted some friends who hated salmon to ask us for the very simple recipe.  We learned from the best; a friendly camping neighbor who hunted and fished that we met in Anacortes, Washington.  We got instructions from him and we keep grilling that way ever since!" – Janis Tester, 2004 GMC 3500, 2005 Lance 1130
"We grill steaks, hamburgers, chicken, veggies, etc.   To get gourmet, we get out our dutch ovens for meals." – Wanda Webb, 2007 Chevy Silverado, 2009 Lance 981
"Whilst traveling during the day, I tend to grab something from a fast food outlet like McDonalds or something similar.  That's fast and not too unhealthy.
At the campground, I'll probably have a something simple like a salad, rice, or potatoes with a sausage or a low calorie frozen Lean Cuisine dinner.  Nothing fancy." – Maaja Sutak, 2012 GMC 2500, 2015 Northstar Liberty
"We are in our 60s coming from a backpacking background.  We eat out midday when on the road, and keep it simple morning and evening in the camper." – Tom Rives, 2000 Dodge Dakota, 2013 Phoenix custom pop-up
"We use a Can Cooker.  It makes a great meal, and has given us many new and interesting meals.  On occasion we also grill hamburgers and hot dogs in a foil pouch and tripod.  The main status is the antique Remco 7-1.  It's a grill, smoker, oven, and baker, all in one.  That leaves us a wide range of meals, from simple to mmmm so good!" – Delbert Higgins, 2008 Ford F450
"We usually have simple type of meals, but we have cooked a cut-in-half turkey for Thanksgiving.  Everything turned out great.  We had to cut the turkey in half because a whole one would not fit in the camper oven." – Rag, 2003 Chevrolet Silverado, 1980 Sportsman 8 foot
"Most of the time, it is simple meals for just us two.  Once a year our whole family goes camping – us, our two sons and their families – for a total of twenty-four people.  They they always ask for me to make my special tri-tip roasts and my famous mushroom rice.  All of the kids, grandkids, and great grandkids love that meal.  We cook the meat on the grill and the rest of the meal in our camper.  And, of course, we have S'mores for dessert.  We have been making these memories for many years." – Nina Giles, 2012 Dodge 3500, 2014 Adventurer 116DS
"We try to eat healthy even when camping and traveling.  The following does not bear that out.  We eat out once in a while, but most meals are prepared in the camper, like breakfast-smoothies and fresh fruits.  Lunch is salads and sandwiches.  Dinner is hamburgers on wheat bread, hot dogs with chili, and fish (donated by a fellow camper)." – Paul and Vicki Roberson, 2006 F350, 1988 Lance 930
"I eat all the above mentioned but also grilled steaks, shrimp, and fish with lots of veggies." – Harvey, 2010 GMC 2500HD, 2007 Travel Lite 890 SBRX
"We keep it pretty simple most of the time.  One of our favorites is shish kebabs on the grill.  Top sirloin doesn't require marinating, and fresh garden vegetables are easy to come by.  We like pancakes or french toast for breakfast (with real maple syrup).  Lunches are usually sandwiches or fruit and yogurt." – Dave Ladd, 2013 Ford F150, 2002 Sun Valley Apache
"While not always fast, we lean towards easy to prepare meals on a grill or gas stove with easily obtainable ingredients.  We will try some out of the ordinary recipes and experiment to get away from the usual hamburgers and hot dogs!" – Mary C., 2010 Ford F250, 2013 Northstar Liberty
"We KIS (keep it simple).  For breakfast, we usually microwave breakfast sandwiches or have toast and yogurt.  Lunch is sandwiches or hot dogs.  Dinner we cook on the grill (burgers, dogs, steaks, chicken, etc.) with microwaved vegetable steamers." – Rodger Greene, GMC Sierra 2500HD, 2012 Travel Lite 700
"It depends.  Normally we are fast and very light.  That would include a small Weber grill and, from time to time, an open fire, if permitted.  I make soups from scratch that includes local ingredients.  Sometimes I make a nice romantic dinner with candlelight for my spouse, which makes our travels really nice.  So, it's yes to both questions." – Phillip Chevela, 2012 Ford F350, 2005 Northstar Igloo
"My husband is the cook and he loves to cook in his dutch ovens.  We don't do simple!  We have had chicken and rice, lasagna, black forest cake, and peach cobbler.  I could go on and on.  He is a great cook!" – Belinda Graham, 2011 Dodge Ram 2500, 2014 Palomino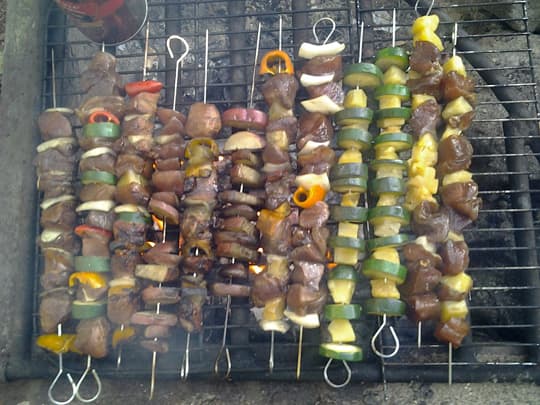 "Here are the veggie and pork kabobs we made Memorial Day weekend 2014 at Clearwater Falls Campground in Umpqua National Forest, Oregon." – John Gobershock and Tammy Fisher, 2013 DodgeRam 1500, 2014 Northstar 650 pop up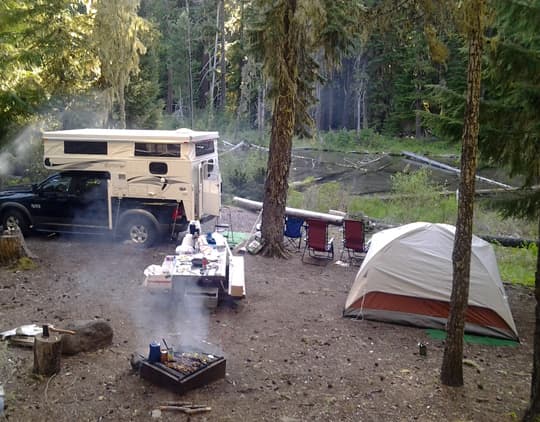 "We cook fast and simple.  To avoid wasting precious fresh shower water to wash dishes, I rarely use pots or pans, and never use anything but paper plates and plastic utensils.
Sandwiches are made from deli meats and cheeses along with a banana or pear, plus a small yogurt pack from the refrigerator make for a nice lunch.  Hot dogs cooked over a propane stove burner are typical for supper, followed by an evening snack of Jiffy-Pop popped on the burner as well.  A plastic cup of white wine signals bed time.
Breakfast is made by pouring the contents two little Value-Pak cereal packages into a paper bowl, and eating with a plastic spoon.  Simple, no mess, and no water required!" – Reed Prior, 2007 GMC Sierra 2500 HD, 2000 Travel Lite
"Nothing exotic, but I like to use a dutch oven and over-the-fire cooking on a grate." – Carl Ragland, 2002 Chevy Silverado 2500, 1980s Sportsmen
"We barbecue a lot, whenever the weather and terrain permit.  A little $25 gas grill from Lowe's lasts about one year before it needs cleaning, then it's in the garbage and we get a new one.  Since we're on the road a lot, I figure it's not too expensive.
A normal dinner is salad and either pork chops , boneless skinless chicken thighs, sirloin steaks, sausages, burgers, salmon (sometimes stuffed, from Costco) and finally, lamb steaks (sliced one inch thick from a roast).  That's my favorite.
A simple green salad and small portion of meat makes for an easy, tasteful, and healthy meal with little cleanup.  We put the barbecue on a small folding aluminum table right outside the camper door unless there's a picnic table close by.  Since we normally dry camp, that usually isn't an option.
Lunches usually are sandwiches from leftovers the night before.  Breakfast is cereal for me and yogurt for the wife.  She's in better shape than me.  Keep up the good work on TCM." – Jim Cornwell, 2011 Chevy 3500 HD, 2912 Lance 1191
"We're not fast food and sandwiches, but we're not exactly gourmet either.  We use our camper oven often for meals, as well as our gas grill.  We make steaks, burgers, chicken, and chops.  But we also travel with a pressure cooker.  With my pressure cooker, I can make pork chops, potatoes and carrots in one pot, and it all cooks in eight minutes. O r make a pot full of potatoes for potato salad.  Or a pot of homemade stock for soup; creme brulee in three minutes; easy to peel hard boiled eggs in six minutes.  With so many things so easy and fast in the pressure cooker, meals are as easy in the camper as at home, except for the cleanup.  We have to use the Armstrong dishwasher in the camper." – Toni and Ron Robertson, 2013 GMC Sierra 3500, 2011 Lance 1191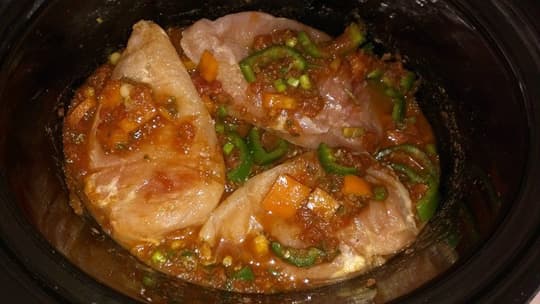 "For the most part it's simple.  I have eggs, bacon or sausage, toast and coffee in the morning and sandwiches or something simple for lunch.  But one of my favorite dinners to make is in a crock pot.  This will feed four people.  Take four skinless chicken breast, one packet of taco mix, one jar of salsa (I like hot and spicy – enough to cover the chicken), and extra ingredients if you like.  Add to taste one onion and four seeded and sliced jalapeños.  Mix it all together in the crock pot.   Place the chicken in and cover with the sauce.  Cook at low temperature for seven hours.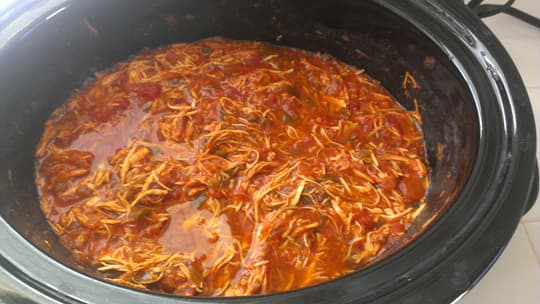 Take a couple of forks and pull the chicken into small shredded pieces.  It comes apart very easily.  Cook for another half an hour.  You can eat it like it is.  I like to add cheese, onion, tomatoes and roll it up in a tortilla and make burritos with it.  I'll grill up some asparagus that I've soaked in Italian dressing for a night or two.  Add a glass of beer, wine or your drink of choice.  It's simple, but tasty." – Tim May, 1993 Dodge W250, 1987 Vacationeer 9'10"
"We are picking out our truck camper in large part by how the kitchen is arranged, since we do cook from scratch for most meals.  We like simple low fat meats with veggies.  We try to keep it healthy.  For us, cooking is a part of the camping experience." – Bruce Tinkler, 2013 Ford F-350
"We do easy, gourmet, and maybe go to a good local place.  We use our camper stove top, oven, and our coleman BBQ.  Sylvia and I love her enchilada caserole.  It's easy and is good for breakfast, lunch or dinner!  This is a good topic.  Maybe start a recipe section?  Enjoy!" – Scott and Sylvia Mitcheltree, 2002 Chevy Silverado 3500, 2002 Lance 1126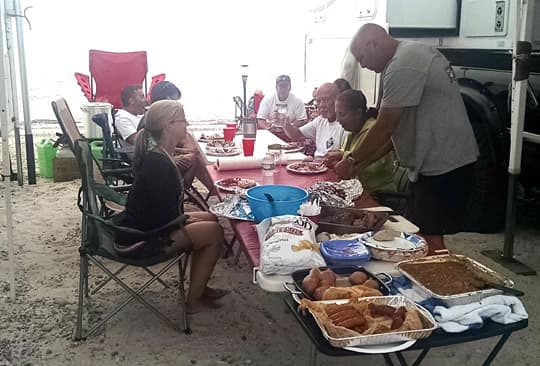 "Patti cooks some pretty creative dinners in the camper, but once every weekend, the whole gang gets together and has some kind of feast!  Three weekes ago, we had a traditional New England Clam Boil; steamers, potatoes, Chourico, hot dogs, and lobsters!  Last weekend, Sean brought his pellet smoker grille and he cooked a thirteen pound brisket for us, John cooked baked beans, and we also did a small clam boil.  No one can walk afterwards so dessert had to wait a couple of hours, but there's plenty of that too.  Off the Grid really doesn't slow us down, beach eating while beach camping!" – Jim and Patti Duarte, 2008 Ford F250, 2013 Eagle Cap 850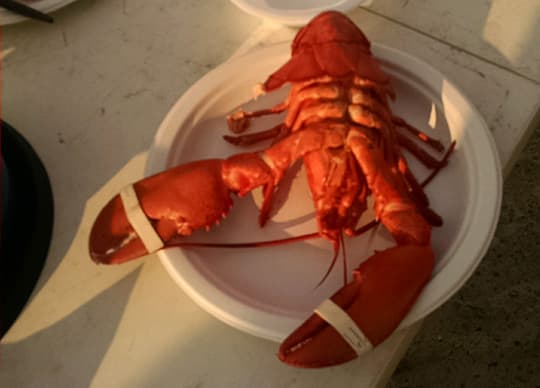 "I will often make ahead meals which are gourmet and freeze or start our trip out with them.  I also have made lasagna but have a skillet recipe made from all scratch ingredients.  I have made us a layered salad which can last three days for lunches. Sometimes we eat hot dogs and hamburgers, but often we make pork tenderloin and chicken on the grill served with sauteed veggies and a nice salad.  I love to cook and that is why I love having a truck camper we can make our own meals.  In our 43 day trip across USA we only ate out seven times." – Debbie Collin, 2002 Ford F350, 2013 Chalet 116RB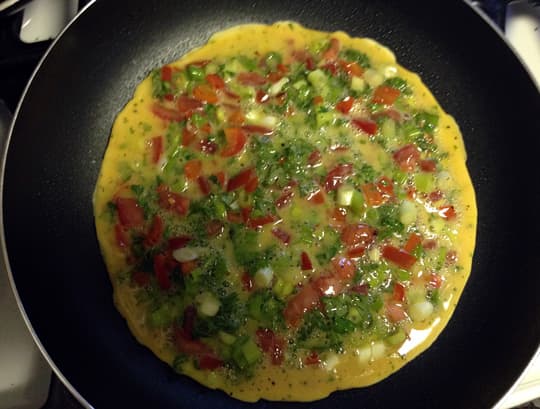 "I live full time in my truck camper.  I go through phases of full blown three to four course meals, to periods of single dish meals.  I have prepared middle eastern foods which falls into that gourmet category.  I make good use of my crock pot and BBQ, where I will prepare larger portions and then freeze individual meal sizes.  I like salads and omelets with lots of veggies and cheese." – Maggie Karam, 2011 Dodge Ram 3500, 2002 Lance 1130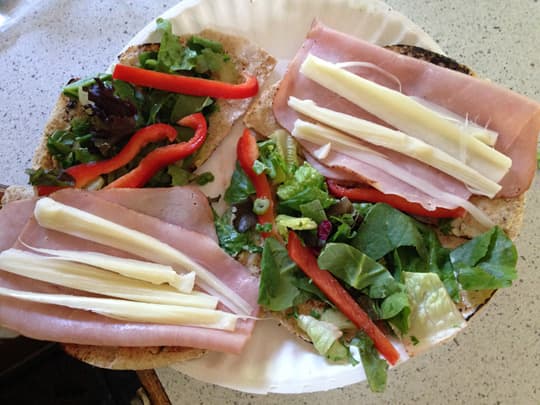 "Not sure if I would call what I do is simple, but I make it easy in many ways.  I often cook/bake on my charcoal grill using aluminum foil folded into pillows around whatever I am cooking for the day.  I often cook extra foil pillows for additional nights.  I have salmon, chicken breasts and various vegetables in these foil pillows.  With tabs of butter, ice cubes or breaded batter and rubbed spices, it makes a possible common dinner into a tasty feast.  Plus, the clean up is pretty much nothing, which saves me water, the time to wash dishes and time slaving over a stove.  That is all time I can spend just sitting back and watching the sun to occur, sunset.
Sautéed onions and mushrooms
6 large mushrooms sliced to 1/4″ or larger
1 whole white onion sliced and separated
2 one tablespoon tabs of Butter
Monterey steak seasoning
Aluminum foil piece folded to resemble tube
Take tin foil tube and set it on end, blow into it, to expand it, and stuff onions into tube, sprinkle seasoning, and set one tab of butter in, stuff in mushrooms and set last tab of butter in and fold end over to seal. Throw tin foil pillow onto the grill, over coals, and bake for ten to twelve minutes, turn over and bake additionally for another five minutes.  Remove and serve by just cutting the seam open and scoop out finished onions and mushrooms onto prepared burgers or steak!  Bon appétit!" – Bryan Appleby, 2008 Ford F550, 2009 Lance 1191

"One thing my wife and I like to do is vacuum seal and freeze meals.  We make a big pot of homemade chili, lentil stew, or marinate stake tips, or chicken and fill our truck camper freezer with them.  We can easily make a week or more worth of really good food that is easy to cook and enjoyable to eat." – Al , 2006 GMC 2500 HD, Northern Lite 8′ 11" Queen Classic