This week's Question of the Week was, "When you're truck camping, do you eat fast and simple (like us), or do you go all-out gourmet and live it up?"
WARNING: The reader responses and pictures will probably make you so hungry that you'll eat your computer half way through.  If that happens, don't panic.  Just make sure you're full, buy another computer, and then read the second half of the story.
"In the weeks prior to going on a trip, I make and then freeze single portions of favorite foods.  Some examples are Beef Bourguignon, roasted garlic pasta sauce with locally made organic italian sausages, cooked plain quinoa, pesto, etc.  I bring fresh herbs wrapped in damp paper towels, bottles of sweet chili sauce, Nam Pla, hot sauce, plus snack bags filled with dry herbs and spices.
Each morning I move one (or more if traveling with someone) from the freezer.  Then, at mealtimes, I boil one pot of water and add pasta or rice.  While it cooks, I chop vegetables adding them to the pot when the pasta or rice needs to finish cooking in the same amount of time the vegetables need.  I empty the pot into a drainer, the container(s) of the stew, sauce etc into the hot pot, throw the starches/veggies back in and add the appropriate additions; pesto, cheeses, Nam Pla, nuts, or whatever that dish requires stir it together.  Then I have a lovely tasty meal very easily and readily.  It's relatively easy to move from Thai food, to Italian, to French.
They are not strictly one-pot meals since a slowly simmered sauce or oven baked chicken cacciatore needs a pot at home, but on the road it's most definitely a one pot meal.  I entertain fairly often so it's quite easy for me to freeze up single packs following a big meal.  I also travel with a small propane oven.  I didn't want to try to bake in my tiny truck camper in summer weather.  I use it to bake my own gluten free breads, muffins, etc.
My limitations right now come from maintaining the freezer at a constant temperature.  I am not skilled at managing the three-way settings.  I am considering a small 12V freezer for my truck cab and my next camper will have a compressor refrigerator.
On a long trip I will need a day now and then for cooking several types of food and freezing portions.  Every few days I also make up containers of quinoa salad and coleslaw to speed up assembling meals.  In the mornings, while preparing breakfast, I make and pack my lunch to carry in the cab.
Prior to a trip, I pre-mix gluten free (I am a celiac) batches of various mixes – bread for a small loaf pan, biscuits, muffins, pancakes; each container has a colored sticker on it.  I have a master list of recipes with the color coded stickers for each type of mix, listing required additions, baking times, etc.  My Northstar has cupboards in front of the wheel well with narrow shelves – perfect for cans or, in my case, single flour batches.
I like fast and simple, but also tasty and fresh.  After just one season of truck camping I have much to learn.  It's a work-in-progress." – Michele McLeod, 2013 Ford F150, 2002 Northstar TC800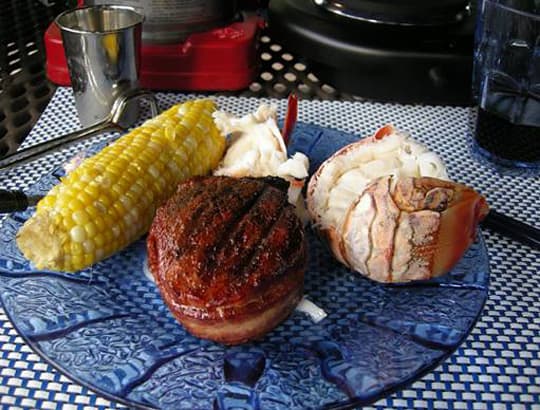 "Eating is the best part of our camping experience.  We do stop for fast food on the road but, once we get to the campsite, we try to do it right.  Our favorite meals are fillets with a Caesar potato salad or homemade fettuccine noodles with Alfredo sauce.  We've also had stuffed trout with rice pilaf and grilled chicken breasts with a tomato cream sauce.  Once, we even had surf and turf for our anniversary.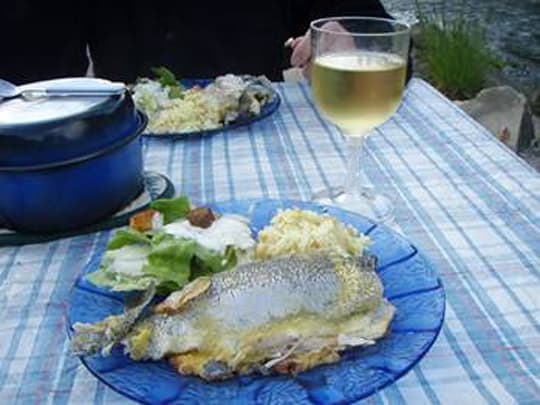 We try to take along a nice wine selection and snacks like smoked salmon or smoked trout.  Breakfasts can be easy like instant oatmeal or biscuits with gravy in the Dutch oven.
We don't skimp with the food.  It tastes so much better camping.  We take along food that we can easily prep ahead of time.  Gary does the cooking while I supervise with a glass of wine!" – Denise and Gary Paton, 2007 Dodge Ram 3500, 2013 Arctic Fox 990
"We eat when we're camping like we do at home.  I must say that I always have something pre-made.  As an example, we love fried rice.  When I cook rice, I always cook more then I need.  It can be refrigerated for about three to four days or I can freeze it.   And when I cook pork chops, I always cook some extras that I will freeze for the future.
When it's finally fried rice day, I fry an egg, some green onions, mushrooms, and pull some pork chops.  Then I warm it up and set it all aside on one plate.  I put some rice in a good peanut oil, and cook the rice.  Then I add some soy sauce, and the previously cooked stuff.  I let it rest with a lid while we set the table.  Bon Appetit.  It's gourmet, cheap and great to cook inside or outside.  We love it outside with a good beer." – Jake and Sylvie Mathis, 1994 Dodge Ram 2500, 2003 Northern Lite 9Q
"A lot of times we pre-cook meals at home, like enchilada pies, lasagna, cole slaw, or other casseroles, and heat them up in camper.  We also use barbecue pits for simple meals.  It works great for us on week long camping." – Mike Kolinski, 2012 GMC 2500HD, 2012 Four Wheel Camper Hawk
"I cook full-course meals.  My truck camper is equipped with a kitchen with all the bells and whistles, including a built-in dishwasher.  Besides the refrigerator/freezer combo, I have another two residential freezers in my camper.  There is one sitting on my flatbed.  I can carry food for at least six months off-the grid living in Canada's wilderness.  I cook old style European and Bohemian cuisine." – Martin Pfitser, Sterling Bullet 5500, 2007 Okanagan 96B
"I love to cook and am constantly on the lookout for easy recipes that are healthy to prepare while camping.  We love to stop at local markets and bakeries to purchase local ingredients.  While on a recent trip to the Olympic Peninsula, we were able to purchase fresh oysters to cook on the grill.  They were so good that we stopped to get more on our way home.  We also will purchase steak, which we rarely eat at home. 

After having carried along recipes that take some prep, I've found that easier is better.  I usually make up pancake mix and special spice mixes at home ahead of time and carry them in baggies.

Often times we will eat breakfast at local establishments when are on the road.  One of our favorite on-the-go breakfasts is granola with yogurt and fruit.  Everything tastes better when you're camping!" – Carol Wegner, 2011 Toyota Tundra, Northstar TC650
"We eat better when we're camping than at home because of the extra time on our hands.  At home breakfast is quick but, while camping, we'll do bacon, eggs, and hash browns.  Lunch is usually just sandwiches.  Dinner is a full meal that ranges from burgers to a casserole." – Leonard Pennock, 2006 Dodge 3500, 2003 Eagle Cap 950