Truck Camper Magazine readers share if they already have or would consider a replacement fuel tanks.  Check out these auxiliary fuel tank solutions.
If you're considering a replacement tank, we urge you begin by reading, "Matching A Truck and Truck Camper", and run the recommended weight and payload numbers on your rig.  Added road range is fantastic, but never at the expense of safety.
"I'm not considering it, although I would welcome the convenience of stopping less often.  It's just pushing the payload too much.  And I could stand the loss of the Bite-Me Burgers." – John Tully, 2013 Ford F-250 , 2015 Lance 855S
"I have a forty-five gallon Transfer Flow frame mounted gas tank.  It saves me fuel stops, and I can fill up where gas is cheap.  The disadvantage is filling the tank and then seeing gas price ten cents less twenty-five miles down the road.  Gas Buddy is not always accurate." – Edwin Groenendyk, 2008 Chevy 2500HD, 2014 Sundance 285TS, and a 2010 Palomino pop-up camper
"I've often thought about replacement fuel tanks, but never acted on replacing the standard tank.  I thought about it because, like many of us, I love modifications and gadgets.  I passed on it because I'm a cheapskate and slow to act (because I'm a cheapskate?).  

My Ford OEM tank holds about 38 gallons of #2 diesel.  I'm able to travel nearly 400 miles on a load of that oily substance.  I'd happily keep on driving but, really, a stop now and then is probably a good thing.
My gripe is that credit card fill ups often shut off way before the fill up point due to station dollar limits necessitating a second authorization.  Out here on the West Coast, diesel hovers just under $4.00 a gallon.  I can only imagine trying to fill up a mega tank." – Mark Obert, 1999 Ford F250, 1999 Lance 920
"I already swapped out the tank with a Titan 52 gallon tank.  The only problem is that the credit card turns off pump at their limit.  Then I have to start it again to finish topping up.  It's priceless to eliminate maneuvering in and out of stations designed for foreign cars.  With a large tank, you can more easily chose your stations." – Harvey Melcher, 2007 Chevy 2500, 32 foot Bullet premier
"I had an F250 with a 7.3L diesel.  I carried a five gallon spare tank occasionally for trips to Alaska, Canada, Moab, etc.  I only needed it once on the Dalton Highway in Alaska.  But, having it, made me feel more comfortable.
A mechanic told me to never run a diesel dry.  You cannot re-pressurize the high pressure lines easily.
FYI, you can carry a spare diesel on ferries, but not gas or propane.  My 2012 is a gasser and it has a thirty-six gallon tank, which is much better than the 29 gallons in the diesel.  Also, I need a break every 200 to 300 miles." – Philip Bolding, 2012 Ford F350, 1994 Lance Squire Lite 150
"It would not add that much fuel.  With a short bed, extended cab I do not have very much room.  Also, the price is about $1,200.00 to add about twenty gallons." – Allan Hann, 2007 Chevrolet Silverado 2500, Lance 861
"I am not planning on changing tank sizes.  The thirty-six gallon tank in my new truck is great.  It gives me the distance that I want, which is about 450 miles per day.  Since I have to stop, it's not a big deal to get some gas.  But, no Slurpees!" – Mark Turnbull, 2013 Chevy 3500 HD, 2011 Four Wheel Camper Hawk
"The total replacement of the fuel tanks makes it too expensive to retrofit but, if there were smaller add-on tanks for about $300, I would add one right now." – Everett Baird, 2009 Ford 350, 2010 Lance 950
"This summer we drove to Alaska and back, and never got close to emptying our thirty-four gallon gas tank.  Also, filling is an opportunity to get out and briefly stretch our legs." – Philip Tron, 2009 Chevy 3500, 2012 Lance 1050
"The last trip with the camper, and towing the boat, we got twelve miles per gallon.  At that rate we get a considerable distance.  I don't mind stopping because me and the dog need to water the lawn somewhere.  Also, without the camper and boat, the truck got twenty-one miles per gallon going to the Keys house, which is 500 miles and we still had fuel for a week.  By the way, the trip took 8.5 hours even stopping for a break.  I'm satisfied with what my tank holds." – Gary Raymond, 2014 Ram 3500, 2006 Lance 1191
"My Ford F350 has a flat farm bed on it.  I use it when my camper is detached.  I have mounted a fifteen gallon auxiliary fuel tank on top of my truck bed on the left side directly above my factory fuel tank.  It is out of the way when I load my camper.  The cost was only $175 as compared to the price of an extended capacity fuel tank.  I would easily have room to add an additional fifteen gallon if I chose to.
I find the extra fuel capacity very handy when traveling as I can stock up on less expensive fuel when traveling in those states.  My truck is diesel, so that can amount to a significant savings.  I drive about 50,000 miles per year as I use my truck and camper in my business." – Tim Cherry, 2006 Ford F350, 2008 Okanagan
"I considered putting a larger fuel tank on, but my truck runs so close to maximum rear axle weight being a single rear wheel that I didn't feel I could handle the extra weight.  I just use Gas Buddy to plan my stops around cheaper fuel to keep the cost of a fill up down." – Leonard Pennock, 2006 Dodge 3500, 2003 Eagle Cap 950
"I would not get one.  I have been over most main roads in Canada and the United States and I have never had an issue with getting fuel.  That includes up to Alaska and the Arctic Circle." – Joe Munn, 2001 Dodge, 1999 Bigfoot 9′ 6″
"After having one too many close calls with low fuel, I installed a Transfer Flow 41 gallon tank.  Having extra fuel allows worry-free travel, plus I can take advantage of good fuel prices.  It was a toss-up between Transfer Flow and Titan, but my mechanic had so many bad experiences with Titan and the heat that he only installs Transfer Flow.  I highly recommend it and have no regrets!" – Richard Petty, 2006 Ford, 2006 Outfitter Apex 8
"I'm considering the possibility of having an extra fuel tank installed for my Alaskan trip next year." – Alex Blasingame, 2007 Ford F-250, 2002 Lance 815
"I already have a 56 gallon Transfer Flow replacement diesel tank under the truck since we pulled a thirty-seven foot fifth wheel.  The drawback is the weight when full.  Ground clearance is a consideration since it sits approximately one and a half inches below the frame rails of the truck.  It was good for highway travel with the fifth wheel as our range almost doubled.  I still like the idea as you can pick and choose where you fuel up." – Eric Devolin, 2007 GMC 3500, 2006 Adventurer 106 DBS
"I fully intend to put a replacement tank on our truck.  Why?  For our sense of security.  We plan to do a lot of traveling and camping in Alaska and we don't want to worry about running short on fuel.  PS, I love TCM!" – Mike Carlson, 2015 Chevy 2500, Still to be purchased
"I fitted a Titan thirty-gallon tank under the bed where the spare tire was.  With that extra thirty gallons added to the General Motors standard thirty-six gallon tank, I now have a capacity of sixty-six gallons.
It is comforting to be able to push the transfer button when I'm in the middle of nowhere and get that added distance.  Since I did this installation I have learned that General Motors has a seventy-five gallon tank replacement for the standard thirty-six gallon tank." – Carl Hanover, 2013 GMC 3500, 2015 Host Mammoth
"As a design/developer, I built and installed an additional fuel tank on the right side of the truck frame.  I accomplished leveling out weight distribution and was able to gain approximately thirty gallons.  The benefit for me was being able to purchase cheap fuel which can vary in excess of .22 cents per gallon." – Paul Kitching, 2000 Ford F350, Lance 1116
"I would love to have more fuel capacity on my truck.  It currently holds 38 gallons in the two factory tanks.  I miss the 59 gallon capacity of my two previous trucks.  I could go 400 plus miles before but, in this truck, only about 250 miles.  It's the convenience of not having to stop sooner and not have to stop for fuel in the boonies where the price of fuel is more expensive." – Bob Chan, 1989 Ford F250, 1988 Lance 780
"Prior to purchasing my truck camper, I pulled a fifth wheel trailer and had a combo forty gallon fuel tank/tool box mounted in the bed of the truck.  I enjoyed the freedom that extra fuel capacity gave me when it came time to decide where and when to refuel as the price of fuel can change significantly between one town and the next.
I did investigate purchasing a replacement fuel tank when I bought my truck camper but, as you mentioned, the price of the replacement tanks are pretty steep.  One option I looked at required the spare tire to be removed, which is totally unacceptable.
I have driven over 25,000 miles with my truck camper, including almost 12,000 miles from Texas to Alaska, and really have not felt that the convenience and cost savings of having the larger tank would justify the cost and extra weight of the replacement tank." – Eldon Rhodes, 2008 Chevy 3500HD, 2011 Lance 1050
"I replaced my OEM tank with a Titan.  Ford OEM for the short bed is only 26 gallons of diesel and that doesn't take you very far when loaded for camping.  The Titan provides 50 gallons of fuel and fits perfectly with no modifications.  Needless to say, I love the ability to choose when I stop for fuel." – Thomas Wilson, 2011 Ford F250, 2033 Lance 815
"I would love one!  My stock tank is only 98 litres (26 US gallons), woefully inadequate and good for only 500 miles or so.  I am looking for at least double that.  I have spoken to many suppliers, but have yet to find one that will supply either a replacement, or auxiliary tank for a gas truck.  If I can mount the existing spare on the rear bumper, surely someone can build at least an auxiliary tank in the spare tire cavity?  Anyone know of a supplier that can?" – Jeff Gunn, 2014 Sierra 1500
"We replaced our stock 36 gallon tank with a Transfer Flow 56 gallon tank.  It cost about $1,200 installed at the factory, including a tank of fuel.
I'm glad we got the Transfer Flow tank.  We've since taken two long road trips of 11,000 miles and 15,000 miles.  The option allows me to do a better job of shopping for fuel prices and I now have a loaded range of about 500+ miles.  The only thing that will shock you is the $180 fuel fill-ups ($250 in Canada).  I'm sure we'll like the additional fuel storage when we take off for Alaska next year." – Jim Goodrich, 2006 Chevy 3500, 2008 Lance 1191
"I would not consider one.  I find it good to get out and stretch, rest, and relax.  My truck has a large enough fuel tank now; 36 gallons." – Tim Chapell, Ford F-150, Palomino SB1251
"I would consider it, but the cost is way out of reach.  Last year I saw a new idea by replacing your spare tire with a gas tank.  What a great idea, exchanging the weight of a tire for extra gas.  Who needs a spare anyway?
If you get a flat, you're calling AAA or Good Sams anyway.  I'm not going to crawl under the truck and deal with the tire at this age.  But again, it's the extra cost that doesn't make it worth it.
At my age I need to stop every few hours, but there are some savings to buy at cheaper stations that don't advertise the Bite-Me Burger." – Frank Niehus, 2007 Ford F350, Arctic Fox 1150
"We have a Transfer Flow sixty gallon replacement tank.  It's the best thing ever!  After checking locally on having it installed, I just went to the factory location in Chico, California and had them do it.
It has been one of the best things ever for traveling in the west.  When my fuel light comes on, I put about 52 gallons in it.  52 gallons times 11 miles per gallon with the camper gives me a range of about 575 miles.  The stock tank was 35 gallons, so the extra 25 gallons gives me about 275 miles more range than the stock tank.
With my next truck I will certainly do it again.  I don't think it will ever pay for itself, but to be able to pass up stations with $4.09 diesel knowing I can make it to Yakima for $3.59 diesel this weekend was awesome.  It's just really handy to be able to keep going down the road.  I would do it again." – Elliot Groeneveld, 2011 Ram 3500, 2011 Arctic Fox 1150
"I put Transfer Flow 45 gallon rear tanks in both pickups.  It's the best thing I ever did.  The extended range makes life so much easier.  The folks at Transfer Flow were great to work with.  I recommend this modification highly." – Bruce J Smith, 1997 and 1987 F250, No camper yet
"I would not consider adding a larger fuel tank to our truck.  Obviously, the cost and additional weight is a factor.  Also, it is to be noted that diesel fuel has a short life and needs to be treated prior to storage.

If weight were not a factor, I would much prefer additional fresh water and waste capacity.  We enjoy boondocking, and fresh water is always a premium.  Perhaps the major manufacturers will investigate the feasibility increasing the water and waste capacities as an option in the future.  I am confident that these options would be well received by many truck camper owners who may be contemplating new units." – Warne Todd, 2000 Ford F250, 2005 Lance 981
"Having a larger fuel tank would be great.  I often tow a seventeen foot boat and finding diesel at stations with good access can be difficult.
On the other hand, I likely run pretty close to max payload.  Another 300 pounds of fuel wouldn't be good!  I have a 130 litre tank now.  With reasonable driving and normal wind I can get +\- 450 km per tank (sorry for talking Canadian!).  I likely would not add a larger tank even though fewer fills would be nice." – Roger Geisinger, 2013 Chevy 3500, 2013 Northern Lite 10-2CD Classic
"I haven't found one for my truck yet, but wouldn't mind another ten to fifteen gallons over the twenty-six gallons I have now." – Gary Atsma, 2013 Ford F150, None yet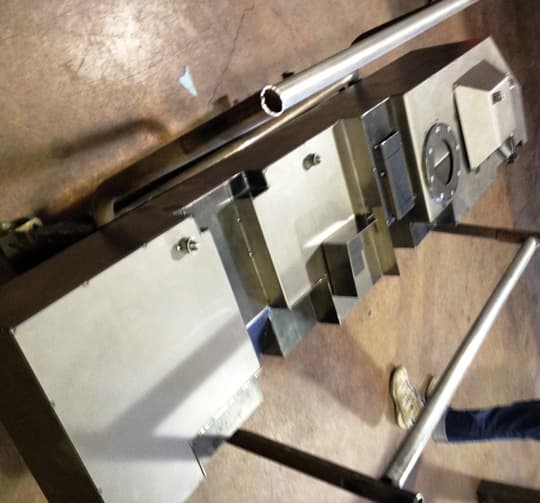 "We have used a few extended range tanks on various rigs and love them. For our 2005 Tacoma and Four Wheel Camper, we had a custom forty gallon tank built.  This replaced the stock fuel tank and was not an auxiliary tank.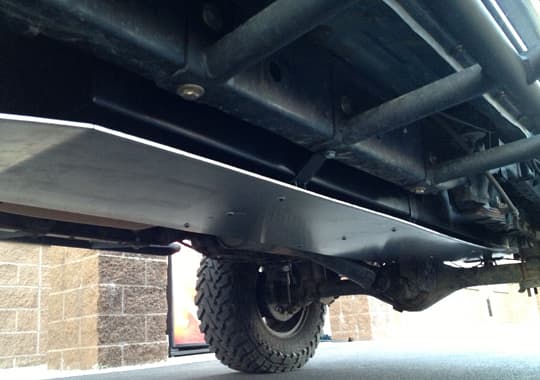 It was made wider, longer, and took up more free space available under the truck than the stock tank did.  The same sending unit, pick up, and fuel pump were used from the stock tank.  That worked well, but it was an expensive option being that it was custom.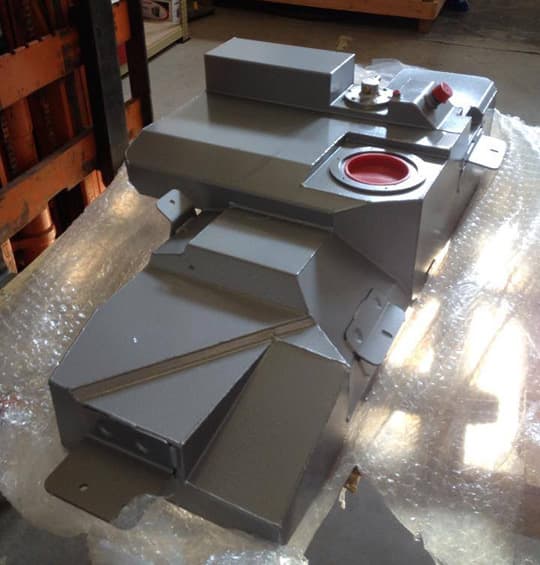 Today we run a thirty-two gallon tank in our new 2014 Tacoma, but it is an off the shelf product.  Long Range Automotive (LRA out of Australia) has been making tanks for vehicles like Land Cruisers for a long time and a few are now being imported into the USA by Outback Proven.  The LRA tank follows the same design principles as our custom one – basically make it as big as you can while still using the stock pick up, sending unit, and pump.  But it was probably a third of the cost compared to the custom tank.  We now have a 500 mile range with the camper installed and feel it was money well spent.
We have also seen others use Transfer Flow and Titan fuel tanks successfully.  99% of the time they are a larger replacement tank for the stock tank and not a tank 2 or aux tank type of application.  Cheers!" – Chris Janeway, 2014 Toyota Tacoma, 2014 Four Wheel Camper Fleet
"On our first camping trip with the truck and the stock 26 gallon fuel tank we found that we were stopping for fuel about every 200 miles, which was ridiculous.  Upon our return I did some research online and learned that, although there was space for a full-width tank under my Ford truck, in its infinite wisdom, Ford equipped the truck with a half-width tank.  I also found that Transfer Flow made a 50 gallon replacement tank that ran the full width of the truck.
I called the local Transfer Flow dealer, ordered the tank, and it was installed in a day.  Now we can drive over 400 miles before refueling. The alternative would have been to carry five five gallon cans, hardly the safest proposition.  We've never looked back." – Thomas Wilson, 2012 Ford F250, 2013 Outfitter Apex 8
"Dude, I never drive more than four to five hours a day and I always take the scenic route!  Sláinte." – Capt. Martin, 2011 F350, 2011 Alaskan 8.5
"I had thought about it but, when you look at the cost versus the benefit, I think benefit of carrying additional fuel is not there.  Not only is the initial cost on purchasing the tank and installation there, but I think there would also be a slight decrease in fuel economy because of the additional weight of fuel and tank.  And do you fill it up even if fuel cost is higher?  Or do you only fill up with enough to just get you to where the fuel is lower in cost?  Or do you fill up when half full thus always carrying more weight.  I don't think it is worth it." – Lanny Vrooman, 2009 Dodge Ram 3500, 2005 Lance 1161
"In our vehicle, we take an auxiliary fuel tank of 115 liters Diesel (30.38 gallons – red circle), in addition to the principal tank of 80 liters (21.14 Gallons – green circle).  Best Regards from Catalonia, Spain." – Frederic Amorós,Toyota Hilux, PSI-Azalaï fix Cell
"I would like to be able add a larger tank to my Tacoma even if I have to move the spare wheel." – Adrain Strother, 2010 Toyota Tacoma, 2011 Four Wheel Camper
"When I purchased our current truck used, the first thing that I did was install a Titan 67 gallon fuel tank.  I have not purchased a camper yet, but want to extend my range on trips.
I live in Phoenix and have a young daughter.  With this tank, I can make trips to southern California and home without refueling.  This cuts down the expense as California has been running almost a dollar a gallon more for diesel than Arizona.  It also helps out towing our boat to the different lakes around the state.  At times, it is difficult to pull an extra thirty-feet of boat into a small gas station while on the road." – Robin Thompson, 2000 Ford F350, Looking for a camper
"I don't want a bigger tank.  After two or three hundred miles, I am ready to get out and stretch anyway." – Marc Swanson, 2014 Ram 1500, 2011 Northstar Igloo-U
"I'd love to have a larger capacity gas tank on my truck.  Right now I can get about 300 miles on a tank.  Something that would double that range would be amazing.  Unfortunately, unless someone can increase the capacity of my bladder, then it's all for nothing." – Gary Pavone, 1995 Ford F350, 2001 Lance 810
"My truck has the stock 26 gallon gas tank and I can go 300 miles.  I wish I had the 35 gallon tank so I could go at least 500 miles.  The price is what's holding me back right now." – Rodger Greene, 2004 GMC 2500HD, 2010 Palomino Maverick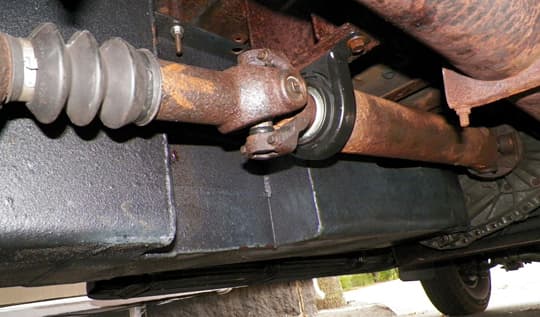 Above: Passenger's side of the Aero tank
"What an excellent topic to cover!  I do not think I owned my truck twelve weeks before I was taking out the factory 38 gallon tank, and installing an Aero 55 gallon all-steel tank.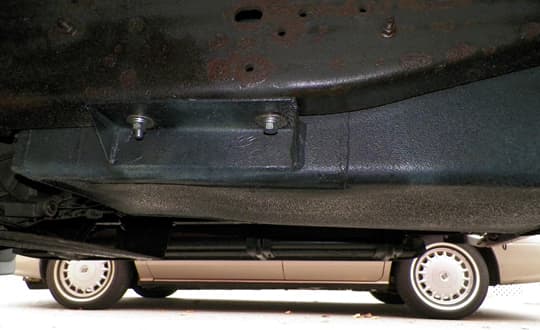 Above: Driver's side of the Aero tank
I installed this Aero tank with my mechanic in about five hours.  I cannot speak for other manufacturers but, in my instance, I was able reuse the factory sending unit.  The fuel pump is bolted to the rails in the driver's side.  With the extended tank, you will also get an extension for the suction tube as the extended tank is taller than the original one.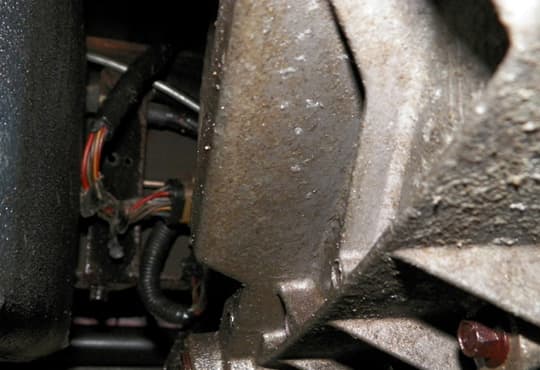 Above: This shows just how close the tank gets to the four wheel drive transfer case
I will caution anyone doing this themselves to pay very close attention to the extension arm that has the float on the end.  You will need to bend this arm so that the float sits at the bottom of the new extended tank so your fuel gauge is accurate.
Once everything is done, your dash fuel gauge will stay on full much longer because the float cannot reach the top of this extended tank.  Since it was more important to know when you are empty, I concentrated on getting that float arm bent just right to reflect when the extended tank is on the empty side.
I have had many an arguments to justifying this cost verses just filling up more often.  I live in New England where diesel fuel is forty to eighty cents higher per gallon than the southern states like Virginia and Georgia.  With Connecticut, New York, and Pennsylvania having some of the highest fuel taxes in the USA, I can drive all the way into Virginia on one tank and save a minimum of forty cents a gallon.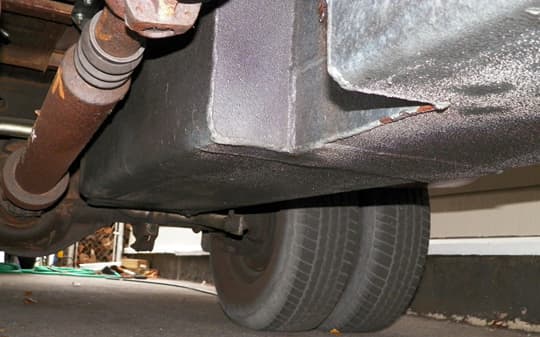 Above: Passenger's side of the Aero tank
I will admit to taking on close to fifty gallons, but 20 bucks in my pocket is 20 bucks.  By filling up in southern Georgia, I can usually skip buying any fuel in Florida.
I also plan all my camping trips and driving around Gas Buddy.  It is amazing what one can save buy purchasing fuel off the Interstates instead of the interstate plazas themselves.  My number one criteria is that the station is no more that one mile off the exit.  I can find that out by using Google maps.  For the record, in 2002, I paid $565 for the tank and that included shipping to my house." – Mike Tassinari, 2002 Ford F350, 2014 Lance 1172
"Thanks, Gordon, for finally getting around to asking about tanks.  This has been an issue for a while for me because of the lack of the availability of a larger gas tank for my truck.  Lots of diesel tanks, but no gas.
If you're going to upgrade, going to the 54 gallon makes the most sense.  My only option is to buy the diesel tank and hope it works with gas.  Hope to hear what others have done.  Also I get 9 miles per gallon and a range of about 200 miles, so a bigger tank would be great." – Phil Seine, 2005 Chevy 3500, 2009 Eagle Cap
"The factory fuel tank was only about 24 gallons and we get about 8 to 11 miles per gallon.  Our first big trip with our truck camper was from Denver to Anchorage.  With so few gas stations along the trip, I was nervous about some of the longer intervals.
I put in a Transfer Flow replacement tank that carries 45 gallons.  The new tank fit underneath the truck in roughly the same space as the original.  The new tank hangs down a little lower and is more rectangular in shape.  Most automatic fuel cutoffs don't work well with the new fill line and the fuel tends to slosh out a little bit.
Aerosuds in Broomfield, Colorado did the replacement job for me.  I also had them install a high flow air intake and helper springs." – Bruce Weiler, 2010 Chevy Silverado 2500HD, 2013 Arctic Fox 811
"I wouldn't even consider it as I already have 450 mile range and that's more than I like to travel in one day anyway.  We all like potty and lunch stops, but I don't want to stop at a noisy truck stop for those rests.  Finding cheap diesel is part of the trip fun.  And stretching the limit a little is always part of the fun challenge.
Lets see, can I make it to the next town on my remaining fuel?  If you know your truck and have been mentally keeping track of head and tail winds as well as any grades, you should be able to squeeze 95% of your available range out of each tank." – Jim Cornwell, 2011 Chevy 3500 HD, 2012 Lance 1191
"I had a 26 gallon factory tank which I found didn't last long on the road.  I installed a Titan 52.5 gallon replacement tank with the optional off-road skid sleeve.  Not that I go off-road a lot, but the highways have road debris that kick up and damage things.  The tank fit the existing mounts and used the same sensor.  I only had to trim about 1/8″ off flange per directions for my truck.  The front of the tank extends forward under the driver's side passenger seat and I was provided an extra support bracket for that area to complete the install.  No problems with tank so far.
I couldn't get anyone to reprogram my on-board computer to reflect the larger capacity.  The tank is plastic, like the stock one, but has almost three times the wall thickness.  I am really pleased with this modification." – Donald Kingfield, 2008 GMC 2500HD, 2008 Lance 861S
"We took out our stock 39 gallon tank and replaced it with a Titan 67 gallon one for our trip around the country and up to Alaska and back!  We had heard that diesel availability through British Columbia and the Yukon of Canada might be a challenge.  We made the switch and are glad we did!
Although gas stations were available, prices varied greatly and having the larger tank allowed me to be more choosy as to where I purchased diesel. Also, the larger tank gave me a greatly extended driving distance and hence took the stress out of needing diesel as often!  I highly recommend the change.  I have the Titan 7020399 67 Gallon Mid-Ship Replacement Tank." – Charles Coushaine, 2001 Ford F350, 2012 Chalet DS116RB
"We have an older F350 and Lance camper.  We plan to sell the Lance and use a pop-up camper on the 2006 Ford for more extensive traveling and boondocking.  The short box truck has a 29 gallon fuel tank.  I am considering a larger after market fuel tank to extend the range between fill-ups and peace of mind traveling off-highway." – Michael Gardner, 2006 Ford F350, TBD Probably a Phoenix or Hallmark pop-up
"This question doesn't apply to me.  My fuel tank is about full when my diesel tank runs dry, so must stop anyway.  Besides isn't it all about smelling the roses?  Why be in such a rush?
Last year, on a trip to Pennsylvania, the only time I was on Interstate was from Knoxville, Tennessee to Asheville, North Carolina to get on the Blue Ridge Parkway.  I went all the way across Pennsylvania, and through Virginia and West Virginia on back roads." – Ken Wright, 2005 Dodge 2500, 2011 Travel Lite 890
"I would very, very much consider a larger replacement fuel tank.  But, it would need to be for less than $1,000, and would need to be a sanitary installation either to replace the original tank or an additional tank.  I will be interested to see what others have done." – A. Crawford, 2015 Chevy 3500, 2013 Arctic Fox 990

"I installed a Transfer Flow 60 gal tank before our first trip into northern Canada.  We drove the Dempster Highway to Inuvik – 457 miles – and I did not want to worry about the price of fuel at the few available sites along the way.  I filled up in Dawson before leaving and in Inuvik on arrival.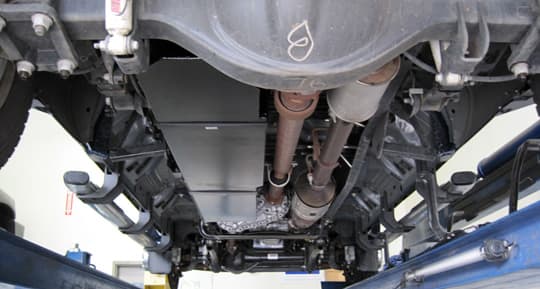 Having an almost 600 mile range gives us lots of options for fueling up as well as taking extended back-country trips.  Aside from the shock at the cost of the first fill up, I have never had the slightest doubt about this tank being one of the best additions to our rig." – George Dunstan, 2010 Ford F450, 2009 Lance 1055
"Yes, we want one very, very much.  Thanks for the brand names.  I'll be looking with a great deal of interest when you run the answers!" – Heidi Nicholl, 2012 Chevy, 2010 Adventurer
"My Dodge holds about 34 gallons of diesel, which is enough to go about 400 miles.  I need to stop every four hours anyway for a rest break, so carrying more fuel isn't worth it.  Although many places in the outback, fuel costs more, it still isn't worth the added expense and weight penalty. Besides, my truck is near its load limit when I tow the car hauler with the Jeep and have the truck camper loaded." – Harry Palmer, 2008 Dodge, 2008 Lance 915
"I would love more gas capacity!  The options are too expensive for my wallet though.  And I also worry about a larger tank extending below the frame of the truck." – Rob Harris, 2007 2500HD, 2015 Hallmark K2
"My 1974 Ford F250 regular cab, gas engine (390 I think) had two gas tanks from the factory installed.  I think it was standard equipment.  It was a small mechanical valve next the driver's seat by the door.  I no longer remember the actual sizes of the two tanks.
I do not go off-road, at least not seriously.  Thus, I would not have two gas tanks again.  Instead, I would make sure I fill up before driving into the mountains.
We drove to Alaska for the first time this year, up the western side of British Columbia, Yukon, and Alaska, and back the eastern route.  I filled the tanks frequently and never had a low fuel issue.
We never had to pay almost double the price for gas because of poor planning and being forced to buy gas.  Gas up in towns and cities.  If I did more off-road driving in the mountains or in far away locations, I could see this would be more of a issue." – Tom Bender, 2011 Ford F250, 2009 Sun Valley Apache Chief 8.65 WS
"After considering the cost, weight, and practicality, we decided to go with ten extra gallons in jerry cans.  Our rig holds 36 gallons.  When we boondock, we top off tank in nearest town.  We carry extra supplies in an eight foot military trailer.  With firewood, bikes, and other assorted gear, the extra ten gallons doesn't add that much weight, and that's what counts." – Mike Kolinski, 2012 GMC 2500HD, 2012 Four Wheel Camper Hawk
"Having a larger fuel take would be great.  Not that I mind the stops that much but, I would like the option of perhaps moving on to the next town, county, or state if I know fuel costs significantly less there. 

The downside of weight is significant.  Maybe if the after market tank manufacturers could move the center of gravity forward, that would help.
Finally, the overall cost of the fuel systems is the big issue keeping me from getting a larger tank.  Sure I'd rather have 100 gallons rather than 40, but not at the current cost of systems.  There are other accessories higher on my list." – Steve Singhose, 2000 Ford F350, 2004 Arctic Fox 1150
"I've been wanting a larger fuel tank for a while now.  Living in Arizona, I go to California and to Mexico frequently.  Both of these places have much higher diesel fuel prices.  I would rather buy near my home where it is cheaper and be able to make my trips without fueling in those expensive locations." – Derek Skains, 2007 Chevrolet 3500 dually, No camper yet
"For safety, most people like to fill up in larger cities.  Get into The West, and even the Northwest – including Wyoming, Montana, and Idaho – and the larger towns are either too close to each other and filling up is nuts, or you have to push your luck and hope you do not run out.
That's what almost happened to us.  Our normal range is 320 miles, but we managed to go 368 miles.  The truck was telling me, "Get ready to walk".  I took advantage of every hill I could.
I would really love 58 gallons, but not at that price." – James Tedford, 2012 Ram 3500, 2007 Arctic Fox 990
"Yes, I would consider a larger fuel tank.  I own a business and, to me, fueling seventeen vehicles up at least twice a week is labor intensive.  Time spent in gas stations and convenience stores also raises the liability of a larger truck either getting backed over or backing over another vehicle.
Most of the trucks I own now have the 32 or 35 gallon tanks.  But some still have the 40 and 42 gallon ones.  Those trucks see the fuel station less often than the smaller ones, and save time.
I like driving the ones with the larger fuel tanks because I can go longer without fueling up.  Besides, if I decide that I don't want to pay that much for gas, I can keep driving.
We all want to get to where we are going quicker.  So, as the busy man that I am, I learned long ago to fill up every time I go for fuel and spend that time I gain on more things more important to me.
I love to go and spend several days out in remote areas and I love exploring.  Carrying more fuel in the tank would be safer than carrying it on the front or rear racks of my camper, and it would be centered on the truck.  So I vote yes." – Jeff Lewis, 2001 Ford 350, 2011 Lance 1181
"I have considered a larger tank for the range.  The added weight would be a definite detriment considering I am overweight already.  That is the big hold up.  I would love to have the longer range with the larger tank." – Mike Suan, 2008 Chevy Silverado, 2010 Lance 830
"No, I would not consider a larger replacement tank.  I have a 35 gallon tank now and, when full, the weight is 245 pounds.  If I were to add a 58 gallon tank, the weight would jump to 406 pounds.
Yes, it's a decreasing weight factor, but I'm not interested in trying to drive until it's empty.  We don't like to drive more than 250 miles in a day and some days we've driven less than a 100 miles.
When full, my tank readout is between 435 to 470 miles.  So we can go two to three days before having to fill up.  When we're less than a quarter tank, the readout is usually about 85 to 100 miles to empty.  Then we get serious about making a fuel stop.  Paying out over a $100 dollars for a fill up is all part of the adventure." – Roger and Elaine Odahl, 2008 Dodge Ram 3500 , 2004 Eagle Cap 950
"I am considering this option and look forward to your reader responses.  I think having the ability to extend the range, especially in areas where fuel may not be as readily available, provides a level of reassurance.  However, the weight and sticker shock at the pump when filling are all factors leading me to question whether it is justifiable." – Steve Gomez, 2014 Ford F350, 2007 Alpenlite Santa Fe 1100
"I have an Aero replacement tank under the truck bed.  I absolutely love not driving looking at the fuel gauge constantly.  I highly recommend it." – Ed Bruns, 2007 Dodge 3500, 2008 Lance 1055
"I believe I had a Transfer Flow 56 gallon metal tank installed.  I am not a big fan of having to stop at stations that jack their prices up.  I fill up locally with the camper on and pulling a trailer.  I easily travel 550 to 700 miles without stopping for fuel.
Without the camper and trailer, I can travel well over 800 miles.  I only once pumped the full 56 gallons to fill the tank when it was first installed.
The tank was installed by a local diesel shop for around $1,100.  I do not do any serious off roading but, if I did, I would probably go to the plastic tank as it is supposed to be more durable." – Kim Jones, 2004 Chevrolet Silverado 3500, 2004 Host
"Why yes!  It's just that the cost is so high.  My medical insurance may not cover a heart attack set on by filling it." – Joe Pospicil, 2007 Ford F250, 2000 Lancer 960
"I do not need the added range for the trips I take." – Paul Killinger, 2005 Silverado HD, 1997 Northern Lite
"I installed a 30 gallon diesel saddle tank on top of the flat bed and feed the feed line into the factory fuel tank fill line.  It has to be manually switched on.  It has come in handy down in Baja, Mexico.  I purchased the tank at the local junk yard, so it was an inexpensive purchase and installation." – Phil Rodgers, 2000 Ford F-450, 2003 Lance 1130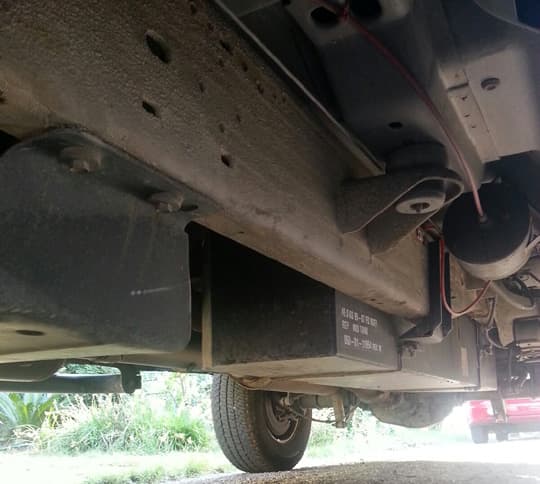 "I purchased a Transfer Flow 41 gallon replacement tank for added peace-of-mind the extra fuel capacity provides.  I like to go to remote areas and not worry about running out of fuel is well worth the price.  Plus, I can take advantage of cheap fuel prices when I find them." – Richard Petty, 2006 Ford F250, 2006 Outfitter Apex 8