Truck Camper Magazine readers report on the longevity, quality, and installation experiences with generic fit covers, custom-ordered truck camper covers, and tarps.

A low quality or improperly installed cover can be worse than no cover at all.  Anyone who's see a ripped cover flapping against a RV in the wind knows exactly what we're talking about.  The goal is a quality cover that's installed right.
What that means can be different depending on your climate. In southern California, a light weight cover primarily designed to deflect the sun may be all that's necessary.
In the northern Maine, a heavy duty cover designed to withstand months of wind and snowfall is required.  In both cases, the cover better be padded around gutters and other rough or protruding camper features, and be snug to the unit.
These themes play out again again again in the responses below.  On balance, there are a few exceptions where folks have used tarps and other approaches and have found varying degrees of success.  That said, the overwhelming opinion remains focused on quality covers installed right.
We asked TCM readers to share their cover experiences.  What brand of cover do they have?  What's it like to install it?  How well does it work?  Have they had any tears?  The answers reveal exactly what's up and under camper covers.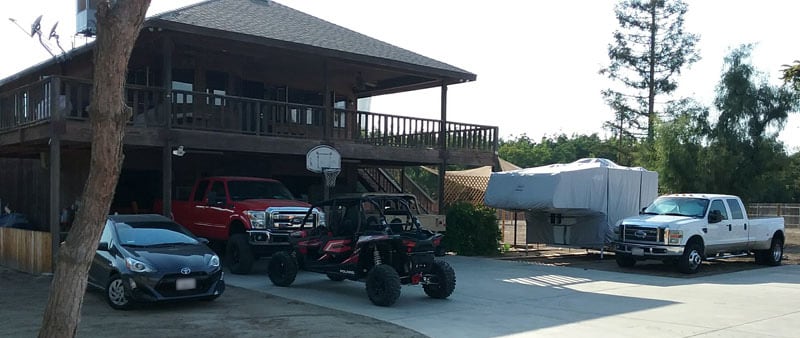 "I have a Camco cover. I usually do it by myself and it takes about twenty minutes. I also cover all the sharp edges with a tarp or small pieces of foam to keep them from cutting the cover during high winds. Covering the edges takes about thirty minutes.
I only use the cover in the winter when I am not using the camper. It does a good job of protecting the camper from the snow and sun. My current cover is five years old and I expect to get a few more years of use out of it.
Even with covering the sharp edges I still get a few cuts every winter. I repair the cuts in the spring when I remove the cove. To repair the cover, I clean the area around the cut and place Gorilla tape on the inside and outside of the cover.
One winter I forgot to shut off the battery switch. The tarp and cover were over the solar panel, so the batteries died and eventually froze and cracked. In the spring I had acid leaking out of the batteries and had to replace them. Now I make sure the battery disconnect switch is off and I run shore power to keep the batteries charged." – Mike Borrego, 2005 Ram 3500, 2008 Host Yellowstone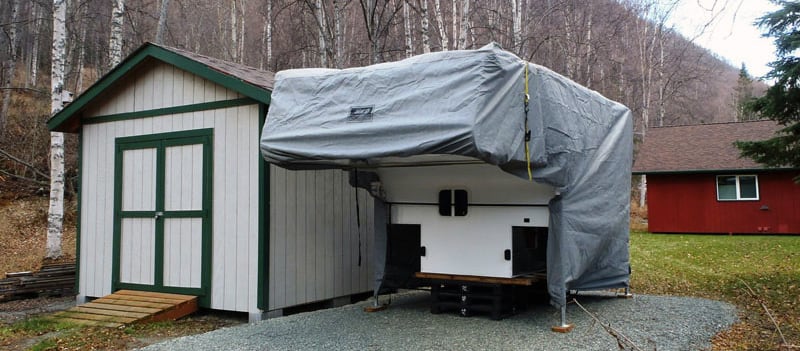 "I have an ADCO AquaShed Cover which was $150 plus freight. My ADCO cover is pretty easy to install due to its light weight. I open it up on the roof and hang it over the cabover area. Then I pull it towards the rear and over the sides.
After getting it pulled over all of the corners, I fold up the excess fabric where the cabover area begins. I wrap it with a ratchet strap to hold the cover tight and help keep the wind from flapping it.
The cover lasted longer than everyone said it would. This winter is the sixth year with a cover that I was told would only last one or two years. It protected my camper from our Alaskan winters that have snow, ice, and winds. It will be retired after this winter.
I am sold on the benefits of a cover and will be purchasing a replacement cover this winter for future use. I'm going to try a Goldline cover next and hopefully that lasts for the next ten years or so." – Allen Jedlicki, 2012 GMC 2500HD, 2014 Wolf Creek 850SB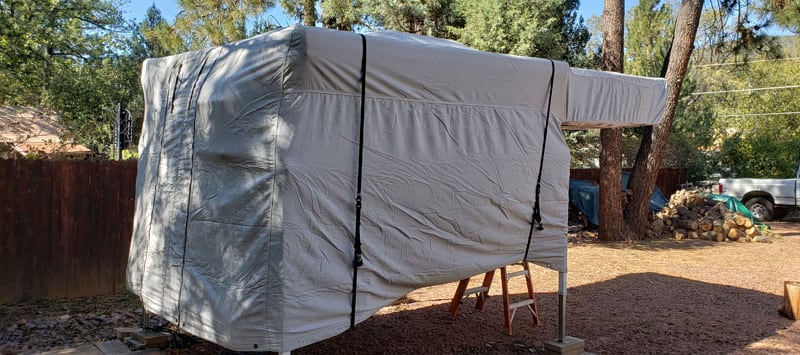 "We just bought a Calmark customized cover. It cost $650 plus shipping and handling.
We just installed it! Because we had to send specific measurements and pictures, it fits like a glove. It was really easy to install. The longest part was just securing it.
The company puts grommets all along most of the ends, so you can tie it down any way you wish, plus it includes various tie downs sewn into the cover. They sent multiple documents about how to put it on, take it off, and how to take care of it. There's also a kit for when/if you need to mend it anywhere.
We just put it on for the first time. We'll see how it does over the winter in the snow. The company was very personable to work with, and we're quite happy with the great fit." – Margie Geiser, 2017 Ford F250, 2019 Northstar 850SC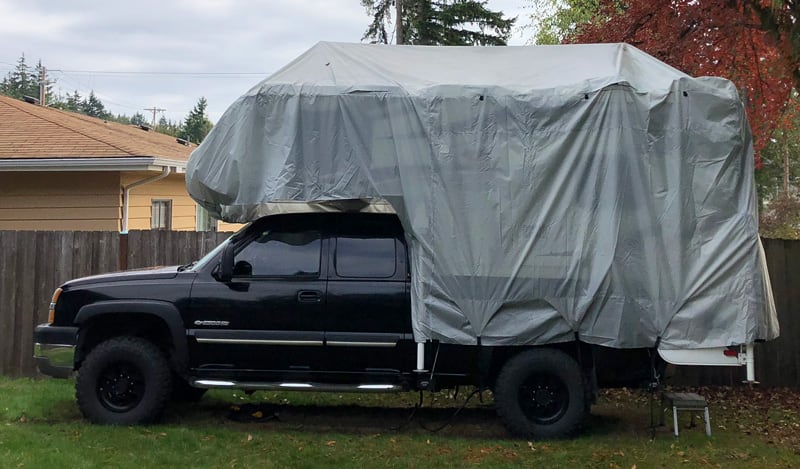 "I have a cover from Classic Accessories. The installation was pretty easy. It took two people about twenty minutes the first time. To install it, you have to get on top of the camper and be fairly agile to avoid tripping over the roof mounted objects.
We've only had our cover for a month. So far it's been a nice peace of mind during the fall season with all the falling debris and rain. One issue we noticed is that, during heavy rain, the cover tends to pool up on the roof between roof objects. So we built a PVC pitch that runs nose to tail and raises the middle of the cover up and off the roof for better drainage. We still need to see how this holds up over the winter months and how painful it is to put on/off – especially since we are winter campers.
Lots of people talk about rips and tears. So far, we used some pipe insulation on the sharp edges and haven't had any issues. Our cover also doesn't seem to be as cheaply made as lots of reviewers tend to talk about. I guess time will tell. Ultimately, this is a temporary fix. We would love to get a structure covering the camper in the long run." – Mike Folden, 2003 Chevy 2500HD, 2017 Lance 825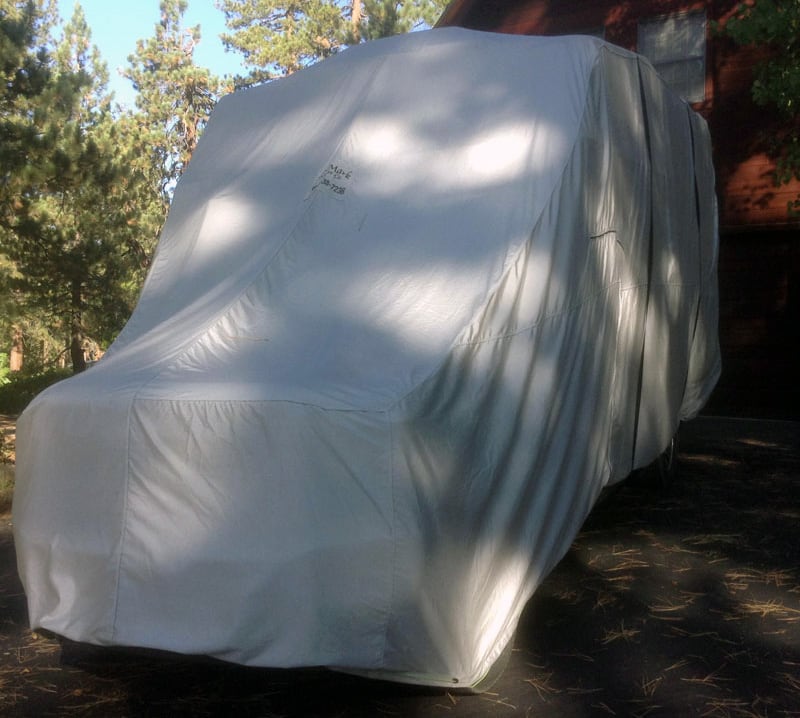 "I have a CalMark cover. Time will tell on how it holds up. We invested in a high quality cover hoping to protect a once in a lifetime investment.
Our first impressions from the accuracy of construction to the heavy fabric would make this cover worth considering. I was very impressed with the quality of the custom made fit.
CalMark fabricates the cover from detailed dimensions that you submit from their drawings. You do pay for this quality." – Dave Jean, 2016 Ford F-350, 2017 Northern Lite
"I have an ADCO large-multilayer cover for extreme weather that I purchased for approximately $280 Canadian.
I install the cover on my own. I plan on half a day to get it on and tied in place. I wash the camper first before storing. The camper is in the bed of our truck with the jacks down to remove the weight off of the truck's suspension. Our truck also has a dedicated cover, to the back of the cab.
As I'm typing this, I am getting ready to go out and wash both the truck and camper as they go into hibernation as of next week until the middle of April next year.
This is the cover's fourth winter. I have only had one small tear where I missed applying foam pipe insulation to one of the extended drains off of the water rail.
I have seen pictures of about a foot of snow, freshly fallen, taken by our son during the last few winters. The grey color of the cover tends to attract the heat of the sun and melts away the majority of the snow.
The tie-down points are not enough to hold the cover in place. I also run two ropes around the cab over area inside of pipe insulation to stop chafing whilst stopping the cover from billowing.
Before putting the cover over the camper, I cover all corners and cover any protruding points with foam pipe insulation. That helps to stop the tearing of the cover during windy conditions. So far, so good." – Eric Devolin, 2007 GMC 3500, 2006 Adventurer 106DBS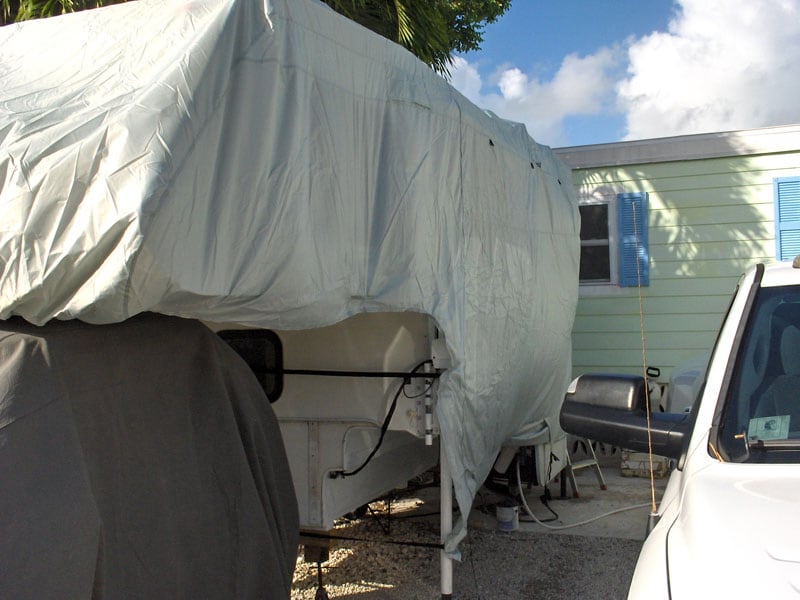 "I have a Perma Pro cover. It only takes a few minutes to put it on unless it's windy.
I'm re-caulking the camper right now and that's what prompted me to start me using it. I like the cover and its easy to use. It appears to be well made and it fits my Lance 1191 with easy excess to get inside with zippered access for side doors." – Gary Raymond, 2014 Ram 3500, 2006 Lance 1191
"I have an Elements RV cover from Camping World. It's fairly easy to install and uninstall. It does a great job protecting the camper. I've had it for two years.
Some people think they don't need a cover. I like to protect my camper to reduce the likelihood of leaks and it being baked in the sun." – Bob Walsh, 2013 GMC Sierra 3500, 2003 Bigfoot C25 10.6E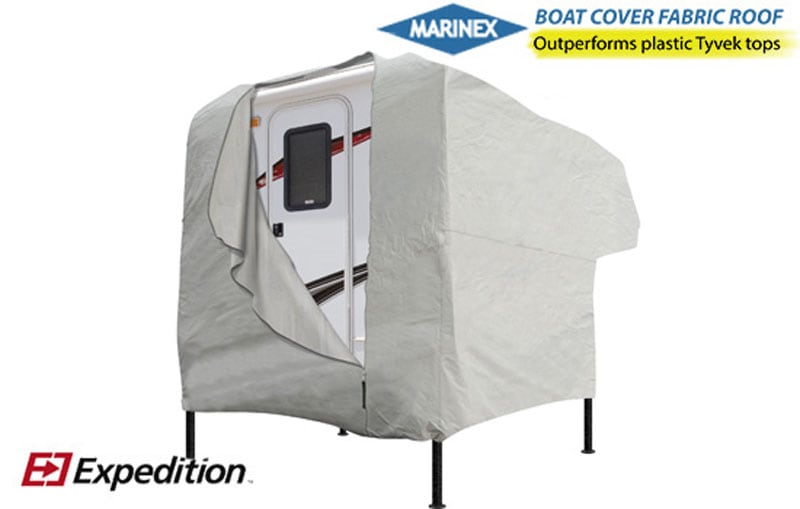 Above photo taken from National RV Cover website
"I have a National Cover Expedition model. It cost $134.
I don't think it's difficult install, but that may be because I put a cover on my 27-foot motorhome for 13-years. That was a long and hard process. The camper cover is so much lighter and smaller that it seems like nothing in comparison.
To install, I first go up and tie a small rag around the four corner spouts, securing them using a short twine. These are necessary. If you do not do this the spouts will cut holes in the four corners.
Going up the ladder, I carry the rolled cover on my right shoulder and shove it on up. Then I let it roll out down the center, spread the two sides, get the front in position by lying down and spreading it as best I can. Then I descend to the ground to go get it properly secured. I go back up and carefully pull everything tightly toward the back.
It absolutely does its job. It has lasted perfectly so far, which has been eighteen months through our Ohio winter and summers. When it was new, I waxed the entire camper, and the wax is still good eighteen months later (which surely pleases me since waxing that thing took a long time). Whenever I remove the cover to use the camper, it's always in such clean and ready condition – like new.
Although putting on and taking off my motorhome's cover for 13-years was a real effort, it was truly worth it for maintaining the RV like new. It helped to maintain the rubber roof, the seals, the shine, etc. When I bought my Arctic Fox camper, the cover was the first extra I purchased.
Remember to be careful not to tear the thin, waterproof top as you pull it over or around the antenna, solar panels, and other items on the camper's roof. Having a second person to help down on the ground speeds up the process." – Ken Mercurio, 2017 Ford F-350, 2016 Arctic Fox 811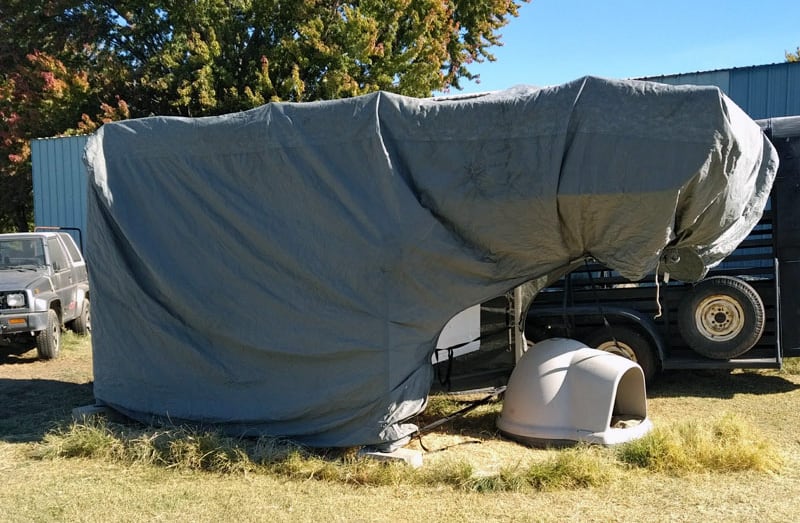 "My cover came with the camper when I purchased it. The ADCO 12264 SFS Aqua Shed truck camper cover can be found for under $200 on Amazon.
Installation is easy to do and works best with two people. It has straps that continue under the cover to keep it planted on windy days. It has a zipper door in the rear to allow for camper access when it's on. I had never installed a cover before and it took me about twenty minutes, including un-packaging.
So far I'm only planning on putting it on during the winter months. So far Amazon has them at three stars, with mixed reviews. Only time will tell!" – Jordan Pawley, 2004 Chevy 2500 flat bed, 2007 Outfitter Apex 8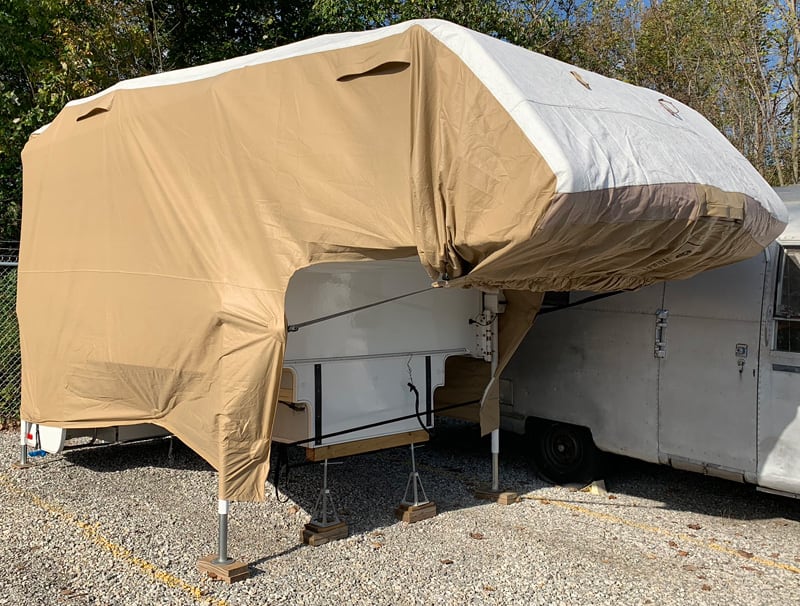 "I have an Elements RV cover. I believe I paid just north of $200.
Installing the cover is a fairly simple task for two people. Unfortunately, I've only installed it solo. The hardest part is hefting it over my shoulder and climbing the ladder to the roof.
I just put the camper in storage for the winter this past weekend. This will be the third winter of service for the cover. Each spring, the exterior (including seals) look just as they did when I installed the cover in the fall.
You have to be careful with any edge on your camper that the cover will rub against. Elements supplies 'socks' to cover the sharp roof drain spouts but the cover will also wear against roof rack ends and anything else that isn't well-rounded.
Elements anticipates this wear and supplies reinforcement patches but, after year one, I purchased 3M Bondo fiberglass cloth and spray-glued two layers of patches to any wear point. The patches didn't show any visible wear after year two. I also attached more padding at points like the drain spouts and roof rack ends which I'm sure helped as well." – Hal Fish, 2015 Chevy Silverado 3500 HD, 2016 Lance 995
"I have an ADCO cover. Three years is how long the lasts, if you're is lucky. I have found that white flex tape does a great job for repairs. Flex tape has lasted for the repairs in the sub-zero and high wind weather in Iowa.
More companies are now making covers for truck campers. Shop around for the best deal when you make the purchase." – Ron Holte, 2019 Chevy 3500HD, 2005 Lance 1030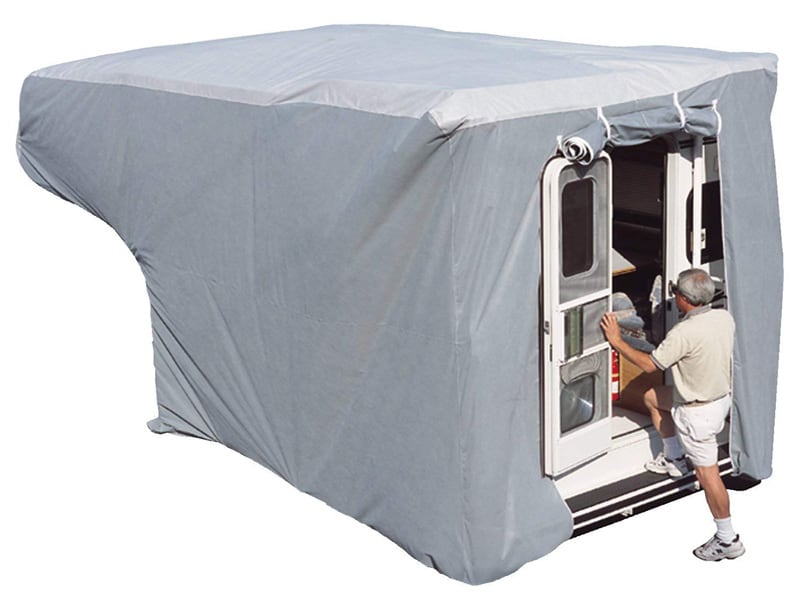 Above: AquaShed Cover photo taken from Amazon.com
"I bought an ADCO SFS AquaShed Cover for truck campers. It's 10-feet long and cost $160.
It took about an hour to install the cover. That included the time to fabricate various protective pads that cover sharp edges and the gutter extensions.
Since my Lance 650 is relatively small, I would say that that installation was a 5 out of 10 (10 being most difficult). The cover was too large for my camper, so extra effort was required to tuck the excess cover and secure the straps.
The cover has only been used for six months and shows no early signs of failure. The cover is not waterproof, so it only offers protection agains the sun.
I removed the cover after an initial three months and there was a lot of dead bugs, moths, and dirt under the cover. I could see that water flow off of the roof had been hampered, as evidenced by several dried up dirty water pools.
As mentioned in the survey introduction, seal maintenance is very important. My cover did not stop the rain, and appeared to have caused some extended pooling before the water evaporated. With the cover on, I could not see that water had been pooling and attacking the seal where my front cap met the roof.
This caused a seal to fail and water to enter the camper. I don't totally fault the cover, since my camper had sat outside for almost two years without a cover. The seal was probably weakened already. I feel that the cover accelerated the issue and made it harder to see what was happening. Ironically, the leftover dirt pool is what triggered me to take a closer look at the seal.
I look forward to reading what other campers are doing for a more waterproof solution." – Steve Williams, 2010 Ram 2500, 2016 Lance 650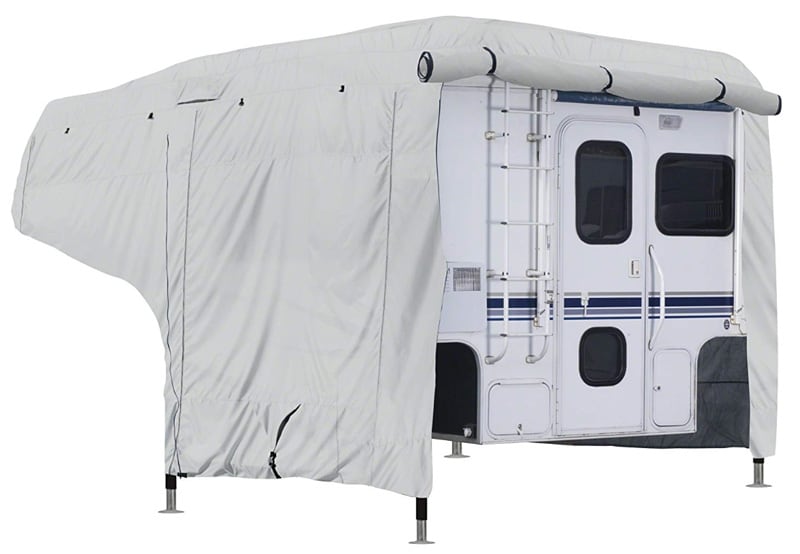 Above: Classic Accessories PermaPro Cover photo taken from Amazon.com.
"I have a Classic Accessories PermaPro cover. It was $254 plus $99 for shipping.
It's pretty easy for two people to install. The gutters make the corners tough. It does an excellent job for our winters here in Alaska. It still looks good after three years and has a lifetime warranty!" – Lawrence Newell, 2009 GMC 2500, 2014 Wolf Creek 850
"I have a CalMark Cover that was $650. We have both solar and an air conditioning unit on top of our Alaskan, so it takes two people to pull the cover over the top. It's not difficult to install.
We live by the sea in southern Massachusetts, so we get fierce winter storms with high winds and ice. This will be its third season. We've been very happy with it's performance. A previous ADCO cover didn't survive a single season.
The people at CalMark provide excellent customer service and value." – Alan Peacock, 2013 GMC 3500, 2013 Alaskan Camper 8′ COFD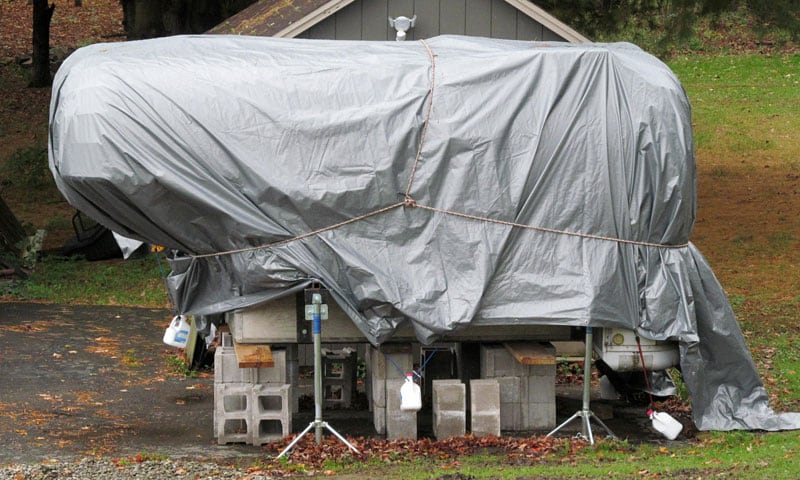 "I bought a Harbor Freight Heavy Duty 9-mil tarp that was $59.
I recommend that you pull it up and over with no or little wind and two people. Run a rope around and then up over the top. Cinch it fairly tight to keep it from buffeting in the wind. Use plastic gallon milk jugs filled part way with water and tie them to the grommets in the tarp to keep the wind from blowing it away.
It protects as long as it is not torn. I expect to get several years out of it. I used to have a 35-foot fifth wheel with a fancy zipper cover. That lasted one winter. I have used a tarp ever since. You can purchase several tarps for the cost of one cover.
I'm attempting to restore a 1965 Avion C-10. The cover is fairly easy to remove so I can work on it. I wish I had a building to put it in, but don't have that luxury yet." – Dean McCullor, 1990 Dodge W250, 1965 Avion C-10
"I bought a Calmark Cover that was $692 delivered.
It's fairly easy with two people. It does require getting on the roof of the camper. Arctic Fox campers have a full walk on roof so that isn't a problem. It's tough for one person to get it on and off, but it can be done.
I live in snow country. I got the cover to protect the roof seams from water intrusion caused by freezing and thawing. It has worked out great for that. There were no signs of any water on the roof when I removed the cover this year.
This is an expensive custom made cover. It is warranted for six years. Calmark provides you with instructions on how to measure and a template for those measurements. I also provided pictures of the roof, front, back and sides of the camper.
The company called twice to make sure they had the correct measurements they needed. It took a little longer to get than I expected but the quality and fit are excellent.
The fabric, Sunbrella, is same fabric used for awnings. I had an ADCO cover before this and the sun rotted it in less than two years.
The Calmark cover fits snugly. The tie downs go completely around the camper, so the cover does not whip around in the wind. It looks as good today as it did when I took it out of the box." – Dave Erickson, 2011 Ford F-350, 2006 Arctic Fox 990
"I have a Goldline from National Covers. It cost $340. I just received the cover and I am putting it on this weekend." – Bryan Hoerr, 2014 Ram 3500, 2019 Arctic Fox 811
"We actually use an extremely large tarp to cover the camper and truck during the winter. We accidentally bought the wrong size this year. It is 12-feet by 34-feet which is about 10-feet too long. It cost about $50 on sale.
It's not the simplest thing to install, but it's not that complicated either. First we tape bits of pool noodles over the back corners, on the top of the ladder and a couple of eye hooks at the top. That prevents tearing. Then we drape the tarp over. After that we string rope through and tie it down.
Our camper sits under an evergreen tree all the time. It's not in use from late September until May. The tarp does a great job of keeping needles off the roof and windshield as well as catching any sticky sap drips.
It lasts a couple of years but, at least than $50, it's not too bad to replace. So far it's made a huge difference, especially to the windshield of the truck!" – Melissa Malejko, 2002 Chevy Silverado 2500HD, 1981 Okanagan