Truck Camper Magazine readers report on the longevity, quality, and installation experiences with generic fit covers, custom-ordered truck camper covers, and tarps.

A low quality or improperly installed cover can be worse than no cover at all.  Anyone who's see a ripped cover flapping against a RV in the wind knows exactly what we're talking about.  The goal is a quality cover that's installed right.
What that means can be different depending on your climate. In southern California, a light weight cover primarily designed to deflect the sun may be all that's necessary.
In the northern Maine, a heavy duty cover designed to withstand months of wind and snowfall is required.  In both cases, the cover better be padded around gutters and other rough or protruding camper features, and be snug to the unit.
These themes play out again again again in the responses below.  On balance, there are a few exceptions where folks have used tarps and other approaches and have found varying degrees of success.  That said, the overwhelming opinion remains focused on quality covers installed right.
We asked TCM readers to share their cover experiences.  What brand of cover do they have?  What's it like to install it?  How well does it work?  Have they had any tears?  The answers reveal exactly what's up and under camper covers.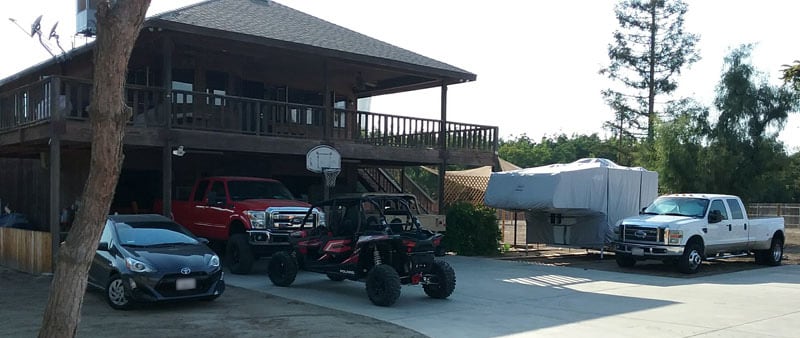 "I have a Camco cover. I usually do it by myself and it takes about twenty minutes. I also cover all the sharp edges with a tarp or small pieces of foam to keep them from cutting the cover during high winds. Covering the edges takes about thirty minutes.
I only use the cover in the winter when I am not using the camper. It does a good job of protecting the camper from the snow and sun. My current cover is five years old and I expect to get a few more years of use out of it.
Even with covering the sharp edges I still get a few cuts every winter. I repair the cuts in the spring when I remove the cove. To repair the cover, I clean the area around the cut and place Gorilla tape on the inside and outside of the cover.
One winter I forgot to shut off the battery switch. The tarp and cover were over the solar panel, so the batteries died and eventually froze and cracked. In the spring I had acid leaking out of the batteries and had to replace them. Now I make sure the battery disconnect switch is off and I run shore power to keep the batteries charged." – Mike Borrego, 2005 Ram 3500, 2008 Host Yellowstone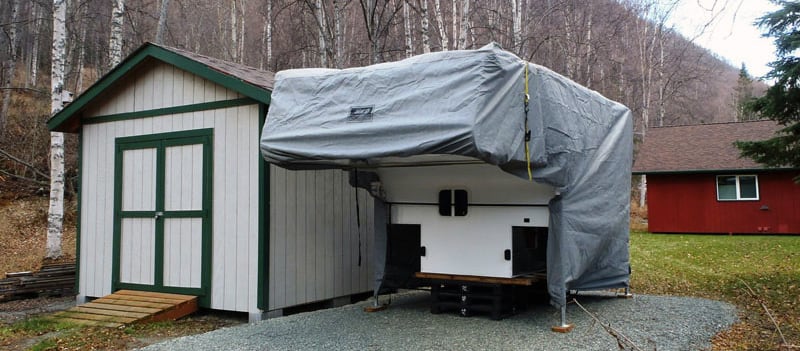 "I have an ADCO AquaShed Cover which was $150 plus freight. My ADCO cover is pretty easy to install due to its light weight. I open it up on the roof and hang it over the cabover area. Then I pull it towards the rear and over the sides.
After getting it pulled over all of the corners, I fold up the excess fabric where the cabover area begins. I wrap it with a ratchet strap to hold the cover tight and help keep the wind from flapping it.
The cover lasted longer than everyone said it would. This winter is the sixth year with a cover that I was told would only last one or two years. It protected my camper from our Alaskan winters that have snow, ice, and winds. It will be retired after this winter.
I am sold on the benefits of a cover and will be purchasing a replacement cover this winter for future use. I'm going to try a Goldline cover next and hopefully that lasts for the next ten years or so." – Allen Jedlicki, 2012 GMC 2500HD, 2014 Wolf Creek 850SB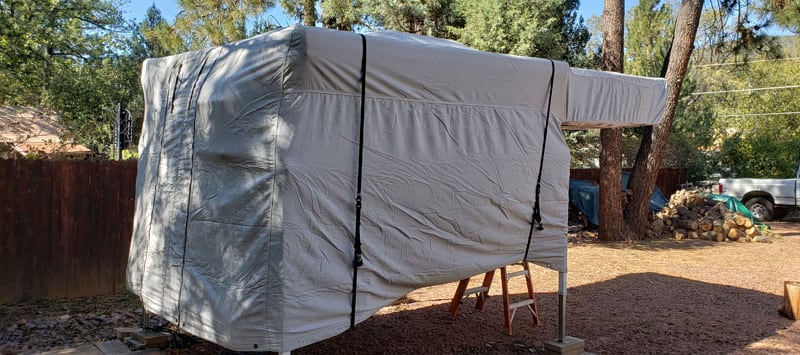 "We just bought a Calmark customized cover. It cost $650 plus shipping and handling.
We just installed it! Because we had to send specific measurements and pictures, it fits like a glove. It was really easy to install. The longest part was just securing it.