This week's Question of the Week was, "Do you use your camper mattress as it arrived from the factory, or have you done something to make your camper bed more comfortable?"
"What I did in my camper was to add a two inch memory foam topper from Target on top of my camper mattress.  What a difference!  Every time I lay down on it, I fall asleep almost immediately.  It was well worth adding a memory foam topper to my camper mattress." – Bob Chan
"We use only Coleman air mattresses.  We have never found anything else as comfortable.  You must always carry spares and keep them in a soft protective bag.  The comfort is well worth the bother and they are not expensive.  I do wish somebody would make a heavier duty version.  The Colemans hold up pretty well, but they are not bullet proof." – Vince Kurpan
"Our 2008 Northstar TC650 came with a very comfortable innerspring mattress that we would be hard-pressed to improve on.  As a matter of fact, I think it is almost more comfortable than our expensive home mattress.  Maybe that's because we are in a better mood and more relaxed when traveling, visiting National Parks, and using the Northstar as our home away from home while visiting children and relatives in different states.  We spend a lot of nights a year in our truck camper and have never felt the need to replace or improve upon it." – Allen and Sharon Brummel, Minnesota
"We like the mattress in our Northern Lite.  We added a two inch memory foam topper and it sleeps great.  We are an older couple and I have problems sleeping.  In fact, I take a sleeping pill every night or I would not be able to sleep.  I still need a comfortable place to rest or I still would not go to sleep.  No need to change out ours." – Butch Evans
"We use the OEM mattress that came with our camper.  We found a website called AB Lifestyles.  They have a mattress pad/sheet combo that is made for RV size beds.  In addition, the top sheet is sewn to the fitted bottom, so making the bed is a lot easier.  The products are USA made and very comfortable." – Bud and JoAnn Waner, New York, 2006 Travel Lite 1100
"I use the mattress that came with the truck camper and it is very uncomfortable.  We have been looking and researching different foams.  There are so many different kinds.  I would also appreciate hearing what other campers have done regarding this topic." – Denise and Rich Snyder
"After my first long trip of 12,000 miles, I decided to change my queen size mattress with a Sleep Number mattress like the one I have at home.  It has been the best investment yet.  When I'm not plugged into shore power, I can use a power inverter to plug it in to to change firmness, if needed.  I think truck camper manufacturers should make Sleep Numbers an option." – Guinness and Andy Spedden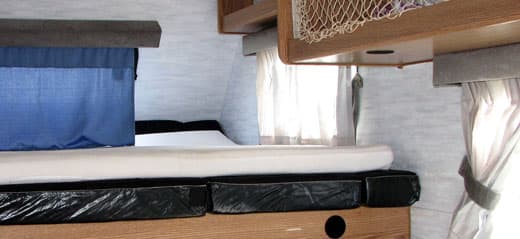 "I replaced the original mattress with two Hide-a-Mats purchased at Costco, plus a two inch topper.  The combination is lighter, thinner, and very comfortable.  See my picture above." – John Cook, Colorado
"We use our Serta mattress just as it came from the Palomino factory.  It actually sleeps better than the one in the house!" – Bob Hubbs, 2010 Palomono Maverick M8801
"Raiten Foam Fabricators in Monticello, New York will custom make a mattress to your specifications.  It's the best sleep I ever had." – Jeremy Neimand
"We took the factory mattress one out and replaced it with a new mattress from Camping World.  It's much better!" – Pete Kaminski
"I have a Northern Lite and use the standard factory mattress.  I added an amazing two inch gel memory foam topper on top.  The brand is Sleep Innovations (www.sleepinnovations.com).  The best deals I have found are available on the Kohls.com website.  I originally purchased this topper for the camper, but it was so comfortable that I purchased toppers for the beds in my home as well.  Relatives who sleep over in the camper or at my house rave about the toppers, and several family members have purchased them as well.  Now I sleep great wherever I am, thanks to this great Sleep Innovations product." – Erika Hokanson
"We replaced our spring mattress that came with our Lance with a queen sized Coleman air mattress.  It was less than $50.00 and we both sleep like babies at night.  Plus, with it weighing in at ten pounds, it's a lot lighter than the original." – Richard Musso
"Hard topic!  That's how we would describe our mattress as it came from Adventurer.  We love just about everything in our rig, but the mattress was surely lacking.  Hard and very thin, it just did not let us get a good nights rest.  We waffled on this for a bit.  Yes, we used a waffle type topper for a while, then considered going to the expense of putting a Sleep Number bed in.  We have one at home and love it, but in the end we decided our solution would be the same as our fifth wheel.  We went to Costco and purchased a two inch topper.  Not as comfy as our Sleep Number, but about $550 less.  We spent two weeks in the camper traveling cross country recently and slept very well.  Keep the questions coming.  I love to answer these!" – Laurie and JP Pedrick
"We replaced the mattress in our Palomino with one from IKEA.  It is a standard queen five inch foam.  It is really nice and was a good choice for us.  It wasn't cheap but was money well spent!" – Dan Forry, Park Ranger, now retired, whoohoo!
"Great question.  I bought a brand new truck camper from a well known and highly rated company.  I have had the camper for approximately six months.  After my first two week trip, the mattress looks as if it was ten years old.  It is already sagging in the middle and getting uncomfortable.  I have tried a foam cover for the top and that helps, but it is still sagging.  I plan on spending money for a better mattress but I am upset that I need too.  I had an old 1970 vintage camper with a foam mattress that was original.  I'm talking about it being forty years old, and it was more comfortable than the new one.  I would suggest that new camper buyers look at the mattress that comes with the camper and deal for a better one right from the start.  I am looking forward to some of the responses to make my existing mattress work for a while longer until I can afford to but a better one." – Ron
"We have a queen regular mattress.  I thought it was comfortable at first, but after sleeping in it more than a few days, it was not very comfortable.  Our solution was a two inch memory foam topper over the mattress.  Now my husband doesn't toss and turn as much.  I love your magazine.  Keep it coming!" – P. Hunt
"I'm a big fan of Tempurpedic mattresses.  I sleep on a Tempurpedic at home, so why not put one in my home on wheels?  Getting a new bed was the first modification I made when I got my Lance 915 back in 2003.  Nothing is quite as good as a good night's sleep.  Keep up the good work.  Truck campers are the best!" – John Stahley
"After one trip in our 2012 Eagle Cap, we trashed the mattress.  It was uncomfortable.  We replaced it with a foam type mattress, called a Sealy Bremerton.  It is a queen that is comfortable and much lighter than the factory mattress." – Ben Agee, Nevada
"Our Northstar TC650 has a north south queen size bed.  I really like the extra room on the sides.  We bought it used but I think it is the mattress that came from the factory.  We have no problem getting a good night's sleep on it." – Matt Reinker
"We have a 2006 10.5 HOST Tahoe DS.  The original foam mattress was great so we didn't need to change the mattress out.  We did add a mattress topper from COSTCO however.  It's a thick quilted model that adds some nice softness to the mattress.  The only downside is, because the topper is fairly thick, the distance between the topper and blankets and the bottom of the clothes closet door is a bit tight.  But the extra comfort of the topper is definitely worth it!" – Dave Riddle, Washington
"We bought a very expensive truck camper to replace our aging Northern Lite a few years ago and were disappointed to see that the mattress was less than stellar.  We tried a high quality memory foam topper for a year with less than great results, partially because the topper was a few inches smaller than the queen mattress and the height increase interfered with some cabinet doors.  We finally realized that we spend an average of forty-five nights a year in our camper and therefore need a quality memory foam residential type mattress.  It wasn't cheap, but our sleep is important to be able to enjoy our vacation time properly.  One trick I've learned about the memory foam is, when cold, it is really stiff and it takes a while to warm up.  To deal with this, I start the heater before we leave home when we travel during the spring and fall.  It works wonderfully." – Tim and Ginger Burk, 2010 Eagle Cap 950
"We have a 2000 Lance mattress, but we added a pillow top foam to it.  It's more comfortable than our water bed at home.  One problem is finding fitted sheets to fit, but they're out there." – Allan Chaffee
Editor: Allan's answer made us wonder; what if we combined camper fresh water tanks with our beds?  Water beds in truck campers!  Okay, just kidding.
"In January 1997, I  took delivery of a Shadow Cruiser pop-up camper that came with a non-reversible innerspring mattress that my wife and I enjoyed until 2005 when she passed on.  During that time we spent over 375 nights in that camper.  Now traveling alone I realized I could save some weight and create space by converting to a single foam mattress.  I had a single mattress built from three inch hi-density upholstery foam with a waffle topper inside and I have slept well ever since.  I travel light and I travel long distances.  The camper is now permanently mounted on a half ton GMC I purchased new 2003." – Ralph Anderson, Arizona
"I have the original mattress in my 2008 Arctic Fox 811.  It's okay, but am very interested to see what my fellow truck campers have done." – 
Sue Surateaux, Michigan
"At first, we just added a two-inch memory foam topper.  We found that was too tall so the wardrobe door wouldn't open.  So we got rid of both the mattress and topper and went just to a six-inch memory foam mattress.  Great sleeping now!" – Evelyn and Bill R., Colorado, 2005 Arctic Fox 860
"I gave up on the mattresses that come with the campers.  We have replaced our camper mattress with a Select Comfort Sleep Number bed.  Nothing better than to get up and feel great in a truck camper!" – Linda Duffy
"We use what came from the factory and sleep very well, although we have placed an open sleeping bag underneath it which seems to block the cold during the winter."  – Robin and Clare
"We use the factory queen mattress with a three inch, four pound Serta memory foam topper we bought from Overstock.com.  It is so comfortable we never want to get out of bed in the morning!  We also use the queen size Travasak bedding system because it is so easy to make the bed.  We wish we had bought the king size topper and then cut it down to queen size and used the excess for pillows, etc.  Our next Travasak may be a king size also just to have a little more room!"  – Allan and Gale Riley, New Hampshire, 2008 Northstar 8.5 Arrow
"Aloha from exotic Nashville.  I've replaced my queen mattress with a quality air mattress.  It's AC powered for both inflating and deflating.  I travel with it deflated and it gives me much needed storage room.  When inflated, the items stored are put on the dinning area.  I have a 1987 Lance 3000." – Phil
"We have a 2010 Lance 1181 and use the mattress that came with the camper from the factory.  The only modification we made was to installed a heated mattress pad that uses 115 volt power on the mattress.  When we are on shore power, we use the heated mattress instead of turning on the furnace.  When it is cold, we use both the mattress pad and the furnace, or our Wave heater, or electric heater.  My wife and I both have back pain concerns which have not been a problem with the factory mattress.  We average over sixty-five nights a year in our camper.
Our previous truck camper had a four inch foam pad which was unacceptable even with an additional foam pad.  We replaced that foam pad with a Verlo mattress that had a hinge in the mattress making it a lot easier to get the mattress into the overhead area because you can fold the mattress.  Verlo mattresses are individually made to customers specifications, so we ordered a mattress two inches narrower than the standard queen size mattress." – Gary Gade
"We had a Tempur-Pedic queen size made for us.  They are light and extremely comfortable.  Where these truck camper manufacturers find their mattress wonders is beyond me!  I sleep all night and awake very fresh.  Thanks for the opportunity to respond." – Phil Chevela
"I always put a mattress pad on top.  I like the down-alternative fluffy kind, it's good." – Peggy Sego
"The mattress is what came in our camper; 2006 Travel Lite 800 SBX.  It has a foam mattress with a memory foam topper on it.  It works well for me.  Maybe someday I'll get another one." – Jeff Hagberg
"We replaced the factory mattress with a memory foam mattress made by Therapedic, not to be confused with Tempur-Pedic.  It is ten inches thick, which did cause a little problem, but it is so much more comfortable then the standard mattress.  We slept on the factory mattress for about a year until we couldn't stand it any longer!  It caused back pain, and many sleepless nights.  We should have tossed it out after the first night!" – Al Cerf, Arizona
"We have a mattress foam padding.  I think my wife calls it egg crate." – Joseph
"We had Alaskan Campers build in enough depth into our campers that we could put in a regular house mattress.  We tried about twenty before we found the right one and I don't regret it one bit.  We ended up with a mattress about nine inches thick from a chain store." – Carl Isner
"I have RVed for over forty years and always experienced problems with cheap mattresses that come with campers.  I own a 2008 Lance 1055 which I bought new.  The stock mattress was so bad I could not even go on a weekend trip without having back problems.  While camping in Everglades National Park last year, my back was so bad we had to cut the trip early and head home instead of going to the Florida Keys.
We headed to the Florida City Walmart to look for a mattress pad just to get me home.  While there, I noticed that they sold memory foam mattresses in a box, however they did not have a queen.  Once home, I went online and found Walmart sells them, and they are made by Spa Sensations.  They had terrific reviews and free shipping to your local Walmart.
I bought the eight inch model for $219 which comes with a cover.  It was the best money I ever spent on an RV.  I now sleep like a baby and don't wake up to back pain.  Do yourself a favor and read the reviews.  That's what sold me." – Leroy and Sheila Gibson
"Northern Lite has a lousy mattress for anyone over 200 pounds, like me.  My wife is a lot lighter and it's okay for her.  I have been thinking to replace it with foam, but the imitation memory foam is ten to eleven inches, and heavy as all get up, pardon the pun.  I am wondering about the Ikea mattress that is thinner and lighter, a plus when there isn't that much room in the cabover.  Is it comfy for a 210 pound sissy?" – Ronald Bosch, Vermont
"We bought our camper used with a futon type mattress, so I'm not sure if it was original or not.  It was like sleeping on a brick.  It was just solid cotton with no springs of any sort.  At first we used an egg type two inch foam topper.  Although it was an improvement, it didn't do that much for the bones after any length of time.
We now have what we've found to work the best for us.  It's made up of three separate layers.  You can buy foam of various densities and our first is a four inch fairly firm bottom layer, second is two inches not quite as firm and lastly we use two inches of memory foam.  This combination works really well for us.  The memory foam came from Overstock.com.  The other two layers came from a local army surplus store that supplies items for back packers, tent campers, hikers, and our local SAR team (search and rescue)." – David Pracht, 1987 Lance LC 900
"My wife and I camp in a 2005 Northstar 850SC pop-up which we like very much, except for the thin mattress.  I found that every time I rolled over I kept bottoming out with the thin mattress.  To correct this, we added a two inch memory foam which helped very much and now I find it fairly comfortable to sleep on.  The only thing we had to watch out for is that it added two inches in height to our mattress.  On the Northstar 850SC camper, that left about one to two inches for our blankets when the top was lowered.  I was concerned about the safety of the closeness of the blankets to the ceiling lighting, so I added a cut-off switch in line with the power going to the ceiling lights.  Now when I lower the camper top, the power to the light circuit is automatically disconnected." – Tom Harer
"When I picked up my new Arctic Fox 990 in March 2012, I spent the first night on the factory mattress and was impressed on the thickness of it and its comfort.  But, because I am used to using a topper at home and had one in my prior camper, I stopped at Walmart and bought a decent foam topper.  The topper helps mostly because the queen size sheets fit more snugly.  I dislike sheets that rumple in the middle of the night, so tight fitting sheets are good." – Steve Cilenti, California
"Our Arctic Fox 865 came with a cheap innerspring RV mattress that we thought would be fine for a few years, but it wasn't.  We used it about twenty nights and finally discarded it for a very comfy Ikea foam mattress.  That was the best $299 camper mod ever.  Wish we would have done it right off the bat.  I like it better than the fancy latex California king we have in our house." – Bill and Laurina, Oregon
"We own a 2010 Northstar Igloo.  I have tried various bedding combinations in my campers.  What works for us now is a one and a half inch wool mattress pad.  I find 1.5″ deep enough to eliminate high pressure points and it's able to circulate air to avoid any moisture build up.  The mattress is whatever brand the factory provided.
What is equally important is the sheets.  Cotton just gets too clammy when hot or cold.  In the summer, we use a high thread count bamboo sheet because it will not retain moisture like cotton.  In cold weather, I switch to a fleece sheet that adds a slight bit of insulation and feels warm right off the bat.  Fleece sheets do not retain moisture like cotton.  Unfortunately, we had to spend quite a bit of time finding good quality sheets.  We bought ours at a store that sells overstock and examined several brands before finding the ones that are just right.
I suspect the mattress chosen will make a big difference depending on how much support feels comfortable to the user.  Now we sleep better in our camper than we do at home." – John and Paulette Sutherland
"It only took us a week to figure out that we needed a new mattress.  The thin mattress that was in the camper provided little to no support.  My back as well as my wife's back were killing us.  We went to Sam's Club and bought a Serta extra firm.  Getting it into the camper overcab provided quite a challenge.  It was kind of like trying to put pantyhose on a hippo.  We did win though.  Now we sleep beautifully.  One note; it did reduce the space between the mattress and the top of the camper by several inches, but the comfort we now have is worth it." – Dick Wolff
"With the mattress in my camper, I had a problem with moisture wicking into the foam.  Living in the Pacific Northwest and traveling Canada with the heavy rainfall and high humidity, the mattress would get wet.  I had mold build up on the mattress and the cover.  To solve this problem, I covered the mattress with a gortex cover.  Problem solved." – Bob Whitney
"I own an 2003 Hallmark Guanella.  I bought it used and I have never changed the mattress.  I assume it is OEM stuff.  I think it needs a replacement." – Bruce Norring
"One of the first things we did when we got our truck camper was throw out the four inch mattress that came with it.  We replaced it with a queen size Spa Sensations eight inch memory foam mattress from Walmart.  It was sent to our local Walmart store using 'ship to store' and came in a cardboard box about 18″ x 18″ x 48″.  Unpacked, it was one inch thick.
We laid it out in the truck camper bed area and cut the heavy plastic wrap off.  It expanded fairly quickly to the eight inch thickness.  It is a full queen mattress and took our fitted sheet set and comforter very well.  We are now in our third year of use.  We sleep as well, if not better, on it in the camper than we do on our big bed at home.  Getting it into the camper was easy because it was only one inch thick and quite easy to bend and fit.  If it had been a regular spring mattress, or even eight inch thick foam, we don't think we could have gotten it into place." – Bill and Sue Billyard
"We have a 2007 Lance 845 and find the original mattress to be very comfortable.  The fact the we crawl in after a long day of hiking or traveling probably helps." – George Elliott
"We just got back from a four day trip to Kenora, Ontario.  My wife rowed in a Regatta up there.  What a beautiful area!  We took our Bigfoot 10.6E on our new 2012 Ford F-350, crew cab, single rear wheel diesel and towed an eighteen foot Lund for me to run referees in.  We averaged 14.4 US miles per gallon.  Anyway, our camper came with an innerspring mattress and I put a nice plush mattress topper on it.  It's a great bed.  I love laying in bed and looking up at the stars through the front window.  The first night the northern lights were really putting on a show about 0130.  After having this mattress in our camper, I have to say that I am a fan of something other than a foam.  But I always sleep better in a camper, even if it's only a Therm-A-Rest mattress on plywood.  Keep on truck camping." – Bigfoot Dave, Minnesota
"After several months on the road last year, we decided we needed to upgrade our mattress.  After much searching and discussion, we decided on a Sleep Number mattress for two reasons.  First, we liked the way we slept on it and, second, was the weight.  It is much lighter than our previous mattress.   We have had our Sleep Number for nearly a year now and love it." – John and Linda
"Let me tell you how I ended up replacing the mattress that came with my truck camper.   My wife is not a camper but, to be nice, she went out for one night as I tried out my new Four Wheel Camper Hawk.  I had to agree with her the next morning that it might have been softer to have slept on cement.  If I was ever to convince my wife to camp again, or if I was to enjoy the ten week trip I was planning to Alaska, I needed to do something about the mattress.
After extensive research, I found what I think is the best mattress on the market.  I ordered my SleepDog mattress, custom sized to fit my Hawk, shortly after our ill-fated camping trip.  The company offers a full 120 day trial.  If you are not happy with the performance, you will receive a full refund.  Each SleepDog has a twenty-year warranty with free shipping within the contiguous United States.  Speaking of that, this high quality mattress is made in the United States.  Special orders take only two to three weeks for production.  Please note that they made my mattress exactly to my specifications and Lisa organized the shipping to fit with my travel schedule.  They could not have been more helpful or accommodating.
I can tell you that I spent fifty-three nights in my truck camper on my trip.  As part of my 14,052 miles traveled, I drove over 1,200 miles of some pretty awful gravel roads.  Even after a day on the McCarthy Road or the Haul Road or the Dempster Highway, I slept like a baby on my SleepDog, even when the sun didn't go down in Alaska." – Mark Turnbull