This week we asked if readers had vintage truck campers from the 60s, 70s, or 80s.  Here are the responses and photographs we received.
"Some people have beautiful old restored campers like the three you highlighted at the Mid-Atlantic Truck Camper Rally this spring, and some people have old campers that are not beautiful or restored.
People used to refer to my camper as an older camper, but the last few years at the MATCR people talk about my classic camper or, as you would say, vintage.  The only difference in my camper then and now is about ten years.
I bought my camper about twenty years ago when my wife wanted our four very young kids – and me – out of the house for a weekend so she could get a break from the noise.  The camper was about seventeen years old then and cost $1,000.
My kids and I went more places than I can count and had wonderful experiences over the years until the last one left for college.  They still talk about their adventures in the camper.  They have all now graduated from college, the last one just recently.
I still go out truck camping by myself several times a year and my wife even goes with me maybe once a year.  Above is a picture from last year when I stopped by my sister-in-law's home in Connecticut to plug in for the night.  It turns out they were in Colorado, but she said just plug into the outlet on the front porch.
I took all the gas appliances out for safety reasons and replaced them with electric.  Needless to say, I don't do much boondocking.  The little maintenance I have done has been mainly structural, and I put rubber-coat paint on the roof about every three years so it stays dry.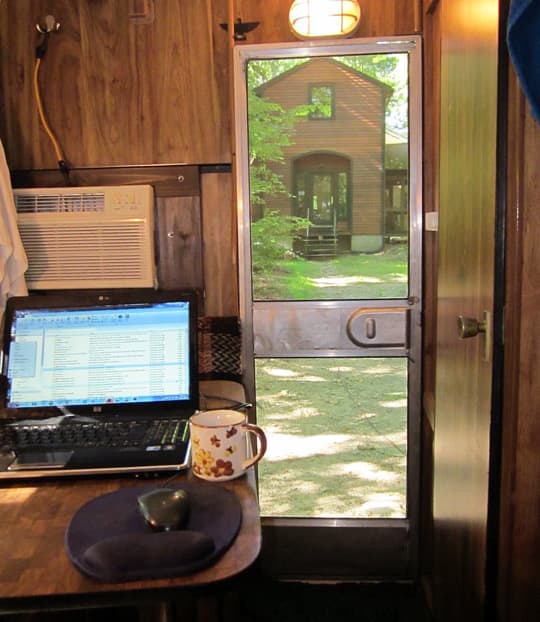 This camper is just fine for us for a long weekend or an occasional five day trip to Canada.  It keeps us warm in the winter and cool in the summer, but it is not what you would consider comfortable for long trips.
I will retire in about one year and finally be buying a new, or almost new, camper so we can take more extended trips and more often.  My wife says she will go with me if we get a new camper." – Fred Patterson, Fairfax Station, Virginia, 1977 Mobile Traveler, 9.5', made in Kansas City, Kansas on 4/8/1977
"I currently have a 1973 Amerigo that I am on and off restoring.  I grew up with the huge Delray Imperial Sky Lounge, and I am in search of another." – Jeremy Bowser, 1974 Ford F-350 Super Camper Special (I own two), 1973 Amerigo
"What a great idea ya'll have had!  This is our 1970ish Coachman Knight truck camper.  We are unsure of the exact year.  I have been through the entire camper and I cannot find a single year indicator.  I found it behind a service station local to my house.
I had been looking for a truck camper for my fourteen year old daughter and I to take when we went dirt bike riding.  I was looking for a fixer upper.  Well, I found one.  We do not have many campers come up for sale here in the southeast.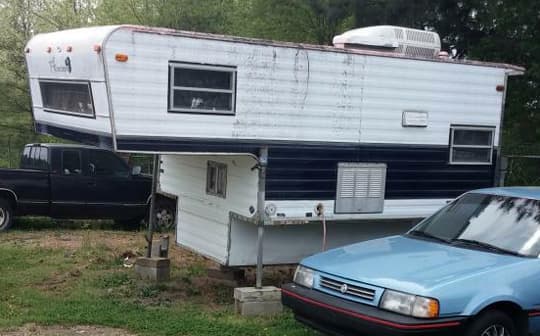 I was traveling down a back country road to pickup my youngest from school and spotted this truck camper sitting behind the service station.  I had to stop in and find out if they were willing to sell it.  Long story short I had to come back the next day for the answer.  They said 400 bucks and it's mine!  If the whole thing turned out to be a flop, I figured the roof air would bring half as much.  I'll took it!
What did I do?  The plan was to fix it up to use for the dirt bikes, but then my wife got involved.  She had a vision of what it could be.  So a long story longer, she finally decided on a floor plan and I commenced to gutting the whole camper.  My wife and daughters set a date of the July 4th weekend for our maiden camping trip in the truck camper.  Mind you it was April 22nd when I brought the camper home.
We moved the maiden voyage out two more weeks because there was no way we were going to be done.  This didn't really hurt my feelings as we never usually camp on July 4th because all the crazies are out!  I mean that in the nicest way.  We worked on the camper right up to the night before we were to leave making a run to Lowe's at 8:30 pm for some hinges for the closet door.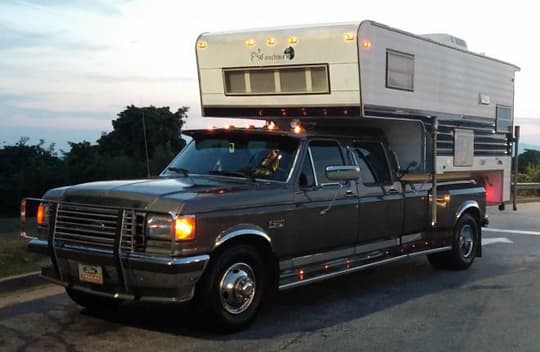 Anyway, it was a lot of fun and it came out pretty well.  We had a successful maiden voyage and look forward to many more trips.  We still have some tweaking to do, but we enjoyed bringing what surely would have become an old rotten fallen away camper back to life and giving it many more years of service.
We did the same sorta thing on a smaller scale to a 1967 Venture pop-up years back, but this was definitely a bigger project.  Thanks for the opportunity to share!" – Eric Boutin, Boiling Springs, South Carolina, 1970-ish Coachman Knight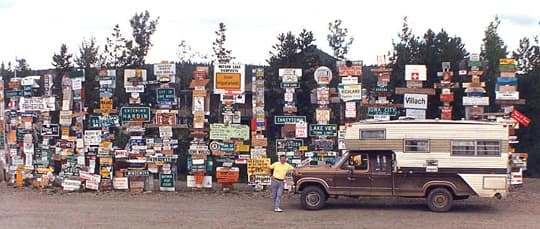 "These pictures are from 1985 when we drove from our home here in Fairbanks to Santa Cruz, California to celebrate my parents 50th wedding anniversary.  I don't know the make or year of the camper.  It was well used when we bought it.  The truck was an 1984." – Chuck Johnson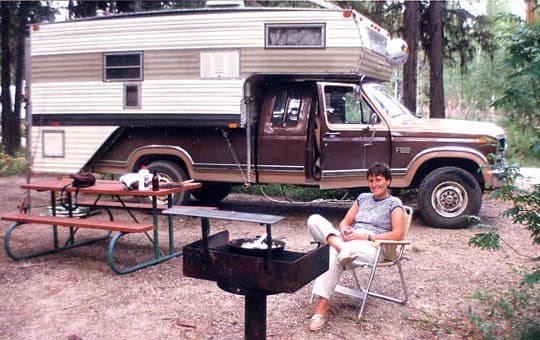 "I have owned a 1968 Roamin Chariot camper for about five years and have been restoring it.  My wife calls it the love shack because you have to love each other to stay in it.  I'm always updating it." – Perry Seegers, 1995 Dodge Dakota, 1968 Roamin Chariot
"I am the second owner of a 1967 Weekender 10 foot camper.  I have had it for twenty-four years.   It's a little tired with rotting wood in the back, but all the appliances still work!" – Garry Freeman, 1967 Weekender
"We started in a 1959 Ford half-ton short bed and a 1959 Kampers Kabin.  They were just a wonderful camper made in Van Nuys, California by a gentleman named Frank that was a good friend of my Dad.  He built one of the best campers of the day.
Next was a 1962 Chevy half-ton and a light weight cabover camper that Frank made.  He made one of the first light weight campers on the market.  It was called the Travel Lite series.  That was just a wonderful unit.
In 1967, we went to a new 1967 Chevy Camper Special.  That was followed by a 1968 8.5 foot Four Star camper.  This was the big time to us!
My father and I went to all the travel shows and collected brochures and saved most of them.  We did the same thing with boats too." – John Locksy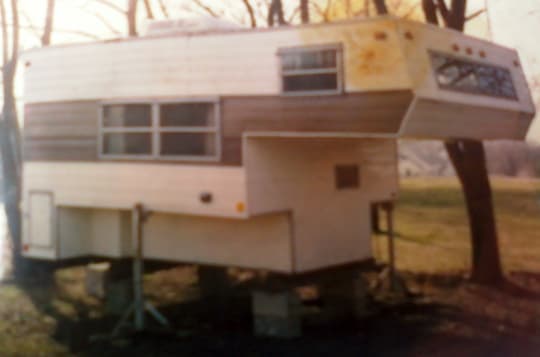 "My first truck camper was more than thirty years old when I bought it in 1999.  I sold it five years later to a local Mennonite group so they could give it to a homeless man to live in.  I also included a picture of my 1979 F250 with this camper, all on the back of a rollback during a problem.  My rig weighed enough that the rollback truck rocked back and the front tires lifted off the ground.
My present camper is a 1987 Real Lite Model 950, which is on the back of my 1995 Ford F350.  This camper did not come with a place to store batteries, so I wired battery connections into the inverter and the batteries sit outside in the wheel well area.
The bathroom area is only seventeen inches wide so I removed the toilet and installed a porta-potti in its place.  That allows me to reposition things, if necessary.  The camper came in handy when Hurricane Sandy swept through Pennsylvania and we were without power for five days." – Jack Pavie, 1995 Ford F350, 1987 Real Lite Model 950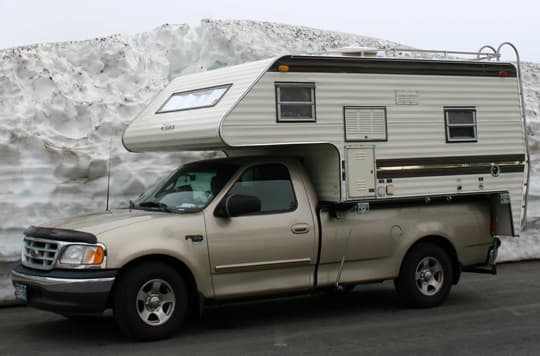 "We had a 1968 Vista Liner 10.5 from 1974 until 1985.  We now have a 1985 American Pilgrim 8.5 that we've owned since 2006.  It's on a 1999 Ford F150.
We have six states left to see and they're all out east.  We have only needed a few repairs and mods.  We have new curtains and new seat cushion foam.  We added a drawer over the furnace, pull out drawers in the wardrobe closet, and a wardrobe closet in the back wall of bathroom.  We have also added a drop down shelf above the toilet for generator transport and a home built cargo box on the roof to transport the extended run gas tank for generator.  We didn't like the smell of gas in the bathroom.
We plan on replacing the rig in the next couple of years with a newer truck and a newer and larger camper, but there's no rush." – Mike and Nancy Pohl, 1999 Ford F150, 1985 American Pilgrim 8.5 hardside
"I have owned a 1973 Dreamer 11′ camper, a 1971 Six-Pac 8 foot camper, a 1975 Six-Pac model 96, a 1982 Six-Pac 6.5 foot self-contained camper, a 1986 Lance 11'3″ model 900, and my current 1988 Lance 11'3″ model 780 camper.
I still have my 1975 Perris Valley, but it is not in good condition.  I will probably be giving it to a friend to use as he makes a motorhome out of his bus." – Bob Chan, 1969 Chevrolet C20, 1975 Perris Valley 9.8″ cabover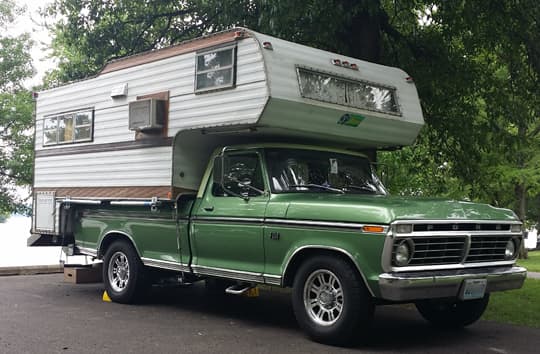 "We have a 1970s truck camper.   It has been enjoyed by four generations of our family so far and hopefully a few more in the future.  My grandfather bought it used in the early/mid 70s.
The truck is a 1973 Ford F-250 and has recently had the engine/transmission rebuilt by Jasper.  I have installed gear vendors overdrive.  The truck was also recently painted the original colors.
The camper is a 1970 Mitchell 11′ camper.  Repairs include new interior ceiling and the rotted wood in the cabover has been replaced.  Modifications include a new power center, hardwired surge guard, new wiring with both the 12v and 120v, two Maxxfan deluxe vent fans, a window air conditioner unit, new exterior led running lights, and new jack stands.
The picture above was taken this year at the Lake Carlyle, Iliinois Dam West Campground." – Patrick Loveless, 1973 Ford F-250, 1970 Mitchell 11′ camper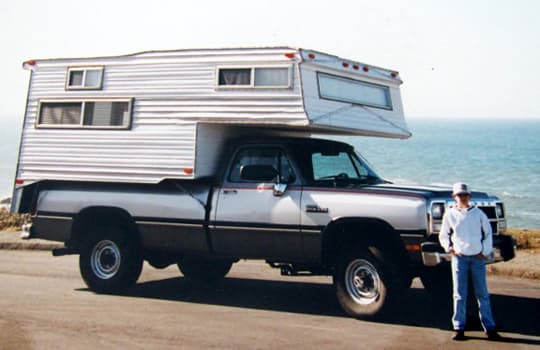 "Here is a picture of my Four Star camper.  It was our first camper.  In the picture we are at Bodega Bay, California around 1988." – Jim Mallery