This week we asked if readers had vintage truck campers from the 60s, 70s, or 80s.  Here are the responses and photographs we received.
"Some people have beautiful old restored campers like the three you highlighted at the Mid-Atlantic Truck Camper Rally this spring, and some people have old campers that are not beautiful or restored.
People used to refer to my camper as an older camper, but the last few years at the MATCR people talk about my classic camper or, as you would say, vintage.  The only difference in my camper then and now is about ten years.
I bought my camper about twenty years ago when my wife wanted our four very young kids – and me – out of the house for a weekend so she could get a break from the noise.  The camper was about seventeen years old then and cost $1,000.
My kids and I went more places than I can count and had wonderful experiences over the years until the last one left for college.  They still talk about their adventures in the camper.  They have all now graduated from college, the last one just recently.
I still go out truck camping by myself several times a year and my wife even goes with me maybe once a year.  Above is a picture from last year when I stopped by my sister-in-law's home in Connecticut to plug in for the night.  It turns out they were in Colorado, but she said just plug into the outlet on the front porch.
I took all the gas appliances out for safety reasons and replaced them with electric.  Needless to say, I don't do much boondocking.  The little maintenance I have done has been mainly structural, and I put rubber-coat paint on the roof about every three years so it stays dry.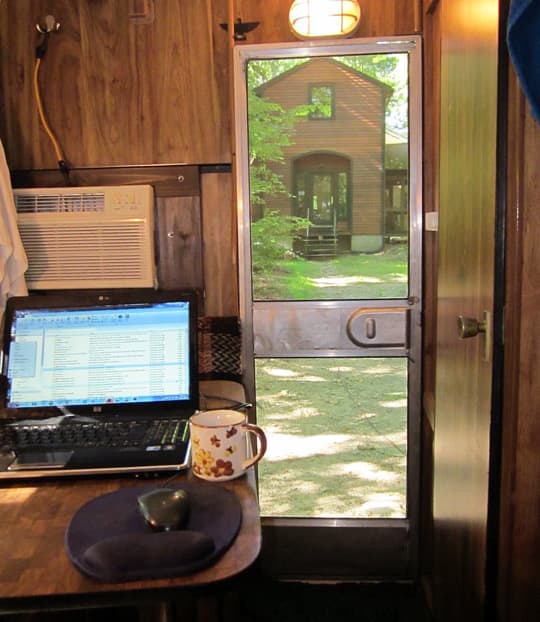 This camper is just fine for us for a long weekend or an occasional five day trip to Canada.  It keeps us warm in the winter and cool in the summer, but it is not what you would consider comfortable for long trips.
I will retire in about one year and finally be buying a new, or almost new, camper so we can take more extended trips and more often.  My wife says she will go with me if we get a new camper." – Fred Patterson, Fairfax Station, Virginia, 1977 Mobile Traveler, 9.5', made in Kansas City, Kansas on 4/8/1977
"I currently have a 1973 Amerigo that I am on and off restoring.  I grew up with the huge Delray Imperial Sky Lounge, and I am in search of another." – Jeremy Bowser, 1974 Ford F-350 Super Camper Special (I own two), 1973 Amerigo
"What a great idea ya'll have had!  This is our 1970ish Coachman Knight truck camper.  We are unsure of the exact year.  I have been through the entire camper and I cannot find a single year indicator.  I found it behind a service station local to my house.
I had been looking for a truck camper for my fourteen year old daughter and I to take when we went dirt bike riding.  I was looking for a fixer upper.  Well, I found one.  We do not have many campers come up for sale here in the southeast.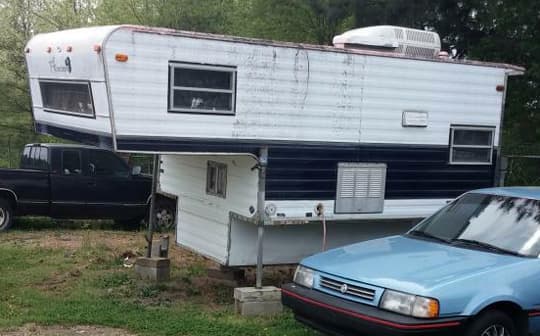 I was traveling down a back country road to pickup my youngest from school and spotted this truck camper sitting behind the service station.  I had to stop in and find out if they were willing to sell it.  Long story short I had to come back the next day for the answer.  They said 400 bucks and it's mine!  If the whole thing turned out to be a flop, I figured the roof air would bring half as much.  I'll took it!
What did I do?  The plan was to fix it up to use for the dirt bikes, but then my wife got involved.  She had a vision of what it could be.  So a long story longer, she finally decided on a floor plan and I commenced to gutting the whole camper.  My wife and daughters set a date of the July 4th weekend for our maiden camping trip in the truck camper.  Mind you it was April 22nd when I brought the camper home.
We moved the maiden voyage out two more weeks because there was no way we were going to be done.  This didn't really hurt my feelings as we never usually camp on July 4th because all the crazies are out!  I mean that in the nicest way.  We worked on the camper right up to the night before we were to leave making a run to Lowe's at 8:30 pm for some hinges for the closet door.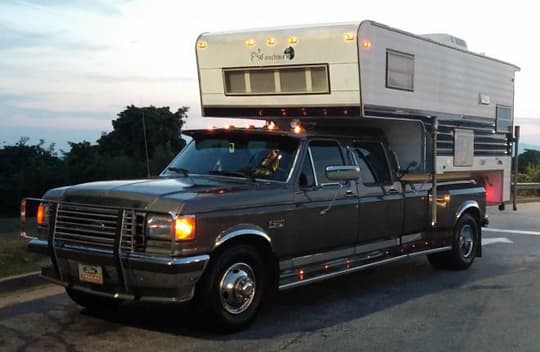 Anyway, it was a lot of fun and it came out pretty well.  We had a successful maiden voyage and look forward to many more trips.  We still have some tweaking to do, but we enjoyed bringing what surely would have become an old rotten fallen away camper back to life and giving it many more years of service.
We did the same sorta thing on a smaller scale to a 1967 Venture pop-up years back, but this was definitely a bigger project.  Thanks for the opportunity to share!" – Eric Boutin, Boiling Springs, South Carolina, 1970-ish Coachman Knight