115 truck camper owners share their techniques, products and attitudes for leveling a camper. Suggested tricks go far beyond blocks and bubble levels. Introducing wife-rolling!

Once again the enthusiasm for a Question of the Week went totally and completely gonzo. In total, we received a mind-boggling 21-pages of level-headed to slightly off-kilter feedback. After reading each and every response, a few zingers stick out:
1. Being off-level is evidently a proven technique to ensure the wife gets – ahem – closer at night. More than one reader actually admits to this. Don't tell Angela, but I will be testing this strategy in the near future.
2. Alternative approaches to using a simple bubble level include placing a can on its side to see if it rolls, placing water in a frying pans to see if it runs, and staring at glasses of water. And we wonder why the motorhome and towable crowd think we're special.
3. Many of us believe we are blessed with the ability to "see" a level spot in a parking lot, open field or campsite – myself included. Even better, some among us apparently have a natural intuition to know exactly how many leveling blocks are required under which tire to become level. Is this some kind of divine in-tire-vention?
In all seriousness, the percentage of truck camper owners who attempt to perfectly level their rig versus those who level by eye, make dinner and grab a beer is about fifty-fifty.
About half of us can't be bothered to level our rigs perfectly. Life is too short, and we're hungry. The other half aren't comfortable if the camper isn't level; wife-rolling be damned.
The Question of the Week was, "Do you level your truck camper rig every time you park?"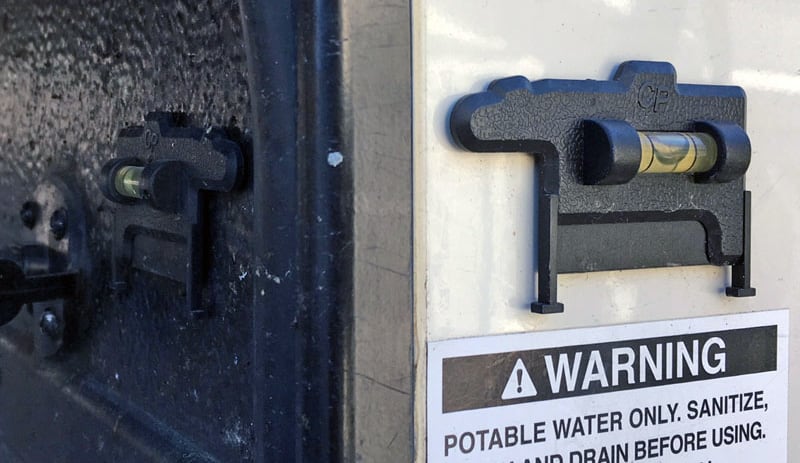 "We have bubble levels on the front and side of the camper. We use them when we camp for the night, and it's mainly for sleeping. We don't like the bed to be off level. The bubble doesn't have to be perfectly centered. Half a bubble will do.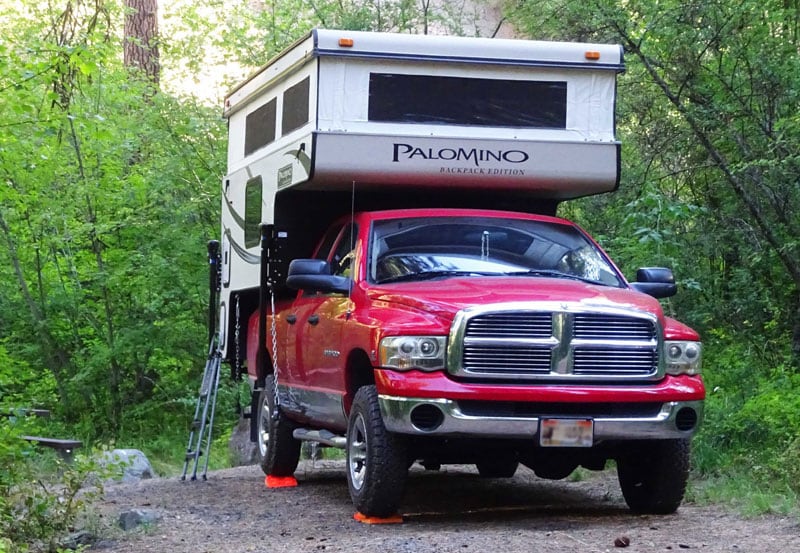 We level the truck with orange stacking blocks. They work fine." – Brian and Chris Hagen, 2004 Ram 2500, 2014 Palomino SS-1251 pop-up
"We use an Android app called Laser Level, but there are many to choose from. We just lay the phone on the truck's console, and move back and forth until we're hungry (oops, I mean level). Then we make dinner." – John Cook, 2017 Ford F350, 2018 Northstar Laredo SC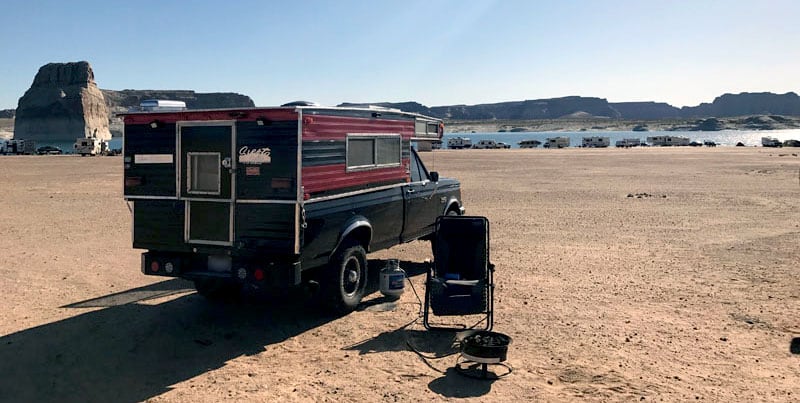 "When we're out camping we look for as level a spot as we can find. Once I find a good spot I will check the level of the rear floor of the camper with my level app on my phone. I use level blocks and a shovel to get pretty close to level and call it a day.
Normally this takes less then five-minutes. I have a compressor refrigerator so I am not worried about hurting it by being off-level. It just bugs me when I'm cooking pancakes if they are all running to one side. And then there's trying to sleep." – Neal Haymore, 1990 Ford F-250, 1968 Siesta
"We always go for double-bubble. We have used Lynx Levelers for 25-years, and touch up with the Happijacs. Level equals good sleep. We live and travel in the mountains where there is no horizon line." – Keith Benefiel, 2016 Ford F-150, 2001 Hallmark Guanella

"Being level is important for sleeping. Having the refrigerator level enough is also important. I have a simple two-sided bubble that allows for a quick glance. When I'm getting ready to sleep I have the LevelMate Pro. It allows me to be spot on or very close before ever getting out of the truck. If I need to adjust something I know which tire needs to go up or down. It makes for very easy traveling." – Kent Phyfe, 2001 Ford F350, 2019 Arctic Fox 865

"We level every time we park. We're still concerned about ammonia pooling and shortening the life of our refrigerator. Also, I like my cakes and brownies to not be lopsided.
We place a bubble level on the bottom and center of the freezer. At first we may show a perfect bullseye but, when we put the slide out, the weight changes and the bullseye may be half or more out of the bubble.
If we can't find the perfect spot, we use leveling blocks under our tires to get the bubble where it needs to be. When we put out our slide, we are usually right on the bullseye. If it's not perfect we will adjust accordingly with our jacks. Either way our jacks are down to help with stability." – Angela Klinger, 2018 Dodge 5500, 2017 Arctic Fox 1140

"We level every time using a MD Smart Tool level and shoot for a half-degree nose up, primarily for comfort. This is accomplished by first adjusting side-to-side rear air bag pressures. If it's not good enough, then it's Lynx Leveler blocks to the rescue. We don't unload unless we are going to stay in the same place more than a couple of nights." – Jim Finck, 2001 Chevrolet 2500HD, 2004 Lance 1010

"I generally level the camper, and not the truck unless I am on an almost level site. In most instances, I can release the Fastguns, extend the legs, and level up.
I also level nose-up a few degrees so that rain, dew and the air conditioner's drip runs off the back. This helps in sleeping by keeping the blood from pooling in your head. If I take the camper off, I drop it low to the ground and level it from there." – Don Pryor, 2019 Ford F350, 2008 Arctic Fox 1150
"We're fine as long as the front of the camper is up so that we're not sleeping standing on our heads. If we are not level side-to-side, we're okay." – Joseph Tamulevicius, 2017 Chevy 2500HD, 2016 Palomino SS-1240

"I park and then take off the Fastguns. Then, I put the jacks down and raise the camper side-to-side and front-to-back until my outside levels are level. If I take it completely off the truck, I lower the camper all the way down and then do the same thing. The front goes up a little more than level." – Dave Puskar, 2010 Ford F-350, 2017 Northern Lite 8-11
"I do not waste a bunch of time getting the camper perfectly level. I use my eyeballs to look at the situation. I do have some ramps that I use at times when they are needed, but even then it is by simply looking at it. An inch or two off is not a big deal to us.
Our main thing is to never have the nose down. We don't sleep with our heads downslope. Other than that, as long as the coffee in the cup sits close enough to level in the morning, we are good." – Rich Bain, 2004 Dodge 3500, 2010 Adventurer 810WS
"I use the can test. I take a can of food, place it on the counter and see if it rolls in any direction. Then, I adjust with my camper's jacks. I do this because the refrigerator instructions are not specific as to when level is level enough. The can test is level enough for me." – Bruce Norring, 2004 Chevy Silverado, 2004 Hallmark Guanella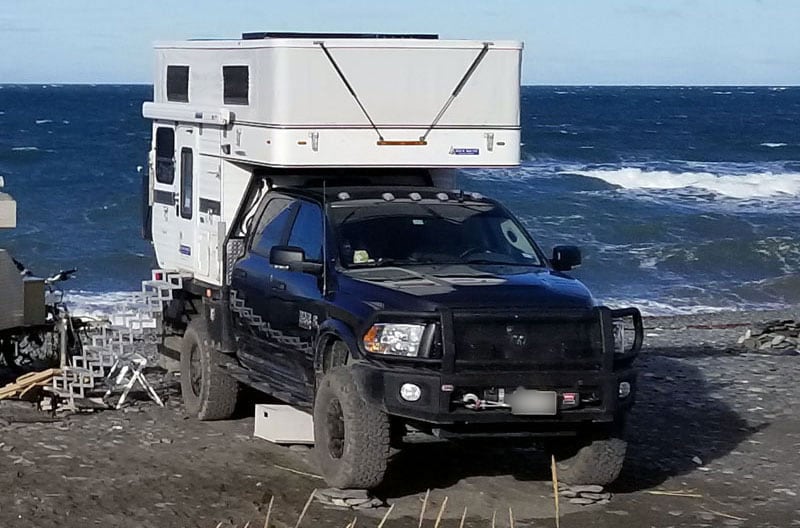 "We tend to level every time we camp. At a minimum we check it with a bubble level and say it's close enough. To accomplish the leveling we carry a set of the yellow stacking blocks; 10 blocks come in a set. That gets us through most situations.
If there are rocks or other things around we'll use them as well. Since we boondock a lot, it is rare that we find a level spot. Checking level and setting spacers is just part of the routine to set up camp." – Bill Elwell, 2016 Ram 2500, 2016 FWC Flatbed Hawk
"We try to park level. We eyeball the space to see what looks best, and then check the camper with a hand level. Usually, close is good enough.
If we can't get close enough, we use leveling blocks under the wheels, preferably the front ones. If the site is too bad, we unhook the turn buckles and level with the jacks. When we park with the jacks down, we always put the jack remote on the steering column in front of the instrument cluster. I definitely don't want to pull out with the jacks down!" – Paul Neumann, 2013 Ram 3500, 2019 Cirrus 920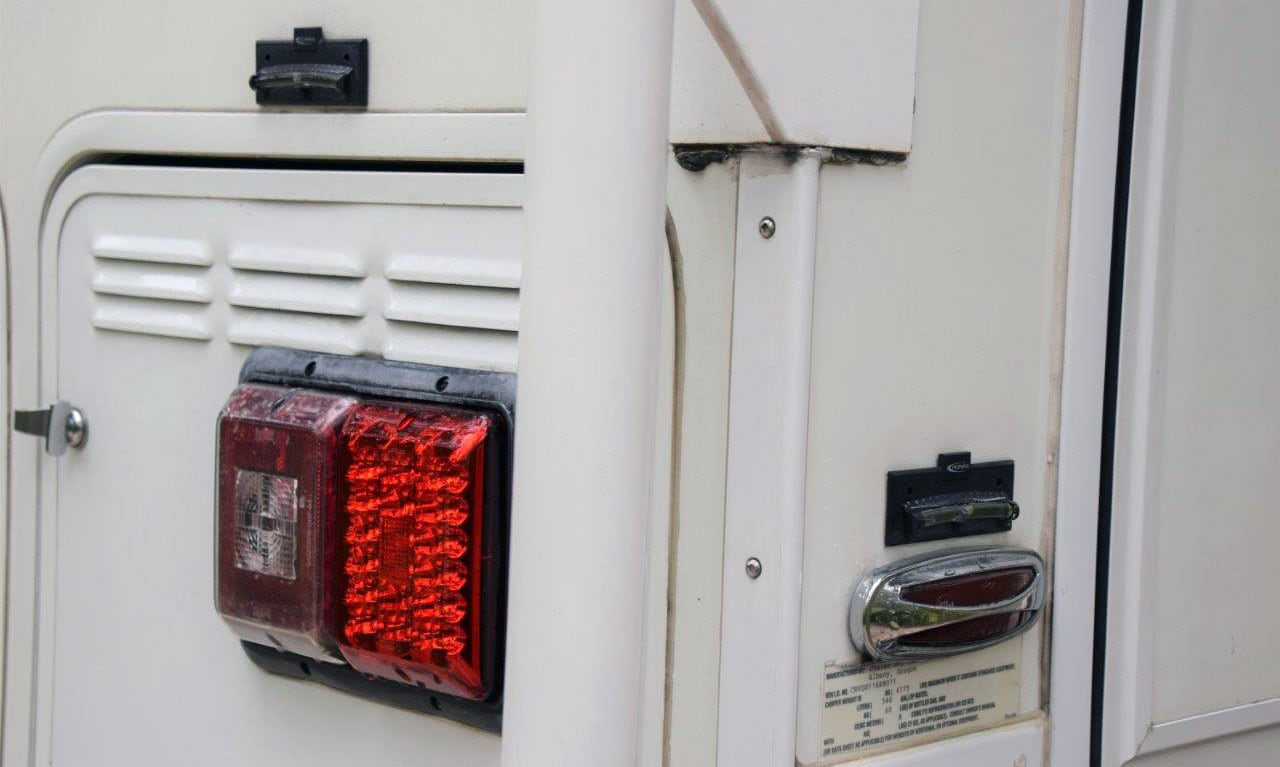 "We have a Chalet DS116RB double slide and we level it perfectly before we ever put the slides out. This was how we were instructed by world-renowned Bill Penney at Truck Camper Warehouse. It has served us well for over seven years now.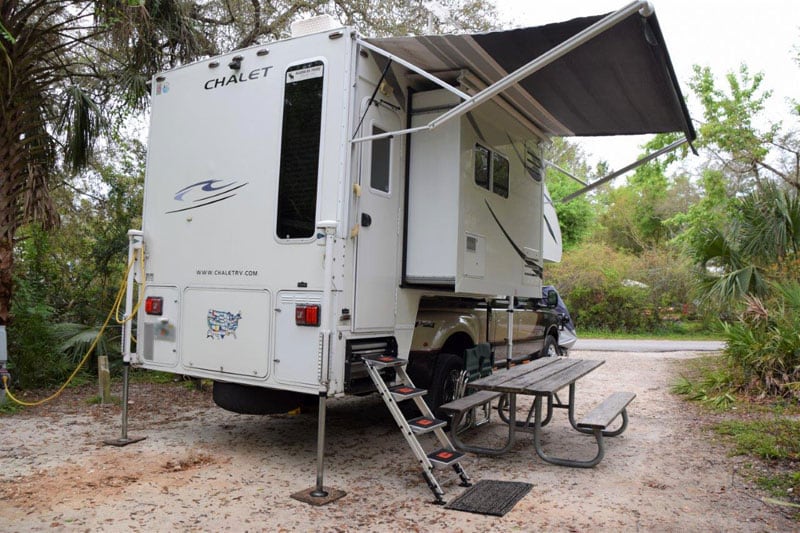 We pull into a site, check the bubble level attached to one rear corner of the camper, and adjust using blocks under the wheels or use the jacks for minor adjustments." – Charles Coushaine, 2001 Ford F350, 2012 Chalet DS116RB
"We try to get it as level as possible with wheel chucks or the jacks. We've found that we have difficulty sleeping on a slant, especially if our heads are lower than our feet." – Stan Thornton, 2010 F350, 2014 Adventurer
"I do not level by the bubble. I look for a level spot and make sure the front nose is higher for sleeping. I do not use leveling pads." – Ron Holte, 2019 Chevy 3500HD, 2005 Lance 1030
"I have stick-on levels on the camper to check if I am in the ballpark. I do not travel with my jacks and I like to boondock, so perfectly level is seldom achieved. The camper is just level enough to prepare meals and coffee, with my front nose end up. One night we did have to reverse our sleeping position." – Bill Peters, 2017 Chevy Silverado 1500, 2013 Four Wheel Camper Hawk
"We're not OCD about leveling. I have a little bubble level in the camper. If it's within a half bubble or better, we're good with it.
We have had to turn a baking cake to make it level. I also had to make leveling boards for the shoreline city campground in Seward, Alaska." – Philip Tron, 2009 Chevy 3500, 2012 Lance 1050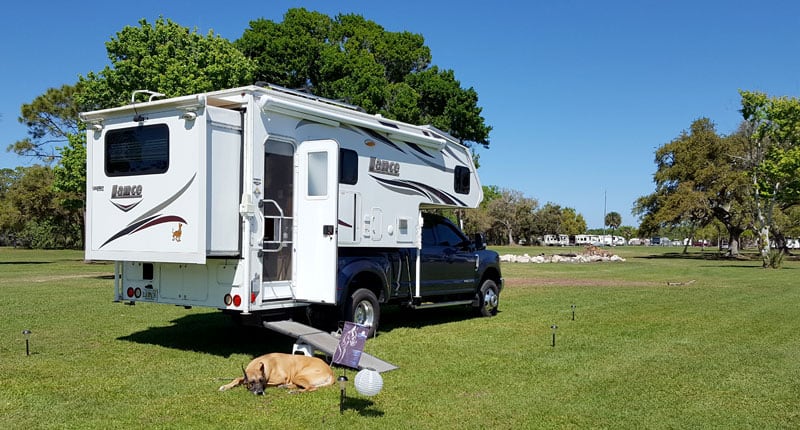 "In warm weather I purposely try to camp a bit off-level so the air conditioner's condensation runs off the road side of the camper. My side entry door is on the curb side." – Gary Usher, 2017 Ford F-350, 2015 Lance 1172
"I place my smartphone, using the Bubble Level app, at the back door and level side-to-side. Then I do other setup stuff, walk the dog, maybe have dinner to be sure the inside feels level. After that I will remove the tie-downs and lower the jacks to the ground.
I'll put the phone app on the shower floor to un-level just enough so the water will run into the drain. On my camper, if the camper's floor is level front to back, the shower water sits in the pan opposite the drain all day.
When dumping, I try to eyeball parking so the drain is downhill. I'm not sure if that helps any or not, so I don't worry about it. I still carry leveler blocks from my fifth wheel days, but haven't used them yet. I camp mostly in state parks." – Anja Franczek, 2011 Ford F250, 2011 Lance 865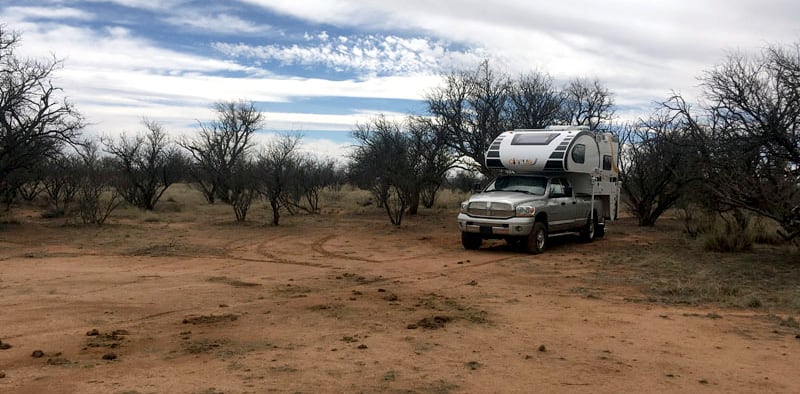 "I level within one degree by checking on the kitchen counter with my iPhone level app. I do not like to be head down in the bunk. I use terrain first and then plastic blocks. I can also lower my rear air suspension 4-inches or so fore and aft." – Laurie Berg, 2006 Dodge 3500, 2017 Cirrus 820
"I observe the layout and figure if the water in the water bottle in the cup holder in truck's cab is fairly flat. Then, I'm good to shut the truck off. I am happy as long as my head is higher than my feet when in the cabover.
One time we went to a campsite in northern California and there were deep holes in the site. My 11 year old granddaughter and I took some rocks from the campfire ring and placed them in front of the rear tires. I put the truck in four-wheel drive and rolled up on top of the rocks to get fairly level. It worked out well and we had a great time for the three days we were there." – Sherilyn Fuentes, 2015 Ram 2500, 1998 Lance Squire Lite 8'6″
"I am one of those level-oblivious people. I sometimes catch friends surreptitiously straightening the picture frames in my house. As long as the slope isn't going to make me fall out of bed, I'm a happy camper." – Christine Dyer, 2012 Chevy Silverado 1500, 2016 Four Wheel Camper Hawk shell
"Close is close enough. No problems." – David Weinstein, Ram 3500, Arctic Fox 1150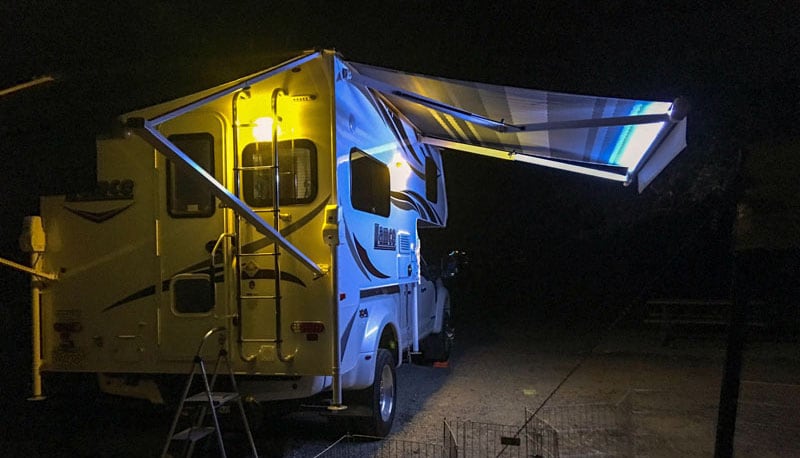 "We use a cheap portable bubble level. When parking, the bubble level goes on the console between the truck's front seats. If at least half of the bubble is inside the circle, it's good and level enough. When the bubble is more outside than inside the circle, then plastic leveling blocks are used to level the truck. Each block represents roughly half the bubble. That is, if the bubble is just barely outside the circle, two blocks of height on the appropriate tires will level the truck.
If the site is so un-level that more than three blocks in height would be required, then it is time to move within the site or to a new site all together. We have never used the camper jacks as a means of leveling the truck.
In the above picture a yellow plastic leveling block is under right front tire." – Larry Pearson, 2017 Ford F-450, 2017 Lance 850
"Level enough is level enough! I try to get within 2-inches of level using bubble levels adhered to the front and side of the camper. If we are close to 2-inches of level that is level enough for us to deploy our slide-out." – Bill Tex, 2006 Chevy, 2013 Eagle Cap 850
"Go for the 'Feel from the Wheel'. Check the bubbles. If they are close, explore the area and have fun. I always make sure that if it leans a bit, it leans so that my wife rolls my way!" – Dave Miller, 2015 F350, 2002 Bigfoot 10.6E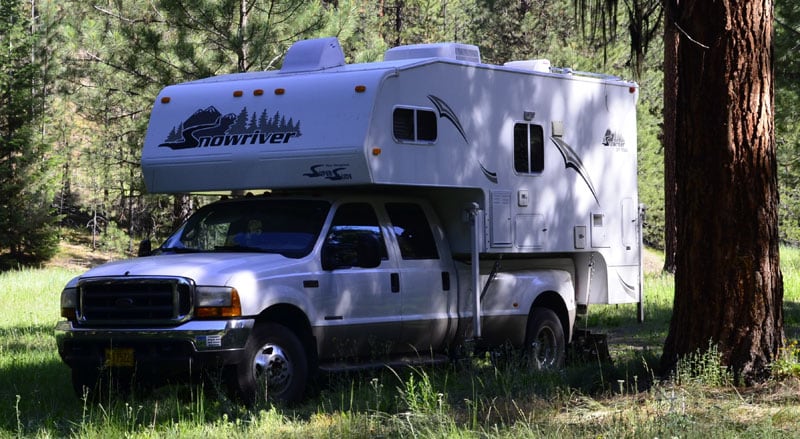 "We level the truck as much as possible. I keep a couple of 2×8 ramps and have a couple of stick-on bubbles on the under side of the cabover that I can see from the driver's seat. Then I loosen the tie-downs and use the jacks to level. It is much easier on the slide and I sleep better when it's level." – Rod Fosback, 1999 Ford F350, 2008 Snowriver 10-8
"I look at my bubbles on the camper and will adjust if it's way out of wack. But, I am not fanatical about being level. I suppose if I were in one spot for a while I would be more concerned about it being perfect." – Jim Dailey, 2005 Dodge Ram 2500HD, 1993 Shadow Cruiser
"I set a bubble level on the counter and get it close." – Mike Chesnutt, 2010 Toyota Tundra, 1995 Hide Away 855
"For one night I'll use the Ford in-dash off-road level display, which puts your unit within- a couple of inches front to back and side to side. Otherwise I do have a bubble level. It's a stick on and placed so that I can get even more accurate with blocks.
Truck campers are so easy compared to a pull behind. The off-road display is all you need once you become accustomed to it." – Dwain Letourneau, 2017 Ford F350, 2017 Northern Lite 8-11 QSE
"I worked in construction for over 40-years and can look and feel if it's level enough to set up camp. Then, I open a beer beer (a few) and start dinner!" – Paul H. Castillo Sr., 2007.5 Silverado 2500HD, 2002 Lance 825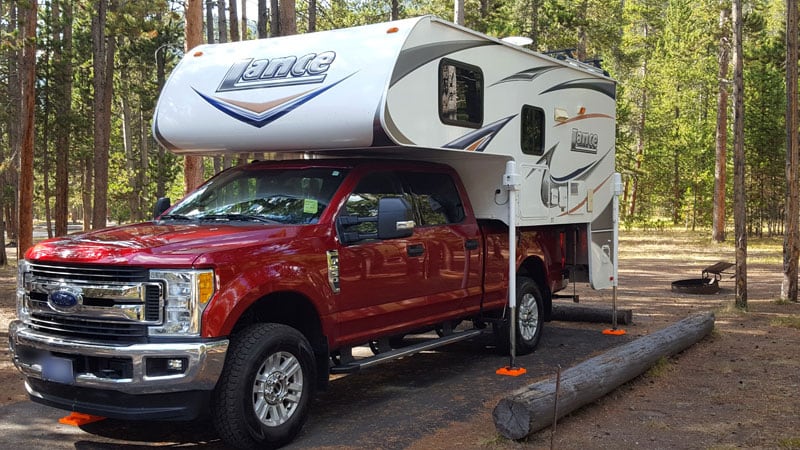 "I level my camper every time I camp. I use a center bubble level that I put in the refrigerator. Then, I use leveler blocks under the wheels of the truck to make everything level." – Terry Young, 2017 Ford 250, 2011 Lance 855
"Like you, I eyeball a site first and close is good enough. The worst case is having it sloping towards the front of the truck; in other words your head feels lower than your feet. We don't like sleeping like that. If need be I have a stack of those plastic levelers that I place under my tires. A couple of those will solve the problem.
I have never liked using the jacks to level the camper. It takes too much time and seems like a hassle compared to a couple of spacers. I also don't relish forgetting about them being down on one side and driving away like that in the morning. Mistakes happen all the time. That would be an expensive one." – Kevin Mooney, 2014 Ford F350, 2006 Okanagan 106UDB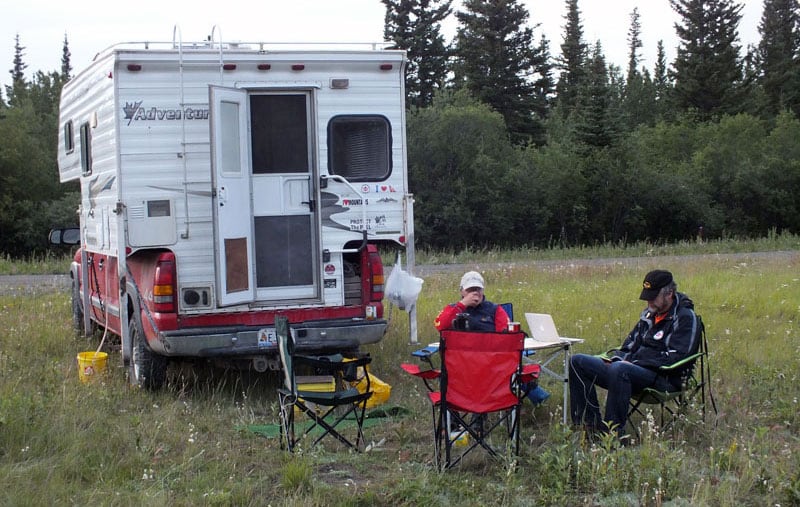 "We normally camp in the wilderness, eyeball level, and then make dinner. We will drive the truck onto a block or two to get close rather than use the jacks." – William Whitley, 2001 GMC Silverado 2500, 2005 Adventure 80W
"Occasionally I travel on business to job sites with my mobile mansion. I will look for a somewhat level area to park. Because the slide has a Happijac under-slide-track mechanism versus the less forgiving Swinteck side-track system, being absolutely level is not a requirement. The absorption refrigerator is more tolerant of being off-level than the slide.
When traveling with the wife the dynamic of two people moving about gets a little more interesting. To avoid sea sickness, we lower the jacks. I use a small torpedo level on the inside step to get us close to level. A recent overnight at a highway rest stop had us listing quite a bit to one side. I simply lowered the jacks on that one side to bring us close to level and all was good!" – Greg Chambers, 2015 GMC Sierra 3500, 2015 Lance 855S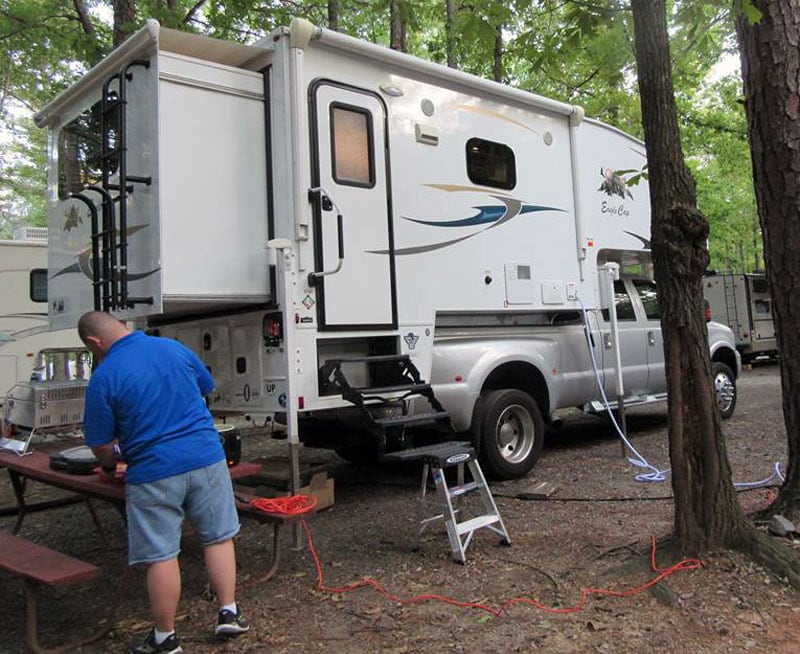 "We look at the bubbles (there are two on the truck camper) and we use cut wood to level the truck's wheels. If we're a bubble off, we don't worry about it. Then we make dinner (usually outside)." – Leigh and John Bennett, 2003 Ford F-550, 2016 Eagle Cap 1160
"Close counts as long as my head is slightly uphill." – Bob Nelson, 2015 GMC Sierra 3500, 2013 Arctic Fox 1140
"I have bubble levels on one corner of the camper. If the bubbles are mostly in the lines it is good enough. The truck does have alternative ride height which allows me to quickly drop the back about an inch. That helps with quick leveling. If it is significantly off, out come the Lego blocks to tweak up the level." – Leonard Pennock, 2018 Ram 3500, 2019 Northern Lite 10-2SE Limited
"I have bubble levels on the camper. I level with the camper's jacks if it needs a little tweaking. If it's way off I use plastic blocks. Close enough is good for me.
I always have it slope to the rear slightly to aid in runoff from the rain. If we have a site with electric it is of less concern. Sometimes when it's not level I end up rolling in my wife's direction when sleeping. What would be wrong with that?" – James Schumacher, 2007 Ford F350, 2008 Lance 1131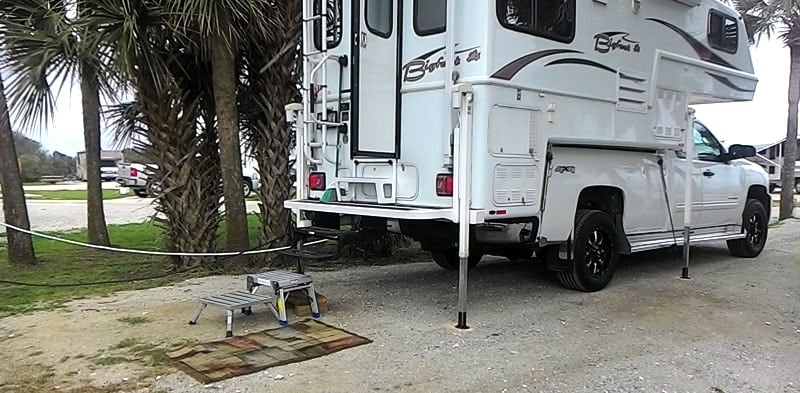 "I level using 2×6 wood blocks that are cut to three unique uniform lengths and bolted together. I use a torpedo level and get it within a quarter bubble. I extend all four jacks for stability." – Tom Scholtens, 2010 Chevy 2500, 2013 Bigfoot 25c10.4
"If my camper feels level, I leave it. If not, I level it with blocks under the truck's wheels or by loosening turnbuckles and using the jacks. Most of the time I can find a level spot to park without any problem. If it's not completely level, it's not a problem." – Roger Couturier, 2012 Ford F-250, 2001 Lance 1030
"We pretty much level our camper each time. We have the bubble gauges and have used an actual level. We do this not only for the refrigerator, but mainly for the big slide on this model. We try to keep it just a bit higher on the slide side. Then it levels out when it goes out.
With the Schwinteck slide mechanism, being level helps. One time we had to assist the slide by pushing on it to close it because the voltage had dropped off after running the furnace at night. Even though we have large solar panels, it was before the sun came out to recharge the batteries and we were breaking camp to leave. I was glad the camper was level because it was easier to close the slide." – Scott Barker, 1999 Dodge 3500, 2015 Lance 1181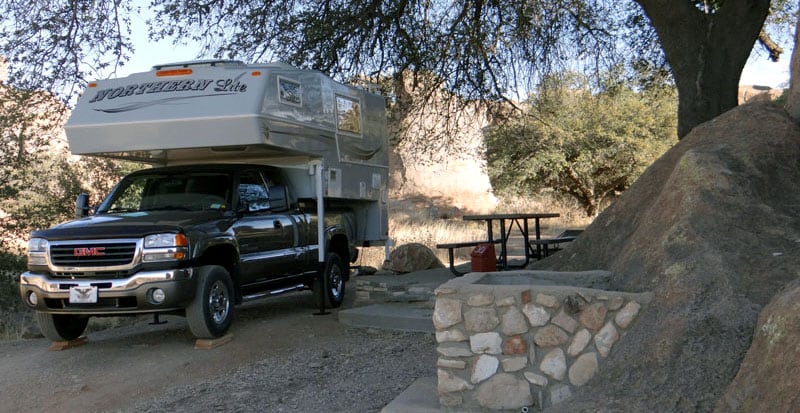 "I always try to get my camper as level as possible, mainly for the refrigerator. I also like having a level camper. If I have a choice of sites, I look for the most level site. Then, I look for the most level position in the campsite, and start using boards under the tires.
If that isn't enough I will also put down the jacks to finish the level process as a last resort. The one place I don't always level is at a rest area. However, I have placed boards under my tires if it is really bad. In the above picture I used boards, rocks, and jacks." – David Reese, 2006 GMC Sierra 2500HD, 2009 Northern Lite 8-11Q
"We try to get a level spot to park. If that's not possible, I carry 2-inch by 6-inch by 2-foot boards to put under the low side tires. This works well enough most of the time.
I had to dig holes for the tires to lower the high side once when we were remote camping in the Black Hills. I did put the dirt back. We stay from one night to a week at old Jeep runs, so being level is more comfortable." – Tom Ralls, 2009 Chevy 2500HD, 1994 Shadow Cruiser 800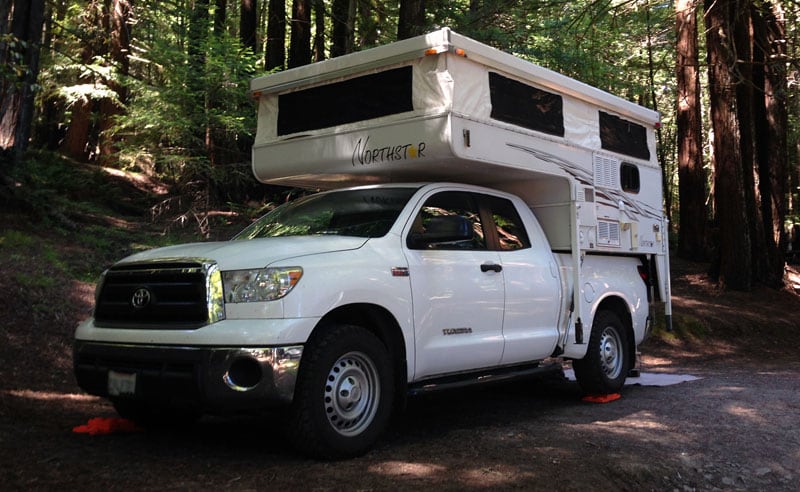 "I can't stand to spend the night sleeping on the hamper or having my head below my feet. So yes, we've worked hard to come up with a system to be as level as possible.
We have a bubble level on one side and one on the back. We used to use wooden pieces of 2 by 6s that had a wedge shape on one end so the truck could easily (cough, cough) roll up on them. Many times they would shoot out from under the tires while attempting to mount them and I would have to dodge them.
Every time we were in an RV department I would suggest we buy a pair of hard plastic levelers and my husband would say, "They're just cheap. They'll break."
Finally, I made the executive decision to purchase a pack of Lynx Levelers which we've been using for about three years and they're still in good shape." – Carol Wegner, 2011 Toyota Tundra, 2011 Northstar TC650
"I level the camper with a small multi-directional level every time we spend a night anywhere. When we stop to go hiking or biking, I do it by feel when we park to assure we have good cooling in the refrigerator." – Joe Barry, 2006 Chevrolet 2500HD, 2003 Lance 821
"The key phrase in your story is non-slide camper. I am nervous enough about the propane refrigerator, but I am downright paranoid about binding-up the slides. After all, you can get on the road with a disgruntled refrigerator, but not so with a slide hanging out. That happened to me once early on and it took some cautious adjustments with the jacks and the manual crank to get the slide back in. It's all on me of course. I am (a little) smarter now." – Doyle Crews, 2012 Ford F550, 2015 Eagle Cap 1165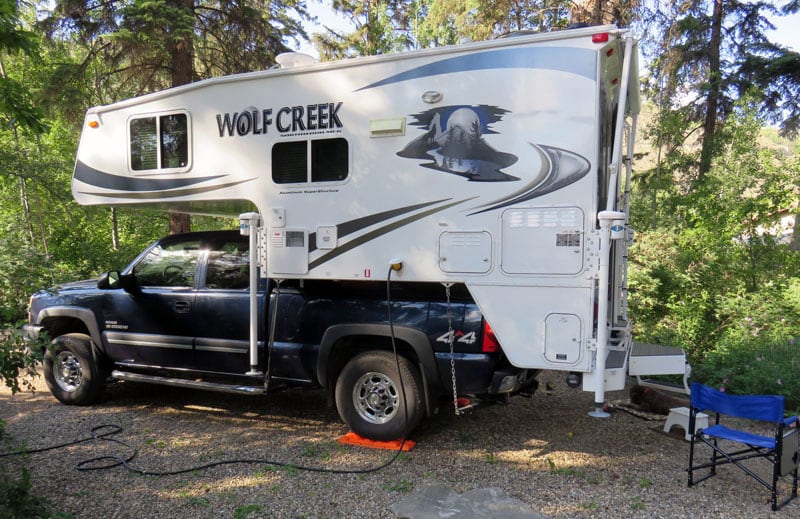 "We camp a lot in the bush, so level enough works for us. If we are going to be in one spot for a few days, then I might work on getting it better leveled. It doesn't happen often. When I do adjust it I use the orange leveling blocks. I always have two packages of leveling blocks in the camper.
For overnight stops, we can usually make do. If it's more than one night I will put the jacks down to steady the camper. I do not use the jacks for leveling." – Richard Jones, 2005 Chevrolet 2500HD, 2013 Wolf Creek
"I have an off-road dash display in my truck. I do a visual on the desired site area. Then I move slowly when I get to the desired site while looking at my dash display. When the off-road dash display indicates 0-Degree Roll and 0-Degree Pitch, I stop moving. We are then level for a day, or a month. I have verified with a level in the camper and it has always been less than a half-a-bubble off from ideal." – Rag, 2017 Ford F-150, 2006 Lance 851
"I level my camper with a frying pan and water on the stove. I don't want my eggs sliding off to one side of the pan." – Ramon Milam, 2018 Ram 3500, 2016 Arctic Fox 811
"I level our camper every time we stop for one night or multiple nights. We have a bubble up under the overhang which shows level side-to-side and then one just around the corner on the side to show front-to-rear level. One or two leveling blocks for whichever side needs it and I am usually good to go. Call it OCD, but I want my camper as close to level as I can get it." – Scott Gallinger, 2017 Ford F350, 2017 Northern Lite 8-11 QCSE
"If the campsite is level my truck camper comes off the truck 99-percent of the time. Otherwise it's too hard for my wife to enter and exit the camper because of the height.
We do not like the movement that we get without the jacks lowered. One time I was boondocking and took the camper off for the weekend. The ground was so bad that it took me over two hours to load the camper again. Never again." – Steve Evans, 2104 Ram 3500, 2012 Lance 825
"No one gets their camper perfectly level. Perfectly level doesn't exist. A finer measure can always be employed. That said, we use a bulls-eye level.
There is one circle the size of the bubble and then additional rings outside of that. We keep the bubble within the next ring and that generally feels level.
Our heads must be uphill. As we never put our jacks down when camping, we will allow the camper to lean a touch to the driver's side. That way it will be balanced by the slide on the passenger's side when we extend it." – Brett Binns, 2014 Ford F-350, 2014 Arctic Fox 1150
"The primary motivation for leveling our camper is for the sink and shower to drain properly and to keep the spouse happy while sleeping. The refrigerator is secondary.
On several boondocking occasions, we have used all the blocks we carry, and dug holes with the ever faithful entrenchment tool to get level.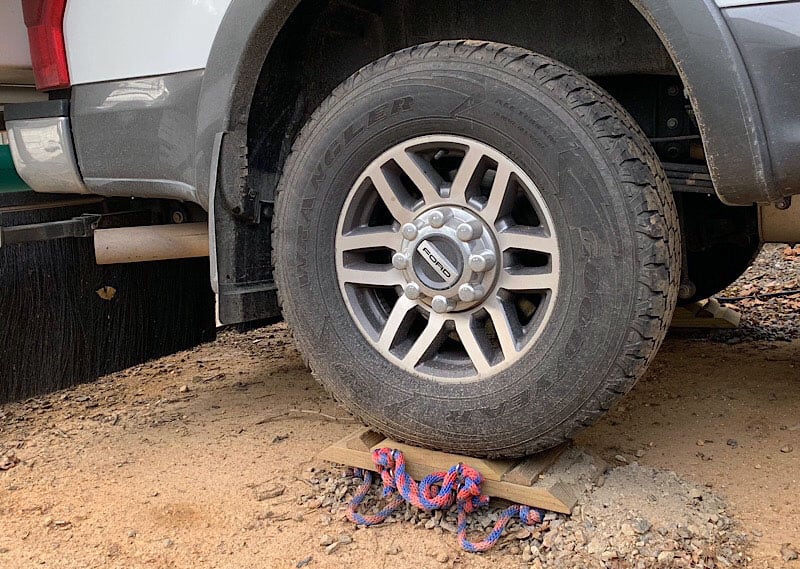 I learned about these types of leveling blocks from looking at photographs in TCM.  I would not have known about them otherwise.  Kira and I built a jig for the 30-degree slope ends and cut them from 2-inch by 10-inch treated boards on a table saw.
Moochdocking in grandma's driveway required backing onto a 5-degree incline. The absorption refrigerator would not operate. Leveling blocks under the front tires were just enough for the refrigerator to go operational.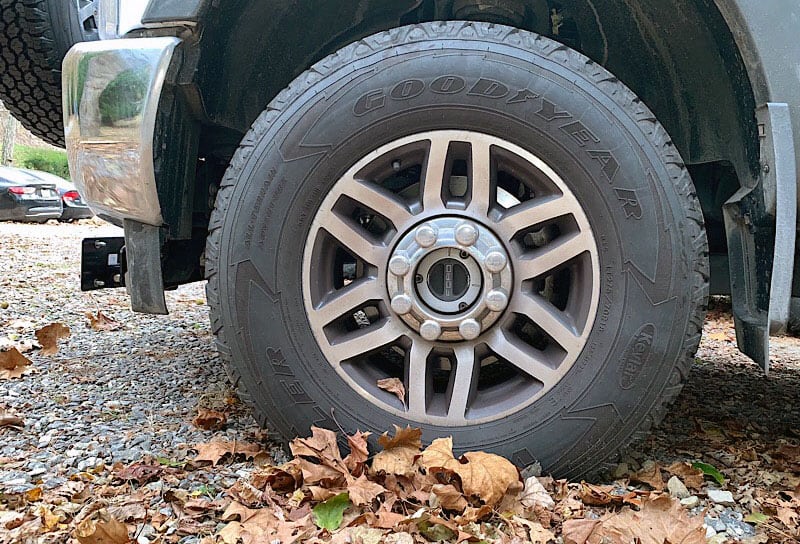 At a riparian campsite, holes for the front tires and creative use of blocks and gravel for the rear tires leveled the rig." – Bill and Kira Jones, 2017 Ford F-350, 2018 Northern Lite 9-6Q SE
"If I can, I position at the site using the natural contours of the ground. As long as the head of the bed is slightly higher than the foot of the bed, I am good. If it's off some side-to-side, no big deal. Small adjustments are made by driving up onto plastic levelers. The last resort is to undo the Fastguns and level with the camper's jacks.
Since my modus operandi is to be on the move while traveling in the camper, nothing beats pulling up next to a travel trailer or fifth wheel that is sitting sky-high on a pile of mis-matched wood blocks and jacks. I like having my camp set up in less than five minutes, heading off for an evening hike, and then leaving early in the morning without waking anyone." – Vince Wall, 2018 Ford F-350, 2016 Lance 850
"Actually, I always level. I carry a torpedo level with me and use that because we always camp off-road, in the woods, or along a fire road. In these locations, usually nothing is level (enough). I do the camper jack thing as well (releasing turnbuckles and leveling the camper free of the truck).
This need will be eliminated this next year after I pull the absorption refrigerator and install a marine-grade compressor refrigerator in its place. Being level won't be an issue any more. If the camper is level enough to be comfortable to make dinner in and sleep in, with the compressor refrigerator, all will be good." – Daryl Davis, 1997 Ford F350, 2014 Palomino SS-1500
"If I just overnight at a Cracker Barrel I look for a level spot. If I'm staying at a campground several days I get my one-foot level out and get it close using small 2×10 boards under my tires as needed." – Randy Bunce, 2017 Ford F350, 2016 Wolf Creek 840
"A majority of time I get truck level enough from watching the hood of my truck. If we will be in same place for a couple days I will use round level and adjust until the bubble is partly in the circle. That's close enough!" – Dusty Tires, 2002 Ford F-250, 2004 Lance 820
"If we can walk-in the camper without losing our balance and sleep without sliding out of the bunk, we consider ourselves level enough." – Jerry Bonneau, 1995 Ford F-350, 2002 Lance 1061
"When we bought our first camper, I used a small level inside the camper to make sure all was level. This meant going in and out of the camper to tweak and check. Now I just eyeball it to good enough. As long as the head of the bed is equal to or higher than the foot of the bed, we are fine." – John Bull, 2004 Dodge 3500, 2015 Arctic Fox 990
"If we don't slide out of bed, we are level enough. There are a few Walmart and Bass Pro parking lots that require leveling adjustments. In these situations, we release the Fastguns and use the jacks. That is very seldom.
If both my fore and aft bubbles in my levels are within 1.5 bubbles from the center, then we are good to go. There is no impact on cooking or sleeping." – Clifford Cizan, 2010 Ram 3500, 2013 Arctic Fox 1150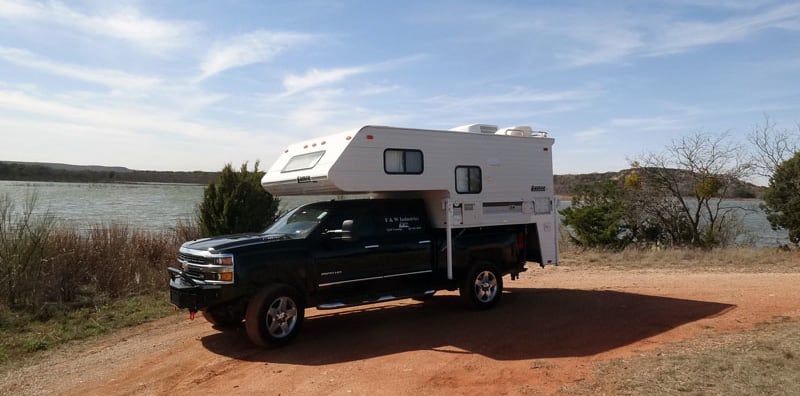 "I leveled the camper for our first ten years at every overnight stop. Thinking back, I believe it was more for stability than to be perfectly level. We raised two children during that period, and they were so wiggly at night that I could not sleep due to the movement of the rig.
Now, with just my wife and I, it's judge the horizon and make dinner! I have a stick-on north/south bubble level and an east/west bubble level on the right hand front corner of the camper that I glance at after parking. I may get back in the cab and slightly move the vehicle if needed. I can't believe that I used to level the camper every time. It is so much more pleasant, for me, to park and start cooking." – Scott Spradley, 2015 Silverado 2500HD, 1998 Lance Squire Lite 186
"When we first started camping, we tried to get as level as possible. Now, we try to level side-to-side, and have the front a little higher than level. The reason we do this is because I have a circulation problem with my legs and this helps prevent cramping while I sleep. It works great!" – Warren Sidney, 2006 Chevy 2500HD, 2015 Arctic Fox 811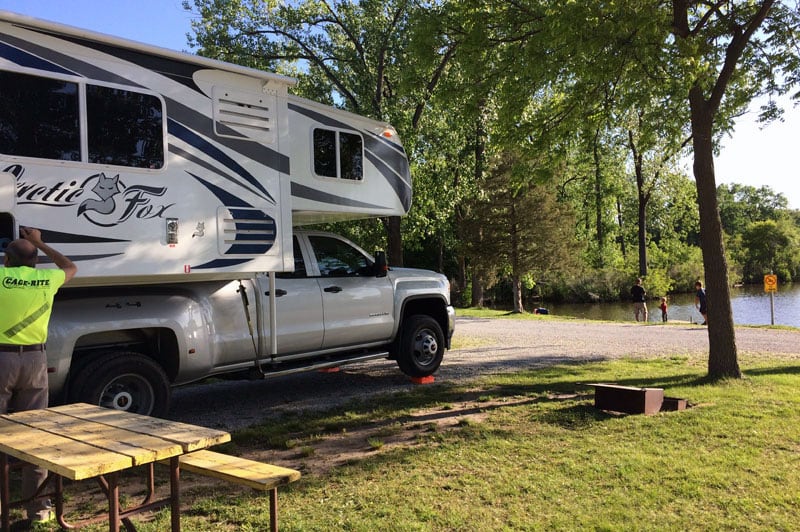 "Whenever we park for the night I always level the rig. I just use a torpedo level. I open the compartment door in the slide to get the level, place the level in the door frame for front to back leveling, and then put the level in the entry door to check side to side. I'll use a Lynx Leveler block to adjust.
I also installed and ARPrv system for my Norcold side vent refrigerator to improve cooling. It also protects the refrigerator when traveling and parking at pul-offs like in Smoky Mountain National Park where nothing is level." – George Visconti, 2015 GMC 3500HD, 2016 Arctic Fox 990
"Close enough is good enough. We have front-to-rear and side-to-side bubble levels in the cab of the truck. If the rig looks fairly level both ways then it is a done deal. We do carry multi-step wheel ramps if our parking spot is way off level. We rarely have to use them." – Jon Hancock, 2015 Ram 3500, 2016 Northern Lite 10-2 EX CDSE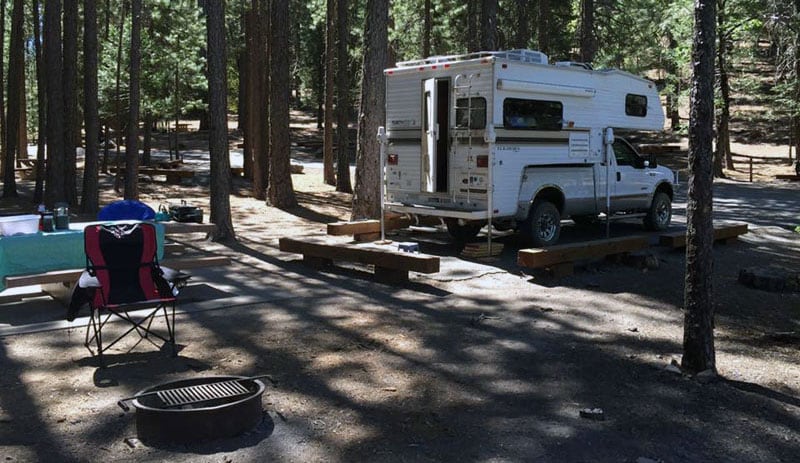 "I always level the rig. My wife likes to sleep with her head propped-up. It doesn't seem like a big deal until your rig is pointing down a slight downhill slope. Anyhow, I use a torpedo level in the cab as a reference. I then use a combination of leveling blocks, the camper jacks, and our airbags to fine tune any lean or incline." – Tom Bjerk, 2004 Ford F-350, 2000 Caribou 9T
"I leveled the camper once accurately. Then I installed a circular/ bulls eye level inside the truck's cab by the driver and made it read level by having it sit on a thick layer of glue. I put the same level setup on a bracket by the camper's rear door.
When I drive into a site, I only have to look at the level beside me in the truck. I can very easily shift the truck forward, back or sideways until the level is to my liking. That works most of the time.
I carry some 2×6 leveling boards for really slanted sites. The refrigerator has a limit of slope it likes and so do I. It only takes a few seconds to be close enough." – John W. Hallett, 2011 Dodge 3500, 2014 Bigfoot 9.6 LB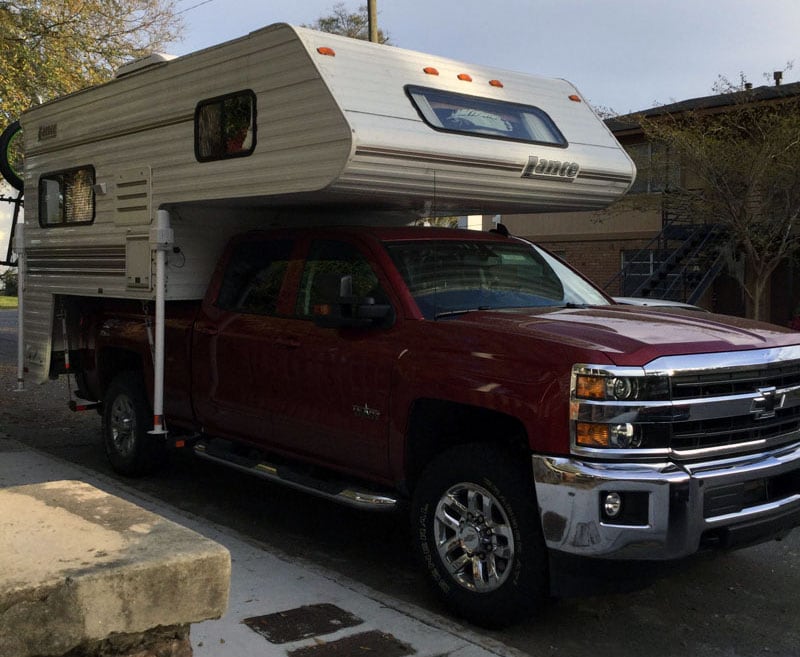 "If we are leaving the camper in one place for more than week, I level. Generally I just park and deal with it being off-level a bit. The photo above is of my rig dry camping in the street for a St. Patrick's day celebration." – George Lovely, 2018 Chevrolet 2500, 2001 Lance 845
"I pull in, visually survey the area, and look for the SID (Solar-Internet-Dish) for trees, angle, shadows, etc. Solar is prime along with the Dish access. Leveling is secondary.
If just passing through, and it seems fairly level, I'll just set it, grab a beer, and I'm done. If it's more than a day or two, I'll level with the jacks. Jacks are also just as important for stabilization, especially in a windy area. If I get lucky, I'll use the yellow Lego ramps.
I confirm the levelness by taking jack controller inside the camper and openig up the medicine cabinet mirror. If it swings wildly way or the other, I'll adjust. It's level if water drains into the shower drain." – Frank Poole, Ram 5500HD, Arctic Fox 990
"We might back up and pull forward a few times to find the most level spot. If the ground is very un-level, we have a pair of leveling ramps that we can pull onto. Mostly we don't need 'em. We nearly always leave the camper on the truck and we don't extend the jacks. Then we eat dinner." – John Tully, 2014 Ram 3500, 2015 Lance 855S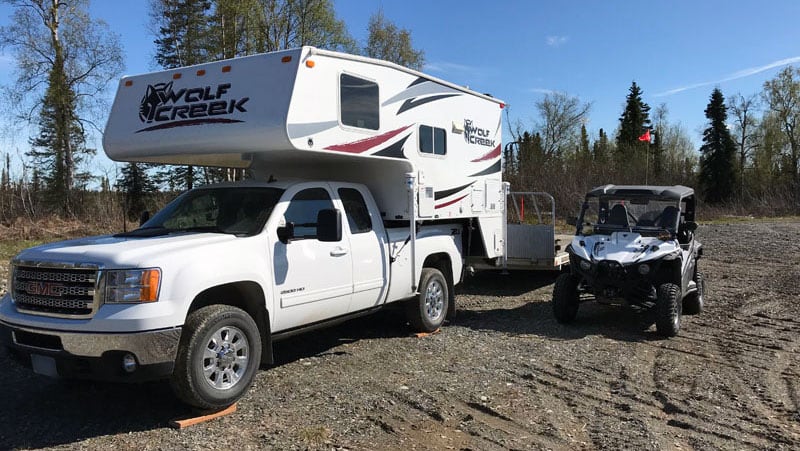 "Yes, we level our camper. The front is slightly higher so our heads are not down hill sleeping each time we camp. I have a bubble level app on my iPhone that I use to see if we are close while parking. Then I check the bubble levels I installed on the left front corner for side/side and front/rear.
I use 2×6's under the tires if needed to level the camper and then lower the jacks to stabilize the camper if needed. I like to be level for a better sleep, cooking convenience on the stove top, and so a cocktail doesn't slide off the end of the bar!" – Allen Jedlicki, 2012 GMC 2500HD, 2014 Wolf Creek 850SB
"I have fore/aft and side/side level indicators, but I find I can pretty much eyeball level. If I'm way off I use those orange stacking things to get me close enough. I'm definitely not OCD about it!" – Phil Borchelt, 2007 Ram 3500, 2012 Lance 992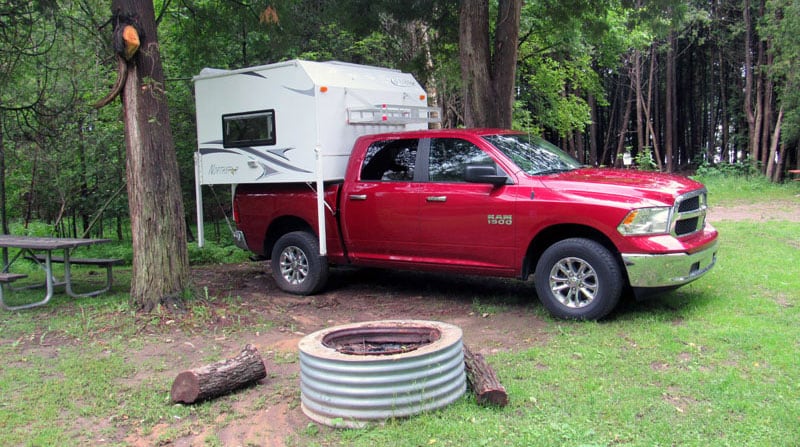 "Most of my camping has been in state or province campgrounds. Some are improved and some are primitive. I typically try to find a fairly level campsite, but I am not concerned about being perfectly level.
In my experience it's more important to be on high ground than it is to be on level ground. On one occasion I had very little choice in available campsites and later found, during a hard rainstorm, that about a third of the campground drained through the site I picked. The site was fairly level, but on the low side of the campground. Lesson learned." – Roger Garner, 2014 Ram 1500, 2017 Northstar Vista
"We use a small 6-inch level on the floor by the door to make sure we can sleep with our head level or above our feet. Looking at the surroundings has mislead us into waking up with a small headache the next day, and it wasn't the wine's fault." – Mario P., Tacoma, 2017 homemade camper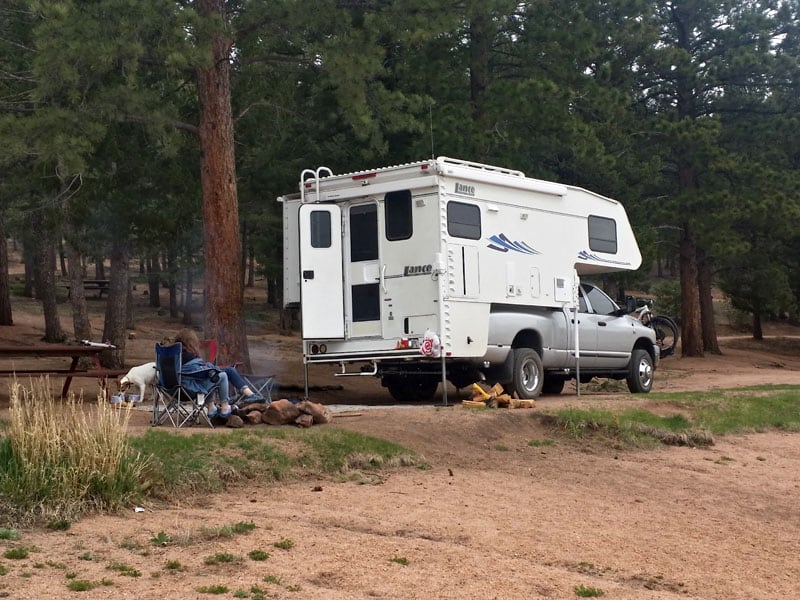 "Our slide is happier to open and close when the rig is level. I use a Level Mate Pro (leftover from a travel trailer) to help get close. Then the legs do the rest. Simply unhook the Fastguns and use the camper's remote. I have bubble levels on the right rear outside wall as well as the back of the passenger's side outside wall. That makes it super easy to level the camper from one spot.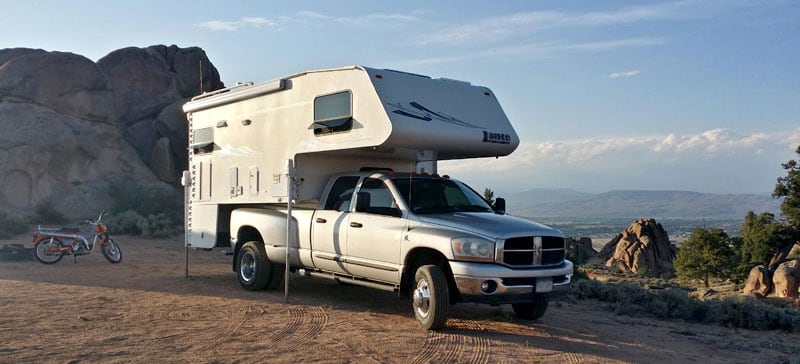 Besides, I prefer to make the camper as solid as possible. So our leveling process is really to maximize stability with the added benefit of leveling.
In the above photo the truck is quite un-level, but the camper is nice and level." – Mark Joslin, 2006 Ram 3500, 2005 Lance 1181
"I do level the truck when I park for the evening wherever possible. I eyeball the camper, especially the overcab bed, to achieve the best result. If it is not possible to level both side-to-side and front-to-rear, I opt for front-to-back as my bed is oriented side-side." – Peter Mason, 2018 Ford F150, Four Wheel Camper Hawk Shell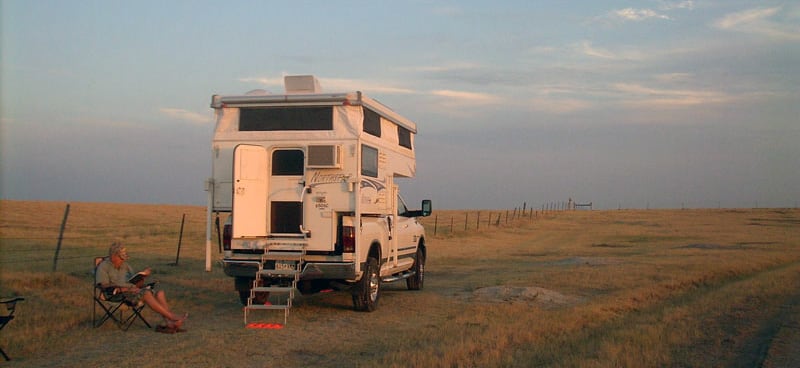 "We do not take the time to get perfectly level, especially if we are traveling and just stop for the night somewhere. If we stay at a location for a few days, I am a little more fussy about it. If I am boodocking and it is really bad, I will drive up on levelers to get it close to level, but not necessarily perfect." – Allen Brummel, 2013 Ram 2500, 2016 Northstar 650-SC
"With our old camper the gas refrigerator would only work well when it was nearly level. Our 2015 Lance 855 has the large two-door refrigerator and it is not very fussy when it comes to being perfectly level. With that being the case we get it level by eye and call it good. I did install level bubbles just outside of the driver's window on the bottom of the cabover and on the bottom off the cabover in front of the windshield." – Mike and Nancy Pohl, 2015 Ford F250, 2015 Lance 855
"When traveling I just look for the most level spot I can see to park for the night. It doesn't need to be perfect. When parked for an extended period we level it with Lynx leveling blocks. Again, it only needs to be close." – Bruce Van Aken, 2016 Ram 3500, 2019 Northern Lite 10-2LE
"We get reasonably level. If that is not possible, we get the front of the truck higher since we sleep north-south. I have not dug holes for wheels or jacked up the camper in 20-years. I have never had a problem with the refrigerator." – Gary Burgess, 2005 Dodge 3500, 1998 Kodiak 9-foot
"I level our Laredo every time we park and camp. Being un-level drives my wife crazy!
We carry a little 6-inch carpenter style level, and just place it on the floor right inside the back door, front to back and left to right. Then, I level the truck as necessary, using the stackable square orange plastic levelers.
If a spot is really off camber, I will even use the orange levelers stacked up to get up on top of even a larger rock or log. We will occasionally have no orange levelers under the truck, but this is due to us getting it close enough with the first park. We do at times say good enough, but when we do it's pretty close to level." – Jerry Harms, 2009 Ford F250, 2016 Northstar Laredo
"We do not go to great trouble to perfectly level the rig as long as the head of the bed is higher than the foot. It's not boondocking if the rig is perfectly level." – Terry Berg, 2013 GMC 3500, 2013 Arctic Fox 992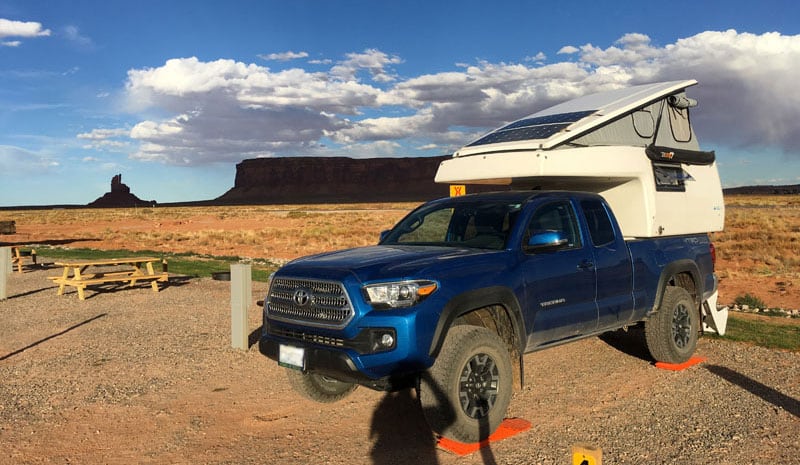 "Yes, I level my rig now. For the first several outings I did not. I use a sleeping bag and found that the nylon would slide on the mattress. When un-level, I would end up pressed against the camper's wall.
On my third outing to Overland Expo in May I talked with folks using the GoTreads as leveling pads. I bought a pair and used them that day as well as many times in campgrounds and while boondocking.
I look for the best possible level area, pull the hand brake and jump out. I use the level app on the iPhone and place the phone on the bed rail or back bumper. One degree per section of the folding GoTreads seems to work out. Anything more than three-degrees off and I look for a better starting spot." – Ivan Hass, 2017 Toyota Tacoma, 2017 EarthCruiser GZL300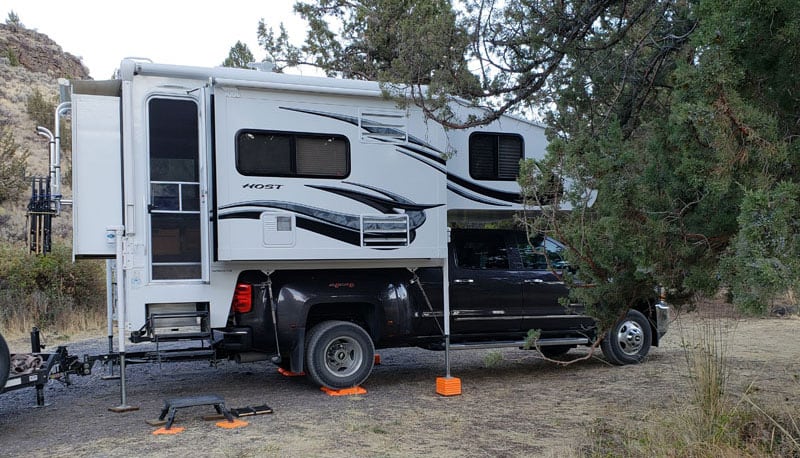 "If the spot we've chosen for camping is reasonably level, then we call it good. If we're staying for a few days we use the Lego-style blocks to get the camper level. As long as the camper is level enough to sleep well, we typically don't get too concerned." – Dave Riddle, 2015 Chevrolet, Silverado 3500 HD, 2017 Host Mammoth
"We usually get within two or three degrees as determined by an app running on a phone set on the counter next to the sink. I've gotten to the point where I can pretty accurately guess how many orange plastic leveling blocks under which wheel(s) it will take to get there. I do fine-tune with the jacks." – Scott Ellis, Chevy 3500, 2019 Northern Lite 9-6 QSE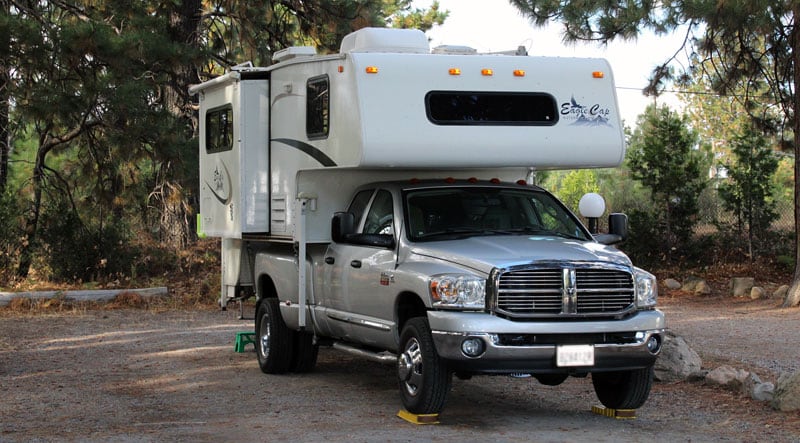 "I like being level, front-to-back and side-to-side. I use a bubble level and place it on the left rear Happijac to begin the process of leveling. I have a canvas bag with 10 yellow blocks stored in the backseat floor. I also have two front wheel blocks that are the two level design. I always use these because the rear of the truck sits 4-inches higher due to a set of installed Super Springs.
If I'm on a concrete pad I'll sometimes put one yellow block under each rear tire on the left side just to help the shower water drain easier to the grey tank.
Being level reduces the frustration of cabinet doors swinging open and leaving dents in my cranium. After all, I want to remain level-headed not dented, so that we can figure out what to have for dinner." – Roger Odahl, 2008 Ram 3500, 2004 Eagle Cap 950
"Since I stay for two to four-days, I level mainly for the refrigerator on the Lance 850. When I had an Alaskan, the camper had to be very level to raise and lower the walls, which took more time. With both units I just used large plastic oil change ramps. They are very easy and there is no digging. Just watch the bubble gauge." – Bill Close, 2017 Ram 3500, 2012 Lance 850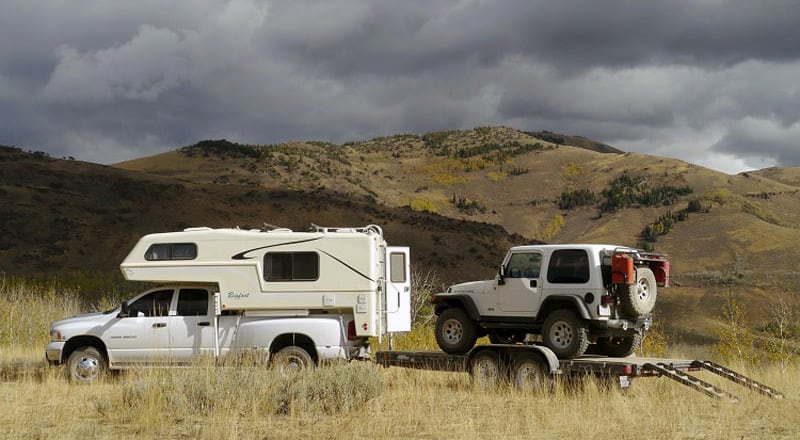 "I always level, but I don't obsess about it. I pick a spot that looks level and, once parked, I check the bubble levels. If they are fairly close, that's good enough for me.
I have never had a problem with the refrigerator or anything while leveling for the 20-years I've been truck camping. The easiest way I've found to level the rig is to dig a hole for the tires that need to drop down. It makes access to the truck and camper easier!" – Oleh Melnyk, 2004 Dodge 3500, 1996 Bigfoot 2500
"We are good at leveling and are pretty much level every time. We mostly boondock so few of our spots start near level. If a site is particularly un-level, the first step is to dig holes for the two wheels on the high side (which we fill on leaving) and potentially using rocks on the low wheels.
The second step is releasing the air from one or both rear airbags (I have an on-board air compressor with fittings in both rear wheel wells). The third step is using the jacks.
The challenge with picking the best orientation to level is; not getting the back step too high off the ground, orienting for favorable breezes or views, and orienting East-West or West-East to get my dual-tilting solar rack the best exposure. Lastly, not taking too long." – Steve Hericks, 2004 Ford F-350, 2000 Lance 1130
"With us it's all about sleeping. I don't like sleeping with my head downhill. In fact tilted slightly uphill is better. Whether we're in a campsite or Walmart, we eyeball the kind of levelness we like. We do have our leveling blocks for the impossible sites, but only bother if we're staying put for a few days." – Sue and Don Graf, 2008 Ford F-350, 2013 Arctic Fox 865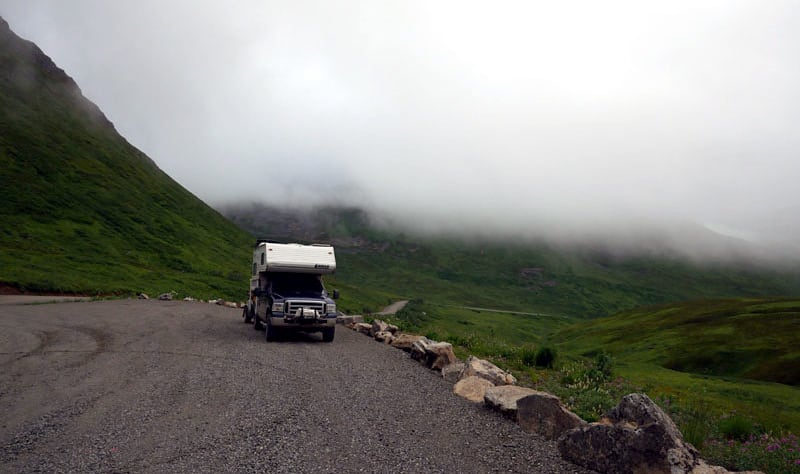 "Since 2013 when I installed our Dometic CR1110 compressor refrigerator I haven't been that concerned with being level. Now I just eyeball it and it's good enough!
The photo is one of many overnight spots at a road side pullout near Independence Mine, Alaska. We're about 4-percent facing uphill." – Alex Blasingame, 2007 Ford 250, 2002 Lance 815
"Like you, I can figure out where my wheels should be to have the most natural level spot. As I approach a particular spot I can tell by the horizon of my hood that I am just about level. If it's just me or we are on a one-night sleep, no jacks are deployed. It has to be two nights or more to put down jacks for stabilization.
With my boat I try to position passengers so that we aren't listing because there's a tipping point where un-level is annoying to your equilibrium. When you step on my boat I'm like the person at the carnival who's guessing your weight and secretly balancing the boat by my guesstimate." – Denise Barber, 2011 Chevy 2500, 2006 Lance 815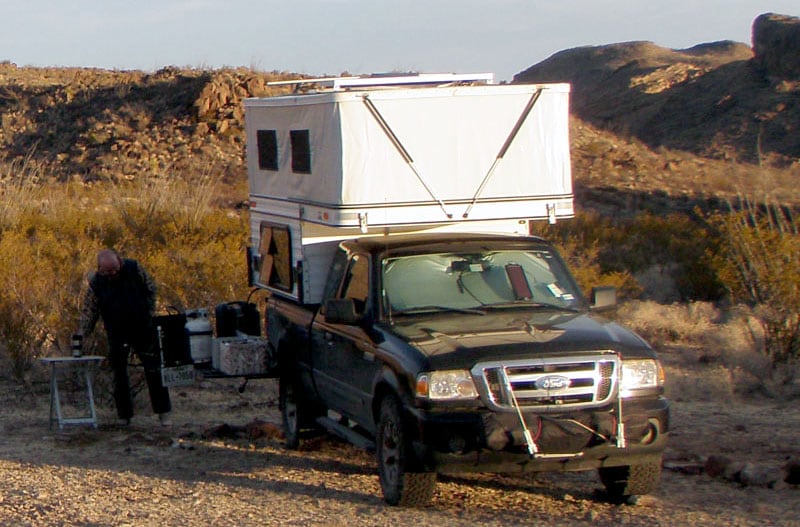 "If we are not level then we are at least head-high for sleeping. I have two bubble levels mounted right behind the driver's door on the exterior of my camper. If the spot I eyeballed isn't level, I carry 2×10 boards to drive onto.
I will use 2x4s under them if more height is needed. I'm pretty good at guessing the right combination. Then it's either time for a hike or a cocktail." – Larry Chiuppi, 2009 Ford Ranger, 2014 FWC Eagle shell
"I detach the anchors, put down the jacks, and level the camper every time we camp. I do not like the springy-ness (is that a word?) of leaving the jacks up. I like the solid feel.
I have mounted stick-on bubble levels on the rear of the camper and they work well. The fact that our current camper has electric jacks and Fastgun turnbuckles makes this quick and easy. It's a few minutes at most." – Steven Merrill, 2009 Silverado 3500, 2007 Lance 992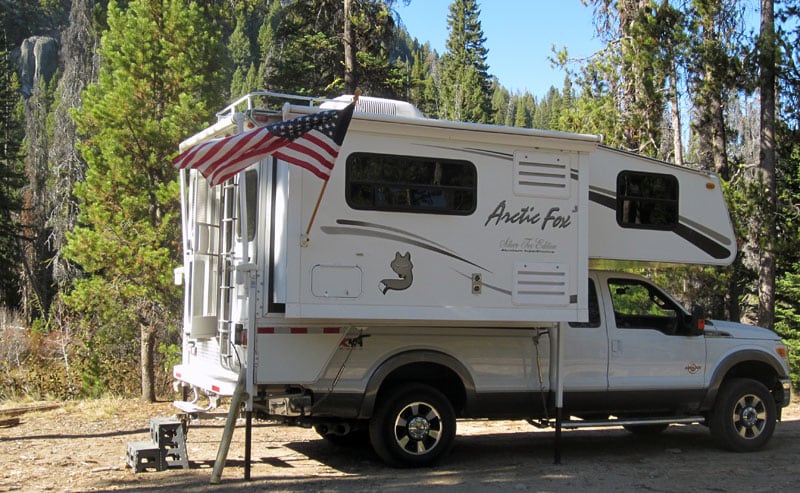 "We are, "that's level enough" folks. We boondock most of the time. We do use a bubble level to get close enough and camper jacks to stabilize the camper. We like to have a level cooking service. We put a skillet on the stove top and then put the level in it to check for level." – Dave Erickson, 2011 Ford F350, 2006 Arctic Fox 990
"We rarely level our camper. We try to park with our front end higher because we find that more comfortable to sleep. If it is way off we carry some leveling blocks that we can drive up on or use the jacks. We rarely have to do either one of these maneuvers. We have never had a problem with our propane refrigerator while we are camping." – Stephen Paushter, 2016 Ram 3500, 2016 Northstar Arrow 8.5 U
"I always check for level using a little surface mount bubble gauge in the truck's armrest. That shows when the camper is level. If it's not fairly close, I add wooden blocks under various wheels until it is. I don't worry about being perfect. I just don't like my eggs to run over into a pile on one side of the frying pan." – Bruce Colby, 2004 Dodge 2500, 2004 Lance 835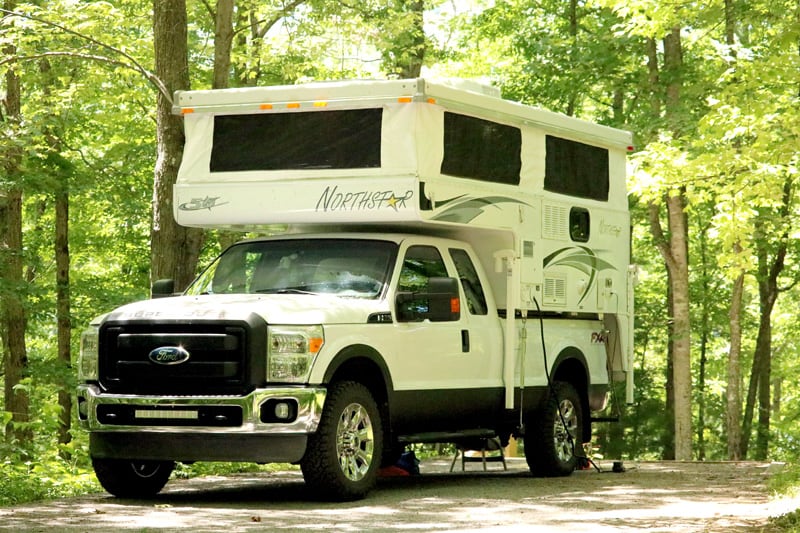 "I generally just try to get fairly level, not perfect. I do have a level in the camper, but I don't obsess about having everything exactly level.
The picture is at Cherokee National Forest in Tennessee on Lake Watauga. We left the camper on the truck and the site was pretty low on the passenger's side and required leveling the truck." – Wayne Petrie, 2012 Ford F-250, 2012 Northstar 850 SC
"I will move the truck around on a spot until it feels somewhat level. Then I open the camper's door and put a simple bubble level about the size of a half dollar on the floor. If it's off by a bunch I will drive up on a block, a rock, or look for a dip to drop a tire into. Close is good enough.
In more extreme cases, I will unhook the turnbuckles and use the jacks, but usually a block or two under one or two tires will get me close enough. I often then lower two jacks just touching the ground with a little pressure for extra stability and call it good." – Terry Gfeller, 2015 Ram 2500, 2013 Lance 865
"I only use my leveling blocks about 10-percent of the time (maybe less). I have a level on my kitchen counter, but usually level only if my body tells me to. In my 125,000-miles of ramblin' in my camper, I can only remember using my jacks to level once.
I bought my camper used and have had it for 13-years. The original refrigerator still works fine, even though the bubble is not perfectly in the center when I park." – Ralph Goff (aka Ramblin' Ralph), 2006 GMC 2500HD, 2001 Lance 845
"Close is good enough. I try to always find a front high position to make the bed comfortable. I can also get a little rear lift if needed when I stabilize with the rear jacks. I almost always drop the rear jacks since they hold the patio mat in place." – Bob Smith, 2005 GMC 3500, 2017 Lance 1052
"I try to get the rig as level as I can but I don't worry if I'm not quite level. I use a 6-inch carpenter level inside the camper. I want to make coffee without spilling it.
Since I have vertigo, I can't rely on my own senses so I must use the level. Most of the time, I'm pretty close. However, if the truck is on a slant, I'll put boards under the wheels. I hate falling out of the bed, so I really try to get it close to level." – Harry Palmer, 2008 Dodge Ram 2500, 2008 Lance 915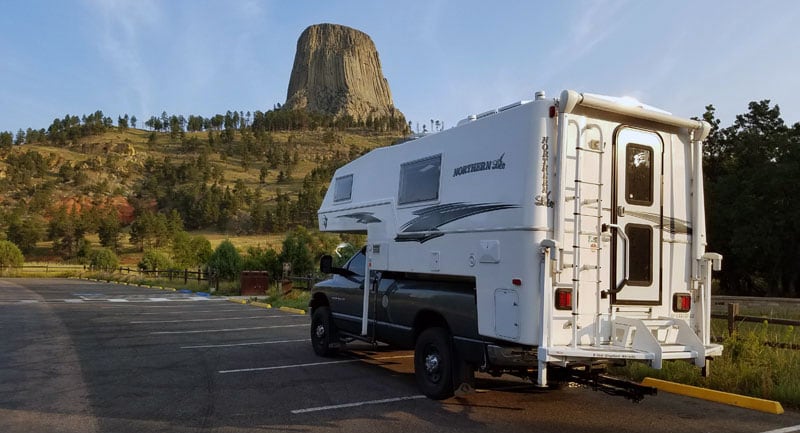 "If we feel level we call it okay. If we don't, we put the $3 bubble level on the counter and check. 95-percent of the time we can make it work by just moving the rig. Rarely do we get out the Northern Tool leveling pads. They do come in handy at state parks and when boondocking." – Mark Harrison, 2005, Dodge 2500, 2017 Northern Lite 10.2 EXCD
"Level? Yes. Perfectly level? No. Am I going to be sitting crooked at the table or on the throne? I want mostly level for my comfort. Front to back is big for me because I don't want my head down while sleeping.
I pull up to level enough and then check bubbles on sides of camper. I am usually pretty close just from eye balling it. I will occasionally use the jacks for final adjustment." – Kevin Jenckes, 1996 Ford F-250, 2006 Lance 820
"We tend to off-load our camper unless it's a, "one night stand". I keep a torpedo level just inside the camper. This is mainly for front-to-back because we don't want to lean forward. I keep a 1/8-inch bubble front.
At 69, site judgement isn't as great as it used to be. Also, if we are leaning to the left or right, my wife tends to ride the wall heading to the bathroom. The only time we throw caution to the wind is if we arrive late and dark, and don't want to bother till morning. We have never had an issue." – Tom and Karin Slack, 2011 Ford F350, 2008 Okanagan 85SL
"We try hard to level most nights. We try not to move a lot. We have had all the slides replaced. They said being way out of level is hard on them." – Bruce Ludlum, 2015 Ram 5500, 2015 Eagle Cap 1165
"As long as it's level side-to-side we are happy. I hate rolling to the side when sleeping! Our camper tends to be heavier on the passenger's side, so even though our truck has great apps for leveling, I still use a little bubble level on the floor of the camper to be sure. A little maneuvering or level blocks do the trick." – Orian Hartviksen, 2011 Ford F-350, 2010 Northern Lite Q 8-11
"I have a couple levels on the back and inside. If I'm within the first line, we're okay. No real fussing. I use a 2×6 to get it close." – Frank Niehus, 2007 Ford F-350, 2007 Arctic Fox 1150
"I don't level every time we park, but I do level it if we are camped for the night. I use a bubble level and leveling blocks and get as close to level as I can." – Jim Hignite, 2016 Dodge Ram 3500, 2007 Lance 1055
"Life is too short to make it perfectly level. I came for the scenery or to see the kids. Besides, it is nice to escape my tendencies that drive me to perfection in far too many ways." – Wayne Hoffert, 2018 GMC 3500, 2016 Northstar Laredo SC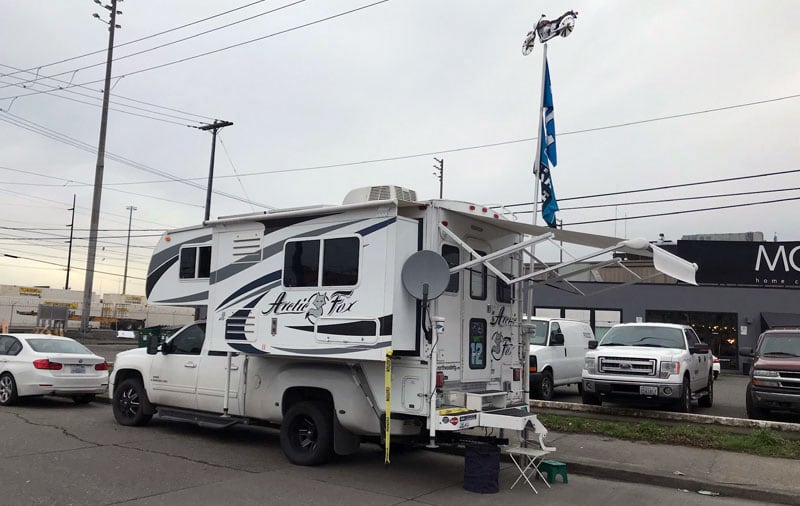 "Bubble levels are mounted on the rear corners so the camper jacks are square and true. I mount the satellite dish to the jacks on any corner for Direct TV. Life is all about college and pro football!" – Vern Graham, 2007.5 GMC K3500, 2017 Arctic Fox 992
"When we were full-time travelers a few decades ago, I carried a bubble level and a half dozen short lengths of 2×4 that I used to level the rig. Normally it took way less than five minutes. It worked well everywhere from RV parks to extreme boondocking.
We never ever took the camper jacks with us. The jacks added weight, reduced aerodynamics and just basically got in the way. We both preferred level. Level helps to alleviate vertigo. But then we got into sailing which is never level, at least for long. That is why boats don't have propane refrigerators." – Norman Luxton, 1966 Dodge 200, 1968 Unknown Brand 11.5 ft
"I use a small bubble level placed on the rear bumper. Usually two plastic orange leveling squares under the wheel brings it close enough." – Ron Ross, 2017 Ram, 2018 Northstar 850SC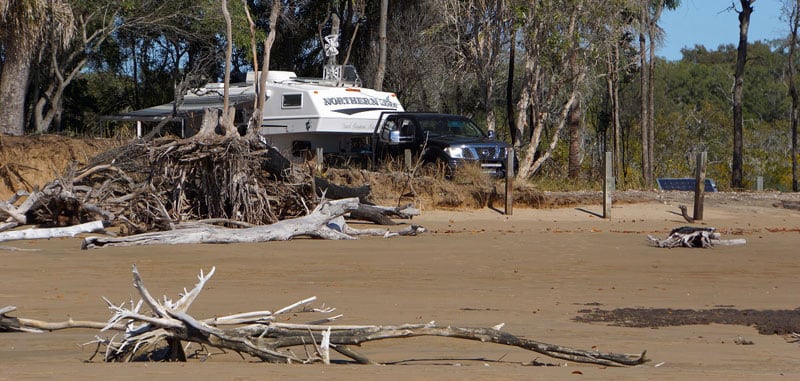 "Usually we unload the camper and level using the jacks and a bubble. The camper is a lot more stable when it's close to the ground. If we're overnighting in a rest area or similar we level the camper using the air springs (you could do the same with a couple of ramps). Our air springs have around 6-inches of adjustment.
You should always level campers with a 3-way refrigerator. Otherwise you use more propane and the refrigerator does not work properly. Also it is hard to sleep well in a sloping bed." – Garry Davis, 2012 Nissan Navara, 2013 Northern Lite 8-11 Australian Ultimate