Dealing with condensation in a truck camper is a tricky business.  The common advice most truck camper owners get is, "Cross ventilation".  Cross ventilation is tried-and-true, and a critical component to avoiding condensation, but what else can be done?
This week's Question of the Week was, "How do you prevent condensation in your truck camper?"  Beyond cross ventilation, we were a bit concerned that there might not be much more to say on this topic.  Boy were we wrong!
Here's how 36 Truck Camper Magazine readers sweat out the condensation in their rigs.  As you're about to read, there are many effective ways to both avoid and attack condensation.  Thanks again to TCM reader, Donald Pryor, for his question suggestion.
"I have used Air-Dryr 1000 and cross ventilation for many years with some success." – Carrol Picard, 1999 Dodge Ram 1500, Shadow Cruiser
"I just crack open a couple windows to keep the condensation at bay.  I've never had a huge problem with it any way." – Pam Conner, 2015 Ford F350, 2015 Arctic Fox 1150
"With only one year experience, I have paid attention to other RVers input on many issues including condensation.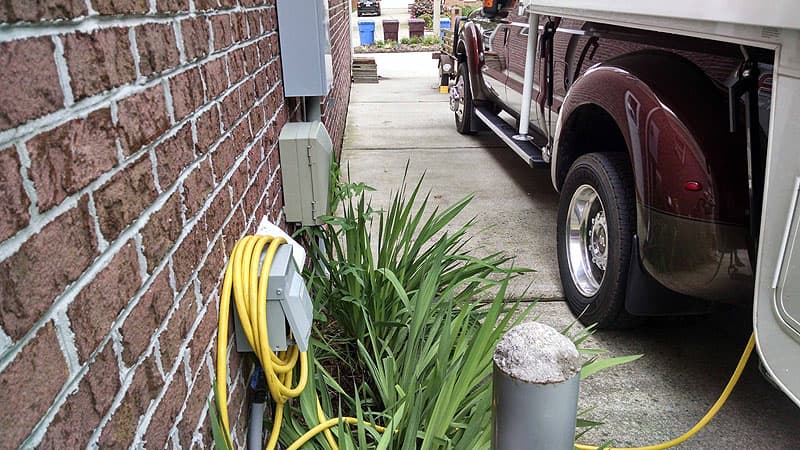 1. Temperature – Installed a 30 Amp RV plug to the side of my garage.  We plug into it when at home.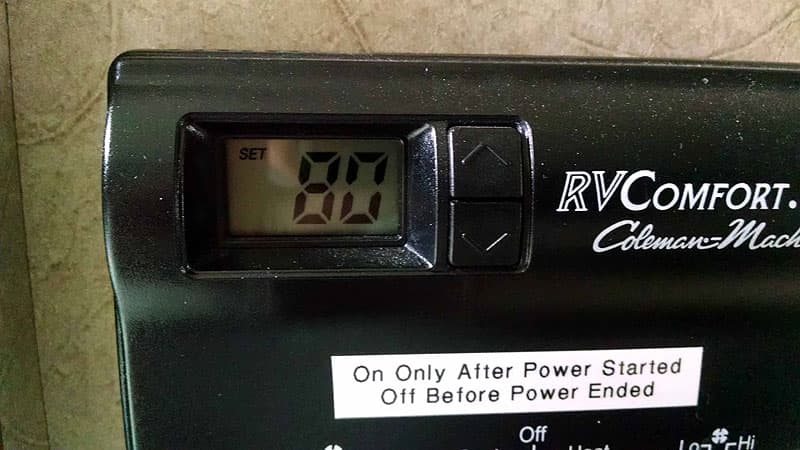 This helps us to maintain a consistent temperature inside the camper (50 degrees in winter and 80 degrees in summer).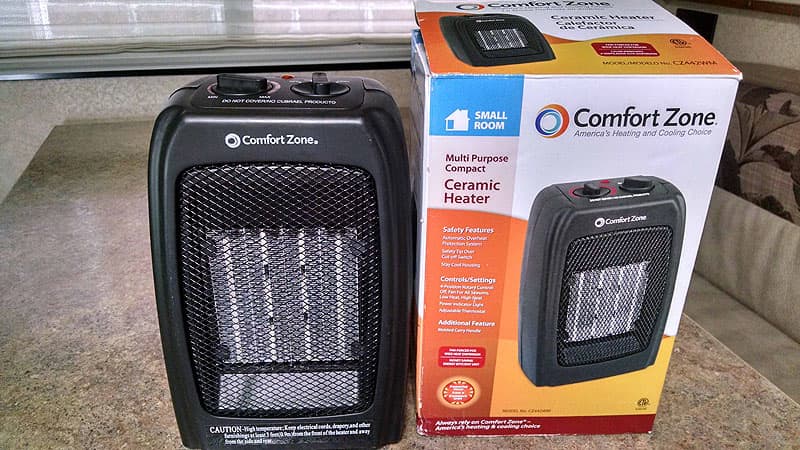 We use a small ceramic electric heater for winter to avoid using LP gas.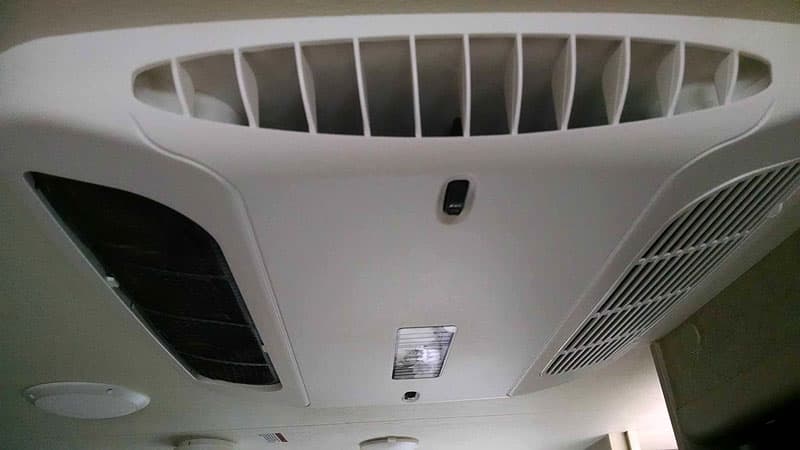 In the summer we use the air conditioner unit.  We also make certain the fan for the air conditioner is always clean.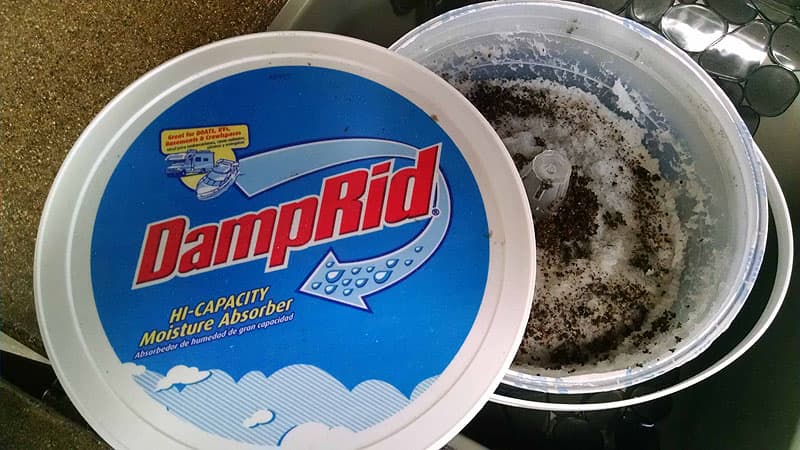 2. Remove Condensation – Use the DampRid chemical to suck up any moisture in the air when the camper is not being occupied.  This bowl of chemical is placed in the kitchen sink.  It is removed when we prepare to use the camper.  These chemicals are not appropriate to inhale all the time.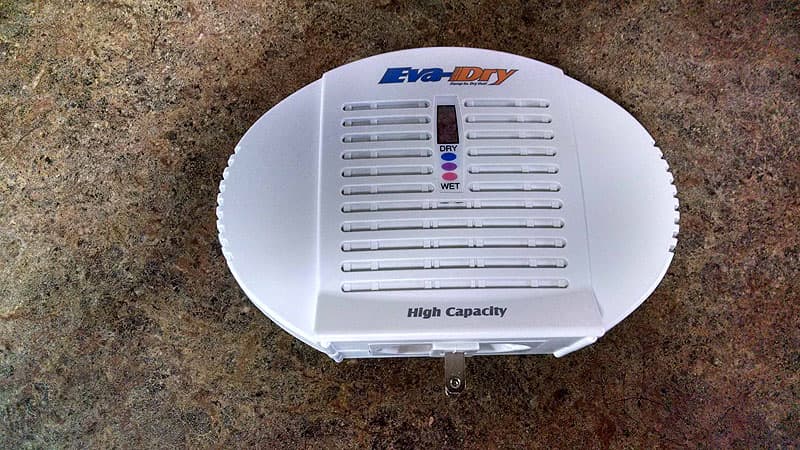 3. Remove Condensation – Use three EvaDry units all the time.  They are like the DampRid, but do not have harmful chemicals.  These units are reusable and do not produce any chemicals in the air, so they are safe for humans/pets.  Two are in the bedroom and one is under the bathroom sink.  When they accumulate enough moisture they are taken into the house and plugged into electricity for twenty-four hours to dry out and then put back into the camper.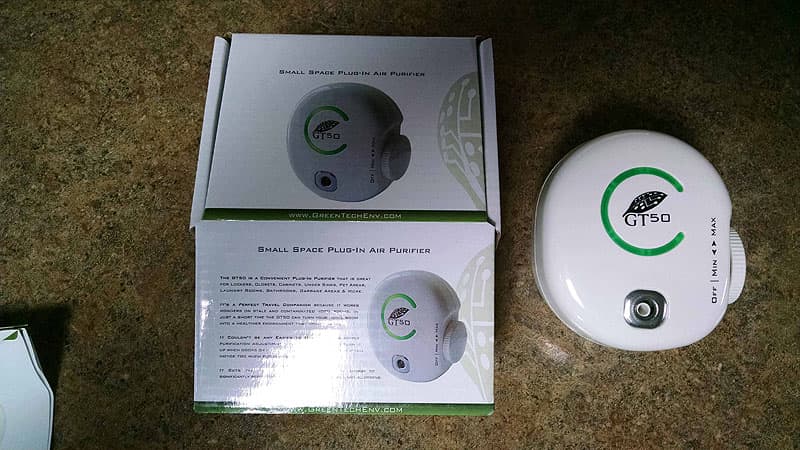 4. Air Purifier – Turn on a small space plug-in GT50 air purifier when the RV is in use.  It does not remove condensation but it does clean the air so you have better quality air to breathe and no mold.  It is made specifically for RVs.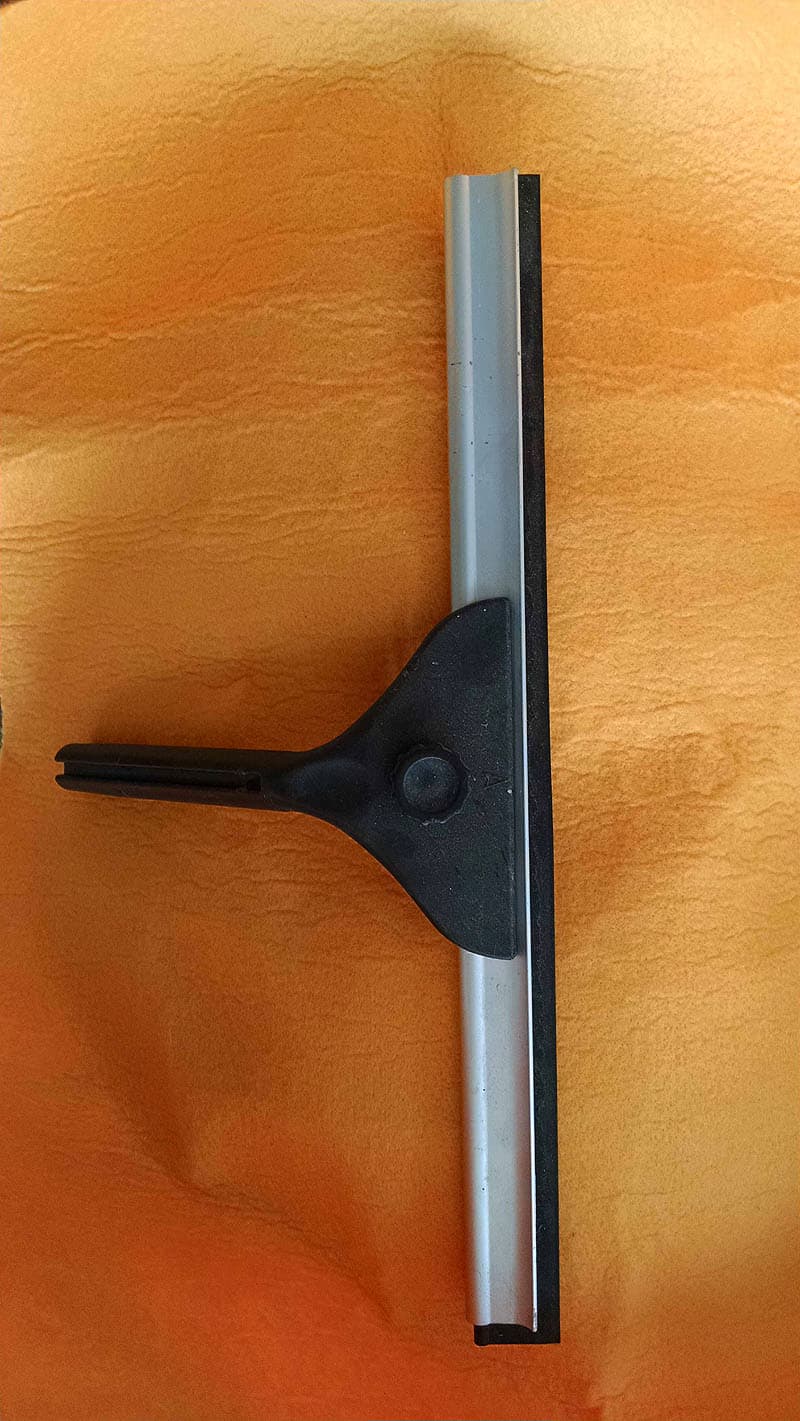 5. Rain – If we are closing up our RV and it has rained or is raining, we will first squeegee the slide-outs prior to bringing them in to get as much moisture off of them as possible.  We try not to bring in anything wet into the camper.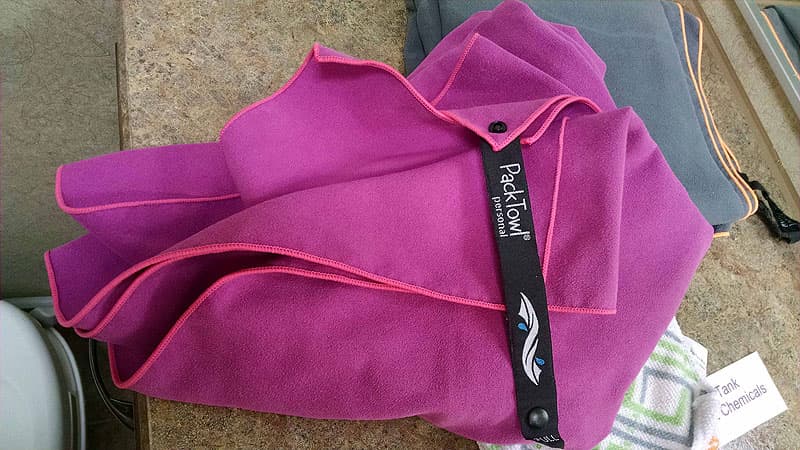 6. Bathroom – We use backpack towels made of 85% polyester and 15% nylon.  They are full size towels but 80% of the moisture that is in the towel can be squeezed out after being used.  We do not use regular towels.  The towels dry in a few hours.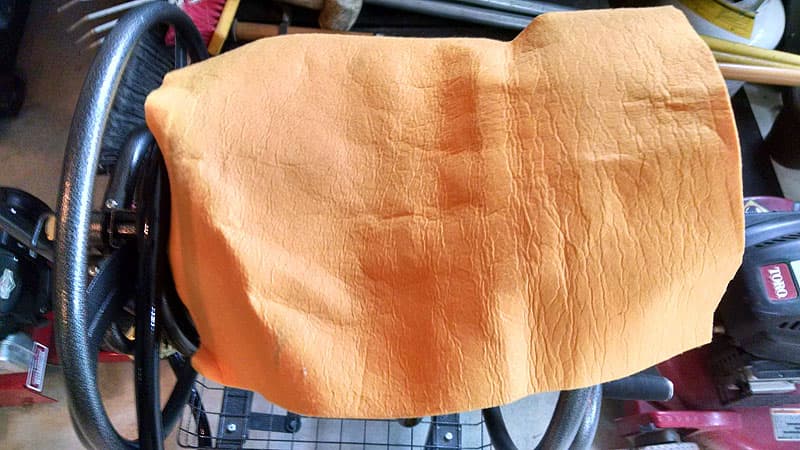 After the last person has taken a shower we use a car shammie and wipe down the shower to remove all water.  The shammie can be squeezed and again 80% of the moisture goes down the drain.  We still enjoy our RV and will use a beach towel if we can leave it outside to dry.
7. Kitchen – We use the stove vent when cooking and leave it open while the RV is occupied.  The refrigerator is blocked slightly open when not used to keep moisture/mold from forming.
8. Dinette – There are two outside storage compartments under the dinette and what goes into this storage area needs to be as dry as possible.  Any moisture there can seep into the RV from under the dinette seating.
9. Vents – When occupied, we always have a ceiling vent or window partially open to provide circulation.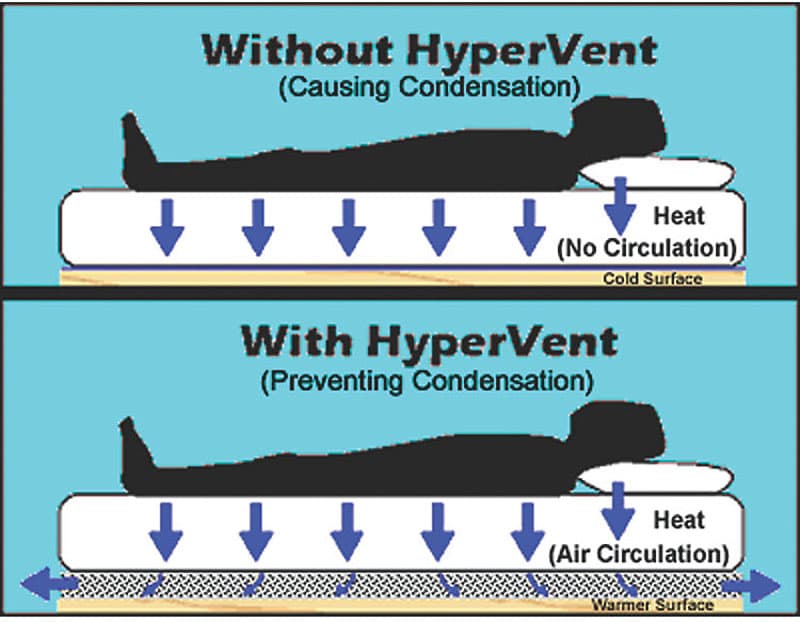 10. Hypervent – Under the mattress is a material called, HyperVent.  I purchased mine from Fisheries Supply for $11.40 per foot with 39" width.  It keeps air flowing under the bed.  It seems to work quite well.  It is made for boats.  Condensation forms through the boat hull temperature difference.  Someone mentioned it to me a year ago, so I purchased it to go under my bed in the truck camper.
11. Winter – We take out anything that can absorb moisture if the RV is not going to be used for long periods; blankets, towels, sheets, pillows, clothing, etc.  We don't remove the mattress." – Donald Fox, 2015 Ford F-450, 2016 Lance 1172
"When camping we use a dehumidifier and a 110 heater.  We only cook with propane.  When the camper is in storage we do the same thing with the dehumidifier and heater.  It works." – Bruce Erickson, Dodge 2500, 2016 Adventurer 8.6 FB
"With the current construction techniques there is no way around the cold weather condensation problems.  The all-aluminum welded frame is stronger, but it is also a direct heat transfer through the camper walls.  The older wood frames had the benefit of not transmitting the heat through the walls quite as fast.
Even our old fifth wheel had the telltale frost lines on the outside of the RV on cold frosty days.  The standard RV industry fix of leaving a window slightly open to let the moisture out does not help at zero degrees.  The heater would not keep ahead of the air leak.  We just try to keep the condensation cleaned up as best we can!" – Russ Berquam, 2014 Ford F-350, 2015 Arctic Fox 1140
"I use Dry-Z-Air containers.  I have them in the bedroom, in the dinette area, in the kitchen, and one in the bathroom.  I put these in any time we are not using the camper.  It's surprising how much moisture I accumulated in a small amount of time.  I live on the northern coast of California, and there is a lot of moisture in the air." – Greg Gaser, 2014 Ford F350, 2017 Lance 1172
"We have a small dehumidifier.  It's a little 6-inch cube that runs when we are on shore power.  It doesn't get it all, but it will remove 8 to 10 ounces a day." – Jay Knight, 2009 2500 HD, 2014 Northstar Adventurer
"I always have a roof vent open, except when we're going down the road, to allow the camper to breath." – George Visconti, 2015 GMC 3500HD, 2016 Arctic Fox 990
"I keep the roof vent open all the time, the Fantastic Fan running when cooking, and wipe up the moisture as necessary." – Joe Munn, 2001 Dodge Ram, 1998 Bigfoot 9'5″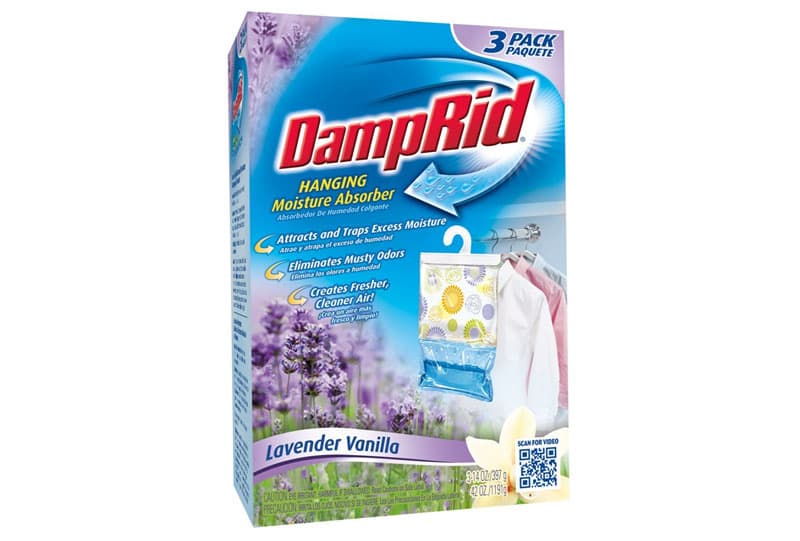 "In our previous camper we used a dehumidifier and a product called DampRid from Home Depot.  As a combination, it works well plus the DampRid come in different fragrances." – Scott Vallie, 2015 Dodge 3500, Pending Host Everest
"We have a 42-foot trawler at the West Coast.  We are quite experienced at condensation control.  Humans breathing can expel a considerable amount of moisture and non-vented propane appliances like a stove top can really add to the issue.
The number one way to keep things dry is ventilation.  Some air flow is needed to promote air exchange in the camper to keep humidity levels down.  But, what if you are camping in the cold or dealing with long term storage of the camper?  Those are two difference scenarios with different solutions.
Cold weather camping needs some ventilation.  People and pets spending more time cooped up in the camper is the result.  Cooking is often done inside.  It's a must to have window(s) cracked to get some fresh air into the unit.
For long term storage, we have a pot of moisture collecting crystals centrally located in the camper.  We leave all the cupboard doors slightly ajar and, if possible, an exterior window cracked (or roof vent).  We also have a breathable mat that fits under the bed foam if we are not able to remove the mattress.  Standing any cushions (dinette or bedding) on the edge promotes air movement around these items and stops any dampness and mold growth.
Use your nose and eyes to confirm that you have done enough preventative measures to stop the possible damage.  It can be expensive and unhealthy not to stay on top of humidity issues in your rig." – Wes Hargreaves, 2016 Ford F450, 2006 Snowbird 108DS
"In normal weather, we leave the bathroom vent cracked open whenever we are parked. If a little rain gets into the bathroom, it doesn't harm anything.  Rain into any other vent is a mess.  If it's really wet, it's air conditioning to the rescue.  In my often cold weather deer hunting season, I use the range vent fan to exhaust most of the moisture due to cooking.
I often wait for somewhat mild weather to leave that bathroom vent open again.  I set the thermostat to fan and have a small electric fan for air circulation.  To keep the air conditioner unit from providing fan duty, I pull the air conditioner fuse.
But the big secret to cold weather moisture control is simply minimizing what generates the moisture.  I avoid using my propane furnace if I can run an electric space heater.  The space heater can't be used for all heating because it doesn't keep holding tanks warm.
I also cover the bed under the escape hatch with towels to keep the bed/bedding from getting soaked.  Another thing that minimizes condensation during cold weather is covering all non-thermal pane windows with plastic shrink sheeting.  I've even covered the inside of the screen door with the stuff to minimize heat loss due to convection." – Philip Tron, 2009 Chevy 3500, 2012 Lance 1050
"I crack the skylight in the bathroom about one-quarter inch and also the low-placed pass-through window by the rear window of the truck.  The wet bath door has clearance above and below it which allows for circulation.  This also, I believe, saves heat (as compared to opening other windows) and keeps the bath a little warmer as the heated moist air is drawn through and out." – Ed Graf, 2006 Dodge D2500, 2014 Arctic Fox 865
"We have experienced the same problem.  A couple months ago I ordered a small dehumidifier online from Home Depot.  It is a four pint model.  So far, it has removed eight pints of water (when it is on).  That is a considerable amount of moisture for such a compact space.  I would recommend the model they sell (online only).  I wish I had purchased it when we got the camper." – Dewey Lackey, 2003 Silverado 3500, 2014 Lance 1172
"We boondock early in spring and late in the fall until snow comes, so there are some cold nights where we live.  We always open two windows and the top hatch to create a double cross ventilation, day and night.  If it gets chilly, we put on another layer of clothes.  If it's really humid, we use the Fantastic Fan to suck up the moist outside the camper.  When cooking, even for just a soup, we always turn on the oven fan.  So far, so good.  Happy camping to everyone!" – Roch Nadon, 2007 Toyota Tundra, 2007 Okanagan 89W
"Our Snowriver came with a ceiling fan vent that can be controlled by a wall mounted humidistat.  The humidistat can be set at any percentage of humidity from zero to 100%. We keep it at 80% most of the time in cold weather.
It works great.  We have been in temperatures as low as five degrees.  It does pull heat out with the humidity.  The vent can be controlled independently when the humidistat is not set." – Wortham Ashcroft, 2011 GMC 3500, 2008 Snowriver 8'10"
"We always leave at least one window open or at least opened slightly, but we still get condensation.  We air it out during the day." – Bill Gahafer, 2008 Ford F450, 2013 Lance 1181
"We have found that by turning our sleeping position so that our heads are toward the center of the camper, it greatly reduces our condensation.  I guess it might be because we are breathing into the larger area of the camper versus the narrow over the truck area.  We also have the vent open and a window cracked (weather permitting).  If we are on shore power, we have a small 7-inch by 10-inch electric dehumidifier that we run." – Dave and Cheryl Barker, 2014 Ram 3500, 2015 Northstar 850sc
"I crack the top vent and a side window." – Jeff Hauser, 1996 Dodge d2500, 2006 Arctic Fox 860
"I don't have a camper yet, but am thinking about buying one.  I have been doing some research and something to look at is a petite dehumidifier.  They use Peltier technology instead of a compressor.  They only weigh about 2.5 pounds and draw about 25 to 30 watts." – Thomas Smith
"As one who lives at a higher elevation and camps mostly in cooler climates, I can't wait to see the responses.  I can't tell you how many mornings I have woken up to water on the window frame above dripping on me." – Robert Williams, 2012 GMC 3500 HD, 1994 Fleetwood Caribou 10.5 foot
"Since I have been camp hosting for months with hookups on the California coast, I run a small dehumidifier 24/7.  I also have passive hanging bag moisture removing crystals in the main closet, in the cabover, and one in the bathroom.  They last about six weeks.  I lined my cabover hamper and closets with Reflectix to help stop some of the cold from coming in.
When I'm not hooked up, the bag moisture removers help but I still end up wiping windows and the roof seam in the cabover.  Moisture wants to accumulate on the ceiling in the cabover.  I have no leaks.  While hooked up, I have almost no condensation issues with this set up." – Denise Gilmer, 2015 GMC 3500, 2014 Lance 1050s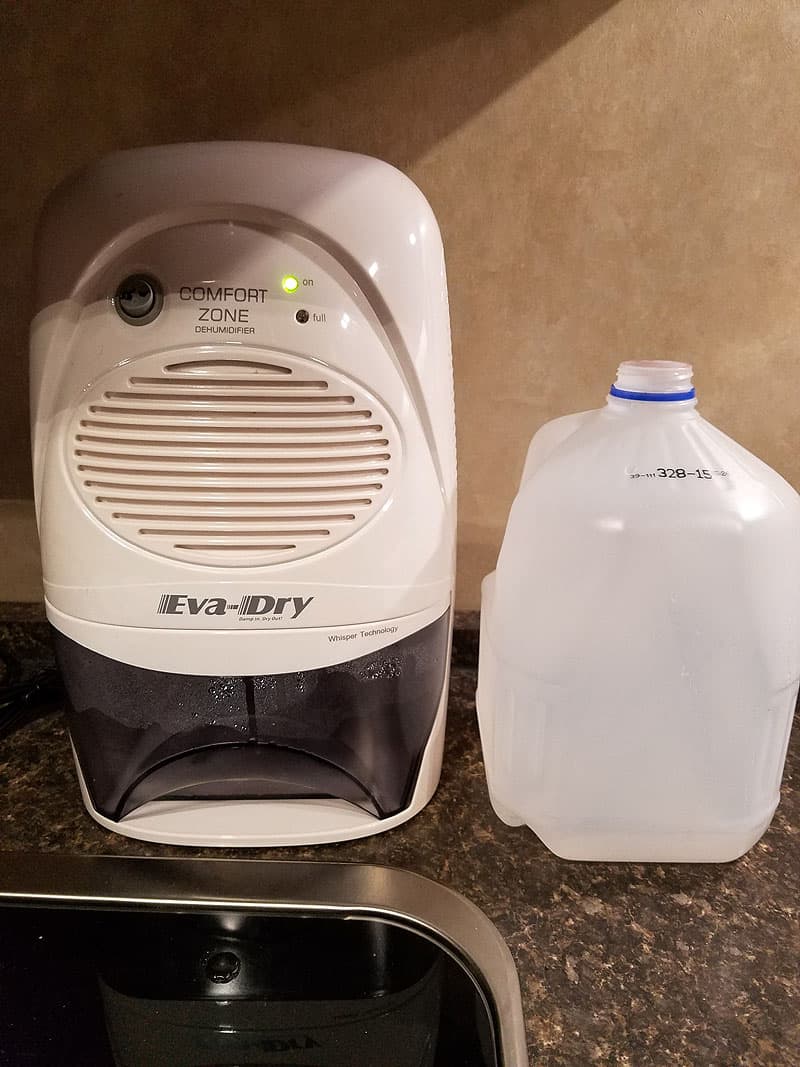 "I use a Eva-Dry dehumidifier model EDV-2200.  It is slightly larger than gallon milk jug.  It has auto shutoff with high water level, and draws 55 watts.  I run it practically 24/7.  It is so quiet you can barely hear it.  It wouldn't make a good white noise generator for sleeping, it's so quiet." – Travis Shull, 2006 Ram 3500, 2015 CampLite 9.6S
"Ventilation, ventilation, ventilation!  Roof fans, exhaust fans over the range, and the roof fan in the shower keep water vapor out as it is generated rather than allow water vapor to absorb into the structure.
Propane releases water during combustion.  Insensible sweat from occupants is also a  source of moisture.  Run your air conditioner unit occasionally to dehumidify the inside air.  It won't take long to lower the relative humidity." – Jerry Webb, 2015 Ford F350, 2016 Arctic Fox 1140
"With two adults, one 85 pound Labradoodle, and one cat, there is a small amount of condensation created.  We use the two vents with the power vent on exhaust as well as a condensation recovery unit.  Thus far we have been able to keep the inside of our unit to about 40 percent humidity over a long weekend.  As the weather gets colder, we will have to increase our window insulating to offset extra moisture content." – Eric Devolin, 2007 GMC 3500, 2006 Adventurer 106DBS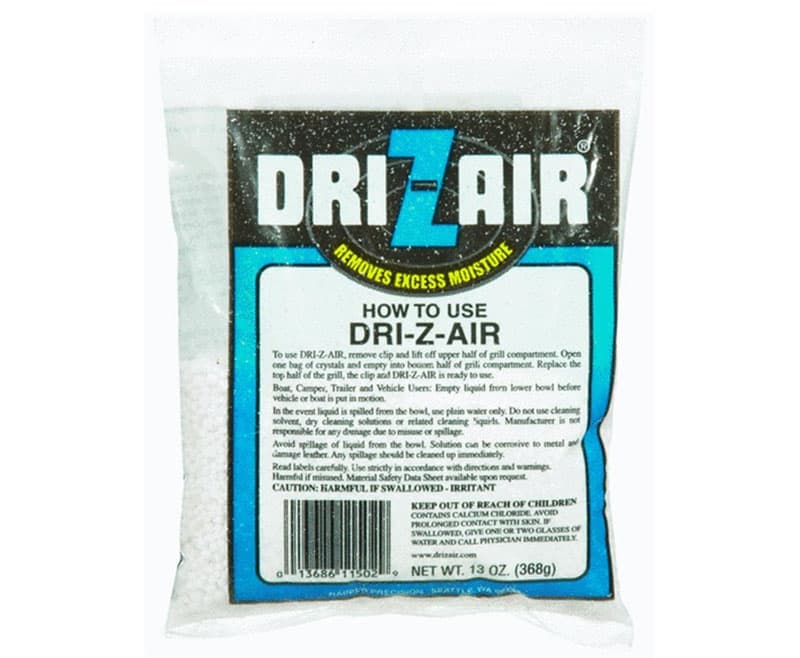 "We've owned boats and our camper, all of which suffered from condensation, mostly in winter months.  Colder weather encourages that the dew point is reached, thus condensation.  We have successfully fought condensation in our various vehicles by using moisture absorbers, such as Dri-Z-Air, which can be purchased at Camping World and West Marine.  The moisture collector contains moisture-capturing crystals that are held in a tray that is positioned over a water collection pan.  You must occasionally pour out the collected water and refresh the crystals.  It works like a charm on both boats and campers." – Jim and Cindi Goodrich, 2006 Chevy 3500, 2008 Lance 1191
"We use a humidifier when we get back from trips.  It seems to help.  We start the trip with a dry camper.  However we still get some condensation over the bed sometimes. We just wipe it off, so it's really not that much of a problem." – Roger Jennings, 2015 Ram 3500, 2015 Lance 1052
"We camp in the dead of winter several times a year to snowshoe and ski from our pop-up camper.  Condensation on winter trips has been a continuous problem, especially on the below zero nights and directly over our heads on the ceiling of the cabover.
One thing we have done is add a layer of ¼-inch closed cell foam on the ceiling and on several of the walls around the dinette where we sit with our backs against the wall.  This has helped with condensation where we sleep and cold backs when sitting around.
Currently we have several sources of heat in our pop-up.  First, we have a 1500 watt electric heater which is great and minimizes condensation at campgrounds with electricity.  We have an installed forced draft furnace which is noisy, inefficient (wastes both gas and electricity), and does not provide even heating comfort.  We also have a portable catalytic heater for boondocking which unfortunately adds a lot of moisture when used.
We like to boondock, so we need to eliminate even more condensation.  We are purchasing a vented Platinum Cat Heater made by Arnie Lind with the optional exterior combustion air source to replace our installed forced draft furnace.  The Black Cat is more efficient, quiet, provides even heat, and is very safe with the exterior combustion air and venting for the exhaust.  Next winter we should be able to report that our cold winter condensation issues are solved." – David Kiel, 2007 Toyota Tundra, 2012 Phoenix custom
"We have also experienced condensation at times.  The best thing that I find that works is to keep a window cracked and use the Fantastic Fan to circulate the air." – Richard Luczynski, 2015 Chevy Silverado 2500 HD, 2015 Lance 1050S
"We just wipe it when we see it." – John Bull, 2004 Dodge 3500, 2015 Arctic Fox 990
"Our kitchen appliances run on diesel, not gas.  Cooking dinner, we try to have enough ventilation in the camper.  At night, all the windows are protected with insulating fabric.  We try to have ventilation." – Frederic Amorós, 2011 Toyota Hilux, 2011 PSI-AZALAÏ Fix Cell (France)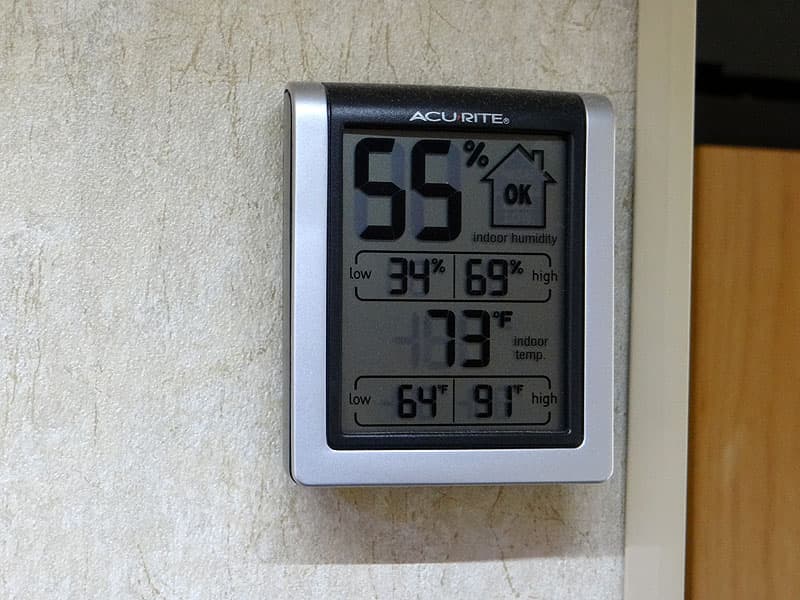 "Ventilation is probably the only cure for removing/avoiding condensation.  Avoiding the problems caused by condensation is a slightly different matter.  I do think it's worthwhile to monitor humidity in the camper since it's such a small space.  I've found that just running the propane stove for a few minutes raises relative humidity several percentage points.  Obviously, taking a shower, much more so.
We use the small, inexpensive thermometer/humidity monitor from Acurite, costing slightly over $10, to keep an eye on humidity.  That alerts us to open a window and roof vent well before things start to steam up.  Ours is mounted on the wall with a velcro tape in an eye-level location.
Probably the biggest single concern with long term high humidity is mold growth, and accompanying musty odor.  Also, because the camper offers such a compact living space, odors from clothing, cooking, and humans can reach noticeable levels from time to time.
The US Navy uses ozone on its nuclear subs to address this issue.  There are a number of small 12-volt ozone-and-ion generators available, designed for use in automobiles, that would work very well in our campers.  Low-level ozone (like the fresh air after a thunderstorm) actually kills mold, and the ozone eliminates odors by chemically digesting (oxidizing) the organic molecules that produce them.  The ProtoAir Air Purifier is highly rated by users, and is on my shopping list." – John and Marylou Wells, 2011 Chevy 3500, 2012 Chalet Ascent S100F
"I don't know that we have a problem with condensation!  We have been camping with truck campers since the middle 1970s with several different makes and never had a known condensation problem." – Bob Vea, 2003 Chevrolet 3500, 2003 Arctic Fox 1150
"We absolutely do experience a lot of moisture in our camper in cooler weather.  We live and camp a lot in the southeast where the humidity levels are commonly 80 to 100 percent, even when it's not raining.
We try to prevent as much moisture as possible by cross ventilating windows and/or roof vents.  However, we haven't found a way yet to completely remove the moisture.
When we get home from every trip, we clean the inside of the camper, even the smallest areas.  This has prevented our camper from getting any mold, so far.  I'm very interested in learning from others on this issue." – Rick Guffey, 2012 Ram 2500, 2013 Hallmark Everest
"The best way to prevent condensation is to circulate air, vent, and, as said, check for leaks." – Charlie Young, Chevy 2500HD, 2012 Riverside 865
"I know I have yet to get the rig, but I have retired from home building, interior cabinet and finish work on houses, and high-end yacht interiors, like million dollar motor sailers.  The same principles are at work in any space that is built to keep water from the outside getting inside.  It also makes it a problem getting water from the inside to pass to the outside.
The worst thing about condensation is that the vapor will pass through inside surfaces, like the wall coverings, and condense on the cold outside surface.  It will get into any insulation that is not a closed cell type.  If there is any material that can be affected by water in the camper build, it will get wet.  Wood parts and panels that have water condense on them have the potential to decay.
Here is something you can check to determine the source of the water vapor.  When your rig is not being used for a few weeks, but has exposure to the outside rain, do you see condensation inside when you open it up?  If so, the water is getting in from outside.  If you only notice the condensation when using the camper, then it is being formed from inside.
Water vapor is comes from using the sink, wiping up the counter, damp cloths, shoes, dogs you brought in from outside, hand and bath towels, washed food items, cooking, or making coffee.  It's also from breathing and evaporation of the bath and kitchen water from the sink drain, toilet, or shower.  Like in a house bathroom, when you're taking a shower, you see fog on the mirror.  Any water vapor in a camper will condense when it cools.
Natural gas has a lot of water vapor in it and that is why range hoods for gas stoves need to move more air out than electric stoves.  A kitchen fan will move between 200 to 300 cubic feet per minute and a bath fan 50 to 100 cubic feet per minute.  If a house bath is 8-feet x 7-feet x 8-feet high, it has 448 cubic feet.  A bath fan exchanges the entire room in 4.5 to 9 minutes.  No vapor inside will mean no condensation inside the living space or inside its walls.
What you can do is to notice how you create vapor in your living rhythm and work to reduce it.  Then, vent the vapor outside before in condenses.  Open windows do not move much air without a fan.  A roof fan in the bed area blowing out and a open vent in the lower door would be ideal.  Remember that water vapor is a real big problem for your campers survival." – Hass Ivan, ETA-Tacoma 2016, pop-up style