Some interesting information surfaced in the dinette bed poll and survey results.
First, hard side truck camper owners use their dinettes as beds differently than pop-up truck camper owners.  Hard side truck camper owners tend to use their dinette beds for grandchildren, guests, and pets.  Pop-up truck camper owners tend to use their dinette beds when they stop for the night and don't want to pop-up their campers.
From this response, pop-up truck camper manufacturers and customers might want to pay more attention to the length and comfort of dinettes.  Before buying a pop-up camper, customers should try getting into it with the top down.  Pretend you just pulled off the highway after a long drive and you want to go to bed.  Can you comfortably crawl into the dinette and sleep?
Many of the hard side responses also had an issue with the length of the dinette.  Readers comment that their dinettes are often too short for adults and even some growing children.  Another repeated comment from both pop-up and hard side owners is about the relative comfort of the dinette beds.  Specifically, the industry could do a much better job with the quality of the foam used in dinette cushions.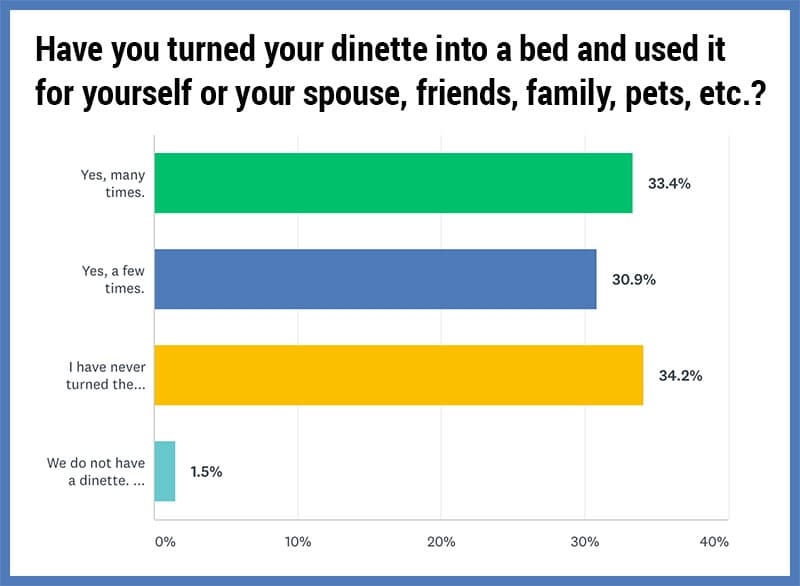 The poll results reveal that 64.3-percent of truck camper owners use their dinette beds 'many times' or 'a few times'.  That leaves 34.2-percent of owners who never use their dinette beds.
A follow-up question could be, "If you don't use your dinette as a bed, are you still glad that you have this feature?"  Having read through all the feedback, I believe the overall answer would be, "Yes".  Either way, there is sufficient evidence to support the importance of the dinette bed feature in truck campers.  We just want them a bit bigger, and a lot more comfortable.  We agree.
This week's Question of the Week was, "Do you use your dinette as a bed?"
"We use the dinette as a bed all the time.  Calling it a dinette is a stretch.  My husband is 6'0″ and sleeps in the cabover queen bed.  I sleep on the dinette with the four pugs.  If our 8 year old granddaughter is with us, she and I sleep on the dinette with one pug.  The other three pugs have to sleep with PawPaw.  I put the back cushion down on a small piece of plywood to expand the width of the seat area.  It works." – Mary Miller, 2006 Ford F250, 1998 Shadow Cruiser 740
"Last month in Arizona, a storm with 55-60 mile per hour predicted winds convinced us not to open the top.  The dinette bed seemed much smaller now than when we were young and in love." – Patti and Mike Rahn, 2014 GMC 1500, 2008 Palomino pop-up
"We lived aboard a sailboat for many years.  Our friends from up north would call and ask how many our boat would sleep.  I would always answer two even though it did sleep up to six.  I really couldn't blame them for wanting to come to Florida in the winter for a stay on a sailboat.
Now that we have a truck camper it truly does sleep two comfortably, but in a pinch I will let the dinette down.  I have to concede that I would let my granddaughter stay a night or two.  My wife would love it." – Rob and Dawn Zimmerman, 2016 Ram 3500, 2017 Arctic Fox 1150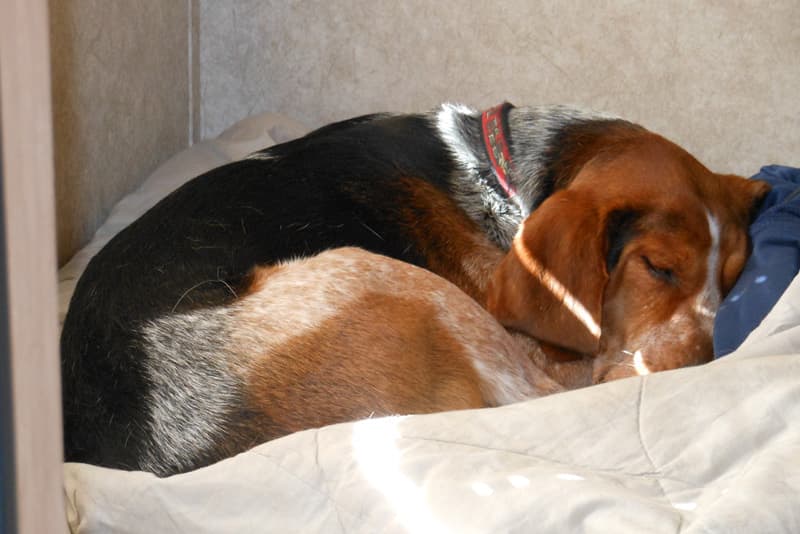 "My dog, Blue, sleeps on the dinette bed.  There isn't enough room on the floor for the big galoot to sleep, so he sleeps on the roll over couch (dinette seat)." – Brian Plourde, 2007 GMC Sierra 2500, 2015 Adventurer 80RB
"Space is at a premium in our small Four Wheel Camper.  Removing the table allows for the dinette area to be better utilized for sleeping, sitting, or other uses.  Another example of less is more." – Larry Hartzke, 1997 Ford F250, 2017 Four Wheel Hawk
"We very seldom have a need for a dinette bed, but it is a convenient option when it's needed.  My mother has used it a couple of times when I take her with me." – David Stephens, 2018 Chevy 3500 HD, 2015 Lance 1050S
"We have two teen age sons.  One sleeps on the flip-down bunk and one on the large dinette.  They alternate weekly.  We added a foam layer to the dinette since the cushions are very firm.  Both beds are up and out of the way in a minute.  That has worked great for 95-plus nights." – Esther David, 2014 Ram 3500, 2017 Northstar STC
"I use the jack knife couch as a bed for myself and let the guests sleep in the cabover." – Joe Cassidy Sr, 1989 GMC 3500, 2008 Lance 1055
"I use the dinette for a bed when my daughter goes with us.  The only change I made was to get rid of the table post and install a Dream Dinette.  I also replaced the foam in the cushions with a higher density foam." – John Powell, 2004 Dodge, 2009 Eagle Cap
"The dinette bed gets used by our grandkids and fits a porta-crib great!" – Vickie Welch, 2016 Ram 2500, 2016 Lance 850