This week's Question of the Week was, "Do you have a front bumper guard, bull bars, or some other kind of front road armor on your truck camper rig?"  Thirty-seven readers responded to reveal their brush guard and bull bar opinions, set-up, and experiences.  Don't miss the photos.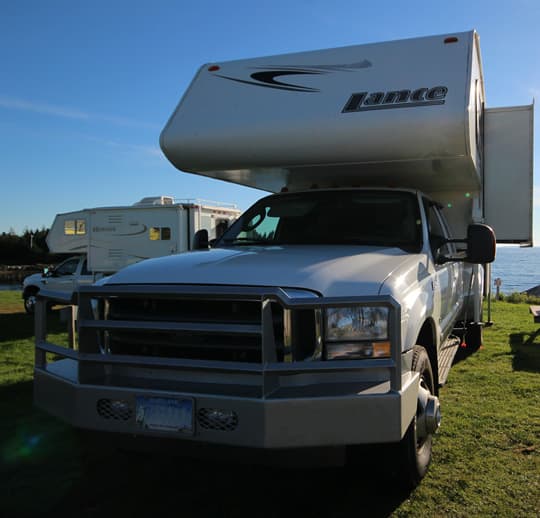 "I live in Maryland and bought my truck used.  The previous owner said he got the custom steel bumper guard installed in Colorado, but I don't know where.  It is a beast.  The previous owner also said he actually hit a deer and it didn't even ding the bumper (the deer had a different outcome).
Once in a while, it will get dinged from road stones.  I just sand it and touch up the spot with paint.  I really like having the peace-of-mind of knowing that if I hit something, I'm not the one who will have the damage.  If anyone knows where the bumper came from, please let me know." – Jerry Klinken, 2004 Ford F350, 2007 Lance 1181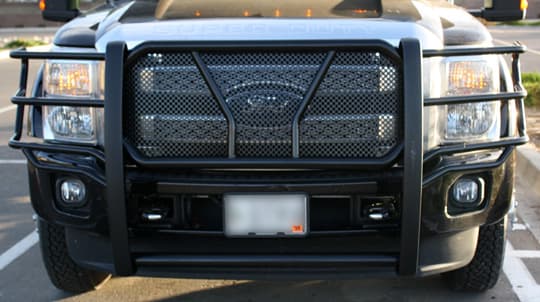 "After a close encounter with a moose in Canada, and way too many deer in the Northeast, we decided to protect our F-450 with a brush guard.  Brush guards are rare in Maine, but we figured we would easily find one on our cross country trip in the Spring of 2013.
Not!  I think we visited most of the Ford dealers along the way, especially in Texas.  Most dealers could get us one, but it would be days to wait.  Finally, in Gallup, New Mexico, Gurley Ford had exactly what we wanted in stock and could put it on that day.
It's a Trail FXG, quite light weight, and easily fit on the truck.  After a few hours of wandering around Gallup, we continued to Chaco Canyon.  The next day we looked at some of the rock dings that were already in the brush guard from that washboard road.
Since then, we dodged a deer in Pennsylvania.  Luckily, no contact.  Then there was that turkey in Michigan that turned into feathers." – Anne and Joe Brown, 2013 Ford F-450, 2013 Chalet TS116
"I do not have a cattle guard.  The front of my truck's frame is occupied by tow hooks and a front receiver hitch.  The only cattle guards worth owning are frame mounted." – Philip Tron, 2009 Chevy 3500, 2012 Lance 1050
"I have the Texas made Ranch Hand full bumper replacement.  It has taken out one deer.  We bought it after the Jeep was badly damaged by its fifth deer.  The Jeep now has an ARB (from Australia, used in SUV races to protect from kangaroos) full bumper replacement on it.
Would I do it again?  Nope, the wolves took care of the deer and elk in Montana.  Seriously.  I used to see multiple deer carcasses on the nearby highway everyday.  I have not seen one now in several years.  If I want a brush guard, I don't need something that heavy." – Michael Turner, 2007 Ram 3500, 1988 Lance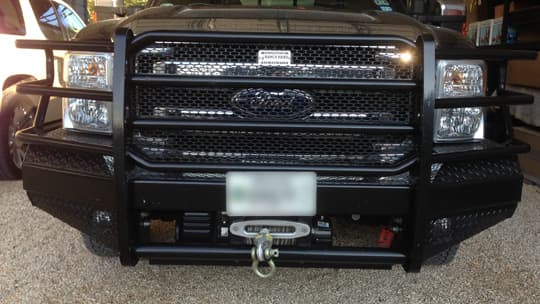 "Down here in southern Texas, we use Ranch Hand bumper guards.  They are strong and cover the full front end.  Deer are a problem and the Ranch Hand protects your truck and may well keep the deer from coming up and over into the windshield.  There is also the chance of large animals such as horse or cattle getting loose.
Some years ago we were traveling through eastern Texas.  It was late at night on I-30 west and a car passed us.  Unknown to us, just up ahead, two horses that had broken through the fence were crossing the road.  The car hit both at seventy miles per hour.
I had a gun with me and was able to put the horses down.  It was one of the most gruesome sites I have ever seen outside of a war zone.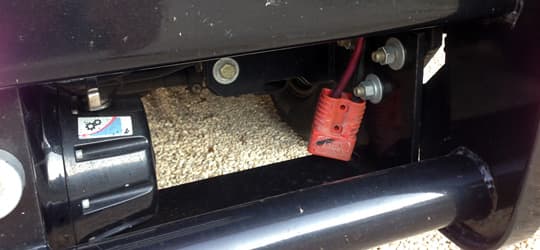 Strong full bumper protection is cheap insurance.  An animal strike can total out a car and take lives.

My Ranch Hand is also setup for a Warn winch.  I have a 12,000 Warn Power Plant which is both a winch and an air compressor.  If you do any off highway driving, it's a great investment.  In addition, hanging down just inside the Ranch Hand is a set of cables and a plug that will allow me to plug into its mate (which I carry in a bag).  That allows me to start another vehicle or allow another vehicle to start mine." – Don Pryor, 2011 Ford F350, 2009 Arctic Fox 1150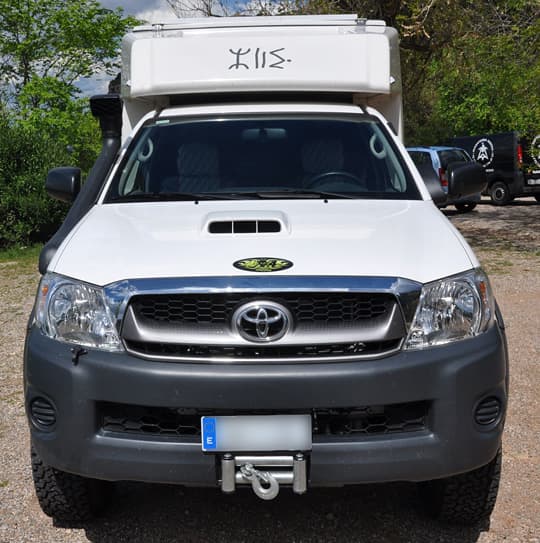 "In Spain, the authorities that regulate front bumper guards are very strict.  The bumper guards that are allowed are not effective.  Our vehicle does not have one.  It's a shame!" – Frederic Amorós, 2011 Toyota Hilux, 2011 Azalai
"We have a Tough Country Evolution with grille guard and winch.  We travel to the mountains to boat and go on and off road to ATV and hike.  We encounter many deer along the road.  We just want to make sure that we make it home if we encounter animals along the way." – Pat O., 2011 Ram 2500, 2003 SnowRiver 810