This week's Question of the Week was, "Do you have a front bumper guard, bull bars, or some other kind of front road armor on your truck camper rig?"  Thirty-seven readers responded to reveal their brush guard and bull bar opinions, set-up, and experiences.  Don't miss the photos.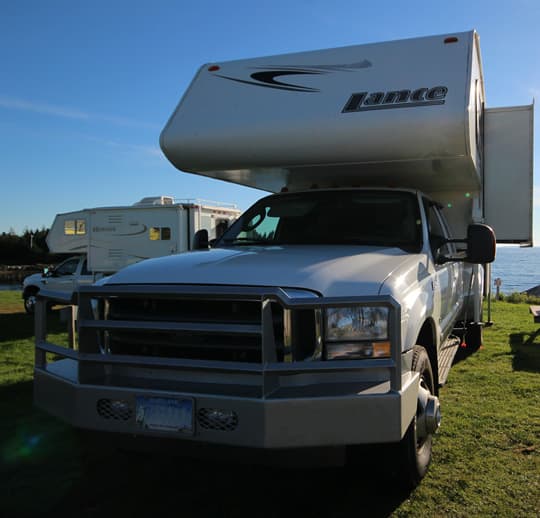 "I live in Maryland and bought my truck used.  The previous owner said he got the custom steel bumper guard installed in Colorado, but I don't know where.  It is a beast.  The previous owner also said he actually hit a deer and it didn't even ding the bumper (the deer had a different outcome).
Once in a while, it will get dinged from road stones.  I just sand it and touch up the spot with paint.  I really like having the peace-of-mind of knowing that if I hit something, I'm not the one who will have the damage.  If anyone knows where the bumper came from, please let me know." – Jerry Klinken, 2004 Ford F350, 2007 Lance 1181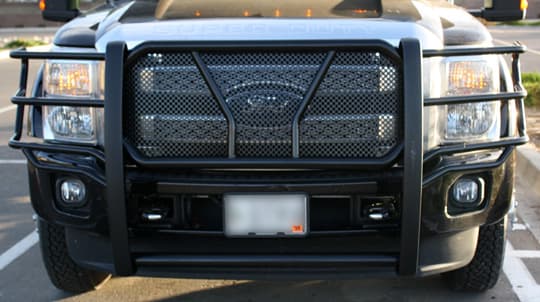 "After a close encounter with a moose in Canada, and way too many deer in the Northeast, we decided to protect our F-450 with a brush guard.  Brush guards are rare in Maine, but we figured we would easily find one on our cross country trip in the Spring of 2013.
Not!  I think we visited most of the Ford dealers along the way, especially in Texas.  Most dealers could get us one, but it would be days to wait.  Finally, in Gallup, New Mexico, Gurley Ford had exactly what we wanted in stock and could put it on that day.
It's a Trail FXG, quite light weight, and easily fit on the truck.  After a few hours of wandering around Gallup, we continued to Chaco Canyon.  The next day we looked at some of the rock dings that were already in the brush guard from that washboard road.
Since then, we dodged a deer in Pennsylvania.  Luckily, no contact.  Then there was that turkey in Michigan that turned into feathers." – Anne and Joe Brown, 2013 Ford F-450, 2013 Chalet TS116
"I do not have a cattle guard.  The front of my truck's frame is occupied by tow hooks and a front receiver hitch.  The only cattle guards worth owning are frame mounted." – Philip Tron, 2009 Chevy 3500, 2012 Lance 1050
"I have the Texas made Ranch Hand full bumper replacement.  It has taken out one deer.  We bought it after the Jeep was badly damaged by its fifth deer.  The Jeep now has an ARB (from Australia, used in SUV races to protect from kangaroos) full bumper replacement on it.
Would I do it again?  Nope, the wolves took care of the deer and elk in Montana.  Seriously.  I used to see multiple deer carcasses on the nearby highway everyday.  I have not seen one now in several years.  If I want a brush guard, I don't need something that heavy." – Michael Turner, 2007 Ram 3500, 1988 Lance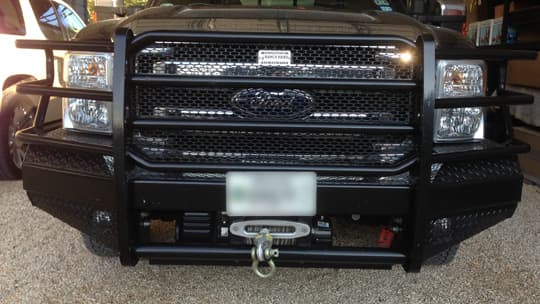 "Down here in southern Texas, we use Ranch Hand bumper guards.  They are strong and cover the full front end.  Deer are a problem and the Ranch Hand protects your truck and may well keep the deer from coming up and over into the windshield.  There is also the chance of large animals such as horse or cattle getting loose.
Some years ago we were traveling through eastern Texas.  It was late at night on I-30 west and a car passed us.  Unknown to us, just up ahead, two horses that had broken through the fence were crossing the road.  The car hit both at seventy miles per hour.
I had a gun with me and was able to put the horses down.  It was one of the most gruesome sites I have ever seen outside of a war zone.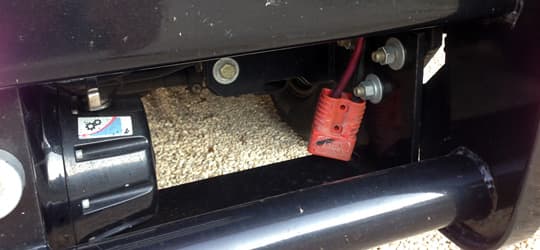 Strong full bumper protection is cheap insurance.  An animal strike can total out a car and take lives.

My Ranch Hand is also setup for a Warn winch.  I have a 12,000 Warn Power Plant which is both a winch and an air compressor.  If you do any off highway driving, it's a great investment.  In addition, hanging down just inside the Ranch Hand is a set of cables and a plug that will allow me to plug into its mate (which I carry in a bag).  That allows me to start another vehicle or allow another vehicle to start mine." – Don Pryor, 2011 Ford F350, 2009 Arctic Fox 1150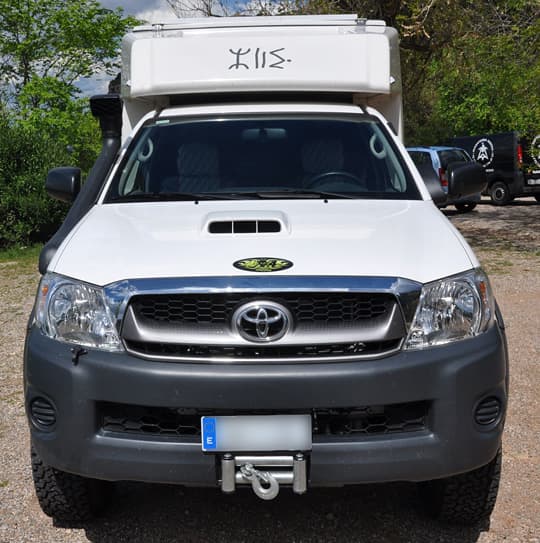 "In Spain, the authorities that regulate front bumper guards are very strict.  The bumper guards that are allowed are not effective.  Our vehicle does not have one.  It's a shame!" – Frederic Amorós, 2011 Toyota Hilux, 2011 Azalai
"We have a Tough Country Evolution with grille guard and winch.  We travel to the mountains to boat and go on and off road to ATV and hike.  We encounter many deer along the road.  We just want to make sure that we make it home if we encounter animals along the way." – Pat O., 2011 Ram 2500, 2003 SnowRiver 810
"We installed a Ranch Hand heavy duty grille guard for our trip to Alaska.  Fortunately, we have never hit an animal or other vehicle.  However, it has been used as a recovery device to assist a vehicle that was stuck in the mud.  The only way a to assist that vehicle was to pull it out in reverse using the tow brackets on the grille guard." – Warne Todd, 2000 Ford F250, 2000 Lance 981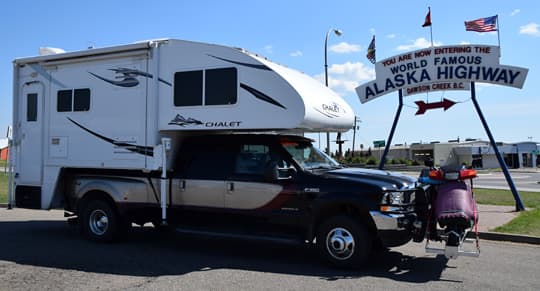 "We have a front bumper guard that came with our truck.  I don't know the model number.  However, it is extremely handy to have for protection from hitting animals.  It's also used as an added tie-down for my front mounted scooter.
If you enlarge the picture attached, you can see the additional straps through a simple noodle that dampens the movement of the scooter as we go over bumps.  This was extremely valuable during our Alaska trip this year on the very bumpy roads!
When it was mounted on the front, the scooter blocked half of the headlights.  The brush guard allowed me to mount extra driving lights (PIAA) further outward to supplement the headlamps." – Charlie Coushaine, 2001 Ford F350, 2012 Chalet DS116RB
"I have a Ranch Hand grille guard." – Jim Todd, 2009 Dodge Ram 3500, Lance 1171
"We don't use anything on the front as the truck has always been a work truck until this year when we got back into truck camping.  We didn't want anything that might affect mileage, and we still don't." – Cheryl Nelson, 2004 Chevy 3500, 1990 Shadow Cruiser 9.5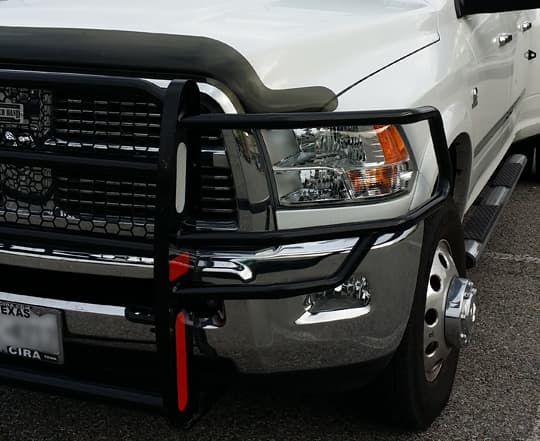 "I don't have the truck camper anymore.  It's just as well as the Leer handles my needs.  I have a Ranch Hand brush guard on the front of my truck." – Carol, 2012 Ram 3500 Laramie-Longhorn, dually, Leer custom high-top aluminum cap (2014); replaced 2014 Capri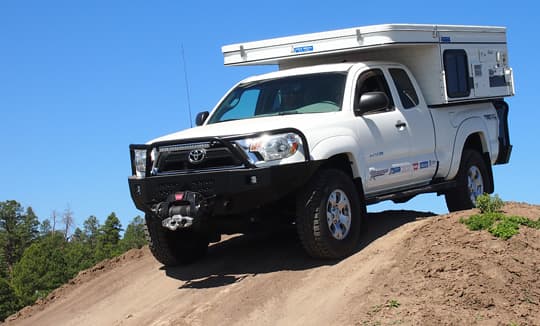 "We installed an Aluminess aluminum bumper on the front of our Toyota Tacoma.  We chose this for several different factors; weight, extra protection, winch, upgraded light capacity, and for looks." – Stan Kennedy, 2012 Toyota Tacoma, 2013 Four Wheel Pop-up Camper, Fleet Model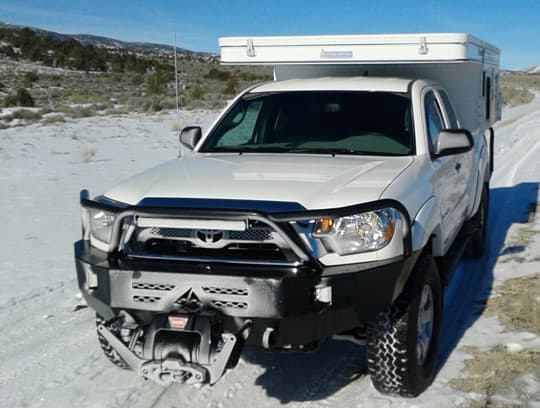 "I am planning on a rear bumper/twin swing-away bumper set from Aluminess.  We haul a 1953 M101 three-quarter ton military surplus trailer.  I am planning on adding twin lockable cabinets to the bumper system.  It won't interfere with the trailer, as we've added tongue length, so it will have plenty of clearance from boxes.  We carry firewood, bikes, and extra fuel in the trailer.  Having rear mounted boxes will keep extra gear secure." – Mike Kolinski, 2012 GMC 2500HD, 2012 Four Wheel Camper Hawk
"Currently, the front of our rig is naked.  I am planning to change that as we travel throughout the Midwest and the Northwest.  I have traveled through Canada as well, and plan to do so again in the not too distant future.
Up until now, we have not needed a guard up front (and the added weight), but we have been close to needing one; from the black bear in Kenzua State Park, to a herd of bison in Custer State Park.
I am currently comparing different makes and styles, and I am more closely looking at those that do not hinder the illumination from headlamps or fog lights.  I am interested to read and see what other readers use, and why." – David Spangler, 2005 Chevrolet Silverado 2500HD, 2005 Lance 835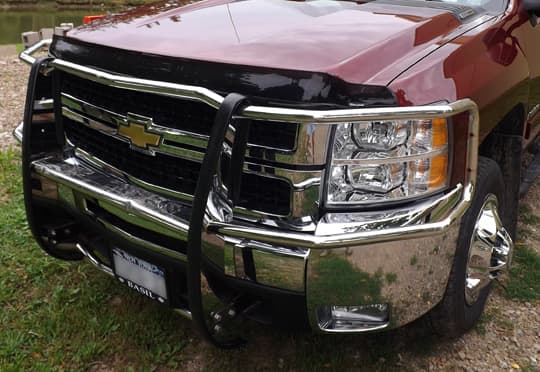 "Our brush is a full front cover.  We do hauling with twenty-eight foot cargo trailer and wouldn't be with out a Bull Guard.  There are a lot of deer here.
A friend talked me in to it.  He said, "One hit to the front without a guard at 60 miles per hour and a big 200 pound buck could be $20,000 or more, taking out a radiator and fan, water pump, belts, the motor, and possibly shoving into the transmission.  That sold me to buy one.
We hit a small deer awhile ago.  It only slightly bent the center middle bar.  Saved!" – Craig Lembke, 2009 Chevy 3500, In process of buying a camper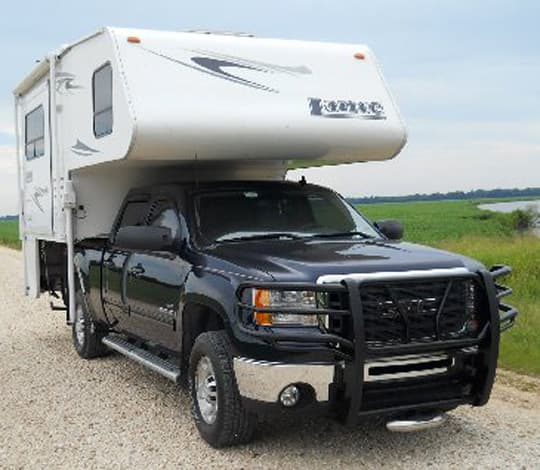 "I have the Weston HD powder coated in black.  It covers well and looks awesome." – Donald Kingfield, 2008 GMC 2500HD, 2008 Lance 861
"We have a Warn stainless steel winch mount mounted on the front bumper and frame, along with a Warn 12,000 pound winch.  We also have the Warn SS grillee guard.  I'm not so sure that one could actually pull this much without loosing the front bumper in the process!
I have used it to pull some guys out of a snowy ditch one time.  It's mainly for looks as we pull a YJ Jeep if the going gets real rough.  Thank you for all you do with Truck Camper Magazine.  We always enjoy it!" – Scott Barker, 1999 Dodge 3500, 2015 Lance 1050S
"I bought an aluminum Aussie bull bar.  It was a monstrous bumper with a grille guard made from marine aluminum.  You can't get them anymore.  I never did hit anything with it.
When I sold the truck the buyer insisted that the bumper went with it.  On following trucks, the steel combinations made now are just too heavy to carry around every day waiting to hit something.
Last year I had two pronghorn incidents, but they were both at the windshield level.  They both cleared the hood, so there was no hit." – Harvey Melcher, 1987 Chevy 3500, King of the Road 11 foot camper
"I have a Reunal front bumper with winch." – Ed Sarrico, 1996 Dodge Ram 2500, 2001 Bigfoot 2500 10.6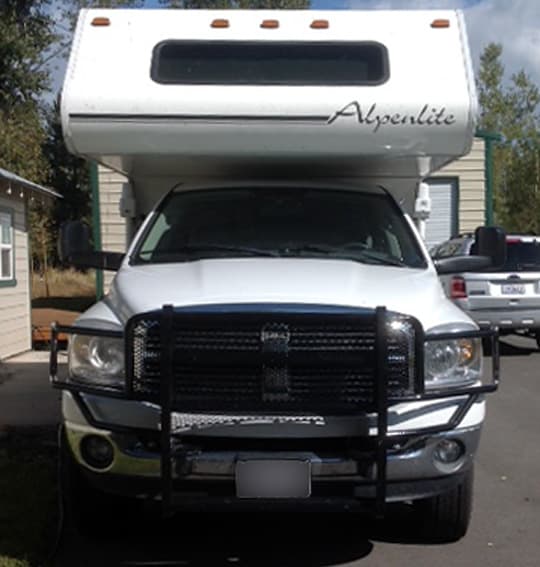 "I put a bull guard on my truck this year.  We live in an area with a lot of deer and travel in areas with with deer, antelope, and other large animals.  If you hit one of these animals, the cost of the guard will be less than your deductible on your insurance.  I bought mine at the Ranch Hand store in Boerne, Texas." – David Jewell, 2008 Dodge 2500, 2005 Alpenlite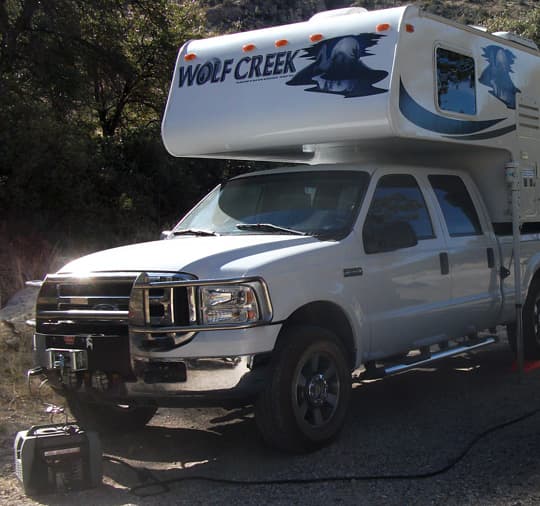 "I have a 12,000 pound Superwinch mounted in a Warn stainless steel grille guard with transformer winch mount and brush guards.  I have used the winch to extract a couple of cars that had gone farther off road than they should have.  Thankfully I have never had to extract my vehicle from any stuck situations." – Ken Veeder, 2006 Ford F-250, 2012 Wolf Creek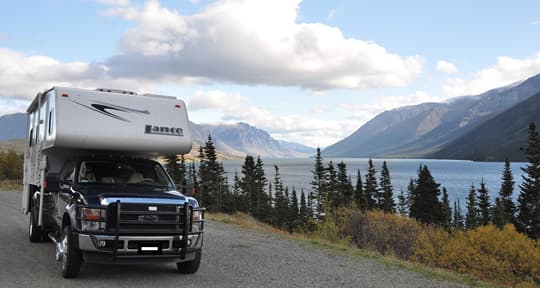 "I put a Ranch Hand Legend grillee guard on our F450, before we took our first trip to Canada and Alaska in 2011, to protect our grillee from rocks on the Dempster Highway and other roads.  I figured it would also help if we had an unexpected meeting with some of the large fauna in the area.  Fortunately, only the rocks have bounced off the guard on our two subsequent trips to the far north." – George Dunstan, 2010 Ford F450, 2009 Lance 1055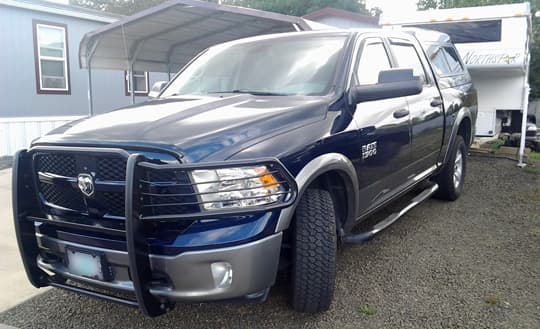 "I have a Trail FX black powder coated brush guard, Smitty Bilt black powder coated nerf bars, Trail FX bug guard, and Weather Tech in-channel rain guards." – John Gobershock, 2013 Dodge Ram 1500, 2014 Northstar TC650
"I have a FabFours integrated front bumper grille guard.  I had just over 2,000 miles on the truck when I hit a White Tail deer at highway speed and it caused several thousand dollars worth of damage.
Had this happened in a remote area, I could have been in trouble.  This setup should prevent the kind of truck damage that would prevent me from getting to help if needed.
I bought the optional two inch receiver hitch that I can use for my winch, tow hook, trailer hitch, bike rack, etc.  I fabricated a custom spare tire carrier for it as well for the long treks off the improved roads." – Paul, 2011 Ford F350, 1998 Palomino B1200
"I do not have a bush bumper on our truck although we have been considering getting one as we go into the back country a lot.  Around here they are primarily for looks on tricked out trucks." – Tricia Mason, 2009 Ford F350, 2008 Montana Ponderosa 9.5
"I put a receiver hitch on the front so I could mount a portable winch or a carry rack.  I hunt and camp.  The carry rack makes it possible to to take additional gear.  Then I can convert to the winch set up if it is needed (I always find a spot to carry the winch if the weather is wet and I am boon docking).
When I hunt, I use the carry rack for an additional cooler and meat transporter.  The receiver also acts as a frame/steering stiffener and additional impact protection." – Monte Dahlman, 2006 Dodge 2500HD, 1995 Skyline Weekender 10'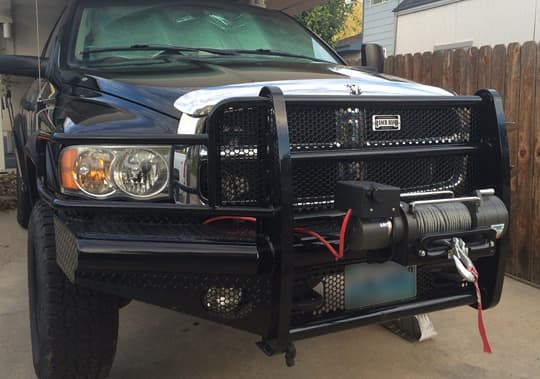 "I had a few near misses with deer and antelope, so I installed a Ranch Hand Legend bumper." – Greg Milburn, 2003 Dodge Ram 2500, 2011 Northern Lite 8'11″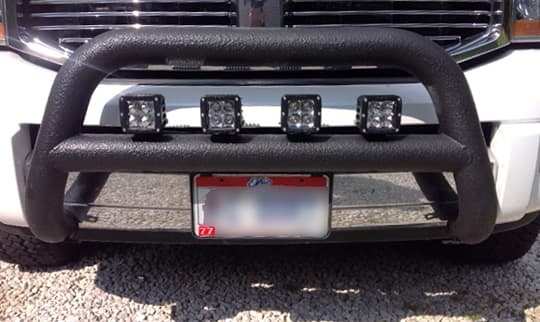 "We added a bull bar to our truck primarily for a mounting location for our Rigid LED lights – two floods and two spots.  Also, we had Line-X applied to the bull bar to help avoid rust.  It looks sharp, too." – Nick Rukavina, 2006 Dodge Ram 2500, 2012 Northstar TC650
"I do not have a bumper guard on my truck, but I have been considering a Boondock Bull Bar for a couple years now.  I live in the woods and see deer every day.  My wife has hit two and I consider myself very lucky to have not hit any – yet.
Deer can cause quite a bit of damage to your vehicle.  But the bumpers are pretty expensive so I'm still on the fence. I look forward to seeing what other TCM readers have to say about it and possibly nudge me one way or the other." – Jack Pavie, 1995 Ford F350, 1987 Real Lite 950
"I bought the truck used.  It had a bumper guard on it, but I took it off so that the truck could fit in the garage.  I don't really miss it.  My front mount bike racks wouldn't work if it was on either." – Bruce, 2003 Ford F250, Hallmark Guanella
"None." – Wade and Becky Johnson, 2004 Ford F350, 2003 Lance 1161
"I have a Ranch Hand grille and brush guard with KC Daylighters." – Stafford Miller, 1999 Ford F350, 1997 Lance Legend 980
"I do not use aftermarket bumper guards, bull bars, or any kind of armor.  I believe that the expense outweighs any potential damage prevention for different reasons.  The largest being the initial cost of the bumpers, and the increased weight to the truck as a result of these large and heavy bumpers.  I can see the need for one if you are routinely in a remote area with no help around; a winch bumper could be needed." – Keith Fromme, 2006 Ford F250, 2014 Travel Lite 890SBRX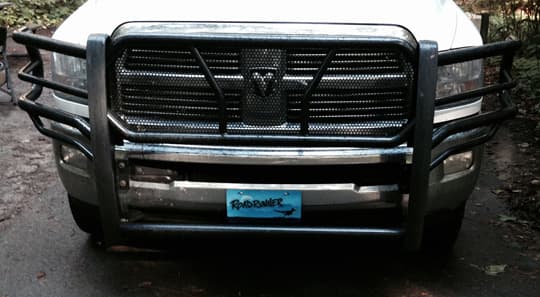 "I don't know what make or model this is, but I like it and will probably keep it for looks and safety." – Maggie
"I did have a bull bar on my Tacoma until I put on a front receiver hitch.  Both would not fit at the same time." – Steve Lowery, 1999 Toyota Tacoma, 2010 Travel Lite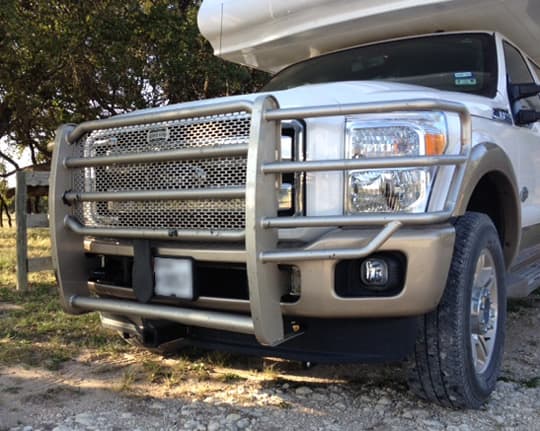 "I have a Ranch Hand brush guard.  But here in Texas, it's a deer guard.  I had it painted the color of my truck.  I did not get a full replacement because they are too heavy for your front end and can cause damage.  I also installed a Curt front reciever so I can put a carrier in front to haul my yeti cooler and other stuff." – Jeff Wallin, 2013 Ford F350, 2013 Lance 1050S