This week we asked our readers for their best mosquito solutions.  The top recommendation is a Thermacell portable mosquito repeller.  The Thermacell has the added benefit of also repelling black flies – another frequent nuisance while truck camping.  Guess what's on our Christmas list!

What do you do about mosquitoes when truck camping?
"Mosquitoes drive me crazy! When I hear them buzz around my ear, I slap myself on the side of my head! Last summer I started using a Thermacell MR-150. It is a butane powered portable device that has an optional belt pouch. I have tested it in my backyard and on camping trips. The device has been very effective. Thermacell also makes a rechargeable battery powered unit that I am planning on purchasing. If it works as good as the butane powered unit, I believe I will like it better." – Scott Spradley, 2015 Silverado 2500HD, 1998 Lance Squire Lite 186EC
"We have found Repel Lemon Eucalyptus oil to be very effective with the bonus of no Deet. It smells great. For the inevitable mosquitoes that find their way in and whine at us while we're trying to sleep, we have a bug zapper racquet. Very helpful." – Nancy and Keith Rivers, 2004 Ford F250, 2011 Northern Lite 10 6 Queen special
"They're back! It's worse when inside the camper after you've gone to bed. Buzzzzzzz.  Like the WWII bomb/fighter decals on the planes (I'm a decal kinda guy), my ceiling has a few skeeter decals pasted on it.
I use the Cutter's fluids and spray the screen doors, windows, etc. I don't know if it helps, but that's as far as I've gotten. I did camp with a person who used those electric vaporizers. I didn't really see too much difference, but that could have been a fluke. I have the little cans of the Citroen torches, but haven't used them yet." – Frank Poole, 2016 Ram 5500, 2016 Arctic Fox 990
"Thermacell. We spend a lot of time outdoors in Bug country. We have never found anything better." – Harrie Ashley, 2018 Ford F350, 2005 Lance 1030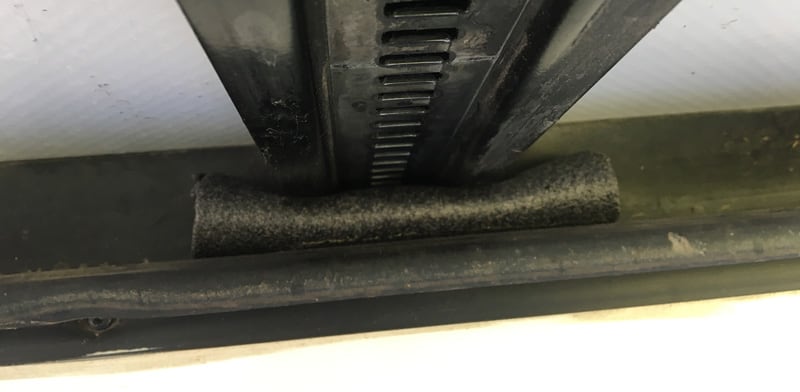 "While camping at Lake Meziadin in British Columbia, we discovered that mosquitoes are much better at finding their way in to our camper than we gave them credit. Unfortunately for us, the manufacturer left gaps in the rubber trim around our slide tracks on the side slide. That's where the mosquitoes kindly showed us as their entry point. To combat that problem, we took some foam pipe insulation and wedged it in place when the slide is out.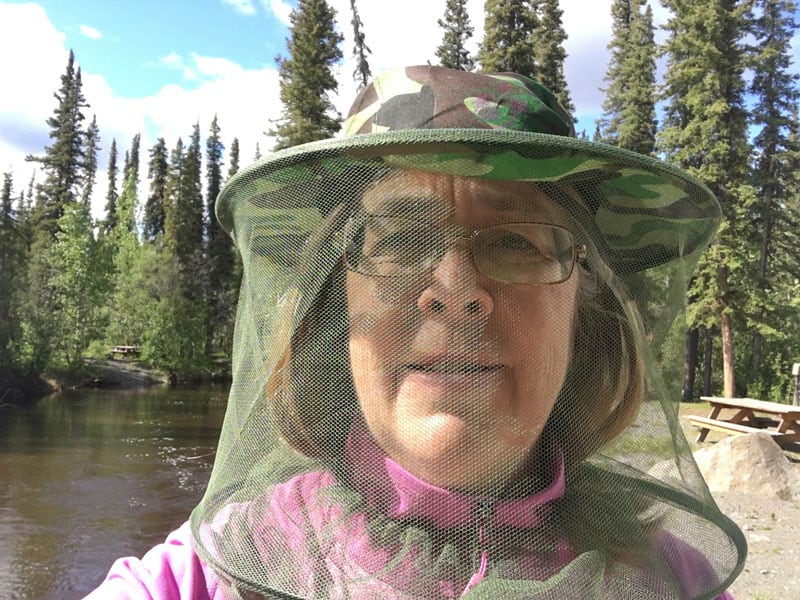 As for dealing with them varmints when we're outdoors, Deep Woods Off is the repellent of choice. Campfires or an egg carton smoker have done well deterring them also. Finally, there's the ever fashionable bug hat. Ours have wire rings which help hold the mesh off our faces. A major flaw in the hats is they impede our consumption of adult beverages and S'mores." – Jodie and Chuck Ramsey, 2012 Chevy Silverado, 2014 Adventurer 116DS
"Here in Florida we use a Thermacell." – Anja L, 2011 Ford F250, 2014 Lance 865
"We use Thermacells. I feel that can not be beat. They put off the odor of male skeeters which really agitates the females. They are the ones that bite. You can put them on you belt or pack and have mobile deterrent. There are no chemicals on your skin. If we do not use a Thermacell than we use Natrapel which does not have the side effects of Deet. It's pretty much a standard NATO issue." – Ed Kuivinen, 2009 Ford F250, 2016 Lance 850
"Since flying insects can enter our truck camper where the vent screen knobs/handle pass through the screen, the vents are closed. My truck camper's dinette window has a brush between the edge of the sliding glass and screen.
But, it looks like the interior glass is set into the wrong frame channel because the brush doesn't make contact. So, that window stays closed as well. When we are outside the camper, Deet is our best friend. I even have a few bottles of Army surplus repellent that's 71% Deet. It stinks, it stains clothing, and it's slimy. But, it works when nothing else will. I wear trousers instead of shorts and long-sleeved shirts. By-the-way, I also have permethrin spray for ticks." – Philip Tron, 2009 Chevy 3500, 2012 Lance 1050
"We are huge fans of 3M Ultrathon spray for us, our clothes, and around the entry door. We also use a Thermacell on the ground between us when we're sitting outside in the deep woods. At times we will put the Thermacell on the step by the camper's entry door. It really keeps the biters away from the door." – Lonny, 1997 Chevy 3500, 2004 Lance 1010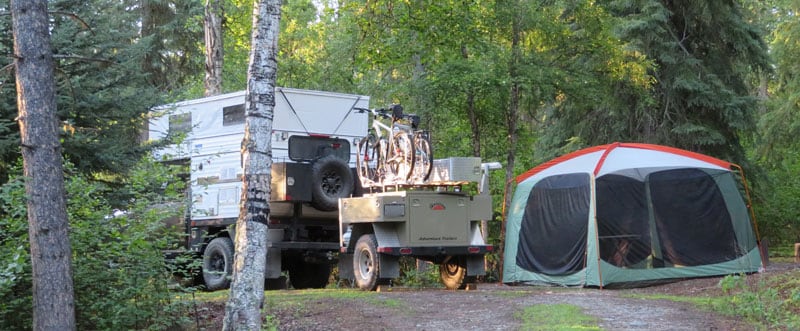 "We try to plan trips to avoid the bugs in the cooler, dryer times of year. When they are present we pull out the REI screen shelter. We also have a collection of collapsible fly swatters; one for the cab, one for the camper, one for the screen shelter. Bug spray is a last resort." – Bill Elwell, 2016 Ram 2500, FWC Hawk Flatbed
"My mosquito and pesky insect eliminator is a simple water bottle hand sprayer with 1/4 inch of Dawn detergent topped it off with water. I set the spray to medium for larger droplets. This works best to knock down mosquitos and anything that flies, plus it kills all ground insects like ants, spiders, etc.
I keep many spray bottles in quick to reach handy places like the truck's cab, outside camper compartments, next to bed, toilet/shower and kitchen.
Even when sitting around a campfire or hiking, a spray bottle is by my side like a loaded sidearm. It will get any pesky insect around including deterring dogs, snakes or even a threatening human. After all it's just a safe soap in the eyes deterrent, not an illegal chemical or bullets." – Gaston Belanger, 2017 Ram 3500, 2017 Northern Lite 9-6 Q SE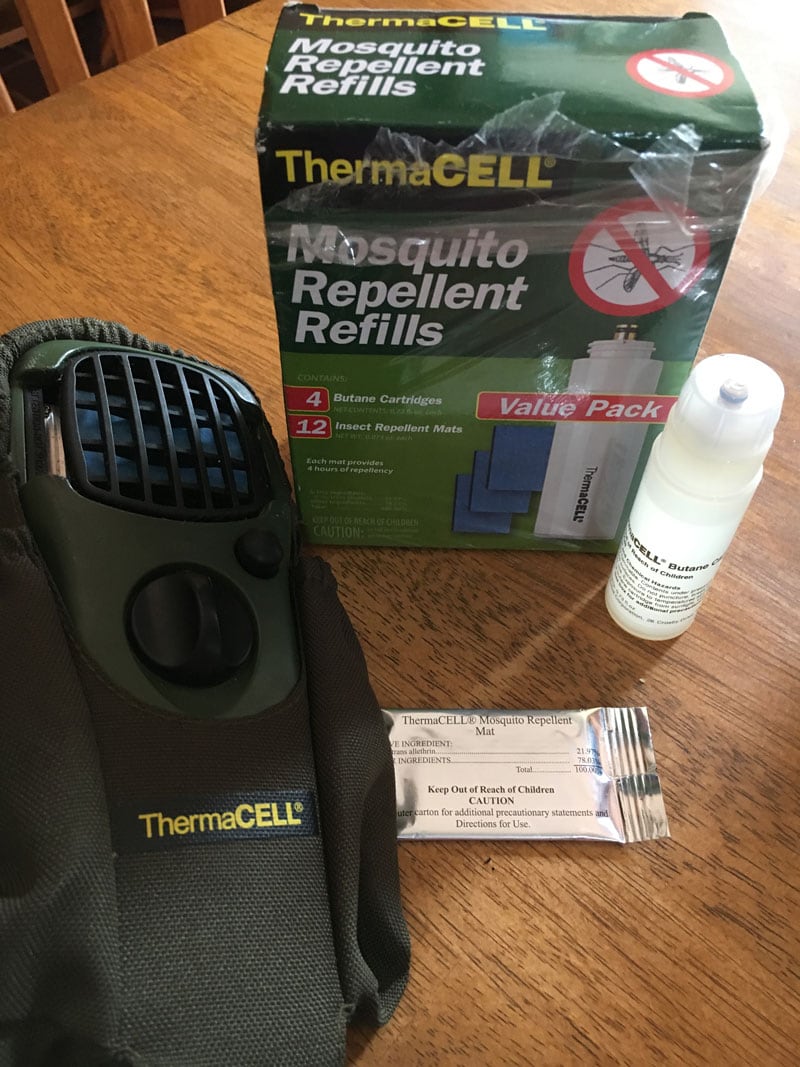 "Thermacell works! We have handheld units and lanterns. I have not used anything else for five years. We use it camping and at home. It works and there are no chemicals sprayed on your skin!" – Janet and Jim Manis, 2014 Ram 2500HD, 2015 Travel Lite 960R Illusion
"Thermocell works great on mosquitoes. Anyone who spends much time in the bush knows about Thermocell. If that doesn't work, try Watkins cream insect repellent.
It is sold at many stores including Walmart. That is all the tree planters in our area will use. It works great on ankle biters as well. They are flies about the size of a house fly that take chunks out of your legs and ankles." – Bill Londry, 2011 Chevrolet 2500 HD, 2017 Adventurer 86FB
"As far as outside goes, we are no different than anyone else. We try whatever is available and usually a fire is sufficient. It depends where we are though as I do not like to put mosquito repellent on my skin. Keeping them out of your camper is the problem.
I discovered they were coming in between the window and the screen because I saw them doing it. Our Bigfoot camper has a sort of rubber wiper that is part of the window channel and the screen, but it does not keep out determined skeeters, especially when there are clouds of them.
Solution: We bought some of that felt you can get in a stationery store (approximately 1/2″ wide strips and cut to length and mounted behind the rubber strip). That solved the intrusion problem. The finer screen is for no-see-ums." – Lyle Tremblay, 2004 GMC 2500, 2006 Bigfoot C9.4
"I use Avon products. About thirty years ago Avon bath oil called skin so soft was discovered as a mosquito repellent. It was amazing. Since then Avon has figured out what was in there that works so well. They have developed some products just for mosquitoes." – John Powell, 2004 Dodge 3500, 2009 Eagle Cap 950
"We use Thermacell Portable Mosquito Repellent. It works great." – Bill Richcreek, 2013 Ford F-350, 2017 Lance 855S
"It depends on how determined the mosquitoes are to get some of your blood. Bounce dryer sheets help, but they aren't a total cure. I wipe my arms, neck, and ears with them and then tie a couple on my belt loops. One goes on the screen door and one on the grab handle by the door. Once they get inside though, it's time for the flying insect spray. Hot Shot is what I use." – Jerry Smith, 2012 Chevrolet Silverado, 2013 Arctic Fox 992
"I mix half Listerine (the cheap Walmart brand) and half water. Sometimes I put in a little extra Listerine. I put it in a spray bottle and spray it around, especially overhead. It does not go on my body. The Listerine smell will only last a little while, and most, or all of the pests will be gone. That's my remedy. I also spray it in my shop for the "no see ums" that really piss me off too." – Tom Lakey, 2013 Chevy 2500HD, 2011 Northstar Laredo
"I personally detest wearing mosquito repellent, but I will when needed. I prefer the green smoking coils. I place four or five in a circle around where I am camping. One company makes a tin and mesh holder for them so you can hang them. That has worked okay for Texas mosquitoes. I am headed to Alaska next month so I will try them out there." – Bill Peters, 2017 Chevy Silverado 1500, 2013 Four Wheel Camper Hawk
"We each have a Thermocell repellent device. I keep non-Deet mosquito repellent spray for us and for our dogs. The spray is basically geranium and peppermint oils in a witch hazel medium. We use the spray when it isn't convenient to have the Thermocell devices. Finally, I keep several citronella candles handy so I can light them for guests who come by our site." – Nancy Meiners, 2015 Ford F350, 2016 Adventurer 116DS
"I hate the feel of bug spray on my skin, so I found other ways to cope. Once the critters get into the camper, Jim goes hunting with our electric fly swatter.
Outside we use a handheld Thermacell unit which is butane fired and has a repellent strip. I have tried the organic bracelets which are worthless. And the best I discovered last year in Labrador and Newfoundland was a hat with mosquito netting which covers my whole head and neck. This kept the flesh eating black flies off me." – Jim and Cindi Goodrich, 2006 Chevy 3500, 2008 Lance 1191
"Deet." – Marcus L. Tibesar, 2007 GMC Sierra 2500, 2019 Adventurer
"Being that we are on our way home from Alaska, I have acquired the mosquito gear! I will show you tomorrow at the Oregon rally! It is a head sized net for no see ums over a safari hat. I also have special gloves and a bug-a-salt gun!" – Charlie Wade, 2016 Dodge 3500, 2016 Northern Lite 10-2
"Thermacell mosquito repellent. It gives a mosquito free area of 15 feet. In Alaska we used two at a time. One was at the door and one where we were sitting. It works great." – Roger H Wareing, 2013 Chevy Silverado 3500 HD, 2016 Arctic Fox 990
"Camp when it is cool, stay in the camper, and use family OFF unscented." – Stacie Link, 2016 Ram 2500, 2001 Four Wheel Grandby
"We learned a long time ago that you are never going to beat the dreaded mosquitoes so you might as well make friends with them. When I put out my bucket sized citronella candle, I also put out a small glass of straws for my new little friends. That way they don't leave a mess. I learned that trick after watching them line up around my candles in North Dakota. It was like it was discount days at the Golden Corral." – Lisa Eskes, 2006 Dodge 2500, 2005 Layton Lakeview
"Watching, not only mosquitoes but no-see-ems." – Lanny Vrooman, 2009 Dodge Ram 3500, 2017 Northern Lite 10-2 EX CDSE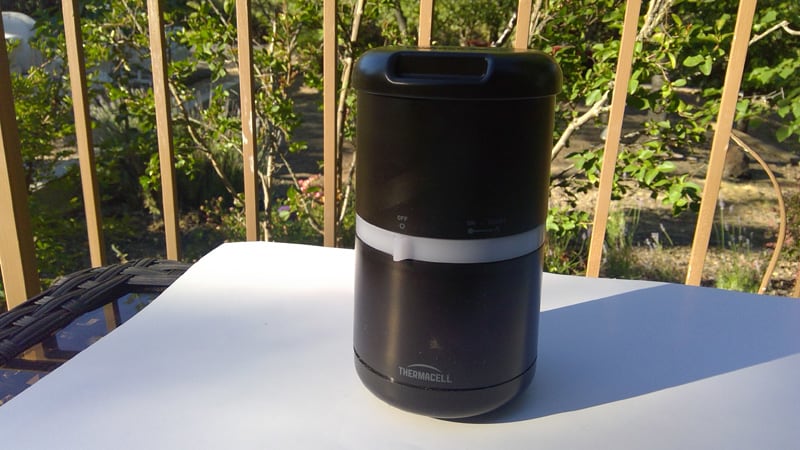 "We have just started using a product called Thermacell. My husband discovered this a couple weeks ago while reading an online article reviewing outdoor products. It's a small (7″) tubular container and holds two smaller canisters that emit a mosquito repellent. We have used it at home and it works great. It's going with us on our next truck camping trip!
In addition to using Thermacell, we keep Off brand mosquito repellent in our truck camper to use when hiking." – Angie Scott, 2014 Chevy Silverado 3500, 2016 Northern Lite 8-11 Q SE
"First things first. Camping at Walmart? Pretty tasteless in my view. I think that is why many Walmart's are prohibiting the practice. If you cannot afford a campground (I know you can), maybe you'd better quit camping and stay home. Walmart is fine for a quick snooze or groceries but camping, no way.
We camp disbursed in the woods most of the time so we carry Deet and Backwoods Off plus. We both have those handy little Thermacell Replant devices clipped to our belts when we venture out. I prefer the Thermacell's because Backwoods Off stinks and Deet is oily.
Skeeters at a Walmart? Wow. Must be desperate for a blood meal." – Daryl Davis, 1997 Ford F350, 2014 Palomino SS-1500
"We use a dryer sheet wedged into the sliding screen to keep them out of the screen windows. A piece of foam rubber and duct tape around the hatch grinder arm keeps then from coming in th roof vents. I take 1k units of L-lysine daily to stop coldsores, and a side benefit is no mosquitos. I have eaten the L lysine for years, so the no mosqueto benefit may not occur in a week." – Tom Scholtens, 2010 Silverado 2500hd, 2013 Bigfoot 25c10.4
"We are mosquito haters. Unfortunately moving from coastal Virginia to Idaho did not get rid of them. Our strategy is to avoid buggy areas for camping, and to invest in a screen house that folds small enough to stow conveniently. We found a Coleman product that fit the bill perfectly. It gives us plenty of space to dine and lounge in bug free comfort. What is really nice is that it withstands the Idaho winds and easily fits back into its original carry bag and the bag has wheels!" – Tim Streagle, 2006 Ford F350, 2016 Wolf Creek 840
"There are four ways we try to combat mosquitoes. 1. Deep Woods Off – if there aren't too many of them. 2. A screen shelter. 3. Mosquito nets. 4. Hide inside." – Laurel and Howard Wilson, 2018 Ford F-350, 2016 Four Wheel Camper Shell
"We have been using Thermocell for the past couple of years and have been very happy. We recently went on an extended Overlanding trip in Botswana and the locals had a very ingenious way of dealing with the bugs there. They took a soda can and bent it in half. In the crease they put a little less than a teaspoon of ground coffee in there and lit it. The smoke did a fantastic job of keeping the flying critters away for a couple of hours and the smell wasn't offensive." – Eddie Fort, 2016 Ford F-350, 2016 Hallmark Everest
"Though we're always camping in the midwest, our strategies vary based on when and where we are. If it is extremely hot, and bare arms and legs are essential, we use Off Family Care Clean Feel. It's a pump instead of aerosol spray, so it seems easier to avoid over applying.
It also lives up to its name. It has a light scent and it doesn't leave a greasy or sticky feeling on your skin. This is our go-to repellent whenever we have to use it. However, sometimes we're camping at bluegrass festivals where we're handling and playing our instruments. The finish on acoustic instruments and repellent don't mix. So then, we cover up (socks, shoes, jackets, etc.) and hope for the best. When all else fails, we reach for Deep Woods Off or go in the camper for the night." – Linda Becker, 1999 Ford F250, 1992 Lance 880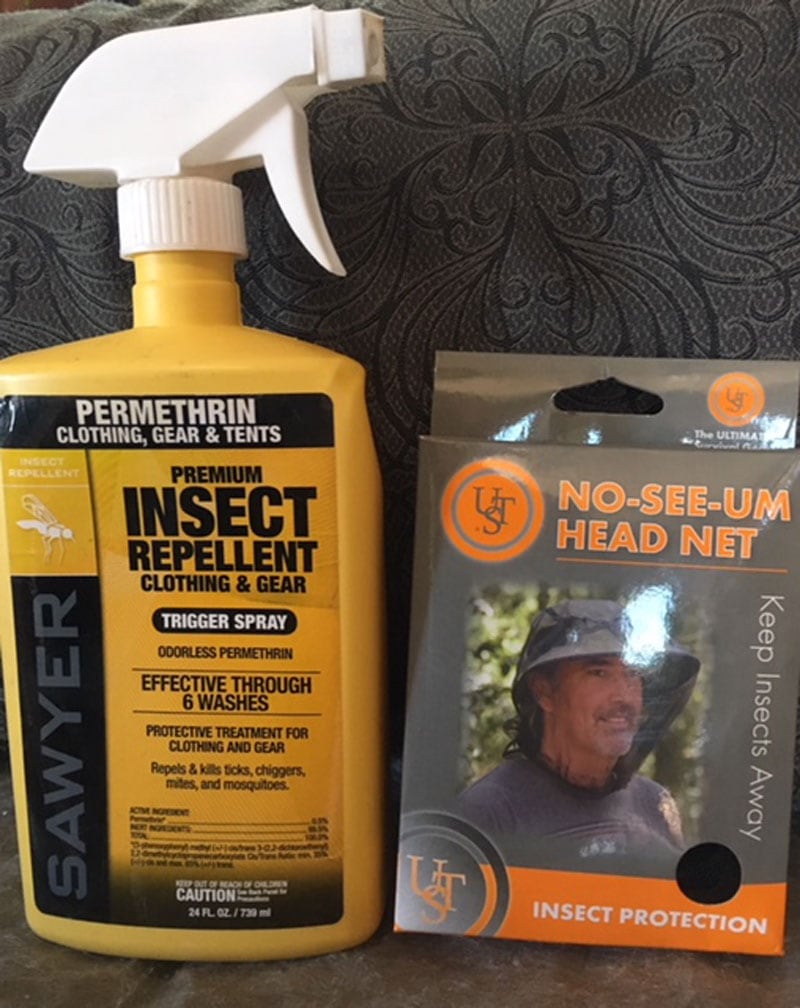 "We spray our yard with Yard Guard.
We use Sawyer Premium Insect Repellent that contains permethrin. We spray it on clothing and gear such as our fabric camping chairs and let it dry. The spray repels and kills ticks, mites, chiggers and mosquitoes. It will last on your clothing through six washes.
On ourselves we use any repellent that contains 99% Deet. I try to use it sparingly. But honestly I find it is the only thing that works.
Although we've never had to use them yet, we do have No-See-Um Head Nets. It's large enough that it fits over any size hat. It's tapered at the neck with an elastic bottom for a secure fit.
We also carry a small portable fan. It gives off a nice breeze as we sit in front of it. And besides after some booze, I don't feel anymore mosquitoes!" – Angela Klinger, 2018 Dodge 5500, 2017 Arctic Fox 1140
"On cooler days or evenings, rather than spray ourselves up with Deet or use other deterrents, we put on baggy full length clothing including caps, windbreaker, light rain jacket etc.that cover back, arms, neck and legs. This makes the mosquitos attack us from the front where it is easier to defend ourselves with our hands, knives and guns. It is not always 100% effective but it helps." – Brian Roark, 2015 Ford F350, 2018 Lance 1172
"We fire up our Thermacell device. It does an excellent job in a 15′ x 15′ area to allow us to sit outside comfortably. I am not sure how well it would work in Alaska but in New Hampshire it's the ideal repellant. We rely on the same devices at home on our patio. If you need to cover a bigger area – deploy several of them. The butane cylinders last about three hours the pads about an hour." – Steven Fisher, 2014 GMC 3500, 2014 Chalet DS
"I will never go where those little suckers live. If I have to, I go before they are hatched or after they go away! We visited Alaska, Yukon, Northwest Territories, Alberta, and back to Vancouver Island between June 1st and August 20th, and never encountered a single one. I guess timing is important." – Ray Mostowy, 2006 GMC Sierra 3500, 2005 Adventurer
"We asked our seamstress to make a vest long sleeve zipper and hood out of a white fish net like laundry bag. We store it in a bag with 40% Deet product and it's always ready. It is fresh because the fish net style and the white color." – Real Charbonneau, 2008 Silverado 1500, 2017 Travel Lite 800x
"I too have a very personal beef with mosquitoes. While I was in the Army one gave me malaria. Every so often I get a relapse to remind me. That said, other than hiding inside all day, you will have to deal with them.
I have spent most of my work and play time out in the woods and desert and have tried lots of methods and nothing works 100% of the time. Use garlic on everything you eat, spray bug stuff at everything that flies and drink gin tonics! Okay, that works most of the time!
Buy a screen door for that camper. I have used Avon Soft and Nice (both regular and bug guard) since the early 1980s and it seems to work. I have been hearing about a new type of mosquito called the tiger in southern California that it is less effective on!" – Don Manuel, 1999 Ford F150, Four Wheel Grandby Pop-up