This week we asked our readers for their best mosquito solutions.  The top recommendation is a Thermacell portable mosquito repeller.  The Thermacell has the added benefit of also repelling black flies – another frequent nuisance while truck camping.  Guess what's on our Christmas list!

What do you do about mosquitoes when truck camping?
"Mosquitoes drive me crazy! When I hear them buzz around my ear, I slap myself on the side of my head! Last summer I started using a Thermacell MR-150. It is a butane powered portable device that has an optional belt pouch. I have tested it in my backyard and on camping trips. The device has been very effective. Thermacell also makes a rechargeable battery powered unit that I am planning on purchasing. If it works as good as the butane powered unit, I believe I will like it better." – Scott Spradley, 2015 Silverado 2500HD, 1998 Lance Squire Lite 186EC
"We have found Repel Lemon Eucalyptus oil to be very effective with the bonus of no Deet. It smells great. For the inevitable mosquitoes that find their way in and whine at us while we're trying to sleep, we have a bug zapper racquet. Very helpful." – Nancy and Keith Rivers, 2004 Ford F250, 2011 Northern Lite 10 6 Queen special
"They're back! It's worse when inside the camper after you've gone to bed. Buzzzzzzz.  Like the WWII bomb/fighter decals on the planes (I'm a decal kinda guy), my ceiling has a few skeeter decals pasted on it.
I use the Cutter's fluids and spray the screen doors, windows, etc. I don't know if it helps, but that's as far as I've gotten. I did camp with a person who used those electric vaporizers. I didn't really see too much difference, but that could have been a fluke. I have the little cans of the Citroen torches, but haven't used them yet." – Frank Poole, 2016 Ram 5500, 2016 Arctic Fox 990
"Thermacell. We spend a lot of time outdoors in Bug country. We have never found anything better." – Harrie Ashley, 2018 Ford F350, 2005 Lance 1030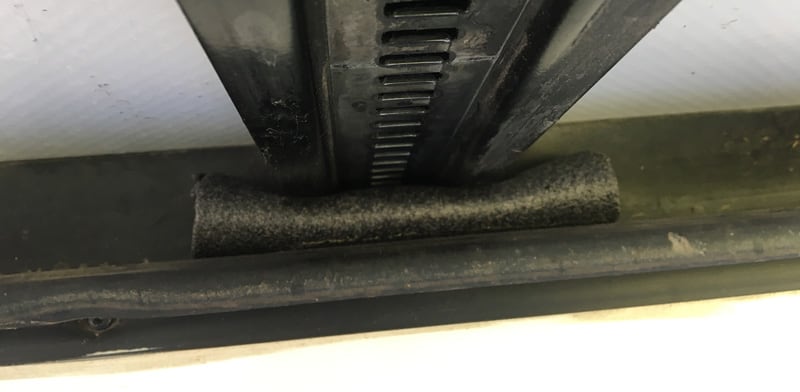 "While camping at Lake Meziadin in British Columbia, we discovered that mosquitoes are much better at finding their way in to our camper than we gave them credit. Unfortunately for us, the manufacturer left gaps in the rubber trim around our slide tracks on the side slide. That's where the mosquitoes kindly showed us as their entry point. To combat that problem, we took some foam pipe insulation and wedged it in place when the slide is out.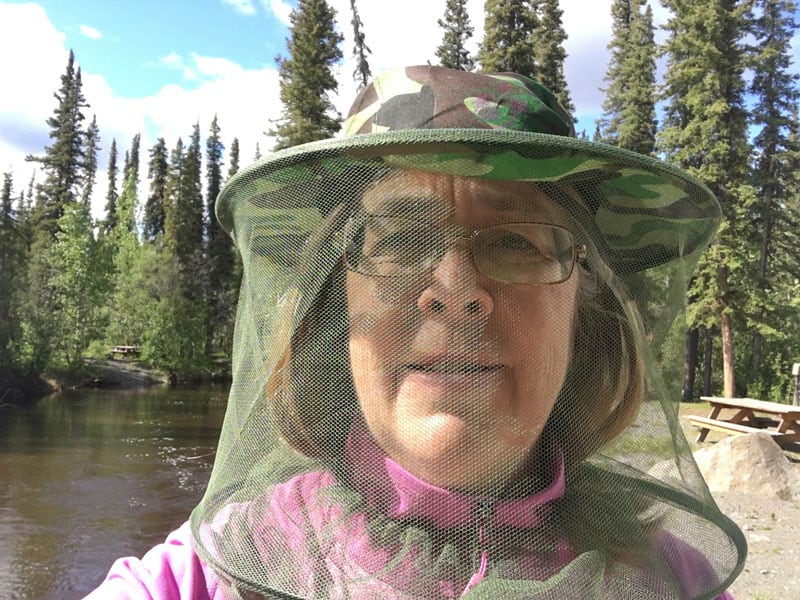 As for dealing with them varmints when we're outdoors, Deep Woods Off is the repellent of choice. Campfires or an egg carton smoker have done well deterring them also. Finally, there's the ever fashionable bug hat. Ours have wire rings which help hold the mesh off our faces. A major flaw in the hats is they impede our consumption of adult beverages and S'mores." – Jodie and Chuck Ramsey, 2012 Chevy Silverado, 2014 Adventurer 116DS
"Here in Florida we use a Thermacell." – Anja L, 2011 Ford F250, 2014 Lance 865
"We use Thermacells. I feel that can not be beat. They put off the odor of male skeeters which really agitates the females. They are the ones that bite. You can put them on you belt or pack and have mobile deterrent. There are no chemicals on your skin. If we do not use a Thermacell than we use Natrapel which does not have the side effects of Deet. It's pretty much a standard NATO issue." – Ed Kuivinen, 2009 Ford F250, 2016 Lance 850
"Since flying insects can enter our truck camper where the vent screen knobs/handle pass through the screen, the vents are closed. My truck camper's dinette window has a brush between the edge of the sliding glass and screen.
But, it looks like the interior glass is set into the wrong frame channel because the brush doesn't make contact. So, that window stays closed as well. When we are outside the camper, Deet is our best friend. I even have a few bottles of Army surplus repellent that's 71% Deet. It stinks, it stains clothing, and it's slimy. But, it works when nothing else will. I wear trousers instead of shorts and long-sleeved shirts. By-the-way, I also have permethrin spray for ticks." – Philip Tron, 2009 Chevy 3500, 2012 Lance 1050
"We are huge fans of 3M Ultrathon spray for us, our clothes, and around the entry door. We also use a Thermacell on the ground between us when we're sitting outside in the deep woods. At times we will put the Thermacell on the step by the camper's entry door. It really keeps the biters away from the door." – Lonny, 1997 Chevy 3500, 2004 Lance 1010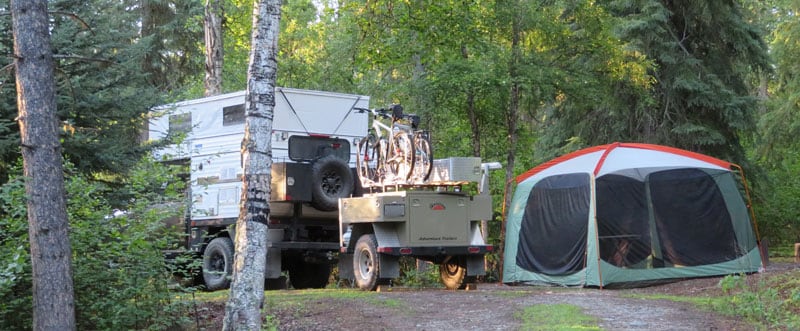 "We try to plan trips to avoid the bugs in the cooler, dryer times of year. When they are present we pull out the REI screen shelter. We also have a collection of collapsible fly swatters; one for the cab, one for the camper, one for the screen shelter. Bug spray is a last resort." – Bill Elwell, 2016 Ram 2500, FWC Hawk Flatbed
"My mosquito and pesky insect eliminator is a simple water bottle hand sprayer with 1/4 inch of Dawn detergent topped it off with water. I set the spray to medium for larger droplets. This works best to knock down mosquitos and anything that flies, plus it kills all ground insects like ants, spiders, etc.
I keep many spray bottles in quick to reach handy places like the truck's cab, outside camper compartments, next to bed, toilet/shower and kitchen.