This week's Question of the Week was, "Do you bring mopeds, scooters, or motorcycles when you go truck camping?"  Twenty-five readers reveal their preferred two-wheel transportation for truck camping adventures.  They also show us how they bring their mopeds, scooters, or motorcycles; front hitch, rear hitch, or trailer.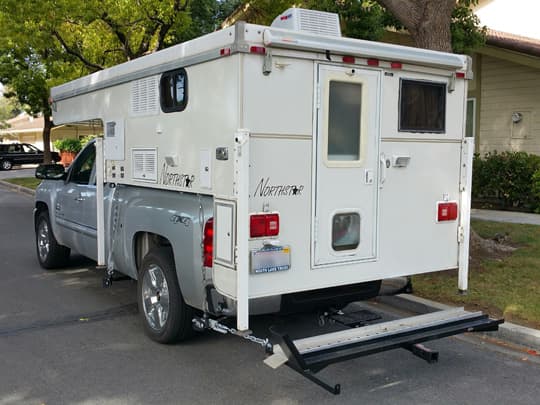 "My bike is on a trailer hitch motorcycle carrier.  I have added heavy duty bump stops to the truck's rear axle.  The bike allows my wife and I to go on adventures once we get to our camp site." – Kurt Anderson, 2011 Chevy Silverado, Northstar 800SC, 2013 Honda XR650L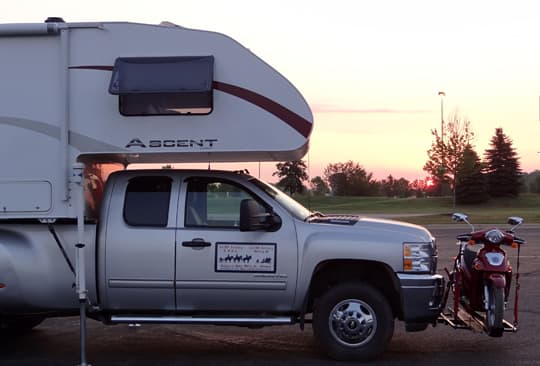 "As a long-time motorcyclist, I am very comfortable with two-wheeled vehicles.  Unfortunately, my motorcycles are all too heavy to haul around on the truck camper.  When we travel to a location where we will be parked for an extended period of time, I usually bring along the Kymco People 150 scooter, mounted on a Versahaul scooter carrier, which is carried on a front mount hitch.
I added the front hitch because we often tow a large trailer at the same time.  I chose the People 150 because it was the most powerful model available under 250 pounds.  I also preferred the large wheel diameter since I couldn't bear the thought of what might happen if a small diameter front scooter wheel encountered one of those deep pot holes that appear occasionally.  I modified the Versahaul construction to position the scooter exactly between the headlights of the truck.  When we use the scooter, I mount a 32L Hepco Becker tail trunk on the back, to carry groceries and as a passenger backrest for Marylou.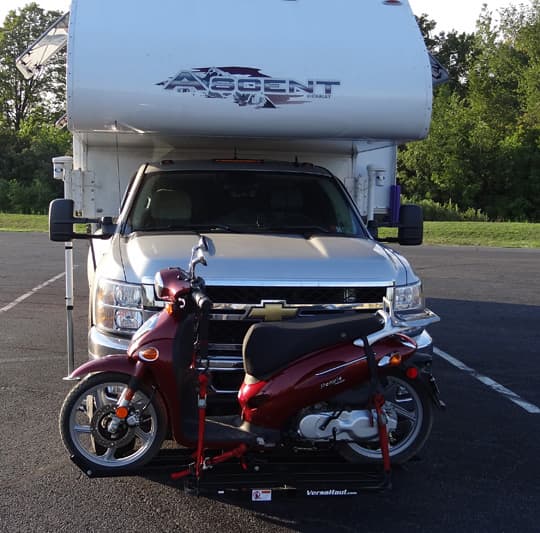 We use the scooter for grocery, restaurant, or ice cream runs without having to dismount the camper.  We've used it at truck camper rallies, at Fort Shenandoah when competing in the N-SSA National Matches, and on our annual trip to Camp Grayling, Michigan for the Historic Artillery Matches that are held there each July." – John and Marylou Wells, 2011 Chevy 3500, 2012 Chalet Ascent S100F, 2009 Kymco People 150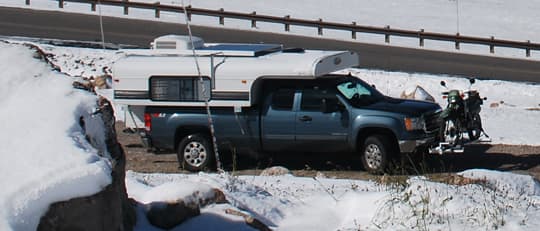 "I have a front receiver hitch on my truck and carry the bike up front on a bike hauler.  I tried it on the rear but it doesn't allow the camper door to open fully.  Also, I found that having it up front countered some of the weight on the rear and the truck rode better.  My truck has the snow plow prep option and it handles the weight with no problem.
The Yamaha XT250 is a dual sport motorcycle.  It's a hybrid between street and dirt bikes and is street legal.  I bring it along because I have a ton of fun riding the forest roads and trails that abound.  I can also run into town for a few supplies instead of breaking camp." – Greg Losapio, 2013 GMC 3500HD, 2010 Alaskan 10'CO, 2015 Yamaha XT250
"I enjoy the roads that are not always available by using a truck camper.  I usually bring my motorcycle along to pick up attractive Internet magazine reporters, and drive off into the midday sun with them…" – Ron Humphress, 2008 Ford F350, 2012 Lance 992, 2012 Triumph Tiger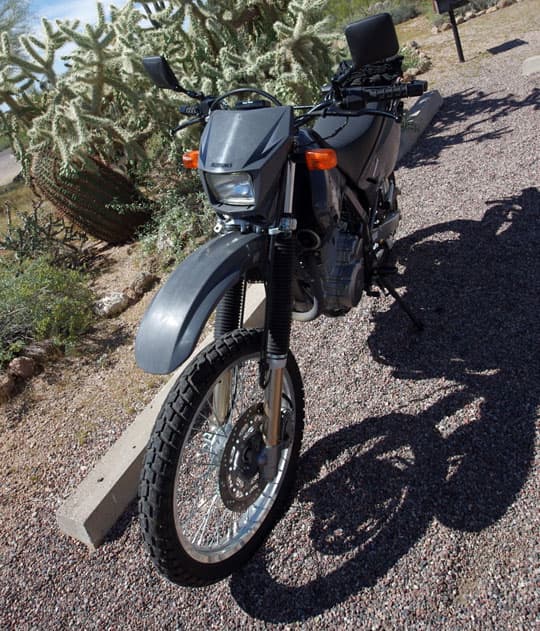 "I pull my Suzuki DR650 in a 6×10 foot Pace box trailer.  I use the motorcycle for grocery runs and sightseeing.  The trailer also gives me room to carry extra items like a BBQ grill, lawn chairs, and extra tools.  I mostly travel solo and don't like taking the camper off the truck because it is too much work getting it back on." – Ron Wolfgram, 2000 Ford F250, 2000 Sunlite Eagle pop-up, 2013 Suzuki DR650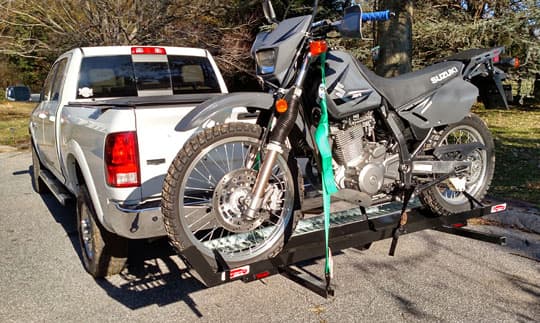 "I have a dual sport bike.  It's a 2013 Suzuki DR650 that I ride when I have reached base camp.  It takes me to places that I can't possibly reach with my four wheel drive truck and camper loaded.  I had a custom made hitch carrier made from a company in California named Joe Hauler.  They did a great job.  I can still access the camper with the bike loaded.
I use the bike for exploring backcountry areas.  A typical day may be 100 to 120 miles exploring the beauty of backcountry, taking photos, or fishing a mountain lake.  Then I go back to camp to enjoy the luxury of not sleeping on the ground as I did for many years." – Mike Reier, 2012 Ram 2500, 2011 Palomino 1608SS, 2013 Suzuki DR650
"A motorcycle can be a great second vehicle as long as care is taken in learning to ride them properly.  I have over forty years experience riding on two wheels and have ridden just about every major brand of motorcycles from dirt bikes, to Enduro / dual sports, scramblers, cruisers, and tourers. Today I ride a 2012 Yamaha Super Tenere Adventure Bike.
I choose the Yamaha Super Tenere for a few reasons.  One, it's big enough to take my wife along with me, and we are both comfortable.  Two, I'm 6'4″ tall and it has plenty of leg room for me.  Three, it's 1199cc 4-stroke, 2-cylinder engine has plenty of power to take us just about anywhere we want to go, both on and off road.  And finally, it's easy to handle around town and on the dirt country roads and trails, yet it preforms great at Wyoming speeds of seventy-five miles per hour.  My wife also owns a 1978 Honda XL350 Dual Sport bike.
There are several reasons why we travel with our motorcycle.  It's cheap to go sight seeing.  My wife and I have been getting around 50 miles per gallon riding two up.  That's not too bad for a bike this size.  We trailer the bike to our campsite and then take off on the bike to go see the sights.  Sight seeing on a motorcycle is way better than by vehicle because you can see everything, unlike a vehicle that has a roof and other things in the way.  Plus you can smell everything like Spring flowers, fresh cut hay, etc.  And you feel the changes in the air as you ride.
We also like it because of the other motorcyclists we meet.  The camaraderie between people who ride on two wheels is second to none.  You can pretty much walk up to anyone who rides a motorcycle and start a conversation about their bike and trade riding stories with them.  I'm always happy to stop and help another fellow rider when I see one on the side of the road.  My wife and I ride with the CMA, Christian Motorcyclist Association, and have been members since April 2005.  We really enjoy talking with motorcyclists and others and praying for them when asked to.
There is just something about the freedom of riding on two wheels that cannot be explained to someone who has never ridden.  It got into my blood at a very early age when Grandpa bought me my first mini bike and has stayed with me all these years.  If you've never ridden, give it a try.  You may fall in love with it." – JT, 2012 Yamaha Super Tenere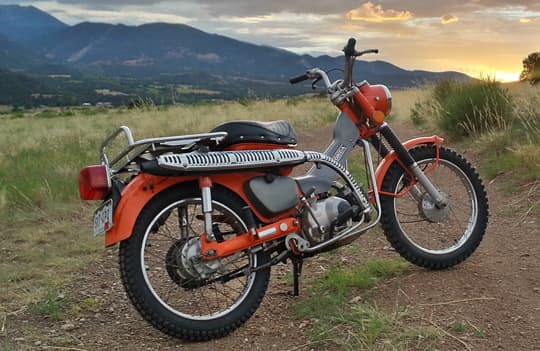 "My Trail 90 sat in a barn for about twelve years before I bought it.  It took surprisingly little work to get it running again.  If it's the only bike I'm bringing, it goes on a front hitch carrier.  If I'm bringing other toys, then it goes in the enclosed trailer.
It is both street and OHV legal, so it is a great run-around scooter.  It's also fun for the whole family to use on trails, as well as running errands if we're close to a town." – Mark Joslin, 2006 Dodge Ram 3500, 2005 Lance 1181, 1972 Honda CT90
"I don't carry the cycle yet.  I have a motorcycle rack to carry one now, but the Silverwing is too big and heavy for this set up.  I plan on buying a smaller bike to use with this rack.  It's in the works this year.  I also have a small trailer I can put the Silverwing on.  My idea would to use a dual sport type bike to ride the trails, explore, and to get supplies if needed." – Jeff Hagberg, 2002 Ford F250, 2006 Travel Lite 800 SBX, 1982 Honda Silverwing GL 500I
"I have a hitch mounted aluminum sport bike and motorcycle carrier with a 72-inch loading ramp.  It has 600 pounds of capacity.
The Kawasaki is another mode of transportation.  Nothing beats the freedom you feel on a motorcycle while cruising through a national park." – Alex Golebiewski, 2006 Ford F350, 2005 Lance 1030, 2009 Kawasaki Ninja 650R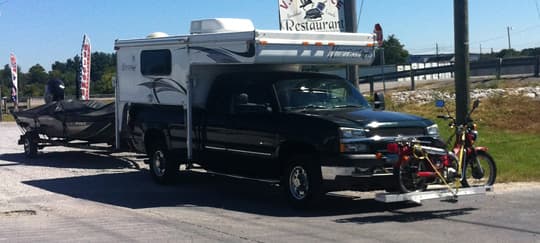 "I'd get rid of my Goldwing before my CT110.  I also have a 1974 CT90.  I use them to run around to various rivers in Michigan once my camper is set up.  I had a hitch put on the front of my truck to hold a motorcycle carrier." – Gary and Gloria Young, 2004 Chevy Silverado 2500HD, 2013 Northstar 850SC, 1986 Honda CT110

"I have five motorcycles; five different rides for five differing rides.  I have a 2003 HD Sportster, 2003 HD FLSTSI with side car, 2013 HD trike, 2013 Kawasaki KLR650, and 2014 Kawasaki Concours 1400.  I also have a ROKON that I would like to haul with a bike rail on the front of the truck.  The trailer is a non-enclosed 14-foot Aluma.  The trailer is super light weight and narrow, and best suited to haul a single bike or two in a tandem configuration.  It is attached to truck using a receiver hitch with a 24-inch extension.
I prefer to take the endure style KLR650 so I can travel off the beaten path.  I set up the truck camper in an area I want to ride and then take day trips to see the sites.  I have ridden much of the South Texas Hill Country this way.  Hopefully I will get to go to the East Coast this year for a couple of weeks." – Larry Kelly, 1999 Ford F-350, 2015 Palomino HS-8801, 2013 Kawasaki KLR650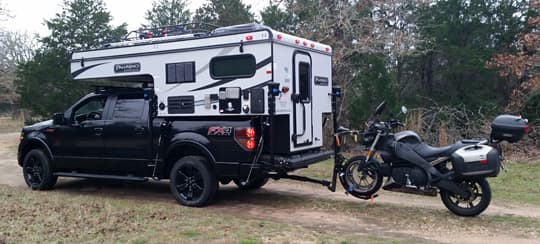 "I use a towing system for the Ulysses that lifts just the front wheel.  The motorcycle is towed behind my rig and, most of the time, I really can't even tell it's there.  I attach a camera to the rear of the camper just to monitor it in transit.
I use this set up for many different purposes from extra jobs to camping.  Like most readers have said in articles, these two/three wheeled small vehicles are great for exploring the area.  I find they allow me to find even better hidden truck camping spots!" – John Buell, 2012 Ford F150, 2015 Palomino SS-550, Front Wheel Tow Buell Ulysses 1200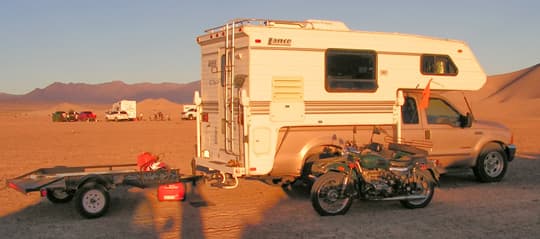 "The sidecar and Transalp (one or the other, not both) are towed on a 5.5 x 8 utility trailer.  The smaller bikes are mounted on a receiver hitch carrier either on the front or the rear.  Obviously, rear mounting makes sense if the camper's door is problematic.  I have a hard time getting use to having stuff right under my nose, so to speak; plus they pick up a lot of insect and road debris up front.
When traveling with more than one bike I use the trailer.  More often than not, the excursion is to go riding and the camper is the place to stay.  Sometimes the bike is a way to get around once encamped.  We bumper-towed my 70cc Honda Passport when we spent a weekend in Cambria, California last fall.  It is a small town on US 101, the Pacific Coast Highway.  We used the Passport to ride up the highway to picturesque Ragged Point, one of my all time favorite locations.  We used it to visit Hearst Castle, and get around town.  I can now say I have ridden that stretch of Pacific Coast Highway flat out while two up.  Not a claim many can make!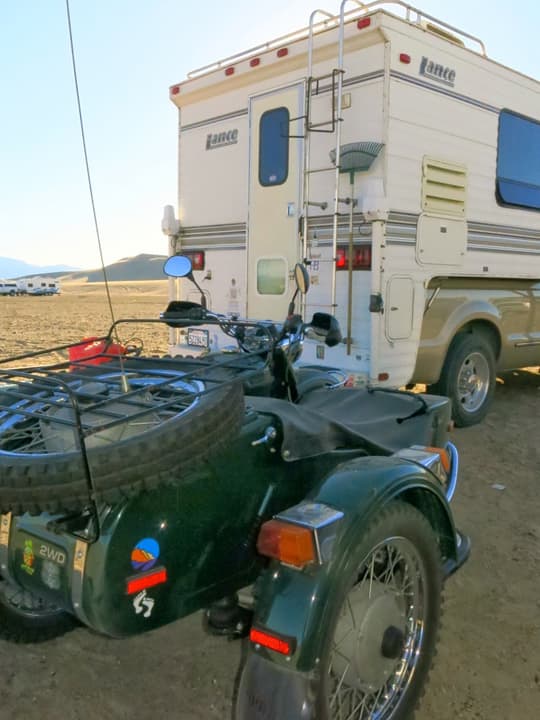 The year TCM went to Overland Expo in Arizona, I had my Ural with me.  I explored the Coconino Forest when not mingling with exhibitors or giving rides to strangers.
This year I have my mini-bike with me.  After the Expo I am attending an ad-hoc flat track event with some buddies.  Wish me luck." – Mark Obert, 1999 Ford Ford F250, 1999 Lance 920, 1989 Hondas, XR250R and TransAlp, 2002 Honda XR100R, 2007 Ural 2WD Sidecar, and others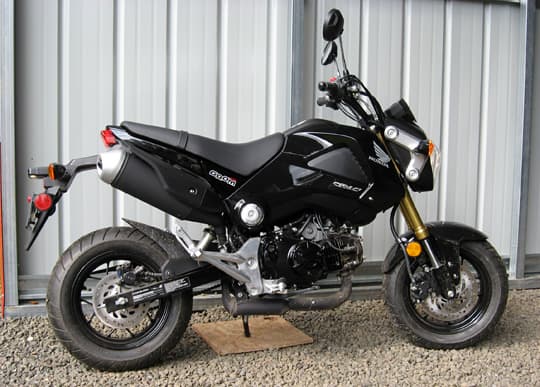 "I am so excited about taking the Grom on a maiden camping adventure.  We purchased the Ultimate MX Ramp and I think it is the perfect carrier for a matured woman like myself to be able to load and unload this small bike all by myself.  It has a hydraulic jack system.  As of yet, we have not decided if we are going to haul it on the back or front.  It may interfere with the camper door and stairs.  In that case we will install a front hitch and get it completely out of the way.
The 125cc Grom is my toy.  I want to be able to putt-putt around while camping and on trips after we've stopped and the camper is set up.  The top speed is 58 miles per hour so it is not a freeway safe bike.  I have ridden it to town and taken it for a spin.  It is a fun bike to ride." – Lori Hall, 2010 Ford F-250, 2012 Wolf Creek 850, 2014 Honda Grom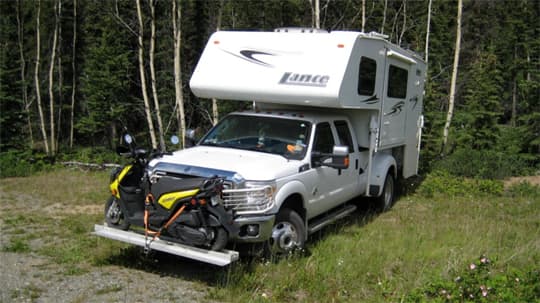 "My Zuma is carried on the front hitch on an aluminum motorcycle rail.  It is for sight seeing and running errands.  I do not have to take the rig or take the truck camper off to use the truck alone.  It also balances out the weight because my truck camper is back heavy.  I take it on trips that are longer then a week.  My longest trip was back and forth to Alaska." – Klaus Jager, 2014 Ford F350, 2007 Lance 1131, 2009 Yamaha Zuma 125 Scooter
"My motorcycle is a Yamaha 250 dual sport.  This model is meant for off-road riding, but is street legal for running errands.  I have it mounted to a custom motorcycle rack that fits into the 2-inch receiver on the front of the truck.  It loads and unloads with a removable ramp.
The motorcycle allows me to run errands when near towns and to explore any area where we are camped with the truck.  It is fun to ride in the mountains of New Mexico and Colorado where we like to camp.  It is quite capable of going anywhere that I have the nerve to take it." – Michael Franklin, 2009 Dodge 2500, 2012 Palomino Bronco 1200, 2014 Yamaha WR250R
"I have a front receiver hitch with an aluminum Rage Power Sports rack.  I ordered it from discount ramps.  I have used it for many miles and years with no problems at all.  I use it in case of break down, but mainly to ride the back roads and high passes of Colorado.  Have fun!" – Harvey Stallings, 2010 GMC 2500HD, 2007 Travel Lite 890 SBRX, Yamaha XT 250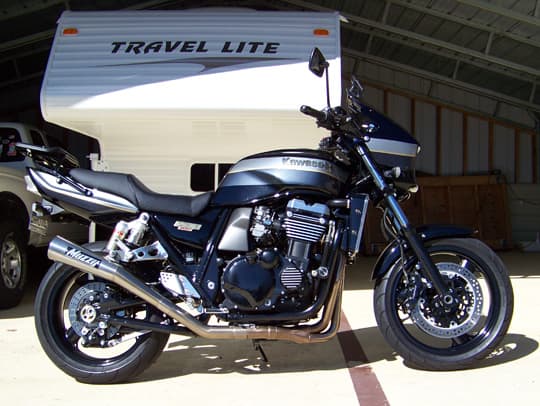 "Both bikes are trailered on a 4×7 light weight trailer you can get at Tractor Supply.  If I'm going to a campsite for a music festival, then I'll usually take the 500cc scooter.  If I'm going to one of my motorcycle events, then I'll take the big bike 1100cc.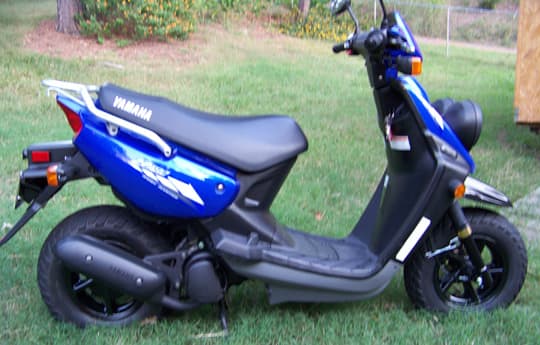 If I'm going to Festival International in Lafayette, Louisiana or to New Orleans to be there for Mardi Gras or Jazz Fest, the scooter is good for getting around easily in traffic and it is easy to park.  The big bike is used at the motorcycle events" – Steve Lowery, 1999 Toyota Tacoma, 2010 Travel Lite 690FD, 2008 Yamaha Zuma 50 or 2000 Kawasaki ZRX1100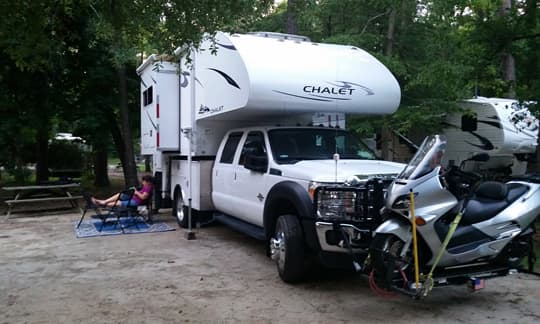 "I have a hitch-mounted Versahaul that I run on the front or rear of my rig.  It's easy to load and haul my Honda on it.  The Honda is light and easy to ride.  It's fun to ride and I like to explore the areas that I travel to. " – Larry Rathburn, 2013 Ford F-550, 2012 Chalet TS 116, 2007 Honda Reflex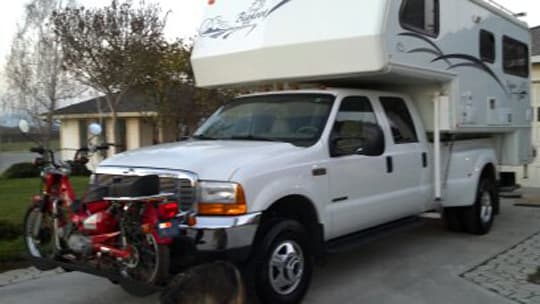 "I built a rack using 4-inch channel along with 2-inch square tube.  It can be unloaded in just a couple of minutes.  The rack slides into two 2-inch receivers which are mounted to the frame of the truck.
I don't always bring the Honda because I usually tow a boat.  When I do, it's because I might be new to an area and want to explore.  Or I might attend an event and leave the camper parked.  Once I spent the weekend in a state forest boondocking but toured all over the city with the Honda.  It was the best.  There was parking just about anywhere, you could turn around wherever, and pull right up to the front." – Nick Velho, 2001 Ford F350, 2001 Bigfoot 30C10.11, 1983 Honda CT110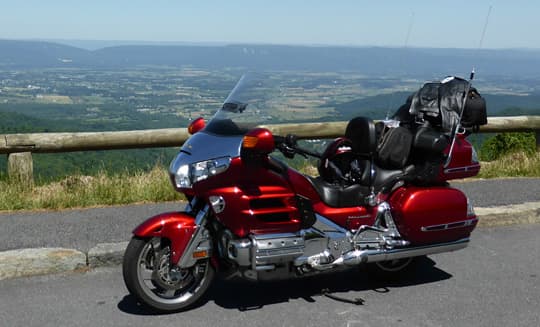 "I have owned Honda Gold Wings for the past thirty-five years and have had some sort of RV since, err well, I don't really want to think about how long that has been!  In all those years I have not combined the two hobbies/pastimes as it is very difficult to tow two trailers.  In fact, back home it was illegal.
Now that we own a truck camper, it's about to happen.  I think It will work very well indeed.  Let me explain why.
In the past I have had to choose between the GoldWing or the RV of the day for the whole trip.  Now my wife is reluctant to ride on the back of the bike.  Make that very reluctant.  If both of us are going on a trip, it has been almost always with the RV.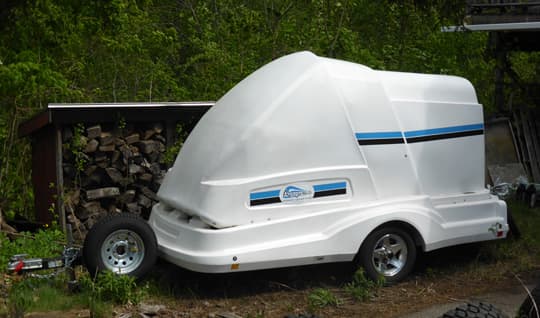 Recently I bought a Aeroshield Toy Carrier, which is a very lightweight Clamshell type motorcycle trailer.  From now on there is no more having to choose.  We just take both all the time.  When the weather is poor, or we want to leave the RV park to shop or go out to dinner, we just take the camper off the truck and then use the truck like a car.  When my lady wants a day at camp to relax, read, or snooze, I have the Gold Wing right there, ready to keep me entertained.
I expect we will be making several shortish trips over the summer with the new setup.  The major trip of the year will start in mid to late September when we leave Massachusetts to travel to California.  On the way we intend to visit Albuquerque, New Mexico for a few days at the Hot Air Balloon festival, then on to California.  While we're out there, I want to ride most, if not all of Route One, the Pacific Coast Highway.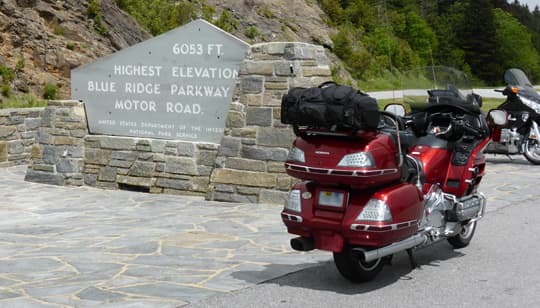 After that we'll go to Utah for the ski season.  I have to confess that we don't spend the winter in the truck camper.  We have a 40-foot fifth wheel for that, but the truck camper will be there.  If any friends want to visit, we can let them use the truck camper.  It's almost like a spare room at home.  This season just passed.  Spring came very early to the Rockies and the skiing in April was not what those of us that love Utah are accustomed to.  At the same time I watched with envy all the locals out on their rides at least a month earlier than would be the norm.  If mother nature does that again next year, I will be ready!
All being well, as they say, at the end of ski season we put the fifth wheel back in storage and we will be off to Alaska.  I'm not too sure how much riding I will do up there.  Gold Wings are not good on loose surface roads, but I will have the option!" – Tony Saunders, 2001 Ford F550, 2013 Lance 1172, 2008 Honda Gold Wing airbag model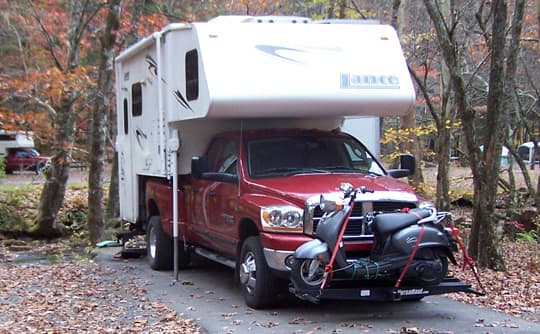 "I have a Yamaha Vino 125 that is designed to carry two average weight adults.  It's 125cc so it requires a motorcycle endorsement on my license.  I use a front receiver hitch with a Versahaul rack.  I also used it on my 1997 Ford F250 before with a Northstar 650C pop-up truck camper.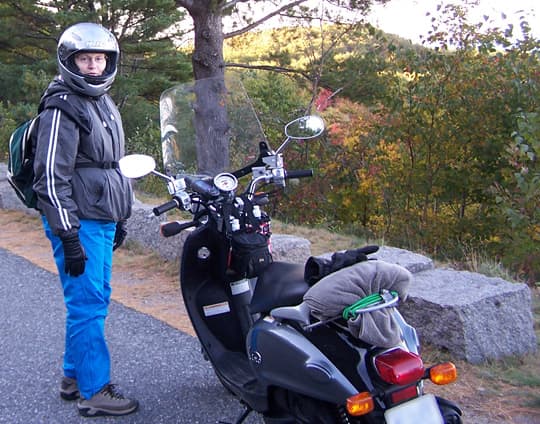 I use the Yamaha for sightseeing when the truck camper is set-up.  We've taken it on lots of trips in our home state of Indiana.  We've also gone to Wisconsin and the Michigan Upper Peninsula, Acadia National Park in Maine, Outer Banks in North Carolina, Tetons and Yellowstone National Parks, portions of Skyline Drive and the Blue Ridge Parkway, Great Smokey Mountains National Park, and lots of places in between." – Rich Meunier, 2006 Ram 3500, 2007 Lance 1131, 2006 Yamaha Vino125
"The Burgman 650 by Suzuki is one of the larger scooters made.  I am a large person and it gets me around really well whether it's just a trip to town to pick up a few things or a long road trip.  It has a large trunk seat that will hold a lot of stuff.  It you want a great proven scooter, this is a good choice.
I've had three truck campers over the last thirty-five years and have always enjoyed the fact that I could take them just about anywhere I wanted to go.  But, after set-up at a site, it seemed like I always forgot to pick something up at the store or wanted to go sightseeing in the area.  So I picked up a 400 Burgman to start with and a 4×8 trailer to haul it on.  It is a great scooter, but I wanted something that I could venture out further on.  So I bought the 650 and have been happy with my rigs ever since." – Ron Sears, 2004 Ford F250, 2012 Lance 855, 2013 Burgman 650 by Suzuki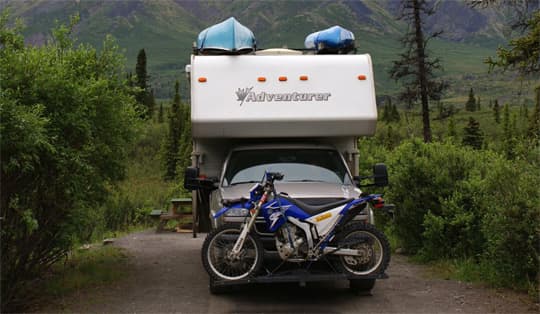 "Both of my Yamahas are dual sport bikes.  I installed a front receiver and carried bicycles up front for years, and then bought a motorcycle hitch carrier.
The bike is used as a commuter vehicle for my wife and I.  It allows us to set up camp and then go explore the sites without breaking camp.  If you have ever gone sightseeing around a national park and could not find parking at a site, get a motorcycle.  You can always find parking.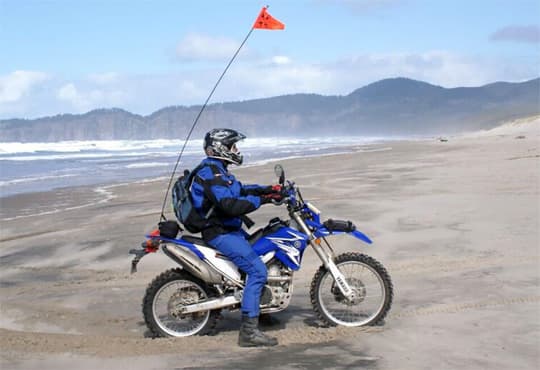 I also use the bike to head into the back country.  The WR250R is more refined and faster, but the TW200 is more forgiving.
We have had the bike as far south as Utah and used it to tour the sites in Bryce Canyon.  I used it to get in behind Bryce Canyon and see the rock formations from a different angle.  We also brought it to Alaska last summer and used it in Fairbanks and Anchorage to visit the sites and brew pubs.  I also used it to explore the back country and shoreline.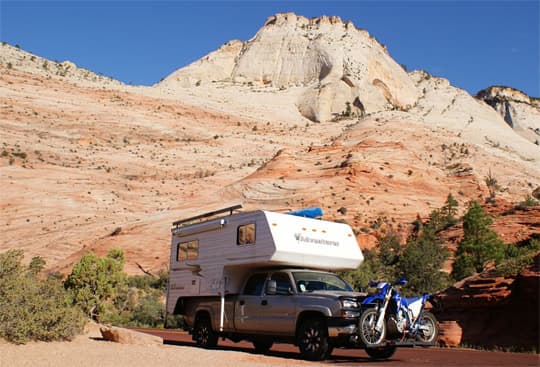 In Inuvik in the Yukon territories, we used it to go golfing at a three-hole golf course at 12:30 AM.  I asked the owner if we could go golfing under the midnight sun and he said, "No problem, park your bike behind the club house when you come".  My wife carried a small golf bag and we had the course to ourselves, and swarms of mosquitoes." – Eckhart Franz, 2006 Chevy Silverado 3500, 2005 Adventure 90FWS, 2009 Yamaha WR250R and 2001 Yamaha TW200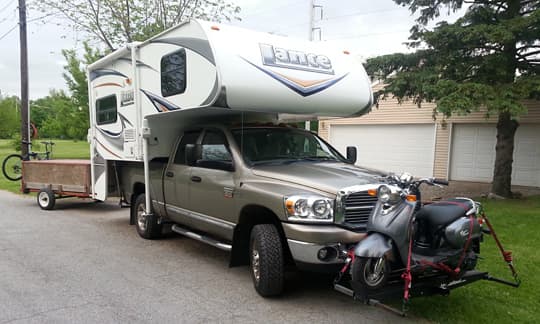 "I have a Yamaha Vino 125 scooter.  I transport it on a versa-haul rack on the front of my truck using the front hitch receiver I installed.
I use the scooter to get around once I have set up camp.  It's quiet, so it's perfect for using around a campground.  It's also great on fuel so it's great for doing some sight seeing in the area that I am camping." – Justin Meunier, 2008 Dodge 2500, 2010 Lance 855, 2006 Yamaha Vino 125
Two readers expressed a concern for safety while towing a scooter or motorcycle.  We agree that great care should be taken to ensure that a bike does not block air flow to your radiator, headlights, or come free during transport.  Center of gravity and overall payload match is also a very important consideration when hauling a scooter or motorcycle.  Safety first, then fun!
"Don't put anything thicker than a bicycle in front of your grill.  Spare tires and scooters block too much air." – Philip Tron, 2009 Chevy 3500, 2012 Lance 1050
"I sometimes put my bike in a carrier on the back, but what I want to comment on is safety.  Many years ago, I witnessed a crash that killed a camper passenger.  A moped tied to the front worked partly off the front of the pickup.  The thing hit a bump and got pulled under the front of the pickup.  It lifted the truck just enough that he could not steer.  At highway speed, he slid into a pole on the side of the freeway.  It happened so fast that there was no chance of stopping even though the brakes still worked fine.  He just went straight into the pole in a very short distance." – Carl T. Miller, Ford 350, very old, [like me] Vacationer, Schwinn bicycle

"Even though it is so easy to take the camper off the truck and go explore the new area we love the freedom of using the motorcycles.  It's easier to park and better on gas!  We use it to get to all the tourist locations, but mostly love to get off the beaten path and explore the countryside." – Kim and Larry Fine, 2012 Ford F450, 2008 Host Everest, 2012 Suzuki V-Strom 650, 2008 Sherco 570 Trail/Road