This week's Question of the Week was, "Do you bring mopeds, scooters, or motorcycles when you go truck camping?"  Twenty-five readers reveal their preferred two-wheel transportation for truck camping adventures.  They also show us how they bring their mopeds, scooters, or motorcycles; front hitch, rear hitch, or trailer.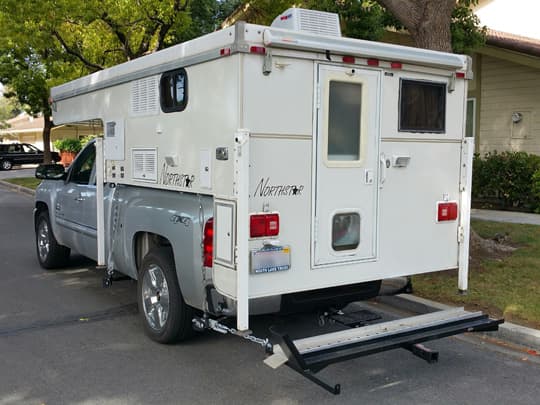 "My bike is on a trailer hitch motorcycle carrier.  I have added heavy duty bump stops to the truck's rear axle.  The bike allows my wife and I to go on adventures once we get to our camp site." – Kurt Anderson, 2011 Chevy Silverado, Northstar 800SC, 2013 Honda XR650L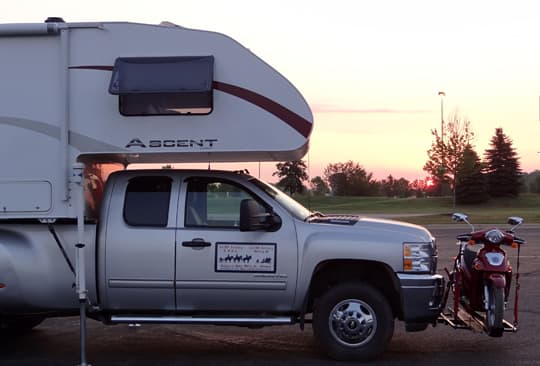 "As a long-time motorcyclist, I am very comfortable with two-wheeled vehicles.  Unfortunately, my motorcycles are all too heavy to haul around on the truck camper.  When we travel to a location where we will be parked for an extended period of time, I usually bring along the Kymco People 150 scooter, mounted on a Versahaul scooter carrier, which is carried on a front mount hitch.
I added the front hitch because we often tow a large trailer at the same time.  I chose the People 150 because it was the most powerful model available under 250 pounds.  I also preferred the large wheel diameter since I couldn't bear the thought of what might happen if a small diameter front scooter wheel encountered one of those deep pot holes that appear occasionally.  I modified the Versahaul construction to position the scooter exactly between the headlights of the truck.  When we use the scooter, I mount a 32L Hepco Becker tail trunk on the back, to carry groceries and as a passenger backrest for Marylou.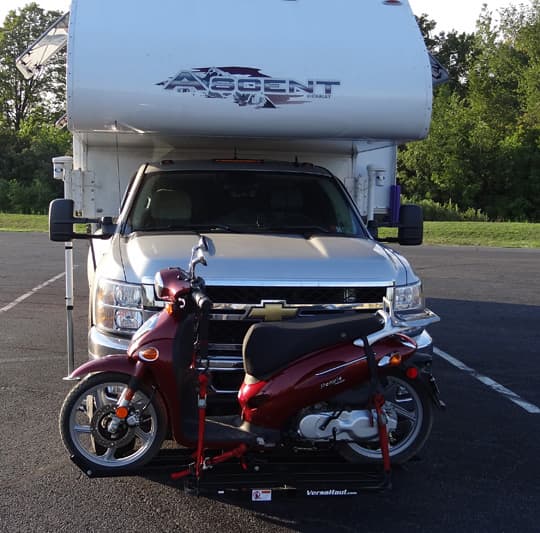 We use the scooter for grocery, restaurant, or ice cream runs without having to dismount the camper.  We've used it at truck camper rallies, at Fort Shenandoah when competing in the N-SSA National Matches, and on our annual trip to Camp Grayling, Michigan for the Historic Artillery Matches that are held there each July." – John and Marylou Wells, 2011 Chevy 3500, 2012 Chalet Ascent S100F, 2009 Kymco People 150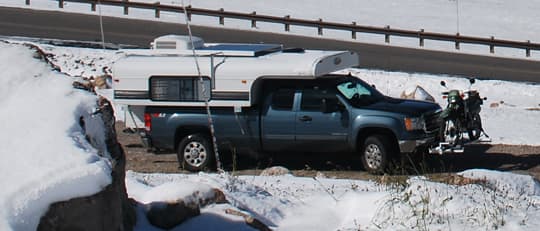 "I have a front receiver hitch on my truck and carry the bike up front on a bike hauler.  I tried it on the rear but it doesn't allow the camper door to open fully.  Also, I found that having it up front countered some of the weight on the rear and the truck rode better.  My truck has the snow plow prep option and it handles the weight with no problem.
The Yamaha XT250 is a dual sport motorcycle.  It's a hybrid between street and dirt bikes and is street legal.  I bring it along because I have a ton of fun riding the forest roads and trails that abound.  I can also run into town for a few supplies instead of breaking camp." – Greg Losapio, 2013 GMC 3500HD, 2010 Alaskan 10'CO, 2015 Yamaha XT250
"I enjoy the roads that are not always available by using a truck camper.  I usually bring my motorcycle along to pick up attractive Internet magazine reporters, and drive off into the midday sun with them…" – Ron Humphress, 2008 Ford F350, 2012 Lance 992, 2012 Triumph Tiger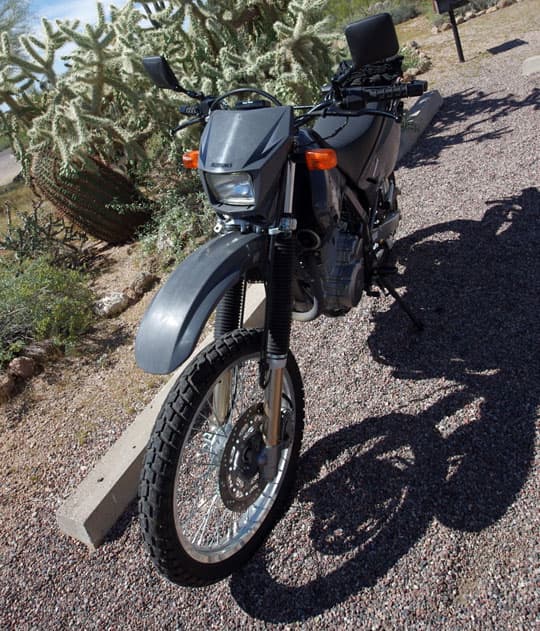 "I pull my Suzuki DR650 in a 6×10 foot Pace box trailer.  I use the motorcycle for grocery runs and sightseeing.  The trailer also gives me room to carry extra items like a BBQ grill, lawn chairs, and extra tools.  I mostly travel solo and don't like taking the camper off the truck because it is too much work getting it back on." – Ron Wolfgram, 2000 Ford F250, 2000 Sunlite Eagle pop-up, 2013 Suzuki DR650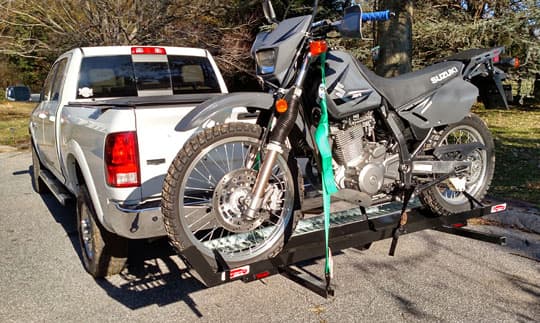 "I have a dual sport bike.  It's a 2013 Suzuki DR650 that I ride when I have reached base camp.  It takes me to places that I can't possibly reach with my four wheel drive truck and camper loaded.  I had a custom made hitch carrier made from a company in California named Joe Hauler.  They did a great job.  I can still access the camper with the bike loaded.
I use the bike for exploring backcountry areas.  A typical day may be 100 to 120 miles exploring the beauty of backcountry, taking photos, or fishing a mountain lake.  Then I go back to camp to enjoy the luxury of not sleeping on the ground as I did for many years." – Mike Reier, 2012 Ram 2500, 2011 Palomino 1608SS, 2013 Suzuki DR650
"A motorcycle can be a great second vehicle as long as care is taken in learning to ride them properly.  I have over forty years experience riding on two wheels and have ridden just about every major brand of motorcycles from dirt bikes, to Enduro / dual sports, scramblers, cruisers, and tourers. Today I ride a 2012 Yamaha Super Tenere Adventure Bike.
I choose the Yamaha Super Tenere for a few reasons.  One, it's big enough to take my wife along with me, and we are both comfortable.  Two, I'm 6'4″ tall and it has plenty of leg room for me.  Three, it's 1199cc 4-stroke, 2-cylinder engine has plenty of power to take us just about anywhere we want to go, both on and off road.  And finally, it's easy to handle around town and on the dirt country roads and trails, yet it preforms great at Wyoming speeds of seventy-five miles per hour.  My wife also owns a 1978 Honda XL350 Dual Sport bike.
There are several reasons why we travel with our motorcycle.  It's cheap to go sight seeing.  My wife and I have been getting around 50 miles per gallon riding two up.  That's not too bad for a bike this size.  We trailer the bike to our campsite and then take off on the bike to go see the sights.  Sight seeing on a motorcycle is way better than by vehicle because you can see everything, unlike a vehicle that has a roof and other things in the way.  Plus you can smell everything like Spring flowers, fresh cut hay, etc.  And you feel the changes in the air as you ride.