Earlier this week TCM published an over-the-top Lance-Semi rig that got us thinking, just for fun, about alternative trucks for truck campers.  While our first would always be for a standard pickup truck like our 2014 Ram 3500, what would we do if pickup trucks were stricken from the menu?
Our readers played along and voted for the Mitsubishi Fuso as their non-pickup choice.  Here are the results: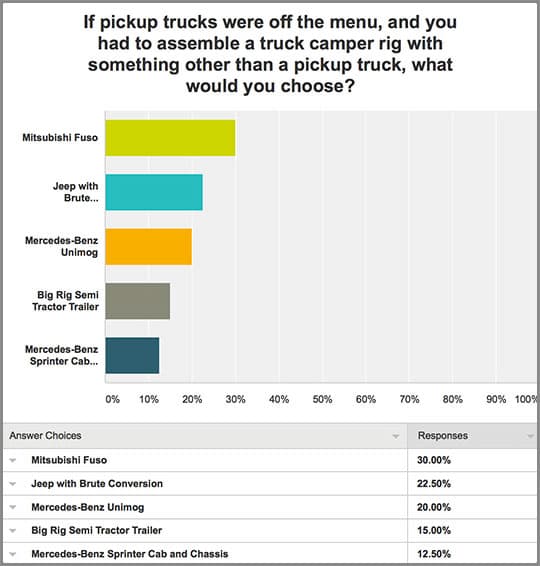 Other non-pickup trucks readers suggested included a Canadian Military MLVW 6×6, Isuzu NPR, H1 Hummer, International Terrastar 4WD, Jeep Rubicon, Iveco Daily 4×4, Western Star Big Truck, Stewart and Stevenson m1078, and AM General M35A2.  One guy suggested a Cessna 185 or 206, but we're not sure about the payload capacity.
If you have a moment, put some of the trucks named above into Google.  We discovered quite a few trucks we had never heard of.  Naturally, many of these trucks are essentially unobtainium, or at least extremely difficult to find, and potentially illegal to own or drive in the United States or Canada.  Having been to an Overland Expo or two, we know these factors are merely challenges to overcome for a brave, and probably wealthy, few.