This week's Question of the week was, "How have you made it easier to lounge and sit in your truck camper?"  Readers have shared how they have made their truck camper seating more comfortable.
This is not the first time that seating has been addressed in Truck Camper Magazine.  Our mod contests always seem to bring out a seating solution or two.  Here are a few examples:
Above: Roger and Kathy Sather, changed out their full booth dinette for a table and office chairs.
Above: Paul and Marceil Gathany, put in a futon mattress in their couch area.

Above: Kerry Stark, changed his face-to-face dinette to a full booth dinette.
Above: Eldon Rhodes from Texas came up with a dinette, sofa conversion.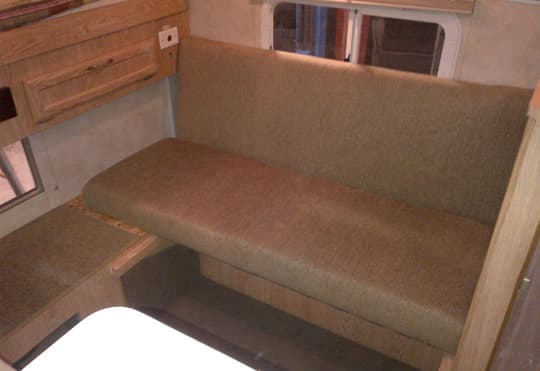 Above: Gerry and Lynn Minor made their bench seating more comfortable.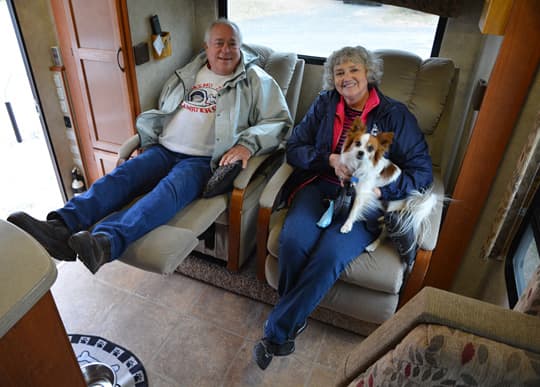 There's also Gene and Donna Miller who we interviewed for Alaska Week who added recliners to their Eagle Cap 1165.
Here are the responses to this week's question:
"I removed the dinette table completely and use a very small folding table and folding canvas chair.  Both the table and chair can be taken outside of the camper to sit in the sun.  After all, we are camping, right?  It's not about sitting on your butt per se, but enjoying the outdoors." – Chris Walton, Nissan Frontier, 2008 Four Wheel Camper Eagle
"We learned long ago that camper manufacturers put the softest foam in the dinette cushions.  We go to the foam shop and buy the firmest grade foam and replace the saggy soft foam.  It is so soft that you can feel the plywood under the cushion if you sit very long.  The firmest foam has just enough give for comfortable support.  Foam for upholstery is expensive but we find it worth it for the improved seating comfort." – Gary and Laurii Gadwa, 2012 Ford F-350, 2010 Eagle Cap 950
"We try to spend a minimal amount of time in the camper but, in bad weather, we can move to the man cave, a 16-foot cargo trailer that we pull behind our rig.  It contains a 1998 Chevy Tracker when on the move, a 42″ television with DTV satellite, the computer area with printer, and two very comfortable lawn recliners.  It also contains all the normal extra camping stuff such as firewood and wine." – Bob Nelson, 2015 GMC Sierra 3500, 2013 Arctic Fox 1140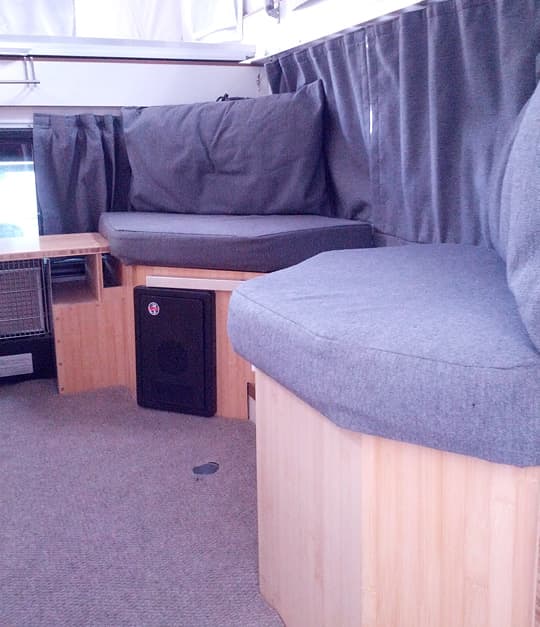 "I designed our dinette with angled seating for more leg room and we use the two king-sized bed pillows as corner back cushions.  A 12″ by 12″ table surface at the angle between the seats is convenient.  We seldom take the round cabaret table and post." – Tom Rives, 2000 Dodge Dakota, 2013 Phoenix pop-up
"The key to my comfort is a partially inflated balance ball.  To relax, I drop the backs on the bench seats that face each other, converting the seats into a bed.  I use the half inflated balance ball as a back rest.  The secret is that when partially inflated, it conforms to your back, making it extremely comfortable.  It's good as any lounger in my house." – Marc Scott, 2013 Ford F350, 2013 Alaskan 8-5
"We ordered our triple-slide camper with the U-shaped dinette and the folding couch in the rear slide out, neither of which are comfortable to sit on for long.  So we tried testing some low folding chairs on a trip to Mexico in place of the dinette, which was better comfort wise but not good aesthetically.  My wife was not digging the lack of a table.  So, that meant I had to do something with the space where the folding couch was in the rear slide.
There was a TCM article earlier this year where a guy removed his couch and installed some recliners in the rear slide out of his camper and it fit!  Well, the slide out in his camper was deeper than what we have so I gave up on the recliners.  However, I found we had some leather sling / hammock chairs in the house that would work if I could extend the floor of the slide by two inches.  Fortunately, the way the Chalet is built made it very easy to remove the couch and cabinet without damaging the camper.
I installed a plywood base over the existing floor, added some carpeting and viola, comfortable seating for two.  The ottomans store on the seat of the dinette when the camper is closed up.  I prefer to call our camper outings as, "living in a different location" instead of "camping".  Life's too short to be uncomfortable!  Ciao!" – Scott Elliott, 2007 Ford F350, 2013 Chalet TS116FB
"We removed the rear bench part of the dinette and put in a small swivel easy chair that also rocks.  I lost a little storage, but I am now more comfortable relaxing.  I also had a great fire outside when we junked it!" – David and Lila Weinstein, 1999 Ram 3500, 2005 Arctic Fox 1150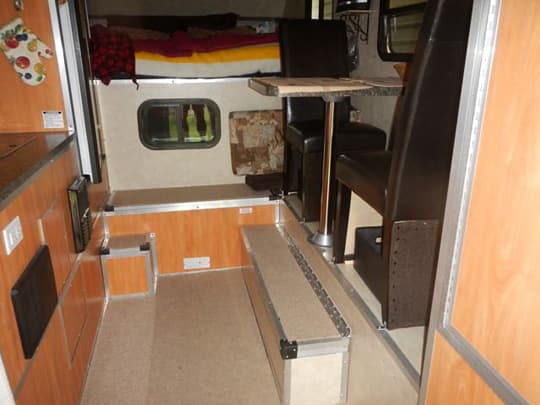 "After seeing your article on the custom booth in the CampLite truck camper, we made our own version.  We used pieces from the two optional beds to fabricate the storage box/step feature and used two chairs purchased from Walmart. The chairs have padded and spring bottoms and are a lot more comfortable than the straight backs commonly found in bench-type seats." – Del, 2014 Ram 2500, 2013 LivinLite 10.0
"I mainly travel alone.  During years of business travel, I became used to using a laptop or tablet in my lap and not eating at a table.  So the first thing I did when I picked up my used truck camper last spring was remove the table and leg from the camper.  It was heavy and awkward and made the passageway in front of the counter too narrow.
I had a neighbor cut a plywood board to fit in the dinette u-shape to still be able to make up a bed there.  It stores under the mattress in the cabover and not only allows me to have guests, but also make up the dinette bed when I am in fast travel mode (heading home after a long time out for example).  I also don't need to pop up the top when it's very cold.
Then I bought a wedge-shaped piece of foam in a fabric shop and sewed a cover for it.  This is a very versatile thing to have.  I place it on one end of the dinette and lean back with my legs up while eating, reading or using my tablet.  I also use it in my cabover bed to read before sleep.  The bonus is that on very cold nights having it between my head and the soft sided walls prevents waking with a cold head and ice in my hair (which happened the first night I ever used the camper last April).
This year I plan to buy a second foam wedge as we discovered that two can sit very comfortably in a Northstar U-dinette if both people sit with their backs on the window wall, legs stretched out in front.  My guest used a laptop pillow to work and also for meals.  They used bed pillows behind their backs which was clearly not as comfortable as my custom large firm foam wedge.
Perhaps the two of you should re-examine your house trained view that one needs to sit across from each other at a table.  You can eat outside at picnic tables often enough to see each other's faces while eating.  Laptop pillows work very well especially if your legs are raised.
We also found that slipping the plywood into the dinette U-shape provided us with a perfect place for a Scrabble board.  We sat very comfortably with our back to the window wall with the game board, a bowl of chips and glasses of beverage between us.  Very comfortable!  It would be a very comfortable way to watch television if you placed the screen on the counter top.  I certainly feel as comfortable as in my recliner at home." – Michele McLeod, 2013 F-150, 2002 Northstar TC800
"We've replaced the dinette seats and backs.  We had a slight angle made for the backs and greatly improved the quality of the foam used.  We layered with a firmer foam back and a memory foam top for both seat backs and cushions.  At the same time we obviously changed out the fabric to something of better quality, more durable and much better looking." – Dave Pracht, 1994 GMC Sierra K3500, 1987 Lance LC900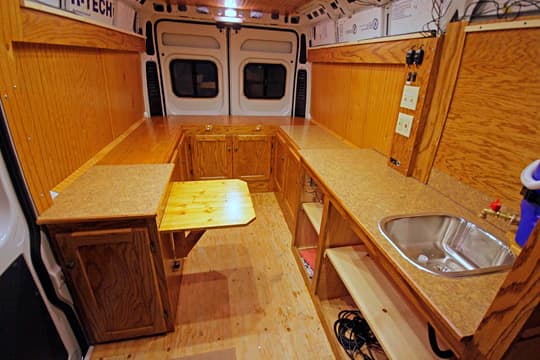 "We never liked the couch seating in any previous campers so we built our new custom camper without any built in seating.  We use folding chairs and have never been happier.  Without the couch, we have more counter space and more floor space.  We can position the chairs any way we like and use them outside as well.  We included a tall cabinet that makes them easy to store.  It works great." – Vince Kurpan, Promaster 159, Custom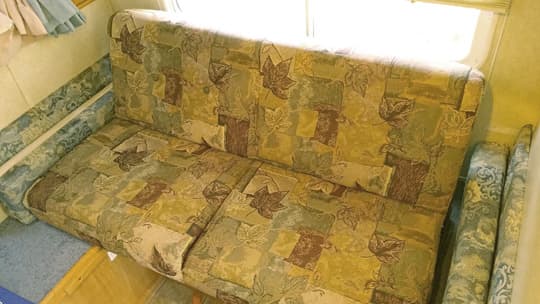 "One of the options on truck campers these days is a jack knife sofa.  My truck camper didn't have that option, but I found a jack knife sofa on good ole Craigslist several months ago and bought it.  I mounted it where the other cushions were and took out the table.  It makes a little more room.  I did not take off the padding around the wall and the pedestal mount in the floor, so everything can be used as it was made.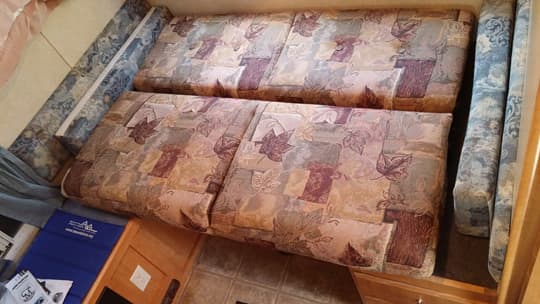 My daughter sleeps on the new couch and loves it.  She says it's way more comfortable then the other.  I'm going to make a step or false floor where the table was mounted.  I am also thinking about buying a smaller table to use when we are stuck inside in bad weather." – Jeff Hagberg, 2002 Ford F250, 2006 Travel Lite 800 SBX
"I have a non-slide camper so, in order to make more efficient room, I removed the dinette table and replaced it with a folding table.  To watch television or read in more comfort than the bench seats, I place my lawn chair where the table used to be.  When I'm ready to travel I put the lawn chair on the bed and it travels there nicely." – Rita Eshman, 2005 Ford F250, 2013 Adventurer
"The Northstar Liberty comes with a real skinny bench seat, so I made the front end (closest to the cab) both wider and deeper and the other end only deeper.  I now have a pretty comfortable almost U-shaped dinette.  It's a lot more comfortable than the original!" – Maaja Sutak, 2012 GMC 2500, 2015 Northstar Liberty
"Since I have a Lance 992 with two slides, the center aisle is fairly wide.  I purchased a zero-gravity style of patio recliner.  Camping World sells them for about $80 to $100.  I use that in the center isle in the evenings.  I can work on my laptop or watch television or read.  It's almost as comfortable as my home recliner.  When it's not in use, it folds up.
However, my plan is to remove the entire dinette and find a couple of small recliners or a small love seat to replace the dinette. Then I'll install a removable table or a pair of swing out tables for eating." – David MacArthur, 2008 Ford F350, 2010 Lance 992
"I removed the dinette table and installed a drop down wall table from Camping World.  I extended the bottom of the dinette seats by four inches or so and repositioned the cushions so you have a deeper seat for lounging.  I then added additional seat cushions from outdoor patio furniture.  I placed the old table under the queen bed and left the tracks under the dinette so I can still slide it in and use the dinette for a bed.  I also kept the hardware.  If I sell it, the owners can put it back in.  The outdoor cushions are easily hosed down when dirty." – Mike Cianci, 2004 Ford F350, 2010 Eagle Cap 850
"Our Four Wheel Camper Hawk is comfortable, but we switched out the cabover with a dense foam mattress.  That is so much more comfortable than the standard pad was.  We also carry extra pillows for seating and put them down on our cushions when we take our dinette down." – Mike, 2012 GMC 2500HD, 2012 FWC Hawk
"My Host Yellowstone is a double slide-slide model so I have lots of floor space.  I use a camping recliner inside the camper.  I can read or watch TV or even take a nap in it." – Mike Borrego, 2005 Ram 3500, 2008 Host Yellowstone
"I haven't, but I'm looking at going to a used furniture store and buying an old Lazy Boy wall hugger.  I'll see if I can cut it off and make me a recliner. Then go buy two new ones and do the same.  It's just the wife and me.  I would remove the dinette and install the recliners.  That is all that's missing in a truck camper." – Kenneth Wright, 2006 Dodge 2500, Travel Lite 860
"I've tried putting a folding camping chair on the floor to watch television and read, but it got in the way so much that I don't even carry it with us anymore.  I've tried putting pillows behind my back in the dinette, but it scoots my back too far away from the bench and then there's no support for my butt.  The way our U-shape dinette is built on the slide out, there's no way to modify it to fit two lounge chairs.  Consequently we limit our trips to three to four weeks instead of three to four months in our class A motorhome.  Is there any hope?" – Jim Cornwell, 2011 Chevy 3500 HD, 2012 Lance 1191
"The reason we purchased the 1172 was because of the seating available with the couch in the rear slide-out." – Steve Wright, 2015 Dodge 3500, 2015 Lance 1172
"After sitting sideways to watch television, we wanted something else.  We got tired of laying in our bed especially when someone wants to go to bed.  So we bought an 1172 Lance and thought we would try a recliner slide-out.
When you spend three to four weeks in a truck camper, you need a good place to sit and watch television or read a magazine.  I Iove the small table for your popcorn, pop or coffee in the morning with the paper.  I love having the sofa on a cold day or raining day.  No non-slide ever again." – Neil Steirer, 2008 Ford F-350, 2015 Lance 1172
"We bought a 2008 Okanagan 117 DBL, and it solved all our problems!" – Kay Goode, 1996 Ram 3500, Okanagan 117DBL
"We have the roll-over sofa option on our Arctic Fox.  So far we are very happy with it without modification.  We still use it as an extra bed when our daughter camps with us." – Pam Conner, 2015 Ford F350, 2015 Arctic Fox 1150
"When we started looking at truck campers we wanted to have a couch. Although the Lance 1172 has a small couch, it does not recline, so I suspect it will not be as comfortable as we would like.
We looked at other campers, including non-slide models thinking about removing the dinette and installing a recliner couch or two recliner chairs.  I knew that I didn't want to sit at a dinette every day.
The Lance 1172 or Eagle Cap 1165 were the closest to meet those needs. We have already been looking at removing the Lance 1172 dinette and installing a second couch or two chair recliners.  We don't even have the camper yet.  It will be delivered in late June 2015.  So, I am anxious to see what others have up their sleeves." – Don Fox, 2015 Ford F-450, 2016 Lance 1172 on order
"This question hit our hot button square on the head!  When we bought our camper, our top priority, and I mean very top priority, was comfort.  We knew up front that we would be spending time, sometimes lots of extended time, in our camper as we are no longer spring chickens wanting to get out and climb mountains.  Given that fact of life, we wanted to make sure that our time spent inside the camper was as comfy as possible.
The theater-type reclining seats offered by Eagle Cap became the driving force behind our decision to purchase the 1165.  The recliners are wonderful and will allow us to comfortably relax and enjoy our camper's interior amenities without any back or butt strain.  We highly recommend this type of seating." – Dan and Sheri Daddieco, 2015 Ram 3500, 2015 Eagle Cap 1165
"Okay, but you won't like the answer.  I had the same problem, so I sold the old Coachmen and bought a double slide sofa camper." – Gary Usher, 2015 Ford F350, 2015 Lance 1172
"Our Lance 825 is tight, and therefore limited in sitting options.  It would be possible however to eliminate the dining table, and convert the entire dining area, concise as it is already, into more comfortable seating.  Some may not consider that a fair trade, but it would be an option and worth it to some.
We are not traditional truck campers.  We rarely prepare meals in the camper, choosing to dine out.  We use our table, but not often to have meals.  We could do with a smaller version of the table; a flip-down/flip-up innovation that would allow space for better/more comfortable seating in that space.  It could be an option offered by the manufacturer." – Gerry Reeves, 2014 Ford F-250, 2014 Lance 825
"The dinette seat trim, though attractive when first purchasing, after awhile had become very irritating when we got up to leave the table.  So I turned the seat trim upside down on one seat, and removed the other one since it hindered the under storage door from opening." – Vic Smith, 2015 Ford F350, 2013 Adventure 89RB
"I don't have a truck camper, but I thought I'd chime in since you mentioned me by name.  I do enjoy comfy seating!" – Michael Butts, 2006 Ford F350, No truck camper
"Beer and wine?" – Bill Peters, 2013 Chevy Silverado, 2013 Four Wheel Campers Hawk
"Great question.  I have been wanting to find something better for a long time and am eager to see what other folks have done.  Thanks TCM." – John Bull, 2004 Dodge 3500, 2015 Arctic Fox 990
"By sitting upright.  In my profession I see more people who lounge, flop, twist and generally sit in awkward positions on soft couches and chairs. Sitting on something that doesn't sufficiently support the low back is likely to eventually cause low back pain.  I know that this isn't in the spirit of the question but studies and what I see on a daily basis are tough to ignore." – John and Cathy Strasser, 2012 Chevy 2500HD, 2013 Eagle Cap 850
"Drinking plenty of wine!" – Laurie Brokaw, 2006 Ford F250, 2010 Lance 850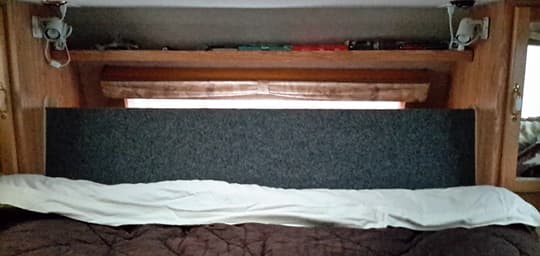 "When we purchased this camper in 2010, the first item I modified was creating a back rest for the overhead sleeping quarters.  My wife likes to read every night, and so do I.  Trying to lean against a sloping roof just doesn't make it.  I can't figure out why manufactures haven't figured this out.
I used a 5/8″ plywood board and glued outdoor carpet to the front and stapled a handle on the back made of seat belt webbing.  To hold the backrest in place I used 1/8″ 'L' shaped aluminum, bolting it to each side closet.  When it's time to call it a day, we just lift it up and place it in front of the mattress.  It's quick, simple, and very comfortable when pillows are piled against it.
As for the dinette comfort, I noticed the foam cushions could use some improvement.  The cloth material was becoming wrinkled.  So the quick fix was to wrap the foam in batting, and stuff it back in the covering.  For the backrest dinette cushions, I inserted one inch thick foam inside the frame section, giving more support to the cushion and alleviating that annoying feel of the wood piece that sits on top of the dinette seats.
The next project is to reupholster that top piece with a denser foam.  It's quite an improvement in seating comfort.  If I feel like watching television and stretching out, I put the dinette in bed mode, pile up some pillows, put on the wireless headphones, and we're all happy!" – Roger and Elaine Odahl, 2008 Dodge Ram 3500, 2004 Eagle Cap 950
"I haven't done anything to make it more comfortable.  The dinette is not ideal for lounging.  I envy my buddy's couch in his motor home whenever I am on it." – Ron Williams, 1997 Ford F250, 2003 Lance 1010
"Having used our camper only three times, we are still scheming about what we might do for more comfortable and versatile seating, especially for long trips in the future.  We want to make the table smaller to allow our face-to-face dinette to act as a U-shaped dinette, but also make it so it can morph into sort of a sofa so we can watch television and allow our small dog plenty of room to sit with us.  Our mods will also require new foam.  We're looking forward to hearing other folks' ideas." – Mike and Paula Bostic, 1999 Ford F350, 2012 Chalet S95R