This week's Question of the week was, "How have you made it easier to lounge and sit in your truck camper?"  Readers have shared how they have made their truck camper seating more comfortable.
This is not the first time that seating has been addressed in Truck Camper Magazine.  Our mod contests always seem to bring out a seating solution or two.  Here are a few examples:
Above: Roger and Kathy Sather, changed out their full booth dinette for a table and office chairs.
Above: Paul and Marceil Gathany, put in a futon mattress in their couch area.

Above: Kerry Stark, changed his face-to-face dinette to a full booth dinette.
Above: Eldon Rhodes from Texas came up with a dinette, sofa conversion.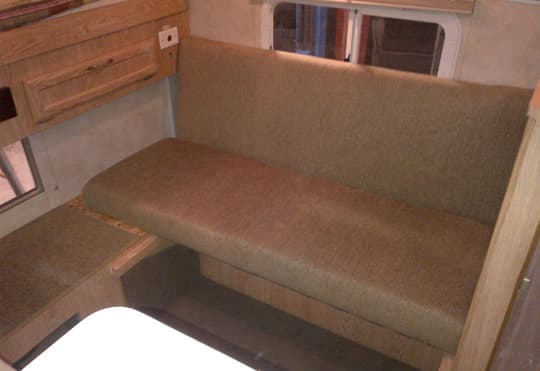 Above: Gerry and Lynn Minor made their bench seating more comfortable.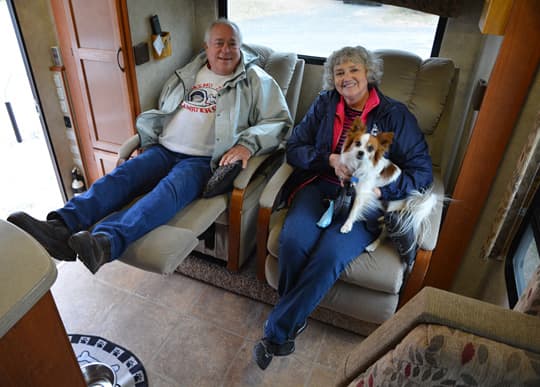 There's also Gene and Donna Miller who we interviewed for Alaska Week who added recliners to their Eagle Cap 1165.
Here are the responses to this week's question:
"I removed the dinette table completely and use a very small folding table and folding canvas chair.  Both the table and chair can be taken outside of the camper to sit in the sun.  After all, we are camping, right?  It's not about sitting on your butt per se, but enjoying the outdoors." – Chris Walton, Nissan Frontier, 2008 Four Wheel Camper Eagle
"We learned long ago that camper manufacturers put the softest foam in the dinette cushions.  We go to the foam shop and buy the firmest grade foam and replace the saggy soft foam.  It is so soft that you can feel the plywood under the cushion if you sit very long.  The firmest foam has just enough give for comfortable support.  Foam for upholstery is expensive but we find it worth it for the improved seating comfort." – Gary and Laurii Gadwa, 2012 Ford F-350, 2010 Eagle Cap 950
"We try to spend a minimal amount of time in the camper but, in bad weather, we can move to the man cave, a 16-foot cargo trailer that we pull behind our rig.  It contains a 1998 Chevy Tracker when on the move, a 42″ television with DTV satellite, the computer area with printer, and two very comfortable lawn recliners.  It also contains all the normal extra camping stuff such as firewood and wine." – Bob Nelson, 2015 GMC Sierra 3500, 2013 Arctic Fox 1140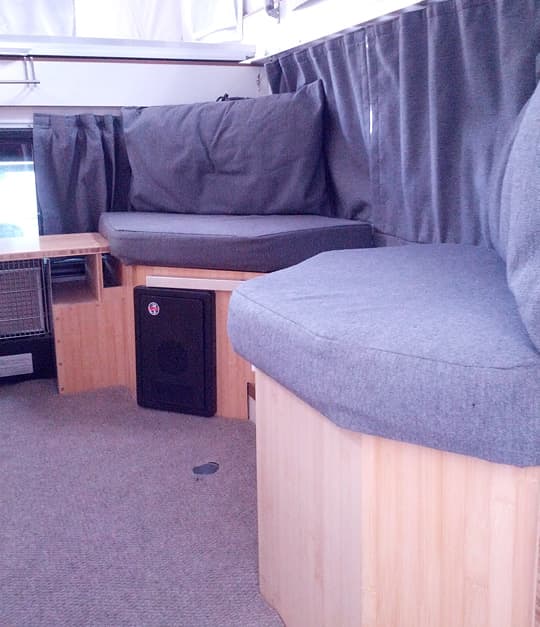 "I designed our dinette with angled seating for more leg room and we use the two king-sized bed pillows as corner back cushions.  A 12″ by 12″ table surface at the angle between the seats is convenient.  We seldom take the round cabaret table and post." – Tom Rives, 2000 Dodge Dakota, 2013 Phoenix pop-up
"The key to my comfort is a partially inflated balance ball.  To relax, I drop the backs on the bench seats that face each other, converting the seats into a bed.  I use the half inflated balance ball as a back rest.  The secret is that when partially inflated, it conforms to your back, making it extremely comfortable.  It's good as any lounger in my house." – Marc Scott, 2013 Ford F350, 2013 Alaskan 8-5
"We ordered our triple-slide camper with the U-shaped dinette and the folding couch in the rear slide out, neither of which are comfortable to sit on for long.  So we tried testing some low folding chairs on a trip to Mexico in place of the dinette, which was better comfort wise but not good aesthetically.  My wife was not digging the lack of a table.  So, that meant I had to do something with the space where the folding couch was in the rear slide.
There was a TCM article earlier this year where a guy removed his couch and installed some recliners in the rear slide out of his camper and it fit!  Well, the slide out in his camper was deeper than what we have so I gave up on the recliners.  However, I found we had some leather sling / hammock chairs in the house that would work if I could extend the floor of the slide by two inches.  Fortunately, the way the Chalet is built made it very easy to remove the couch and cabinet without damaging the camper.
I installed a plywood base over the existing floor, added some carpeting and viola, comfortable seating for two.  The ottomans store on the seat of the dinette when the camper is closed up.  I prefer to call our camper outings as, "living in a different location" instead of "camping".  Life's too short to be uncomfortable!  Ciao!" – Scott Elliott, 2007 Ford F350, 2013 Chalet TS116FB