"Yes, but I would own a new camper and truck with more space.  Not a pop-up." – Nathan Nelson, 2007 Silverado 3500, 2016 Palomino SS-1500
"I presently have an Arctic Fox 1140 and have traveled regularly.  After a few years of getting familiar with the truck, camper, and towing a Jeep, my wife and I completed a 115 day trip to Alaska.  The Arctic Fox 1140 was great.  We are impressed with the interior space and storage.
With $150 million, some of the money would have to be squandered on poorly chosen, illogical decisions.  Since I need to make at least one poor decision with the new found wealth, I would request Arctic Fox to replicate the 1140 (dimensions, tanks, design) using a non-wood, aluminum product – similar to Livin Lite.
I should have 10 dollars left and would go to Cracker Barrel for lunch.  So, the money is gone but I'd have a one-of-a-kind perfect camper." – Tony Coyne, 2015 Silverado 3500, 2016 Arctic Fox 1140
"I would use our truck camper more… a lot more!  I definitely would buy a new camper and truck.  The boat is still good, so I will pull it and head south for the winter.  Then I would go north for the summer to the boundary waters and lakes in Canada.  Then maybe I'd go back home to visit.  Yes, with that resource we could camp more often.  I am so ready.  Where is the form to fill in?" – James Hamre, 1993 Ford F250, 1988 Sunlite Eagle
"Yes, I would buy the newest Cirrus for my current 6.5 Duramax truck and drive to Alaska and go fishing." – Bill Hange, 2013 GMC, 2007 Lance 845
"Of course I would.  I'd have the money to travel everywhere I want to go with it." – Brett Nicholas, 2016 Ram 3500, 2014 Palomino HS-8801
"Yes!  I would keep what I currently own.  The only thing I might do is purchase a new truck once my extended warranty expired.   I would purchase the same truck with the same amenities.  As far as the camper, I don't think I would want a different camper.
I don't want to own a Class A, Class B, or Class C.  The truck camper provides all that is needed.  It is, to me, the only way to be able to boondock.  Even with all that money, I would still prefer dispersed camping as much as possible.
One important aspect of a truck camper is the ability to meet and make friends with other truck camper owners.  They are the down to earth folks that I enjoy spending my time with.
I would purchase a truck camper for a relative that wants to get into camping with family. Share the wealth." – Donald Fox, 2015 Ford F450, 2018 Arctic Fox 990
"Absolutely!   Nobody needs to know that I'm a millionaire.  A camper is a lifestyle to me, not a status symbol.  You can go where you like and be comfortable as can be.
A small but powerful package is a camper that is always prepared and ready for excursions and adventures.  It's also a bug-out vehicle and emergency shelter with stealth abilities.  You have got to love a camper on a four-wheel drive diesel dually.  Here we come." – Klaus Jager, 2014 Ford F350, 2007 Lance 1130
"I would buy my Four Wheel Camper and keep my same base tradesman truck.  I would just have the time to drive all the places I would like to go." – Patrick Seals, 2017 Ram 1500, Want a Four Wheel Shell model
"Why would winning a lottery change what I enjoy doing?  I might even do it more often to get away from all the free-loaders winning would likely bring." – Steve Savage, 2012 Ford F350, 2004 Hallmark Ute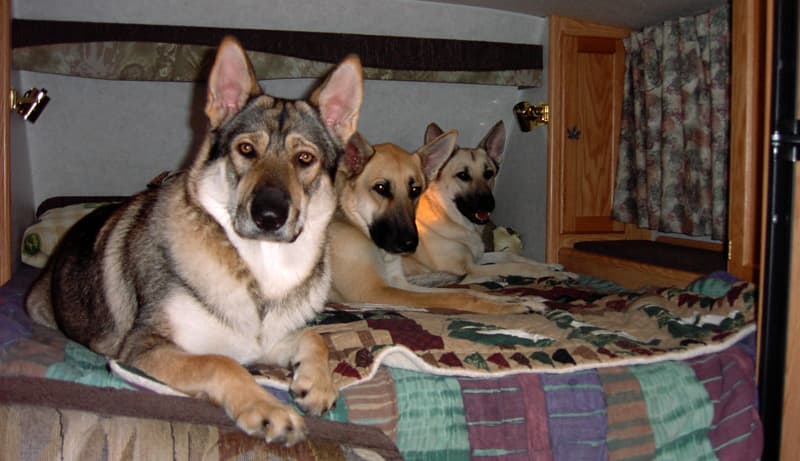 "Yes, of course.  Why would you want something else?  They are the only go anywhere, do anything vehicles.  With four-wheel drive, truck campers are the best.  I would use the interest payment and live off that.  Then, I would do some mods on the truck and camper.
Then travel, travel, travel.  We would see the world and share our experiences with everyone.  We would go off the normal traveled places that don't get the 45-foot fifth wheels and motorhomes.  Fun, fun, fun." – Joe Ebert, 2001 Chevy Silverado 3500, 2003 Bigfoot 2500
"Absolutely!  Every article I read from TCM makes me want to modify our truck camper in one way or another for remote camping.  Also, I would change the truck to be more efficient and comfortable.  Our initial truck was a 1973 Ford F250 single cab with standard steering, power brakes, and three speeds on the steering column." – Vern Mills, 1986 Ford F250, 1975 Trek 8-Foot
"You bet, but it would be a lot nicer.  It would be something along the lines of an EarthRoamer.  The rest of the money would go for gas." – Kevin Mooney, 2014 Ford F350, 2006 Okanagan 106UDB