After receiving over 160 responses to last week's $150 million dollar question, we divided the answers into two parts.  Part 2 keeps the intriguing revelations flowing.
This week's Question of the Week was, "Would you still own and use a truck camper if you won $150 million in the lottery?"
"Absolutely!  I almost have the camper set up the way I want it and truck camping fits my preference of being able to tow a boat or trailer and also to take off the camper and have the truck for other activities.  It is the best way to go for me!
The money would just be a way to help family and good causes with a tiny amount for myself to keep up my camping lifestyle.  What more could you want?" – Danny Crain, 2016 Ram 2500, 2015 CampLite 9.6S
"Yes, but I may have a Class A as well.  You can't go to the backcountry in a large RV." – Richard Alves, 2013 Chevy 3500HD, 2006 Lance 1181
"Yes, I would continue to truck camp.  I most likely would not change the camper or truck.  The combination I have now lets me get back into some fairly remote boondocking locations and I don't have to worry about that dreaded first scratch.
I would add enough solar to my setup to keep the batteries up if my stay was extended and I may even add a generator (although I really hate the sound of a generator – yours or mine).
I would buy a new boat and garage big enough to hold it.  The camper on the truck would be the direction I would go in.
I'm too old to change who I am and my lifestyle.  So, no yachts or mansions for me.  I'll just keep doing what I'm already doing, but not have to keep such a close eye on expenses." – Terry Gfeller, 2015 Ram 2500, 2013 Lance 865
"Much as I really like our rig, it has one problem.  My wife uses a lot of water.  Fifty gallons of fresh water and similar grey/black storage is not enough.  We also daily rely on GM's OnStar services, phone, and WIFI hotspot.  This limits us.
Otherwise we are very happy with the maneuverability, size, fuel economy and convenience we already have.  In the last three years we have found few places that we could not go in the Lower 48.  In that time we have been to over half of them and have driven or found parking for our 24-foot rig that larger units could not handle.
We would need to use the money to purchase an atomic-powered unit that could extract fresh water from the atmosphere, use it for all onboard functions, and vaporize waste in sterile form – all in the same space/weight required for our holding tanks.  $150 million might not cut it, sadly!" – Joe Sesto, 2015 Silverado 3500, 2015 Bigfoot 2500 10.6E
"Yes, most definitely.  I would probably upgrade my truck, but I love the camper." – Gregory Ruebusch, 2001 Chevy 2500HD, 2015 Northern Lite
"Yes, I would love to update the truck and the truck camper.  It is ever so convenient to get up and go with the truck camper for short weekends and long excursions." – Bob Mason
"Absolutely!  A truck and camper is the only way to go.  We would likely upgrade a little, but there would be no big changes in our lifestyle.  Here's an idea.  Pay off the bills and help someone get started in truck camping with the leftover money who can't afford a rig!  Ho Ho Ho!  TCM rocks!  Merry Christmas and Happy Camping!" – Tom and Karin Slack, 2011 Ford F350, 2008 Okanagan 85SL
"Heck yea!  I would upgrade to an EarthRoamer and full-time in it until I've visited every square inch of the country.  Then, I'd travel abroad." – Chris F., 2006 Ford F350, 2014 Palomino 8801
"Yes!  I'd have the best and biggest truck camper I could buy, and I would get a new truck to carry it.  I'd retire and hit the road less traveled ." – Jeff Hagberg, 2002 Ford F250, 2006 Travel Lite 800 SBX
"Yep.  I might upgrade to a new Four Wheel Camper Grandby.  Right now I also have a 17 foot Escape trailer.  I use them both at different times for different types of trips." – Rick Stolz, 1997 Ford F250SD, 2002 Four Wheel Camper Grandby
"Yes, we would still use a truck camper.  We might upgrade the truck and camper.  I'm not sure to what though." – Roger Wareing, 2013 Chevy Silverado 3500, 2016 Arctic Fox 990
"Oh yes!  I might do some amazing mods from Truck Camper Magazine.  And I would definitely get a larger generator!" – Jeremy Nelson, 2015 Toyota Tundra, 2002 Lance Lite 845
"Yes, but I would own a new camper and truck with more space.  Not a pop-up." – Nathan Nelson, 2007 Silverado 3500, 2016 Palomino SS-1500
"I presently have an Arctic Fox 1140 and have traveled regularly.  After a few years of getting familiar with the truck, camper, and towing a Jeep, my wife and I completed a 115 day trip to Alaska.  The Arctic Fox 1140 was great.  We are impressed with the interior space and storage.
With $150 million, some of the money would have to be squandered on poorly chosen, illogical decisions.  Since I need to make at least one poor decision with the new found wealth, I would request Arctic Fox to replicate the 1140 (dimensions, tanks, design) using a non-wood, aluminum product – similar to Livin Lite.
I should have 10 dollars left and would go to Cracker Barrel for lunch.  So, the money is gone but I'd have a one-of-a-kind perfect camper." – Tony Coyne, 2015 Silverado 3500, 2016 Arctic Fox 1140
"I would use our truck camper more… a lot more!  I definitely would buy a new camper and truck.  The boat is still good, so I will pull it and head south for the winter.  Then I would go north for the summer to the boundary waters and lakes in Canada.  Then maybe I'd go back home to visit.  Yes, with that resource we could camp more often.  I am so ready.  Where is the form to fill in?" – James Hamre, 1993 Ford F250, 1988 Sunlite Eagle
"Yes, I would buy the newest Cirrus for my current 6.5 Duramax truck and drive to Alaska and go fishing." – Bill Hange, 2013 GMC, 2007 Lance 845
"Of course I would.  I'd have the money to travel everywhere I want to go with it." – Brett Nicholas, 2016 Ram 3500, 2014 Palomino HS-8801
"Yes!  I would keep what I currently own.  The only thing I might do is purchase a new truck once my extended warranty expired.   I would purchase the same truck with the same amenities.  As far as the camper, I don't think I would want a different camper.
I don't want to own a Class A, Class B, or Class C.  The truck camper provides all that is needed.  It is, to me, the only way to be able to boondock.  Even with all that money, I would still prefer dispersed camping as much as possible.
One important aspect of a truck camper is the ability to meet and make friends with other truck camper owners.  They are the down to earth folks that I enjoy spending my time with.
I would purchase a truck camper for a relative that wants to get into camping with family. Share the wealth." – Donald Fox, 2015 Ford F450, 2018 Arctic Fox 990
"Absolutely!   Nobody needs to know that I'm a millionaire.  A camper is a lifestyle to me, not a status symbol.  You can go where you like and be comfortable as can be.
A small but powerful package is a camper that is always prepared and ready for excursions and adventures.  It's also a bug-out vehicle and emergency shelter with stealth abilities.  You have got to love a camper on a four-wheel drive diesel dually.  Here we come." – Klaus Jager, 2014 Ford F350, 2007 Lance 1130
"I would buy my Four Wheel Camper and keep my same base tradesman truck.  I would just have the time to drive all the places I would like to go." – Patrick Seals, 2017 Ram 1500, Want a Four Wheel Shell model
"Why would winning a lottery change what I enjoy doing?  I might even do it more often to get away from all the free-loaders winning would likely bring." – Steve Savage, 2012 Ford F350, 2004 Hallmark Ute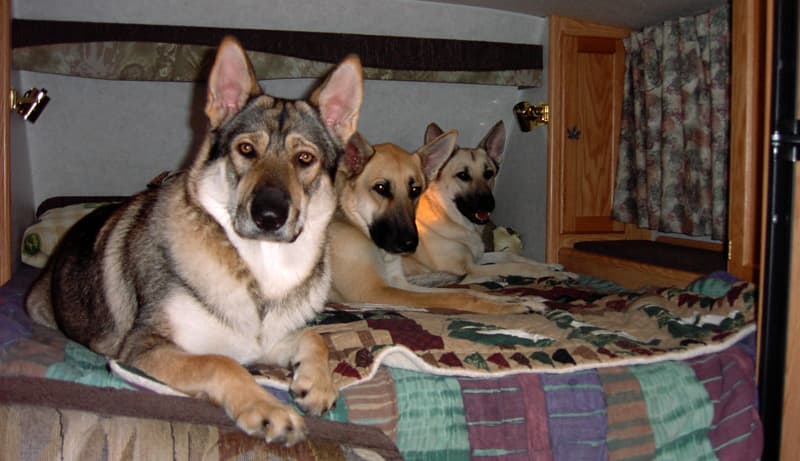 "Yes, of course.  Why would you want something else?  They are the only go anywhere, do anything vehicles.  With four-wheel drive, truck campers are the best.  I would use the interest payment and live off that.  Then, I would do some mods on the truck and camper.
Then travel, travel, travel.  We would see the world and share our experiences with everyone.  We would go off the normal traveled places that don't get the 45-foot fifth wheels and motorhomes.  Fun, fun, fun." – Joe Ebert, 2001 Chevy Silverado 3500, 2003 Bigfoot 2500
"Absolutely!  Every article I read from TCM makes me want to modify our truck camper in one way or another for remote camping.  Also, I would change the truck to be more efficient and comfortable.  Our initial truck was a 1973 Ford F250 single cab with standard steering, power brakes, and three speeds on the steering column." – Vern Mills, 1986 Ford F250, 1975 Trek 8-Foot
"You bet, but it would be a lot nicer.  It would be something along the lines of an EarthRoamer.  The rest of the money would go for gas." – Kevin Mooney, 2014 Ford F350, 2006 Okanagan 106UDB
"Yes.  I would probably go places that I have read about without worrying about getting stuck.  I could afford the four-wheel drive truck with a decent camper on it.  Maybe it would have a bathroom and a better sound system for traveling.
Exploring the north country would be great in the winter and star glazing.  Fall and spring I'd be out fishing and cooking what I caught instead of doing the restaurant scene.  Summer, I'd probably park it since I don't care for bugs and humidity.  Yup, I'd have one." – Allen Schott, 2002 Dodge Dakota, 2006 Sunlite Apache 690
"You bet!  What's a better way to travel?  There is no one to bother you at home.  Help, I need money!  You really find out who your friends are after winning the lottery.
You wouldn't have to stay at China Mart.  You could stay at national parks and not have to hear people say how expensive it is to stay there.  We could head to some federal campgrounds where it's nice and quiet.
I would drive down to Panama City and the canal and maybe farther south.  Who cares?   You would have all the time in the world.  I would put our camper on a ship to Australia and have a blast.  See ya soon, not!" – Neil Steirer, 2017 Ford F350, 2015 Lance 1172
"Yes.  I can not think of another way to have a relaxing holiday with no stress of planning or having to keep up with campground reservations." – Joan Humphrey, 2015 GMC Sierra 2500, 2013 Adventurer 80GS
"I will continue to own and use a truck camper when I win!  With that amount of money I will buy a smaller truck and pop-up camper to add to our current set up so that I can go more places.  Also, I will buy appropriately set up trucks and campers for each continent to travel to far off places." – Linda Clark, 2017 Ram 5500, 2017 Northern Lite 10-2 EX CD
"We love the truck camper for its advantages; being able to use the truck for other things when not camping, and no tires or engine to maintain.  We love the idea of always having the camper with us wherever we go.  We never take it off when camping because we are able to park in a regular parking spot among other things.
What we don't like is that there is no direct way to get in the camper without going outside.  It's not as easy to just get in and go because it has to be loaded and tied down.  The wind drag is much higher and most of the showers are not big enough for someone my size (we are doing a major bath and holding tank remodel right now to improve that).
All that said, my wife and I both agree that we want as small a camper as possible and for it to still be livable.  I don't think that would change with $150 million since neither of us like the large campers or the idea of dragging a lot of stuff with us.
In a few years when we retire and travel more we may consider a small Class C or a larger Class B.  In the meantime we are loving our truck camper.  We may even keep this camper because the shower will probably be larger than any other short bed camper.  Since we will probably never haul a lot of stuff with us, we don't want a long bed truck." – Tom Overholt, 2007 Chevy Silverado, 2007 Palomino Maverick 8801
"Definitely, but with that much money I might spring for a frame-off restoration of my truck!  The camper would just get some updating, but we really like the combination.  It works for us." – Dan Forry, 1996 Ford F250, 2006 Palomino Bronco 1251
"Yes, I would.  I like truck camping very much.  I have owned three truck campers over the years, starting in 1977.  They fit my lifestyle very well.
I go to car shows in different states and I haul a Jeep or pull a boat.  Sometimes I tow an antique automobile somewhere like Pennsylvania, North Carolina, or Bowling Green, Kentucky.  I go to AACA meets, Carlisle Productions, or to Hershey, Pennsylvania.
I never play the lottery so I won't win that kind of money, but I am happy for someone if they are lucky enough to be able to get a winning ticket." – Ralph Tindell, 1997 Chevrolet 3500, 1997 Lance 840
"I definitely would keep my camper.  I would probably make some mods and maybe get a newer truck.  I would also buy both a truck (if needed) and camper for my brother, sisters, nieces, and nephews so that we could all go on adventures together.
It would also give me peace of mind to know they could be ready for any emergency and would fare better in a disaster.  And, of course, I could quit my present job and be independent." – Marcia Liedigk, 2000 GMC K3500, 1998 Elkhorn
"Absolutely.  We would get way more use from our truck camper unit if we didn't have to stick around home to collect a paycheck.  After owning trailers, camper vans and motorhomes over the years, plus five different combinations of trucks and campers, we are hardcore truck campers with zero desire to "upgrade" to any other style of RV." – Sean Lynn, 2018 Ram 3500, 2014 Lance 950S
"Yes, I would still have a truck camper!  It would be a custom flatbed-based hard side with high-tech super lightweight construction, state-of-the-art solar, and massive water capacity.  It would take many cues from EarthRoamer, but with the ability to split the camper from the truck.  This would be used to extend the drives between my mountain and desert houses by several weeks in each direction." – David Turner, 2002 Ford F250, 2002 Lance 820
"Yes, definitely.  After many travel trailers and motorhomes, now that the kids are grown and gone, the truck camper is perfect for my wife and I.  We are free to go almost anywhere and can fit in almost any campsite.  It is so much more mobile than towing a trailer or driving a large motorhome.
Believe it or not I would probably have the same set up I have now.  The truck is a 2016 Dodge Ram 3500 Laramie, dually, diesel, crew cab with very low miles.  The camper is a 2007 Lance 1055 camper with no slides.  Right now I prefer a camper without slides.  That may change in the future, but for now it works great.  It has a large dry bath and high headroom clearance in the cabover, which is for great lounging.
There is plenty of interior storage, generator, solar panel, air conditioner, two awnings, etc.  Everything works perfectly.  Plus, the truck and camper are paid for.  I really like this set up, so even if I had $150 million dollars I would probably have the same rig.  However, I would quit my job and get out more with the truck camper." – Jim Hignite, 2016 Dodge Ram 3500, 2007 Lance 1055
"Absolutely!  We can never stay at our daughters' homes to visit regardless!  Love 'em, but we're not staying inside.  Using a truck camper is the safest way for us to travel and be independent once we arrive.
Our front carrier mounted Yamaha 2400 watt generator keeps us totally free to stay anywhere.  With my gas engine fuel adapter system and a 35 gallon truck tank, we don't carry gas cans for the generator.
We would trade our truck for a 3500 Chevy gas and a new Northern Lite as we are sold on the construction of two-piece fiberglass shell.  There would be no unhooking or ugly setups in the rain or bugs.  We can just stay cozy in our camper.
Too many other RV types are blowing out tires, so that's not for us.  We have owned many RV's since December of 1977 and now we have found exactly the comfort fit for us." – Bob and Linda Robinson, 2002 Chevy 2500, 2010 Travel Lite 960
"I absolutely would.  Why wouldn't I?" – Jeff Hauser, 1996 Dodge d2500, 2011 Arctic Fox 860
"Yes, but I would upgrade to a Ford 250 SD truck and the newest full-sized Lance or Bigfoot.  Also, I would buy a helicopter outfitted like a camper for remote trips." – Ed Albert, 2002 Chevy 2500HD, 1995 Lance Squire 10-foot
"If I won $150 million in a lottery, I would be able to quit my job, finally buy a truck camper, and go truck camping for the rest of my life." – Ludwig Fella, no truck yet, no camper yet
"I would still own a truck camper, but with that much money I'd update to a new 2018 Ford F350 dually and a new Lance 1062.  We love to travel six months of the year.  The truck camper gives us the freedom to go where we want.  We love truck camping!" – Stafford Miller, 1999 Ford F350, 1999 Lance Legend 980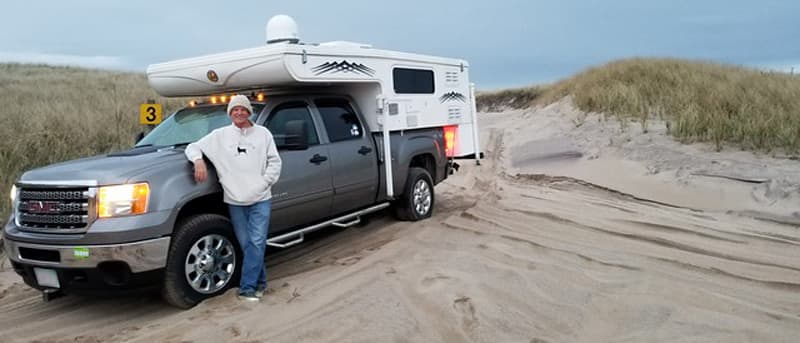 "Absolutely.  My rig to me represents freedom, efficiency and happiness.  These are things that money can't buy." – George Lake, 2012 GMC 2500 HD, 2014 Hallmark Ute
"I would imagine, yes.  I would also imagine a brand new truck and camper and it would get a lot more use as well." – Kevin Jenckes, 1996 Ford F-250, 2005 Lance 820
"I would still use my truck and camper for sure.  I would just use them more.  I would have the cash to be able to do what I want, when I want, and for as long as I want.  It would be nice to be able to just do stuff and not worry about finances.  I might upgrade, but I would still have a truck and camper because it would give us the mobility that we always need to get to those places we want to go that a bigger unit can't get to." – Ken Atamaniuk, 2016 Lance 855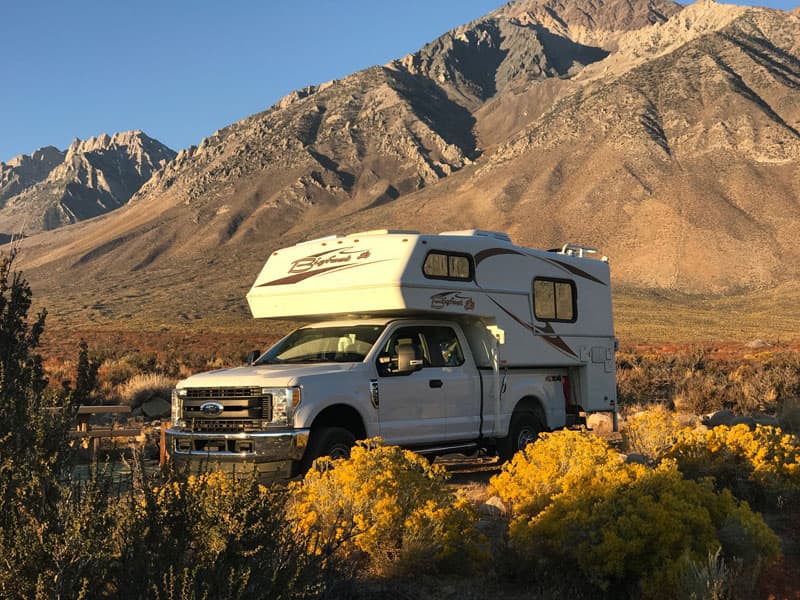 "Yes!  I love truck campers!  I'm on my fourth one and I've loved them all.  I'm excited by new innovations and how a small cozy space can have so many new ideas.  They keep getting better.
Big for me is not the answer.  I like being able to park and maneuver in small spaces, yet have everything I need in a small space.  The truck camper offers so much freedom to get off-road and truly be out in nature.
I'm an artist so I've always used my camper as a base for outdoor painting and getting to the beautiful spots and being able to camp there.  I would never give this up for all the money in the world." – Gregory Hull, 2017 Ford F350, 2015 Bigfoot 15 C9.5
"Yes, I love truck camping.  I might get one with a bathroom, so I guess that might need a bigger truck." – Matt Reinker, 2016 Ford F150, 2007 Northstar TC650
"We would definitely still own a truck camper and have the luxury of using it whenever we wanted.  Also, we would not wait to get the new Lance 1172 we are planning on getting next year.  Maybe we would even consider getting that new EarthRoamer XV-HD that I have been dreaming about.  Fun to dream." – John O'Shaughnessy, 2007 Ford F550, 2012 Wolf Creek 816
"I would fly to far flung locations and rent (or buy, rich folks can do that) whatever vehicle suits the adventure best.  I'd see myself on the move for several more years before settling down in a fully maintained palace on the Cote d'Azur." – Mark Obert, 1999 Ford F250SD, 1999 Lance 920
"I would still own a truck camper.  I would get a new Ram 3500 mega cab Laramie with tan interior and a front bench seat.  The options would be diesel, heavy duty transmission, dual alternators, auxiliary switches, 8.4 radio with navigation, a high cab backup camera, and remote start.  Then I would modify the truck to be a long bed, with rear wheel steering, and new suspension with an aluminum flatbed.
Then I would have a custom-built camper with high-end diesel or electric appliances.  The camper would be a hard side fiberglass pop-up.  The whole setup may cost $400,000.  Then I would tour the national parks." – Ron Richardson, 2014 Ram 3500, 2012 Wolf Creek 850
"Yes, I would use it even more as I wouldn't have to work.  I would probably upgrade to a new truck and camper." – Rick Bridarolli, 2006 Ford F350, 2001 Adventurer 90RDS
"My current truck camper is minimalist, backed up by a 25-foot Class C for long trips.  Obviously I would be temped to upgrade to a somewhat larger camper.  I am really convinced that short campers, RVs and trailers are the way to go.  One great thing about using the current camper in the winter is that I have a simple rig so there are no worries about winterizing as I move among climate zones." – James Hurdle, 2006 Dodge Dakata, 2011 CampLite 5.7
"Yes!  We love our truck camper and the independence, convenience, and comfort it provides.  We wouldn't change a thing even with more money.  Well, it would be nice to get 20 miles per gallon.  It's wonderful to be satisfied!" – Roger Allman, 2016 Chevrolet Silverado 2500, 2016 Alaskan 8.5 Cabover
"Are you kidding me?  I'd buy ten more campers; hard sides and pop-ups from different manufacturers and different models.  I would also get ten more trucks, all Fords.  I'd park and store them all over the country.
When I get bored (waiting for my wife to retire), I'd hop on my 2018 Harley Davidson FLTRU and just keep scooting around the country with the seasons.  I would put a serious dent in my bucket list, and save our common buckets for my wife's retirement and vacations.  Now I have to go out in this cold snap and get some Megas.  Great question!  I can't wait too read the responses to this one." – J.Kevin McCarron, 2013 Ford F350, 2013 Northern Lite 10-2 CDSE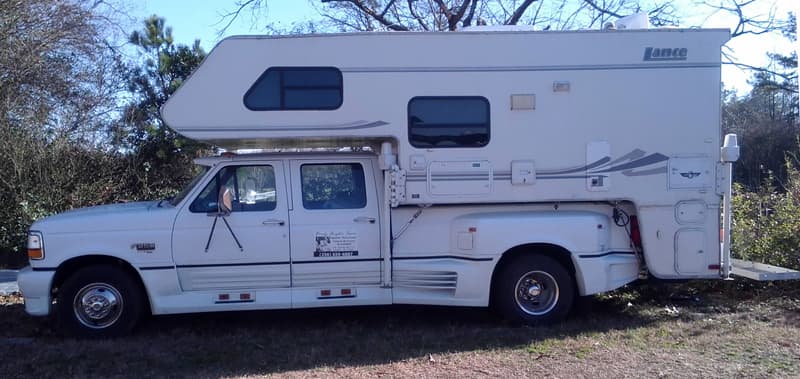 "Yes!  I would get a new high gloss white paint job for my pickup and have our Lance professionally cleaned and polished at the end of every trip.  We would keep what we have because I love my truck.  Janice, my wife, searched for the 1061 because she liked the interior set up.  Happy wife, happy life." – Jerry Bonneau, 1995 Ford F350, 2002 Lance 1061
"Of course, money doesn't change the fact a truck and camper are still the most mobile units for getting you outdoors camping.  Big rigs don't get you down most of the narrow dirt roads to the seclusion and quiet beauty.  The better fuel economy, easy of parking, maneuvering, and quaintness can't be beat." – Steven Brister, 2002 Ford F250, 2010 Adventurer 85WS
"Yes!  Maybe I'd get a dry bath." – Harvey Stallings, 2010 GMC Sierra 2500 HD, Travel Lite 890SBRX
"Absolutely, I'd keep my camper!  It's the greatest one man mobile fishing cabin a fisherman could have." – John Schlobohm, 2013 F150 Ford, 2013 Lance 825
"Yes.  I would get a new truck, have a custom flatbed built, and get a Four Wheel Camper Grandby flatbed model.  We would combine camping trips with train and cruise travel worked in." – John Dorrer, 2013 Ford F250, 2014 Four Wheel Camper Grandby
"Absolutely!  The money would allow us to retire earlier and stay on the road longer." – Eddie Fort, 2016 Ford F-350, 2016 Hallmark Everest
"Yes, I would still keep it and expand more so on truck camping.  Right now I am down to a Lance travel trailer.  But I have owned two Lance truck campers for a total of about eight years over the last nine years.  My wife can't get into the bed of the truck camper very easily anymore because of severe back problems.
We went from a 2011 Lance 1181 truck camper and a 40-foot fifth wheel to a 27-foot Lance travel trailer.  I had both a fifth wheel and a truck camper for about eight years.  The fifth wheel was kept on a permanent site on a local lake six months a year and the truck camper was taken all over the United States.  We enjoyed it so much.  You can literately go just about anywhere in a truck camper.  We very seldom hook up to utilities.
If we won the lottery, we would love to travel the entire United States in a truck camper. We both love the ease of transport and the simplicity of setting up and packing up.  When that time comes, we most likely will get another truck camper and do just that.  We have always talked about what we would do if we won the lottery and that is always our number one dream.  We hope to do so in a few more years." – Jeff Lewis, 2001 Ford E-350, 2011 Lance 1181
"Cathy would really like the ability to get up from the seat in the cab and go back into the camper (when not moving, of course).  I would still value the compact size of a truck and truck camper combination, but might have to go a bit longer.  So, we would be looking at one of the shorter Dynamax class C models; maybe an Isata 5." – John and Cathy Strasser, 2012 Chevy 2500HD, 2013 Eagle Cap 850
"We would love to be able to travel the country with our horses and dogs.  Being able to ride in all the beautiful areas of different states would be a dream come true.  We love our truck and camper.  It gives us the ability to go places other RVs can't get to.  We would buy a newer truck, but would keep our camper.  It's like new and plenty big for the two of us." – Rhonda Saul, 2004 Ford F350, 2008 Arctic Fox 990
"Absolutely!  I would upgrade my truck to a Stewart and Stevenson LMTV or MTV with some updating and upgrades.  Or I would just get a brand new one built and then permanently attach a new Lance 1172 to it.  I would have a full-time truck camper expeditionary vehicle for around $300,000.
I'd start my truck camping adventures by traveling the entire North American continent before heading to South America.  I'd then put it on a ship and head west to Europe and explore before crossing into Asia and then into Africa.  After those continents are done it'll be off to Australia and Antarctica.  Then, my global truck camper exploration would be complete.
When I got back to America, I would still use my truck camper to spend more time in the places that I found and enjoyed the most in my initial trip.  This time I'll hook up the boat and spend a lot of time fishing in the best locations America has to offer." – Kevin Harris, 2014 Ram 3500, 2007 Lance 1191
"I'd get a new truck, a new top-of-the-line Lance with slide-outs and every option, and a brand new Kingston horse trailer with every option.  Yes, we love truck campers!" – Esther Fiddes, 2001 Chevy 2500HD, 2006 Lance Lite 951
"Heck no.  Are you kidding?" – Stuart Johnson, 1999 Dodge B3500, 2016 Hallmark Cuchara
"I just bought a new truck.  Yes, I would buy a new truck camper." – Jay Karchut, 2017 Ford F250, 1985 SunLite C-851
"I'd do a lot of fun research into the truck before purchase and then have Bahn Camper Works design and build the rig of my dreams!  I'd love to travel Canada 1 west to east and then my way back east to west farther north." – Susan Sande, 2013 Toyota Tundra (not camper friendly), Nothing yet, waiting to win that $150M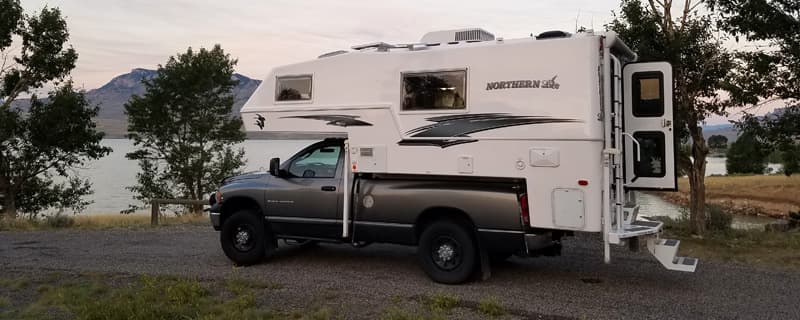 "Yes.  This is our third truck camper.  We have also owned Class A and Class B motorhomes in the past.  We chose this extremely versatile camper type because of its ability to go everywhere we want to go with pretty much all the comforts of home.  We love to visit out of the way places and rarely stay in campgrounds.
Now if I had $150,000,000, there are some things I would change.
1. I'd trade my 2017 Northern Lite 10.2 EX CD in for a new separate shower 2018 Northern Lite 10.2 EX CD.  Then I would sit down with Northern Lite and make just a few custom mods, but no major modifications.  It's a great design.  With our two factory mounted solar panels and two Group 31 AGM 125-amp batteries, we can't run the air conditioner or microwave, but have never gone below 70 percent charge in 30,000 miles and six months on the road.
2. The 2005 Ram 2500 four-wheel drive Cummins regular cab would be traded for a 2018 Ram 3500 four-wheel drive Cummins long box single rear wheel.  It would have larger tanks, Rickson Wheels, 245/70/19.5 tires, custom aluminum utility bed installed, front Roadmaster spare tire carrier, Hellwig sway bars front and rear, and Ram air ride suspension.  It would be equipped with Torklift frame mounted tie-downs and 20,000 rated hitch like our current truck.
Then I would have Featherlight build me a couple trailers that I could haul when I wanted to.  One would be a 7 by 12-foot to haul our sidecar motorcycle and my gear for cowboy action competition, as well as convert to a sewing area for my wife.  The second would be a decked out as a car hauler for the custom cars that that much money would allow me to play with.
This was a fun exercise.  The funny part is that we are very close to owning exactly what we would own if money was not an issue." – Mark Harrison, 2005 Dodge 2500, 2017 Northern Lite 10-2 EXCD
"Yes, I would still go truck camping.  With the money I could go to all of the places I can only dream of at this time.  I would go to Alaska for eight weeks, north of the Arctic Circle, all of Canada, and the east and west coasts (4-6 weeks each), etc." – Rag Rag, 2017 Ford F150, 1990 Sportsman 8FSD
"No-brainer!  I would purchase a dream set of equipment; an H-Duty dually long bed truck, an off-road pop-up, or a good quality truck camper with a slide-out.  Most likely I would get both.  Just think about it.  What a great way to hide from all those moochers trying to get a slice of my $150 million.  Right?" – Terry Disley, 1992 Chevy 1500, 2017 Travel Lite 625L
"I think we might just upgrade to an Earth Roamer XV-LTS and maybe start seriously traveling, well beyond the borders of the United States.
Currently we can only afford to travel in The West and Alaska.  The extra cash would definitely allow us to see and do more.  I'm in.  Send us our lottery winnings.  Ha Ha." – Gary Gadwa, 2012 Ford F350, 2010 Eagle Cap 950
"I have a large extended family so we would split the lottery winnings up by about ten ways.  That leaves my wife and I with $15 million.
That's still enough to get my dream truck; a 2018 F450 Super Duty dually, crew cab, diesel, automatic with a camper package.  The truck camper would be a brand new Host Cascade.  It's 10.5 feet in length with two slides, recliners in living area, and a dry bath.
Places to go would include Alaska, the Grand Canyon, Arizona, New Mexico, Prince Edward Island, British Columbia, and Mackinac Island.  I would also tow behind a 21-foot V-hull stern drive boat with a cuddy cabin." – Kirk Semlitsch, 2003 Ford Ranger
"What a fun mental exercise!  Yes, I would continue truck camping because it's the only way to RV unless you want to go to overcrowded RV parks with barking dogs and children riding their bikes through your campsite.
With that kind of money I would upgrade to heavier duty truck with a custom built bed and get the Eagle Cap triple-slide with the theater seating.  Also I would add three solar panels and custom battery boxes in the bed to facilitate dry camping without running the generator so often." – Jim Cornwell, 2011 Chevy Silverado 3500, 2012 Lance 1191
"Yes, I would still own and use a truck camper.
Before I bought my truck camper, I had horses and mules with a fifth wheel stock trailer.  I would park in a horse camp, tie my animals to the trailer, and had a modified living area inside the trailer.  I hung tarps to block the inside view and also to block cold wind.  It had a bed up in the nose, a camp toilet, a solar shower and a cooking area.  I also had the ability to lock the doors to keep safe.  I camped like this for over 20 years.
My 1987 Lance 4000 camper was an upgrade with had running water, a heater, a bathroom and a shower.  I bought my camper used in July of 2015 from a private owner.  It had been well taken care of.  It only needed minor repairs which a friend resolved.
My first trip was from southern California to Black Mountain, North Carolina.  I am one who does not like to be in places where there are lots of people and motels/hotels.  I prefer to be in my own space and I enjoy the flexibility that my camper provides.  I can also bring my dogs along without having to pay extra fees.
Now if I won $150 million I would probably upgrade my pickup to a newer, more fuel efficient model.  If I did that, there is a good possibility that I would possibly upgrade my camper to one that had more space." – Barbara Gronek, 1987 Chevy Silverado Pickup, 1987 Lance 4000
"Yes, I would.  I took a few days to ponder over this question just for the fun of it and came up with the same answer that I had when ordering my new rig.  After selling my previous truck camper, I did an extensive amount of research about RVs just like I did when I bought the previous one. I seriously considered buying a high end fifth wheel or a diesel pusher, however, I just wasn't comfortable about the idea. It was not because of the cost, but because I would lose a lot of versatility.  Also, the fact that I couldn't go everywhere.
My first thought was, if I were to win the lottery, I would get an Earth Roamer. Again, I still wouldn't have the same versatility as a truck camper.  Plus, I wouldn't have the same amount of sleeping or living space that I have in my truck camper.  My grandchildren love to travel with me and we often bring the boat. That's why I love the truck camper. Put the boat in the water, put the camper on the ground, and take the truck and go to town!
Of course with that kind of money one could buy several RVs . I was just taking into consideration that if I had to choose one, it would be the truck camper." – Dennis DeVille, 2018 Ford F350 on order, 2018 Lance 1172 on order
"I would make a few upgrades to my truck, and I would purchase a newer camper.  My wife and I would spend time seeing this country." – David Stinson, 1990 Ford F250, 1979 Coleman Cadet