A record breaking number of Question of the Week responses reveal what $150 million dollars would do to our truck camping lifestyles.  This is one fascinating read.
This week's Question of the Week was, "Would you still own and use a truck camper if you won $150 million in the lottery?"
"Having been through this in a similar fashion, first let me clarify that you don't get the full $150 million.  Here in Michigan, you would end up with about $73 million.
After splitting up the funds to different savings, checking, and investment accounts, we simply went on with life.  The only change was that we switched out of our high stress jobs into part-time gigs that allows us to travel more.
We still have the same house and property, same toys, and the same vehicles." – E.B., 2002 Ford F250, 1994 Shadow Cruiser
"Even if we won the lottery, I would definitely stay with the camper we have.  Our 1971 Amerigo has lots of sentimental memories.  We have owned it since new.  Although the new trucks are probably more comfortable and have lots of bells and whistles, we love our 1996 Ram 2500.  It has served us well and we don't have to deal with all the computer sensors." – Susan Oliveri, 1996 Dodge Ram 2500, 1971 Amerigo
"The lottery would give us the comfort to never look back and always charge forward in our new truck camper!" – David McKee, 2017 Ford F350, Looking for an Arctic Fox 865
"If we won $150 million dollars, we would still have the same truck camper.  We would just have more time to use it." – Bill Gage, 2015 Ram 3500, 2017 Wolf Creek 840
"Yep!  $150 million should take care of it.  I'd have the same set up with a few mods. The truck's interior would be upgraded with all the bells and whistles – just because.  The camper would have the solar and batteries that are required.
With $150 million, I'd be looking at the Telsa Powerwall system as they're working on an RV model.  Otherwise, Lithium-batteries and more solar.  Actually one more 160-watt panel might do it.
I'd be towing a RZR 1000 Turbo buggy on a 7×14' open aluminum trailer.  The rest of the money would be for the FFBs to get around (Fuel, Food, Beer).  And we're good to go.  Now I need to go out and buy those Lotto tickets." – Frank Poole, Ram 5500 HD, Arctic Fox 990
"You bet!  Winning the lottery and getting to go truck camping full-time is one of my favorite daydreams.  I would not get a new truck because I love mine, but I would get some snazzy fuzzy wool seat covers.
I would get a new Bigfoot truck camper, but I would be stoked to not have to sell my old Lance, which I also love.  I would retire and take my son on the trip of a lifetime for a couple years of road schooling.
We would go to every national park we haven't been to yet.  We'd eat fewer meals of beans and rice and stop for more fancy ice cream.  We'd be able to ride all the historic trains that we read about but can't afford.
I'd still hike for fun.  I'd just do it in some decent boots.  We'd truck camp at every camping music festival we could find and buy the craziest hats from the vendors.  I'd still prefer state and national parks over RV parks.
Bonus!  I could hire someone to do all the caulking and sealing on the camper!" – Darcy Hubbard, 2014 Ram 3500, 1998 Lance Legend
"I would still go truck camping, but I'd have one custom-built to be exactly what I want, and within the specifications of the brand new truck that I'd be buying.
I'd have a lot of figuring out to do since I run a seasonal (summer) business, which I love, and have a kid in school.  So, we might have to buy a second rig for a full-time teacher to hit the road with us.
You should have asked where we'd go truck camping if money was no option.  I'd go to Australia!  Since money is no option, I'd probably buy a rig down there and sell it – when (or if) I leave.
Maybe someone would build me a truck camper that's as amazing as this trailer.  I think truck camper manufacturers could learn a lot from this trailer manufacturer!" – Melissa Malejko, 2002 Chevy Silverado, 1981 Okanagan
"The simple answer is yes!  I would change trucks to a long bed dually 450 or 4500 with the maximum payload and get a long bed camper with a least one slide for a little more room.  Then, I'd go back to Alaska, then The West, then Labrador, and then wherever else is left.
This way I would stay ahead of all of the friends and relatives that might want to borrow a few dollars.  All of the above after I take care of family and some limited number of friends.  Merry Christmas everyone!" – Mark Turnbull, 2013 Chevy 3500HD, 2017 Cirrus 820

"I would still own and use a truck camper.  It is the easiest way to travel and you can get in anywhere and go anywhere.  With a Ram 5500 you are not overloaded like most RVs.  You can fit in any parking spot along the way.  Plus the 5500 is more stable on the road than most RVs." – Kevin Hasch, 2013 Ram 5500, 2013 Lance 1172
"Yes, but now we're talking that new 2018 Ford F450 with the heated and massaging leather seats!  We're also looking at an early retirement so we could hit the road for our dream trip to Alaska." – Randy Smith, 2001 Ford F350, 2017 Adventurer 910DB
"I might have to break rank with the actual slide-in truck camper concept and spend $550,000 for an EarthRoamer.  That is my idea of a truly luxurious truck camper vehicle.
After all, it is only an F550 with a few minor modifications; dual wheels eliminated, 42-inch bead lock wheels, supreme off-road tires along with full air suspension at all four corners.  And it does have a full fiberglass shell with extremely useful amenities.
Or, I could call Grant at Bigfoot Industries and see if he would want some investment dollars to build the Bigfoot 2500/3000 with a slide.  Then I would order the F550 from Earth Roamer with their modifications and mount the new Bigfoot camper on the flatbed and I would be like a normal truck camper person.
Yes, I do like to fantasize, so I better run out and buy a couple of Powerball tickets right now!" – Roger Odahl, 2008 Dodge Ram 3500, 2004 Eagle Cap 950
"Yes, but I would have a driver." – Steve Crawford, 1970 F250, pending
"I sure would still own both a truck and truck camper.  The money would be used to completely rebuild the Lance 1161 and the truck would be upgraded with Bullet Proof diesel aftermarket parts to take care of the engine problems of the Ford/International 6.0 L Powerstroke diesel.  I would install four cameras to protect the truck camper from tree limbs that jump out." – Ben Sawbridge, 2006 Ford F-350, 2003 Lance 1161
"Yes. I would be able to buy everything I need for my truck and camper build." – Randall Johnstun, 1965 GMC 1000, Homebuilt Camper
"I would upgrade the truck to a 2018 Ford F450 with the highest trim package available.  I would fun to see if I could spend 100K on it.  I would keep the Arctic Fox 865 and do nothing else but camp.
I would also have a custom Show Hauler built based on a Freightliner 4X4 conversion chassis, and about 27-feet of living space.  I would then tow the F450 and Arctic Fox 865 behind the Show Hauler just so I could still get into those tight places.
I would take the kids with me and then I Just have to figure out where to send the wife…" – Jason Cecchettini, 2012 Chevy 3500, 2017 Arctic Fox 865
"Yes, but I would get away more often." – Chip Fraser, 2014 Chevy 2500, 2015 Arctic Fox 865
"Just because you are all of a sudden rich doesn't mean much when the lifestyle is the same.  I am retired and would not give up truck camping.  I probably would update my rig.  But more so I could give to those who are less fortunate than me.  Spread the wealth." – Charlie Young, 2013 Chevy 2500, 2002 Lance 815
"Sorry guys, with unlimited funds it would be a brand new Ford truck and a living quarters horse trailer." – Tricia Mason, 2009 Ford F350, 2008 Montana Ponderosa
"Without a doubt I would continue to own a truck camper.  The truck would get some upgrades like an exhaust brake, but the money would not change the way we roll." – Brian Plourde, 2007 GMC Sierra 2500, 2015 Adventurer 80RB
"My question is, why not?" – Bill Richcreek, 2013 Ford F-350, 2018 Lance 855S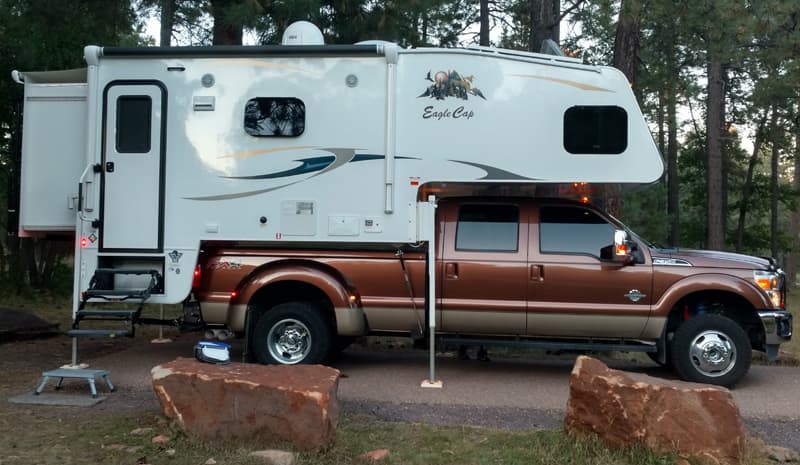 "I would most definitely still keep our truck and truck camper.  We love our set up." – Pam Fosburgh, 2012 Ford F350, 2017 Eagle Cap 1160
"Yes, I would still own a pickup truck camper.  But I would trade up to a Ford F550 with custom utility bed like Bruce Ludlum's truck." – Richard Duzenack, 2015 Ford F350, 2015 Arctic Fox 1140
"Yes, however I would buy a new Ford F450 with all the bells and whistles, and keep our Chalet.  I would then have the truck and camper crated up and shipped to Australia.  When we were done with that country, I would have it shipped to New Zealand, and then Europe.  I might come back in two to three years!  Of course I would occasionally fly the kids over to visit!" – Jeannie Coushaine, 2001 Ford F350, 2012 Chalet DS116RB
"$150 million is a lot of money.  Yes, I would still have a truck camper.  It would be a new Lance multi-slide.  It would be mainly for my personal assistant, masseuse, and chauffeur when she's not driving me around in my custom made double decker Prevost bus.  It would sit on a F550 with a hot rod turbo diesel so it can pull the Airstream trailer that I would provide for my personal chef, operating engineer, mechanic, wife, and kids, etc.  So yes, I would still have a truck camper." – Giles Blair, 2015 Ford F350, 2012 Lance 1050
"Yes." – Jim Scott, 2005 Dodge Ram, 2000 Northern Lite, 9-6 Classic
"H*LL yes, we'd still own and use a truck camper!  We'd quit our jobs and go camping nearly full-time!  We wouldn't change a thing with our rig, other than maybe some renewable recharging systems and some charities would be very pleasantly surprised as well." – Bruce Allison, 2017 Ram 3500, 2012 Adventurer 910 FBS
"I would still have a truck camper.  I might upgrade to a newer one, but still use the same set up.  It's too convenient to give it up since campgrounds are getting impossible to get into." – Frank Niehus, 2007 Ford F350, 2007 Arctic Fox 1150
"Yes, I would and buy a K3500 HD Chevy truck and a top-of-the-line truck camper.  Then, I would just go and enjoy life." – James Foster, 1993 Chevy K1500, No Camper yet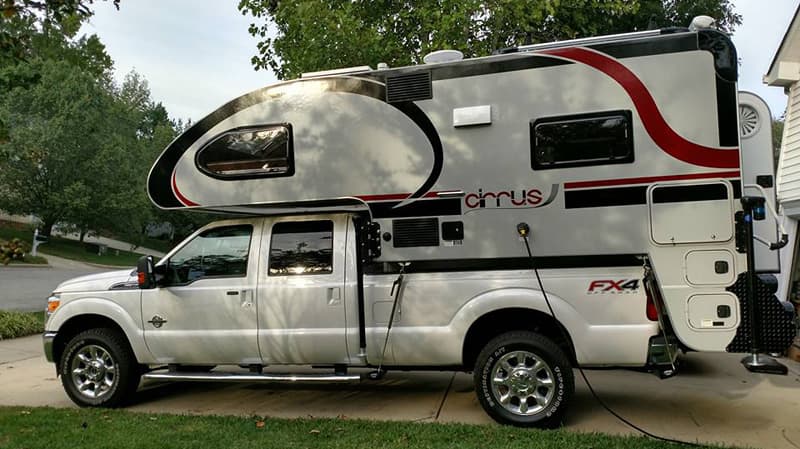 "Yes!  We might own a few more things as well, but there are some places you can only go with a truck camper on a four-wheel drive truck.  Our family's place is the National Seashore on the Carolina Outer Banks.  It's on Portsmouth Island, Cape Lookout.
You take a ferry over to the islands to reach voluntary semi-seclusion on the islands with the birds, turtles and fish.  There are only a few sand roads, some cabins and weak intermittent cell signals.  Park rangers man a station where you can fill up with water, propane and fuel.
The truck camper allows you to follow the fish and camp close enough to the water to catch the breeze and avoid the other North Carolina beach residents; green flies and mosquitoes!  We will continue to visit as long as we are able." – Beth Bjerregaard, 2016 Ford F350, 2018 Cirrus 920
"I think I would buy a Class C.  I have owned a Class C in the past and enjoyed the ability to get to the back so easily.  The only thing that might keep me in a truck and camper is the ability to have four-wheel drive." – Millie Wells, 1994 Chevy Silverado, 1986 Four States ultra-lite
"Yes!  We have owned motorhomes in the past when we had young children and it was great.  Now there is only the two of us and we are retired with lots of time to enjoy traveling.
Our preferred mode of travel is highway and byways with no set schedule. We are considering a year long national parks tour.  So we are beginning our search for a drop-in truck camper to fit our pickup.
We don't need a lot of room.  Dining space for two is enough, but we need storage for a year's worth of clothing including cold, wet, and hot weather.
$150 million would give us enough to pay off the mortgage for our three daughters so they could save for their own retirements.  What a dream!" – Sandra Daniels, 2013 Ram 2500, No camper yet
"Yes, only I'd use our truck camper rig a lot more – like between our tropical vacations." – Bill Bouman, 2005 Dodge, 2017 Lance 855S
"Yes!  In fact, I think I'd still own the very rig I do right now.
After multiple truck campers we switched to a F150 and travel trailer.  While the travel trailer rig was great for my family, I missed the flexibility of a truck camper.  After multiple lists of what we wanted in a rig, we found that just about any new truck camper with a slide couldn't be accessed without extending the slide(s).
That was a non-starter for us.  After having a truck camper with a slide, a slide-less rig is just a bit too cozy for four of us plus a dog.  So we had to dial it back a few years.
We're now very happy with our older Lance 1181 with the full-wall slide.  We are able to get to everything without extending the slide.  And we can go nearly everywhere we want, plus we can bring toys along.
The truck is nearly the same scenario.  I wanted a diesel with manual transmission and four-wheel drive.  Finding a new manual is getting harder by the minute, so we have a 2006 Ram 3500.  I can still work on my truck.  I enjoy tinkering with both the truck and the camper.
Now, if I won $150 million in the lottery, would I still own and use a truck camper? Absolutely!  In fact, I believe that I'd use them even more.  If I won the lottery I'd pay off the house and retire.  Then I would hit the road.
There's still so much in Colorado that I haven't explored.  Couple that with bicycles, kayaks, and motorcycles.  I don't think I'd ever run out of places to enjoy and explore. There's a lot of the western United States that I'd love to see.  And Canada.  And Alaska.  And…" – Mark Joslin, 2006 Ram 3500, 2005 Lance 1181
"Sure, but I might might consider upgrading to an EarthRoamer!" – Mark Daigle, 2016 GMC 3500, Lance 1172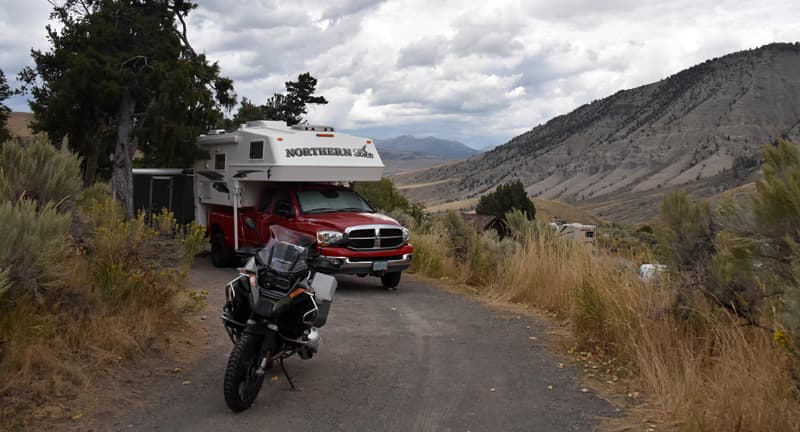 "Yes." – Bernie Neale, 2006 Dodge Ram 3500, 2016 Northern Lite 9.6 SE
"Absolutely!  It's the only thing that will get us where we want to go in the comfort of our own home." – Laurie Heimbigner, 2014 Ford F550, 2014 Phoenix Pop-up
"Sure would.  I would probably be camping, hiking, backpacking, and climbing most days of the year if I won that kind of cash." – Matt Smith, 2009 Ford F350, 2005 Hallmark Cuchara
"Yes, I would!  It's like two different vehicles with a camper and a pick up.  My Lance provides all my needs for camping, especially during my eight week, 8,000+ mile trip to Alaska.  I'm not one to pull into campgrounds, plug in, and stay indoors." – Ron Holte, 2006 Chevy 2500HD, 2005 Lance 1030
"Yes.  Money has nothing to do with seeing this great country.  You can't see the great places from an airplane, or camp in a car.  You won't see the sunset and rise in the great mornings.  If you want to fly to a location then rent a car you will need need to stop at a motel/hotel for the night and miss all the beauty of the country.  Some motorhomes can make it to the backcountry, but not many." – Robert Vea, 2003 Chevrolet, 2003 Arctic Fox
"Yes, absolutely.  Now I can take a less fortunate friend along!  More travel, more places.  I would hope that money would not change who we are.  Live free!" – Vernon Smith, Dodge 2500, 2018 Bundutec pop-up
"Yes, I would have a 3500 Dodge with a Capri Retreat camper made in the great state of Texas!  I will leave the rest of the money for neglected children here in United States of America!" – Cajun Janis, 1986 Screaming D150
"Fantasizing about winning the lottery is always fun.  I would definitely remain a truck camper person.  I would be on the road more because I would not have a job!  My truck is fine, but I would probably move into a single rear wheel one ton.
As far as the camper goes, I have my eyeball on two campers; a hard side Adventurer and a Hallmark pop-up.  I will have them both!" – Scott Spradley, 2015 Silverado 2500HD, 1998 Lance 186 Squire Lite
"Yes, I would still own a truck camper.  In fact, I would add another two truck campers to my fleet.  I would have a pop-up for the summer, and a tight winter unit primarily for hunting.  It would be a six-foot slide-out model on an F550 chassis.  What is that you say?  There is no such thing as six slide model?   Well, I would invent one then!" – Frank Kaye, 2005 Dodge Ram 3500, 2008 Northstar Arrow
"Absolutely.  The truck camper is the best way to get from one place to another.  I would keep the one I have and maybe buy a couple of pull-behinds.  Then I leave them places where I like to stay for awhile." – Chip Collin, 2002, Ford F350, 2014 Chalet DS116RB
"Yes, I would, but I would buy four more truck camper rigs for my children and families." – Rick Jones, 2017 Chevrolet Silverado, 2018 Arctic Fox 1150
"Without a doubt!  I'd start by having the Avion completely renovated inside and out.  I would keep the same design and woodwork.  I would just be upgrading it.  I'd also get a new F450 and Northern Lite camper, or maybe a larger truck camper with a slide out.
I have seen too many beautiful rigs with more than enough room to live full-time without feeling cramped.  You have too many articles about it.
Additionally, I'd splurge and buy some truck camper rigs for friends and family.  Travel would be the name of the game.  I'd more than be able to afford shipping costs for overseas destinations.  If you have to dream… dream big." – Mark Dyvig, 2001 Ford F250, 1969 Avion C-11
"Yes, I would still have a truck camper because of the areas we camp.  They cannot handle bigger rigs." – Kim Oliver, 2015 GMC 3500 HD, 2013 Adventure 86SBS
"No, I would buy a fifth wheel toy hauler and a new diesel truck." – George Reid, 2010 Chevy Silverado, Sun Lite
"Yes.  How else can I access the mountains in Montana, live in the wild, and still have the comforts of home?" – Glee Papczynski, 2017 Ford F350, no camper yet
"Yes, I would still own and use a truck camper.  The $150 million dollars would make going more places definitely possible.  However the cost of different activities at each stop would be much less burdensome on the budget." – Dave Riddle, 2015 Chevrolet 3500, 2017 Host Mammoth
"Absolutely.  My main use for a truck camper is for visiting friends and family.  I can bring my home with me, sleep in my own bed, have my own space to retire to, and relax.  I wouldn't change a thing.
This old Dodge has a lot of good miles left in it.  It is probably more dependable and requires less care than any of the new units.  The camper is everything I would want it to be, so there's no need for a change there.
I'm retired and living comfortably.  I don't believe the extra $150 million would make any difference in my lifestyle at all.  I do what I want to do and nothing else." – Oleh Melnyk, 2004 Dodge 3500, 1996 Bigfoot 2500
"We would keep on truckin'.  I would probably investigate EarthRoamer. I might go to Northstar and ask Rex Willett to work with us to build our own flatbed design.  The possibilities might be endless.  It's fun to dream." – Frank and Polly Foley, 2016 Ford F350, 2016 Northstar 8.5 Arrow U
"I would still own a truck camper.  I would design my own and have someone build it for me." – Francine Ludtke, 2005 Ford F350, 2011 Lance 1050S
"Absolutely!  But it would be for my weekend Jeeping getaways, or taking the church youth off-roading.  For road trips with the wife, we would have a nice motorhome with my Jeep in tow." – John Forsell, 2009 Ford F350, 1991 Starcraft
"The truck camper isn't the thing.  It's the thing that gets you to the thing (to paraphrase from Halt and Catch Fire).  $150 million wouldn't buy me a big sky view in the morning, or the starry skies from a truly dark site, or the friendships of people that I meet on the roads, or the days-long solitude where I meet myself." – Glen Kilpatrick, no rig yet
"A very temping question; what would we change with a $150 million?  My wife and I have a question we ask in our retirement that keeps us focused on what we are doing.  We ask this question before any decision is made about our retirement lifestyle.  The question is, "Is this keeping it easy?"
With that in mind, we would definitely still own and use a truck camper.  What better way is there to get out and explore the countryside.  Everything you need is right there with you.  We can go anywhere at anytime without a lot of fuss.
We would upgrade both the truck and camper.  It doesn't have to be fancy.  After all, we need to keep it easy.  Easy is always a lot more fun in the long run." – Paul Killam, 2008 Ford F250, 1998 Lance 945
"Yes!  Life satisfaction is not gained by buying more stuff!  We would travel more and go longer distances because we could afford to.  In any case, most of the money would be given away to Christian charities serving poor folks around the world." – Steven Edwards, 2004 Ram 2500, 2006 Lance 831
"Yes sir.  A truck camper is the best for Alaska, the Yukon, Dempster highway, and backroads.  The only thing I would add is a trailer hitch and heavy duty military ten-ply tires for the Dempster, with a couple of extra tires in the small heavy duty cargo trailer." – John Orton, 1973 Chevy Silverado 3500, 1974 Bigfoot 10.5
"Yes, I'd get a 1971 El Dorado." – Harvey Melcher, 2018 Chevy 3500, 2012 Lance 1050
"No.  I would have a Class A with a garage for a small car or motorcycle.  I would be able to camp in those obscenely expensive resorts." – David Weinstein, 1999 Ram 3500, Arctic Fox 1150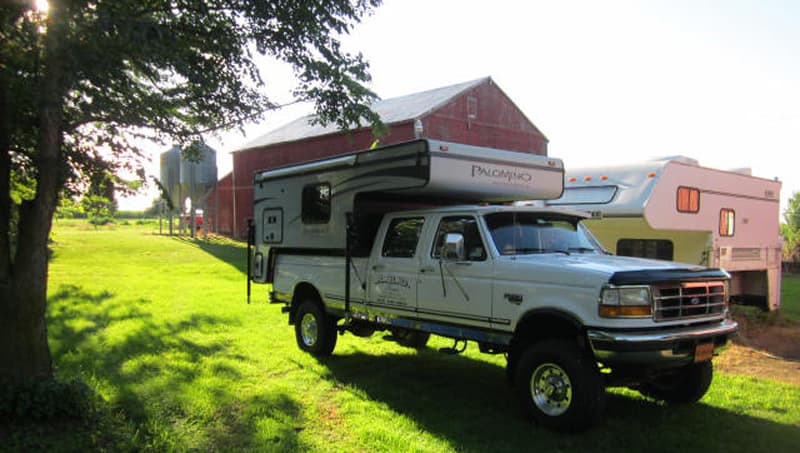 "Absolutely, and with the camper we have now.  We sold our Lance and bought a Palomino pop-up camper for easier access to where we camp.  We mostly off-road in the woods.  The pop-up might not be have all the amenities the Lance had, but it suits me and my wife just fine.  And it's pretty light to boot.
I would buy a new truck to replace our 1997 Ford F350.  I'd get a four-wheel drive, long bed, four door, one-ton single rear wheel truck.  We'd like to have some of the new truck features like engine braking, four-wheel disc brakes, and built-in navigation.
Make no bones about it, the 1997 Ford isn't going anywhere.  I'd have them both.  My 1997 has never seen snow and is in pristine condition.
New truck, certainly.  New camper, no.  Nothing would change as far as our camping habits at all.  And, yes we play the SuperLotto all the time.  Every ticket is a potential winner until the drawing." – Daryl Davis, 1997 Ford F350, 2014 Palomino SS-1500
"Yes, even more so.  Our camper is our quick getaway and home is wherever we park.  With $150 million in our pockets, we'd be out exploring much more!" – Joel and Darby Bender, 2012 Ford F350, 1994 Lance Squire 3000
"The correct answer is yes, but I would be forced to upgrade the truck and the camper.  I would need some slide-outs.  I would be in it for many months touring the United States." – George Randall, 2012 Ford F350, 2016 Arctic Fox 865
"Yes, I would keep the same camper and use it often.  I would trade in my truck for a new truck." – Rick Henke, 2007 Ford F350, 2010 Bigfoot 9.4
"Yes, most definitely.  Truck campers are ingrained in me.  I'm very pleased with my current truck.  If I won the lottery I would have a custom built camper with the design features for my personal needs.  It would not be fully loaded, but functional and practical.  I've owned three truck camper units in 37 years and each had their own pros and cons.  I would take the best pros to make the million dollar RV." – Vic Smith, 2015 Ford F350, 2013 Adventurer 89RB
"Heck ya!  I would upgrade to a new Ford F450 with a Lance 1172 double-slide camper.  Then, I would buy a Ford F150 to be my daily driver and set it up to flat tow behind my mega-camper setup." – Devon Pearsall, 2017 F350, 2014 Lance 950S
"I would get an EarthRoamer." – Mark Hunsberger, 2012 Ford F250, 2012 Toy Hauler
"Yes.  I would be able to see all the places that I have only dreamed of like Monument Valley in Utah, and Wyoming, just to mention a few.  As a hobby photographer, I would love to see the great USA from coast to coast." – Howard Burke, 2017 Ford F-150, If I won, a Chalet model with two slides
"We would definitely continue to travel in our truck camper.  After traveling through 28 states over the past year, there is no doubt that a truck camper is the most versatile RV on the road.  Even towing a Jeep Cherokee behind us, we have had no problems navigating narrow roads or switchback turns from coast to coast.  We have never encountered a size limitation that kept us out of a campground or tourist destination.
We have all the comforts of home on our back, so there would be no need for us to trade up to a Class A motorhome or fifth wheel.  We already have the best there is.
If we won $150 million, we would most likely give it all away to our favorite causes (including TCM) and family that could use a hand up." – Jon Hancock, 2015 Ram 3500, 2016 Northern Lite 10-2EX CDSE
"Oh my, that's a very hard question.  With $150 million available, thoughts of luxury overland vehicles float through my mind!  Perhaps I would need to sit down with the people at Hallmark and push them to the limit of what they could do.  Likely such a dream Hallmark would necessitate a new truck with a larger payload." – Mike Cash, 2014 Ram 2500, 2015 Hallmark K2
"Yes.  I have two other RVs (a 41-foot diesel motorhome, and a camp trailer), and each has their own use and need.  A truck and camper goes places that I would not dare to take the motorhome.  Also, if there is snow, the four-wheel drive truck and camper are much safer and easy going.  And it's fun!" – Hiat Crawford, 2015 Chevy Silverado HD3500, 2014 Arctic Fox 990 with lots of mods
"You bet!  The only thing I would do is have a good outfit go through and completely update and smooth side my great, old, much-loved S&S camper.  You can't beat the old S&S for efficient use of interior space.
Although I love my truck and it is in great shape, I might be tempted to go up to a 3500 or even bigger!  Everything is open to upgrade.  But they will have to bury me in my beloved old S&S!" – Jan Craig, 2004 Chevy 2500, 1999 S&S 9.5-foot
"Yes, we would still own and use a truck camper because it enables us to travel anywhere a truck can go and still camp comfortably.  I might like to have two campers -the Four Wheel Camper we have now, and a Cirrus for cold weather camping when back country roads are closed." – Laurel Wilson, 2013 Ford F350, 2016 Four Wheel Granby Shell
"We sure would.  I'd have 800-watts of solar and a 3000-watt pure sine inverter installed so I could run the entire camper and air off-grid (sparingly).  I would also have 930 amp hour battery bank.  $150 million would allow my wife and I to live out our retirement very comfortably." – Wilbert Hinkle, 2001 Dodge Ram 3500, 2017 Palomino SS 1500
"Yes.  I might do some upgrades, but yes." – Mike Gaffaney, 2001 Chevy 2500HD, 2003 Lance 815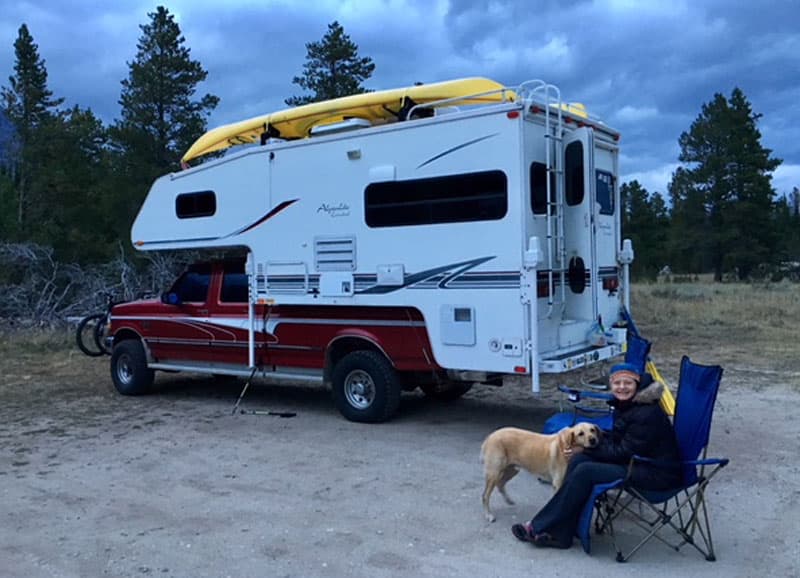 "Make no mistake about it, I absolutely love my rig and all the amazing adventures we've had in it.  But, if I won crazy money, I would build my own custom rig based on my experiences, wants, and needs.
No longer would I have to walk over fishing poles, cross country skis, or bicycles because all of my other racks are already loaded.  I would have a custom hydraulic kayak loader and enough solar and storage for ten days off grid.
I think by the time I was done I'd have eaten away a big chunk of the $150M, and never regretted it a second.  Priceless adventures lie on the horizon!" – John Fitzner, 1997 Ford F-350, 2000 Alpenlite Santa Fe
"At the very least, I'd like to upgrade.  I would get a new Eagle Cap triple-slide and put it on a larger truck with a custom aluminum bed with built-in storage compartments.  I would have lots of solar panels and lots of batteries.  Well, this is fun!" – Laura Cornwell, Chevy 3500, Lance 1191
"Absolutely, I'd just be able to use it more often." – David Pracht, 2015 GMC Sierra K3500, 1987 Lance LC900
"I would have two!  I would have a short trip pop-up on a Ram 3500 four-wheel drive truck, and a big luxurious Eagle Cap or Host on a Ram 5500 four wheel drive truck." – Bryan Schipske, 2007 Ram 1500, No camper yet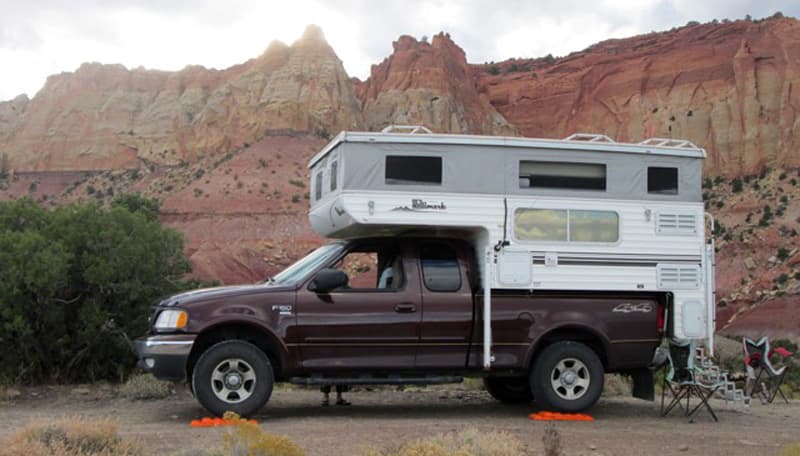 "All I want is a hybrid F150 with front-wheel drive.  There should be enough left over to cover my lifetime bar tab, too." – Keith Benefiel, 2001 Ford F150, 2003 Hallmark Guanella
"No question that our truck camper would be part of our recreational vehicle arsenal.  We would probably expand our fleet to include a bigger unit (or two) when we plan on extended stays somewhere.
The truck camper's ability to explore remote venues, park with ease, get on a wind swept beaches, or into some remote canyon in the desert is unequaled.  I am sure we would miss the lifestyle if we were without it.  Now a new truck camper?  Hey, that's a thought!" – Wes Hargreaves, 2016 Ford F450, 2006 Snowbird 108DS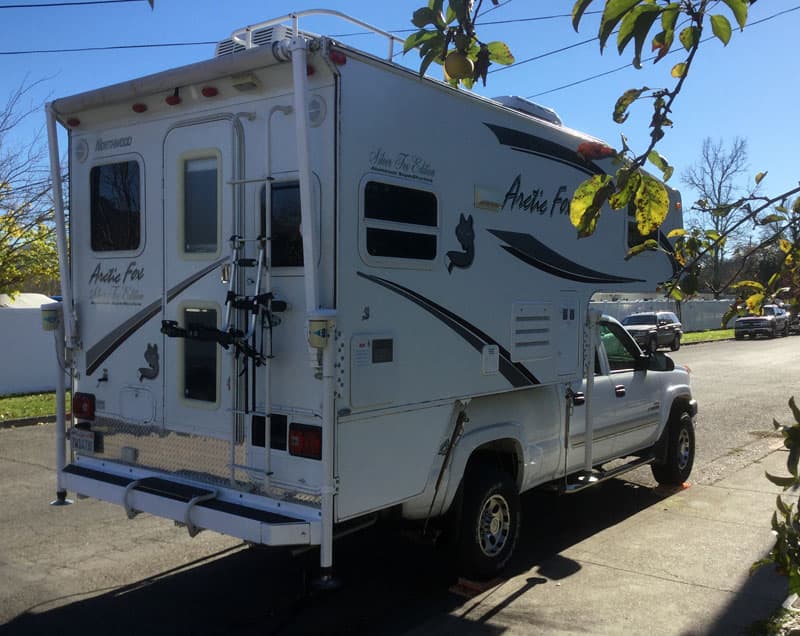 "Yes!  I'd buy a new 2018 one ton Chevrolet 3500HD High Country long bed four-wheel drive Duramax diesel, crew cab with all the bells and whistles.  Then I'd get a 2018 Arctic Fox 865 with all the bells and whistles.  Bam, I'm set up sweet!  Go anywhere, do anything." – Ron Ekas, 2005 Chevrolet Silverado 2500HD, 2009 Arctic Fox 865
"I would keep my 2007 Ford F250 Super Cab and also upgrade to an F350 dually.  I would fix all the little things and repaint it with the Tough As Nails bed liner coat in Olive drab.
I would add a custom utility bed for additional storage on the truck.  I would then order a new custom Arctic Fox 1150 wet bath with microwave delete, oven delete, and mattress delete.  I would have a full wall wardrobe curbside option, roll-over lounge instead of the dinette, solar panels, air conditioner, generator, side awning, and topper awnings.  I would get the early Autumn decor.
Additionally, I would tow a utility trailer with additional solar panels and room for bicycles and the rest of my stuff.  When not in use I would park my camper and toys in my new man cave garage next to my new underground home of my own design." – Marty Commins, 2007 Ford F350, 2018 Arctic Fox 1150
"First, I would order an EarthRoamer.  Then I would buy a F350 and a smaller truck camper for those times when I want something smaller.  It would be a kick-butt rig." – Matt Wiegand, 2014 Ford F150, 2017 Adventurer 80RB
"Of course, but I'd probably get a tricked out truck and camper combination for awesome back-country truck camping!" – Kim Angell, 2013 Chevy Silverado, 2017 Northstar Arrow U
"Yes, even more.  It's very simple.  For those of us who enjoy the outdoors and the versatility of a truck camper, we would continue to enjoy life, but be able to go out more often than ever before.  Without the worry of a job we would always be out there.  Now that we could afford that chic RV park, we'd most likely still be parking at Walmart on the way to the next forest service road.
Most of us would love to upgrade the truck, camper, or both, but we'd miss those quirks of the old stuff.  I would miss it and laugh about the leak in the corner of the room or the shower not working or the heater going out when it's snowing outside.  Sure, we'd love the new stuff so we didn't have those worries, but that stuff didn't stop us before we had money.  Now we just can afford to be out more often." – Shaun Johnson, 2016 Ram Power Wagon, 1990 Skamper pop up
"Yes, I would most definitely still own a truck camper and I would use it more than I currently do.  The only difference is that I'd be towing my dream fishing boat set up and having more time to do it all over this gorgeous country." – Kim Zimmer, 2017 GMC 3500HD, 2016 Lance 1050S
"Most definitely!  My husband had to talk me into the truck camper.  After we bought it and took it out, I loved it.  It is so much easier than our travel trailer, and there's so much less stress involved when parking.  There are no more back up fights.  After a few trips in the camper I had to convince my husband to sell the travel trailer.
With $150 million I might look for a newer truck camper, but I'm sold on truck campers for as long as I can climb up into the bed." – Shannon OBrien, 2009 GMC 3500, 2005 Lance 1025
"Yes, but with that kind of money, we would certainly upgrade!" – Dell Powers, 2006 Ford F350, 2006 Palomino Maverick