Hurricanes Harvey and Irma turned truck campers into Family Emergency Vehicles allowing some readers get out of harm's way and enabling others go in with aid and supplies.  These are must-read responses with important lessons for all of us.  Thank you to everyone who responded.  Your answers will help fellow readers better prepare for the next natural disaster.
This week's Question of the Week was, "If you have used or are using your truck camper to evacuate the recent hurricanes, please share your story."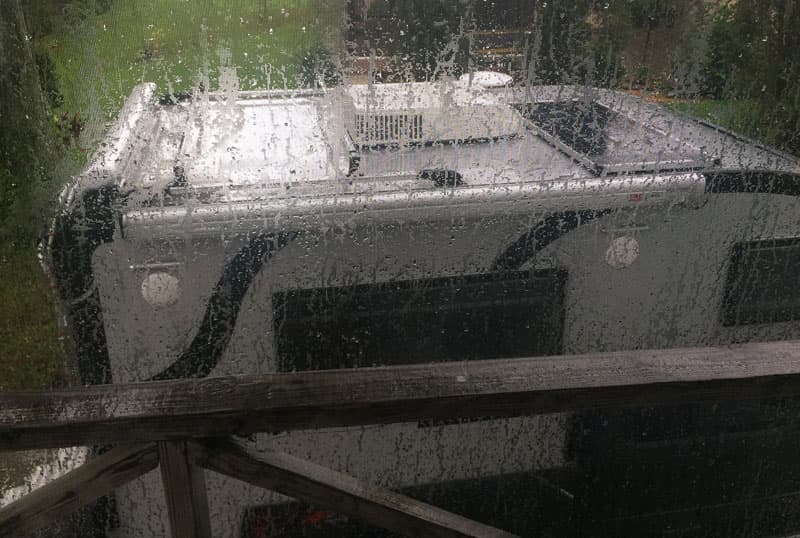 "Our Cirrus 820 shakedown run was during Hurricane Irma.  We had been doing a few mods and waiting to have a vent fan installed before taking our 820 on its maiden voyage.  But Hurricane Irma forced the issue for us.
The storm was suddenly predicted to move up the west coast of Florida and right through Homosassa.  We had to evacuate to our friend's place in Lakeland, which is further inland and further south.  After battening down the house and boats as well as we could, we threw a bunch of stuff in the Cirrus and headed to Lakeland.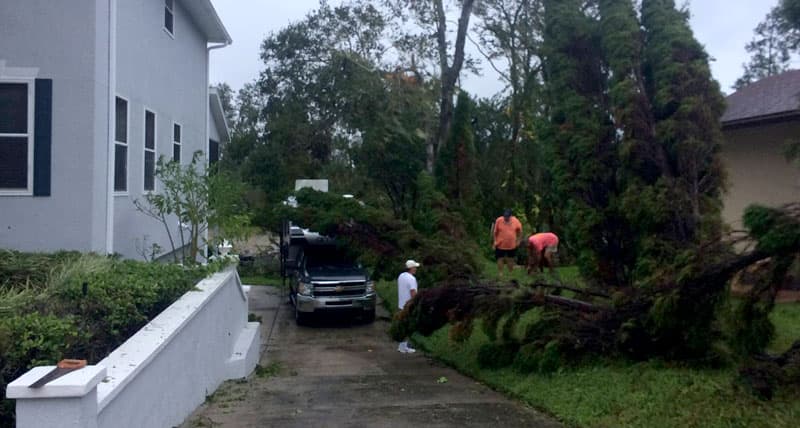 The storm tracked inland and went through Lakeland as a Category 2 hurricane.  The rig took the 105 mile per hour winds with only minor damage to two of the jack's bases.  I guess I didn't get them all down equally and there must have been some wobbling.  It also just missed a tree falling on it." – Lee Weber, 2011 Chevy Silverado 2500 HD, 2017 Cirrus 820
"We live in Key West and knew we would be in the heart of the storm.  We prepped the house, loaded the camper, and got six six-gallon jugs of fuel.  We then loaded the motorcycle trailer with freezer food, paperwork, and anything we needed to save.
We the left the night before Irma hit.  We also filled additional gas containers with gas before we left.  That way we could run the generator when we got back.
Having the truck camper is like an insurance policy.  We knew we had a place to stay with all the creature comforts.  We also were able to be stocked with lots of water.  A few cases of beer didn't hurt either.
All in all, we lost one car, one roof, and part of one of our boats.  We are very grateful that was all.  We now have a huge mess to clean up.
The truck camper is a huge asset for us and I'm sure glad we have it.  The Keys are a wonderful place to live, but it will take some time to put her back together again.  I hope all fellow truck campers in Florida survived as well." – Gary Raymond, 2014 Ram 3500, 2006 Lance 1191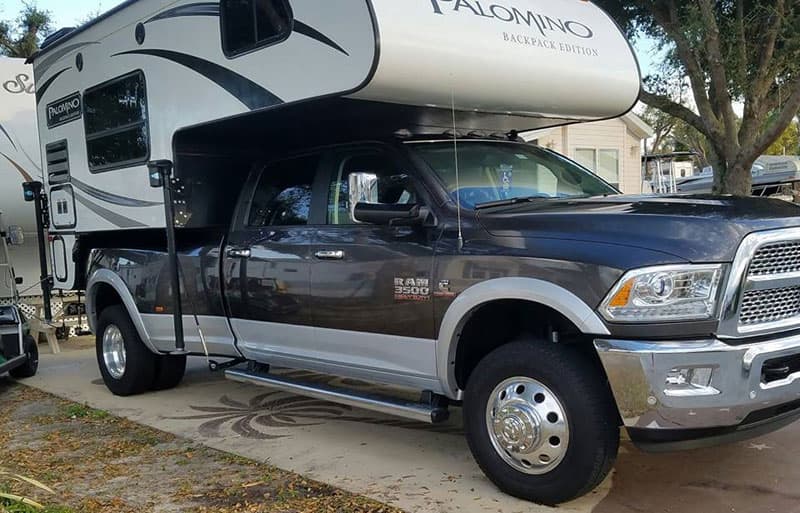 "We came back from vacation and, in less than 24 hours, our camper was loaded to hit the road again.  We were home long enough to close up fifth wheel and grab important papers.  We were so happy to have our camper to escape from Irma.  We love our truck camper!" – Rhonda Nicholas, 2016 Dodge Ram 3500, 2014 Palomino
"As a resident of coastal Southeast Florida since the 1970s, I'd like to offer the following input to anyone planning pre-storm evacuation in a motor vehicle:
1. The roads will be jammed.  Travel times may easily be multiples of normal.  If you know you're leaving, leave early!
2. Fuel will be difficult, and perhaps impossible to obtain along evacuation routes. Stations with fuel will have long lines.
3. Restaurants and food stores will be packed.
4. Hotels and motels will be full.
5. Understand that you may not be allowed to return immediately after the storm, especially if power is out and damage is extensive.
I'm sure I've missed a few points, but these are the issues that I've seen storm after storm, and it only gets worse as the population of Florida grows.  Plan accordingly." – Harry Woodworth, 2001 Dodge 3500, 2000 Snowbird 8'10″
"We started watching Irma days before land fall.  We packed the camper, filled the water tanks, and got the refrigerator running just in case.  On Friday my wife's work got the word to evacuate.
We left Sarasota, Florida by 2:00pm and, five hours later, we had gone 112 miles.  We spent the night in Inglis, Florida.  When we heard traffic pickup at 3:00am, we were up and running.
I made it to a gas station in Perry, Florida and got the last 16 gallons of gas before the pump went dry.  That was enough to get us out of traffic and into plentiful gas.
The rest of the run from Irma was fine.  All the state parks were free for evacuees in Florida.  Blackwater River State Park was beautiful.  About a dozen families were in an overflow lot waiting it out.  Some local people came through and fed us pulled pork sandwiches.
The next day we drove to Paul B. Johnson State park in Mississippi.  The weather was beautiful the whole time.  On Monday, when Irma blew through, we headed back.  We spent one more night in a state park and got home Tuesday just in time for the power to come back on.  All in all, the trip went well for the first time camping with our cat." – Kent LeBoutillier, 2011 Ford F-250, 2015 Palomino Backpack SS-550
"We used our truck camper to evacuate 150 miles north of the Tampa Bay area during Irma.  I know next time we will need to take more fuel than the two five gallon cans of diesel we took with us.  We did pack in three extra 30-pound propane tanks for the generator.
Lesson learned.  Fuel is the most important resource to have extra in an emergency.  Gasoline was in demand the most as that's what most vehicles and small generators require.  Diesel is safer to store and transport in containers.  Diesel seemed to be more available at fuel stations where they had run out of gasoline.
A truck camper is hands down the best bug-out evacuation vehicle on the market today." – Chris Eckenberg, 2017 Ram 3500, 2015 Lance 1172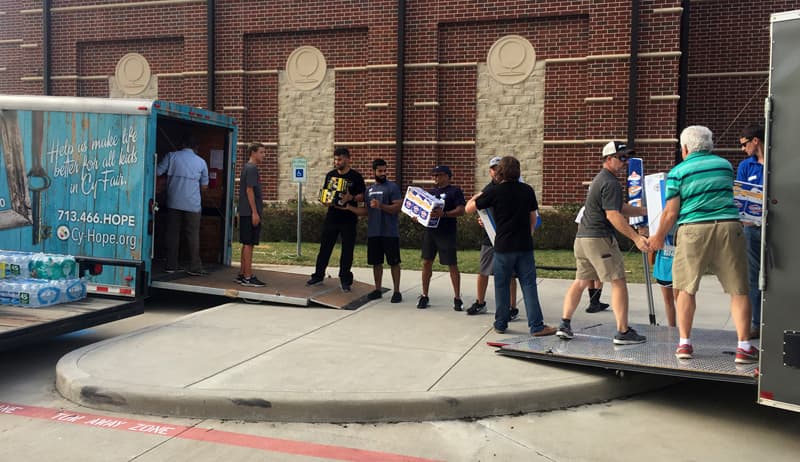 "Truck campers are great for many situations.  We can't imagine any other form of freedom to roam.  Recently we took ours on a mission to deliver relief supplies to Hurricane Harvey victims in the Houston area.  We started by securing enough diesel fuel in portable containers to make the 650-mile round trip from our home and back.
After that, we sent out the call for help to our friends, family, and co-workers.  We needed to fill a 16-foot enclosed trailer with supplies that were needed.
The response was immediate and overwhelming.  We stood in awe of the blessings that came pouring in.  It only took a few hours to get the donations necessary to fill our trailer up with supplies and a few more hours to go to Sam's and Home Depot to purchase what was needed.
The folks at Home Depot were great.  When they saw the line of carts we were checking out with and realized it was for Harvey victims, they offered to give us their employee discount.  That enabled us to buy additional supplies.

We headed out the next morning with the plan to stop and fuel up every 100 miles.  That way we could arrive in Houston with a full tank of fuel.  We would have the ability to donate our extra fuel if necessary.  We used our truck camper for food and shelter so that we would not be a burden to the resources there.
While in route to Houston, more donations kept coming in.  By the time we arrived, there was a substantial amount to donate in cash.  Once there we drove through a little high water to get to our destination.  The people there were so gracious and thankful for the supplies which were immediately airlifted by small Cessna planes into Port Arthur.
While there we stayed in a friend's driveway.  Thankfully the water stopped a few feet from her front door and had receded by the time we got there.
The next day we drove around to check things out.  We were amazed by the citizens working together to clean up and not complain about their circumstances.  They all seemed to be in, "Let's work and rebuild our city" mode.  It was very uplifting to see true heart in the midst of disaster." – Harold and Jenny J., 2017 Ram 3500, 2014 Adventurer 86SBS
"Being snowbirds, we spend the summers in Connecticut and winters in Punta Gorda, Florida (between Tampa and Fort Myers on the Gulf coast).  We usually return to Florida around the first of November to get back to warmth.  However, this year, Hurricane Irma was approaching southern Florida in early September 2017 and the damage was expected to be horrendous.
Therefore, we proactively loaded up our Chalet truck camper and planned a rescue trip for our house planning to arrive the day after the hurricane.  We completely filled our fresh water tank with 62 gallons, packed multiple large tarps for the roof and multiple five gallon gas cans to power the generator – both of which were needed when Hurricane Charlie hit in 2004.
Our plan was to travel to the middle of the Florida panhandle, around Tallahassee, wait out the storm, let it pass, and continue south.  Boy, we were in for a surprise.
The hurricane shifted further west right over our house, and came right toward Tallahassee, causing us to drive even further west to Crestview, Florida and wait it out in a Walmart parking lot with hundreds of other evacuees.  We all parked into the wind and waited out the storm together.
What we didn't realize was that the hurricane's track was so questionable that both Florida coasts were evacuated.  Over seven million people took to their cars and drove on the only two roads headed north; Interstate 95 on the east coast and Interstate 75 on the west coast.  This mass-evacuation was unprecedented and had several consequences.
We filled up with diesel the night before the storm and my truck's huge 67 gallon tank was full.  The next morning after the storm went past, we started our long drive back which required about 250 miles east on Interstate 10 and then another 300 miles down Interstate 75.  Much to our surprise, nobody had any gas or diesel during the entire drive!  This was caused by the huge number of cars leaving coupled with the lack of power at all the gas stations.
Needless to say, as we traveled south we encountered many cars abandoned on the highway because they ran out of gas.  We were lucky to have enough diesel to get home with just under a quarter of a tank left.  This was good because it took days for all the gas stations to get power back and gas/diesel tanks refilled.
Luckily our house was spared as the eye of the hurricane passed just to the right of us.  The damage was only to the tree branches all over the place.
The next time there is a hurricane projected to hit Florida I will carry extra diesel for the truck as I head south.  Watch the video above to see my account of our harrowing trip to Florida to check on our house." – Charles Coushaine, 2001 Ford F350, 2012 Chalet DS116RB
"I live on the east coast of Florida.  I'm part of Kennedy Space Center's Disaster Recovery team, so I'm required to stay in the area.
I watched the weather carefully as the track of Irma brought it closer to the middle of the state.  Reports said that we would get 90 mile per hour winds and driving rain from the east, switching to high winds from the south after midnight.
I parked the rig on the north side of the house facing east.  That worked out fine.  I used the built-in generator for air conditioning, and kept the home refrigerator going for three days.
Experts say to have three days of supplies on hand.  I'd say you should be prepared for a week minimum.  Home improvement and grocery stores are still not fully stocked even now." – Gary Usher, 2015 Ford F350, 2015 Lance 1172
"We own a house, 40-foot fifth wheel, and a truck camper.  The fifth wheel stays parked in Houston as a home base.  The truck camper is what we use to travel.  Our house has also been a hotel for our children to use as they pass through town since we full-time and go on extended travel trips.
In August 2016, the greater Baton Rouge area flooded.  Our house did not flood.  However, our very close friends lost everything.  We were able to loan our truck camper to them so that they had somewhere to live when contractors gutted and rebuilt their house.
We literally loaded it on the truck and parked it in their driveway.  They had a fully stocked mini apartment.  There was no need to shop for cooking utensils, pots or skillets, linens, and pillows.  All the stores flooded, too.  Most people had to drive a minimum of one hour in any direction to get groceries for the first three months until stores began to reopen.
Our main advice is that you should keep the truck camper (and the other RVs you might own) fully stocked with everything you need when traveling.  We have always made it a rule that – other than our nice Sunday clothes – we never take anything from our RVs.  Yes, all three places are fully stocked with food, water, all toiletry items, linens, etc.  Yes, we have three of just about everything that you would find in a house.
We keep at least two gallons of water in the tank and five gallons of bottled water stored in the shower.  Plus, canned goods and spices are fully stocked.  We make it a practice during Christmas to go through each item to ensure they have not passed their "use before" date.
Sometimes it's hard not to go out to the truck camper to get something if we are at the house or fifth wheel.  But, for the most part we go to the store instead of taking it out. With the exception of loaning our truck camper out for nine months last year to our friends, you will always find our truck camper wherever we are located.
We will never be without some type of truck camper.  It's the best home away of home when you have an emergency.  We have taken off at a moment's notice to assist our children when they've had an emergency.  There is no need to pack a suitcase.  We just load the camper on the truck and go.
It's great because we can park in their driveway and HOA's never say a word (providing the camper stays on the truck).  Our children all live in highly restrictive developments.  We never have to look for a campground or RV park." – Rollie Thurston, 2004 Ford F350, 2005 Alpenlite Santa Fe 1100