This week's Question of the Week was, "How did you get into truck camping?"
To read Part 1, click here.
"About twenty years ago we were tent camping at West Glacier campground.  My wife's sister and her family had a little pop up truck camper.  We were damp, and they were dry.  The Lance is our third truck camper." – Philip Tron, 2009 Chevy 3500, 2012 Lance 1050
"I have been camping/RVing since 1962.  I have owned a number of RVs, pop-ups, van campers and Class As.  I sold the last Class A in June of 2012 and sort of went into withdrawal.
I had seen truck campers over the years.  After a bit of research, I decided to buy one, which is sort of my last hurrah.  I bought a camper, and then the pick up.  It was something of an experience to equip and mate the two.  I have made six, three to five day trips.  I appreciate the ease of set up, not needing a towed vehicle, and overall reduced capital outlay.  I really enjoy TCM." – Loren Buchanan, 2007 GMC 2500HD, 2002 Lance 1130
"I had a Class C motorhome that we camped in quite a bit.  Unfortunately it couldn't get into some of the places we wanted to go.  The logical replacement was a cabover camper on a four wheel drive truck.  Now we can get to the places we want to camp in the same comfort as the motorhome." – Gary Pavone, 1995 Ford F350, 2001 Lance 810
"Both my wife and I tent camped growing up and we kept tent camping as a married couple.  In wishing to be off the ground with a heater, table, real bed, and having a little girl (now seven) we looked around for the cheapest solution and ended up with a Jayco tent trailer we paid $2,400 for.
We used that trailer for three summers but wanted to be able to take our ATVs with us and also be able to truly camp year round in Oregon weather. 

 We looked at a lot of toy haulers but they really limited us to big sites and ruled some of our favorite parks out completely.
The truck camper was an easy choice as we could fit anywhere practically but when we were going to ride and camp we just added our 20′ enclosed trailer to the truck.  We love the flexibility of just camping or taking the toy box with us.  We are now through our third camping season with the truck camper. 

I knew several people growing up with truck campers and we had always seen some truck campers at RV shows in the area." – Elliot Groeneveld, 2011 Dodge Ram 3500, 2011 Arctic Fox 1150
"I don't really remember for sure.  It was back in 1972 and I am still going.  I still love it." – Rag, 2003 Chevrolet Silverado, 1980 Sportsman 8ft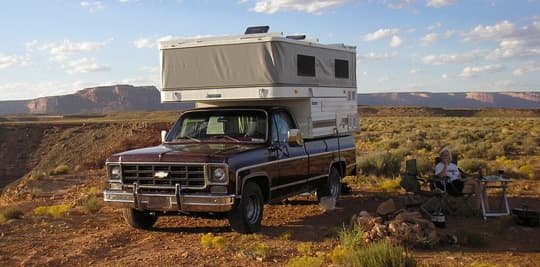 "One of my goals after retiring in 2007 was to see the USA and Canada.  After my first trip to the west in an SUV we found that staying in hotels was really a hassle and sort of expensive.  Most hotels are not located near the places we wanted to stop and visit, and we were not tent campers.  At the time, I did not really know much about truck campers, especially the light weight pop-up campers.
While on that first trip west I saw a lot of different truck campers traveling around and some pop-up truck campers mounted on half ton trucks.  Well, that got me thinking.  I had a recently refurbished 1977 Chevy "heavy half" that just maybe could be used to carry one of the light weight campers.
I started researching truck campers and was lucky enough to find the Wander the West forum.  That forum was very helpful to me and through it I learned about Four Wheel Campers.  I ended up buying a new Four Wheel Grandby camper to put on my old school Chevy truck.  We traveled around with that combination for three years.
After retiring the old Chevy, I bought a very low mileage 1998 Dodge Ram 2500 truck to haul the Grandby.  Traveling in a truck camper has been a blast!" – Buzz Merchlewitz, 1998 Dodge Ram 2500, 2007 Four Wheel Grandby
"We decided that a camper was in order since Tracy could no longer eat normal food after a weird food poisoning incident.  We started with a pop-up tow-behind for our Hummer, but when we decided to get back into Jeeping we knew we needed a truck to tow the Jeep.  It was the perfect excuse for getting a truck and a truck camper after years of yearning for one.  Our first little Palomino Bronco pop-up was good, but we can't wait to use the Lance! " – Tracy and Steve Schuster, 2012 Chevy 3500, 2012 Lance 992
"One of my friends from childhood owned a truck camper.  I was a tag along starting at around eleven or twelve years old.  They also introduced me to surf fishing.  I bought my first four wheel drive truck at twenty years old, and my first camper at around twenty-five.  It was not much more than basic shelter.  Here, thirty years later, I still surf cast and still have a truck camper.  Quite a bit more more luxury in my driveway." – Jerry Rohan, 2008 Ford F450, 2011 Chalet TS116
"Why did we get into truck camping?  Well first of all we were tent campers.  Then my wife and I started talking about maybe moving out of the tent and moving up to a new way of camping.  There are many types of RVs.  The next thing we were both talking truck camping.  With a truck camper we could pull our boat.  Then I ran across your website and began to do the apples and oranges thing.
One day we were driving the country roads and saw a 2000 Sunlite popup camper in someone's driveway.  I stopped and knocked on the door and asked if it was for sale.  His answer was, "It can be", so he gave me a price.  I shot back with a price.  In ten minutes we were bitten by the truck camper bug!  After two years, we bought 2010 Travel Lite 800SB with all the bells and whistles.  We have been hooked ever since!" – Joseph Brown, 2010 Travel Lite 800SB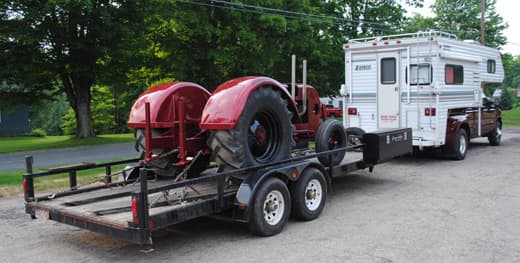 "I compete at the tractor pulls and used to travel long distances with the truck and trailer.  I drove fifteen hours one day and could not find a place to sleep.  After spending the night in the truck, I decided to look for a camper.  I bought a used Shadow Cruiser and used it for three years before ordering my new Lance.
I've been competing all over New England and then went to Michigan and Ohio.  Lots of people have asked how I like the camper set up and I cannot say enough nice things!  Everywhere I go, I always meet fellow campers. " – George Randall, 2012 Ford F350, 2000 Lance 915
"I didn't become a truck camper until I retired on October 28th, 2009.  In the months preceding retirement a lot of research took place on truck camping.  Once the decisions were made, my brother-in-law found the desired truck down in Virginia and I traded in a Toyota Four Runner for the truck.  A used 845 Lance Camper was a bit tougher to find.  In over three months I had five leads, none of which panned out.  An associate at work found the ideal truck camper just outside of Atlanta, Georgia.
I purchased the camper from an RV dealer on the 9th of October over the phone sight unseen.  I drove to Atlanta that weekend and picked up the new truck camper.  Previously it had been used three times by grandparents camping with the grandkids.  They traded it in for a larger RV.
My first trip was a shake down trip on Skyline Drive, Blue Ridge Parkway, and The Smoky Mountains from 30 Oct through 14 Nov 2009.  After that first trip I never looked back. However, it did take about two years to gain enough experience to relax with travel, maintenance, and camping issues." – Paul Foster, 2005 Ford F250, 2008 Lance 845
"We've gone from sleeping bags and tents to a truck camper.  Ours was a progression of growing steps.  First we had the tents and sleeping bags with three kids.  Next, it was just the two of us in tents without the kids (they did not like sleeping on the ground).  Then we shared a pop-up camper with the sister-in-law and then shared a fifth wheel with the sister and brother-in law.  We were wondering many times how he was going to get that thirty-five foot thing into such small campsites.  Finally we got our own Lance 825.  Now I need to convince my wife that the two of us need a larger truck camper for when the grandchildren are with us.
After doing our research and homework, we went to a trade show to make a purchase of a particular truck camper.  Due to the recommendation of a certain internet editor at the trade show, we purchased a Lance.  We traded a Ram 1500 for a Chevy 2500 again after doing our homework at the recommendation of the same internet editor.  We love the freedom of our truck camper and we are planning a two to three month trip from the East Coast to Alaska and back in 2014." – Ray Fair, Chevy 2500, Lance 825
"It started fifteen years ago when my wife decided having a horse was a good idea.  We used our first pop-up camper a few times for that reason.  The horses have been gone for eleven years but we are still enjoying are second truck camper and we are in the market for our third.  We haven't stayed in a motel for the last fifteen years because we take the camper everywhere we go.  It is by far the most convenient way of traveling." – Phil and Maria Hanby, 2012 Ford F350, 1998 Shadow Cruiser 950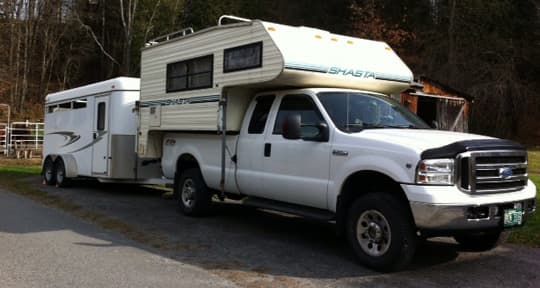 "My wife shows horses and we like to go the afternoon before so the horses get settled in and get a good night's rest.  We used to set up a big cabin tent and always had fun no matter the weather condition.  Some people had horse trailers with living quarters.  Those were always out of our financial reach so I thought, "Why not a good used truck camper?"
We have a 2005 F250 Super Duty.  It took three years to find a good truck camper in our price range that would fit our truck with landing gear legs raising the camper high enough for clearance between the cab and overcab.  We finally found one at a local RV dealer and made the purchase.  It was a 9.5 footer in our eight foot bed.
We had researched people who had custom slugs (tongues) made to tow horse trailers.  We went to our local machine/welding shop and talked with a tech to figure tongue weight and length of slug that would work with what we were towing.  We had a solid 18″ slug welded up, reenforced the Reese hitch and were perfectly safe and within limits.  The down time at the horse shows have been so much fun and comfortable ever since!" – Ken Wetherell, 2005 Ford F250, 1998 Shasta 950
"In the 1950s, my dad built a truck camper copying the old King of the Road.  When I got married and had children, we bought an old Ford with a homebuilt camper.  We decided after a year that we needed a heavier rig, so we got a 1971 Chevy 1500 with a Four Star Camper.
We used that for years.  In 2000, we decided we wanted to take a ferry to Alaska and bought the Dodge and Northstar.   We have been all over the West, including Alaska in this rig." – Joan Berger , 2001Dodge Ram, 2001 Northstar TC650
"Every July, my wife and I take a 5,000 plus mile trip out to California camping in the California Delta and Northern California Coast.  The temperatures range from the 100s in the Delta region to 50s on the coast.
After five years of tent camping, my fishing buddy showed up with a Four Wheel Camper on his pick-up.  The first year he had it, I wasn't interested.  The next year the weather was so varied with high heat and rain that I took a second look.
We bought a new Palomino pop-up truck camper from a local dealer in 2007.  Five years later we purchased a 2012 Northstar Liberty.  We have enjoyed both of them with over fifty thousand miles traveled." – Henry and Sue Nelsen, 2007 Toyota Tundra, 2012 Northstar Liberty
"Truck camping has been a part of my life since before I was born.  In late 1973, my parents ordered a truck camper from a local do-it-yourself builder in my hometown.  My dad tells me how they would visit the builder.  While my dad assisted with the framing, my mom would sit in the nearby grass.  She would have joined them, but she was six months pregnant with me.
About two months before I was born, my dad arrived home with a custom built ten foot truck camper.

  My entire childhood found us out and about on many occasions, whether at the lake, the beach, or in the mountains of Virginia and North Carolina.  During the summer months, the camper was never off the truck and we would depart for a weekend getaway as soon as my dad arrived home from work.
As a closely-knit family, the camper never seemed small.  While it only boasted an ice box, two-burner stove and hanging closet, it kept us out of the rain and it kept us in nature to enjoy the outdoors.  The board games that accompanied us are still in the camper.  Each time I return home, I see our family camper and recall the smell of my mom cooking and the sound of the screen door opening.
Years have passed since I have traveled in that camper and just two years ago, my wife and I decided to purchase a truck camper.  A couple of days after we returned home with our Lance, we were informed that we were four weeks pregnant.  Déjà vu all over again!  We have enjoyed many trips in our camper and look forward to raising our family in the same manner we were raised, in a truck camper." – Barry Edwards, 2006 Ford F250, 1992 Lance Squire 8000
"My wife, Nancy, and I like to go ATV riding in the mountains of Montana.  But, she doesn't care for going to the bathroom behind a tree, so, we carry a large self-contained bathroom with us all the time." – Don Davis, 2008 Dodge Ram 3500, 1990 Lance LC580
"We full timed for twelve years ending with a forty foot Class A with four slides.  We found the unit to be too expensive to operate and pay for once we went on Social Security.  We also realized the places we wanted to travel and camp in were back roads, rural America, and national forest campgrounds.  A large rig was not practical.
We sold the Class A and bought our truck camper.  We use the truck camper for weekend trips in the winter and thus far two month long trips in the summer.  Next summer we will be gone for four to six months.  We have a mobile home in Florida the rest of the year." – Mike and Colleen Gormley, 2004 Dodge Ram 3500, 2013 Lance 1050S
"Most of our camping is in remote locations on BLM and forest service land.  Many roads require four wheel drive where you wouldn't want to pull a trailer.  We saw several pop-ups at an RV show, bought one and love it.  It is a perfect fit for us." – Brian Hagen, 2000 Dodge Ram, 2012 Palomino Bronco 1251SB
"Stationed in Germany with the Air Force, a friend arrived in Ramstein, Germany with the camper and truck I have now, and was soon divorced and in need of getting rid of the camper and truck.  I traded the camper and truck for my 1972 Chevrolet Impala.
Having four daughters who all wanted to explore Europe, this was the most cost effective way to visit.  Places visited were Spain, Germany, France, Italy, Switzerland, Belgium, Austria, Holland, Luxemburg, and Denmark.  In 1974, a truck camper was unique at Europe's campgrounds and many Europeans stopped by to visit and explore the camper rig.
This started us on truck camping.  My daughters are now grown and have their own lives, but they always bring up many fond memories and adventures the four years exploring Europe in our truck camper.  I currently have a 2010 Ram 3500 with an Arctic Fox 1150 and greatly enjoy traveling through America, Alaska, and Mexico.  Life is great! " – Clifford Cizan, 1972 F-250 Camper Special, 1972 Coachmen 11.5 foot camper (first camper)
"After touring Namibia in a small 4×4 camper, we decided that at some stage we would like a similar vehicle at home, definitely a 4×4, but maybe a bit larger.  A few years later Sally sold her horse and I sold my old military truck and we decided to look for this 4×4 camper.  I wasn't keen on dedicating a vehicle to only one use.
A bit of research showed the truck camper was the perfect solution.  It's a 4×4 camper when we need it, and a regular useful truck the rest of the time.  We've never looked back and have met so many interesting people and visited so many great places." – Steve Blackman, 2007 Ford Ranger, 1991 Shadow Cruiser, Sky Cruiser 1
"Slowly but surely, after packing and unpacking a tent and everything else you need on a camping trip, we started finding the whole process quite tedious.  Yes, I admit, we felt we had to bring lots of stuff.  Our son called it geriatric camping because we have everything but the kitchen sink.  But hey, we wanted to be comfortable.  After seeing a pop-up truck camper on a site once, we had talked of maybe getting one in the future.
On one of our camping trips this past July, it rained on and off for a week.  It was hot and muggy and after taking everything down, we had a soggy mess, from the tent, to our clothes, to our food, to our Kleenex.  My husband looked at me and said. "I'm done.  We're getting that camper".
We chose a Palomino Bronco 1251 SB.  Now our camping experience is so much easier and pleasant.  We call it our baby camper and we love it.  Easy set-up, easy take-down.  Just enough room for the two of us.  It's our little nest and the best decision we ever made.  We were able to camp well into the fall season.  It was so enjoyable.  We only used it three times before we had to put it to bed for the winter and we really miss it." – Marie Rainville, Ford 150, Palomino Bronco 1251
"We live in South Florida and loved going camping in the Keys with our boat.  The truck camper allowed us to bring the boat with us.  We are now setting up our Jeep Wrangler to flat tow with us." – Pete Biron, 2012 Dodge Ram, 2006 Lance 881
"I realized not only did I have a passion for camping, but a passion for riding motorcycles on forest service roads.  In order to be able to do both, I gave up my travel trailer and purchased a truck camper.  I can now haul my bike into the forest to ride and camp in more remote areas of the forest.  It's the perfect solution for me!" – Bonnie West, 2011 Chevrolet Silverado 2500, 2013 Pastime 700 FDS
"We just downsized from a thirty-six foot fifth wheel to the camper to allow for travels into smaller places." – Bill Palmer, 2013 F350, 2014 Arctic Fox 1150
"A number of years ago I saw an Earthroamer on TV and thought that would be the perfect vehicle for my outdoor interests.  Unfortunately they are $400K and I doubted I would ever be able to talk my wife into spending that kind of dough.
While investigating the Earthroamer on the internet, I came across RV.net and TCM.  Living in Indiana (where truck campers are pretty much non-existent) I had never seen a truck camper before.  I started investigating them and realized, with a truck and truck camper, I could travel anywhere an Earthroamer could go and do it for a fraction of the cost.  I have been in love with truck campers ever since.
Starting about five years ago, I started saving up my overtime money and put it away in a special truck camper savings account.  Last year I traded in my half ton truck and purchased a 2012 Ford F350 single rear wheel in anticipation of getting my camper.  I finally saved up enough to get my camper and recently purchased an Arctic Fox 811 and I am headed up to Michigan to pick it up in two days.
My dream of owning a truck camper is finally coming to fruition. 

The truck is ready.  Torklift tie-downs, Stable-Loads, and Fastguns are waiting in the garage.  All I have to do is remove the tailgate.  The wife and I are headed to Michigan this weekend.  Can't wait.
We look forward to exploring our amazing country in the coming years with our two young boys in tow.  There will be lots of camping, hiking, and Geocaching in our future. 

A big thanks to TCM for providing so much information and truck camping goodness over the years.  Your magazine has been invaluable to me in my journey." – Bart Bevers, 2012 Ford F350, 2014 Arctic Fox 811
"For the most part, it was because of horses.  I bought a new Alpenlight 9.6 in 1999. I can haul a horse trailer and camper at the same time.  I spent many wonderful nights in that camper and still do.  It has all the comforts of home!  I started out in tents, then camper shells and finally the camper.  I also have a fifth wheel but still use and love the camper." – CHS
"Well, we are not into it yet, but we are driving 4,000 kilometers on the east coast of Australia right now looking for our perfect truck camper.  Why?  Because we love camping and have had enough of canvas after a water spout on the beach took out our designer camper trailer.  We want to still be able to tow our boat and carry all the water and land toys.  A truck camper is the perfect answer!  We can't wait to own one." – Les and Ian, Western Australia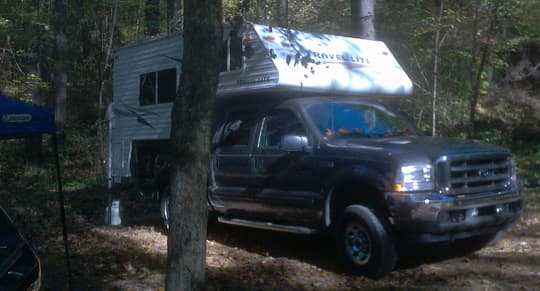 "In 1969, I lived in Charleston, South Carolina.  I was friends with the neighbor's boy and they had a truck camper.  I was nine years old.  They took me camping with them a few times and I always enjoyed going.  We would ride in the cabover and wave at people.
In 1986, I worked at an arena (I still do).  We had an RV and boat show at the arena and the bug hit me!  I had to have a camper.  There were no truck campers here, so I ended up buying a bumper pull Wilderness.  I used it for a few years and had a good time.  I sold it and a few years later I bought a Class B.  I traveled all over the southeast, even to the Keys.  I sold it and bought a time share.  Well that was mistake!  We still have it, and my wife uses it sometimes.
I was watching Craigslist in my area for a camper of some-sort that I could afford.  There was a Palomino pop top that caught my eye one day.  I called the guy and set up a time to go look at it.  I ended up buying it and brought it home.  I'm 6'6″ tall and the bed was just too small.  I liked it but I decided to look some more.
I found a Travel Lite that had a nice big bed and all the amenities I wanted.  I ended up buying a bigger truck to carry the camper safely.  I'm happy with it.  I did sell the Palomino to a nice young couple who were tired of sleeping on the ground.  Now I just need to retire! " – Jeff Hagberg, 2002 Ford F250, Travel Lite 800 SBX
"My wife and I owned a twenty-seven foot travel trailer which she loved and we did some major trips around the USA and up into Canada.  Ovarian Cancer came into our lives and four years later, in February 2011, she passed.  So there I was with this trailer; made some short in-state trips which were okay, but I really did not want to do any major trips pulling a twenty-seven foot trailer by myself.  One just needs a co-pilot.  An opportunity came up to sell it, so I did, and started looking at alternatives.
I was over seventy years old and did not want to get back to tent camping, even the ones that would fit in the back of my Silverado.  The thought of dealing with an air mattress, sleeping bags, camp stoves, water storage, the toilet issue, and on and on.  I kept saying, "No, no, no".  Somehow truck campers came into view and I started doing some research and the concept of a pop-up camper really hit home with me.
I found a dealer who carried them, so I went and looked.  The price seemed to fit my financial situation so I purchased a Palomino Bronco 1251 that fit easily on my Silverado 2500HD.  I did some short trips around the Florida area and then, in August of 2012, I took off all by myself on a 12,000 mile, twelve week trip around this beautiful nation of ours.  Wow, what a fantastic journey.
This summer I was in the process of moving down to central Florida to be near my son, so I only did a couple short trips.  Next summer, who knows?  Maybe I'll travel to the northeast and up into Canada again.  A truck camper fits my lifestyle and is just perfect for me.  Our trailer was called Thumper, so I had a special logo made for the Bronco that says, Thumper Too, in memory of Sharon." – Dan McKinnon, 2004 Silverado 2500HD, 2011 Palomino Bronco
"Back in the day I had a 1965 Chevy El Camio.  They came out with a wood truck camper with a extra set of training wheels on the back.  This was a heavy camper, 327 four speed, and air bags.  That's what I drove from Wisconsin to Virginia.  I came with 65 dollars in my pocket and gas was .20 a gallon.  Seventeen years old and off I went.
Then came a Winnebago on a 1975 F-250 4×4 and up to Alaska I went with my girlfriend, who is now my wife.  Then came the Cadillac.  We bought a Shasta with a shower and toilet.   Wow!  Next we bought a Veri-Lite.  We were in heaven.  We had that two years and then went to a camping show in Chicago.  Wow, we saw a Lance four season camper.
We sold the Veri-lite and went off to the Yukon, British Columbia, and more with the Lance.  Well one thing led to another bought another Lance 1131 with an air conditioner, generator, and solar panels.  That was the life!  We went to the camping show in Rosemont, Illinois and there sat this beautiful 1181 slide-out.  Now we needed a dually truck.  We bought a F-350 Ford with extra springs and four doors.  We love our truck.  It's a five-speed with all the bells and whistles.
Now Lance has an 1172 with a sofa in the back.  We're still thinking!  The truck will be okay so we're still thinking.  Maybe we just need a little push.  They sure are beautiful.
I started at seventeen years old and I just turned sixty.  I love to go to Florida in March.  I'm going to Montreal in February for the ice sculptures.  We run the furnaces at fifty and drive up from Wisconsin.  What a beautiful trip.  It's zero to twenty-five degrees.  We plug into the motel parking lot and use it like a four season camper, shower and all.  Now that's called having truck camping in your blood.  We have visited all of Canada, forty-eight states, and have gone 6,000 miles down into Mexico.  We are ready to go on another adventure.
Remember there is a empty road out there waiting for a truck camper.  Go and explore!" – Neil Steirer, 2008 Ford F350, 2008 Lance 1181
"My brother bought a very small pop up truck camper, with no bathroom and east-west sleeping.  It was okay, but I wasn't that impressed.  I thought that I wanted a toy hauler.  A camper was too much for my Tundra to carry.
After the market crash, I met a man with a truck camper with air bags on his half ton truck.  He said that he had been driving a truck camper around the country for twenty years.  I started looking for a camper that would fit on my truck with the amenities that I wanted and ended up with a Lance 825.  Four years and many trips later (including a five month trip to Alaska) we are still happy with our camper.  I wouldn't trade it and recommend truck campers and your web site to everyone who will listen.  – Bruce Gamsby, 2008 Lance 825, 2008 Toyota Tundra
"My employer was offering buy outs (for the third time in ten years) and I was finally in a position to say yes.  I did, and I had to wait sixteen months for them to release me, on December 1, 2007.  During that period, Mary and I began dreaming about what we were going to do.
For years, my dream had been to move onto a boat and spend time boating.  Mary, while she had agreed to a two year commitment for the boating adventure, was not eager to start that adventure quite yet.  And we continue to disagree about going into the wide open ocean or doing coastal cruising.  So we decided to travel by land around the States by RV.
I've hauled boats around most of my life, and I really didn't relish the notion of hauling a trailer all over the United States.  A motorhome seemed too unwieldy and limiting, or I'd have to get a toad, and there I was with a trailer again.  I had a cap on a pickup truck many years earlier and I'd camped in it a few times.  Mary had done quite a bit of backpacking when she was young.  She wasn't intimidated by roughing it.  So we started talking about how we would outfit our truck and cap.  Then, on a trip to Shipshewanna, Indiana, we saw a pop-up truck camper on a semi being trucked, I presume, to a dealer.  We began to wonder about truck campers.
We found a nearby dealer for the camper we had seen and went to look at it, but were disappointed in the fit and finish.  The quality concerned us.  So off to the internet and the search for information.  We looked at our local RV dealers.  We saw a token nod toward truck campers, but in Michigan, they just didn't seem popular enough for any dealer to carry much inventory.  And all too often, we were told that in below freezing weather, they needed to be winterized and put away, not for winter use.  Wait a minute.  This is Michigan!  This doesn't make sense!
Then we found out some truck campers were made in Canada, and they had the good sense to not think temperatures below 32 F were limiting.  Now things were getting interesting.  So we did more internet homework and more RV dealer visits.  And had more discussion about what amenities we wanted onboard.  We wanted a dry bath so we can comfortably shower, air conditioner, a generator, a refrigerator with a freezer, and we'd install our own TV.
What about resale?  What about weight?  What about maintenance and service?  What are we going to do with it when we aren't using it?  How much will we have to use it to get our money's worth?  Will we use it or like it?  All these questions and more.  But we finally settled on what camper we wanted.
We got a Snowriver 102 RK.  We talked to the Snowriver folks, and they suggested we contact their dealer in Spokane, Washington, because they were in an upcoming RV show where we would get the show price.  We flew out to Spokane and excitedly arrived at the RV show.  We met Mac, the RV salesman, and Gus, the Snowriver Sales Manager.  Being the Michigan customers, we were treated very well.  We made our deal, placed our order and excitedly went into town to celebrate our new purchase at a nice restaurant.
Six weeks later, we found ourselves on the way from Michigan to Spokane in our new Chevrolet 3500HD diesel, four wheel drive truck.  Each hotel room reminded us why we wanted a camper.  Each passing RV generated discussion about our truck camper choice.  Each campground hinted at a vaguely understood future set of experiences coming at us.  And the day before we arrived in Spokane, an antique store yielded our first personalization item – a candle holder – to make this camper our own." – Lou and Mary Pomerville, 2008 Chevy Silverado 3500HD, 2008 Snowriver 102RK