This week's Question of the Week was, "How did you get into truck camping?"
To read Part 1, click here.
"About twenty years ago we were tent camping at West Glacier campground.  My wife's sister and her family had a little pop up truck camper.  We were damp, and they were dry.  The Lance is our third truck camper." – Philip Tron, 2009 Chevy 3500, 2012 Lance 1050
"I have been camping/RVing since 1962.  I have owned a number of RVs, pop-ups, van campers and Class As.  I sold the last Class A in June of 2012 and sort of went into withdrawal.
I had seen truck campers over the years.  After a bit of research, I decided to buy one, which is sort of my last hurrah.  I bought a camper, and then the pick up.  It was something of an experience to equip and mate the two.  I have made six, three to five day trips.  I appreciate the ease of set up, not needing a towed vehicle, and overall reduced capital outlay.  I really enjoy TCM." – Loren Buchanan, 2007 GMC 2500HD, 2002 Lance 1130
"I had a Class C motorhome that we camped in quite a bit.  Unfortunately it couldn't get into some of the places we wanted to go.  The logical replacement was a cabover camper on a four wheel drive truck.  Now we can get to the places we want to camp in the same comfort as the motorhome." – Gary Pavone, 1995 Ford F350, 2001 Lance 810
"Both my wife and I tent camped growing up and we kept tent camping as a married couple.  In wishing to be off the ground with a heater, table, real bed, and having a little girl (now seven) we looked around for the cheapest solution and ended up with a Jayco tent trailer we paid $2,400 for.
We used that trailer for three summers but wanted to be able to take our ATVs with us and also be able to truly camp year round in Oregon weather. 

 We looked at a lot of toy haulers but they really limited us to big sites and ruled some of our favorite parks out completely.
The truck camper was an easy choice as we could fit anywhere practically but when we were going to ride and camp we just added our 20′ enclosed trailer to the truck.  We love the flexibility of just camping or taking the toy box with us.  We are now through our third camping season with the truck camper. 

I knew several people growing up with truck campers and we had always seen some truck campers at RV shows in the area." – Elliot Groeneveld, 2011 Dodge Ram 3500, 2011 Arctic Fox 1150
"I don't really remember for sure.  It was back in 1972 and I am still going.  I still love it." – Rag, 2003 Chevrolet Silverado, 1980 Sportsman 8ft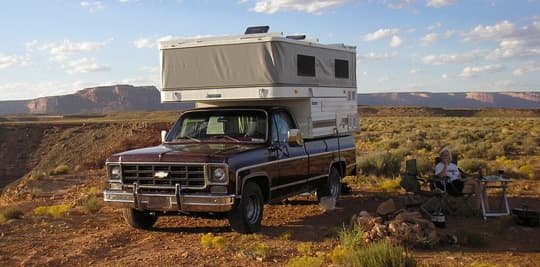 "One of my goals after retiring in 2007 was to see the USA and Canada.  After my first trip to the west in an SUV we found that staying in hotels was really a hassle and sort of expensive.  Most hotels are not located near the places we wanted to stop and visit, and we were not tent campers.  At the time, I did not really know much about truck campers, especially the light weight pop-up campers.
While on that first trip west I saw a lot of different truck campers traveling around and some pop-up truck campers mounted on half ton trucks.  Well, that got me thinking.  I had a recently refurbished 1977 Chevy "heavy half" that just maybe could be used to carry one of the light weight campers.
I started researching truck campers and was lucky enough to find the Wander the West forum.  That forum was very helpful to me and through it I learned about Four Wheel Campers.  I ended up buying a new Four Wheel Grandby camper to put on my old school Chevy truck.  We traveled around with that combination for three years.
After retiring the old Chevy, I bought a very low mileage 1998 Dodge Ram 2500 truck to haul the Grandby.  Traveling in a truck camper has been a blast!" – Buzz Merchlewitz, 1998 Dodge Ram 2500, 2007 Four Wheel Grandby
"We decided that a camper was in order since Tracy could no longer eat normal food after a weird food poisoning incident.  We started with a pop-up tow-behind for our Hummer, but when we decided to get back into Jeeping we knew we needed a truck to tow the Jeep.  It was the perfect excuse for getting a truck and a truck camper after years of yearning for one.  Our first little Palomino Bronco pop-up was good, but we can't wait to use the Lance! " – Tracy and Steve Schuster, 2012 Chevy 3500, 2012 Lance 992
"One of my friends from childhood owned a truck camper.  I was a tag along starting at around eleven or twelve years old.  They also introduced me to surf fishing.  I bought my first four wheel drive truck at twenty years old, and my first camper at around twenty-five.  It was not much more than basic shelter.  Here, thirty years later, I still surf cast and still have a truck camper.  Quite a bit more more luxury in my driveway." – Jerry Rohan, 2008 Ford F450, 2011 Chalet TS116
"Why did we get into truck camping?  Well first of all we were tent campers.  Then my wife and I started talking about maybe moving out of the tent and moving up to a new way of camping.  There are many types of RVs.  The next thing we were both talking truck camping.  With a truck camper we could pull our boat.  Then I ran across your website and began to do the apples and oranges thing.
One day we were driving the country roads and saw a 2000 Sunlite popup camper in someone's driveway.  I stopped and knocked on the door and asked if it was for sale.  His answer was, "It can be", so he gave me a price.  I shot back with a price.  In ten minutes we were bitten by the truck camper bug!  After two years, we bought 2010 Travel Lite 800SB with all the bells and whistles.  We have been hooked ever since!" – Joseph Brown, 2010 Travel Lite 800SB