This week's Question of the Week was, "How did you get into truck camping?"
To read Part 2, click here.
"When I was very young my dad bought an 11' Western Wilderness truck camper.  During the summer breaks our family would go on trips.  My siblings and I would ride on the bed looking the front window for hours.  Even when the camper was parked in the backyard we would play in the camper.  It was also the kids' job to clean the camper before every trip.
I never thought about buying a camper as an adult, until I took a girlfriend tent camping.  That night we had a cougar come through our camp.  If I was going to encourage this girl (now my wife) to continue to camp, I had to buy an RV.  I didn't want a trailer and a truck canopy wasn't going to cut it.
I remembered my youth and bought my first truck camper (1974 Western Wilderness).  My wife and I used this old camper for five years before we upgraded to a 1997 Lance.  We're now expecting an addition to our family and have started looking at new truck campers.  And so the truck camper cycle continues." – Chuck Trinka, 2008 Dodge 2500, 1997 Lance 815
"In 1963 my dad bought a new half ton Chevrolet and Merced Camper.  I fell in love with the activity and now fifty years and nine campers later at seventy-three, I am still enjoying the camper life." – Monty R. Boyd, 2004 Chevrolet 3500, 2009 Arctic Fox 1060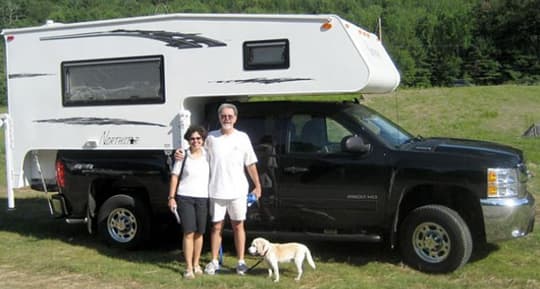 "My husband and I had been tent campers until I got to the point that I felt it was too much work for something that was supposed to be fun and relaxing.  Then there was the issue of dealing with bad weather and sleeping on the hard ground.  We hadn't camped for many years but Joe always talked about it and the possibility of getting a travel trailer or some kind of RV.  I did not want any part of that either.
In February 2010, Joe wanted to go to the RV show in Springfield, Massachusetts to look at a pop-up trailer and I agreed to go with him.  His intention was to find a small trailer that we could easily pull and we could start camping again.  When we walked towards the Truck Camper Warehouse area, but we never passed it.  We stayed, we looked, we liked, we played, we learned, and we were hooked!
We met Gordon and spoke at length about just about every truck camper on display.  The truck campers made sense to us.  On the ride home I told Joe I could see us truck camping.  Needless to say, he was not only shocked but delighted.  Four months of research, and driving everyone we spoke to crazy, we bought a Northstar!   We purchased it in July 2010 and have loved every minute of it since." – Joe and Nina Mac Donald, 2013 Chevy 3500HD Diesel, 2013 Northstar Igloo U
"My wife and I had enjoyed the RV lifestyle for many years and purchased a new high end fifth wheel in 2009 with the thought of possibly going full time.  We retired in August of 2009 and hit the road for our first trip which lasted for three months.  Unfortunately, when we got home we discovered that she had terminal cancer and passed away in March of 2011.
I still wanted to travel and knew that she would want me to go on with my life.  However, I could not stand the thought of pulling that big fifth wheel all over the USA by myself.  Since I already had the truck I looked at truck campers and liked what I saw.
I purchased my Lance from PJ at Princess Craft Campers in Pflugerville, Texas and have taken several extended trips in it since then.  I have had just about every kind of RV made with the exception of a motorhome and I like the truck camper the best of any of them.  There just seems to be so much more freedom with the truck camper than any other RV I have ever owned." – Eldon Rhodes, 2008 Chevy Silverado 3500, 2011 Lance 1050
"Try backing a travel trailer into a campsite with two rabbits giving directions and you'll know why I chose a truck camper." – Richard Balling, 2008 Ford F250, 2007 Bigfoot 25C94
"We had a fifth wheel which we put into storage while we accepted a work position several states away.  Our first weekend off resulted in a visit to a nearby beach and motel.  We came home and decided that we did not want to stay in a motel, so, we found a truck camper for sale nearby and purchased it.  We have since sold the fifth wheel, became homeowners and use the truck camper as much as possible." – Carol Bowman, 2005 Dodge 3500, 2003 Lance 1130
"Okay, I may get in trouble for some of this!  Years ago we had a pop up trailer and we were thinking of moving up to something more convenient.  I took my wife to look at pop-up truck campers.  She did not like the pop-up truck campers we looked at.  I was also cautioned by the dealer that the half ton truck we had at that time was not adequate (good advice).
We did end up selling the tent camper and bought a hard side travel trailer.  I never lost the truck camper bug.  Fast forward several years.  We had an Airstream and an HD truck, but I was still intrigued by truck campers.  I had a few bucks burning a hole in my pocket so I started looking around in my spare time.
I found a very lightly used Adventurer.  I mean it was used maybe once!  I made an offer and the seller called me back a couple of weeks later and said that if I was still interested that I could pick it up that weekend.  So I had some tie-downs overnighted, installed them the next night (in the dark of my backyard) and picked up the truck camper the next day.  Let's say I have a history of impulse buying toys (boats, motorcycles, etc).
So I pulled in the drive way with this truck camper.  Well, my wife was not very appreciative, at all.  She called me the next day at the office and said, "Well you bought it.  Load it up and let's go camping this weekend".  So we did and had a ball.
Now she loves the truck camper and she will even take it for girls weekends.  So the first truck camper got off to a rocky start, and created many great memories; a cross country National Park tour, ski camping, etc.  Now we are on our second truck camper and still find so many new ways to enjoy the truck camper lifestyle.  Truck campers rock!" – Bill Tex, 2006 Chevy 2500HD, 2013 Eagle Cap 850