"We get out an E-Z UP awning over the picnic table, a Coleman cook stove and BBQ grill.  We only cook outside.  We also get out the comfy camp chairs.
We'll usually have fishing float tubes laying around and a hummingbird feeder if we're in a place that allows them.  But, we pretty much keep it tidy." – Greg Sellers, 2002 Ford F250, 1980s SunLite pop-up
"We do pretty much as you and Gordon do.  We park, hookup, unhook, and go.  We don't bother lowering the jacks.  That's probably because I am not that good at remounting the camper.  We carry the tarp, dual awnings, camping chairs, and are set up for a propane grill.  I just haven't found the right one.  Also, we don't tend to stay in one spot very long." – Joe Sesto, 2015 Silverado 3500, 2015 Bigfoot 2500 25C10.6E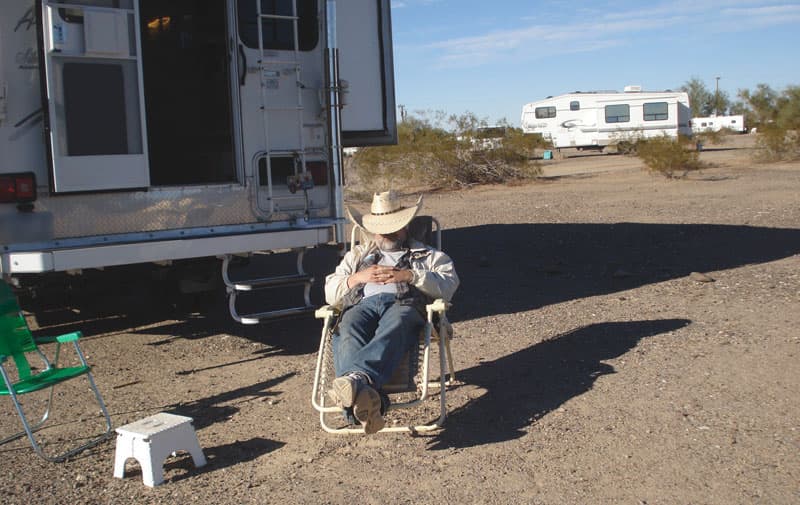 "A chair and a campfire is good enough.  Sometimes the chaise lounge comes out to sleep." – David and Lila Weinstein, 1999 Ram 3500, Arctic Fox 1150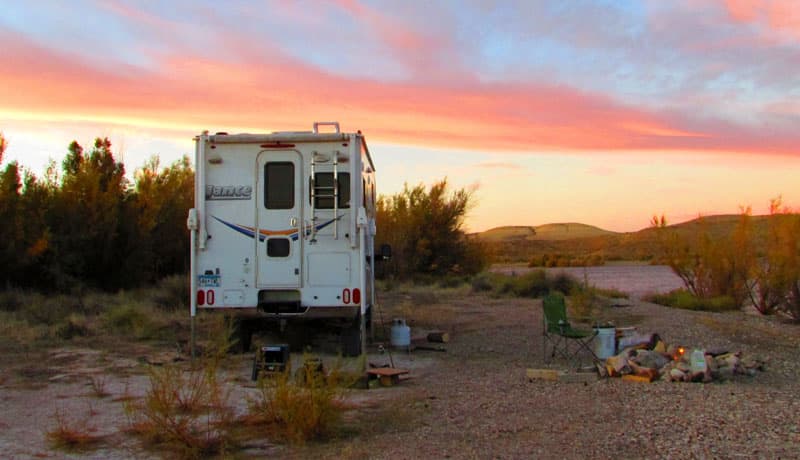 "I too am a minimalist.  I remote camp whenever possible.  Even when I stay at an organized campground, a camp chair and maybe a recently purchased bundle of firewood is all that you will find outside of my camper.  If I have a campfire, I will have water nearby to put it out if the wind picks up or I go to bed.
Weather permitting, there is nothing better than a small campfire and some star gazing, which is why I boondock.  Strings of lights, torches, generators at night, and boom boxes next door are not a pleasant camping experience for me.
I guess it might be the difference in where people live.  Urban and suburban people live where there are lights 24/7 and maybe the threat of intruders.  Lighting is a way of life and a security blanket.  Living at the edge of the woods I am used to a dark night sky and the only intruders I usually worry about are bears trying to get into the bird feeders or the garage.
To each his own.  RV parks and full hookups are popular and becoming the norm, but I seek out my minimalist camping locations." – Terry Gfeller, 2015 Ram 2500, 2013 Lance 865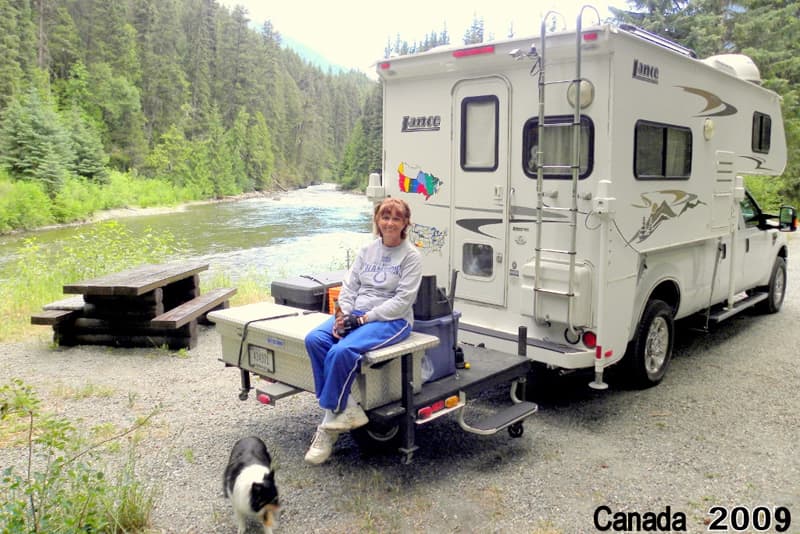 "We are minimalists.  I also hate clutter.  So, unless we spend more than one night in a campsite, we pull in, plug in, lower the jacks to level and stabilize, pull out a footstool and lawn chairs, and we are set up.  For more than one night, I may plug in a rope light for ambiance.  Otherwise, I'd rather spend my time enjoying the outdoors than decorating it!" – Shelley Pike, 2009 Ford F350, 2006 Lance Sportster 950
"We camp very conservatively.  We back into a site, check for being level, hook up to the electricity (if available), crank up the top, and we are home.
My wife's folding chair is out any time she wishes to use it, and I usually sit at the picnic table, which we place near the fire pit.  I do a lot of hiking, so I may be away from the campsite much of the time, and she will sit outside and read while I am away.  Or she may sit in the camper and read.  My wife and I do some short hikes together, but she is not a long distance hiker.
We sometimes eat outside, but mostly inside is more convenient.  The camper is our biggest investment, so we should use it.  Also, there are no insects.
We don't advertise where where we are from, nor do we light up our campsite or play loud music.  We just enjoy nature and the friendship of the campground host.  There are some wonderful and dedicated people maintaining our campgrounds." – Ellis Tyson, 2006 GMC Sierra 2500 HD, 2000 Sunlite Fold-down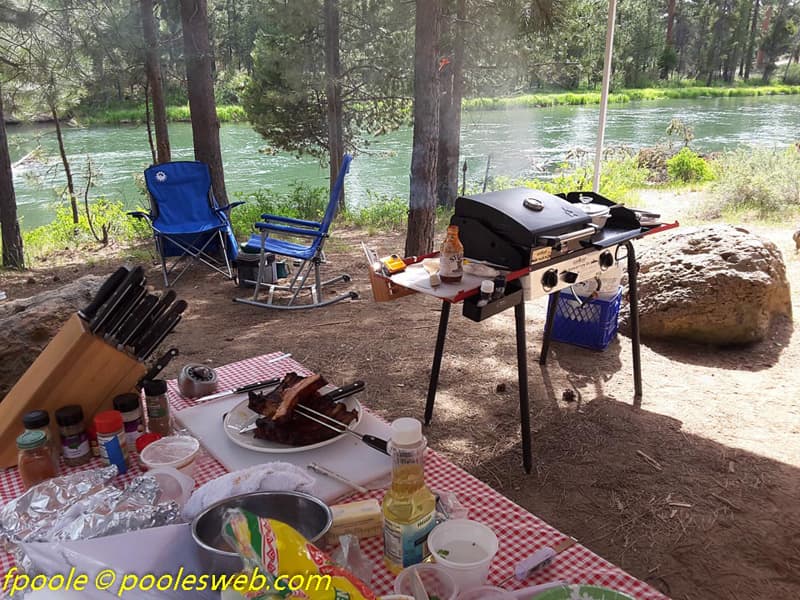 "It depends.  If it's just me for a night or two, I'll just roll out the camp chairs (carried inside camper) and be done.  Maybe I'll set up the generator since I'm still working on the solar thing.
If I'm at a place more than two days, I'll break out the small kitchen, or maybe just the BBQ.  For extended stays with a group, I'll break out the big kitchen; a Camp Chef two-burner stove, prep table, and side table lights.  I'm working on another canopy.
If there's a group happy hour, I'll break out my Carmen battery-powered margarita mixer.  Carmen means a "Camping Anywhere Remote for a Margarita Environmental Nirvana".  It's yellow, battery powered, and will go anywhere – Margaritaville.