We are campsite minimalists.  Unless we're camping with friends, we don't even setup our outside chairs.  Of course our RV neighbors often appear to be hosting an outdoor wedding with tents, tables, seating and outdoor kitchens from one end of their campsite to the other.  Comparatively speaking, our campsite is buck naked.
Realizing that our behavior is rarely typical, we asked Truck Camper Magazine readers about their own campsite rituals.  Funny enough, it turns out that we're not the only connoisseurs of spartan encampments.  That said, one reader admits to not only putting out pink flamingos, but naming them.  That's pretty wild, and just the beginning.
This week's Question of the Week was, "How do you set up your campsite when truck camping?"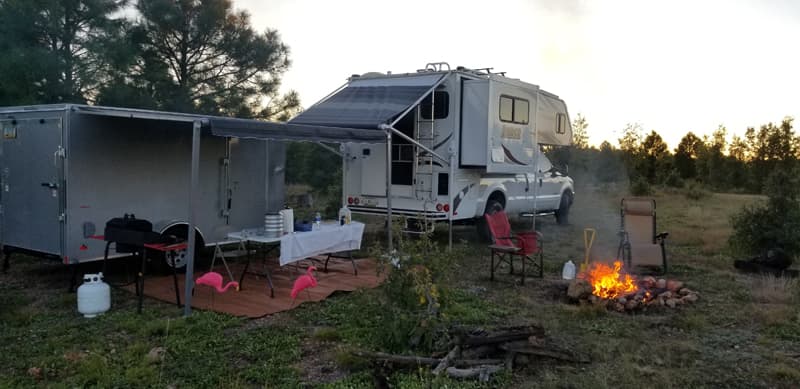 "Brimming!  We have a quad trailer with an awning for the outdoor kitchen.  We bring along a fire pit, chairs, tables and of course, Betty and Beatrice – the pink flamingos!" – Bob Smith, 2001 Ford F-250, 2015 Lance 1050S
"I am a minimalist.  I drive in and look around to see if it's safe.  I try to find a level place to park and leave without a trace." – Jesse Black, 2015 Chevy 3500, 2010 Lance 1055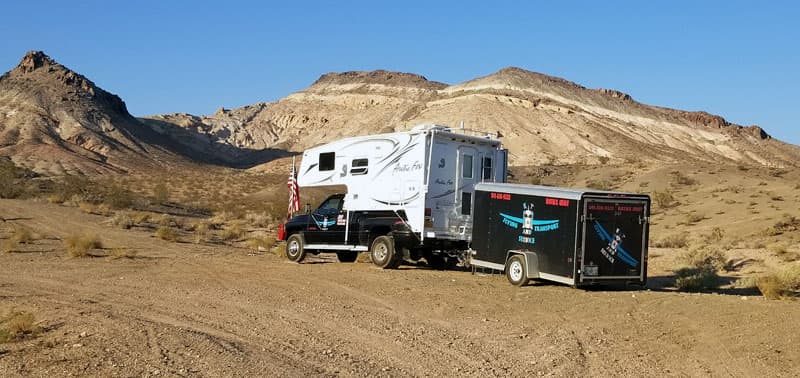 "The picture above says it all.  I boondocked for seven months from September 2nd, 2017 to March 28th, 2018.  The picture above is on BLM land in Nevada." – Kenneth Dunn, 1998 Dodge 3500, 2010 Arctic Fox 811S
"The first thing out is a clothes line, then the small speaker with an obnoxious small barking dog with the intent that it will get other potential campers away from our spot.  That's it.  Realistically, we keep the campsite to a minimum.  We pull a cargo trailer for the toys and extra stuff.  The less we get out, the less we have to put away before we move on." – Bob Nelson, 2015 GMC 3500, 2013 Arctic Fox 1140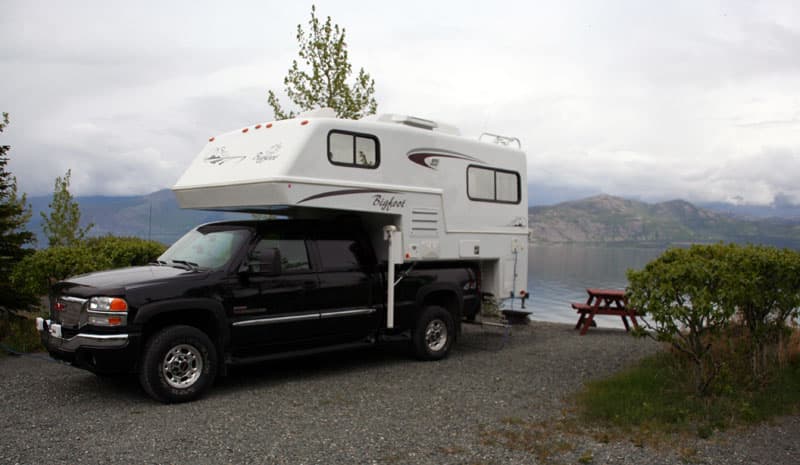 "We set up exactly like you and Angela (including the cats).  When we set up camp, we want to enjoy the outdoors by going kayaking or hiking.  There is no need to bring it all when getting away from it all.  Heck, the camper itself is pretty luxurious compared to our backpacking gear and tent." – Lyle Tremblay, 2004 GMC 2500, 2006 Bigfoot 25C9.4
"The only items I set up are a Coleman folding table, a couple of camp chairs, the hibachi, and the American flag." – Frank Kaye, 2005 Dodge 3500, 2008 Northstar Arrow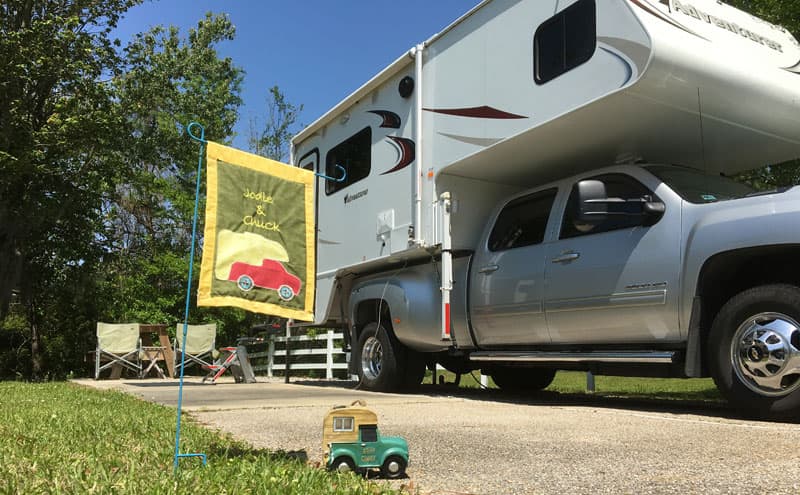 "It varies for us.  Sometimes we're minimal, other times not.  We're generally in the truck camper for seven straight months, so we try to keep it simple.  We do a lot of boondocking, so if we put anything out then it will be one solar light to illuminate the bottom of the stairs.  However if we're at a campground for several days, you'll find our camp chairs and BBQ grill set up along with a dog bed for Rugby, our camper banner, a truck camper solar light as well as several other solar lights.  We used to carry a large screen house, but didn't use it and wisely sold it to another truck camper who got much use out of it this past winter in Florida." – Chuck and Jodie Ramsey, 2012 Chevy Silverado, 2014 Adventurer 116DS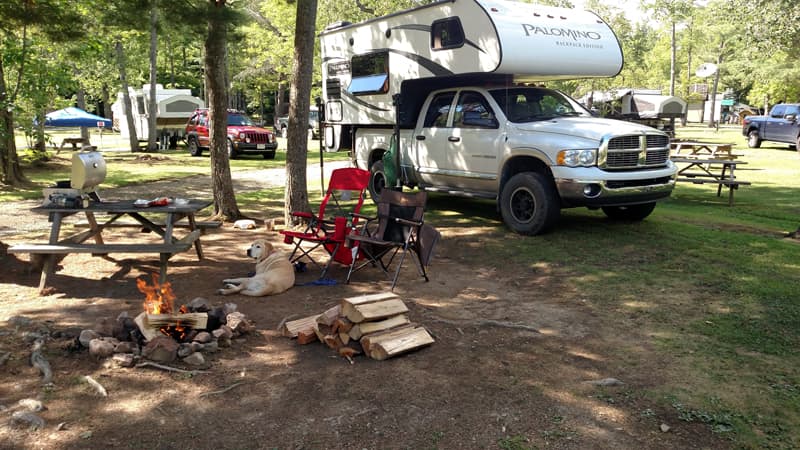 "We're not as spartan as you guys.  We usually get out our chairs, a griddle, and a grill.  But, that is about it." – Dan Robinson, 2017 Ram 2500, 2014 Palomino HS-8801
"We're pretty much minimalists due to weight restrictions with our old truck.  With our new truck we can carry everything we had been carrying and still be 1,200 pounds under payload.  Therefore, we're adding more stuff every time we go out.
We set up two camp chairs plus a small table, a rug to reduce dirt infiltration, a tablecloth on the picnic table, and a hammock.  We will be adding a screen tent for the next time out." – Randy Smith, 2017 Ram 3500, 2017 Adventurer 910DB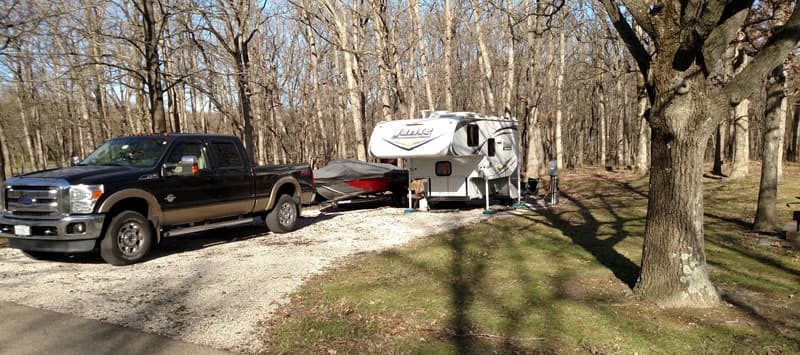 "If we are going to be at a place for more than a day, we will unload the camper and put the awning, mat, and gas fireplace out.  We also have a table for the stove (we never cook inside) and chairs." – Bill Richcreek, 2013 Ford F-350, 2017 Lance 855S