Everyone who owns a truck camper has had the experience of getting out of their truck camper after a long drive, looking at their front nose, and finding a fresh insect mosaic on their camper nose and front wall.  I mean, you knew your rig was a bug out vehicle, but this is ridiculous!
What follows are truck camper cleaning methods that run the gamut from common sense, to quite clever, to something that might be compulsive cleaning disorder.  As someone who compulsively cleans, I'm in the third camp.  You better wash it buddy!
How to Wash Your Truck Camper Rig:
"I wash the camper after every trip when I return home.  I use the garden hose, a bucket and car wash soap.  I have a medium sized step ladder so I can reach the roof line.  I have rubber roof wash for the top and some special cleaner for the awning.  I prefer to remove the camper from the truck as it makes it easer to wash both of them when they are separated.
I avoid using a pressure washer as I do not want to blow water past any of the seals in the camper.  I just wet the camper down to get rid of any loose dirt and then wash it by hand using elbow grease and a car wash mitt made from microfiber.  I try to inspect the camper as I am washing it.  I'll look at the seals and anything mounted to the camper.
On longer trips, like the month long trip we took in May to the southwest, I washed it at commercial car washes.  I was still careful not to get the nozzle too close to the camper and the seals.  I like to try and keep the rear clean as I don't like to grab a dirty door and track dirt inside the camper.
I will wax the exterior of the camper once or twice a year.  This makes it easier to wash and protects the finish from oxidation.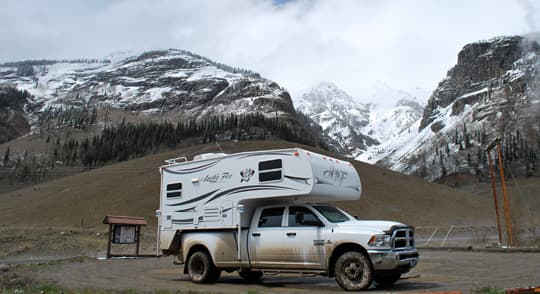 I don't have a picture of me washing the truck as all of the helpers seem to disappear when the cleaning starts, but here is an example of why it needs washed." – Ron Tennyson, 2013 Dodge Ram 3500, 2014 Arctic Fox 865
"After each trip when we get home I wash down the nose and front.  Someone gave me a great tip (can't remember who).  If you use old dryer sheets and warm soapy water, the bugs and all the grime come off real easy in just one swipe with no hard scrubbing at all!  I love how easy it is to keep it clean.
Maybe once a year I give the nose and front a good wax.  That also helps to keep the bugs off and the rain washes most of them off with ease.  Two to three times a year, or when needed, I'll wash the whole truck camper.  But, that doesn't get as dirty as the front and nose does with each trip.  Happy day!" – Kim Scott, 2005 Ford F350, 2006 Northern Lite 10-2000
"I personally do not wash or wax my current or past Lances.  Now saying that, I am on a three month regular schedule that the truck and camper go in for an exterior wash and wax with a local automotive detailer who advertises that they do RVs and boats as well." – Mike Tassinari, 2002 Ford F350, 2016 Lance 1172
"Yes, I wash my camper about twice a year in the fall and spring.  Last spring I broke out the pressure washer and gave it a good bath.  I don't use the full power of the pressure washer, but it does clean it better then just the hose pressure.  I have a RV brush and I use Dawn dish soap with a little bleach in the water and scrub away!  Then, I rinse with the higher pressure.  It works out well.  I also clean the roof with a rubber roof cleaner.  I usually put a coat of wax on it in the fall." – Jeff Hagberg, 2002 Ford F250, 2006 Travel Lite 800SBX
"I do one really complete wash and wax when I put the camper in storage for the winter. It gets washed when I take it out of storage and then washed as needed.  I try to keep up with the bugs on the front after every trip." – Erwin Greven, 2002 Chevrolet 2500HD, 2002 Lance 921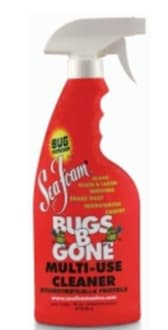 "It's washed as needed.  We carry a jug of Bugs-be-Gone (the cleaner made by SeaFoam, not the insecticide from Ortho) to remove midges, mayflies, and grasshoppers from the front of both the pickup and camper.
Our Lance's roof is made of a hard and slippery-when-wet plastic.  Rain storms keep it fairly clean, but a soft long-handled brush and detergent is all that's needed up there.  The same brush is used to wash the sides." – Philip Tron, 2009 Chevy 3500, 2012 Lance 1050
"When we picked up our 42 year old fiberglass camper last year in Portland, Oregon, it was dull and literally covered with green moss.  It was pretty nasty and gross.  I started scrubbing it with Comet cleanser and a brush, and then used a power washer.  It was 100% better, but still lacking in the shine department.  I tried different polishes and compounds, but nothing really seemed to bring back the gelcoat's shine.
I decided to use colored sand with thousand grit sandpaper followed by an aggressive compound.  It made the surface look like new.  All that was left was to go over the surface with Gel-Gloss.  Except for where the bugs splatter on the front end, all it takes is plain water to bring it back to looking sharp.  A mild car wash soap seems to be enough to get rid of the bug goo.  And to answer your question, I prefer to wash the truck in the driveway by hand." – Tony Tabacchi, 1973 Ford F350, 1973 Ford American Road
"We have always washed our camping house; tent trailer, travel trailer, fifth wheel, and now our truck camper.  Usually we hand wash it at home with an electric pressure washer.  Washing it at home is on our own time doesn't cost any extra than our monthly water bill.
On occasion we have driven to a regular car wash (after checking the clearance) when time was short.  We treat the rubber roof at least once a year; twice a year if we are feeling ambitious.  Just like a car, keep it clean and do your preventative maintenance and it will last many, many years." – Pam Conner, 2015 Ford F350, 2015 Arctic Fox 1150
"My camper gets cleaned probably two to three times per year.  The camper lives inside a heated/air conditioned shop when not in use.  We generally camp in all four seasons. Simple Green seems to work best, and use of the pressure washer is minimal.  It has never seen a truck wash, and I often refer to dirt as its "special protective coating".  The interior is different.  It gets cleaned daily when we're on the road." – Bob Nelson, 2015 GMC Sierra 3500, 2013 Arctic Fox 1140
"Yes, of course we wash our camper.  Usually we'll wash it at home in the driveway with a bucket of suds, Zip car wash, a sponge, and a wash brush hose attachment.  Then, we go over it again with black streak remover to get off the stubborn bugs and stains. Then we do one more rinse.  We do this after arriving home from most trips." – Barry Schoenwetter, 2006 GMC Sierra 2500HD, 2005 Lance 1030
"I wash our camper several times a year, beginning with the top, slides open, so I can also wash the slide awnings.  I rinse the whole camper periodically to prevent any streaking to the factory decals.  I then proceed to the nose cap, removing bugs and road debris.  Then I wash the remainder of the camper, including the portion that sits inside the truck bed.
I use a mild cleaner on the top and automotive car wash detergent on the remainder.  I use a thin brush, sometimes an old tooth brush, to clean out the rain channels at the top.  I also polish the nose cap and fiberglass siding with automotive polish once a year.  Additionally, I wash both surfaces of the side awning several times a year." – Dewey Lackey, 2003 Silverado 3500, 2014 Lance 1172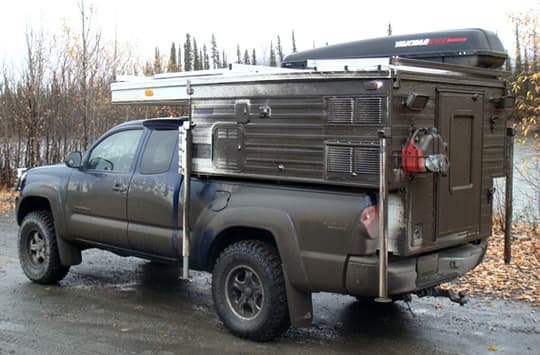 "I have always washed my campers with liquid soap and water, let them dry, and then coated them with Protect-All polish, wax and treatment.  The 16-ounce trigger liquid spray bottle is the best value and the easiest to use.
I first learned of this product about twenty years ago while washing my dad's new motorhome.  The first time we washed it, the bugs were impossible to get off because they were baked on from the summer sun.
After some scrubbing, a wash and dry, we coated the all of the sides and front cabover with Protect-All.  The next year washing it was 100 times easier, as the bugs didn't stick.
For long road trips or summer "buggy" driving, try spraying some on the front cabover portion of your camper.  You will be pleasantly surprised how easy the bugs wash off when you get home from your trip." – Stan Kennedy, 2005 Toyota Tundra, 2015 Four Wheel Camper Fleet Model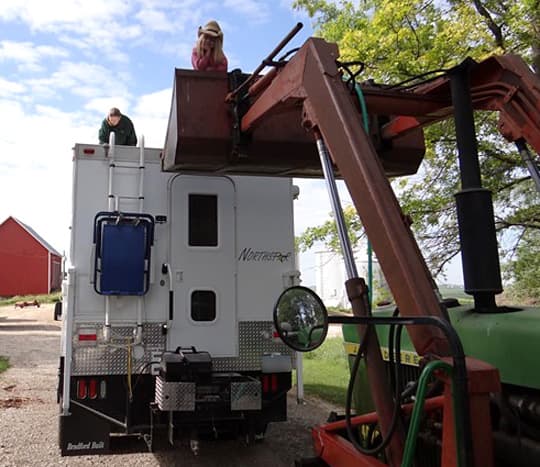 "We wash ours frequently.  I've never been a car guy, but I'd wash my truck several times a week so she looked clean to impress the girls in high school.  That "keeping it clean" attitude has moved right along with me my whole life.
Our truck camper might get washed several times on one trip, provided I can find a car wash tall enough for the truck camper.  That's the hard part on our trips.  We tend to always take backroads on our trips and small towns don't really provide tall or outdoor wash stalls.  We use Camco RV wash and wax and an RV brush." – Doug and Tammie Baughman, 2011 Ford F350, 1993 Lance 990
"I usually wash the entire camper about twice per year with a pressure washer.  Once a year I wax the nose cap in an attempt to minimize the bug accumulation.  For washing I use regular car washing soap as it is not as harsh as dish or laundry soap.  For waxing I use a good quality paste car wax and buff with a power car buffer.
As a hint, presoak the camper nose cap with a large beach towel over the surface.  The towel will keep the surface wet long enough to loosen the bugs so that they are easier to remove.  I did try a touchless RV wash once but found it only removed the dust and didn't do much for the camper nose." – Steve Cilenti, 1999 Ford F350, 2012 Arctic Fox 990
"I sometimes use my pressure washer, and sometimes the garden hose and a brush with a good quality car wash soap.  I wax it at least once a year with a good quality cleaning wax.  I usually use the Meguiars brand." – Ron Williams, 1997 Ford F250, 2003 Lance 1010
"I use a power washer and long handled brush with regular car washing soap. Once it's clean I go over it one more time with a spotless soap that has a wax in it and a leaf blower to dry it." – Dave Erickson, 2011 Ford F350, 2006 Arctic Fox 990
"I constantly wash my truck camper – almost every trip!  I have found through experience that a pressure washer spray alone does not clean it satisfactorily.  To clean it the best, you must touch the surface with a brush.  My preferred method is to use a long handled brush with flow through water so that I can constantly move and clean quickly.  If you do it often, the job doesn't become overwhelming!" – Charles Coushaine, 2001 Ford F350, 2012 Chalet DS116RB
"I try to wash it after every trip.  Zep-O-Shine has been great for loosening up the bugs and leaving a super shine.  They make a great brush for scrubbing too.  The long handle makes for quick work." – Dave Miller, 2015 F350, 2003 Bigfoot 10.6E
"We wash our rig by hand with a horsehair brush, and spray on an RV wax protectant before rinsing.  We use a filter when rinsing with a light spray to protect the electrical, heater, water pump, and stove vents on exterior.
It's particularly tedious when doing the undercarriage after off-roading.  We can't go through a robotic wash because the blast could damage the camper with high pressure.
We live in a rural area, so we have to wash it more often, as dust and crop harvesters spew chaff.  It has to be parked outside." – Mike Kolinski, 2012 GMC Sierra 2500HD, 2012 FWC Hawk
"Both my truck and camper are stored outside.  I use Armor All Wash and Wax and a telescoping long handle brush with warm water.  I dry it with a miracle fiber towel, and then buff lightly with a terry towel.  Bingo!  They both shine like new.  It takes about thirty-five minutes.  I use Formula 303 on tires, plastic, and the awning." – Burton Lane, 2005 Dodge Ram 3500, 2001 Lance Lite 915
"I wash my camper several times during the year, using a good quality vehicle soap.  Also, after every trip, I clean the bugs off the front using a cleaner especially made for that purpose by Griot's Garage in Tacoma." – Steve Timmings, 2003 Ford F350, 2013 FWC Hawk SC
"The camper gets washed every time the truck does, by a car wash in the driveway.  It especially needed it after driving from Alaska to Tennessee in our move here this past June.  It was a beautiful trip, but that's another story." – Darrell Watson, 2012 Ram 2500, 2007 Lance 815
"I wash my camper after every trip.  After a good hose down, I attach used dryer sheets – yes, used dryer sheets – to a Swiffer mop head.  Then I attach that to a 12-foot extendable painter's pole.  I use blue Dawn dish detergent on the dryer sheets and the bugs slip off without too much rubbing.
On other spots where bugs have attacked the camper, I hand rub with the used dryer sheets and Dawn.  It works like a charm.  I use a soft cloth and Dawn on the rest of the camper. The dryer sheets also work great on removing the bugs off the truck's grill." – Rita Eshman, 2005 Ford F250, 2013 Adventurer 86FB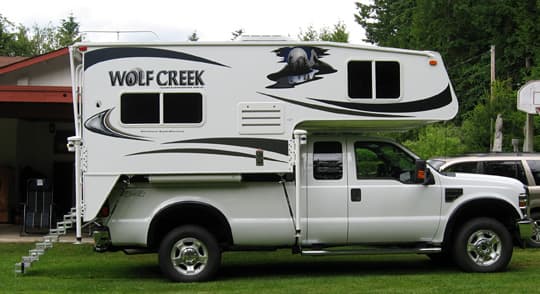 "Yes, we do wash our camper, top included.  We clean it the old fashioned way with elbow grease, a long handled brush, tooth brush and cleaners for the roof and siding. We figure that we have a substantial investment in our camper and want to keep it in like new condition as long as we can." – Lori Hall, 2010 Ford F250, 2012 Wolf Creek 850
"There is no way I'm getting on top of the camper to wash it.  It's a little thing called acrophobia.  It's a strange condition for a former instrument rated multi-engine pilot.
The rig is washed before every trip and waxed a couple of times a year all by a detailer.  We only take it out for long trips, so that amounts to four cleanings a year.  It might be less necessary if I had a cover, but I'm not getting on top to deal with a cover." – Joe and Sandee Sesto, 2015 Silverado 3500 HD, 2015 Bigfoot 2500 10.6E
"We wash it every time we go out; or we used to.  In current West Coast drought times, we don't wash it at all.  We wash it with a long handled brush, plus car wash soap and water.  Sometimes a tar remover (sold at auto parts stores) is needed on either the truck and/or the camper.  We don't get it 100% clean on the front, as that just "bugs out" again very rapidly." – Bruce and Kathy Allison, 2000 Ford F350, 2012 Adventurer 910 FBS
"I keep my camper and truck as clean as possible, even on the road.  I washed our rig top to bottom three times on the last trip; 54 days and 10,000 miles.  I spent a lot of quarters!
I carry with me a car wash brush with an extension handle, car wash soap with wax, and glass cleaner.  My truck has all rubber mats for ease of cleaning and mud flaps to try to keep some of the dirt off the outside.
It just makes me feel better to drive a clean rig.  A clean rig is a happy rig.  As a side note, when we got home I spent three days washing the truck and camper." – Tom Robert, 2015 Ford F350, 2014 Arctic Fox 1150
"How often we wash our truck camper and truck is based on how much driving we have done.  Since crossing into Canada on June 1st, and then into Alaska mid-June, we have washed both vehicles four times.  Two of those times were at car washes and two times by hand.  We used a mild soap and a soft brush with an extendable handle.  We generally wax the truck camper twice a year." – Glenn Blount, 2012 Ford F350, 2004 Lance 1010
"Yes, I wash it regularly.  In fact, I clean it after almost every road trip and sometimes on a long road trip.  I wash it because I pulled KP many times and have been the "pots and pans" outside man before.  Then, a career in the military taught me to wash everything all the time.
I use a truck wash if I am out on the road or, when I get home, I have a John Deere power washer.  There are many products, but I have found the best wash is a scent free clothes washing detergent along with some non-scented Dr Bronner's liquid soap.
I mix about one-half detergent and one-half Dr Bronner's (a half to a full cup each) depending upon how dirty the camper is.  How much I use also depends on whether or not I am going to wash the entire truck camper from the roof down, or just the front and sides.
The reason I use this combination is that they do not leave much residue and they cut grease very well.  Road grime is a combo of oils and bugs mixed with dirt.  In addition, these cleaners are bio-degradable, so you don't have a mess left over in your driveway or running down the streets in your neighborhood.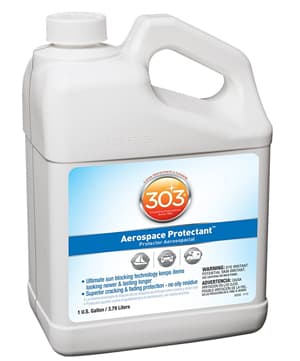 If you want to finish it and have a place out of the sun, use a product that offers UV protection.  One of the best is 303 Aerospace Protectant.  I have used it for years on my Harley, Corvettes (fiberglass) and even on my John Deere tractor.  The stuff works, and the best value is buy it by the gallon.
I take care of my camper because it's mine and someday I will sell it or trade it in.  It will be worth more in good condition." – Don Pryor, 2015 Ford F350, 2008 Arctic Fox 1150
"It is a necessary evil but, yes, I wash it after every trip.  The bugs on the front are enough to make it a must do event.  I'll use my pressure washer to get the bulk of the bugs off then wash the entire unit with a long handle brush and car wash soap.
If some bugs refuse to come off, I scrub the pesky spots with a mesh sponge that is made for that purpose." – Kevin Presson, 1997 Dodge Ram 2500, Outfitter 9.5 Apex
"Yes, I wash my camper after just about every trip to remove the bug guts and dust from our dirt roads and gravel pits (Alaskan free campgrounds found along every road).  I use my gas powered pressure washer with soap, a long handled bug scrubber and wash brush, and a variety of sponges.
I use the opportunity to inspect everything on the truck and camper and perform any maintenance needed.  A clean rig must get better mileage, doesn't it?" – Allen Jedlicki, 2012 GMC Sierra 2500HD, 2014 Wolf Creek 850SB
"Yes, I do wash my camper.  I have a portable pressure washer and use Spray Nine Cleaner and a stiff scrub brush to get all the dirt loose.  Then, I use the pressure washer to get it clean." – William C. Steger, 2005 GMC 2500HD, 1995 Kodiak SC83
"We wash our camper two times during camping season.  We keep it stored in a pole barn.  Last winter my husband waxed it with Eagle One spray-on wax and it made it really easy to wash bugs off." – K. Davis, 2014 Ford F350, 2103 Lance 1050
"I give the truck camper a thorough wash and wax at beginning of the season and again before we put her to bed November through February.  During the season I try to give a quick wash before every trip.  I like to hit the trail with a clean rig!
I use automotive soap, a long handled brush, sponge, and a ladder to get on the roof. For wax, I use 303 Aerospace Protectant.  It makes the job easy and really prevents dirt and bug build up for quite a while.  If needed, I also use the bug remover stuff that you can purchase online.  It works well at getting the crusty bugs off the front of the camper.
Using a cover helps keep the camper clean in the off season as we have a lot of trees on our property." – Bill Tex, 2006 Chevy 3500, 2013 Eagle Cap 850
"I hand wash the camper after each use with a car wash solution and bug remover where necessary.  I hose it off with a garden hose and wax the front of the camper." – Bill Fisher, 2012 Ram 3500, 2003 Mountain Star by Travel Lite
"It's pretty simple.  I get a big bucket and a scrub brush with a long handle." – Ryan H., 2004 Dodge Ram, 1500 Skamper 800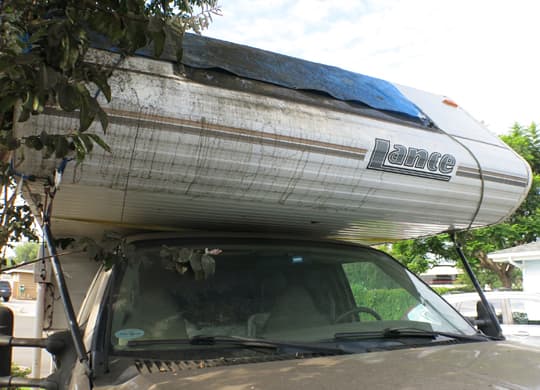 "I don't wash my camper often.  In fact, yesterday I spotted some Overland Expo West dried mud still on it!  It's so filthy right now from Crepe Myrtle flower effluent that I'm dreading the chore.
When I do wash it, I use whatever automotive washing chemical I have on hand, which is nothing special.  I use a soft bristle brush on a broom handle.
When it's really filthy, as it is now, I'll drag out my cheap Harbor Freight power washer (keeping the spray away from seams, windows and vents).  By the way, my Lance is aluminum skinned.  Oddly, none of my pictures show it being washed, but plenty show it dirty!" – Mark Obert, 1999 Ford F250SD, 1999 Lance 920
"On our recent trip to the Northwest, Glacier National Park, Banff, and Jasper, we pulled in to a coin operated car wash in the midst of our trip to clean off the dust.  At home it gets hand washed before each trip.
There are no unusual soaps or tools, which is the same approach we use for our cars.  Coin wash may need to become the norm with the water restrictions in Northern California." – Carol Wegner, 2011 Toyota Tundra, 2009 Northstar TC650
"If we are home, we use a power washer and long scrub brushes.  Bounce dryer sheets stuffed in the bristles of the brush will get off most of the bugs splattered on the nose cone.
It's really hard to clean off bugs.  Get a spray bottle of Simple Green and a dryer sheet, but be careful not to drip Simple Green on your truck's paint.
If on the road, we search for a tall truck wash.  We carry a bucket and a brush with us if there is no truck wash.  The best tall wash ever was in the stockyards in Oklahoma City.  The water was even hot." – Anne and Joe Brown, 2013 Ford F450, 2013 Chalet TS116
"Yes, we wash our truck camper.  It takes some time when we are at home after a trip.  Hot water and Dawn dish soap starts the process.  If we come up to a hard area that is thick with bugs, we use a product called Awesome.
If we use brushes, we use soft brushes, and always and constantly change our water, brushes, and wash cloths.  If we are on the road, a quick truck wash will work for the time being, but we don't use the brushes as most are full of small grit, which will scratch the surface of our Avion, something we found out early." – Mark Dyvig, 2001 Ford F250, 1969 Avion C-11
"I have always hand washed all of my vehicles.  Our Adventurer needed a good bath when we brought it home, and we had to use a bleaching agent to clean it.
I have always used a commercial car wash soap and wax mix when cleaning the outer skin, which is the same as our truck, car, motorcycle, and even my old Corvette.  The final trick is to apply a good wax after washing it at least once a year.
Just on the return trip from the east coast of Canada, the nose of the camper was covered with bug remains.  I washed it off twice during our last three weeks, but there will be a major cleaning when we reach home.  I'm a bit anal about having clean equipment as I showed cars and bikes earlier as a hobby." – Eric Devolin, 2007 GMC 3500, 2006 Adventurer 106DBS
"Yes, I wash the camper, and wax it as well.  I use an RV liquid soap and a long handled brush designed for trucks and RVs.  For the bugs that adorn the front end cap, I will pre-wash that area with a mixture of NAPA bug removal windshield washer liquid.  That has worked the best so far to get the bugs off before I start washing with the liquid RV soap.  I wax the camper typically once per year using a high quality carnauba RV or boat wax." – Dave Riddle, 2015 Chevy 3500, 2006 Host Tahoe
"Although I've used pressure washers at commercial truck washes in the past, I believe they are just too hard on the finish, gaskets, and seals.  The only method I use now is hand washing, using automotive type car wash soap and a soft mitt.
I remove the camper from the truck to get it lower to the ground.  I don't let dirt and road film sit on the surface for long because it's abrasive and ages the finish faster.  The bugs are a challenge to remove but keeping a good coat of wax on the surface makes it much easier.  I wax the front surfaces about twice a year and the remainder once a year.
I purchased the truck and camper new and store both in a garage when not in use.  They've had proper care and still look nearly new after 23+ years!" – Mike Seaward, 1988 GMC K3500, 1992 Lance 480
"The only time I wash the truck and camper is if there are a lot of bugs on them.  I just use regular car wash soap and lots of elbow grease.  If there's just mud or dirt on them, I just leave it.  I figure the dirt helps protect he paint from scratches from branches when going down a narrow, overgrown road." – Phil Rodacy, 2012 GMC 3500, 2006 Okanagan 90W
"I don't wash my camper all the time but, when I do, I usually take it to the car wash and brush and blast the dirt and grime off of my camper.  It is much easier to do that then washing it at the house." – Bob Chan, 1989 Ford F250, 1988 Lance 780
"Yes, I wash it once per year in late summer, but I should do it more often.  I use a car wash cleaner in the power washer with the lowest pressure wand end.  This gets the camper clean, but doesn't blast out the caulking.  Even so, I'm careful around the windows and seals." – Wade and Becky Johnson, 2004 Ford F350, 2003 Lance 1130
"From the Lance Camper manual: 'Wash the exterior at least once a month using a mild liquid detergent.  Never use strong abrasives to clean the exterior surfaces.
Wash your camper in a shady area, not in direct sunlight.  If the camper is parked in the sun, move it into the shade and let the exterior cool down before you start.  Chemical solvents and strong cleaners can damage the siding, roofing, metal and plastic trims on your camper.
Rinse the camper thoroughly with cool water to remove loose dirt.  Fill a bucket with cool water.  Mix in a mild detergent, such as dishwashing liquid or a product made especially for auto or RV washing.'
Wash the camper using the water and mild detergent solution and a soft-bristle brush, sponge, or soft cloth.  Start at the top and work your way down.  Rinse frequently.
Check the surface for road tar, tree sap, etc.  Remove these stains with tar remover or turpentine.  Rinse it off immediately so it does not harm the finish.  Remember to re-wax these areas, even if the rest of the camper does not need waxing.
When you have washed and rinsed the whole exterior, dry it with a chamois or soft towel.  Letting it air-dry will cause dulling and water spots.  As you dry your camper, inspect around the seals and repair as necessary.
Wax the exterior at least once a year, preferably twice.  Use automotive waxes or cleaners/polishes developed for use on fiberglass boats, showers and tubs.  Be sure to follow the directions on the wax container.  Some cleaners and waxes are recommended for use on only certain types of surfaces.
Exterior streaking is reduced with more frequent waxing.  Do not use abrasive cleaners or rubbing compounds.  Always wash and dry the whole camper before waxing it.  Rubbing alcohol can be used on caulking that shows signs of yellowing.
You should clean your roof at least four times a year.  For normal cleaning use a mild liquid detergent and water mixture, or Murphy's Oil Soap™ with a soft nylon brush or sponge.  Do not use solid or granulated cleaners, as they will mar the finish.  For more difficult stains, use a cloth dampened with mineral spirits.  Do not use mineral spirits in a large area or soak into the roof membrane."
I use a wash and wax made for fiberglass.  I use NuCar as the wax.  It is all synthetic and does not leach white drops onto my windshield.
I have acrylic windows.  Here are the instructions for acrylic windows:
"Keep your acrylic windows looking and performing like new by using the proper care, products and techniques, and by understanding a little about the material you are working with.  Acrylic windows can be scratched with a rough cloth, harsh soaps, or cleaning products and these must be avoided.
When cleaning a window, always remove as much abrasive dirt as possible without touching the surface.  It's also a good idea to remove jewelry, which can cause deep scratches.  Ideally this would involve flushing the surface with water and allowing the accumulated bug residue to soak, possibly with a mild dish washing liquid added to the water.
Use a non-abrasive soap or detergent and water.  Use a soft sponge, cloth or chamois and rinse often to keep it free of grit.  Wash up and down or side to side, never in a circular motion.  After a final flushing with more water carefully dry with a clean soft cloth, a good rule of thumb is to gently (let the weight of the cloth do the work) wick up the excess water on your first pass which will also wick up any residual lose particles.  Start at the top of the window and work down turning the cloth to a fresh side after each pass.  Again do not use a circular motion on the windows." – Roy Garland, 2010 Ford F350, 2010 Lance 1040
"When at home and getting ready for a road trip I wash the truck and camper by hand with a bucket of soap and long handled brush.  That usually takes about two and a half hours.  When on the road as we are now, we use the do-it-yourself spray wash locations.  A few days ago driving from Colorado Springs through a heavy rainstorm we acquired a heavy coating of red mud on the entire rig.  We found a power wash facility in Boulder and cleaned it up.
Today, I found a place in Steamboat Springs and power washed the undercarriage to get the remaining grit and mud removed.  There is no reason not to have a clean truck camper.  I like it and my truck and camper like it." – Roger Odahl, 2008 Dodge Ram 3500, 2004 Eagle Cap 950
"I wash it at home with car wash soap, a long handled brush for the camper, and a sponge for the truck.  I use a "California Water Blade" for drying the windows and the truck.  The camper usually air dries without water spots." – Jack Purdy, 1969 Ford F-250 Camper Special, 1970 Roll-A- Long Sportster 9.5