RV graphics are notorious for fading, cracking, and peeling over time. Here's how 19 fellow camper owners maintained and fixed their graphics. Hint: Wax now or cracks later.
This week's Question of the Week was, "Have you done anything to maintain, repair, or replace the exterior vinyl graphics on your truck camper?*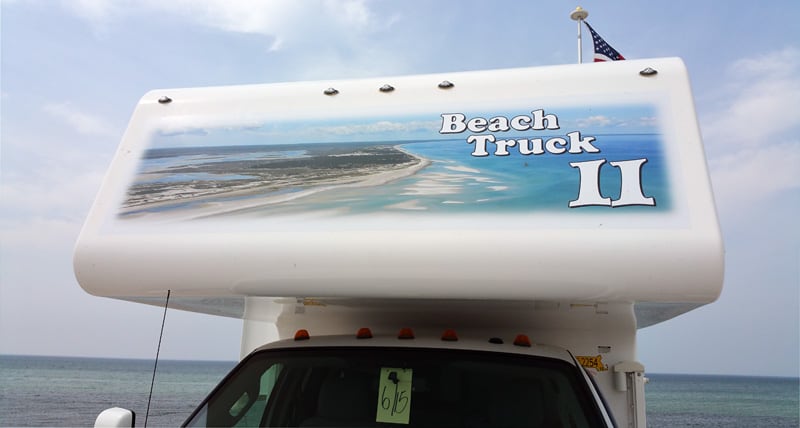 "First, I didn't really care for the logo. That played more of a role than fading did. I removed all of the camper logos.
A fellow truck camper who also happens to fly powered paragliders as a hobby, took photos of my rig over Sandy Neck Beach.
I re-sized his aerial photos in Photoshop and added some text. Then I took them to my favorite sign shop and had them made into vinyl overlays.
The design shop also put them on for me. Due to the size and my back problems, I figured, let the professionals do it. Anyway, you be the judge of "Beach Truck II"." – Jim Duarte, 2015 Ford F-350, 2013 Eagle Cap 850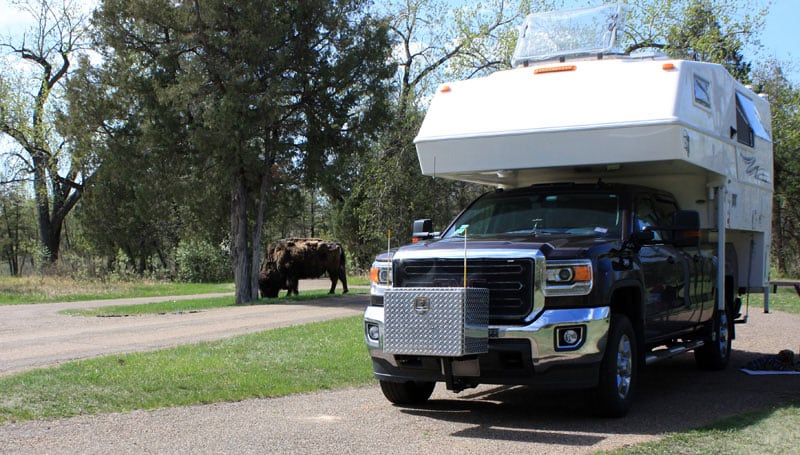 "Two years ago, I removed front vinyl graphics because they were faded and spitting. We used a heat gun and slowly heated and peeled them off. It's easier to get the bugs off without the graphics." – Gary Goyette, 2016 GMC 3500HD, 2011 Northern Lite 8-11 Q SE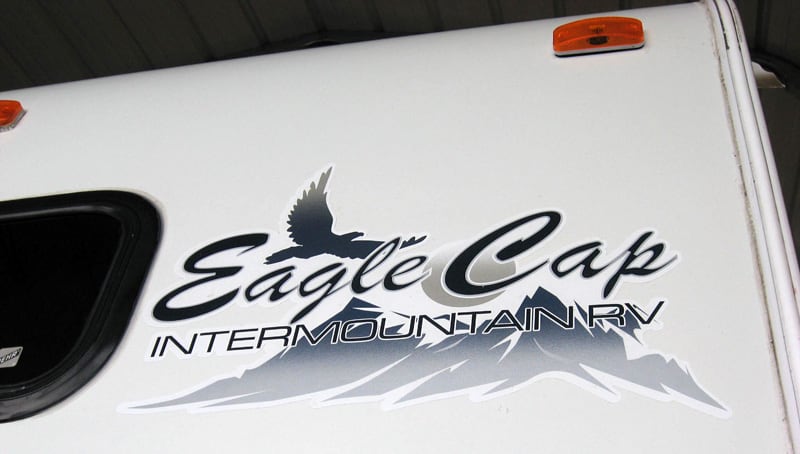 "My camper is now fourteen years old and the graphics are holding up well. I do park it under a canopy so it's not exposed to the elements except when we're on the road.
I wax my camper twice a year. The hardest section to keep clean is the front cap with the onslaught of bugs while traveling. I'll off-load the camper in July (and again in November) and lower it to reach the front cap easier.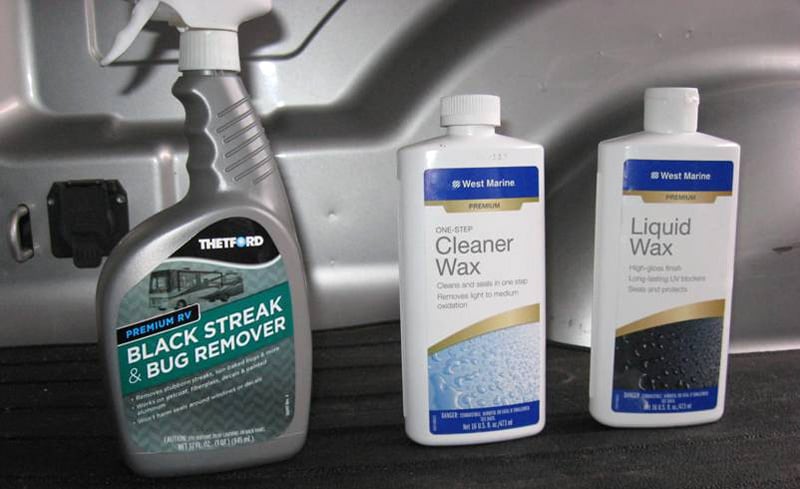 I've found the holy grail of bug remover is Thetford Black Streak/Bug Remover which literally melts the critters away. After washing I'll put on a coat of West Marine Cleaner Wax and then a coat of West Marine Liquid Wax.
Then I'll use a power buffer to finish it. I've also used these products on my fiberglass sail boat. So far it's working well to maintain the Eagle Cap and the graphics are looking good." – Roger Odahl, 2008 Dodge Ram 3500, 2004 Eagle Cap 950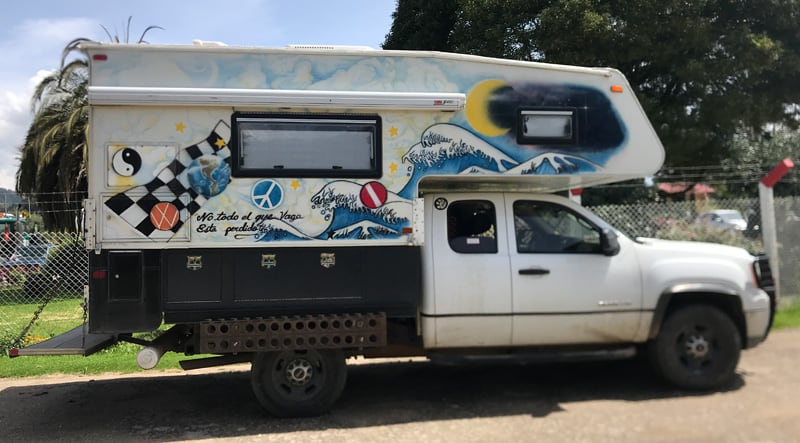 "We removed the original stickers. This took a lot of work with a blow dryer, GooGone and patience. They did leave shadows behind which still show if you look closely. We hired a graffiti artist in Rocky Point, Mexico to paint custom designs on the sides of the camper. He used basic canned Rustoleum sprayed through an airbrush. Then, he clear coated the design. It has been nearly two years. Now it shows the fading and scratches of our journey through Central and South America." – Mike and Geneva
"Prior to the rig I have now, I had a 2008 Lance 1191. The stripes on that unit began to fade and crack after the ninth year. I debated about having the camper wrapped but the cost was approximately $1,000 more than having it re-striped. So I chose the latter.
The company I used did a great job and I received a lot of compliments. They used a computer to design the stripes and they were able to show me what it was going to look like before the install. I wanted to stay as close to the original design as possible with some enhancement to bring it up to today's style.