1. "Does this hot dog make my rear end sag?"
2. "Oh yeah? What are you bringing to the rally potluck?"
3. "After that one time, the Whites decided they would never run out of food again!" – Grant Davidson
"Gordon… Do these chrome wheels make my buns look too big?" – John Goins
"Get along little doggie" – Larry Kelly
"Honestly officer, I did not realize that my mustard relish was blowing off and covering the windshields of the cars behind me!" – Allen Williams
"Frankly, this camper has gone to the dogs!" – Steven Maney
1. "We are having a lot of bun traveling around the country in our truck camper."
2. "That last tunnel scraped off the onions."
3. "That's why people call me the big dawg." – Charlie Coushaine
"Hold the mustard, hold the ketchup, bring on the Michigan hots!" – Chip Collin
"Payload matters when you want the works!" – Jessica Thomas
1. "Angela, good thing we ordered the hot dog to go!"
2. "Angela, be on the lookout for the weight police.  I think this may have put us over the GVWR!"
3. "Angela, is that chilly sauce dripping out of the air conditioner?" – Carl Goode
1. "To be frank, not everything is bigger in Texas…"
2. "On our way to the big wiener show, to be frank, we must-ard win in points so the others don't ketchup.  We relish the opportunity to show off our wienie!"
3. "Our new solar panel cleverly disguised in the shape of a tasty wiener.  You can also get one shaped like a bratwurst or a wedge of cheddar cheese!"  – Thomas L. Warren, Jr.
1. "Have dog, will travel.
2. "This TC is dog rated."
3. "Buy a TC, get a dog too!" – James Thomas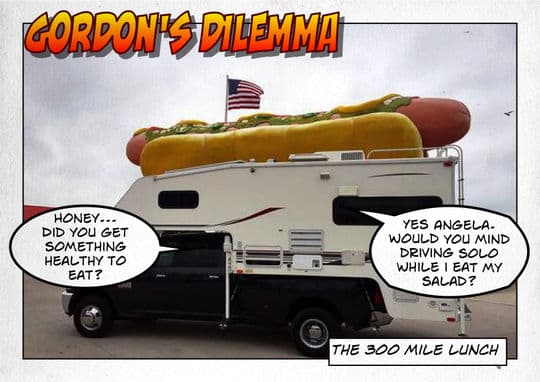 Comic by Bruce Lukaszewicz
1. "Meals on Wheels"
2. "All American dog mobile"
3. "Top dog on wheels" – Jim Kauffman
1. "Who let the dog out?"
2. "To boldly go where no dog has camped before."
3. "Next stop – Sauerkraut World." – Steve Singhose
"Oh, okay, so you're going to be at the next rally?  It's gonna be so much fun.  Can't wait to catch up with you guys, it's been a long time.  We're thinking about ham roll-ups, what do you think you'll be bringing to the potluck dinner?" – Bruce Scott
"Resupply complete, let's go!" – Frank Burley
1. "Have wiener, will travel."
2. "Hey, honey, did you remember to pack the hot dog(s)?"
3. "Last trip I forgot the hot dogs and my wife never let me forget about it the entire trip!
This time I think I'll be just fine!" – Rose Rice
"What? No fries!" – Bill Meehan
"Hot dog, what a camper." – Teresa Mater