Full-size axes, shovels, splitting mauls, bow saws, and other big tools cut the wood, clear the snow, and take care of the fallen tree blocking the way home.  Don't forget the 22,000 rpm pneumatic margarita mixer!
This week's Question of the Week was, "Do you bring any full-size tools with you when you go truck camping?"
"I carry a full-size short handle shovel, 36-inch handle ax, and scythe.  We dry camp and the full-size shovel is for campfires.  The axe is for wood.  And the scythe clears any tall brush that may be under the truck engine and exhaust areas.  The short handle shovel handles cat-hole duty.  All are mounted on an exterior side rack.
I also carry a Milwaukee 18-volt fuel reciprocating saw with the longest pruning / wood cutting blade available, plus spare blades and battery.  It replaces a chainsaw for woodcutting.  It's cleaner, smaller, a minimum fire hazard, and less noisy to pack." – Bob Brauch, 2009 Dodge Power Wagon, Outfitter 6.5 Caribou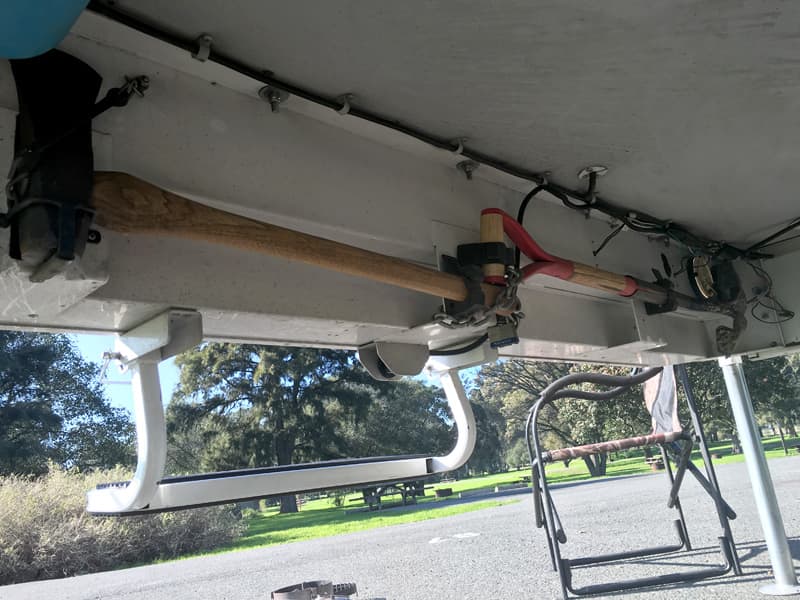 "We carry a full-size D-handle shovel and a 6-pound splitting maul under our camper's bumper.  We have used the shovel on a few occasions to clean out fire pits and dig holes for the truck's tires to level the truck in rugged and/or uneven campgrounds.
The splitting maul is used to either split firewood directly or – along with a four-pound splitting wedge that we carry – we can split larger logs." – Greg Chambers, 2015 GMC 3500, 2015 Lance 855s
"I carry a full-size axe, bow saw, compact 8T hydraulic jack, 120-volt impact wrench, and a torque wrench with at least the socket for changing a tire.  I probably should carry my Harbor Freight little blue vise because it's so handy, compact, and light weight.
Does my Marlin 45-70 count as a tool?  It's comforting to have in case bear spray doesn't keep Yogi from tearing my truck camper's door open." – Philip Tron, 2009 Chevy 3500, 2012 Lance 1050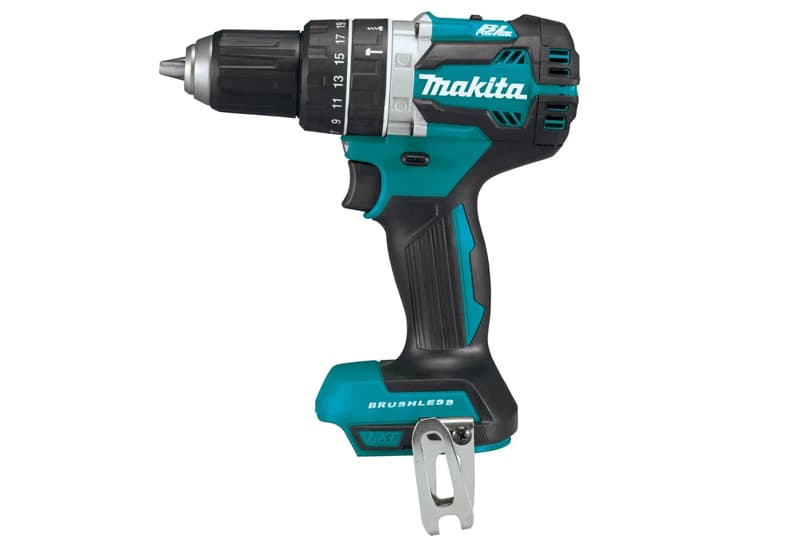 "I have a Makita drill with an attachment to put legs up and down on the camper.  I also carry a hatchet for firewood splitting and hammering down tent pegs, and a hammer for all those other things that need to be hit." – Heather Rutherford, 2016 Ford F150, 2015 CampLite 5.7
"I carry a full-size shovel, axe, and bow saw.  These are all recovery tools.  The use of the shovel is obvious.  Here in Oregon, we occasionally have found our way blocked by downed trees and low-hanging limbs, hence the axe and saw." – Kurt Herzog, 1967 Chevrolet K1500, 1967 Flip-Pac

"I have a Milwaukee Sawzall reciprocating saw.  It works great to cut firewood." – Bernie Neale, 2006 Dodge 3500, 2016 Northern Lite 9.6 SE
"I try to anticipate where my next fun trip will be.  Seldom it's into timber where a tree may be down or washouts may be encountered.  But that's where I take a serious chainsaw, axe, shovel, or all three.  I haul them on the camper's floor wrapped in scrap carpeting.  I can use that as a mat to lay on or as a tire mat if needed.  I've only done this six or seven times, but needed the saw and axe three times.
One time I brought MIG welder along on the floor.  We were going out west to recover an antique tractor and I knew we would have to fabricate some shipping bracket stays and temporary trailer brackets.  A buddy carried a serious generator to power it with as well as some steel angle and bars in his trailer.
Most times I save the really rough rides for my trail bike and leave the camper free from being damaged in these places.
Thanks lots for Truck Camper Magazine.  I learn lots here every time I read!" – Bill Strickland, 1996 Ford F250, 1999 Lance 845
"I bring a 20-inch long-handled axe for splitting wood.  I also bring a 54-inch long pry bar.
We were heading out for a 7,600+ mile trip out west when we hit a deer about five hours from home.  We pulled into a truck stop and tried to purchase a chain/strap to hook onto the front bumper to pull it away from a tire.  A trucker who was waiting for his truck to be serviced overheard our conversation, took a look, came out with his pry bar and bent the bumper away from the tire.