Full-size axes, shovels, splitting mauls, bow saws, and other big tools cut the wood, clear the snow, and take care of the fallen tree blocking the way home.  Don't forget the 22,000 rpm pneumatic margarita mixer!
This week's Question of the Week was, "Do you bring any full-size tools with you when you go truck camping?"
"I carry a full-size short handle shovel, 36-inch handle ax, and scythe.  We dry camp and the full-size shovel is for campfires.  The axe is for wood.  And the scythe clears any tall brush that may be under the truck engine and exhaust areas.  The short handle shovel handles cat-hole duty.  All are mounted on an exterior side rack.
I also carry a Milwaukee 18-volt fuel reciprocating saw with the longest pruning / wood cutting blade available, plus spare blades and battery.  It replaces a chainsaw for woodcutting.  It's cleaner, smaller, a minimum fire hazard, and less noisy to pack." – Bob Brauch, 2009 Dodge Power Wagon, Outfitter 6.5 Caribou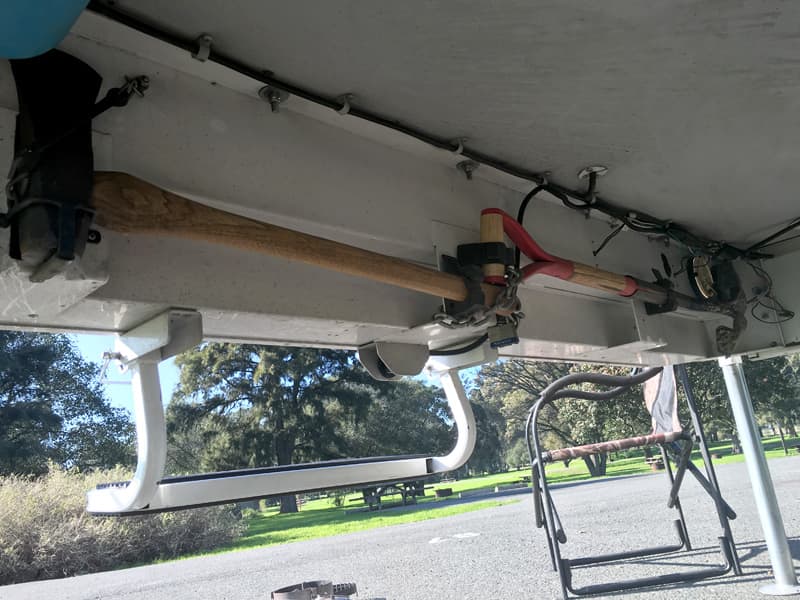 "We carry a full-size D-handle shovel and a 6-pound splitting maul under our camper's bumper.  We have used the shovel on a few occasions to clean out fire pits and dig holes for the truck's tires to level the truck in rugged and/or uneven campgrounds.
The splitting maul is used to either split firewood directly or – along with a four-pound splitting wedge that we carry – we can split larger logs." – Greg Chambers, 2015 GMC 3500, 2015 Lance 855s
"I carry a full-size axe, bow saw, compact 8T hydraulic jack, 120-volt impact wrench, and a torque wrench with at least the socket for changing a tire.  I probably should carry my Harbor Freight little blue vise because it's so handy, compact, and light weight.
Does my Marlin 45-70 count as a tool?  It's comforting to have in case bear spray doesn't keep Yogi from tearing my truck camper's door open." – Philip Tron, 2009 Chevy 3500, 2012 Lance 1050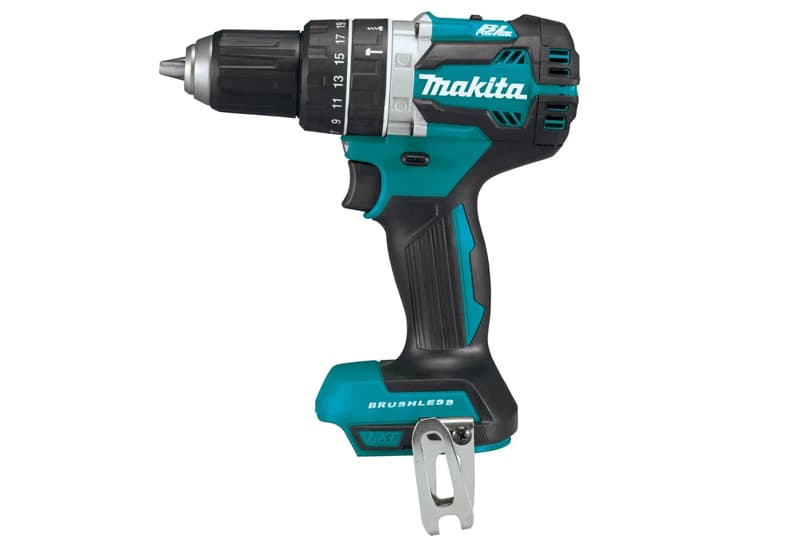 "I have a Makita drill with an attachment to put legs up and down on the camper.  I also carry a hatchet for firewood splitting and hammering down tent pegs, and a hammer for all those other things that need to be hit." – Heather Rutherford, 2016 Ford F150, 2015 CampLite 5.7
"I carry a full-size shovel, axe, and bow saw.  These are all recovery tools.  The use of the shovel is obvious.  Here in Oregon, we occasionally have found our way blocked by downed trees and low-hanging limbs, hence the axe and saw." – Kurt Herzog, 1967 Chevrolet K1500, 1967 Flip-Pac

"I have a Milwaukee Sawzall reciprocating saw.  It works great to cut firewood." – Bernie Neale, 2006 Dodge 3500, 2016 Northern Lite 9.6 SE
"I try to anticipate where my next fun trip will be.  Seldom it's into timber where a tree may be down or washouts may be encountered.  But that's where I take a serious chainsaw, axe, shovel, or all three.  I haul them on the camper's floor wrapped in scrap carpeting.  I can use that as a mat to lay on or as a tire mat if needed.  I've only done this six or seven times, but needed the saw and axe three times.
One time I brought MIG welder along on the floor.  We were going out west to recover an antique tractor and I knew we would have to fabricate some shipping bracket stays and temporary trailer brackets.  A buddy carried a serious generator to power it with as well as some steel angle and bars in his trailer.
Most times I save the really rough rides for my trail bike and leave the camper free from being damaged in these places.
Thanks lots for Truck Camper Magazine.  I learn lots here every time I read!" – Bill Strickland, 1996 Ford F250, 1999 Lance 845
"I bring a 20-inch long-handled axe for splitting wood.  I also bring a 54-inch long pry bar.
We were heading out for a 7,600+ mile trip out west when we hit a deer about five hours from home.  We pulled into a truck stop and tried to purchase a chain/strap to hook onto the front bumper to pull it away from a tire.  A trucker who was waiting for his truck to be serviced overheard our conversation, took a look, came out with his pry bar and bent the bumper away from the tire.
I bought him lunch and we were back on our way home to have the truck repaired.  Three days later the truck was repaired and we didn't hit anymore critters." – George Visconti, 2015 GMC 3500 HD, 2016 Arctic Fox 990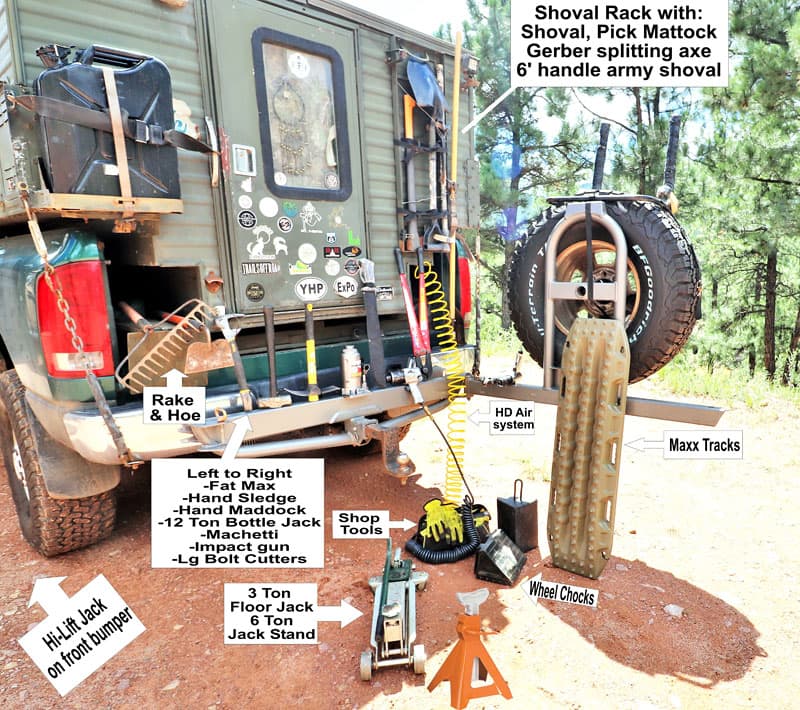 "Why yes, I do bring some full-size tools.  I know you wouldn't expect anything less from me.  Since I spend much time away from the main roads in the forests and deserts, having a compliment of full-sized tools is a must.
I have an old military shovel rack bolted to the back of my truck that holds a full-sized shovel, pick mattock, and wood splitting axe.   I also have a front-mounted Hi-Lift Jack.
In storage I have a 3-pound hand sledge hammer, a folding fox hole type shovel that I put a 6-foot handle on, gravel rack and hoe, large bolt cutters, hand pick mattock, bow saw, Fat Max, Maxtrax, and a machete.
And most important I think for any truck camper (maybe not the tools your asking about), a 3-ton floor jack, a 12-ton bottle jack, and 6-ton HD jack stand, for changing a flat or any needs that need the truck lifted and stabilized.  The stock jacks our rigs come with… you won't catch me trying to work on a rig with a camper on it with those.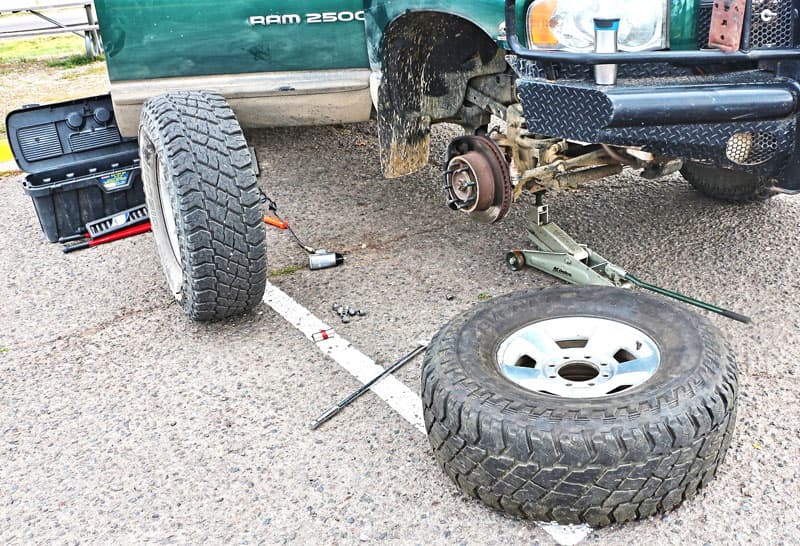 I have an awesome on-board air system to operate shop tools, fill tires, blow dust out of stuff, and run my personally invented and made, 22,000 rpm pneumatic margarita mixer.  It can also grid coffee and make shakes.
I am currently researching a small Stihl gas powered chainsaw I can stow.  I'll probably have one picked out in the next couple weeks." – James McCoy, 2003 Dodge 2500, 1990 Hallmark LaVeta
"95-percent of the time I'm camping off-road, usually in the woods accessed via unimproved roads.  I carry a chainsaw (and gasoline and bar oil), a 15,000 pound snatch strap, camp hatchet, high-lift jack (farm jack) and a Lewis winch (that my chainsaw powerhead attaches to).
I also carry my generator and chainsaw fuel in sealed Rotopax containers.  No leaks, no fumes.  I also have a small 110-volt compressor and various tools as needed." – Daryl Davis, 1997 Ford F350, 2014 Palomino SS-1500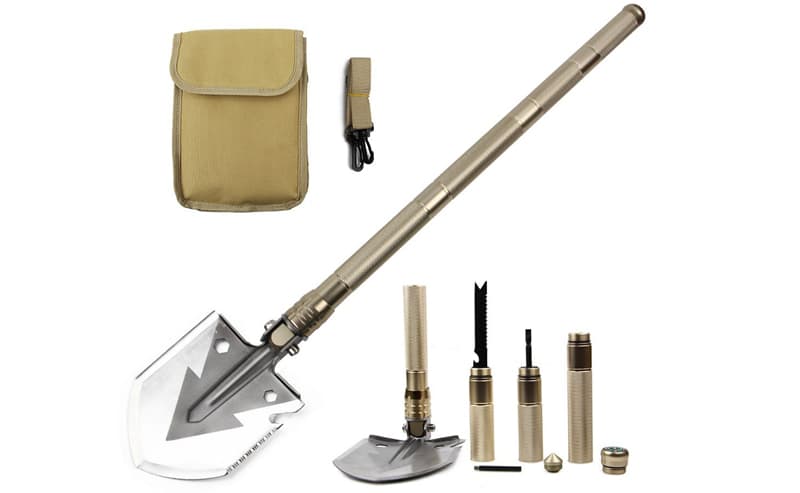 "For those of you who served in the Military, you know what an entrenching tool is.  For those of you who haven't served, it's a foldable shovel that can be used as a shovel, axe, pick or hoe to clear brush.  I keep one in my truck and it has come in handy several times." – H Y, 2006 Ford F350, 2012 Arctic Fox
"I only carry small compact and multi-purpose tools such as a foldable hand saw, screwdrivers, Channel-lock pliers, razor cutter and a drill.  I am hovering around my max GVWR and cannot add to that.  I would like to carry more, but can't.  I remain mindful that if the need arises for anything else, such as a specialty tool, I'll just head out to a home center." – Tony Polvino, 2016 Ford F150, Travel Lite 770RSL
"I take an axe, buck saw, and round nose shovel.  These are road trip tools for when I'm going hunting, plus a chain saw and generator." – Joseph Munn, 2001 Dodge 3500, 1998 Bigfoot Camper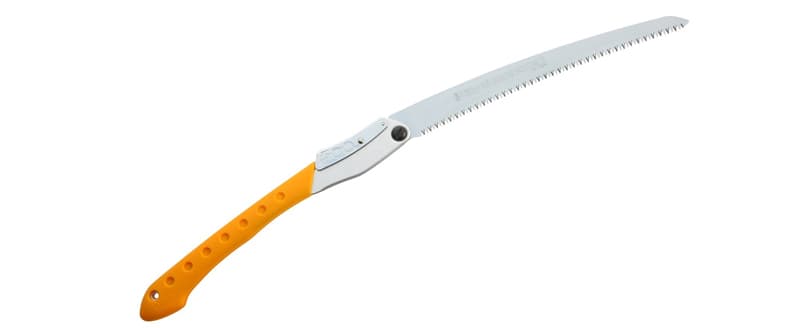 "I have a 30-inch breaking bar with a 19-millimeter socket and 3-pound hammer for lug nuts and loosening frozen wheels should I have a flat.
The hatchet is for kindling and small branches.  I have a Silky Bigboy folding saw for cutting larger branches and logs and an older wooden handled Army entrenching tool for moving dirt and small rocks, and for grubbing out a fire pit.
A 5-ton come-along, aka cable puller, is for moving heavy things like a stuck vehicle or removing a fallen tree from my path (this is the biggest and heaviest tool in my kit).  I also have a heavy-duty tow strap for pulling vehicles or extending the reach of the come-along.
When I'm winter camping or there is threat of snow, I will add an aluminum grain shovel.  The E-tool can be used for moving snow, but is pretty inefficient and traditional snow shovels are only good for sidewalks.  I used to carry a camp axe and full-sized D-handled shovel, but found that I was using them very rarely due to having the above listed items.
I have HD jumper cables even though I've never needed them for myself, but have used them to help others several times.  Everything else goes in the toolbox.  I'm certainly interested to see what others carry and why.  Great question!" – David Ruble, 2017 Ford F350, 2017 Phoenix custom pop-up
"I have a half-inch drive by two-foot long breaker bar with socket for wheel lug nuts.  I also have a Gerber camp axe.  It's light weight and splits wood great!" – Gary Goyette, 2016 GMC 3500HD, 2011 Northern Lite 8-11 SE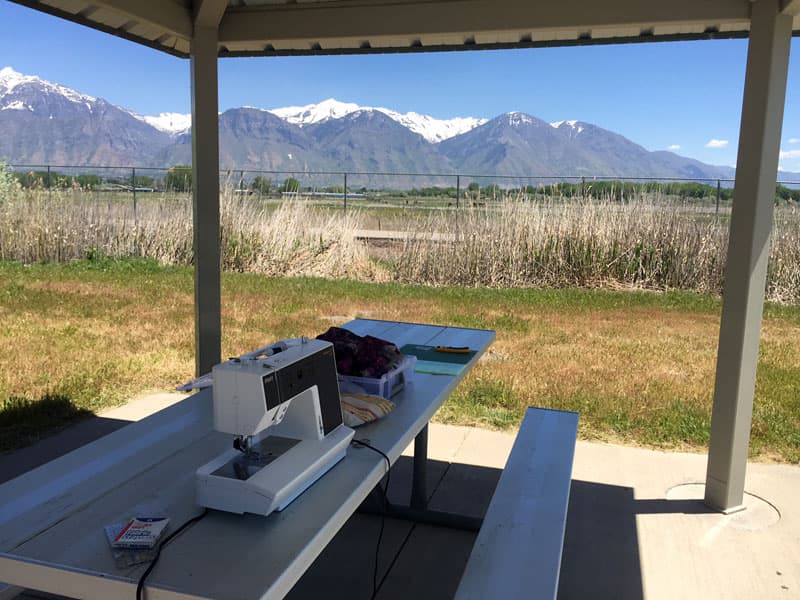 "Does a sewing machine count as a full-size tool?  If so, I usually travel with my sewing machine.  I can set it up inside the camper or take it outside and put it on a picnic table.
The two solar panels generate enough electricity to power my machine when shore power is not available.  I have mended zippers, shortened pants, and repaired rips.  I also make fabric projects for fun when we aren't hiking or reading." – Laurel Wilson, 2013 Ford F350, 2016 Four Wheel Camper Shell
"I have a full-size shovel, Estwing GP-100 Geopick for trenching or digging out rocks, Makita drill/driver set for driving screws for repairs, Hi-Lift jack for extractions/changing tires, machete for splitting kindling with a wood baton, 1.5 HP Rolair compressor for fast inflation of 19.5-inch tires and air tools, air impact wrench, and 20-ton hydraulic jack." – Rex N., 2015 Ram 5500, 2000 Alpenlite 11.5-foot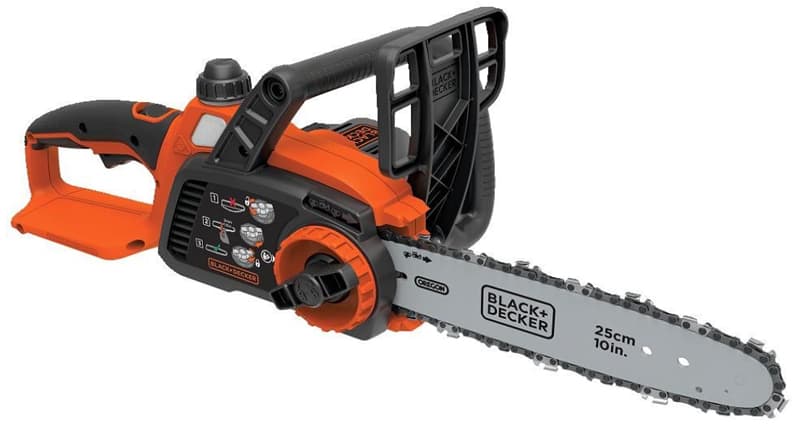 "I have a 20-volt MAX Black and Decker chain saw for removing downed trees from roads and for cutting through a steel cable lock on my spare tire when the key lock corroded shut in the mountains in Utah in 10-degree blowing snow. I also have a bolt cutter so I never have to do that again.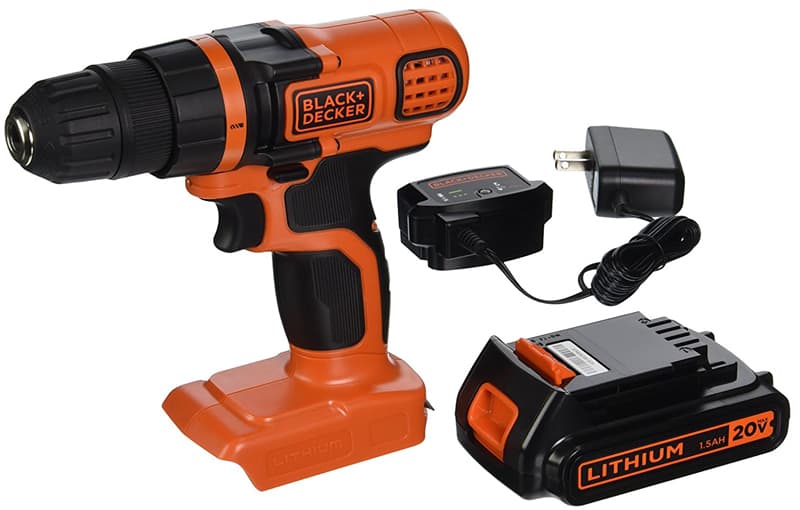 The 20-volt MAX Black and Decker power drill has high torque for raising and lowering jacks.  It is strong enough to raise the camper and uses the same battery system as the saw.  I also have various flashlights and spotlights that use the same battery system, along with a vacuum.
I have a half-inch socket wrench, about three-feet long, which is appropriately sized sockets for removing lug nuts off wheels.  It's an inexpensive item at Harbor Freight.  It beats factory tire wrench and crossbars for applying high torque to frozen lug nuts.
I also have a portable 12-volt winch." – Bill Peters, 2017 Chevy Silverado 4×4, 2013 Four Wheel Camper Hawk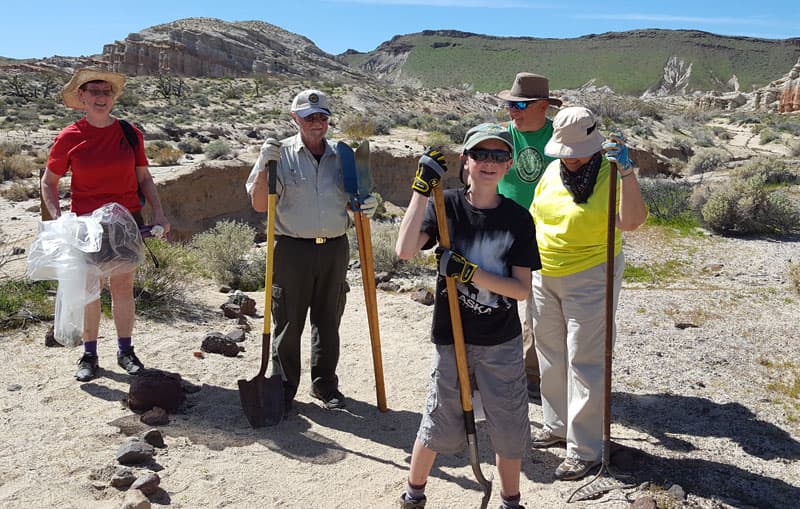 "I don't always bring full-size tools with me, but my inner Girl Scout shouts, "Be Prepared!" whenever I am packing.
I volunteer at my local state park and the staff never seems to have enough of the right sort of tools to get the jobs done.  I bring a variety of full sized shovels, rakes, pick axe, my Makita drill, palm sander, Tiger saw, circular saw, and various painting tools.  I have even started carrying paint in typical park colors.
I like to read about the mods that people have done in their back seat to carry and get good access to tools.  I plan on doing volunteer work with Habitat for Humanity, trail maintenance, and rescue support when I retire.  I also plant to move full-time into my tiny house truck camper and will need a full contingent of efficient and necessary tools. I can't wait to add to my list after reading y'alls responses!" – Darcy Hubbard, 2014 Ram 3500, 1998 Lance Legend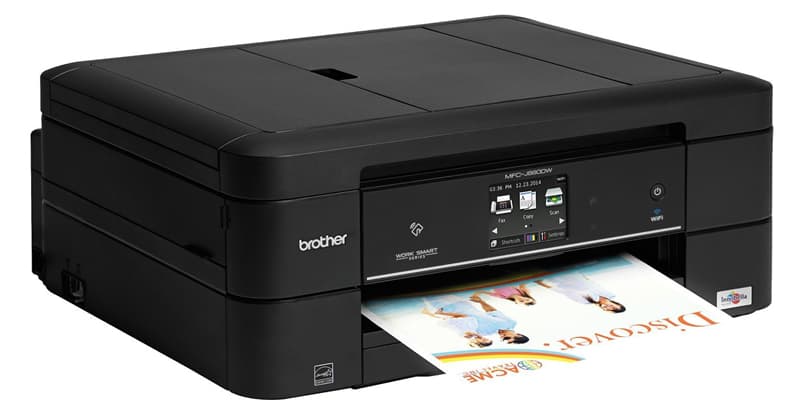 "I know this probably doesn't really fit in with your question, and I'll understand if you choose not to print it, but the best full-size tool that I travel with is my Brother Work Smart MFC-J4750W printer/copier.  That little sucker has been up and down all sorts of crazy terrain as we've spent the last two years full-timing in our camper.
The printer rides under the dinette when we're on the road.  It's fallen on the floor twice and it still works perfectly!  I use it a lot for things like printing tickets to shows and festivals, and printing out various forms for things like Medicare and Social Security applications, and insurance forms.  I also print out our credit card statement each month to reconcile.
My husband called it a boat anchor at first and initially resented my insistence on taking it but, let me tell you, he's become a believer.  If you're just a weekender, or only use your camper on vacation, you probably don't need one.  But for us, it's worth its weight (which isn't that much anyway) in gold!" – Joanne Hall, 2014 Chevy Silverado 3500HD, 2014 Lance 1172
"I bring an electric impact wrench (in case I need to change tires), cordless drill, reciprocating saw, and a multi-tool Craftsman 19.2-volt.  I have a Pancake air compressor for bike tires, air mattresses, etc.
I have a full-size hatchet because I wanted it.  I have an old broken truck camper and always seem to be fixing things while camping because I have time to tinker.  I want to bring more but the rig is already overweight.  I like to be prepared for emergencies." – David LaVine, 1994 Ford F350, old S&S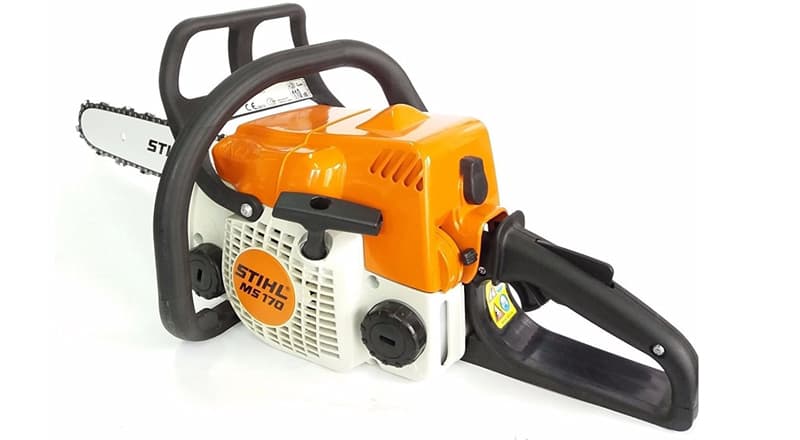 "The only full-size tool I bring is a Stihl 18-inch chain saw.  I do a lot of boondocking in remote National Forests here in The West, and I never want to be in a situation where I'm way out on a poorly maintained Forest Service road and can't return because of a fallen tree or tree branch blocking the only way out.  Hence the chain saw and tow strap set up.  I have never had to use them yet, but it's a peace-of-mind issue for me." – David Jeffrey, 2013 Ford F-150, 2014 Four Wheel Grandby
"I have an axe and hatchet to split wood for campfires and a shovel for fire safety and to get a level parking spot." – Harvey Keene, 2002 Ford F350, 2002 Northern Lite Ten 2000
"I have a 120-volt air compressor to repair flats and re-inflate air tires after coming off of the beach, and a 12,000 pound tow strap – need I say more?  I also have a 12-ton hydraulic jack to repair flat tires.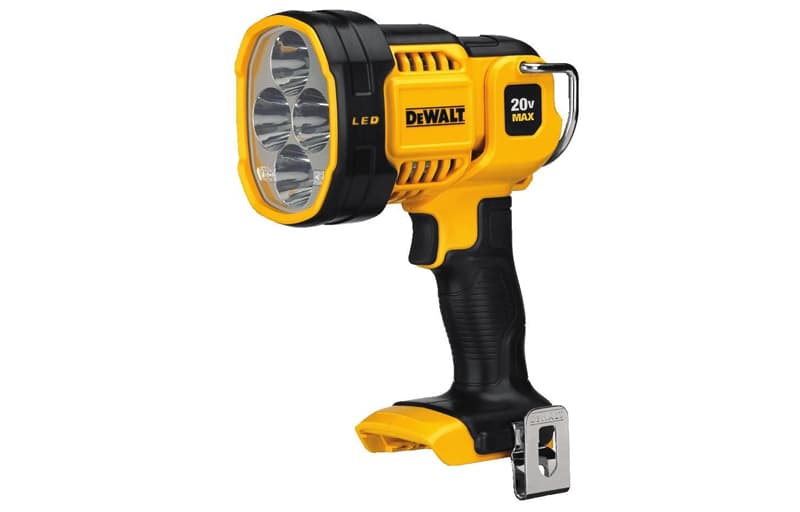 There's a complete basic tool set and electrical testers to fix most lights and mechanical issues.  I have a long half-inch drive breaker bar with sockets to remove lug nuts, a large 20-volt Dewalt LED spotlight for night vision, and a Dewalt 20-volt shop vacuum for dirt and sand clean up." – Frank Paglianite, 2013 Ford F350, 2012 Lance 992
"You'd be shocked, but just about every full-sized tool you named – and then some – goes with my rig.  I carry a full-sized chain saw, a significantly large assortment of mechanical tools, giant pipe wrenches, and full selection of drills, hammers, saws and the like.  Why?
I camp to access and provide the opportunity to fly hot air balloons, and ride some rather unique, fast and healthy bicycles.  My rig is also the chase/support vehicle for the hot air balloons as well as the bicycles.
Hot air balloons fly with the wind.  If you take off in a civilized area, you are as likely to land in uncivilized territory as not.  But, if you take off in rural area, pretty safe bet you'll land in it as well.  You don't want to have to carry a hot air balloon very far if you land.
Our bicycles are very unique as well.  They are what's called FBC (Full Body Cycling) machines.  You can hand crank them or pedal with your feet, or both in one case.  You can push with your feet while the arms pull and then they instantly swap so the feet pull and the arms push.  The result is a very fast, long distance ride.
The more rural one gets, the more road or off-road debris one finds.  That can mean flat tires.  Our rig has to be able to get to and service or recover the FBC bicycle and rider.
Along the way, we've had the unexpected fallen tree that needs to be removed from our path.  We've had to literally break our trailer free of our hitch.  We've had to weld frames, or any number of crazy things.
When people ask how long we've been traveling in this style, we say each tool represents a trip.  Something happens, and we needed this or that, and swore we'd never travel without it again.
We're in the midst of preparing to head out on a multi-month tour of North America.  We'll be visiting events coast to coast, and remote lands as well.  You can be sure we'll have our full assortment of tools and gadgets with us and at the ready." – Matt Fenichel, 2006 Ram 3500, looking for a used Lance, Northern Lite, or Bigfoot

"I have a Stihl chain saw.  Obviously it's great for firewood, but also essential for clearing dead trees fallen across back roads due to pine bark beetle infestation.
I also carry a wood splitting maul.  Again, it's a necessity for camp fires but useful for pounding poles and stakes.
We always boondock and our rig doesn't have a built in bath.  So, we bring a shovel to dig a hole and use a privy to answer nature's call." – Chris Geuder, 2007 Chevrolet Silverado 2500, 2007 Hallmark Guanella

"I carry a full tool bag with wrenches, sockets, screwdrivers, cordless drill/driver, cordless impact wrench, splitting maul, axe, bow saw, pruning loppers, shovel, and a claw hammer.  That's just the big stuff." – Trekker Hill, 2002 Dodge 2500, 2004 Lance 920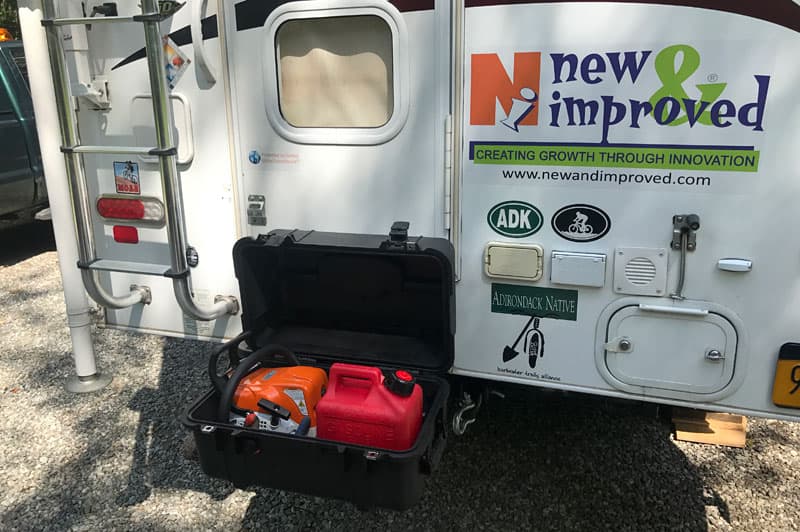 "We're one of those couples who takes a chainsaw.  It makes us feel at home.  We own and operate a tree farm – madebytheadirondacks.com – as one of our businesses.
In all seriousness, we've not yet needed to use our chainsaw on the road, but we do extreme boondocking frequently in very remote forested areas and anticipate the need to clear roads from time to time.
While our winch and an axe would likely get us through, a chainsaw to help ourselves, and others, seems the right move.  For this purpose, we purchased an inexpensive Stihl homeowner-grade saw instead of the professional grade saws we use at home.
I'm a Scoutmaster, so being prepared, and doing a good turn daily is in my bones.  We are able to get the saw (with bar removed) a small can of mix, and a quart of bar-oil (plus needed tools and ear protection) in a medium sized Pelican Case.
We keep the saw with other equipment in the back passenger's area of our crew cab.  The pelican case manages any potential fumes and, when we get to altitude, we crack open all three containers to decompress and create a vacuum for the rest of the trip." – Bob Eckert, 2017 Ford F350, 2015 Lance 825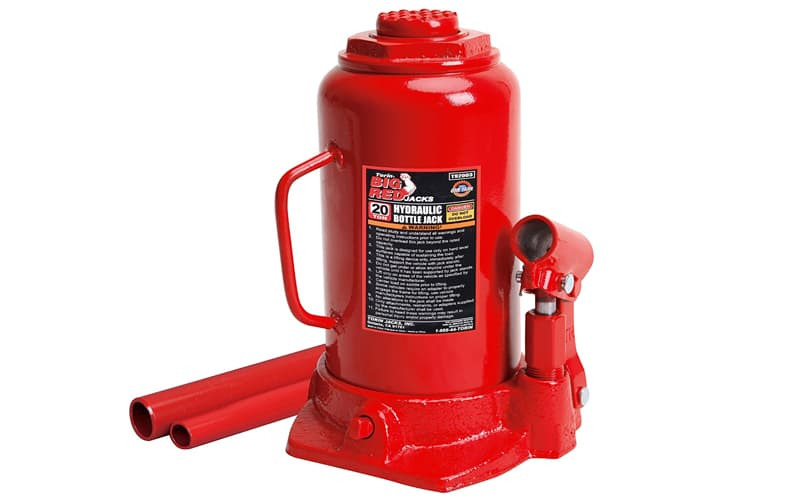 "I have 6-ton and 20-ton hydraulic bottle jacks.  I thought the 6-ton would pick the truck and camper up, but it barely did with a lot of shoulder strain.  One old guy told me that a 20-ton jack would also work, but with no strain.  It did.  I carry them both.
I also carry two 3-ton jack stands.  If one must crawl under a jacked up truck to remove a spare tire or tighten a loose nut, using jack stands is imperative.  Without stands, one could cut a trip short.  I would also recommend a good bottle opener/corkscrew." – Tom Scholtens, 2010 Chevy 2500, 2013 Bigfoot 25C10.4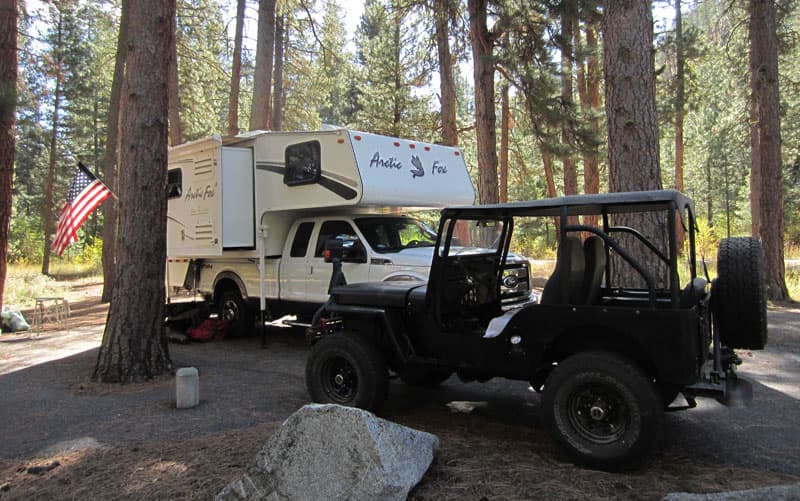 "We're boondockers for the most part and, when we do stay in a campground, it's generally with out anything but a vault toilet.
We have a 47 Jeep that we tow that doubles as a trailer.  The Jeep always has a full-sized axe, full-sized D-handle shovel, and large collapsible bucket.
Years ago in Idaho it was a requirement to have these items in your vehicle for back woods travel.  You would not believe the number of campfires left smoldering that I've come across.
In the camper is a full-sized axe and a military surplus folding shovel.  I also usually have a 21-inch chain saw." – Dave Erickson, 2011 Ford F350, 2006 Arctic Fox 990
"With fire season upon us, I take a full-size, HD pointed-tip and a HD flat-tip shovel for fire clearing.  I keep them in a 5 gallon bucket in the bathroom so it doesn't scratch everything up.  I also keep a 12-foot HD set of jumper cables under the hood." – Bill Deason, 2002 Dodge 3500, 1996 945 Lance
"I always carry a full-size hatchet with a hammer head on the back side and a 250-piece Craftsman tool set.  You never know.  They have proven their usefulness on the road." – Brett Nicholas, 2016 Ram 3500, 2014 Palomino HS-8801
"Besides the usual selection of tools, I also have a cordless drill, grinder, sawzall, and port-a-band.  We had a blow out about three miles from East Glacier.  Besides rearranging the fender, it bent the two-by-two by quarter-inch angle holding the mud flap upward to the point we couldn't remove the spare tire.  The quickest solution was to cut off the bent angle." – Charles Phy, 2011 Dodge 5500, 2010 Eagle Cap 1160
"The first time I took my dually down a trail in a National Forest I started to wonder if rocks would get stuck between the rear tires.  Sure as heck, when we left our campsite and got on the paved road to head home, I heard a "clomp, clomp, clomp" sound coming from the right rear wheel.
Upon investigation, I found a softball-size rock lodged between the rear tires.  I tried to dislodge it with a 2-foot long pry bar and a small sledge hammer.  No luck.  After about a 15-minute struggle, a fellow in a Polaris RZR pulled up and asked if I needed some help.
I explained the situation and he proceeded to grab the biggest Channelock pliers I have ever seen out of his rear compartment.  He latched onto the rock and, after a few seconds of twisting and pulling, he had the rock out.  The whole time I was wondering "Why does this guy carry a giant Channelock pliars in an ATV?".

Needless to say, as soon as I got home I purchased the largest Channelock pliers that I could find and added it to my truck camper's tool collection.  I also carry a cordless Craftsman chainsaw with two fully charged batteries which is plenty to get through a weekend of campfires.  I also carry a fully charged Dewalt cordless drill and bits just in case.  I have never had to use it – so far." – Lee Nelson, 2015 Ford F350, 2015 Lance 1052
"I have a heavy splitting maul with a nylon handle.  We like gathering our own firewood (dead wood) which requires splitting." – Ernie Leet, 2017 Ram 3500, 1999 Bigfoot 10.2
"Depending on where I am going I carry an 18-inch electric chain saw.  Since it is not responsible to move wood from one location in the state to another, and since packaged firewood is expensive, I drag fallen tree limbs into the camper area and cut it.  I would leave it at home if I was staying at a high-end KOA.
In fifteen minutes I can cut enough wood to last for a three day weekend.  Also, an electric saw is cleaner and quieter, so it doesn't disturb fellow campers." – Fred Patterson, 2013 Ford F350, 2002 Lance 1161
"I have an electric (I don't have to carry a gas can) chain saw, extension cord and bar oil.  I only have to start the generator and I have an evening fire." – Bob Lick, 2003 Dodge 3500, 1993 Alpenlite 11-foot SK
"The only full-size tool I bring is a Makita battery operated drill.  I have manual jacks on my camper and the drill is brought in the event I need to operate the jacks.
I have only removed the camper on the road one time since 1998.  In the early years I would lower the jacks with the camper on the truck, for stabilization and leveling.  Now, I only lower the jacks when I get home to remove the camper from the truck." – Scott Spradley, 2015 Silverado 2500HD, 1998 Lance E186SL
"I have a Makita battery powered drill and impact driver.  I started bringing the drill/hammer drill with a half-inch masonry bit to drill holes for Tiki torches after I found our 4th of July campground was on granite.  That bent a lot of tent stakes (before we got the rig).
I also bring along two axes, because why not?  I have a folding military shovel to trench when it rains and to scoop out fire pits and zip wall telescoping poles for raising tarps." – Robert Schene, 1996 Lance Squire 4000 9'6″
"I bring along a shovel and three-quarter axe.  You never know when you'll get stuck, or need the axe as a sledge to get a truck wheel off, or cut firewood." – Mike Bohn, 2007 GMC 2500HD, 1974-ish Eldorado 8-foot
"I never leave home with out my Milwaukee m18 half-inch cordless impact and half-inch cordless drill.  I never have had to use the impact for changing a flat, but it is nice to know it's there.  I have use the drill several times to refasten things.  If you have the room, these things are a great peace of mind." – Matt Wiegand, 2014 Ford F150, 2017 Adventurer 80RB
"For full-size tools, we carry a winch (front receiver plug-in) and an air system (inflate deflate tires) for beach terrain.  I'm still looking for a good system for a Ram." – David Thibault, 2016 Ram 3500, Still looking for a camper
"I bring  a Dewalt screw gun and saws-all with extra 18-volt batteries.  You never know when you will need to make emergency repairs to the rig or on a hosts property.  The saws-all allows us to use power to remove limbs and brush that come down during storms while we are off-roading." – Ellis Butler, 2002 Ford F250, 1994 Shadow Tracker 8-foot pop-up
"I bring along a full size axe, breaker bar 1/2″x 24″ long, logging chain (#5400 x 20′), shovel, 12'x12′ awning with screen and weights.  Also, I have my full size fly fishing rod." – Harry Palmer, 2008 Dodge Ram 2500, 2008 Lance 915

"I have a full-size Fiskars hatchet.  Why?  Because – and you positively had to see this coming…  I didn't really want to be a veterinary surgeon (or a barber)." – John Wells, 2011 Chevy 3500, 2012 Chalet Ascent S100F