Whether it's for safety, or fun, or for that time when, "oh hell I could have really have used four-wheel drive" instead of calling the dang tow truck.  A truck with diesel and four-wheel drive is a must.  What you put on top is where you make your adjustments.  Just make sure your camper fits properly." – Carol Baumler, 2012 Dodge Ram 3500, four-wheel drive truck, 2014 Capri Sportsman model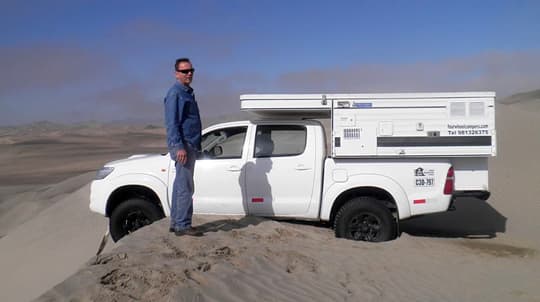 "We do not have many campgrounds down here, so we always go off-road, and always accompanied by another truck.  As you can see in this picture, a little help comes in handy when your are thirty kilometers from the Pan-American Highway in Nazca, Peru." – Alberto Sacio, 2012 Toyota Hilux, four-wheel drive truck, 2012 Four Wheel Camper Fleet
"If you are going off pavement and have a dually, then four-wheel drive needs to be in your arsenal of get me out of here's.  I have that and a 12,000 pound Warn winch.  While I have never had to use the winch, I have used four-wheel drive on several occasions.  In fact just the other day my wife got the truck camper in some soft sand and gravel out at the barn and she had to put it in four-wheel drive to get out.
I have also had to use it in some campgrounds in recreational areas that were on unimproved surfaces.  I have also driven on unimproved roads that I use the four-wheel drive to insure that I don't get stuck.  With a camper on the back, if you get stuck and are not in four-wheel drive, then your chances of getting out by just flipping the switch have diminished significantly.
Duallies can be at a disadvantage on occasion due to the size of the rear contact patch(s) and may result in the reduction of CoF and result in slippage.  As a avid off-road driver for over fifty years, I would always have the four-wheel drive option on any vehicle I may take off pavement, let alone off-road." – Don Pryor, 2011 F 350, four-wheel drive truck, 2009 Arctic Fox 1150
"The worst required a four wheel drive farm tractor to pull me out of mud (it was crusted over with frozen dirt so it looked okay) when I was deer hunting." – Philip Tron, 2009 Chevy 3500 crew dually, four-wheel drive truck, 2012 Lance 1050
"I was stuck next to a creek boondocking with a 2000 Dodge Ram 2500 and a Lance 1160.  It rained the night before, so I was unable to climb a muddy hill.  The cost for a tow truck was excessive.  So now I own a big truck with duallies and four-wheel drive.  I also have a 20,000 pound winch on the front.
To date, I have not needed either the four-wheel drive or the use of the winch.  And it hasn't rained at our favorite boondocking site next to the creek or any place to include snow.  Our friend Murphy is at it again." – Cliff Cizan, 2010 Dodge Ram 3500, four-wheel drive truck, 2013 Arctic Fox 1150
"We use the camper year-round.  In the summer, we usually explore British Columbia and Alberta.  We have used four-wheel drive a lot when exploring some of the backroads and old logging roads.  In the winter, we use the camper as a cheap hotel room when we are out snowmobiling.  We live in Saskatchewan so the four wheel drive gets a good workout.  I just wish the insulation factor was better in the camper for winter use." – Brad Slatford, 1997 Ford F250, four-wheel drive truck, 1984 Edson 10.5
"For the places we camp at, four-wheel drive is almost always a necessity.  It's a great way to avoid crowds." – Robert H., 2008 Toyota Tacoma, four-wheel drive truck, 1985 Four Wheel Camper Fleet
"We normally go boondocking in Patagonia, Argentina, or Chile.  There are a lot of chances and, the need to use four-wheel drive." – Anton, 2000 Ford F350, four-wheel drive truck, 2006 Outfitter Apex
"The only times I have needed to engage four-wheel drive while carrying the camper has been if I'm in a remote location where there's steep and/or unstable access roads to where I'm going.  That's mainly in the backcountry here in California.  Also, if I'm doing any kind of camping in winter, I'll engage four-wheel drive high in snowy conditions." – Keith Jose, 2010 Ford F-150, four-wheel drive truck, Four Wheel Camper Hawk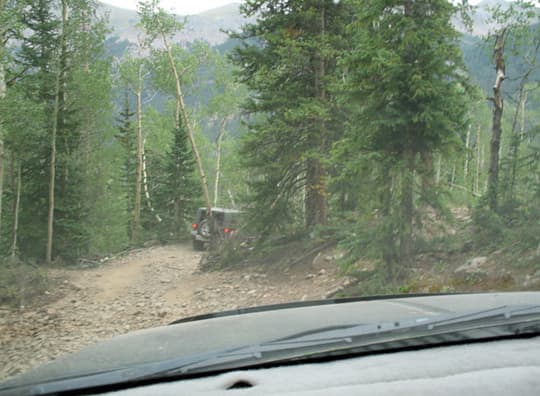 "I have used four-wheel drive on wet campsites, down a slope, and on messy roads where I could get in trouble without it.  I would like two-wheel drive, but will stay with the four wheel drive to allow me to go into more remote locations and, more importantly, get out of them." – Bar Ko, 1999 Ford F250, four-wheel drive truck, Four Wheel Camper Grandby
"While I have encountered a few limited-traction adventures, I have never had to use four-wheel drive.  Thank goodness, as I don't have it!  Traction aids and shovels have spared me on the few occasions where I'm sure four wheel drive would have made them non-occasions.  I've found that I don't like the slow going typical of four wheel travel, even with light-weight Jeeps, etc.  With these factors in mind, I try to limit my off-road excursions to those astride one of my motorcycles." – Mark Obert, 1999 Ford F250, two-wheel drive truck, 1999 Lance 920
"We have only had the truck camper since early 2014 and have used it once in Florida.  So far, there has been no need for four wheel drive with the truck camper installed.  But, with the truck itself, it was used quite a bit this year as Indiana as we had an unusually large amount of snow for quite a few months.  We have always owned at least one four-wheel drive vehicle." – Mike and Dawn, 2014 Dodge Ram 2500, four-wheel drive truck, 2014 Palomino SS1251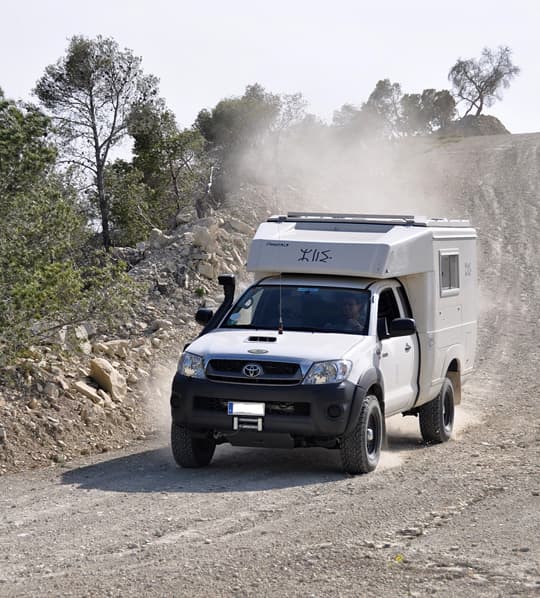 "Our pick-up is normally rolling with two-wheel drive but, in complicated situations, we use and connect the four-wheel drive." – Frederic Amorós, 2011 Toyota Hilux, four-wheel drive truck, 2011 PSI-AZALAÏ
"Last summer, while exploring an old movie set in the Grand Staircase in southern Utah, we ended up in a turn around that was deep sand.  Probably discretion would have kept us out of the area, but it looked solid until we were in it.  It was an old creek or river bed.  Without four-wheel drive we were going nowhere in this fairly remote area.  With four-wheel drive we were able to power a circle turn around and get out.  Without it we would have had to camp right there until help could be summoned to pull us to solid ground.  It might not have been so bad, but probably would have been expensive." – Randall Rice, 2012 GMC Sierra 3500 HD, four-wheel drive truck, 2002 Bigfoot 2500 10.6