This week's Question of the Week was, "Have you ever needed four-wheel drive while truck camping?"  We had so many responses that we have split up the answers into two parts.  Look for part two next week.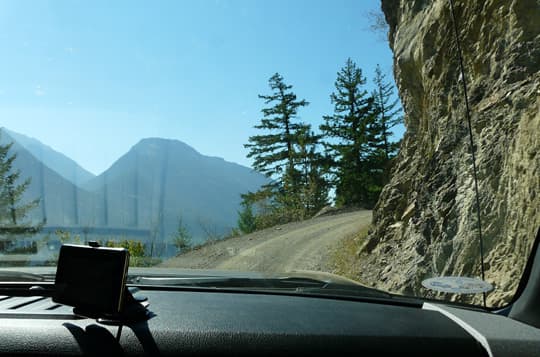 "We have used our four-wheel drive lots of times, especially when we go up old logging roads to find isolated forestry sites, or explore the old mining and logging areas of British Columbia.  For example, the Highline Road northwest of Lillooet is a twenty-eight kilometer single lane heart stopper perched high above Carpenter Lake." – Orian Hartviksen, 2011 Ford F350, four-wheel drive truck, 2010 Northern Lite 8'11"
"Of all places, in the camp area of the Abenteuer Allrad fair, which is more or less the European equivalent of the Overland Expo.  It had been raining a lot, and we needed to turn the truck around.  I backed the rear wheels onto a wet, muddy piece of grass, and that was that.  The front wheels were still on the pavement.  The ground was as even as can be, but the truck would not move.  There were plenty of four-wheel drive vehicles at the camp area to pull us out, but it was a bit embarrassing." – Joerg Walzenbach, 2008 Chevy Silverado 2500 HD, two-wheel drive truck, 2011 Outfitter Apex 8 LB
"To me the value proposition of truck campers is that I also end up with a useful pickup truck rather than tying up capital in a dedicated RV.  I use four-wheel drive frequently in winter, with and without camper.  We also camp frequently in Forest Service sites (Poconos last weekend), which occasionally have muddy grades for which four-wheel drive is useful or even necessary." – Mike, 2010 GMC 2500, four-wheel drive truck, Palomino Bronco
"I only really need it once a year on Slick Rock Road by Lake Alpine, California.  I do like it when I hit a chain check in the Sierras in the winter.  California requires chains with just a little snow on the road." – Bill Harr, 2005 Toyota Tundra, four-wheel drive truck, 2013 FWC Hawk
"When I bought my truck I never asked if it was four-wheel drive.  When I got home, I was mildly annoyed that it was two-wheel drive.  In the past three years, I got it stuck in my own yard once because it was so muddy.  I never had any use for four-wheel drive when I went camping.  I tow a boat and have been in some remote areas, but never came close to getting stuck." – Everett Baird, 2009 Ford 350, two-wheel drive truck, 2010 Lance 950
"I use my truck for farm use and pull a 26,000 pound thirty foot gooseneck with a Caterpillar D4 at times.  I use four-wheel drive in snow about three days per year.  I also use it on the farm for eight feet in a slick place three to four times per year and sometimes crossing terraces.
What I use mostly four-wheel drive for is its low range, pulling a load up a steep place that is dry and solid, where the high range just won't do.  A low range two-wheel drive would work for fifty percent of my low range work.
The total distance in four-wheel drive per year, including snow, is probably seven miles.  But when I need it, nothing else will do.  Thanks Gordon.  I look forward to everything you send!" – Bill Strickland, 1996 Ford F250, four-wheel drive truck, 2005 Lance 845
"I have used it several times with my truck camper, when a site may be damp and slippery.  I have also have used it with my fifth wheel.  About a month ago, when we returned from Florida, I had to back across part of my lawn that was soft.  I started spinning, so I shifted to four wheel drive and got back in okay.  I had to remove mud off the truck.  Our property is clay so it's easy to spin.  Four-wheel drive is almost a must.  I also need it sometimes in winter." – Ron Day, 2008 Chevy 2500HD, four-wheel drive truck, 2005 Sunlite 865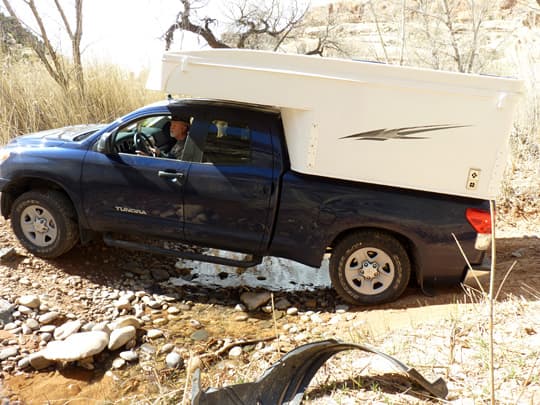 "In Southern Utah we were so very happy to have four wheel drive capability!  It's nice to be able to explore all those back country roads.  We love boondocking!  We have also used it here at home in Montana.  We switched from a trailer to a truck camper so we could go to more places and the four-wheel drive capability is part of that.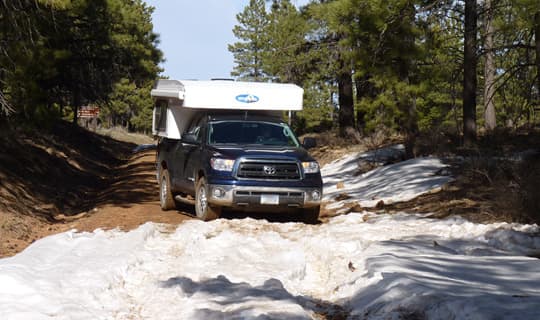 We get lower gas mileage when we spend time in four-wheel drive, but it is worth it!  On the highway at sixty miles per hour we get about eighteen miles per gallon, and when we are in four-wheel drive it drops to fourteen miles per gallon.  We are happy campers!" – Patrice and Ken Loucks, 2013 Toyota Tundra, four-wheel drive truck, 2014 Phoenix Custom Camper
"I live in Colorado and camp year round fishing, hunting, snowshoeing, backcountry skiing, mountain biking and just exploring.  Four wheel drive is used frequently, as in almost every trip.  We have traveled from Deadhorse, Alaska to Key West, Florida and have used it most places in between.  I couldn't and wouldn't have a truck without four-wheel drive." – Philip, 2012 Ford F350, four-wheel drive truck, 1994 Lance Squire Lite 150
"I used four-wheel drive on the Dempster Highway in the Yukon and Northwest Territories, in a snow, sleet, and rain storm.  I have also used it on the Flatops near Glenwood Springs, Colorado, in the Moab area of Utah, and in my driveway in a snowstorm in Colorado.  I was (and am) very glad to have it, and I would not consider buying a truck without it." – P Maddux, 2008 GMC HD 2500, four-wheel drive truck, 2013 Hallmark Ute Everest
"This answer is yes, and no.  My camper stays permanently mounted to the truck for now.  Twice a year or more I drive up my parent's mile long steep gravel driveway, so I always have it in four-wheel drive.  My older truck, a 2007 Ram 2500, also had four-wheel drive.
As far as I'm concerned, and this is my opinion only; a truck is worthless without four-wheel drive.  You skimp and fuss here and there between gas and diesel, and two-wheel drive and four-wheel drive, and how huge you need your truck camper.  If you are paying upwards of of $30,000 for your truck camper, why are you skimping on what will help you economically handle that oversized truck camper?