When we announced this week's Question of the Week, "Would you ever consider a flatbed truck and camper combination?", we stated that two companies, Northstar and Four Wheel Campers, build flatbed truck campers.  We neglected to mention that both Phoenix Custom Campers and Alaskan Campers also build flatbed truck campers.
We even saw two flatbed Phoenix Custom Campers at the Overland Expo last month, one on a Unimog, and another on a F550.  You can see a few pictures of those two campers in the story, "Three Days of Overland Madness: Overland Expo 2013".  We are also developing a story on the Phoenix Custom Camper Unimog flatbed.
We covered Carl Isner's Alaskan's flatbed truck camper this past February in the story, "An Ultimate Alaskan Camper Rig".  Carl's rig was built on a Dodge Ram 5500 and features some very innovative underbed ideas.
Shocking Survey Results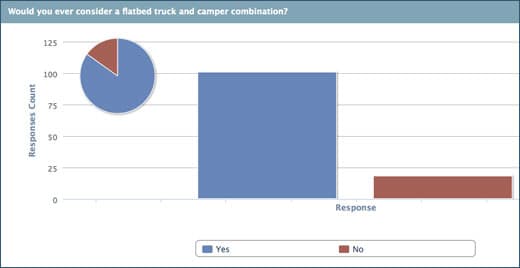 119 readers responded to our question this week.  84.87% said that they would consider a flatbed camper and 15.13% said they would not consider a flatbed.
What?  84.87% would consider a flatbed truck and camper?  There are quite a few truck camper industry leaders out there in total shock.  Honestly, we thought the results would be reversed.  Perhaps it's time for the truck camper manufacturers to reconsider flatbed truck campers.  If these results are an indication, the potential demand is quite strong.
Flatbed Feedback
After the simple, "Yes or No" survey, we asked our readers to tell us why they would consider a flatbed, or why not.  What follows are their responses.
Yes, a flatbed is much more functional than a regular truck bed.  The extra storage available would be nice.  A negative is that regular hard side campers sit higher on most flatbeds.
A flatbed has more storage, a side entrance, a wide rear view, and possible propane storage for the truck engine.
My normal truck usage is on the farm so a flatbed would be ideal.  I have been using an Alaskan Camper on a flatbed Unimog for years.  I do like the space available under the edges of the non-flatbed camper for storage though. – Bob
Yes I would buy a flatbed camper for my F350.  A flatbed truck body is much more useful for people who use their truck for working.  The flatbed camper provides much more interior space and storage due to being wider at the bottom.  I love the side entrance idea and rear table.  Please Lance, Northern Lite, anybody, are you listening?  Build it.
It appears it could have benefits.
A flatbed has more storage, more space, and more options!  I'd totally consider a flatbed and flatbed camper.  Imagine a side entry camper with side and rear slides.  My mind is racing with the kinds of things you could change in the floor plan.  It seems like you could accommodate a larger family in a flatbed truck camper and flatbed crew cab truck by increased seating and sleeping arrangement as well as increased storage.  You could easily blur the line between a motorhome and a flatbed truck/camper combo with the improved floor plans.  Yes, I'd totally consider the flatbed.
Definitely, especially after your recent article about the person who has one with a Northstar Escape Pod truck camper.  I would go with a flatbed as I feel it may be easier to load the camper onto the flatbed than into the back of a truck bed. – Cheryl Lane, NH
Absolutely I would.  You can add some pretty good side storage compartments on the sides, where a regular pickup bed doesn't really give you that option.  However, I would only put a hard sided camper on it.  We camp in bear country and feel safer with a hard sided camper.
I often wondered why no one offered these.  When I was a young kid in the 1960s our family had a ten foot Open Road chassis-mount camper on a 1963 Dodge dually cab chassis.  It had a rear transverse dinette like these flatbed models and a, too small, wet bath.  Having the features and room of a chassis-mount while being able to remove the camper and use the truck for other things is a great idea.
I think that the flatbed truck would give a little more room.  I'd worry about the lack of a rear bumper.
There is more room, but I am concerned about the high door entry.  I am 72 and would need a good hand rail.  There is none shown on Northstar and Four Wheel doesn't show the flatbed on their site. Thanks. – Bill