When we announced this week's Question of the Week, "Would you ever consider a flatbed truck and camper combination?", we stated that two companies, Northstar and Four Wheel Campers, build flatbed truck campers.  We neglected to mention that both Phoenix Custom Campers and Alaskan Campers also build flatbed truck campers.
We even saw two flatbed Phoenix Custom Campers at the Overland Expo last month, one on a Unimog, and another on a F550.  You can see a few pictures of those two campers in the story, "Three Days of Overland Madness: Overland Expo 2013".  We are also developing a story on the Phoenix Custom Camper Unimog flatbed.
We covered Carl Isner's Alaskan's flatbed truck camper this past February in the story, "An Ultimate Alaskan Camper Rig".  Carl's rig was built on a Dodge Ram 5500 and features some very innovative underbed ideas.
Shocking Survey Results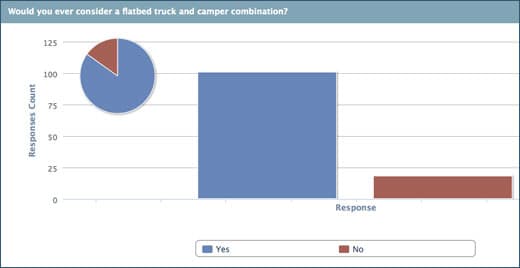 119 readers responded to our question this week.  84.87% said that they would consider a flatbed camper and 15.13% said they would not consider a flatbed.
What?  84.87% would consider a flatbed truck and camper?  There are quite a few truck camper industry leaders out there in total shock.  Honestly, we thought the results would be reversed.  Perhaps it's time for the truck camper manufacturers to reconsider flatbed truck campers.  If these results are an indication, the potential demand is quite strong.
Flatbed Feedback
After the simple, "Yes or No" survey, we asked our readers to tell us why they would consider a flatbed, or why not.  What follows are their responses.
Yes, a flatbed is much more functional than a regular truck bed.  The extra storage available would be nice.  A negative is that regular hard side campers sit higher on most flatbeds.
A flatbed has more storage, a side entrance, a wide rear view, and possible propane storage for the truck engine.
My normal truck usage is on the farm so a flatbed would be ideal.  I have been using an Alaskan Camper on a flatbed Unimog for years.  I do like the space available under the edges of the non-flatbed camper for storage though. – Bob
Yes I would buy a flatbed camper for my F350.  A flatbed truck body is much more useful for people who use their truck for working.  The flatbed camper provides much more interior space and storage due to being wider at the bottom.  I love the side entrance idea and rear table.  Please Lance, Northern Lite, anybody, are you listening?  Build it.
It appears it could have benefits.
A flatbed has more storage, more space, and more options!  I'd totally consider a flatbed and flatbed camper.  Imagine a side entry camper with side and rear slides.  My mind is racing with the kinds of things you could change in the floor plan.  It seems like you could accommodate a larger family in a flatbed truck camper and flatbed crew cab truck by increased seating and sleeping arrangement as well as increased storage.  You could easily blur the line between a motorhome and a flatbed truck/camper combo with the improved floor plans.  Yes, I'd totally consider the flatbed.
Definitely, especially after your recent article about the person who has one with a Northstar Escape Pod truck camper.  I would go with a flatbed as I feel it may be easier to load the camper onto the flatbed than into the back of a truck bed. – Cheryl Lane, NH
Absolutely I would.  You can add some pretty good side storage compartments on the sides, where a regular pickup bed doesn't really give you that option.  However, I would only put a hard sided camper on it.  We camp in bear country and feel safer with a hard sided camper.
I often wondered why no one offered these.  When I was a young kid in the 1960s our family had a ten foot Open Road chassis-mount camper on a 1963 Dodge dually cab chassis.  It had a rear transverse dinette like these flatbed models and a, too small, wet bath.  Having the features and room of a chassis-mount while being able to remove the camper and use the truck for other things is a great idea.
I think that the flatbed truck would give a little more room.  I'd worry about the lack of a rear bumper.
There is more room, but I am concerned about the high door entry.  I am 72 and would need a good hand rail.  There is none shown on Northstar and Four Wheel doesn't show the flatbed on their site. Thanks. – Bill
I have a fifth wheel too.  I like being able to have a tonneau cover when not towing to cover up the hitch, any other items, or with an empty bed.  I can haul plywood in bad weather without concern and it is convenient.
The advantages of a flatbed combination are not worth the difference of a conventional setup to me.  You have to totally dedicate and alter your truck which is added expense and lowers the truck value if you elect to trade the truck.  But for those who want to explore remote places I understand.  I think the conventional setup is far safer because of the truck box encasing the camper in case of an emergency stop or swerving to avoid and accident.  I am not willing to give up some of the comforts that I enjoy.
I looked at the article about flatbed campers.  It's a good idea if you are not going to use your truck for anything else.  With the jacks on the flatbed, you also have a truck with limited uses.  I think a large majority of truckers use their trucks for many other uses.  I guess if you are looking at going into the extreme backcountry the bed offers some protection but it would be interesting to see if the industry is going to build various sizes of 4×4 motor homes.  In winter lighter is not always better especially if you own a dually.   On a regular truck with the bed in place, the bed keeps the camper from moving in rough terrain.  If the camper is bolted down, how would a person take it off to just use the truck?  That is an advantage of taking a camper off and using the vehicle.  Tie downs on a flatbed would not work.  You would require a special apparatus.  I enjoy your magazine very much. – Dave
It sure opens up interior options for a camper.  I think we will see bed size changes soon that will make it difficult to carry our existing campers.  GM did it a couple of years ago.  Flatbeds create great storage options with a traditional campers too.  Keep on truck camping. – Bigfoot Dave
It would be a last choice option.  I would always prefer a truck with a bed but if on a farm and hauling hay it would be a nice option.
Flatbeds offer bigger and better floor plans.
Without my pick-up bed, my truck would be almost useless.  Also, the cost associated with a new flatbed for my truck would, I'm sure, be prohibitive.
I think flat beds are considerably better as a truck and the ability to have a camper made for that space without wheel wells and normal truck bed sides allows for substantially more room and options for truck campers.  As you showed in your photo flatbeds with side rails that are removable only add to the truck 's ability to be versatile.  The only issue I see with some flatbeds (beside the cost) is that they mount higher on the truck to eliminate the wheel wells and to that end would put the truck camper higher from the ground especially if it is a basement model. – Jim Mallery
This is an outstanding opportunity for truck camper manufacturers to really make truck camping viable.  There is potential for much larger units, ease of loading and unloading the camper, ease and low cost of equipping larger trucks like the Ford F550 with a flatbed.  Designing a camper with the bed on the main level would be great for elderly and handicapped.  You could use the overcab area for storage.  The camper could be built stronger and easier with more storage, water capacity, etc.  What a wonderful opportunity for progressive manufacturers!  – Dennis Darr
Good used trucks are available that have flatbeds on them in the Great Plains of the United States.
I've never seen one that was as nicely appointed as a regular truck camper.  It looks like an after thought.  Maybe I haven't seen the right one yet.
It has a better floor plan and more storage.
The whole idea is to have a useable vehicle if the camper is removed.
I would like a flatbed Four Wheel Camper Grandby on my 1999 Dodge Ram 2500 Cummins. – Stephen Beal
The flatbed has more storage, the option for side door, and a stronger frame.
There are more opportunities and amenities without having to go to a fifth wheel.
I want more storage, and tool boxes under the bed would be great!
I have a friend who has a flatbed F350 now and I tried to talk him into a flatbed camper but he bought a class B instead.  Maybe someday I'll invest in one but now I'm happy with my truck camper. – Jeff Hagberg
If I ever buy another truck camper it would be a flatbed.  The increase in floor space and easier loading is the key, almond with more storage on the truck.
Replacing both the truck and camper would be too costly.  It's not that much of a gain for the difference in cost.
I use my truck/camper combination about three to four months out of the year.  The rest of the time the truck morphs into our second vehicle for getting around town.  Although I would love the extra space and the ability to go far off road, it just isn't practical for us.
The flatbed truck also works well with a traditional truck camper.  It gives you a lot of storage underneath the wings.  I had intended to go this route when I purchased my last truck, but had trouble finding one that has the features we all love in our trucks.  Maybe the big three will improve this as popularity grows. – Thomas Wilson, North Carolina
It certainly would be an advantage for long camping trips to gain the extra storage of the flatbed. Look out Alaska here I come! – Sue Surateaux, Michigan
My reason is that I always take the camper off the truck where ever I go.  I like having the pickup bed to use for other things.  Also in your article I do not see where Toyota trucks get all that great of fuel milage.  Personally when I'm camping I like a big roomy camper.  In my opinion, flatbeds only serve one purpose where pick-ups are used for everything.
My biggest concern would be the much higher center of gravity which I feel would be almost twelve inches higher than my current rig which is plenty high enough.
We have a farm and a flatbed truck is more practical for a lot of our needs, so instead of having two trucks we could have the best of both worlds.
I like the possible layout options.
I use my truck for other things requiring a truck bed.
I would consider it, but I am more interested in using a standard slide-in truck camper with a service/utility body because I'm restoring a vintage truck camper.
A flat bed can be more versatile than a pick up body, and with the campers getting heavier we have to get into cab and chassis trucks which are more suitable for a flat bed.
I would absolutely consider a flatbed truck and camper!  The only problem I see is resale if you choose to sell it down the road.  Truck campers are already hard to sell because they are not as popular.  Another downside is the extra expense of a flatbed modification and fabrication.  The ability to open up the floor plan to use all of the trucks width is very attractive.  Also the ease of getting the camper on and off the truck is a bonus.
Flatbeds raise the camper too high, making it more difficult to handle in windy conditions.  My camper is already high on a regular bed truck, and I wouldn't want it to go higher yet.
Yes, I have and now I own a flatbed truck camper!  A picture of my rig is on the Northstar Truck Campers link on your web page.  My Ute flatbed has removable sides and lots of tie-downs, so it still hauls whatever I need. – Chris Carver
I have been interested in the flatbed option for the extra storage and extra room for a full time experience for me later in life.  I am single and the Tacoma and Four Wheel Camper pop-up, flatbed option is exciting.
I love comforts.  I travel to state and national campgrounds, not off road.  I love my truck camper.  After years of motorhomes and trailers and realize it is probably our last RV.
I would choose a flatbed truck.  They are nice for hauling other things.  The only thing that you give up is the look of a normal truck when it is a flatbed it looks more like a work truck.  – Dave Holler
State Farm requires commercial truck liability insurance on flatbed pickups at much higher cost. Others might also.
If I could easily remove and replace my standard truck bed I'd consider it.  But I use my truck as a pick-up 90% of the time and as a camper only 10% of the time.
I want more storage!  I have an Arctic Fox 990 on a dually now, and would love the under bed storage.
I definitely would.  You can unmount it and pull any style of trailer with it; horse, landscaping, fifth wheel, whatever.
I would consider it, but the big concern I have is being able to use the truck bed for other uses.  I like the option on my present truck camper of being able to take it off and then use the bed of the truck for other hauling type uses.  Plus if I'm going to use the truck for just transportation uses, the gas mileage is higher with the camper off the truck.  Yes, one could install side rails but that is just another task and another expense. Dan McKinnon
It would be easier to load and unload the camper.  When the camper is not loaded, your cargo room is much larger and there is more room in the camper itself.
We rented a Hilux Diesel Toyota motorhome in Australia a few years ago and wondered why they were not available in the United States.  This outfit reminds us of the one we rented which worked very well for off-roading.
It sounds like a really good idea and I quite like the look of the flat deck pickup with the rails on it.  You'll be able to load up more stuff than a standard box as well.  It's win-win! – Paul
I feel that it would expand our enjoyment of truck camping.  I remember the awesome service style beds custom built for truck camping.  This will allow the manufacturers to take their products one step further.
I think it's a fantastic idea, more room and options.  When my 2002 F250 is dead I'm buying a cab and chassis F450 and a Northstar Hero!  It leaves plenty of room to tow a boat, or a trailer with no problems weight wise.  My current set up Lance 845 and F250 is really close on weight when my boat is in tow.
If the truck were diesel and a 4×4, and the camper was removable as they are in regular truck campers, and they had the same amenities, like dry showers and slide outs, I would definitely consider it.  Actually, I would probably prefer it.  My wife and I are planning on buying a truck and camper in two years.  We plan on spending at least five years traveling throughout the United States and Canada.  The more space we can have the better.  At present we're planning on buying a four season triple slide.  Chalet seems the most promising as they have the least customer complaints.  We were considering Lance but we have heard so many complaints that we have ruled them out.  Eagle Cap also is being considered.
There's more exterior storage.
Don't forget about XP campers, remember OEX.  It's very popular abroad, and I'm kind of surprised that it's taken this long to surface in the states.  From a space perspective, yes, you get more in both the coach and storage below.  As well it permits you to move the door to the side and keep it clean from the low-pressure area in back of the vehicle.  Also you can put a slide-out tray under the back as well no swing-out rear storage.  I think you could do a side door on a utility box mount.  The downsides are that the center of gravity is about six inches higher as the bed has to clear the tires, the resale could be tricky as you don't have a stock pickup, it will be less stealthy for boondocking in urban areas, and they look more like a clumsy motorhome and you may get dispatched to the long motorhome line or parking far from the event." – Mitch
It would be good for me as I am planning on putting a flatbed on my truck anyways.  I have a 1993 Dodge W250 with the Cummings engine and a 1987 Vacationeer truck camper.  The Dodge and truck camper both work great but I would like a lighter and smaller profile truck camper.  It's nice having a king size bed but since I am usually by myself it a little overkill.
I would want it only if it could be registered as a RV.
A flatbed has better stability, more interior room, and solid camper-to-truck connection.
There is extra space and flexibility in the layout.  I would also think a box structure to be stronger than the zig-zag layout required by a typical pick-up bed.  I have used pick-up campers for more than twenty-five years.  While I do like having access to the pickup bed when needed, now that I am retired and plan to spend much more time on the road, the idea of a flatbed for my next rig is inviting. – Bill B. Peters
I'm thinking a little higher up the GVW chain into a medium-duty truck, like an International or Freightliner business class with a decent-sized flatbed unit.  Maybe it would be 12' or so in floor length, with a cabover bed.
A flatbed is more versatile.
Absolutely, there's more space in the camper!
It was actually my very first choice for a truck camper, but they weren't making them back then. Now, I'm trying to save enough money for a whole rig.
Enthusiastically!
A flatbed camper would let me stay off the grid longer and in better comfort.
It just makes sense.  A truck and camper can be separated.  You can use your truck and go camping when time permits.  A flatbed offers more floor space for unique camper designs.  I was considering mounting my travel trailer to a flatbed truck.  This might be a better idea.
My dear wife and I have a Ford F350, four door, single rear wheel.  Our two daschounds have the back seat so it would help us gain storage. – Reggie and Debbie Savannah, Tennessee
There would be more camper room, same flexibility of truck camper (you can tow!).  Though I think I'd go dually.
More storage would be available with a flatbed for extended boondocking trips.  – Chris West
I see it as being a more functional use of the truck with different options available with the camper off or on the truck.  It definitely frees up more space for the truck camper designer.  The new truck beds are so high now (for some reason) that it makes it difficult to use today's standard truck beds.
Yes I would want one because of the extra floorspace. – Larry
As an owner of an F350 long box, dual rear wheel, four wheel drive truck that I use for hauling my Eagle Cap 850, I would love to have the flatbed and a camper set up.  It's the best of both worlds. – Bill VanderSys, Washington
I think the flatbed design makes much more sense than a standard pickup design.  Pickup beds force compromises in the floorplan and in the amount of storage available.  I would gladly swap my pickup bed for a flatbed at a local truck supplier in order to get a larger camper on a pickup footprint.
Overlanding flatbed has great ground clearance, storage box options underneath, and much better room inside as well.
The roominess would be attractive and I like the idea of using the flatbed with rails like a regular pickup bed.  It's a very interesting concept!
I'd consider a flatbed truck and camper for a couple of reasons.  First, the additional space of a flatbed camper over a standard camper.  Second, the ability to still use the flatbed truck with the camper removed. – Mac Nason
I have considered a flatbed for the last seven years.  You lose a lot of space with a stock bed.  You could mount boxes underneath and utilize the area under the sides for storage and such.  The only thing stopping me is the cost.  Maybe some day. – Peter Wood, Alabama
It's a more efficient footprint.  My desire is to live full-time in a truck camper for about four to five years and visit every state of the union and every Canadian province.  This would be a more ideal method.
There is more floor space and a side entrance. – Gene Benson
Back in the 1970s, my dad built a flatbed with removable utility storage boxes on a Chevy 3500 cab and chassis.  He took the cattle bed off the truck when he bought it and worked with a buddy to fabricate the flatbed.  Once the bed and boxes were done, he loaded our pickup camper on it, cutting a hole for the sewer drain to go into a bottom storage bay.  Back then there were no dual rear wheel trucks, so that was the only way to get a big camper on a one ton truck.  He also put a bigger motor in the truck to better handle the camper.  Sharp guy, my dad!  He was way ahead of his time.
I like a flatbed because of the ease of loading and usable space in place of the beds sidewalls.  Without the sidewalls blocking access you can technically reach all areas of the camper.  The downside for my wife would be the work truck look and inability to shelter cargo from the elements when not camping.  How about a removable shell that loads like a camper for around town? – Gregory Himes, Washington
I already have one.  We talked with Rex Willett of Northstar campers.  We already had the flatbed and were considering a Hero, but they had none to look at in person and none were scheduled for the assembly line for awhile.  We wanted a truck camper soon.  Rex suggested putting storage boxes on a Northstar Arrow.  Wow what storage!  We have twice the storage, and the Arrow with the bench seat is very roomy inside.  There's enough room for four adults to sit comfortably.  Most dinettes only sit two comfortably.  He suggested this as an option to the Hero for another reason, which is resale in the future.  I would have to find a small number of flatbed users that wanted a truck camper.  Everyone has a box truck so for resale that made sense for us.  The storage boxes come right off.  They are bolted on, and look like factory made specific. Aluminum diamond plating with two big doors preside with outdoor and inside lighting.  With the flatbed I've welded extra receivers on the rear of the truck to put a grill and burner set, and really nice steps for entry.  I don't have to put them in storage and they don't take up more space.  We can still use the center receiver to tow a trailer if wanted. – Doug Baughman, from the Midwest
Truly the best of both worlds is what I see.  I have never owned a truck camper.  I am really looking to buy one.
I would consider it, but I would miss the traditional bed.