This week's Question of the Week was, "What are your favorite Canadian truck camping routes and destinations?"  Readers share their favorite truck camping destinations in Canada.  The Canadian Rockies, Vancouver Island, and the Trans Canada Highway top the list.
"We like the West Coast of Vancouver Island, especially the Tofino area." – Jim Goodrich, 2006 Chevy 3500, 2008 Lance 1191
"I like the Scotch Creek Provincial Campground on the northwest shore of Shuswap Lake, British Columbia, north of Highway 1." – Iain Petrie, 2014 Ram 3500, 2014 Arctic Fox 996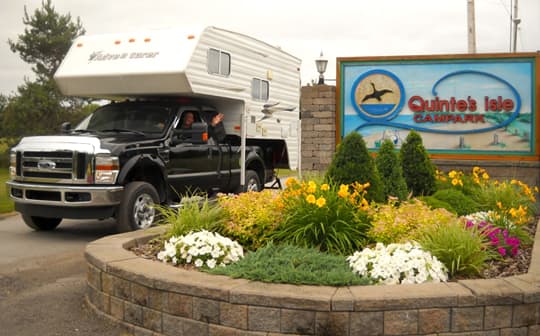 "We go to 1,000 Islands, Ontario, Canada, or Sandbanks, Ontario, Quinte's Isle Campark." – Denise Hupé, 2010 Ford F250, 2004 Adventurer 810WS
"Every couple of years we go to Kenora, Ontario for a rowing regatta.  The Kenora area is a great place to explore on its own.  We always spend a night at Rushing River Provincial Park just south of Kenora.  It is a beautiful place." – Dave Miller, 2012 Ford F350, 2003 Bigfoot 10.6E or custom Spacekap Classic
"My favorite route from the United States to Canada is through Montana into Alberta at Chief Mountain.  It is a small checkpoint and much faster to get through than the one at Sweetgrass/Couts.
My favorite campground would be Watertown Townsite in Waterton/Glacier National Park.  You can bike to the village and rent canoes on the lake.  My second favorite campsite would be in Banff at Tunnel Mountain.  The Tunnel Village has full service sites.  There is much to see there.  Just visit the Welcome Center.
Lastly, I would say that any of the national park campgrounds in Jasper via the Icefield Parkway are wonderful places to camp." – June Morrissey, 2011 Ford F350, 2012 Lance 850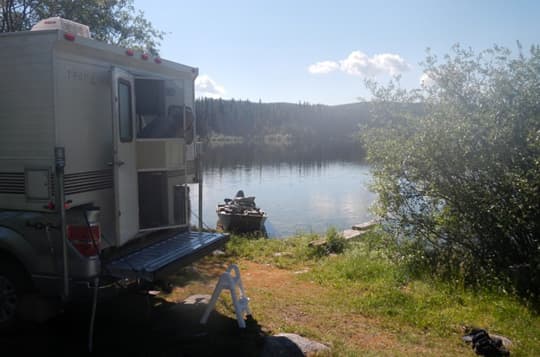 "I like the southern and central interior of British Columbia including high mountain lakes (too many to list) and the Thompson River." – Ken Woodward, 2012 Ford F150, 1994 Trav-L-Mate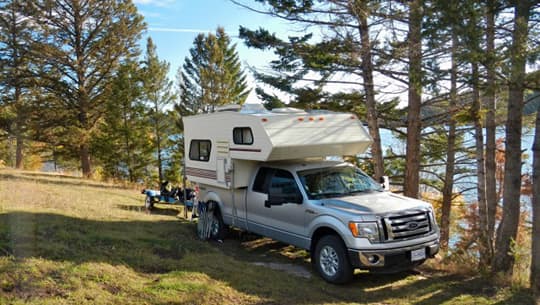 "The Pacific Rim Highway from Parksville, British Columbia to Tofino, British Columbia has great scenery.  The highway can be a bit narrow, so watch for the tight turns.
Bamfield Road out of Port Alberni, British Columbia to the Bamfield Marine Research Facility also has great scenery and the research facility will take you on a tour if you are interested.  This is a gravel road that could be maintained more than it is.
Highway 97 south from Vernon, British Columbia through Osoyoos, British Columbia.  In July and August, the weather will be dry and hot, but there is lots of cool water to go swimming anywhere.  There are lots of wineries as well.
The Trans Canada Highway from Kenora, Ontrario, through to almost Toronto.  The Great Lakes are beautiful with lots of campsites, and even the Walmarts and truck stops are RV friendly." – Bruce Neumann, 2006 Dodge Ram 3500, 2008 Okanagan 9.6DB
"My favorite place isn't a route or campground, but how to create my own Canadian road closure.  I've traveled coast-to-coast in Canada spending nearly a year on holiday in Canada. Okay, back to the road closure. Simply pull to the side of the road with your truck camper or any RV and raise the hood.  Soon traffic in both directions will be stopping to help you.  Thus creating your personal road closure.  Canadians are wonderful people." – Ernie Leet, 2006 Ford F250, 1999 Bigfoot 10.5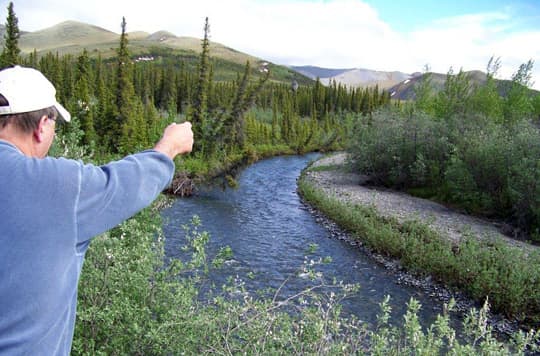 "The Dempster Highway is spectacular for many reasons; the completely varied landscape from mountainous to wide open plains, treed areas, and no trees at all.  Native flowers literally carpeted each side of the road in early June when we were there, like grape-colored alpine lupines, fuschia vetch, and golden buttercups, as well as wild animals of every kind.  Delicate butterflies landed on us when we were quiet.  The people and communities were lovely all on their own.  The trip from Dawson to Tuk was amazing." – Dennis Sherratt, Dodge Ram 3500, 2014 Northern Lite 10′ 2″ CD SE
"We live in Montana and we like going to Meadow Lake Provincial Park in Saskatchewan for fishing and camping by a beautiful lake.  We are able to take our boat and kayaks and enjoy the beautiful northern forests." – Ed and Helen Amberg, 2011 Ford F250, Adventurer 80SK
"I like the trip up the inside passage on Alaskan ferries with several stops, and the trip around Lake Superior." – Craig Brooks, 2012 Chevy 3500, 2008 Lance 830
"I've got the TransLabrador loop on my bucket list.  I'd also like to drive the Canol Road.  The Canol is an off-roading dream come true, at least the north end of it.  There's nothing like driving several hundred miles of gravel roads that are only maintained in the summer.  The bridges sometimes get washed out.  Sounds like fun." – Blake Hooper, none, none
"I love all of Canada, but it is so vast and my vacation time is limited.  My top two picks are the Cabot Trail in Nova Scotia and the area around Banff, Alberta.  I hope to travel more of Canada and find new favorites." – Rickey, 2008 Dodge Ram, current owner of a travel trailer, but I want a truck camper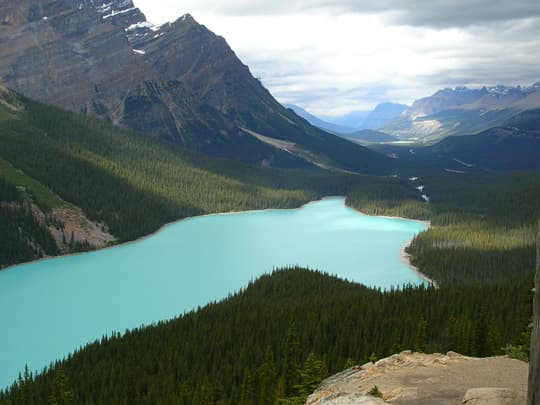 "We really enjoyed traveling through the Canadian Rockies.  We traveled through Banff and Jasper National Parks going on lots of hikes with beautiful waterfalls.  The mountains are magnificent and the turquoise colored lakes, like Peyto Lake (above), are stunning!"  – Angela White, 2013 Chevy Silverado 3500, 2014 Northstar 8.5 Arrow U