Over three dozen readers shared their experiences and CPAP solutions with sleep apnea and CPAP machines, to go.  Here are their CPAP machine brands, models, and off-grid power solutions.  Does a CPAP machine stop truck campers?  No way.
This week's Question of the Week was, "If you use a CPAP machine, how have you been able to take it with you while truck camping?"
"I have a ResMed S3.  They make a 12-volt power supply for this unit.  I run a separate power inverter to power it off the camper's battery." – Steven Sternberg, 2013 Silverado 2500HD, 2012 Palomino Maverick
"I was diagnosed with sleep apnea about a year ago.  Luckily one of my wife's best friends runs a sleep clinic.  She prescribed the ResMed AirSense 10.  It has a humidifier as well.  I have been using this unit since January of this year.
My camper has two 12-volt batteries.  If the batteries are full, from either being plugged in, driving, or the generator, I can run the CPAP machine through a converter all night with humidifier and heated hose.
We rarely use campsites.  When we park for the night, I will set up our generator, but leave it off.  If the camper batteries deplete enough during the night, the converter will let out a high pitched squeal.  No one can sleep through that, plus I lose air to the mask.  When that happens, I quickly start the generator and let it run the rest of the night.
I have the Champion 3100 Watt Inverter from Costco.  I have actually been contemplating the purchase of a generator for several years, but the CPAP machine prompted me to get one." – Bruce Neumann, 2006 Dodge Ram 3500, 2008 Okanagan 96DS
"With 12v/24vdc available by generator in the camper, we have no problems.  Most CPAP/APAP machines are 12 volt with a brick power supply.  You can get a battery clamp plug that you swap for the AC plug and run the unit off 12-volts.  A good battery can power a 12 volt CPAP for five to eight days of eight hour usage.  Some of the newer CPAP/APAP machines are 24VDC and require a different setup.
The battery should be maintained by multi-stage charger when not in use.  I recommend gel or glass mat (AGM) batteries so there is no acid to spill.  To save power, most units have the option to turn off the heated humidifier and use an inline HME humidifier filter to capture you breath moisture and return it to you." – Robert McGrath
"I use the ResMed AirSense 10 Elite.  I just got my machine mid-summer and have used it perhaps three weeks, about half the time on shore power.
When I was not on shore power, I used a small 100 watt inverter in my truck and fed the machine with a light extension cord through the cabover window.  To reduce the power consumption for my inverter, and to reduce battery drain, I selected the humidifier heater "off" in the machine settings.
I have since purchased a 3000 watt inverter and will probably install it in the camper over the winter.  The output is the less desirable modified sine wave rather than the true sine wave that basically replicates AC shore power wave form.  The other thing I am looking at is adding a second battery to the camper.  While the batteries would be in parallel I might also add a series connection dedicated to the CPAP.  The power input to the CPAP from the converter with the unit is in the order of 22 VDC." – Jim Elliott, 2008 F250, 2015 Palomino M8801
"I have a ResMed S9.  I purchased a 12 volt adapter, which was under $100.  The draw is very low.  I have been able to use the CPAP even when the battery has been on the low side.  I will not travel with out it." – Matt Wiegand, 2014 Ford F150, 2015 Palomino SS-1251
"My wife's CPAP machine can be powered from either AC or DC.  I also installed a 1500 watt inverter to convert DC to AC." – Carl Mutschler, 2005 Dodge 3500, 2005 Lance 1181 Max
"My husband uses a CPAP machine.  I'm not sure of make and model, but he has no issues setting it up and plugging it in.  It just plugs into a regular outlet, which is in the camper.  He sleeps on the outer portion of the bed so there are no issues with the tubing coming from the machine.  It's a non-issue for us." – Selena Jones, 2013 Tundra, 2007 Sunlite
"I have a ResMed S8 that I just keep in the camper.  I run it through a Tripp Lite 150 watt inverter with no fan, so it draws less power.
We have a factory or dealer installed 85 watt solar panel and a group 31XT Lifeline battery.  We took a one month trip this last summer and dry camped for a week in Idaho with no problems, even running the Fantastic Fan during the day.  I think that having a good battery is an important part of the whole system." – Chuck Currie, 1995 Ford F250, 2009 Lance 815
"I have a RemStar C-Plus with humidifier.  For the rare occasion we don't have shore power available, we use a 300 watt inverter for the CPAP.  There is a 12 volt power cord available for the RemStar which would likely reduce the battery drain.
Since we rarely use the CPAP on battery, we have not found battery drain to be a problem.  The camper has two group 24 deep cycle batteries and a 2500 watt generator.  The batteries have had no problem powering the CPAP machine for the night." – Bill and Sue Billyard, 2000 Dodge Ram 3500, 2008 Palomino Winter Creek 115RS
"I use a ResMed S9 with a HS1 humidifier.  I bought the 12 volt power supply and had a 12 volt outlet installed up by the bed.  It runs off the battery so no generator is necessary.  It works just like I'm at home and keeps the wife happy." – Dave Padgen, 2010 Toyota Tundra, 2010 Lance 825
"I use a ResMed S9 auto set with humidifier.  I'm very sensitive about clean power for my electronics, almost to the point of being obsessed.  I installed a Zamp CPAP Power System.  This is a 600 watt pure sine wave inverter.  I also use it to charge my phone and laptop." – Dan Walinsky, 2012 Ford F350, 2015 Arctic Fox 990
"My CPAP machine uses DC.  I have to use a 110 to 12 volt transformer at home.  My pocket sized jump starter/charger had the adapter to fit my machine's plug.  It's the same size as my Dell laptop power port.  I use the 12 volt power port for the supply to my machine. It works great, even when dry camping.  Just read the label on your machine!" – Jason Miller, 1999 Ford F250, 2014 Arctic Fox 990
"I don't use a CPAP, but my son does.  When he goes camping with us, we use my Honda EU2000i generator on Eco-throttle.  It runs all night and uses about one gallon of gas.  We do not camp in campgrounds typically, so a generator running all night is not an issue." – Steve Standefer, 1996 Dodge Ram 2500, 2009 Outfitter
"Many CPAPs are dual power.  Mine works via 12 volt as well as 110.  I also use a deep cycle battery with an inverter.  I purchased two solar panels that trickle charge the battery.  I do not suggest using your vehicle's battery as this can drain the power." – Robert Byrne, 2014 Ram 1500, 2015 Runaway Slider
"I use a Philip RemStar, model 560P.  I told my HMO that whatever CPAP they provided had to run on 12V in an RV and this is what they chose.  I paid about $30 extra for a shielded DC cord specific to this model of machine.
One night I experimented by running the CPAP using its 110 volt regular cord and a 100 watt Duracell inverter, and it worked fine.  This is not very efficient electrically, since it takes 12 volt, makes 110 volt, and then the cord block makes 12 volt again, but it is an option.
My camper has no generator, no solar, and two 6 volt AGM batteries with a capacity of 220 amp hours.  Nearly all of my camping is dry camping and the batteries recharge when I drive.  The truck has a heavy-duty alternator.  This suits my usual style of not staying in one place very long.  I monitor the batteries with a small digital meter which plugs into the 12 volt socket.
Pre-CPAP, I did not know batteries should not be drawn down below 50%, which means that I have about 110 amp hours available.  On a recent trip, I spent four nights in one place, deliberately conserving on water pump use in order to have those amp hours available for the CPAP. The batteries still had a 70% charge after four nights.
My machine has a heated humidifier.  One way to conserve amp hours is to run it without the humidifier, but I do not find that acceptable.  My throat gets too dry.  Your needs may vary.  Also, I don't have a heated hose.  One of those would draw more current.
The 12 volt cord is about 6-feet long, so it requires an outlet fairly close to the bed.  There also needs to be a place near the bed for the machine itself; the hose which runs from machine to mask is also about 6-feet long.  Camper designers would do well to keep this in mind." – Karen Smith, 2006 Chevrolet Silverado 2500 HD, Tiger CX motorhome
"I use an AEIOMed Everest CPAP unit (100382), which cost $610.  This unit runs on 110 volt with AC power adapter, 12 volt with different mobile Power Adapter (100394) and came with one battery.
While traveling, I charge the batteries using the AEIOMed battery charger assembly (100417) and my 12 volt plug from the vehicle to charge my two batteries for the next night's sleep.  Each battery lasts up to five hours.  I have two batteries.
I wake up when one runs out of power and just replace it with the other battery and continue sleeping.  The unit also runs on 115 volt using the power supply (100393) and charges the batteries.
It has a variable setting for different levels and has a ramp up program to start slow and then rises to the required pressure.  You or a technician can set the required level and ramp up.
I purchased this unit thirteen years ago and since then, they have stopped making the unit.  So finding replacement parts turns into a real challenge.  I am currently looking for a AEIOMed Everest AC Power Supply and Cord.  Please let me know if anyone knows where I can find one.  The machine still works on 12 volt and can still charge the batteries." – Clifford Cizan, 2010 Ram 3500, 2013 Arctic Fox 1150
"Until now, I needed shore power for my old CPAP machine.  I now have a brand new unit that runs of 110 or 12 volt.  I was told that by turning off the water heater, and plugging into the 12 volt outlet, it should last a few nights on the camper's batteries. They also recommended getting a small solar charger for helping recharging the camper battery in the day.  My machine is new, so I haven't yet tried the new arrangement out." – Jesse Taylor, 2006 GMC 2500HD, 2005 Lance 815
"My wife and I both use CPAP machines and we take them with us wherever we go, on the boat, and in the camper.  We use Respironics CPAPs with humidifiers.  The Respironics can be powered by 12 volt and there are cables that you can buy from Respironics that can be plugged into cigarette lighter plugs.
I have installed both 12 volt and 120 volts in the sleeping compartments of the boat and camper so we can use either source to keep us slumbering away.  If we are not plugged in to shore power, we do not use the humidifier heater.  This avoids depleting the one battery we have in the camper." – Tom Surles, 2008 Ford F250, 2003 Northstar 850SC
"I got a CPAP machine in May and I use it with a 12 volt power supply instead the 110 volt.  My camper has two 6 volt Trojan T105 golf cart batteries and the machine still works even when the voltage drops below 10 volts.  It is absolutely no problem at all, and I live in my camper full-time.  In case the RV batteries aren't strong enough, they recommend to buying one of those portable power packs with a built-in battery and 110 volt inverter.  I am using a ResMed machine." – MP, 2009 Sterling Bullet, 2008 Okanagan 96 DB
"When I first started using a CPAP machine, I used a single group 24 battery, a 300 watt inverter and a ICON Premo CPAP machine without the heater (on airplane mode).  It would work for two nights without having to re-charge the battery.
Now with the camper, power has not been a problem with two group 24 batteries and a 95 watt solar panel.  The 300 watt inverter draws extra power due to the fan, which also adds an extra level of noise, so I purchased a second CPAP machine for travel that allows me to eliminate the inverter.  I still do not use the heat function, but the IntelliPAP travel CPAP machine can run on either 110 volt or 12 volt power with the optional 12 volt cord, so the inverter is no longer needed.
We have yet to camp for more than a few nights without hook-ups, so I can't address how long this 12 volt setup might last before we would need to bring along our portable generator." – Greg Chambers, 2015 GMC 3500, 2015 Lance 855s
"A friend we camp with has one and he uses his Honda EU3000i to power it.  He has the external gas tank kit so it can run all night.  We always boondock, so there are no generator hours to worry about.  This set-up wouldn't work in a campground without shore power.  I'll be interested to see the responses as I am looking for a power source for my laptop when off grid." – Chuck Johnson, 2006 Ford F350, 2008 Okanagan 10.6
"I have a Repironics.  I have used it with the Honda 2000 generator, but leave the generator home for the most part.  I would like to run solar, two AGM batteries, and an inverter in the future." – Winston Gotte, 2003 GMC Sierra 2500, 2015 Four Wheel Hawk
"I have successfully operated my CPAP for about ten years in my RVs.  My CPAP is a Respironics System One, IP22, Ref 561CA.
This unit runs on 110 volt or 12 volt.  The manufacturer makes two power supply units, one for 110 volt and the other for 12 volt.  The name plate says that it's made in USA.
When the camper is plugged into shore power, I use the 110 volt adapter.  When not on shore power, I use the 12 volt adapter that plugs into an ordinary cigarette lighter plug.  The 12 volt operation comes with a manufacturer's warning about the quality of DC required.  The CPAP contains sensitive electronic parts that do not like the ripple on the DC from battery chargers, and auto alternators.
In my camper I have both 110 volt and a special 12 volt plug I installed for the CPAP in the bunk area.  The special plug is on a dedicated feed directly from the battery using 8 guage wire to get the smoothest DC possible and minimize voltage fluctuations from other electrical loads going on and off.  I have run the CPAP from the 12 volt television plug successfully, but that plug is subject to more voltage fluctuation caused by other loads and the voltage drops in the camper wiring system.  It's not as good for the CPAP as a dedicated feed.
I regularly dry camp for three or four days and the batteries still show full.  I have two 230 AH 6 volt batteries and a 160 watt solar panel.  I could go indefinitely if the sun shines.
The manufacturer recommends using an isolated battery, but with the lack of room in a camper, charging and venting are solved using the camper's batteries.  This is the fourth RV I have successfully rigged for a CPAP." – John Hallett, 2011 Dodge 3500, 2014 Bigfoot 25C96
"I've been using a CPAP machine for years.  As a retired medical scientist who has studied sleep medicine at the graduate level, I can tell you that these things can have a tremendously positive impact on your health, as it has on mine.  I own two CPAP machines, a larger one that lives at home on my bedside table, and another portable XT Fit unit, available online for about $200, that lives in my truck camper.
To save power, I do not use the humidifier attachment that is available for the portable unit.  The humidifiers in CPAP machines work by heating a reservoir of water to a fairly warm temperature, and they then pass the breathing air over the warm water to humidify it and prevent the drying of your throat during the night.  I haven't measured the power consumption with versus without the humidifiers running, but I just assumed that running a 110 volt electrical heating element all night on batteries wouldn't make a lot of sense, so I don't do it.  As a practical matter, humidification is most important and necessary for comfort when CPAPs are used in dry winter air.  Most camping is done during more humid, warmer times of the year.
I drive the CPAP using a 300 watt inverter plugged into my 12 volt outlet in the camper, which in turn is fed by two Group 27 12 volt Interstate deep cycle batteries.  I have had absolutely no problem running the CPAP for eight straight hours overnight for several nights in a row while boondocking without needing a battery recharge.  Again, this is without the humidifier accessory attached.  Given my history with the unit, I suspect a single battery may even be sufficient for at least one full night's sleep.
The bottom line is to buy a portable CPAP unit online.  This should be cheaper than the main unit your doctor or hospital will supply for you through your insurer and/or home health care company.  Have the unit set by the shipper to the prescribed pressure set by your sleep physician (specified in centimeters of pressure in water height).  Actually, you may need to have that prescription provided directly to the supplier by your doctor anyway to comply with applicable laws.
Can you just take your tabletop home CPAP unit with you in the truck?  I don't know.  Mine is too big and inconvenient for me to carry around, so I've never tried it.  Also, my large home Respironics unit has the humidifier unit fully self-contained, and I'm not sure how effectively I could shut that off." – Reed Prior, 2007 GMC 2500 HD, 2000 Travel Lite
"I don't use a CPAP, but my wife does.  She has four different machines to chose from as our insurance replaces them every other year.  The one we use in our travels is a 110 volt and 12 volt model.  The unit name is Philips Respironics RemStar Model 200M.
When we are in a campground she uses it on AC, but when we dry camp we have a Lithium Ion battery.  The battery is very small and it will run her CPAP for two and a half days without being recharged.  Then when we drive we just plug the battery into the truck's 12 volt outlet and charge it while driving.
At that time we had a 2012 Northern Lite 10-2 CD Special Edition.   We took the unit to Alaska with us two years ago.  They have different models now as this is an older unit.
The lithium ion battery was not cheap at $259.99 dollars, but when you look at what it does it is worth it.  We purchased the battery at CPAP Battery, Inc." – Butch Evaans, 2015 Winnebago View 24V, still a truck camper at heart
"I have a ResMed S9 Autoset, and my wife has a Resmed S9 Escape.  Resmed sells a 12 volt plug for the units.  They were about $150 each.  We run them without the humidity thing, which would use a lot more electricity.  It works fine.  They do run the battery down, which is why are adding 300 watts of solar panels." – David Bybee, 2004 Dodge Ram, 1998 Alaskan
"I use a Respironics using the 12 volt line cord." – Hudson Sturm, 2012 Toyota Tundra, Cirrus
"When I started Medicare, I was able to receive a second CPAP.  The machine is 12 volt with a 110/12 volt power block.  The manufacturer's 12 volt cigarette lighter cord needs no block and you can use your camper's battery.  They also sell a unit specific battery.  It stays in a square corner I cut out of the mattress in the camper.  Power consumption is minimal if you remove the detachable humidifier." – Tom Rives, 2000 Dodgers Dakota, 2013 Phoenix
"My wife, Julie, was diagnosed with sleep apnea several years ago and has to use a CPAP to get a good night's sleep.  Powering the CPAP machine while off-the-grid was simple enough.  I installed a 12 volt power socket up near the bed and mounted a 12 volt DC to 120 volt AC converter by the power socket.  It has never been a problem powering the CPAP machine all these years.
I would make a suggestion that people buy a good quality converter and make sure it has a cooling fan.  Our last converter was bought at Sears, 12 volt to 120 for 400 watts.  My wife's CPAP machine is a Fisher & Paykel model SleepStyle 200, which is a very compact machine." – Alex Blasingame, 2007 Ford F250, 2002 Lance 815
"I have a Philips RemStar Pro System One.  I have used a CPAP machine for over five years and have been camping in a truck camper for three years, for about six months a year.
The first thing that I did after getting my CPAP machine was to order a 12 volt adapter, which is about $36.  But our new camper didn't have a 12 volt outlet near the headboard, so I added a 12 volt outlet and mounted the CPAP unit on the wall by my side of the bed.
We generally dry camp 70 percent of the time with hookups about every fifth day to dump and to fully recharge.  The CPAP uses about 12 to 14 amp hours a night so our solar replaces the nightly power usage when we are dry camping.
I have never used the humidifier available for the CPAP because it increases the daily maintenance requirements and is a pain in the neck.  Using the humidifier would also increase the nightly power usage.  The cool nights would just cause increased condensation in the hose and the water would be a problem anyway." – Russell Berquam, 2014 Ford F350, 2015 Arctic Fox 1140
"I used to use a CPAP in my camper, which is equipped with two 6 volt batteries.  I plugged a 1000 watt inverter from Canadian Tire into the cigarette-lighter-style 12 volt plug inside the camper, and ran the CPAP from it.  I found that the batteries would normally last through the night without a problem, but it did run the batteries down substantially.  I relied on a 130 watt solar panel or the built-in generator to recharge daily.
The worst problem was that the inverter had a warning alarm that would go off when the voltage dropped below a certain threshold, which was a rude awakening in the middle of the night.  Fortunately for me, I discovered that I could successfully use a dental device for my apnea, so no more lugging a CPAP on the road!" – Cliff Richard, 2015 Ford F350, 2012 Adventurer 86SBS
"Most CPAP machines have a 12 volt adapter.  I installed a cigarette lighter socket at the head of the bed.  In the camper I run it off a 12 volt deep cycle battery for a week with no problems.  My machine is a Restronics." – Don Carter, 2008 Dodge 3500, 2010 Adventurer
"I have 151 nights of stealth camping in the last three years on this rig, some of it down to -20 C.  Every night I've used a ResMed CPAP machine for eight to nine hours.  I carry a EU2000i Honda generator, along with the largest Interstate gel coach battery available.
In cold weather when the furnace runs a lot, I run the ultra quiet Honda generator all night long for the cost of a gallon of gas.  When it's warmer, the battery runs the CPAP for eight to nine hours with the help of a 300 watt inverter.  An added bonus is that, when running the generator, we have power in the morning for the toaster and the microwave!  This is what works for us." – Ralph Pilkington, 1997 Ford 250, 1999 Lance 1030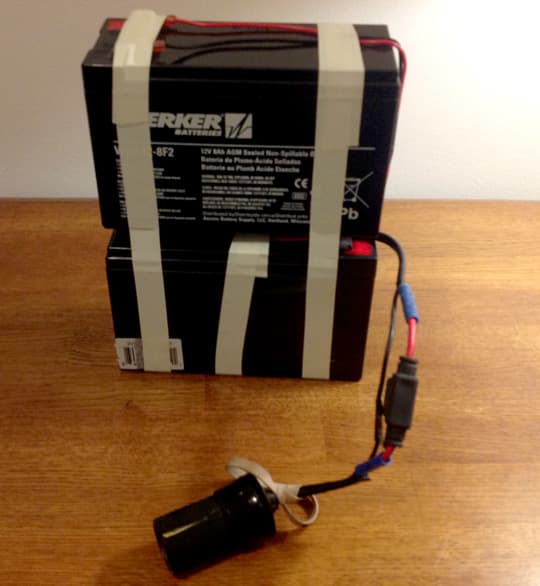 Above: Two Werker batteries (WKA12-8F2) connected them in series
"My wife has had sleep apnea for many years.  During that time we have dry camped traveling across Canada as well as the United States.  We have also used the machine while canoe camping.  Once we experienced night time temperatures as low as minus 18C on the North Thompson River.
To power the machine I purchased two Werker batteries (WKA12-8F2) and connected them in series.  Each battery is a 12 volt 8Ah AGM sealed non spill-able battery.
We have used this combination extensively in our travels.  Fully charged, they will last up to three nights, even when very cold.  When traveling we connect the batteries to the truck charging system via a small 450 watt inverter.  When dry camping for several days, we will connect them to a small 1000 watt generator until charged." – Konrad Johansen, 2000 Dodge 3500, 2007 Northern Lite Special Edition
"I have a Respironics BiPap Auto M Series.  With this model you can order a 12 volt conversion power cord.  Install a 12 volt receptacle from your battery to your sleeping area, plug in your adaptor cord and you are good to go.
I have dual batteries, so there is plenty battery power to get through the night.  I have used my BiPap for eight years now, and I am sure the newer models have less energy use.  Make sure you get some extra fuses for the power cord." – Mick Vancas, 2012 Chevy Silverado 2500HD, 2013 Lance 855s
"I have a ResMed Vpap Auto S9.  I have used a Interstate SRM29 deep cycle battery with the ResMed DC adapter cord for four days.  I also have a 15 watt solar panel to keep the battery up.  I also have a ResMed lithium battery pack from the VA to power up in an emergency." – Mike Johnson, 1986 Chevy K30, 1987 Four Wheel Camper Keystone
"We use a Honda EU2000i generator to power the CPAP and other small electronics.  This works better for us than a built in generator as it's much quieter and doesn't use up expensive propane." – Walt and Susan Bowen, 2007 Chevrolet 2500HD Diesel, 2009 Northern Lite 8-11
"I don't use a CPAP, but I do follow a lot of threads on various forms on camping with CPAP machines.  My understanding is that most of the CPAP machines use one of those wall wart plugs, usually reducing 110 down to a lower voltage.  Look at your machine for power input and consumption.  If it indicates 12 volt dc, you're in luck.  Another new item I ran across is a micro-CPAP by Airing which sounds very promising.  See these websites" – Lanny Vrooman, 2009 Dodge Ram 3500, 2005 Lance 1161
"I don't use a CPAP, but was given an opportunity to use an oral appliance, which is like a mouth guard.  It has been proven to work in mild to moderate cases of sleep apnea, and I understand the military uses them.  I highly recommend this device if it can work for you.  No power is required.  Check with your doctor.  Mine referred me to a CPAP and only agreed to oral device after I asked about it." – John Ryder, 2006 Chevy 3500, 2015 Bigfoot c15 9.5
"I use a ResMed S9 with the H5i humidifier, set to one, with a ResMed 12 volt power cord.  I connect into an Exide 72 AHr AGM battery with a 144 watt solar panel.  The battery voltage drops by about 0.3V per night, but the solar panel recovers it.  I have also used a 35 Ahr AGM without recharging and I can go nearly a week before I deplete it." – Paul Nystrom, 2006 Toyota Tundra, 2014 Four Wheel Camper Hawk Shell
"I have two machines.  One is for camping and one is for home.  Both have DC power cords available.  In my house I have a ResMed which uses AC, but a 24 volt adapter is available.  For the truck camper, I have an older Respironics with a 12 volt adapter, and I have the 110 volt power cord for use when hooked to AC.  There are no problems running on the two house batteries when dry camping.  I can't live without them!" – AJ Riley, 2004 Dodge 2500, 2008 Northstar 8.5 Arrow
"I take a CPAP machine on all camping trips, including a back-up.  Both have a 12 volt adapter and both machines have a humidifier.  We have two AGM batteries, 100 watt solar on the roof and a portable 80 watt panel that we have used just a few times.  We are very careful about how we use the lights and furnace when we camp without shore power.  So far we have never run our batteries anywhere near the danger zone." – John Dorrer, 2013 Ford F250, 2014 Four Wheel Camper Grandby
"My wife uses a ResMed AirSense 10 with a heated hose.  I use a Philips Respironics System One 60 Series.  We both have 12 volt adapters for our units.
We have two 12 volt batteries in our camper.  While dry camping I have run the generator for twenty minutes in the middle of the night to charge the batteries." – Roger DeVries, 2011 GMC Sierra 3500HD, 2014 Lance 992
"Fortunately I don't have to wear a CPAP.  However, I am a registered nurse and deal with CPAP machines for our patients on a nightly basis.  It also happens that I was the resident electrical expert working for a large RV manufacturer before attending nursing school.
Some CPAPs do run strictly on 120 volts AC current.  However, some machines are actually 9-18 volt DC units that use a transformer to provide low volt DC power from an AC outlet.  If one's CPAP is strictly an AC 120 volt model, a 600-800 watt power inverter may do the job.
Inverters normally require a significant amount of power to operate.  However, with a low power drawing appliance such as a CPAP, the power use will match the power draw from a 12 volt battery.
We routinely camp on a floating cabin on the lake near our home.  The house has a generator.  However, we also use an inverter at times to power things such as the DVD/TV combo that the grandkids watch movies on.  It is an older model that requires 120 volts AC to operate.  On rainy days, this thing is a life saver!
Several times we have played the DVD/TV off of the inverter for 8-12 hours from the Group 24 trolling motor battery from our bass boat.  The battery still had enough charge left to run the trolling motor the next day.  There is no reason that an inverter will not power a CPAP for the night, especially if one is using a HD deep cycle battery.
For CPAPs that run off of a 120 volt transformer, there are 12 volt cords available that one can plug into a 12 volt outlet and power the CPAP directly.  If one's CPAP does not require 120 volts, there is no reason to use an inverter which will require more electricity to operate then a direct 12-volt power connection.
To use this option the owner needs to look at the power requirements on the CPAP.  If it is 9-18 volts, it will run on 12 volts.  If it is a 12 volt unit, it will also run on a direct cord.  If it is an 18-19 volt unit, than an inverter will be required, as 12 volts will cause the motor to pull more amperage at a lower voltage and will overheat the motor.  The cords are available at electronic supply stores, Amazon, and E-bay.  Maybe there is some information here that will help not only with CPAP users, but also for other small appliance needs.
Our Lance has a propane powered generator built in.  I love having the generator, although we don't use it often.  When we do need it, the generator is an invaluable option.  When we camp at the mountain tops in the Smokies or the Blue Ridge Parkway, we don't use the generator much.  It's always cool up there even in August, so no AC is needed.
My wife is a TV person.  Her health is fragile, and she watches TV while I hike and do other outside activities. This is how we make truck camping enjoyable for both of us.
We have a 19 inch LCD TV that is actually a 12 volt DC unit that uses a 120 volt transformer to operate.  We bought it at Walmart.  We use a 12-volt power plug to operate the TV directly from the camper battery.  We have a 12-volt DVD player also.
For live programing, we use the Dish Anywhere app on Samsung Galaxy Note Pro tablet.  That program allows one to control and tune-in programs from their home DVR anywhere one has a cell signal.  You can watch live TV, or programs that are recorded on the DVR.  It's pretty neat!  It does use a lot of data.  We also have an adapter that allows us to feed the signal from the notebook to the TV if we want that option.
When we day camp at the muscle car shows, we stay in the host hotel because there are no camping facilities in the parking lot.  We do use the truck camper as a daytime unit and run the generator mostly for the air conditioner unit.  It gets real hot in a hotel parking lot in the summer time. The generator does use a lot of fuel to run all day, and can get expensive quickly.
Of course, if one is running the generator for the AC, one might as well plug in their CPAP also.  I covered a lot of ground here, however I have also covered many issues that truck campers, and other RVers deal with." – Charles Spray, 2002 Ford F350, 2001 Lance 1010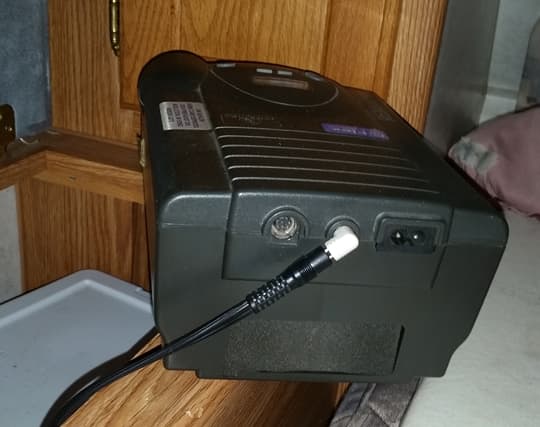 "The good news is that most CPAPs run on 12 volt DC.  There is either a internal or external AC/DC converter.  If it is internal, look at the back of the machine for a 12 volt DC plug.  I took mine to Radio Shack to be sure I got the correct size plug for my machine, which is a RemStar plus.  Be sure to get the polarity correct, mine is center positive.  For external converters, simply match the plug on the converter.
My unit draws 1.6 amps in use and 0.18 amps in standby, therefore I unplug the unit from the 12 volt cigarette plug I installed inside the hamper next to my bed.  The hamper is the permanent home for my old CPAP.  This unit does not have a heater for humidity.  Be sure to turn the heater off when running on 12 volt or your amperage draw will be much higher.
With a 105 watt solar panel, a single group 31 battery, and good sunlight, we recently spent six days dismounted from the truck at a primitive Ozark campground while paddling the river outside our door." – Tom Strock, 2003 Chevy 2500HD, 2000 Bigfoot 9.6
"I have a BIPAP machine.  It's a Sullivan VPAP II model plugged into a Radio Shack 350 watt inverter attached to deep cycle RV gel cell battery.  This spares the camper battery, and I also use it for home emergencies.  We live in earthquake country.
I'm at the end of my useful career with this set-up.  The vendor won't do Medicare any more, or send me consumables, and I need to do a new sleep study after a doctor referral.  I had a 12 volt CPAP that I used in a VW van conversion.  I also used the camper battery for power in a 5 watt trailer." – Terry Coddington, 2012 Chevrolet Silverado 2500HD, 2012 Lance 855