We had one of the biggest and most passionate responses ever to this week's Question of the Week, "Do you use full hook-up campsites?"  In short, the answer is "Heck yeah!", "Heck no!", and everything in between.
"The long answer is yes.  The short answer is, why not?  Unless we are in a terrible hurry, we hook-up to water, sewer, and electric.  We do our darndest not to get in a terrible hurry.  We retired to avoid terrible hurries.  We have boondocked in many places and we are very open to stealth camping as well." – Mike Chiles, 2015 Ram 3500, 2013 Lance 1050S
"In two years, we have never hooked up anything, even when available.  Campground preferences include dry camping to full boondocking.  We actually prefer no campgrounds simply because we prefer the serenity and the ability of our dog children to run around without worrying about other campers." – Bill Peters, 2013 Chevy Silverado 1500, 2013 Four Wheel Hawk
"We will take a full hook-up site if it's available, but only dump as needed.  I usually leave the sewage hose stowed until then.  More often we take electric and water sites which tend to be more available.  We have also started to use the Harvest Hosts locations which offers no hook-up sites." – John and Cathy Strasser, 2012 Chevy 2500HD, 2013 Eagle Cap 850
"I use electricity whenever it's offered.  I love air conditioning.  I'll use fresh water as a supply on short trip.  When I've used up my fresh water tank, I continue to refill it so it doesn't get skunky.  As for sewer hook-ups, if there is a dump at the campground, I'm good with that." – Philip Tron, 2009 Chevy 3500, 2012 Lance 1050
"I always fill my water tank with local water before leaving home.  If I am on an extra long trip and I need more water, I carry a small water filter that I attach to my hose.  I only hook-up to shore power.  I often dump before leaving a campground." – Thomas Fallon, 2009 Ford F250, 2015 Lance 825
"We always use what is available.  Usually that's at least water and electric.  Then we use the dump station on the way out.  We do dry camp for a night or two if we like where we are at." – David Marceau, 2000 Ford F350, 2005 Lance 981 Max
"We rarely use hook-ups since we really hate private campgrounds.  Camping in a parking lot is not why we got a camper.  Seventy-five percent of our camping is done at national or state parks or forests.  The rest is boondocking where we can.  If you can camp for free, why not?  And once again, the point of a camper is to get as far away from other people as possible.
That being said, if a campground has electricity, we'll use it, saving propane in the process.  We don't use sewer since we have a cassette.  We don't hook-up to city water, but we'll usually top off before we leave.
The main time for us to use electricity is when we're winter camping.  Canaan Valley in West Virginia keeps the campground open all winter, so we go there to go snowshoeing.  We'll bring a small electric heater along to save our propane.  We would love to go to Laurel Highlands, but there is no place to stay!  Hear that Pennsylvania!" – David and Jennifer Kiel, 2007 Toyota Tundra, 2013 Phoenix
"On a recent trip we found that most state park campgrounds in Alabama, Tennessee, and Louisiana had hook-ups in every site.  Since the hook-ups were there, we used them, but normally we will pick sites without hook-ups and try to be as far from the area of big RVs as we can get.  When it's legal, we sometimes like to camp out in the wilderness away from campgrounds." – Gary Scott, 2015 Toyota Tacoma, 2014 Four Wheel Camper Eagle
"We have no opposition to full hook-up campgrounds, but the purpose for us getting the camper we have was to have the freedom to camp wherever we want and still have the comforts of home.  After four years with the Arctic Fox, it has served us well and we couldn't be happier.
There is a county campground, Camp Petosega, that is close to our home. We often camp there because it's convenient if one of us is working.  It's beautiful, on a lake, well maintained and only costs local residents $18 per night.  It doesn't provide sewer at the sites, but has water and electric.  When camping there, we take advantage of the water and electric and use their showers.  The bath facilities are very well maintained, clean, and have plenty of hot water.  I think the only down side to our camper, or most campers for that matter, is only being able to take extremely short showers.
Other than Camp Petosega, we rarely stay at campgrounds with hook-ups.  We love many of the primitive camping opportunities in Michigan's Upper Peninsula, especially those on Lake Superior.  They can only be accessed by a vehicle, with sites only large enough for a small camper, or just a tent.  For us, we have a perfect size camper to fit and camp in real comfort.
We have a goal to camp in as many National Parks as possible and will only stay in the non hook-up areas.  This past winter, we also discovered a real love for BLM desert camping in Arizona and California.  We look forward to more of that this winter." – Ken Pastorius, 2015 GMC 3500, 2012 Arctic Fox 1150
"If available, we always use full hook-ups at campgrounds.  We love camping off-grid.  Almost every other stay is at a campground with full hook-ups so that we can flush our black tank and refill our fresh water tank.  Besides, who doesn't like a quiet, full flow, long hot shower in the morning?
Also, if only water and electric sites are available, we use our fresh water tank so that the running pump reminds us to conserve water and not overfill our grey tank." – Charles Coushaine, 2001 Ford F350, 2012 Chalet DS116RB
"Sometimes I use full hook-ups, but I normally boondock.  When using a campground, I mostly look for water and electric hook-ups.  Even with full hookup I normally don't leave sewer hooked up as they want stands under the sewer line that I don't feel like carrying.  But, if they don't require stands I'll hook-up." – Leonard Pennock, 2006 Dodge Ram 3500, 2003 Eagle Cap 950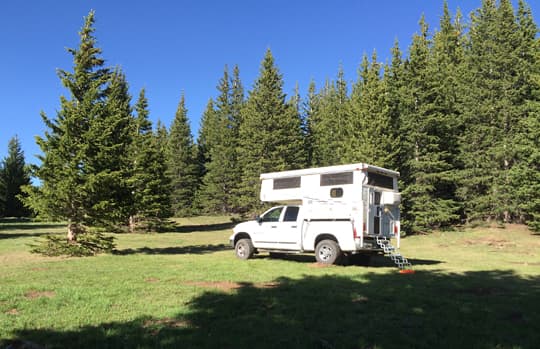 "I used full hook-ups once with the truck camper.  Usually I use my camper for back country boondocking only.  My travel trailer use is twenty percent full hook-ups, and the rest National Parks or US Forest Service Campgrounds.  We prefer no campgrounds or dry camping." – Bill Gage, 2003 Ram 2500, 2007 Northstar TC650, and 2004 Arctic Fox 22GQ travel trailer
"We use all of the above; campgrounds, dry camping campgrounds, and no campgrounds.  We hook-up at campgrounds regularly.  We have never hooked up to sewer, but use fresh water and shore power at any campground we stay at.  So, we don't use full hook-up sites.  We do use the campground facilities.
Now we have a cassette toilet, so there is no black water hook-up.  It's very nice to stop at a rest area or pit toilet and empty the tank or dump it down your home toilet.  It makes it much easier for dry camping." – Howard Bisco, 2015 Ford F250, 2014 Palomino HS6601
"We almost always stay in campgrounds.  We don't need any hook-ups in the summer when it's warm, but we do like having power in the spring and fall when it's cold at night.
We do not use water or sewer hook-ups.  We just have a porta-potti and that works fine for overnight and emergency use.  We have never used our cable TV hookup, but we do use WiFi, mostly for travel information when it's available." – Vince Kurpan, 2014 Dodge Promaster, Custom camper
"Full hook-ups are used ninety-five percent of the time.  We are ex-fifth-wheelers and enjoy the benefits of full hook-ups.  Corps parks are the greatest.  They have great open sites, great views, and great hosts.  We have had four other truck campers!" – Cully Grandlund, 2007 Ram 3500, 2015 Bigfoot 2500 10.6E
"I almost always stay in campgrounds without hook-ups like USFS and BLM areas. However, sometimes the only available campground in an area is a commercial campground with hook-ups.  If I'm in one one of those, I never use the hook-ups since I stay only one night.  I might dump my tanks the morning I leave." – Ralph Goff, aka Ramblin' Ralph, 2006 GMC 2500HD, 2001 Lance 845
"I do not hook-up.  I use US federal sites as often as possible, and state sites if I have to." – Russell Erbe, 2013 GMC 3500, 2012 Lance 992
"I don't use full hook-ups, even when they are available.  The reason is that it's usually only an overnight stay.  However, I dump grey tank and cassette tank if needed.  Campground preferences are based on what's available in transit and at my destination; a combination of forest service, state, and private campgrounds." – Henry Nelsen, 2007 Toyota Tundra, 2012 Northstar Liberty
"Our first camper never saw the inside of a campground with hook-ups as far as we know.  It worked just fine for us.  However, without an air conditioner, there were a few episodes.  One time it got so hot in the camper that, with every vent and window and the door wide open, my wife could only go inside to cook for a few minutes at a time.  That is when we determined to buy a new camper with a generator, microwave, and air conditioner.
We still prefer true boondocking, and we even filter water fresh from a spring and hoist a water container up on the roof and dribble it down into the fresh water tank.  To us, the true joy of a truck camper is that it can go most anywhere.  That includes spending time on its feet in full service hook-up campgrounds while we explore cities in faraway places.
Other times, like so many truck camper users, we have gone on abandoned roads so remote that even we were impressed that we made it.  Truck campers are meant to fit all sorts of situations." – Michael Turner, 2007 Dodge 3500, 1988 Lance
"I prefer to drive with very little water in my tank; ten gallons tops.  I also keep my hot water tank empty, unless needed.  When I use a campground, I like to attach to the city water inlet and just use water straight into the camper, no pump and no storage.
I have only just started to use a hard-sided full bathroom camper so I am new at dumping my grey and black water.  There haven't been any problems yet.  I will likely only use full hook-ups if I am ever staying for a period of time in one site.
Canadian provincial and national parks are not only gorgeous with large private sites, but they also have very clean, modern bathrooms and showers.  For this reason I seldom will shower in my camper.
I find a kettle on the stove (outside on a camp stove on a hot day) a quick and easy way to wash dishes, or to fill my bathroom sink and have a good sponge bath.  I pour half the hot water into the sink mixing with cold and the other half into a basin on my bathroom counter for rinsing.  This is ideal for boondocking, or just plain staying on streets or driveways.  By alternating between campgrounds and unsupported stays I always have enough water.
Last year I stayed a week in downtown Edmonton.  I used my recumbent trike or city buses to get around when friends did not pick me up.  I just had a pop-up with no bathroom on that trip.  If I go there again, I would love full hook-ups.  Camping in a large city requires more primping and up-dressing for events, so a full hook-up would be ideal.  I like that we have so many optional ways to effectively use our campers!" – Michele McLeod, 2013 Ford F150, 2000 Travel Hawk 9.5
"My campgrounds of choice are the wonderful locations provided throughout my state of California by CalParks.  Some of these have full hook-ups but, as a registered cheap-skate, I avoid those sites if possible.  Frankly, the full hook-up sites tend to lack the secluded allure of the other sites in these parks and I can't help feeling sandwiched between the giant RVs they attract.
When staying at other campgrounds enroute, I'll connect to electricity for one-nighters.  I'll connect everything if I'm staying more than a single night.  I do leave the black water valve shut, even while hooked to the sewer, as my tank drains better with some volume to it." – Mark Obert, 1999 Ford F250SD, 1999 Lance 920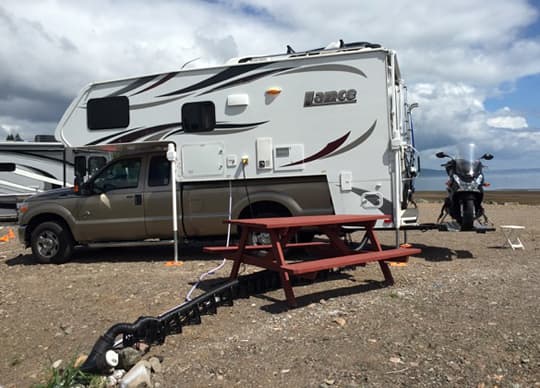 "I now have eight months of experience with my truck camper.  Until July my camping was short three to five day trips for orientation of this new setup.  On July 7th I started out on a trip with a destination of the Northeast United States and Canadian Maritimes.  I am currently hooked up at Spencers Island, Nova Scotia on the Bay of Fundy.  I will not get back home to Florida until October 3rd.
I do use full hook-ups, at least every five to seven days.  The main reason is to thoroughly clean the holding tanks and and take care of laundry.  I do agree with you about the shower.  A really good hook-up shower is a treat every week or so." – Jim Salyerds, 2011 Ford F350, 2015 Lance 1050S
"If my wife and I like a particular full hook-up park, and are going to stay for a couple of days, we enjoy plugging in to their juice.  We have heavy duty dual batteries and, if we boondock, we take our Honda generator to charge during the day.
A lot of times we change plans on the fly.  That's the fun part of traveling with your house on your back.  It also depends on the crowds.  October to April are our busy travel months.  This fall, it's Wyoming and the Dakotas.  We may dry camp, or choose a KOA/Good Sam park.  Who knows?" – Mike Kolinski, 2012 GMC 2500HD, 2012 Four Wheel Camper Hawk
"We are retired and have already spent fifty nights in our camper this year.  When we are on a big trip we usually stay in private campgrounds as they are easily accessible.  We usually pay for full hook-ups, but do not get our money's worth.
When we have a planned destination, like at a beach on our Northern California coast, we use water and electricity, and dump the camper once before we leave.  When we park in driveways while visiting family or friends, we might hook-up to electricity.  Boondocking is a bit difficult with two bump outs.
We do not use the TV.  We like to perform our morning ablutions in the facilities provided, as the camper shower mostly acts as a closet.  We do use the electricity and usually hook-up to water.  I hate to make noise by turning on the generator to run my drip coffee maker in dry camps.  But that is all we use that for, coffee." – G and C Lawrence, 2013 Ford F350, 2015 Lance
"We use full hook-ups about fifty-percent of the time.  We prefer state park and national park campgrounds, most of which don't have full hook-ups.  We like to travel without reservations so we will use full hook-ups to empty holding tanks, and fill the fresh water tank to take showers." – Erwin Greven, 2002 Chevrolet 2500HD, 2002 Lance 921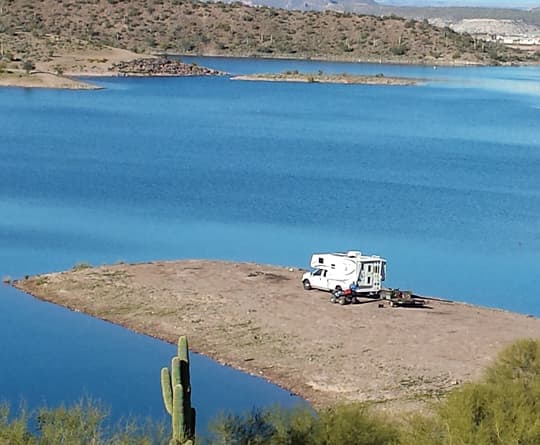 "It's a rare thing to go to a full hook-up campground.  We are too cheap and don't like being cramped five feet from campers on both sides of us.
We have had a truck camper for five years.  We just went to the NATCOA rally in Colorado Springs and tried out the full hook-ups, or should I say the city water only, just to see if and how it worked. I will say it was different not hearing the pump and could take longer showers.
We have everything we need in the Arctic Fox, so why pay extra for it when BLM, forest service campgrounds, Walmarts, and friends and relatives houses we visit along the way are free and have no crowds.  In Arizona we have several friends who have dump sites and that is the one thing we need to do every ten to fifteen days.  You can pay just to dump at many places that are not so crowded, between camp sites, like national monuments.
At Lake Pleasant in Arizona, a beautiful lake for $12 a night, you can camp on lake with no hook-ups.  They do have a dump site.  Most places charge $15 just to dump.  You can look around and find a very reasonable place to stay and keep the cost of your trip down.  Plus, you do not have extra work to hook-up everything.  Just level the rig and enjoy.  That's the beauty of a truck camper.
The four night rally in Colorado Springs cost over $170.  We spent eighty nights out in Arizona the first of this year and it only cost us $62 for camping and dumping the tanks.  That's a no brainier as far as I'm concerned." – Frank and Lynn Niehus, 2007 Ford F350, 2007 Arctic Fox 1150
"We use all variations.  We always use electric if it's available and rarely shower in the camper.  We enjoy the freedom of our truck camper, but don't think we need to suffer without the creature comforts just because we are camping!" – Ann Gemberling, 2015 Ford 350, 2005 Travel Lite Ultra SRX
"Usually I don't use full hook-ups.  Most campgrounds I use have electric hook-ups, a restroom with showers, a dump station, and fresh water.  It saves money and, for a day or two, it works out.  We have used full hook-ups, but these campgrounds usually don't have showers.  For a long stay, like a week, it works out better.  Dry camping is more fun, as you don't have neighbors, unless they come with you." – Charlie Young, 2005 GMC 2500, 2012 Riverside 865
"We use full hook-up campsites in metropolitan areas.  They are much cheaper than hotels.  We use all of the amenities; water, sewer, electric, cable television, WiFi, and clean bathrooms with a shower.  We have yet to use the camper shower, but the kids have." – Ron Richardson, 2000 GMC Sierra 1500, 2012 Wolf Creek 850
"Once a month, more if available." – Rick Mcconnell, 2011 Ford F350, 2011 Lance 1050
"Not hardly.  We will hook-up to water and electric.  The exception is if we will be there for several days.  Then we would hook-up to sewer, but that's only because of the small holding capacity of the black tank.  Using our shower is a joke due to the size of the bathroom.  Electric is the primary need." – Dennis Glow, 2003 Ford F350, 2014 Travel Lite 860 SBX
"My wife prefers full hook-ups with with no need for WIFI.  Available showers, trees, and views preferred.  Space between spots required." – Tom Adams, 2001 GMC Sierra 2500HD, 1998 Northland 10'
"If they are available we will use any and all services.  We don't necessarily look for them, but treat them like frosting on the cake." – Vern and Tracy Mowrey, 2005 Dodge Ram 2500, 2007 Lance 845
"Never.  We live in The West where there are millions of acres of public lands to camp away from the maddening crowds.  Why would we stay in a crowded RV park?  When traveling distance, we only plug in, dump our tanks, and refill over night.  Then we're off the next morning.
Example 1: In our younger days we went to Moab yearly for ten days of mountain biking.  We'd camp for half the time, go overnight to a park in town to shower, dump, refill, maybe have dinner out, and then head back out the next day to finish our rides.
Example 2: On our two and a half month trip to Alaska.  We would dry camp a few days, and then head for a park to dump, shower (long ones of course), refill, and head for the next back road to camp.
It's a wonderful life!" – Philip Bolding, 2012 Ford F350, 2016 Northern Lite 8'11" QSE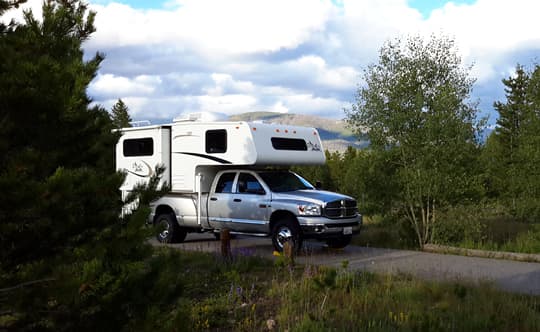 "On our last sojourn to Colorado Springs for the NATCOA 10th anniversary, we dry camped four nights for a twenty-one day trip.  We do like hook-up sites and being plugged in allows for the convenience of water flowing without the pump having to kick on.  We also like the lights working on shore power and the furnace igniting two or three times a night to keep the chill off.  That helps us to not worry about our single battery wearing down.  We like our Keurig coffee in the morning, use the microwave to warm up leftovers for dinner, or heat a morning pastry.  That is just so convenient while plugged in.
Our generator can handle those chores, but I don't like turning it on, especially in a dry campground with tent campers nearby.  It kind of ruins their camping experience.
We also only carry about fifteen gallons of water, which can be used up pretty quickly when dry camping.  If we know that we'll be without hook-ups the next night, I'll add another ten gallons of water.  What's another eighty-four pounds?  After all, in 135 miles I'll burn that much weight in diesel fuel.
So yes, our preference is campground hook-ups." – Roger and Elaine Odahl, 2008 Dodge Ram 3500 DRW, 2004 Eagle Cap 950
"No campgrounds for me!  I've stayed in an RV campground one night and just used their electric to run a space heater and refrigerator.  My camper only has a cassette toilet and outside shower, so full hook-ups aren't necessary.
I live at Lake Tahoe and primarily boondock camp in the nearby forests and along Highway 395.  I only plug in at home to get the refrigerator cold for a trip.  My 100 watt solar panel and propane power everything while I'm out camping." – Brent Tatum, 2013 Ram 2500, 1995 Lance Squire Lite 150
"I have never used hook-up sites, and never will.  I live in The West and enjoy solitude. Our public lands are wonderful and, so far, plentiful.  I would like to challenge you and your readers to enjoy our backcountry with respect, while doing all we can to hold on to them.  Think about the the importance of keeping the federal lands in the hands of the federal government, so that we can keep them whole and accessible to every citizen of our fine country.  We have to be careful to not let them slip away to the states or the private sector.  Keep on camping!" – Stephen Lacy, 1997 Ford F350, 1987 Starcraft 852
"We will pay for full hook-ups if we have been out for awhile and want cable television.  Full hook-ups is the only way to get it.  Other than that, we are perfectly happy with electricity and water when we can get it." – Don and Sally Warren, 2008 Dodge 1500, 1998 Northstar pop-up and moving to 2003 Six-Pac
"Heck yeah!  I paid for them, so I use them." – Gregory Missman, 2000 Ford F350, 2009 Lance 1181
"We use campground hook-ups.  Occasionally we'll go to a state park, but mostly we go to national parks, national forests, and BLM areas with no hook-ups." – Harvey Ray Stallings, 2010 GMC Sierra, Travel Lite 890 SBRX
"Well, interesting question indeed!  I love full hook-ups for the same reason that Angela and Gordon mentioned.  I just love to get a good shower right in my camper.
I like to believe that we would be fine without full hook-ups if only our grey water tank held more.  It really doesn't hold more than two days worth of grey water for the two of us, and that is with being very careful when showering.  I even use a clean bucket to adjust the shower water so we don't fill up the grey tank, and toss it outside because it is just water.  Our fresh water holding tank is very large and our black tank can go a week before emptying.  It's just that darn small grey water holding tank.
I read in the last issue of TCM that someone had a great mod using PVC pipe to hold extra grey water.  I would love to hear from that person and get more pictures.  We love the idea of being able to go anywhere and not have to have full hook-ups and the costly price that comes with them.  Let's face it, campground prices with hook-ups have skyrocketed.  Sometimes I think we should pay a bit more and go to a hotel.  Wait, did I say hotel?  I do not even like staying in hotels.  I love having my own stuff and my own bed.  For now, we make due with what we have.
Our 1997 Bigfoot is in excellent condition and serves us well.  Darn, that grey tank!  Our Bigfoot has heated compartments for winter camping and has a very large compartment underneath the body.  I so wish that they had used some of that space to enlarge our grey water tank.  It is a nuisance!" – Denise and Rich Snyder, 2007 Dodge Ram 3500, 1997 Bigfoot
"No, I do not use full hook-up sites.  We prefer no campground and being in the wild, or a campground that only has clean pit toilets and nothing else.  The more remote the site and the fewer the features, the fewer the people and the smaller the vehicles that go there." – Chris Walton, 2008 Nissan Frontier, Four Wheel Camper Eagle
"Yes, but not all the time as we frequent racing events.  Usually a wide variation as we have downsized from a 37-foot fifth wheel." – Eric and Jacki Devolin, 2007 GMC 3500, 2006 Adventurer 106DBS
"We have used hook-ups every time so far.  It takes about thirty minutes to set up water, electricity, sewer, and cable television.  We are giving thought to some boondocking on our next trip to gain more travel time, and save some bucks but, to date, it's been hook-ups all the way.
We use our camper as a means of travel.  It's our hotel on wheels.  We chose a truck camper because it can go anywhere with relative ease.  We haven't been disappointed. Hook-ups provide the luxuries of home while on the road, especially that hot shower in the morning, and sometimes heat or air conditioning.  I respect those who are fine with roughing it but, for us, hook-ups are worth it." – Gerry Reeves, 2014 Ford F-250, 2014 Lance 825
"I mostly dry camp, but usually hit the full hook-up sites when I need a break to dump tanks, fill water, and do laundry.  While I enjoy the off-grid capabilities of my truck camper, I also enjoy using it with hook-ups so that I am not concerned about the tanks and power usage.  I only use full hook-ups when I'm going to stay at least two days.  I'd say I like both dry camping and using hook-ups equally." – Mike Cianci, 2004 Ford F350, 2010 Eagle Cap
"We are campground and boondocking campers.  We generally go to a full hook-up campground after our fresh tank is almost empty or our grey and black tanks are almost full.  We take the full hook-up opportunity to organize and clean up the camper, restock groceries, do laundry, and be a little carefree with the water and electric.
Generally we can go seven to eight days before going to a full hook-up campground.  Most recently, while in Alaska and Canada, we took showers more often (mostly because we were fishing so much) using recreation centers.  Generally the cost was around $2 to $3 each.  Some even had a sauna for free." – Glenn Blount, 2012 Ford F350, 2004 Lance 1010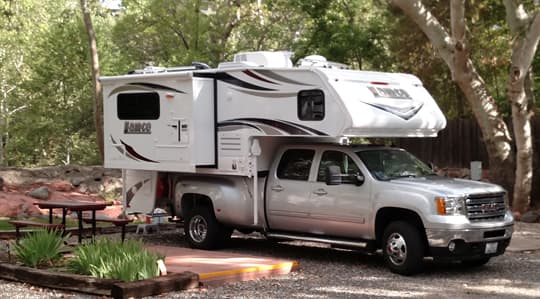 "My wife, Krissy, and I usually do not use full hook-up campsites.  Over our twenty-five year camping career, we have used full hook-up sites maybe five percent of the time.
We typically search out unique and remote camping trips.  Also, we tow a boat and the typical shoreline lake campsite does not have hook-ups.
We ordered our new Lance 1052 with all the options including the satellite auto locating system, so we are not lacking for much.  Our preference is split 50/50 between no campground, and dry camping campgrounds." – Mike Paulucci, 2013 GMC Sierra, 2016 Lance 1052
"I use full hook-ups when we go out with our bass boat.  We usually stay a couple of weeks near a lake wherever we go." – Charles Duncan, 2008 Ford F350, 2012 Lance 1191
"We use full hook-up campgrounds often; about three times a week.  We decide on an area to explore and stay for at least two days using full hook-up sites.
We have gotten very organized in regard to setting up and breaking down camp.  The night before we leave we make sure our water tank is full and empty the black and grey water, putting that equipment away.  The next day all we have to do is unplug electric and cable television.
When we camp, we look forward to a place that is scenic as well as having some amenities such as laundry.  We do use state parks and forest service campgrounds as well.  Usually we stay close to a week within those parks enjoying nature and walks." – Helen Scurzi, 1992 Chevy Silverado, 2008 Lance 9'11″
"We camp about thirty days a year.  Twenty days are at campgrounds with full hook-ups, and ten are at friends and family, without." – John Kirk, 2001 Ford F350, 2008 Lance 850
"Our camper is old.  It has no air conditioner, no shower, no water heater, no grey water tank, and only a few lights.  However, we prefer roughing it and tend to avoid the campsites where the really big units go.  Our little camper with no luxuries means that we're outside unless it's raining or really cold.  We do not have a generator.  What would we use it for?
But given the choice, having a campsite with power is nice, mostly because it saves propane for the refrigerator and it means that we don't have listen to other people's generators.
We have never stayed at a campsite with full hook-ups as we don't feel they're worth the cost.  The campsites are usually jammed in like sardines in these areas.  We have not yet ventured outside of official campgrounds, so there's always tap water and, at least, outhouses." – Melissa Malejko, 2002 Chevy Silverado 2500HD, 1981 Okanagan
"We always use water and electrical connections and search out campgrounds that provide those connections.  We like to have the strong water supply and not have to listen to the little water pump turn on and off, especially in the night if one of us gets up to get a drink of water and is trying to avoid waking up the other.  We also like to avoid using our fresh water supply, just in case the next campsite doesn't have water available.
We also connect to thirty amp power immediately upon arrival at the campground.  It eliminates any concern about draining the batteries.  However, we don't connect to the sewer when in a campsite with sewer available.  We'll dump the grey and black tanks when we are preparing to leave or just stop at the dump station.  Usually the RV sites that have sewer available cost a little more than water and electric alone, plus we have found that sites with sewer tend to be designed for giant Class A motorhomes so they have less landscaping and are more likely to be lacking shade trees.
We rarely, if ever, dry camp.  We simply prefer the higher water pressure and the reduced stress of not worrying about battery drain.
We also always stay in campgrounds and never boondock.  We would rather spend a few dollars for a relaxing evening and night's sleep instead of worrying that a security guard will ask us to leave in the middle of the night or neighbors calling the police to complain about illegal camping.  A quality campsite in a state or federal park is usually less than $25 and well worth the cost." – David Miller, 2012 GMC 2500HD, Travel Lite 890SBRX
"I'm in a full hook-up campsite as I write this response.  It's not our normal preference, but we're in Boise, Idaho with 95 degree heat.  We are visiting for medical purposes for our dog and we are all enjoying the air conditioning.  We will take a holiday shower this evening and again in the morning.  I will do dishes later and just let the water run.  Having access to a full hook-up campsite every few days is nice.  We have gotten a little spoiled.  On the off days we camp remote, away from all the city people." – Bob Nelson, 2015 GMC 3500, 2013 Arctic Fox 1140
"If it's towards the end of the day, a campground with full hook-ups or a quiet water and electric sites at a decent price is handy.  A campground site with connections saves on water, battery, and propane if it's cold.  Otherwise, all we ask for is the peace, solitude and room for our dogs to not bother anyone.
If staying somewhere long term, then services would be a must for convenience sake.  We just fly by the seat of our pants and use whatever is available.  We do check out the electrical and water quality before hooking up after some rather unpleasant issues with both in year's past." – Cheryl Nelson, 2004 Chevy 3500, 1990 Shadow Cruiser 9.5
"We eschew full hook-up campsites, preferring to boondock at all times.  That said, every sixth night we have to hook-up to refresh water and dump our tanks.  Truth be told, we'll need to seek out civilization at that point for food, so it's never been any kind of inconvenience to us.
We have been known to pull into a full hook-up campground and spend less than an hour there while we take long showers and replenish the truck camper.  Maybe we'll do laundry, and then retreat into the backcountry again.  It's worth the money not to camp there!" – Bruce Allison, 2000 Ford F350, 2012 Adventurer 910 FBS
"Like you, I usually use full hook-ups if I am staying at a campground for more than one day.  Most of my campground stays are late in the evening and I'm out the next morning.  Then it's power only and sometimes water.  We dump before we leave if necessary." – Robert Hubbs, 2002 Dodge 2500, 2010 Palomino M8801
"As you do, we use hook-ups for a matter of convenience to dump tanks, refresh water, or take a shower.  On a long road trip we use a combination of RV sites with hook-ups, dry camping and, at times, we stay at the truck stops to spend a short night of sleeping.  Even a Walmart parking lot will do after a long day behind the wheel.  We always ask permission at Walmart and always spend a little money shopping for food items.
We also have a 2013 Heartland Sundance fifth wheel that we can use for extended stays at a RV site.  That said, for a true camping experience, the Lance cabover is so convenient with all our camping and travel interests." – Mick and Andrea Vancas, 2012 Chevy Silverado 2500HD, 2013 Lance 855S
"Most of our campsites are in national parks, national forest campgrounds, state parks, state forestry campgrounds, and Corps of Engineering campgrounds.  Very seldom do we go to private campgrounds.  That being said, most do not offer full hook-ups.  Most will have electric and water hook-ups, and some will have only electric or none at all.
We have never done a full hook-up.  We only need water for the sink and toilet.  We do not have a shower in this camper, but plan on having a shower in the next one.  The only reason we do get electric is for the refrigerator and to run fans if it's hot.  This old camper does not have air conditioning, but the next one will!" – Mike Pohl, 1999 Ford F150, 1985 American Pilgrim 8.5
"We prefer not using campgrounds if we happen to be a location where that is possible.  I think that our most enjoyable trip was to Alaska where we had four months of no hook-up camping and no noisy campers.  There was just nature to listen to.  Our second choice is the national forest or national parks where hook-ups are unusual, but water and dumps are sometimes provided.
We do enjoy hook-ups when they are available.  This summer has been very hot so the benefit of electricity and air conditioning has been greatly appreciated.  When we are in full hook-up campgrounds, we generally only connect to power, only fill the water, and dump the tanks when we depart.  The noise of the pump keeps us aware of how much water we are using and keeps us on track for dry camping.
With the cost of campgrounds on a steady rise, we generally seek out the discount parks and do not consider Walmart as a good option." – Russ and Gretchen Berquam, 2014 Ford F350, 2015 Arctic Fox 1140
"We use everything from highway rest stops to RV resorts that cater to 42-foot monsters.  Many western state parks don't have full hook-ups.  We have been to some RV parks that are no better than a parking lot with utilities.
Sandee's first criteria for a spot is, "Does it have trees?"  We have a lot of trees on our home property.  So we select the site with the best tree coverage, even if it has no hook-ups.  If hook-ups are needed to top off or dump we choose by the Good Sam rating and then call to see if they have trees.  Seriously!  It works in coastal and mountain areas, and not so much in between.
We decided on a camper to be free to roam or park in as many places as possible.  It doesn't always go according to plan, but we manage.  That's part of the fun." – Joe and Sandee Sesto, 2015 Silverado 3500 HD, 2015 Bigfoot 2500 10.6E
"The only time we camp with full hook-ups is in Riding Mountain National Park in Manitoba in the winter.  That is all they keep open.  We do not use the full hook-ups, only electricity.  We prefer dry camping and can usually go three days without the generator and a week on our water tank.
We never put water from campgrounds in our tank after a bad experience that took us forever to disinfect our tank and lines.  We usually use the campground or our own town's dump station before parking our camper back at home." – Tricia Mason, 2009 Ford F350, 2008 S&S Montana Ponderosa 9.5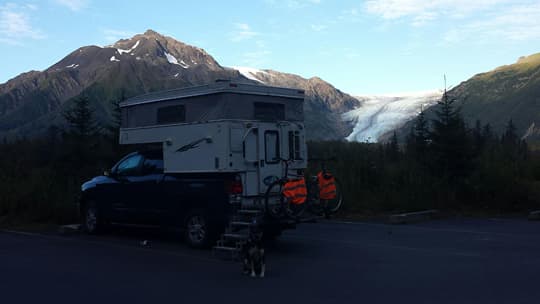 "We have been on our ultimate Alaskan road trip for four weeks now and have paid to camp twice.  We prefer small out of the way campsites that have no fees, no hook-ups, and no generators.  We have had some amazing campsites!" – Patrice Loucks, 2013 Toyota Tundra, 2014 Phoenix Custom Pop-up
"We rarely use full hook-ups at campsites.  If in a park that has hook-ups available, we would normally opt for shore power only.  Water quality varies immensely from campground to campground, and we prefer our own well water from home.  Also, RV black tanks do not empty solids well without significant content in the tanks, and solids do not break up without agitation provided by road travel to aid in digestion of paper and solid human waste into a slurry that can reasonably be expected to leave the tank.
With tank valve constantly open in a park, RV toilets do not provide enough volume of water to properly evacuate solids all the way out the sewer hose.  Most of the flush water is lost from the solids when the flush hits the black tank, where fluids rapidly disperse across the bottom of the tank without moving solids along the way.  If sewer hook-up is available, we might elect to drain grey water only while parked." – John and Marylou Wells, 2011 Chevy 3500, 2012 Chalet Ascent S100F
"Before we bought our truck camper, we preferred full hook-ups or water and electric at the very least.  Now that we have seen the light and have a truck camper, we have not hooked up to full hook-ups yet.  We have used water and electric a couple of times because the site had them.  Most of the time we go for no hook-ups, and find a dump station at a later time.  We enjoy not having to rely on finding a campsite, and especially not needing hook-ups." – Pam Conner, 2015 Ford F350, 2015 Arctic Fox 1150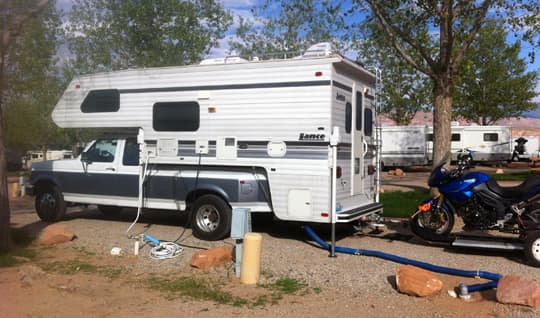 "We generally boondock for the most part since we like to stay away from the maddening crowds.  For us, the solitude of getting away from everyone and everything is the best part of truck camping.  We are always looking for free campsites while traveling and have even been known to stay in the parking lots of Camping World and Walmart, on occasion.
We have 140 watts of solar and two group 27 Interstate batteries (total 192 amp hours) and have never run out of power.  Our only weak point is a grey tank capacity of only twenty-two gallons.  With a fresh water capacity of forty gallons, six gallons of water heater capacity, and a twenty-six gallon black water tank, we can easily fill up the grey tank in two to three days.  By that time, we are ready to move on to the next campsite any way.  We then look for a dump station.
Preferring not to have hook-ups provides us with the maximum amount of flexibility as to when and where we camp.  We love it!" – Hugh Redmon, 1997 Ford F350, 1998 Lance Legend 990
"Our favorite option is boondocking on federal lands, not in campgrounds.  That works fine when we're west of the Mississippi but, living in New England, there aren't many opportunities for that within 100 miles of home.  When we camp here, we usually go to dry camping campgrounds.
The only time we use hook-ups is when it's really hot out and we need the air conditioning, which is maybe a couple times a year.  We don't have a generator and don't like the noise they make." – Anne Marie Lewis, 2013 GMC Sierra 3500, 2013 Eagle Cap 850
"We almost always want electricity for air conditioning, microwave, etc.  We often do not connect to anything else unless we are going to be in the same spot for a more than one night.  Unless we have been on the road, need a shower, the fresh tank is low, and the grey tank is getting full, then it is full service site for sure.
However, if there is no good local over the air television available, we will take a full service site if that is the only way we can get access to the park's cable television service." – Bill and Sue Billyard, 2000 Ram 3500, 2008 Palomino Winter Creek 115RS
"We use a water hook-up when available, but not the sewer hook-up.  Electricity is the only thing we insist upon, and even that is optional now that we have a battery in our camper." – Al Hubbard, 2004 Silverado 2500HD, 1992 Sunline 951
"The only time we have used a full hook-up was when there were no other sites available.  We like having space between us and the other campers, so normally our choice is no hook-ups.  Most times we are on the move every day so we just want a nice level spot that is quiet." – Eckhart Franz, 2006 Chevy Silverado 3500, 2005 Adventurer 90FWS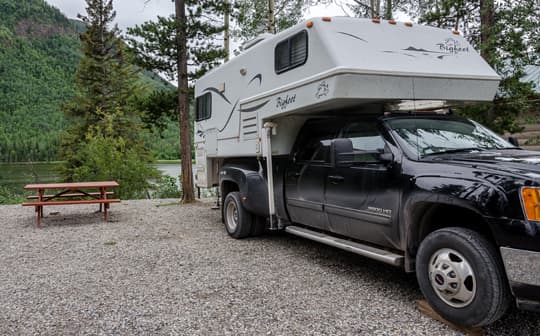 "We usually use the full hook-ups whenever they are available.  We almost always use the electric since it is so convenient to connect and it allows us to use the air conditioning if it is needed.  We use a microwave often to heat leftovers and to thaw food, and we also use an electric coffee pot.  We have battery capability to run everything except the air conditioning, so in cooler weather we don't always connect the electric.  It just makes sense to connect the water and sewer if it is available.  I like to take good showers and they are just not practical when operating on the tanks.  The black water tank is only dumped about every four or five days." – Randall Rice, 2012 GMC Sierra 3500 HD, 2002 Bigfoot 2500 10.6C
"We are currently on our way home to southern California after a month long trip in British Columbia with friends from the Puget Sound area.  Right now, we are at an RV Park in Brookings, Oregon and we have partial hook-ups of water and 30 amp electricity.  We used their dump station before going to our campsite, and we'll use it again tomorrow morning.
Last night we stayed at a great forestry service campground, and the previous night we were at Nehalem Falls, a beautiful state campground.  There were no hook-ups, and it was extremely quiet in both places.  We were located under old growth trees near the Pacific Ocean with the sounds of mountain streams lulling us to sleep both nights.  Heaven!  Tonight we take the Hollywood showers and sleep to the sounds of the ocean waves crashing on the beach.  Heaven again.
I agree with Gordon; it's not about whether or not to rough it.  It's about finding our own way with the considerable tools we have available to us because we do truck camp." – John and Terri Tully, 2014 Dodge, 2015 Lance 855S
"We prefer dry camping and boondocking.  We visit state parks, national parks, and national forest sites frequently as they are usually more peaceful.  However, there is one private campground that we visit a couple of times a year that we really enjoy and we do use hook-ups when we're there.
We would not rule out  private campgrounds when traveling, but they are not our first choice.  I agree, setup is easier without hook-ups! " – Bill Tex, 2006 Chevy 3500, 2013 Eagle Cap 850
"Yes, I prefer full hook-ups all the time if possible.  You have to dump anyway, so why not do it the easy way?" – Kenneth Wright, 2005 Dodge 2500D, Travel Lite 860
"We do use full hook-up campsites when we have long stays, very cold weather, and very hot weather.  The only times we use less than that is when we can count on cool temperatures.  We dry camp for no more than two nights in a row right now, but we plan to get our truck camper set-up for longer boondocking type camping.  Also, our truck is not 4×4, so getting way off the beaten path is not likely to happen.  And based on you motto, truck campers fit perfectly at full hook-up sites because they can go anywhere, and a campsite is somewhere." – Delos O'Neal, 2014 Ram 2500, 2013 CampLite 10.0
"No, I do not use full hook-up campsites.  I've used only state park campgrounds that have electric only hook-ups." – Bob Phillips, 2011 Chevy Silverado 1500, 2004 Travel Lite Mountain Star 800
"Most of our camping is without hook-ups, especially beach camping.  When we travel, if hook-ups are available (and reasonably priced) we will hook up to water and electric.  We rarely get a sewer site.  Because we are so accustomed to dry-camping, we don't require hook-ups, but they are a luxury when we have them." – Tom Watson, 1998 Ford E-350, 1999 Four Winds
"I like to have at least 15 amp service, but do prefer 30 amp service.  I can manage without sewer and water.  I have a preference for private campgrounds.  The owners tend to live on the premises more often than not.  It's nice to know there's somebody around if you have a problem.  Most campgrounds are quite empty during the week.  I'm not a big fan of dry camping." – Maaja Sutak, 2012 GMC 2500, 2015 Northstar Liberty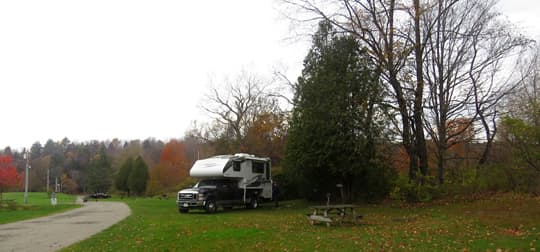 "Full hook-up sites are usually our last choice.  They are usually the most expensive and they line you up like a pack of hot dogs.  Many times you have to keep your shades down if you don't care to have breakfast with your neighbor!  Our favorite sites are the tent sites if they are level enough.  Usually they are located in the nicest areas, are well spaced and quiet.  Our favorite overnight sites have electric and water so that we don't have to fill our water tank, which is always emptied for travel." – Audrey Ruccio, 2008 Ford F450, 2008 Host Everest