We had one of the biggest and most passionate responses ever to this week's Question of the Week, "Do you use full hook-up campsites?"  In short, the answer is "Heck yeah!", "Heck no!", and everything in between.
"The long answer is yes.  The short answer is, why not?  Unless we are in a terrible hurry, we hook-up to water, sewer, and electric.  We do our darndest not to get in a terrible hurry.  We retired to avoid terrible hurries.  We have boondocked in many places and we are very open to stealth camping as well." – Mike Chiles, 2015 Ram 3500, 2013 Lance 1050S
"In two years, we have never hooked up anything, even when available.  Campground preferences include dry camping to full boondocking.  We actually prefer no campgrounds simply because we prefer the serenity and the ability of our dog children to run around without worrying about other campers." – Bill Peters, 2013 Chevy Silverado 1500, 2013 Four Wheel Hawk
"We will take a full hook-up site if it's available, but only dump as needed.  I usually leave the sewage hose stowed until then.  More often we take electric and water sites which tend to be more available.  We have also started to use the Harvest Hosts locations which offers no hook-up sites." – John and Cathy Strasser, 2012 Chevy 2500HD, 2013 Eagle Cap 850
"I use electricity whenever it's offered.  I love air conditioning.  I'll use fresh water as a supply on short trip.  When I've used up my fresh water tank, I continue to refill it so it doesn't get skunky.  As for sewer hook-ups, if there is a dump at the campground, I'm good with that." – Philip Tron, 2009 Chevy 3500, 2012 Lance 1050
"I always fill my water tank with local water before leaving home.  If I am on an extra long trip and I need more water, I carry a small water filter that I attach to my hose.  I only hook-up to shore power.  I often dump before leaving a campground." – Thomas Fallon, 2009 Ford F250, 2015 Lance 825
"We always use what is available.  Usually that's at least water and electric.  Then we use the dump station on the way out.  We do dry camp for a night or two if we like where we are at." – David Marceau, 2000 Ford F350, 2005 Lance 981 Max
"We rarely use hook-ups since we really hate private campgrounds.  Camping in a parking lot is not why we got a camper.  Seventy-five percent of our camping is done at national or state parks or forests.  The rest is boondocking where we can.  If you can camp for free, why not?  And once again, the point of a camper is to get as far away from other people as possible.
That being said, if a campground has electricity, we'll use it, saving propane in the process.  We don't use sewer since we have a cassette.  We don't hook-up to city water, but we'll usually top off before we leave.
The main time for us to use electricity is when we're winter camping.  Canaan Valley in West Virginia keeps the campground open all winter, so we go there to go snowshoeing.  We'll bring a small electric heater along to save our propane.  We would love to go to Laurel Highlands, but there is no place to stay!  Hear that Pennsylvania!" – David and Jennifer Kiel, 2007 Toyota Tundra, 2013 Phoenix
"On a recent trip we found that most state park campgrounds in Alabama, Tennessee, and Louisiana had hook-ups in every site.  Since the hook-ups were there, we used them, but normally we will pick sites without hook-ups and try to be as far from the area of big RVs as we can get.  When it's legal, we sometimes like to camp out in the wilderness away from campgrounds." – Gary Scott, 2015 Toyota Tacoma, 2014 Four Wheel Camper Eagle
"We have no opposition to full hook-up campgrounds, but the purpose for us getting the camper we have was to have the freedom to camp wherever we want and still have the comforts of home.  After four years with the Arctic Fox, it has served us well and we couldn't be happier.
There is a county campground, Camp Petosega, that is close to our home. We often camp there because it's convenient if one of us is working.  It's beautiful, on a lake, well maintained and only costs local residents $18 per night.  It doesn't provide sewer at the sites, but has water and electric.  When camping there, we take advantage of the water and electric and use their showers.  The bath facilities are very well maintained, clean, and have plenty of hot water.  I think the only down side to our camper, or most campers for that matter, is only being able to take extremely short showers.
Other than Camp Petosega, we rarely stay at campgrounds with hook-ups.  We love many of the primitive camping opportunities in Michigan's Upper Peninsula, especially those on Lake Superior.  They can only be accessed by a vehicle, with sites only large enough for a small camper, or just a tent.  For us, we have a perfect size camper to fit and camp in real comfort.
We have a goal to camp in as many National Parks as possible and will only stay in the non hook-up areas.  This past winter, we also discovered a real love for BLM desert camping in Arizona and California.  We look forward to more of that this winter." – Ken Pastorius, 2015 GMC 3500, 2012 Arctic Fox 1150
"If available, we always use full hook-ups at campgrounds.  We love camping off-grid.  Almost every other stay is at a campground with full hook-ups so that we can flush our black tank and refill our fresh water tank.  Besides, who doesn't like a quiet, full flow, long hot shower in the morning?
Also, if only water and electric sites are available, we use our fresh water tank so that the running pump reminds us to conserve water and not overfill our grey tank." – Charles Coushaine, 2001 Ford F350, 2012 Chalet DS116RB
"Sometimes I use full hook-ups, but I normally boondock.  When using a campground, I mostly look for water and electric hook-ups.  Even with full hookup I normally don't leave sewer hooked up as they want stands under the sewer line that I don't feel like carrying.  But, if they don't require stands I'll hook-up." – Leonard Pennock, 2006 Dodge Ram 3500, 2003 Eagle Cap 950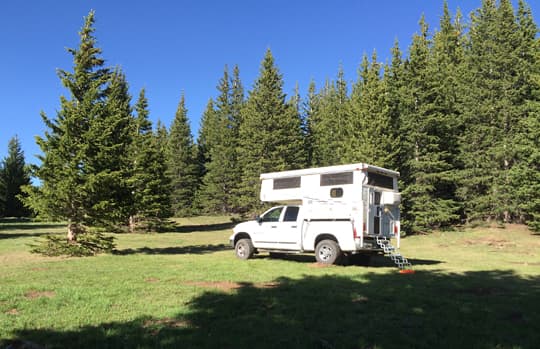 "I used full hook-ups once with the truck camper.  Usually I use my camper for back country boondocking only.  My travel trailer use is twenty percent full hook-ups, and the rest National Parks or US Forest Service Campgrounds.  We prefer no campgrounds or dry camping." – Bill Gage, 2003 Ram 2500, 2007 Northstar TC650, and 2004 Arctic Fox 22GQ travel trailer