Last week we held a two question poll about whether truck campers should have factory ambient lighting, and where it should be located. Here are the illuminating results.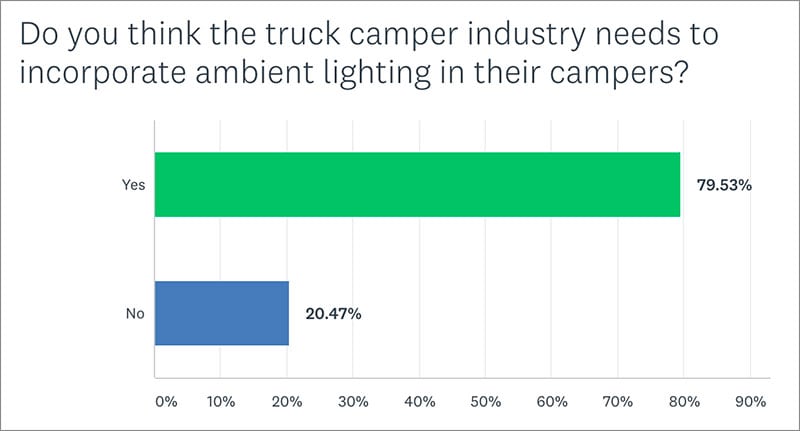 While we did hear from folks who were not in favor of factory-installed ambient lighting, the overwhelming majority wants ambient-lighting factory installed in their camper.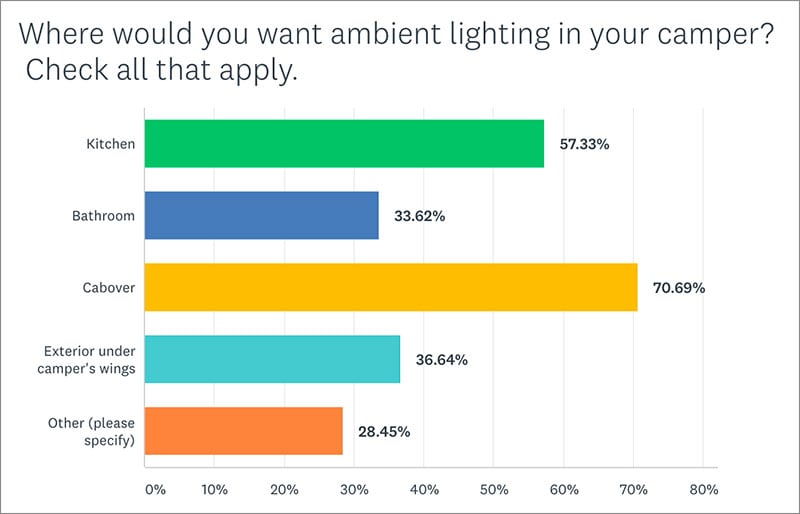 Not surprisingly, the number one place folks want ambient lighting in their camper is the cabover. We installed ambient lighting in our cabover and it's a fantastic option.
After the cabover, the kitchen was the number two camper area where folks want ambient lighting followed by under exterior wings, and interior bathrooms.
Other places where readers said they wanted ambient lighting included the dinette area, the ceiling, and inside deep cabinets and closets. By far the number one additional place folks asked for ambient lighting (not listed above) was the dinette.
One reader recommended integrating ambient lighting in the interior shade covers. Another suggested running ambient lighting in the baseboards to illuminate the floor just enough to navigate the camper at night.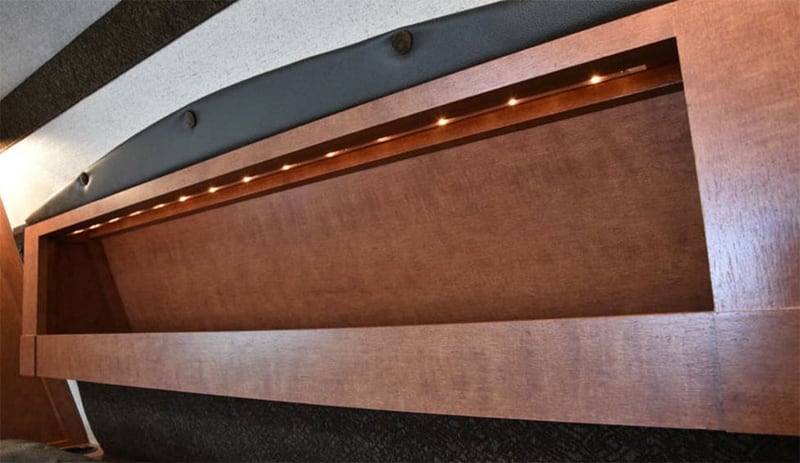 Above: Ambient lighting in the cabover of an Arctic Fox camper
Next we asked, "If you have ambient lighting from the factory, do you use it and do you like it? Or, if you have added ambient lighting, how did you do it?"
Here are the responses:
"I bought $4.99 stick-on LED lights from Walmart. They are made for sticking them to the back of your flat screen television, but they work well for ambient lighting. They also work from a cell phone charger and have many different colors.
I installed two sets of these LED lights. One is over the big window behind the valence and the other is low where the table drops down to make the bed. It works well when dimmed for having floor lights at night." – Jeffrey Hagberg, 2002 Ford F250, 2006 Travel Lite 800 SBX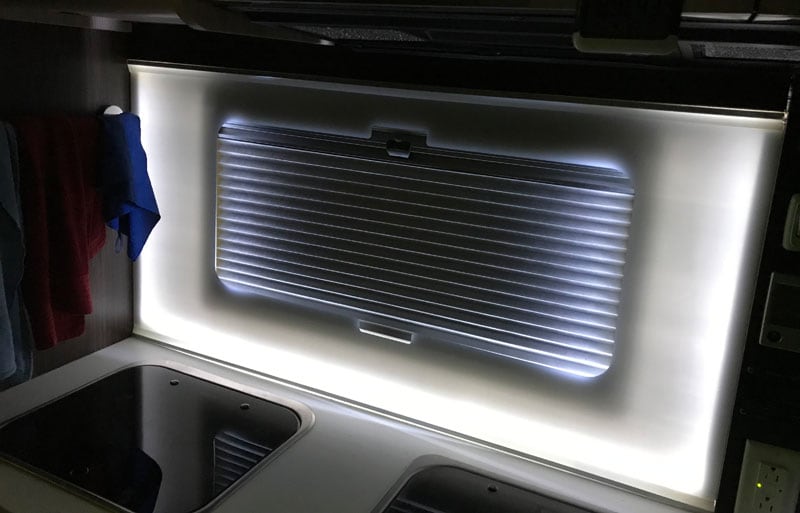 "We have ambient lighting from the factory in the kitchen. We also have ambient blue lights in dining and cabover areas, but I don't like them. I'm looking at adding outside lighting under the awnings, rear and side." – HT Morgan, 2004 GMC 2500HD, 2017 Cirrus 820
"We just have the usual LED flat high/low lights, except for the two reading lights in the cabover. One thing we envied in motorhomes was their strings of mood lights. As dimmable LEDs proliferate in household lighting, maybe they will trickle down to RVs – some day." – Joe Sesto, 2015 Silverado 3500, 2015 Bigfoot 10.6E
"I added my own ambient lighting. A short 3-foot blue holiday string lights in the kitchen and a string of blue holiday lights after I get set-up outside. Not a bright as the overhead lights or exterior lights, but better ambiance." – Chris Ray, 2017 Ford F350, 2017 Arctic Fox 990
"My old Lance came with ambient lighting above the valance of the cabover window. It has been nice. A few years ago I switched out the incandescent light strip with an LED strip I acquired at IKEA. I made sure the light temperature was akin to the incandescents and am quite happy with the results. I cannot remember if it was the Nüklehêd or the Kampermöd." – Mark Obert, 1999 Ford F250SD, 1999 Lance 920
Editor's Note: Definitely the Nüklehêd, Mark. Too funny.
"I simply bought small, dimmable clip-on lamps. I clipped one on the window treatment above the rear couch, one on the window treatment above the dinette, and one above each sleeping position on the cabover shelf above the pillows.
They are aimed at the ceiling and provide soft, indirect lighting. They are swiveled to aim down. The direct light is great for reading." – Bob Branson, 2008 Ford F350, 2014 Lance 1172
"We have a soft light in the headboard. It's our favorite of the lighting choices." – Luther Lloyd, 2016 Ford F350, 2016 Arctic Fox 990
"I have changed out the reading lights in the cabover to ones with dim blue night lights and dimmable reading lights with USB plugs in one unit." – John Walicek, 2015 Ram 3500, 2019 Northern Lite 9-6
"I have a harsh two-setting kitchen light over the sink. It's not too bad on low light mode, but it attracts bugs through the window. Bounce dryer sheets stuck in the window solved that.
The two lights for the bedroom and dinette table are way too bright and need a dimmer. The camper has one dimmer for overall lighting, which is nice.
I wish the camper had night vision red light option in the bathroom for night time vision. Currently I use a headlight with the red filter option.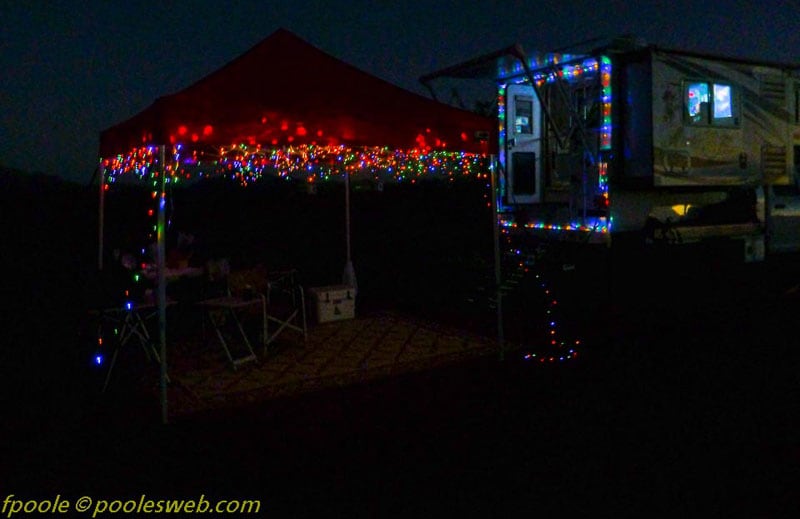 I use Christmas tree lights outside if I'm going to be at the site for few days. I use a single strand for the steps, which help. These lights are all solar so no batteries needed until the re-charged batteries go 'kaput'.
I'm conscious of the outside lights and try to park away from others so as not to disturb them. Those active porch lights are PITA." – Frank Poole, Ram 5500, Arctic Fox 990
"Ambient lighting is currently comes with an Dometic air conditioner. It's sort of a peach color. It's very nice and usable, but annoying when up in the cabover as the LED lights shine too directly and more brightly." – Pamela Andrews, Toyota Hilux, Andrews Slide-on Campers, Australia
"There is ambient lighting in the cabover that I use regularly. At night it adds a nice touch when coming in from a campfire. It is much better than the bright LED lights that are on a dimmer switch." – Susan Surateaux, 2016 GMC 3500HD, 2018 Arctic Fox 811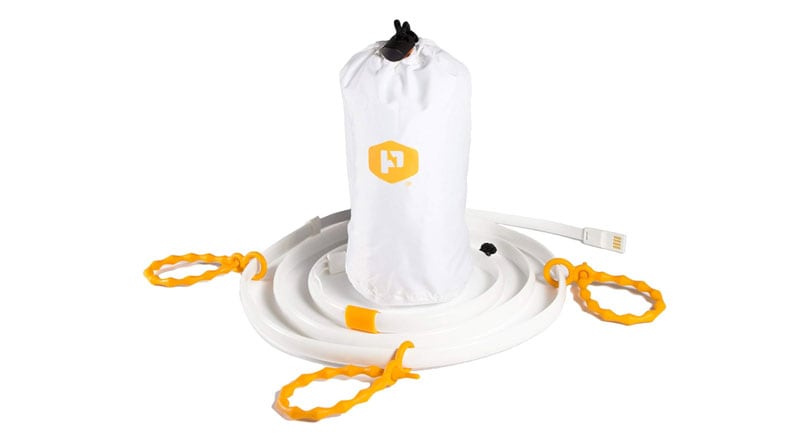 "We have a Power Practical Luminoodle we string up in the main area. We use it at night and for middle of the night bathroom runs. We love it.
We only have the 5-foot version, but plan on getting the longer version that can line the interior of the camper. We especially love being able to change the color and brightness.
We use a dim blue light for those midnight bathroom trips. It provides enough light to find your shoes, but it doesn't blind you." – Sandy Schmidt, 2006 Toyota Tundra, 2015 Four Wheel Camper Hawk
"My Arctic Fox 990 has LED lights on a dimmer switch. I do use it and they work great!" – Dean Curtis, 2002 Ford F250, 2019 Arctic Fox 990
"My 1140 came with ambient lighting from the factory in the cabover. I like it." – Richard Duzenack, 2018 Ford F550 2015 Arctic Fox 1140
"I added a strip of LEDs under the counter on a dimmer switch. It makes for a nice glow at night." – Pete Haidinyak, 2016 Ram 5500, 2016 Eagle Cap 1165
"We have the ambient lighting in the cabover and love it. It's so much more comfortable to watch TV or for reading as we are winding down from our day. The other night during a thunderstorm we turned on the ambient light so the lightning wouldn't be so intense.
Our camper has dimmable overhead lights in the main room of the camper. We also have a lamp we put on the table to give softer light at night." – Janet Larson, 2016 Ford F350 Superduty Dually, 2019 Arctic Fox 990
"Given the age of our camper, we do not have factory ambient lighting. However, I guess you could say I have added ambient lighting in the form of motion sensor puck lights under the sink, over the stove and on the ceiling in the bathroom. These are all powered by AAA batteries." – David Pracht, 2015 GMC K3500, 1987 Lance LC900
"My camper has no ambient lighting. I sometimes use the chemical glow lights to mark where my awning ropes and supports are located since I have trouble seeing in the dark. IF using a tent, I always mark the tent support ropes so nobody trips over them. I may use a solar powered rope light to mark other places in the camp site." – Harry Palmer, 2008 Dodge Ram 2500, 2008 Lance 915
"I don't have ambient lighting in my camper but I would like to have the option." – Ritchie Martinez, 2003 Chevy 2500 Silverado, 2013 Palomino
"Yes, we have battery pack string lights." – Chuck Kight, F350 2014 Ford, 2014 Adventurer
"Our camper came with ambient lighting. I bought a string of six or seven little incandescent bulbs (above the front window of the cabover) to replace with LEDs someday. It's pretty and we enjoy it, but don't use it often." – James and June Morris, 1999 Ford F-250, 1999 Lance 1120
"Owners should add ambient lighting if they want it. The factory should not install it." – Bill McKeon, 2007 Dodge 3500, 2010 Northern Lite 10-2 CDSE
"I do not have ambient lighting at this time. I'm not sure if it's necessary. If we were considering a new camper and it was part of the overall package, perhaps it would be nice to have it.
It would have to have a reostat for brightness and area control." – Roger Odahl, 2008 Dodge Ram 3500, 2004 Eagle Cap 950
"OEM LEDs were way too bright! I just ordered LED bulbs with six on each with a warm color spectrum. They are cheap and a great remedy." – Eddie Cano, 2012 Chevrolet 2500, 2013 Northstar Igloo 9.5
"I have a multi-colored LED bulb in a 110v lamp with a remote." – Marty Commins, 2007 Ford F350, 2006 Nash 22GQ trailer