"A dishwasher would be great.  It would save time and do a better job on the dishes.  Which would you rather do?  Sit by the camp fire or wash and dry the dinner dishes?  Get an early start on the day's first activity while the machine is washing the dishes back at the camper or wash and dry the breakfast dishes?  It may open up more menu options.  Instead of grilling to minimize pots and pans you might make something more exotic.  You can always choose to eat off of paper plates, but you can't cook with them." – Gregory Himes, 2017 Ford F350, None yet
"I could do without any of the above.  As we travel or boondock, we have lots of time to keep the place clean since it is our home.  The modern six cubic foot refrigerators with freezers hold enough food while boondocking.  When we get back to civilization, we stock up with more food, top up our fresh water, and dump our holding tanks." – Ron Burbee, 2013 Adventurer 980
"Well, there is an old saying that says, "You can't take it with you."  Cinda has been talking about washing machines and dishwashers for some time now.
And, here we are, they are all being made for truck campers.  I can see this is going to cost me money.  If I can't take it with me, then we may as well spend it here before we have to go.  The short answer is yes, we would want the aforementioned products." – Cinda and Gary Whistler, 2013 Chevy 3500, 2017 Lance 1172
"None of the above pretty much for the same reasons you have shared; space and water.  But, I would like a portable ice maker." – Geoff Ross, 2010 Ford F150, 2010 Travel Lite SBX
"I don't think these appliances would be something I would want.  The space they would take up wouldn't be worth the luxury." – Dena Goss, 1995 Chevy 2500, 1999 S&S 9.5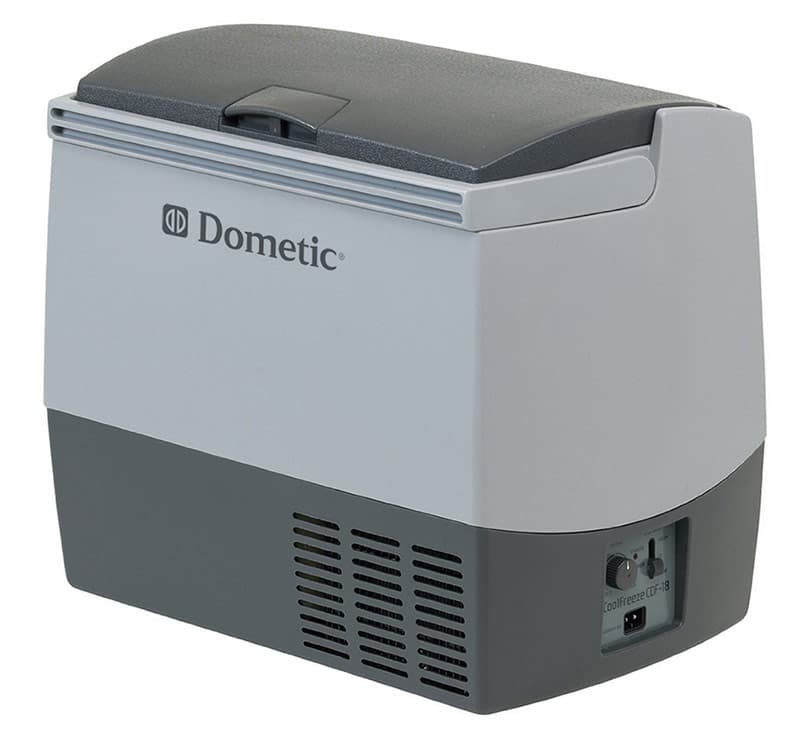 "None of the above for us.  I'm the designated dish washer, so I like disposable plates and cups the most.  I already have a chest freezer; a Dometic Danfoss Compressor refrigerator-freezer that resides in the backseat of the truck.
We certainly don't have a wine cooler.  It's camping, not a social gathering.  In our case off-grid, and usually on two-track roads.  I don't even have a wine cooler at home.
There is no room for a washer-dryer in our camper but I have washed clothes in a pinch using a five gallon plastic bucket with a tight fitting snap lid.  I strapped it on the back of the quad and then took a nice bumpy trail ride.  It does an excellent job.  Short bumpy ride to wash, short bumpy ride to rinse and the bucket does double duty storing clean towels." – Daryl Davis, 1997 Ford F350, 2014 Palomino SS1500
"A thousand times no!" – Greg Hall, 2004 Dodge 3500, 2005 Northern Lite 10-2
"I would not want any of those appliances.  I see no need.  I camp either by myself or with my girlfriend, so I seldom use many dishes.
I do not full-time RV, so I don't need many clothes.  A six cubic-foot refrigerator-freezer is super big for a truck camper.  The only appliance I carry in my camper is an electric toaster.  Our truck camper came with everything else." – William Steger, 2005 GMC 2500HD, 2016 Palomino HS-2902
"No – and for all the reasons mentioned.  I do have a slide and built-in generator with an air conditioner.  The problem I see is that truck campers are becoming so heavy that you need to move up from one ton 3500/350 trucks to 4500/450 or even 5500/550 series trucks just to haul them.  Now we are getting well into motorhome pricing territory." – Erwin Greven, 2002 Chevrolet 2500HD, 2002 Lance 921
"Refrigerator-freezer capacity in a standard camper way too small.  I purchased a Unique 80L unit that will act as refrigerator-freezer, freezer or refrigerator.  It has two compartments and runs off 12V, 24V or 120.  One solar panel and battery keeps it running without other power.  It uses approximately 33-amp hours over 24 hours.  You are able to use either compartment as a refrigerator or freezer.  I got mine at Costco.ca." – Ray Mostowy, 2006 GMC Sierra 3500, 2001 Adventurer
"As someone who has both a generator and a microwave in my camper, I would love to have a dishwasher.  The question is, what would I sacrifice to get it?  With that as a parameter I can't think of anything that I would be willing to give up for a dishwasher, so no dishwasher, washing machine, or chest freezer for me." – Scott Randolph, 2017 Ram 3500, 2017 Wolf Creek 850
"I personally don't need any of those appliances.  The wine cooler might be kinda neat, but I have to draw the line somewhere.  Camping is supposed to be back to basics.
As I say that, I have one of the largest truck campers on the market.  I am currently looking to replace my camper.  After a year of research of all RVs, and I have decided to purchase another truck camper.
I have seen all of the luxuries one could have in an RV.  If I were going full-time, I would consider some of them.  For now, I am part-time and I enjoy outside activities like hiking, cycling, fishing, eating outside, sitting outside, and cleaning up outside.  I just don't want to sleep outside.  I did enough of that in the military.
Some people ask if I have satellite TV in my camper.  I tell them that I'm not interested in watching main stream TV while I'm camping.  I may watch a movie, but that's about it.  I camp to escape main stream.  In the end, it's all about preference." – Dennis De Ville, 2008 Ford F-350, 2008 Lance 1191