Last week we asked TCM readers about their interest in adding major appliances to truck campers.  The response was swift, and about as passionate as anything we have ever asked.  This is one question of the week that everyone will enjoy reading.
Personally, I agree with those who say major appliances would require maintenance and repairs that would – at best – distract from the enjoyment of truck camping.  Over the past decade we have experienced refrigerator, water heater, and battery problems that essentially shut-down our truck camping until they were handled.
Thankfully those frustrating situations are few and far between, but breakdowns and maintenance should be top of mind when considering any additions to a truck camper.  It can be challenging enough keeping up with the camper's seals and various systems installed at the factory.  A broken wine cooler?  No thanks!
Perhaps the one appliance that seems to make the most sense is the addition of a 12-volt compressor refrigerator-freezer.  We have met a number of truck camper owners who keep a 12-volt refrigerator-freezer in their truck.  One reader suggests putting one under a dinette seat.  That's a neat idea, especially if that space isn't well utilized.
Last week's Question of the Week was, "Would you want a dishwasher, washing machine, chest freezer, or any other major appliance in your truck camper?"
"These might be fine for our friends with a fifth wheel, but most truck campers like to travel light and efficient.  I already have a weight problem (the camper and me).  I can't imagine add a few hundred more pounds.  We spend about half our time camping with no shore power.  These devices would all require shore power." – Matt Wiegand, 2014 Ford F150, 2017 Adventurer 80RB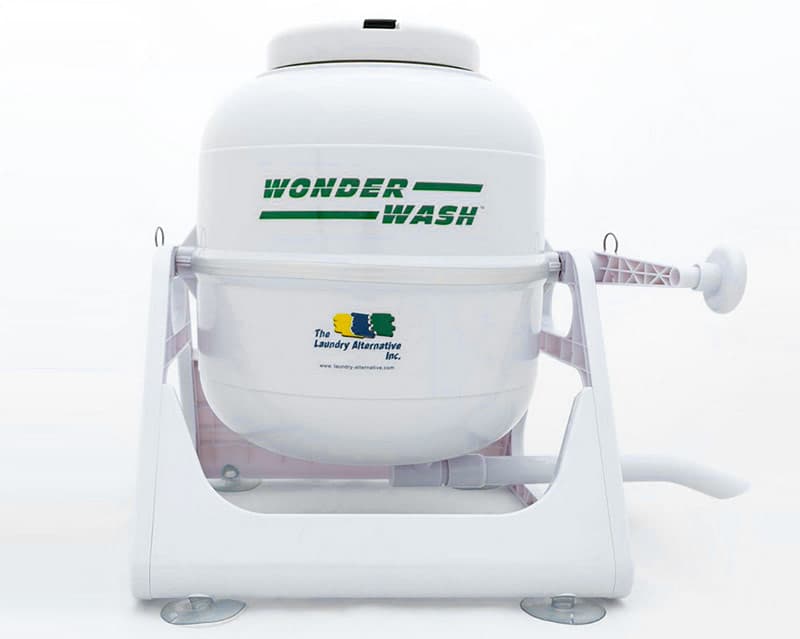 "Absolutely not.  I have a large two-slide camper.  Even at that, the only additional appliance I have is a Wonderwash machine.  It is only 16″ x 12″ x 12″, weighs 5 ½ pounds, and works off bicep-power.
The laundry detergent, clothesline, and clothespins store inside it, and it easily tucks into our basement storage area.  We wear lightweight, quick dry fabrics so we don't have to use a laundromat except for sheets and towels on extended trips.
As for a dishwasher, most truck camper folks I know are couples with the occasional grandkid as a guest.  How many dishes does that dirty?  We have truck campers to keep things simple, right?" – Nancy Meiners, 2015 Ford F350, 2016 Adventurer 116DS
"I am the dish washer.  I have no need for any major appliances as we are trying to get away from it all.  Love the magazine." – Larry Bell, 2003 Dodge Ram 3500, 2017 Northern Lite 9.6 Queen SE
"A microwave would be great.  Other appliances are more at home in a trailer." – Paul Oulton, 2015 Ford F350, Northstar 850
"I think a freezer could be very handy, especially if it was under one of the dinette benches.  I live in Florida, and we always need ice.  We don't have an ice maker, and the freezer could allow more food to be stored for longer trips.  I like to pre-cook or assemble meals in the freezer to cook in my Insta-pot.  I'm not sure I need it to be as large as a regular chest freezer though." – Candy Krewer, 1995 Dodge, 2005 Lance 1181
"We would love to have more freezer space built in.  On our last trip to Alaska (with our fifth wheel) we bought a 3.5 cubic foot freezer, installed it in a closet in the bedroom, and brought home 75 pounds of delicious salmon and halibut.  We plugged it into an inverter and ran it off the truck batteries while moving, and used shore power when available.
We are determined to take the same freezer back to Alaska in our truck camper.  We think we can replace our dinette table with it and use it as a (somewhat uncomfortable) table.  We will use it for pre-cooked meals and meats on the way up and fill it with fish to bring home.  I would choose a freezer over a dishwasher or a washer-dryer any time." – Audrey Ruccio, 2008 Ford F-450, 2008 Host Everest
"Absolutely not.  That might be the best thing for the Class A folks who camp in cement driveways, plug into shore power, watch TV, take the golf cart to get the 4:00pm special steak dinner and then play bingo all night.
There is nothing wrong with that but, in my opinion, truck campers are for folks who want compact and simple.  You have the things you really need to live on the road or trail, but the real honest truck camping part includes some roughing it.  In my book, campers should be non-slide and less than 20 feet." – David Wilson, 2016 Ford F150, still looking for the right camper
"I would absolutely want a washing machine in my truck camper, and do!  As my wife and I embarked on our two year cross county trip to see all 49 states, one thing I did not want to do is have wash day.  So, I installed a Haier portable washing machine, mounted to the side of my island, and it has been fantastic!