Truck Camper Magazine readers reveal the best small coffee makers and the different ways they make coffee while truck camping.
Evidently, the subject of making coffee is more important to our readers than just about anything we've asked about, ever.  Here are the responses to this week's Question of the Week, "How do you make coffee in your truck camper?"

"We use a drip pot that we got from my Aunt Anna, so it's a family heirloom I guess.  The only place I know of that carries them is Lehman's Non-electric Hardware in Kidron, Ohio in the Ohio Amish region.  They are somewhat expensive, but it works for us." – Skip and Marlene Jennett
"We are new to truck camping, but not new to camping.  We just downsized from a thirty-seven foot fifth wheel toy hauler to a Lance 815 truck camper which both are 2004s.  I make coffee first thing after going to the bathroom of course.  I use a revere ware stainless steel percolator on the stove.  It makes the best cup of joe.  Take care." – Brenda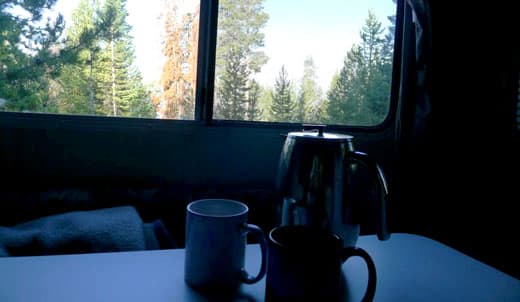 "We use an insulated Bodum French press.  It's awesome.  We have a glass French press, but I am always afraid I will break it, and then I would be doomed…no coffee!  We found the Bodum on-line, it was a little pricey, but it is stainless steel and being insulated will keep the java hot for a good hour or until I drain it!" – Bill Tex
"No camper yet, but here's my Bailey's recipe:
In a blender put:
1 cup Anejo Bacardi Rum
3 large brown eggs
1 can condensed milk
1 can lucheria (Mexico)
or 1 cup Heavy Cream
1 tablespoon chocolate syrup
1 teaspoon almond extact
Blend well and store in refrigerator.  Add as needed in the morning." – Bill Enos
"I scrounge estate and garage sales.  Or you could just buy an old fashioned stove top percolator new.  The ceiling vent fan sucks out the hot air if it's warm when you are camping, and it's a nice warm up for cool mornings.  It's ready in about four or five minutes.  I make two cups.  I drink one and put the other in an insulated coffee mug.  I like the old fashioned pyrex glass percolators.  It's fun to watch it perk and you can decide just how dark you like it.  I have three!  I would be glad to sell you one if you are ever in Kansas.  I'm not sure the glass ones are sold in stores anymore but will find them in antique stores also.  I also have a small electric one I take along.  It takes up some room but it is sure worth it for coffee first thing." – Martha
"There is no COJ dilemma in our camper, nosiree!  If we have power, then our Black & Decker serves up enough coffee for two and a half cups of joe within minutes.  If boondocking, then the Coleman Drip Coffee Maker, sits on the stovetop and brews up fresh coffee.  I am not an instant coffee type or person nor have I cared much for the grounds that seem to get into my coffee from a French press.  I'll take it freshly brewed, please.  Have a great day." – Sally Stomberg
"Since Cathy drinks only tea and I drink mostly coffee, we boil one kettle of water.  Then I use some of the boiled water in a glass coffee press.  This way we aren't heating two pots for different types of beverage." – John and Cathy Strasser
"Sherri and I both like a good cup of coffee, but don't like a lot of clean-up chores.  Call us lazy if you want, but over the past five years of truck camping we have learned that the less there is to clean up the better, especially if we are back country camping with a limited water supply.  So, after trying a couple a different coffee brewing methods while traveling, we settled on using instant coffee.  It's simple and efficient. And Sherri likes to mix half decaf and half regular.  It takes a couple days for us to get used to it, but after that it's tastes good." – Buzz and Sherri Merchlewitz
"I use a Keurig one cup brewer, with either Caribou or Green Mountain K Cups.  If not on shore power, I'll fire up the generator for that three minutes it takes to get that first great cup of coffee.  Since we have solar and larger batteries, I've been thinking of adding an inverter just for the brewer." – Joe Brown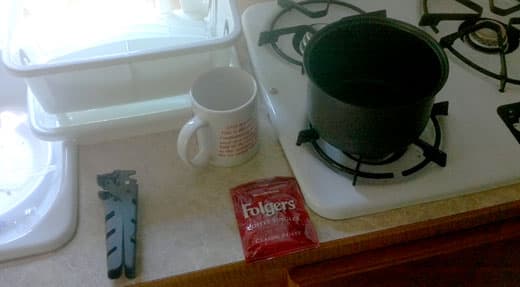 I have a couple of ways.  First, we start the generator and I have a ten cup coffee maker.  That's one way.  Also I have a pot and heat water with the gas stove and use those tea bag type coffee bags and make a cup at a time.  I also have a twelve volt water heater.  It works well if we have no propane." – Jeff
"Now you have really hit a nerve.  My day is shot, thank you.  Everything in a camper must have two purposes.  It was my husband Paul who used to make the coffee and I was served that coffee in bed, which is as it should be.  Paul always referred to me as a PIT, which of course, stands for Princess in Training.  I deserved the title and wore it well.  Oh how I miss him.  For the last twenty years I have had to roll out of bed with a thump, a bump and a scowl to find where I've hidden everything and make my own morning coffee.  What a loss!  I use the same coffee maker at home or on the road and it makes two large mugs of my favorite roast or whatever happens to be on sale.  The coffee maker is so old the brand name has washed off but it still makes the best coffee.  Pardon me while I sip my first cup and contemplate my day."  – Joei Carlton
I often camp with my Starbucks friends who insist on spending their entire life savings for the Starbucks VIA instant coffee.  I admit it's pretty good, but I've got a kid to get through college!  So instead I opt for the Folgers Instant Packets.  They are cheap (about one dollar for a box of six or seven single serve packets) and they take up almost no space at all.  So they are ideal for small campers where space is at a premium.  But they are equally as ideal for hiking, tent camping trips, etc.  All you need is a way to boil water."  – J. Bruce Baker, Jr.
"My husband does not drink coffee so I make Starbucks instant if we are traveling on that morning.  If we are staying put for a while I have an old fashion percolator that makes four cups.  It keeps me happy, with my coffee fixes." – Nina Giles