"I have WeatherTech mud flaps on both front and rear.  They work great.  Also my 265/70/R16 tires do not extend outside the wheel well.  The Weathertech mud flaps were easy to install and look great on my truck.  I have not noticed any big problems with water spraying up on the camper wing skirts since the mud flaps were installed.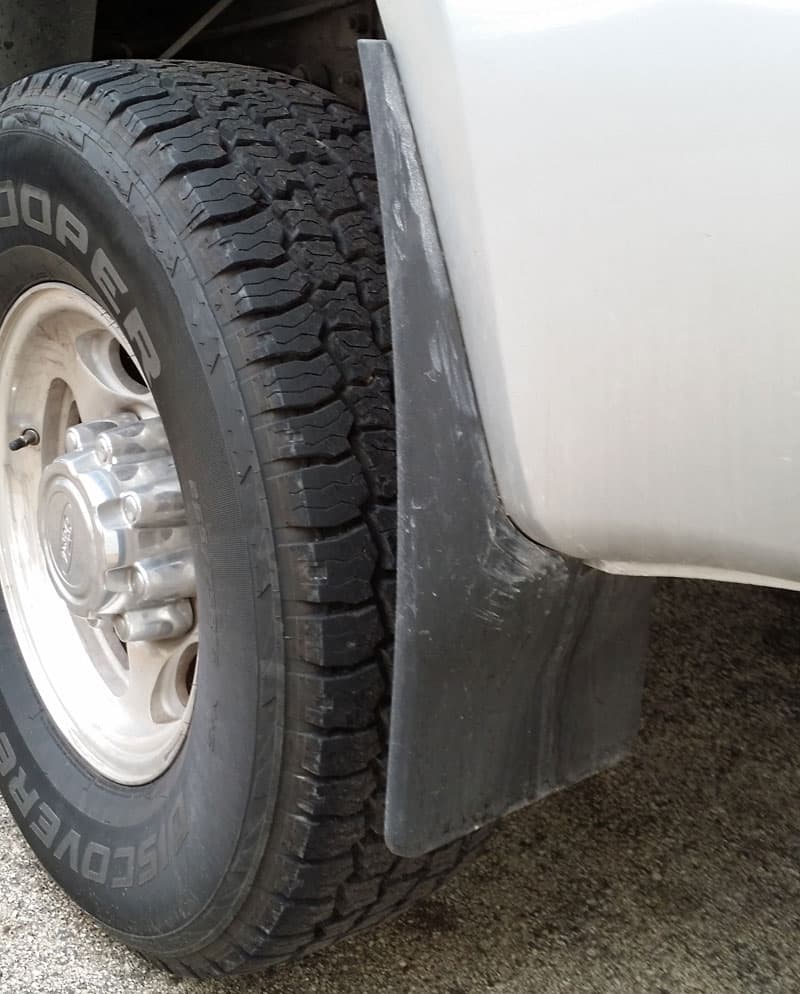 They are very durable.  The mud flap was the only part to survive a recent blowout of a rear tire.  The side of the truck box and fender well was badly damaged and the inner fender liner was destroyed by the disintegrating tire, but when I went back to look through the remnants of my tire after the blowout, I found my mud flap in like-new condition.  It was the only piece I was able to salvage from the mishap." – Arn Chamberlain, 2000 Ford F250, 2004 Palomino Maverick 8801
"We put mud flaps on this winter as we got tired of the running boards being full of road gunk and snow, and the vehicle we tow being covered as well.  The rear flaps are GMC OEM molded, hard plastic flaps, and they work and fit excellently.  The OEM pair for the front didn't fit with the wheel well trim (even though they are for our truck specifically), so we ended up getting a set of Husky front flaps.  They are very easy to install and they work great.  We will definitely have mud flaps on our truck, front and rear, from now on!" – Tracy Schuster, 2014 GMC 3500, 2012 Lance 992
"I have both front and rear mud flaps.  All are rather large.  I will always have mud flaps on my trucks!" – Dean Curtis, 2002 Ford F250, 2002 Arctic Fox 990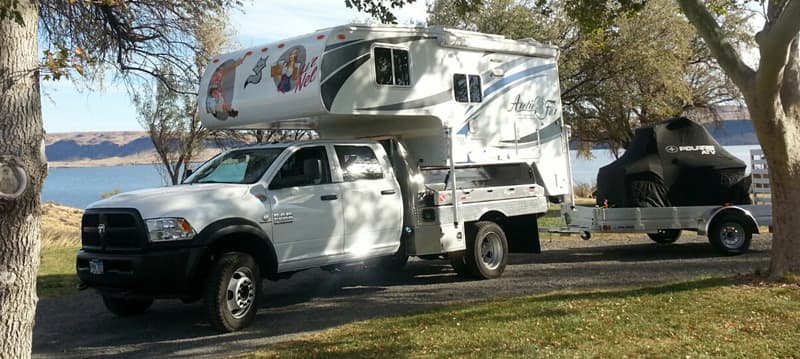 "I do.  They came with the flat bed set up.  I thought they were a mandatory item.  While I've never paid much attention to them, I'm always open to something a little different.  The flatbed manufacturer was using some old snowmobile treads.  I wanted those, but there was something about them not being legal.  Anyway, I just have the "BORF"s (Big Ole Rubber Flaps)." – Frank Poole, 2016 Ram 5500HD, 2016 Arctic Fox 990
"Yes, we have front and rear mud flaps.  We had them put on the truck long before we even considered having a truck camper.  They are Dodge factory flaps.  And, yes, we would put them on again." – Victoria Buie, 2007 Dodge 3500, 2012 Lance 1050S
"We have DuraFlap mud flaps.  They are made in the USA in Medford, Oregon.  They are heavy duty, feature mounting holes that match factory bolts, and offer excellent anti-sail and and anti-spray capabilities.  I drove the Alaskan Highway without any issues from them.  I have a front and rear set.  They helped prevent rock chips and dings.  Excellent product and customer service.  Well worth the money." – Thomas Cole, 2015 Ram 3500, 2013 Adventurer 86FB
"Yes.  I have them in the front and rear.  Heavy duty polymer mud flaps are a must have items on your truck." – JaLyn Sheesley, 2008 Ram 3500, 1993 Lance LC980
"Yes, I have mud flaps on both the front and rear of my truck.  My camper stops six inches outside the bed.  They keep a lot of road debris off the rear of the camper.  The fronts help to protect the body of the truck from rocks and stuff.  Also, if you plan to travel through the great state of Texas, they are mandatory if you have dual rear wheels.
Mine are made by AVS.  I got them the same time as my window vent shades and bug deflector for the hood.  Yes, I would buy them again." – Michael Davis, 2016 Dodge Ram 3500, 2011 Eagle Cap 800
"I have Ram mud flaps.  They came from the dealer, and are really thick (1/2-inch maybe) and heavy duty that cover the full width of the dual rear wheels.  They are so heavy they don't blow up in wind or slip stream of the truck at speed.
They hung almost to the street without the camper when I bought the truck, and touched the pavement when loaded, so I trimmed the top off and raised them up.  Now they clear the street by about 2-inches with the camper on.
I tow a Jeep so I'm convinced that they offer some protection to my toad.  I have the stock Ram front mud flaps and they help to keep mud off the nerf bar steps.  I also use a rubber bed mat." – Casey Myers, 2010 Ram, 2005 Alpenlite Cheyenne 950
"Yes, we have mud flaps on our dually truck.  I don't know the brand name.  I had them put on at the truck dealer when we took delivery of the truck.  They have a chrome strip along the bottom edge and were attached directly to the truck with some screws that have a coating on the threads to protect the metal.   We also have front flaps.  If I bought another truck I would buy mud flaps." – Michael Rodriguez, 2011 GMC 3500, 2011 Arctic Fox 1140
"Yes, I have the factory add-on molded mud flaps on both the front and back.  I would definitely have them on my next truck." – Jerry Smith, 2012 Chevy Silverado 3500, 2013 Arctic Fox 992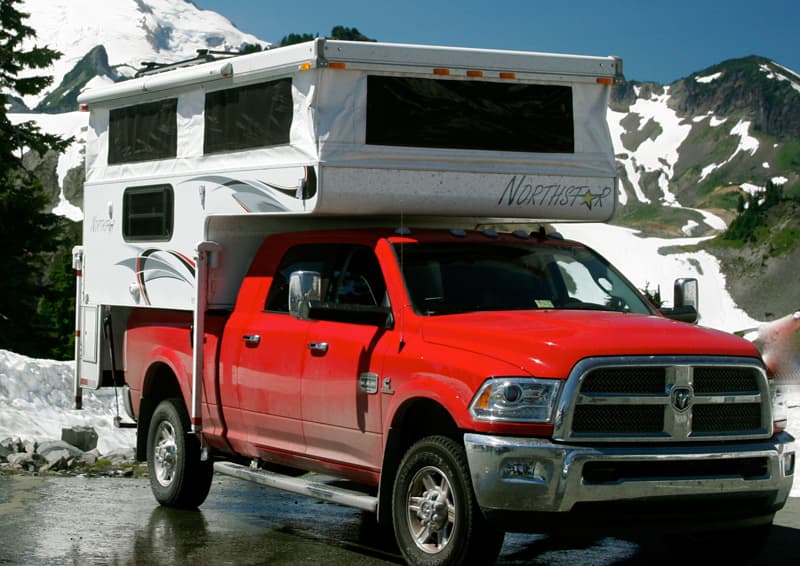 "When I took delivery of our custom-ordered Ram 2500, I had the dealer install Mopar mud flaps on the front and rear fenders.  They are black, heavy-duty (1/2-inch thick around the edges), stay stiff at highway speeds, and are easy to spray clean.  I would certainly get them again on my next truck.
The front flaps protect the running-board steps and rocker panels from mud and winter salt spray.  The rear flaps protect the exhaust pipe, camper truck bed overhang, and rear tie-down brackets.  They also add a more rugged look to my rig." – Dave Thalman, 2013 Ram 2500, 2013 Northstar 850SC