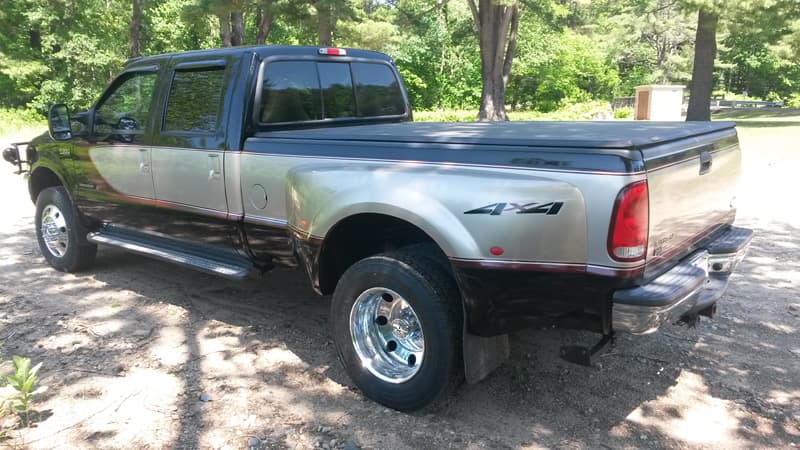 "Yes, I have front and rear mud flaps, and would definitely get them again!  Although I do not know the brand, the front flaps are molded plastic, and the rear dually ones are heavy duty rubber.  However, I also believe the side molded steps are just as important. These go from front to rear and, based on the molded design, prevents anything from being thrown up onto the sides of the truck." – Charles Coushaine, 2001 Ford F350, 2012 Chalet DS116RB
"We have the factory option front and rear mud flaps.  They help, but I'm always looking for better!" – Robert Mayton, 2014 Ford F450, 2015 Lance 1172
"Our first truck was a 1974 three-quarter ton and I typically buy a new one every seven years.  We have always had standard manufacture issue mud flaps on the front and back of all our trucks.  We bought our first truck camper in 1974 as well.
In my opinion bed liners, a bed rubber mat, and larger mud flaps are a waste of money.  This is really a personal preference and a desire to gain a specific look or appearance.  As an example, Ford zinc coats its body so it will not rust if you scratch the bed.  While larger mud flaps will help from a few rock dings, the large mud flaps look terrible.
I've never had water damage associated to the lack of larger mud flaps. Remember we are suppose to re-caulk areas around the camper as necessary to prevent water leaks – including top, sides, and front – annually.
There is a more simple choice – slow down on gravel roads.  You have a lot of other things to worry about like tree branches, low bridges, hail damage and normal wear and tear.  A few hardly noticeable rock dings is not that big of a deal.
Be happy!  Camp more.  Love life.  Enjoy the outdoors.  See our national parks.  But don't take my camping spot, okay?" – Tom Bender, 2011 Ford F250, 2009 Sun Valley Apache Chief 8.65 WS
"We have pre-formed plastic extensions both front and rear.  Being a dually, the rears are extra long and they are wider.  We have not found a lot of excess water and crude splashing up.  Our sewage tote is stored on our hitch extension, under the rear overhang.  We don't get a lot of debris there." – Eric Devolin, 2007 GMC 3500, 2006 Adventurer 106DBS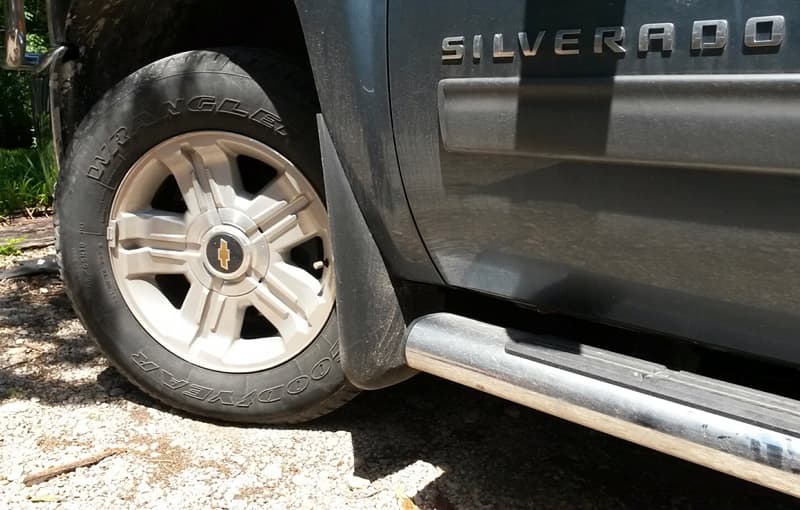 "I have put splash guards on both the front and rear wheel wells of all my vehicles.  While these are not the full Husky mud flaps, they do a lot to reduce the amount of debris thrown up on the lower sides of the vehicle.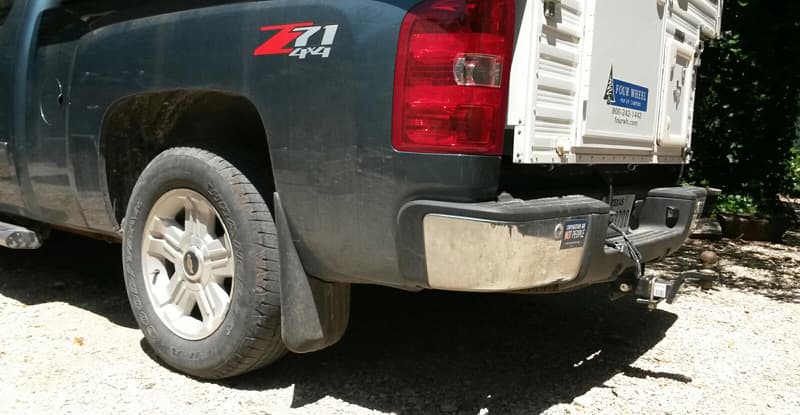 Since my camper does not extend beyond the tailgate, I do not need to protect an overhang." – Bill Peters, 2013 Chevy Silverado 1500, 2013 Four Wheel Camper Hawk
"I have mud flaps only on the rear.  I have DuraFlaps made here in Oregon.  I have had them in my last two trucks and I highly recommend them.  They look great and provide excellent protection.  I would definitely have them on any truck I purchased.
I added factory fender flares to my truck and have not found a need for front mud flap.  While I am sure they offer more protection I have not made the investment." – Jeff Marcus, 2011 Ram 3500, 2015 Arctic Fox 1150
"We installed skirts on the back of our unit primarily to keep the rear of our unit clean from road debris.  The skirts are easily removable." – Ernest Wallace, 2006 Chevy 2500HD, 2006 Lance Max 881
"I have front and rear DuraFlaps with stainless weight plates.  I would buy this product again.  They are pre-drilled for easy install, and are a rugged product." – Keith Lincoln, 2012 GMC 3500, 2014 Host Mammoth
"To anyone installing mud flaps, make sure that a tape is placed under the mud flap contacting the body paint area.  In the Dodge Ram forums there is a lot of talk about mud flaps wearing through paint in a very short amount of time because of movement while driving.  Much of this for the people who have dealer installed flaps is being covered by warranty – if discovered and pushed at the dealership.  Also, applying silicone during install helps." – Ken Snider, 2016 Ram 3500, 2016 Lance 995
"I have no mud flaps.  The funny thing is that, even after escaping the primordial ooze of Arizona's Mormon Lakes at last year's Overland Expo West, I had no appreciable accumulation of mud on the camper at all.  My clothing, boots, and floor mats are another story!" – Mark Obert, 1999 Ford F250SD, 1999 Lance 920