Traveling in a truck camper or RV no longer means being out of touch. With high-speed cellular internet available almost everywhere, you can keep up with email, pay bills online, and even surf the internet from the comfort of your rig.
After sharing the equipment and service we use to publish Truck Camper Magazine as we travel, we asked readers to tell us about their internet traveling solution.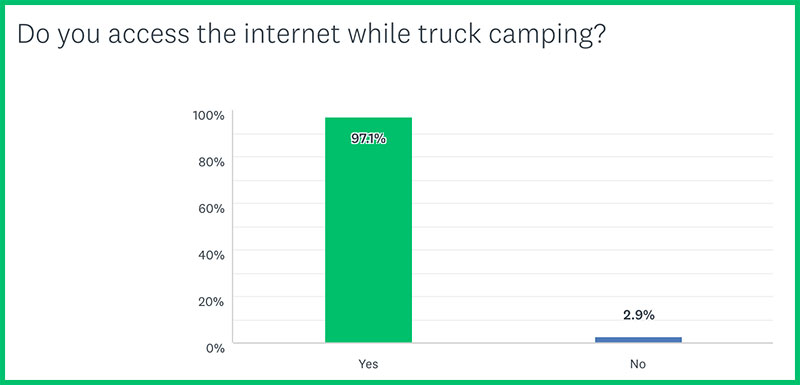 97.1-percent of Truck Camper Magazine readers use the internet while truck camping.  That makes us an excellent case study for traveling internet access throughout the United States, Canada, and Mexico.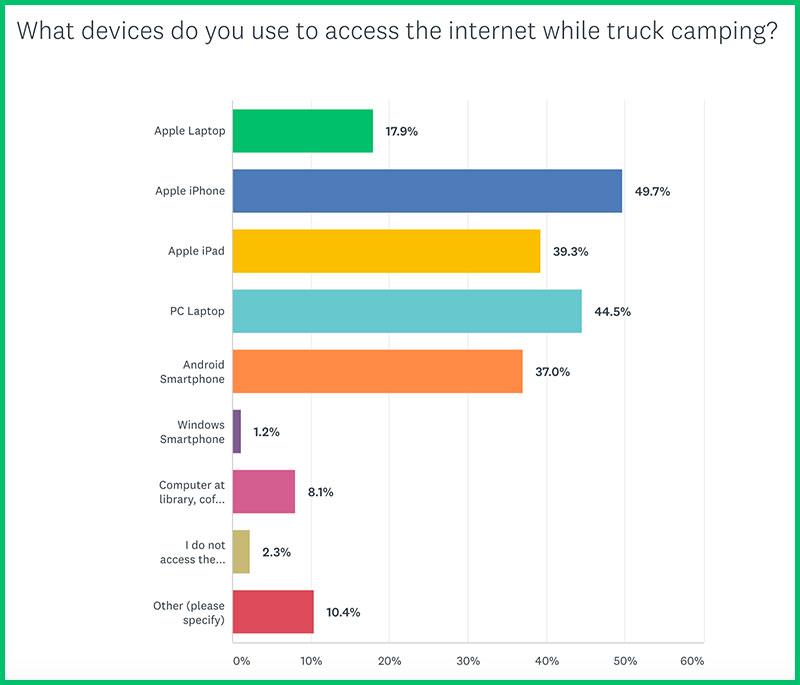 Readers also reported using Kindle tablets, Android tablets, Samsung tablets, Nook tablets, and Blackberry devices.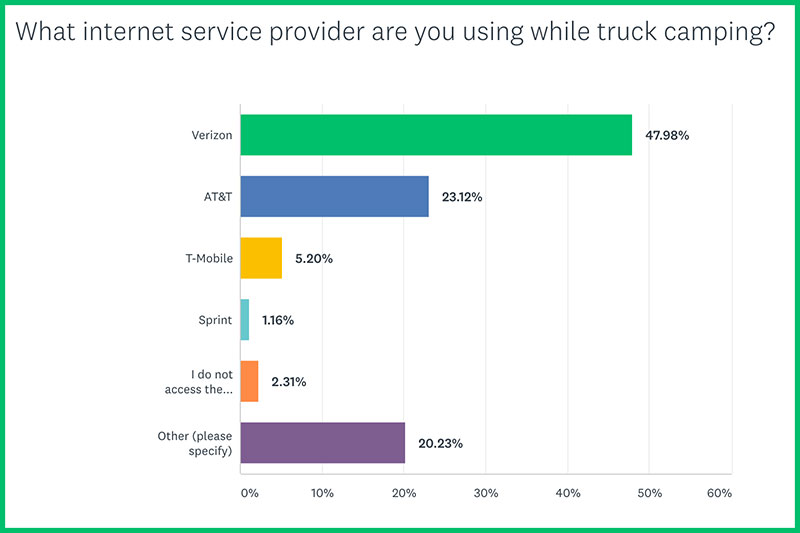 Readers also reported using Onstar (on GM trucks), U.S. Cellular, PC Mobile, Telstra (Australia), Straight Talk, Rogers (Canada), Telus (Canada), and Skyroam (Global).  One reader recommended an Alfa WIFI booster.  Others listed various free WIFI spots from visitor centers to restaurants to bars.
This week's Question of the Week was, "How do you access the internet while traveling?"
"I've had T-Mobile for about twenty years. At the time I switched from Verizon to T-Mobile because I worked in a rural county and T-Mobile had the best coverage there. I swore when I retired I was going to get rid of T-Mobile due to coverage limitations in other parts of the country. But, when I retired, T-Mobiles coverage had increased dramatically, and the same plan with Verizon is more than double.
Campground wifi is pretty much useless. We have gone to libraries and restaurants, but mostly use our smartphones to catch up on our email." – Erwin Greven, 2002 Chevrolet Silverado 2500HD, 2002 Lance 921
"We use both AT&T and a Sprint hotspot for better coverage and quality of coverage. Our jobs require us to check in every few days, so we try to go off-grid for three to four days and then back on-grid to check in with work and family.
If we need high-speed to upload files, we typically go to Starbucks, which is only available in city areas and not our rural areas." – Michael Jensen, 2003 Chevy Silverado 2500HD, 2005 Four Wheel Camper Grandby
"T-Mobile is very good.  Their binge-on feature lets you stream from most major streaming services (Netflix, Amazon) as well as streaming music without going against your data allocation.
We use a 6GB plan which has been sufficient for day-to-day access while researching sites and attractions while on the road. We supplement as needed with an AT&T mobile hotspot from our cell phone provider." – John Fischer, 2016 Ford F250, In the market, experience from 5th wheel traveling
"We live in Mexico so our basic provider for cell service is TelCel of Mexico. But their free roaming in the United States and Canada is widespread. They have roaming deals with the main providers like AT&T and T-Mobile. I will also use McDonalds." – Bob Bridge, 1999 Dodge Ram 2500, 2002 Fleetwood Angler
"AT&T has been great everywhere. We even picked it up in Nova Scotia. My truck is a hot spot." – Joseph Tamulevicius, 2017 Chevy Silverado 2500HD, 2016 Palomino SS-1240
"T-mobile has been the main go to the last four years tethering to the phone. I have an older non-unlimited plan with no overages. It throttles after 6 gigs. The T-mobile plan also does not count certain music and video streams as data. I also have a Verizon mobile hot spot from work that I use on occasion when T-mobile has no signal. Now it's somewhat rare. It only happened once in the last year.
I have Cox home internet. On occasion I find Cox WIFI out in the wild, which is included with the home internet. It works well. I also use WIFI at restaurants." – Chris Collins, 1995 Dodge Dakota, Working on a DIY popup
"We leave the laptop at home. I do have my Android phone with me and that has internet on it, as well as my Magellan GPS.