Traveling in a truck camper or RV no longer means being out of touch. With high-speed cellular internet available almost everywhere, you can keep up with email, pay bills online, and even surf the internet from the comfort of your rig.
After sharing the equipment and service we use to publish Truck Camper Magazine as we travel, we asked readers to tell us about their internet traveling solution.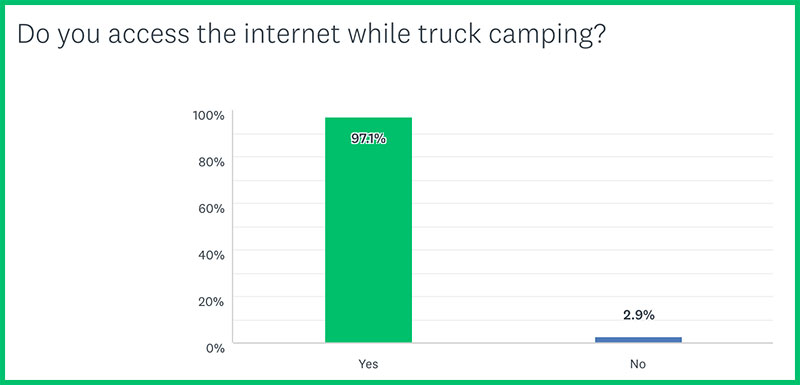 97.1-percent of Truck Camper Magazine readers use the internet while truck camping.  That makes us an excellent case study for traveling internet access throughout the United States, Canada, and Mexico.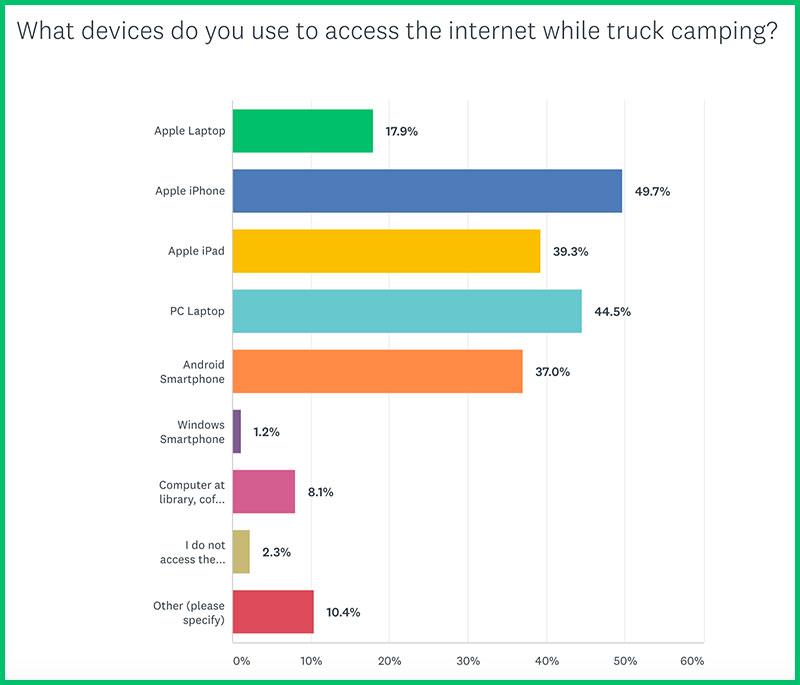 Readers also reported using Kindle tablets, Android tablets, Samsung tablets, Nook tablets, and Blackberry devices.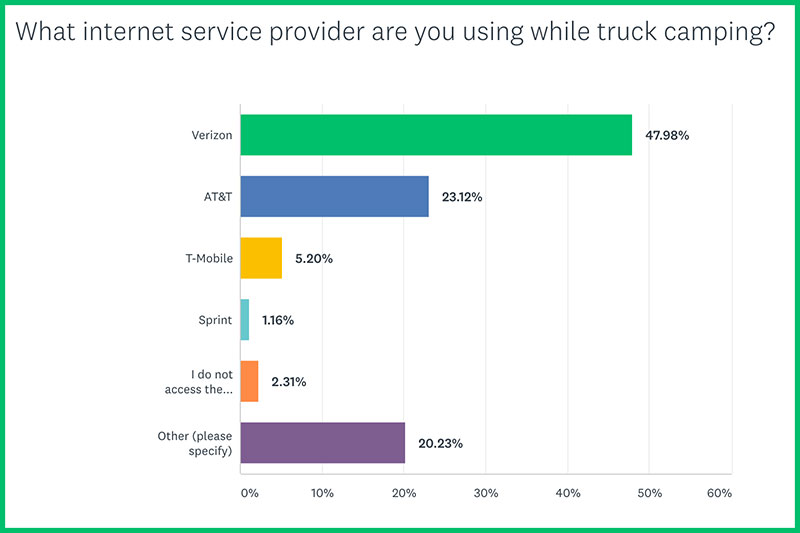 Readers also reported using Onstar (on GM trucks), U.S. Cellular, PC Mobile, Telstra (Australia), Straight Talk, Rogers (Canada), Telus (Canada), and Skyroam (Global).  One reader recommended an Alfa WIFI booster.  Others listed various free WIFI spots from visitor centers to restaurants to bars.
This week's Question of the Week was, "How do you access the internet while traveling?"
"I've had T-Mobile for about twenty years. At the time I switched from Verizon to T-Mobile because I worked in a rural county and T-Mobile had the best coverage there. I swore when I retired I was going to get rid of T-Mobile due to coverage limitations in other parts of the country. But, when I retired, T-Mobiles coverage had increased dramatically, and the same plan with Verizon is more than double.
Campground wifi is pretty much useless. We have gone to libraries and restaurants, but mostly use our smartphones to catch up on our email." – Erwin Greven, 2002 Chevrolet Silverado 2500HD, 2002 Lance 921
"We use both AT&T and a Sprint hotspot for better coverage and quality of coverage. Our jobs require us to check in every few days, so we try to go off-grid for three to four days and then back on-grid to check in with work and family.
If we need high-speed to upload files, we typically go to Starbucks, which is only available in city areas and not our rural areas." – Michael Jensen, 2003 Chevy Silverado 2500HD, 2005 Four Wheel Camper Grandby
"T-Mobile is very good.  Their binge-on feature lets you stream from most major streaming services (Netflix, Amazon) as well as streaming music without going against your data allocation.
We use a 6GB plan which has been sufficient for day-to-day access while researching sites and attractions while on the road. We supplement as needed with an AT&T mobile hotspot from our cell phone provider." – John Fischer, 2016 Ford F250, In the market, experience from 5th wheel traveling
"We live in Mexico so our basic provider for cell service is TelCel of Mexico. But their free roaming in the United States and Canada is widespread. They have roaming deals with the main providers like AT&T and T-Mobile. I will also use McDonalds." – Bob Bridge, 1999 Dodge Ram 2500, 2002 Fleetwood Angler
"AT&T has been great everywhere. We even picked it up in Nova Scotia. My truck is a hot spot." – Joseph Tamulevicius, 2017 Chevy Silverado 2500HD, 2016 Palomino SS-1240
"T-mobile has been the main go to the last four years tethering to the phone. I have an older non-unlimited plan with no overages. It throttles after 6 gigs. The T-mobile plan also does not count certain music and video streams as data. I also have a Verizon mobile hot spot from work that I use on occasion when T-mobile has no signal. Now it's somewhat rare. It only happened once in the last year.
I have Cox home internet. On occasion I find Cox WIFI out in the wild, which is included with the home internet. It works well. I also use WIFI at restaurants." – Chris Collins, 1995 Dodge Dakota, Working on a DIY popup
"We leave the laptop at home. I do have my Android phone with me and that has internet on it, as well as my Magellan GPS.
I never look at the internet when I am camping or traveling. I grew up in a time when the internet didn't exist. While I'm at home I use it. When I'm on vacation I could care less about it. My wife feels the same way. It's vacation for us, so there's no need to be connected." – Daryl Davis, 1997 Ford F350, 2014 Palomino SS-1500
"Verizon has been good. We use it because there is a large concrete industrial building that seems to block AT&T at home. We usually add North America coverage/service for our summers. We also ask about cafes with WIFI when we are in remote small towns. We named it PIE-FI when we were in the Upper Peninsula of Michigan last summer.
State or commercial campgrounds usually have WIFI service. We use cafes or diners, but with extreme care." – Philip Tron, 2009 Chevy 3500, 2012 Lance 1050
"We have Verizon's unlimited data plan for our iPhones, which we can use as a hot spot to link our iPads and laptop to the internet. Verizon seems to be just about everywhere, even in Canada (and I've heard, Mexico). Of course, if we get too far afield, we lose coverage and will have to do without for awhile. Overall, we are pleased with this set up. Campgrounds often have WIFI available." – Jim and Cindi Goodrich, 2006 Chevy 3500, 2008 Lance 1191
"AT&T was the first nationwide no roaming provider for cellular service. It was the first to offer internet mini cell towers. It was the first national coverage I had living in a rural part of Texas. I stuck with them when I began truck camping using the cell phone as a wifi hotspot. Now with the truck's OnStar hotspot, it has just gotten better. While more expensive, the combination of services works for me." – Bill Peters, 2017 Chevy Silverado, 2013 Four Wheel Camper Hawk
"At home I use Spectrum broadband and a small amount of data from Verizon. Therefore, I have a small usage plan.
When I hit the road, I up my data plan limit for the period of time I plan to be gone. I use my phone as a mobile hot spot to connect my laptop or iPad to the internet. This has worked very well for me, even in Canada. I have been very pleased with Verizon for many years." – Eldon Rhodes, 2008 Chevy 3500 HD, 2011 Lance 1050
"We use Verizon and an iPhone for both cellular internet and as a hotspot with a laptop. It seems to work okay for Skype and other limited use that we need. I prefer to not use it at all, but life still happens. I have never tried any public access." – Dave and Tina Snapp, 2012 Dodge 3500, 2017 Lance 1172
"We use T-Mobile with our cell phones, and while the experience for the most part has been pretty good on the west side of the country, their service really lacks on the east side where it is pretty much non-existent.
Our Verizon hotspot on the other side is a solid option, being able to reach signal in many more areas where T-Mobile wouldn't.  AT&T is still the king on the east coast though.
Our two options to go are public libraries and Starbucks locations.  Both are solid options and we switch between the two depending on our location and schedule." – Christelle and Cayetano Gil, 1995 Ford F350, 2002 Lance 1130
"Being retired, I have little need to be in any type of constant contact. I do not have a cell phone or service. I go camping to get even further away from the home phone and internet, and usually go deep into the woods where there is no signal.
If I must get a connection, I stop where possible to connect with my laptop. I also have an advanced GPS handheld with trail, terrain, and back road software." – Bill Lenz, 2014 Ford F150, 1992 Shadow Cruiser
"There is often no cellular service where I travel in The West, and I'm used to that. All I want to do is check email and take an occasional call from a friend. Verizon gives me service when my friends with other providers have no service, so I'm happy with it." – Christine Dyer, 2012 Chevy Silverado, 2016 Four Wheel Camper Hawk shell
"We had some trouble with AT&T coverage in northern Michigan. There was actually no coverage for a large part of a trip through the state of Michigan and the Upper Peninsula. However, on a trip out west from Minnesota to California, we had coverage all over except in some National Parks." – Allen Brummel, 2013 Ram 2500, 2016 Northstar 650SC
"I use Verizon and it has been superb! I was on Sprint for years, but Verizon has a better coverage and that is the main reason I switched carriers. I boondock a lot and, on my last seven month trip, I had great coverage. But, I also use a Weboost antenna to help with signal strength. I have used Mcdonalds, Starbucks, Flying J, and Pilot truck stops." – Kenneth Dunn, 1998 Dodge 3500, 2010 Arctic Fox 811S
"I have used both Sprint and AT&T. In my experience, I cannot tell the difference in accessibility to the internet. I use Flying J/Pilot for fuel and access to the internet. Although there is a fee for using their access, I like the convenience and response (speed). At campsites, I have found using my phone as a hot spot is not always accessible and responsive.
I have not used any other internet access than the Flying J/Pilot. There reason is because usually there are too many people at other sites and the speed is slow and accessibility at times is questionable." – Clifford Cizan, 2010 Dodge Ram 3500, 2013 Arctic Fox 1150
"Most of the time my AT&T signal rocks! A couple of campgrounds have had terrible 4GLTE signal strength, even with my OnStar connection. One such campground at least had their own WIFI." – Stephen Smith, 2015 Chevy 3500 HD, 2017 Cirrus 820
"Verizon is satisfactory for us. We have a grandfathered unlimited Verizon plan that does not throttle back." – Doug Z., 1998 Chevy K3500, 1999 Shadow Cruiser 9.6
"We have always used Verizon and access the internet using our cell phones as hot spots. We were very happy with our service for the two years we were on the road full-time. We were often astonished at the places many, many miles down dirt roads in the middle of nowhere when we would actually get usable data service. My only complaint is that their unlimited plan throttles your speed after 15 gigs.
We use campground WIFI when it's available. Almost every RV Park now advertises that they have WIFI but, in our experience, you will be lucky if 30-percent of these actually provide decent service." – Joanne Hall, 2014 Chevy Silverado 3500HD, 2014 Lance 1172
"Because of the areas where we set up and camp, both OnStar, which enables a hot spot through our truck while driving, and AT&T can be sketchy at times. When that happens we remain out of touch until we get service again. We won't move just for a connection. In the past, we have used small town public libraries." – David Pracht, 2015 GMC Sierra Denali K3500, 1987 Lance LC900
"AT&T service has been surprisingly good. We have seen over 50mbs download speed with the Netgear Nighthawk LTE Mobile Hotspot Router, although speeds do vary. It's $195 a month for three phones and hotspot on unlimited phone, text and data plan (throttle after 22GB on phones, no cap on hotspot). We also use Starbucks, Panera, and the library." – Greg Miller, 2013 Chevy 3500 HD, 2014 Lance 855S
"I have a love-hate relationship with Verizon. There's always a gotcha. I have an unlimited plan with the Jetpack. I upgraded the 6620 to a 7730L. The Jetpack throttled less than advertised at 15gb which, for me, is reached in five to seven days after renewal. It's painful.
My phone, a Samsung S7e Android, is managed at 25gb. The hotspot phone is throttled at 15gb. WeBoost is next. I purchased a Netgear 6000450 MIMO Antenna w/2 TS-9 Connectors." – Frank Poole, 2016 Ram 5550 HD, 2016 Arctic Fox 990
"AT&T has been pretty good. The Verizon works very well in a lot of places. We bought a Skyroam to use in Canada. It works very well where there is a signal. It is also PAYG (pay as you go) and you can order credits through the device.
Skyroam is awesome in Canada. It picks up any signal, and you pay as you go. I use a tethered Verizon iPad or my non-tethered AT&T iPhone. In Canada, many of the visitor centers have WIFI accessibility outside." – Jack Reall, 2016 Ram 3500, Cirrus 820
"I use a Verizon hotspot. I have only had a couple spots where service was at one or two bars, but it still worked." – Rich Alves, 2013 Chevy 3500hd, 2006 Lance 1181
"We find the coverage for AT&T to be spotty. There was a roaming cost to use it in Canada. For security reasons we do not use any other source for internet unless we are home." – Tom Scholtens, 2010 Silverado 2600HD, 2013 Bigfoot 25C10.4
"We just got back from a month long trip taking us through west Texas, New Mexico, Arizona, and Nevada. We found that either AT&T or Verizon's coverage was better depending on where we were. Both of us have AT&T and a Verizon iPhones that we can use as hotspots. They work like my employer provided MIFI/Jetpack. We like to be in contact everywhere we go." – Larry Pearson, 2017 Ford F-450, 2017 Lance 850
"I use what's most convenient with good WIFI. I have used Starbucks, Tim Hortons, Walmart, libraries, visitor/info centers, and car dealer service center waiting rooms (from outside if it's after hours)." – Brett Burguard, 2017 Ford F350, 2012 Northstar 9.5 Igloo
"McDonalds, Starbucks, public library." – Shawn Bates, 2007 Toyota Tacoma, Homemade
"Verizon works great. I always seem to get very fast speeds and service almost everywhere. I use it wherever I can get it." – Veeder, 2006 Ford F250, 2012 Wolf Creek
"Verizon typically provides consistent, good quality service. I am leaving for Canada and Alaska later this month, so this survey is particularly time relevant for me. I am looking forward to reading the results.
I use free WIFI spots for the laptop such as McDonalds. I combine eating and internet in one stop. Using the phone as hotspot consumes too much of my data plan." – Craig Brueckman, 2015 Ford F350, 2014 Lance 1191
"We started off on a two-year truck camper retirement trip around the country to see all 49 states. On this trip we attempted to use whatever free WIFI signal was available.
We ultimately learned that hoping that the campground signal would be good enough was just too frustrating. It failed our expectations, so we now turn our smart phones into a hotspot and life is grand!" – Charles Coushaine, 2001 Ford F350, 2012 Chalet DS116RB
"Verizon's quality is good, but we have trouble staying within our 8 gig monthly plan. We'll also go to McDonalds." – Dale DeKuiper, 2001 Ford F250, 2013 Lance 825
"Internet service for us is very adequate. But, in the future when traveling to/from around Canada and Alaska, I'll definitely be researching the use of a good satellite phone." – Shellie Barnes, 2017 Ford F-250, 2017 Palomino SS-550
"I have a Verizon Jetpack with unlimited data.   They do throttle it back from 4G to 3G after ten gigs, but we really don't see any difference in the speed of streaming." – Roger H Wareing, 2013 Chevy Silverado 3500 HD, 2016 Arctic Fox 990
"We have a T-Mobile plan with unlimited talk, texts, and data for $55 a month. It works perfect on the cell phone, but the mobile hotspot is annoyingly slow. When we want to upload a bunch of photos to our blog I go to a library. Libraries and Starbucks are my favorite when I'm in need for public wifi." – Niels Clemmensen, 2014 Ford F-350, 2016 Northern Lite Classic
"We are still too new at this, so we want to see what is working for all y'all! Mostly we have used campground WIFI with occasional tethering to our iPhones (one on AT&T and one on Verizon). I will add as an anecdote, in my previous job it was imperative to have internet access at the job site. I found the best solution was two devices – one on AT&T and one on Verizon. We found dead zones on both. We also go to Panera!" – Jim McIrvin, 2015 Ford F350, 2012 Lance 1191
"We have used Verizon from the beginning of our truck camping adventure. The quality has for the most part been excellent! We use mostly the public library and McDonalds." – Tom Miner, 2004 Dodge Ram 3500, 2005 Host Yukon 11.5 SS