This week's Question of the Week was, "What do you store in your truck's backseat?".  As you're about to see, the list includes dogs, pups, hounds, mutts, pooches, bow-wows, fidos, tail waggers, fur babies, a bat, kidlets, and finally, some camping stuff.
"In the backseat I keep bumper cables, blankets, two granddaughters, and a grandson." – Howard Bisco, 2007 Ford F150, 2012 Palomino 1251SB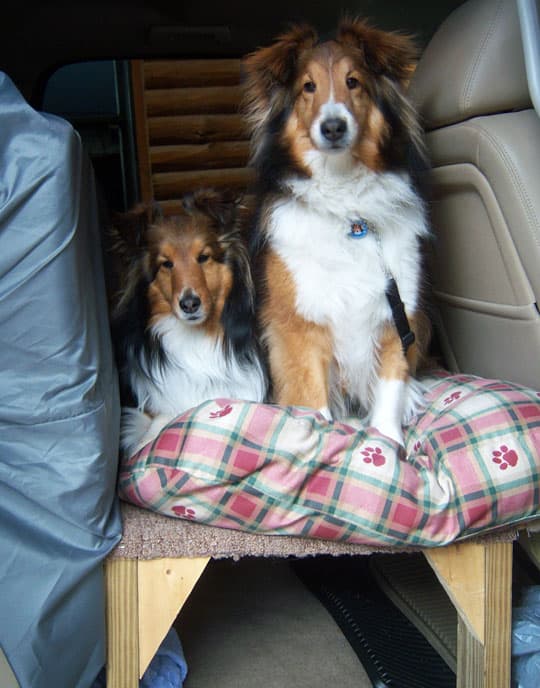 "We fold up our back seat.  We have made a folding carpet-covered wood raised platform for our dogs.  It folds the long way for easy removal when we need the back seat.  On top are two dog beds.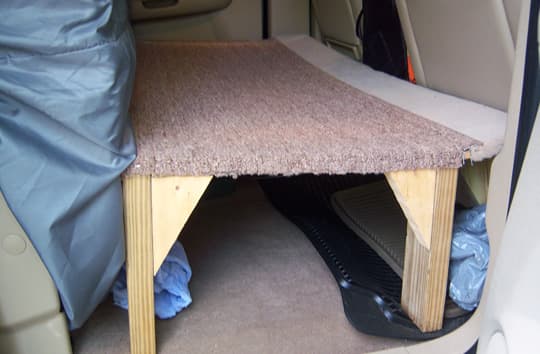 Underneath we carry dog food, water, leashes, and other dog supplies we use while traveling.  We also have rain gear, folding chairs and table, a small cooler, and other odds and ends we may need while traveling." – Richard and Karen Parsons, 2012 Chevy 3500, 2012 Northstar American Hero
"We live/camp in the Southwest a lot.  We use our camper as a base camp for many physically active hobbies, so keeping hydrated is important.  We take a five day ice chest, sometimes two.  Cold drinks are stored there, possibly along with some frozen future dinners like chile or pasta sauce.
On the floor we'll have cases of Gatorade and water, maybe some sodas for a treat, and some caffeinated drinks in case the driver gets tired.  Also there is a snack bag for munchies while driving, a fire extinguisher, tool kit, camera equipment bag (never know what you'll see), hand held spotlight, my wife's purse (which has goodness-knows-what in it, but I'm certain we could survive a zombie apocalypse for days solely with its contents), sun hats, possibly chairs, and similar to Angela's truck, bags for recycling material." – Bruce Allison, 2000 Ford F350, 2012 Adventurer 910FBS
"On our longest trip in 1999, we had a Ford F250 extended cab.  The rear seat folded nice and flat (unlike our current F350).  We had a dog box in half for a dog and a clothes rod from door to door.  On the rod we kept a lot of extra clothes.  On the floor under the seat I carried fishing gear (waders, boxes, fly vest, etc.)." – Philip, 2012 Ford F350, 1994 Lance 850 Squire Lite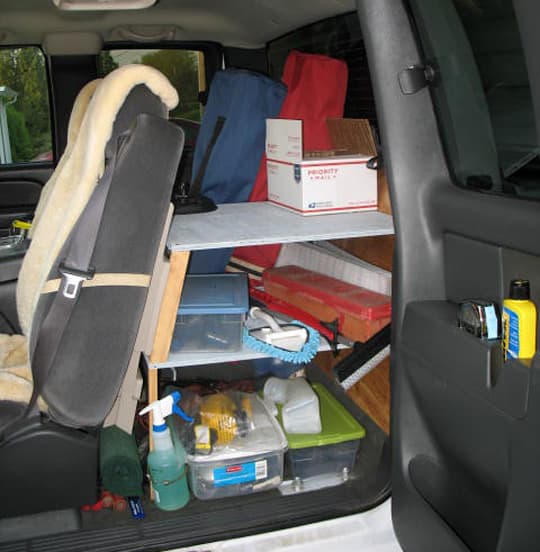 "I removed my back seat in my Sierra 2500HD truck.  Behind the driver's seat I installed two shelves for my stuff.  The floor area holds safety equipment, windshield fluid, truck jack, road flares, etc.  The middle shelf has snack food, Kleenex, and assorted necessary stuff like windshield squeegee on a telescoping pole.
The top shelf has a rubberneck box of information on states like brochures, maps, guides in large envelopes.  I also carry paper TOPO state atlas maps as my co-pilot cannot work the computer maps.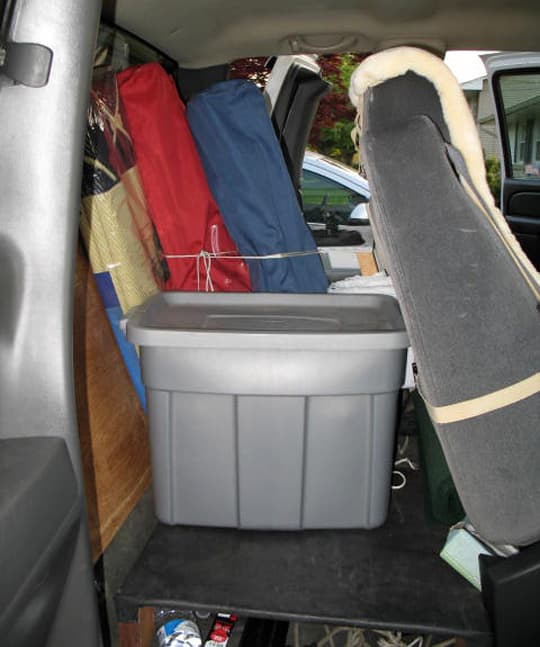 Behind the front passenger's seat is a big empty seat that either holds the dog with his bed or, if he is home guarding our stationary house, room for leveling blocks, two lounge chairs, a small charcoal grill and charcoal, water jugs for boondocking, or anything that we think that we need, but never use." – Jesse Taylor, 2006 GMC 2500HD, 2005 Lance 815
"A back seat?  I have heard people talk about rear seats in trucks.  In fact, I think I have seen a picture or two.  I say again, a back seat?  What back seat?  I have a regular cab.  Sorry, I could not resist." – Rich Bain, 1999 Chevy C3500, 2010 Adventurer 810WS
"So glad you asked.  We leave the Chevy split seats down and put chairs and levelers underneath with the tool kit on the floor.  On the seats we have two inflatable kayaks, sometimes a box of firewood, and some odds and ends.  I've thought about putting the seats up and building a plywood floor for more room under, but I haven't gotten to it." – Rob Harris, 2007 Chevy Silverado 2500, 2012 Northern Lite Sportsman
"Since I don't have a cat, I fold up both rear seats and use plastic storage containers with lids to store clothes and various shoes and hiking boots.  On the other side I place a folded vinyl tarp on the floor in case I need to crawl under the truck, or cover something in the rain, or place our fold up camping chairs and tools on top of the tarp.
We carry a couple of large cloth bags that we put dirty clothes in.  Those get thrown in on top of everything until laundry day.  The top of the storage containers is a good place to keep my iPad and other small items that we need quick access to while traveling." – Eldon Rhodes, 2008 Chevy 3500, 2011 Lance 1050
"Our three kids!  Underneath the seats is safety gear, a tow rope, extra oil, booster cables, and a heavy duty jack in case I need to change a tire.  Two of our kids are in child safety seats.  We hope we don't need what's under the seat as it is a bit of a job to remove the kids and seats to get at what's tucked away." – Don, 2003 Dodge 2500, 2012 Adventurer 950B
"Our dog, Newton, gets the seat.  The single fold-up seat behind the driver has a milk crate filled with all the stuff we need to set up camp on the exterior.  We also have hoses, boards for leveling under the legs, water filter, etc. " – Tom Martin, 2003 Ford F350, 2005 Lance 1030