This week's Question of the Week was, "What do you store in your truck's backseat?".  As you're about to see, the list includes dogs, pups, hounds, mutts, pooches, bow-wows, fidos, tail waggers, fur babies, a bat, kidlets, and finally, some camping stuff.
"In the backseat I keep bumper cables, blankets, two granddaughters, and a grandson." – Howard Bisco, 2007 Ford F150, 2012 Palomino 1251SB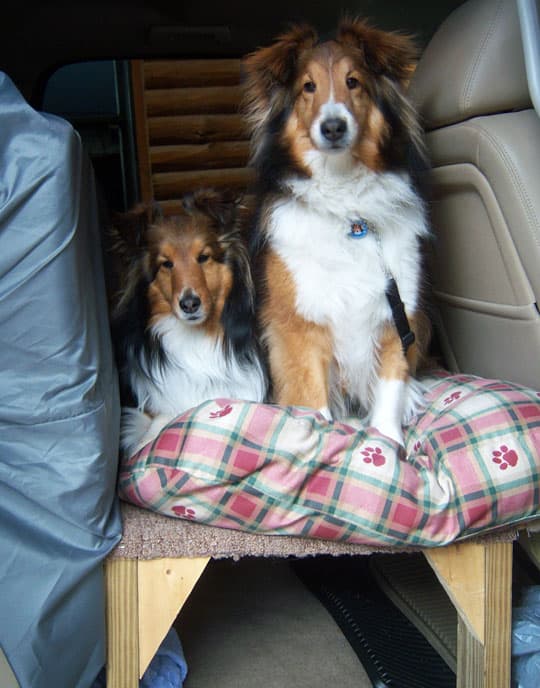 "We fold up our back seat.  We have made a folding carpet-covered wood raised platform for our dogs.  It folds the long way for easy removal when we need the back seat.  On top are two dog beds.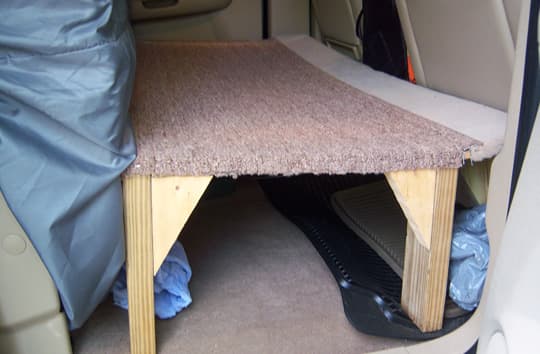 Underneath we carry dog food, water, leashes, and other dog supplies we use while traveling.  We also have rain gear, folding chairs and table, a small cooler, and other odds and ends we may need while traveling." – Richard and Karen Parsons, 2012 Chevy 3500, 2012 Northstar American Hero
"We live/camp in the Southwest a lot.  We use our camper as a base camp for many physically active hobbies, so keeping hydrated is important.  We take a five day ice chest, sometimes two.  Cold drinks are stored there, possibly along with some frozen future dinners like chile or pasta sauce.
On the floor we'll have cases of Gatorade and water, maybe some sodas for a treat, and some caffeinated drinks in case the driver gets tired.  Also there is a snack bag for munchies while driving, a fire extinguisher, tool kit, camera equipment bag (never know what you'll see), hand held spotlight, my wife's purse (which has goodness-knows-what in it, but I'm certain we could survive a zombie apocalypse for days solely with its contents), sun hats, possibly chairs, and similar to Angela's truck, bags for recycling material." – Bruce Allison, 2000 Ford F350, 2012 Adventurer 910FBS
"On our longest trip in 1999, we had a Ford F250 extended cab.  The rear seat folded nice and flat (unlike our current F350).  We had a dog box in half for a dog and a clothes rod from door to door.  On the rod we kept a lot of extra clothes.  On the floor under the seat I carried fishing gear (waders, boxes, fly vest, etc.)." – Philip, 2012 Ford F350, 1994 Lance 850 Squire Lite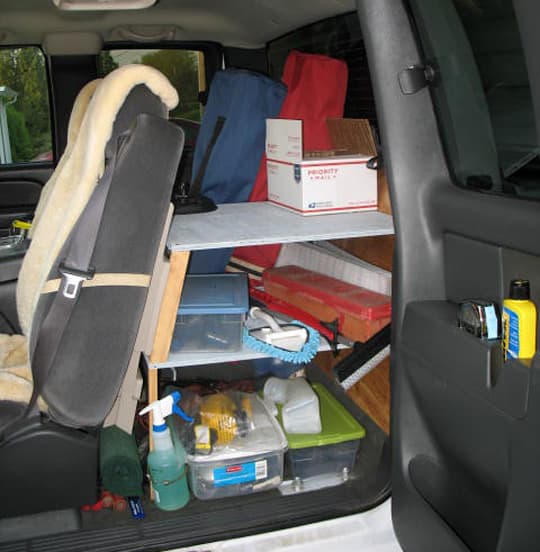 "I removed my back seat in my Sierra 2500HD truck.  Behind the driver's seat I installed two shelves for my stuff.  The floor area holds safety equipment, windshield fluid, truck jack, road flares, etc.  The middle shelf has snack food, Kleenex, and assorted necessary stuff like windshield squeegee on a telescoping pole.
The top shelf has a rubberneck box of information on states like brochures, maps, guides in large envelopes.  I also carry paper TOPO state atlas maps as my co-pilot cannot work the computer maps.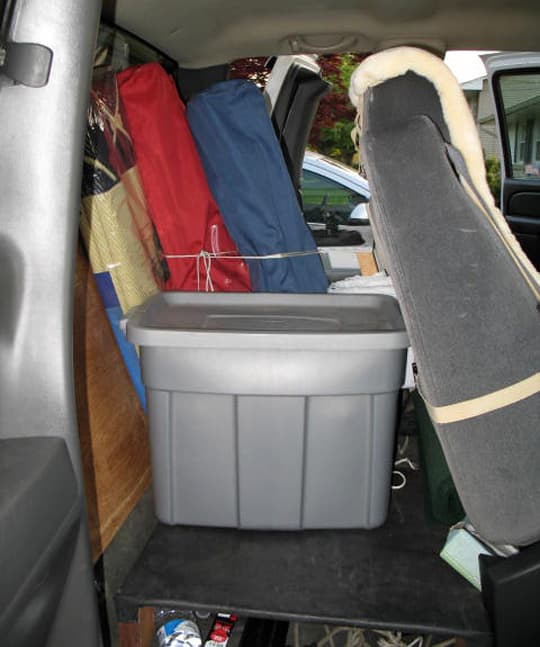 Behind the front passenger's seat is a big empty seat that either holds the dog with his bed or, if he is home guarding our stationary house, room for leveling blocks, two lounge chairs, a small charcoal grill and charcoal, water jugs for boondocking, or anything that we think that we need, but never use." – Jesse Taylor, 2006 GMC 2500HD, 2005 Lance 815
"A back seat?  I have heard people talk about rear seats in trucks.  In fact, I think I have seen a picture or two.  I say again, a back seat?  What back seat?  I have a regular cab.  Sorry, I could not resist." – Rich Bain, 1999 Chevy C3500, 2010 Adventurer 810WS
"So glad you asked.  We leave the Chevy split seats down and put chairs and levelers underneath with the tool kit on the floor.  On the seats we have two inflatable kayaks, sometimes a box of firewood, and some odds and ends.  I've thought about putting the seats up and building a plywood floor for more room under, but I haven't gotten to it." – Rob Harris, 2007 Chevy Silverado 2500, 2012 Northern Lite Sportsman
"Since I don't have a cat, I fold up both rear seats and use plastic storage containers with lids to store clothes and various shoes and hiking boots.  On the other side I place a folded vinyl tarp on the floor in case I need to crawl under the truck, or cover something in the rain, or place our fold up camping chairs and tools on top of the tarp.
We carry a couple of large cloth bags that we put dirty clothes in.  Those get thrown in on top of everything until laundry day.  The top of the storage containers is a good place to keep my iPad and other small items that we need quick access to while traveling." – Eldon Rhodes, 2008 Chevy 3500, 2011 Lance 1050
"Our three kids!  Underneath the seats is safety gear, a tow rope, extra oil, booster cables, and a heavy duty jack in case I need to change a tire.  Two of our kids are in child safety seats.  We hope we don't need what's under the seat as it is a bit of a job to remove the kids and seats to get at what's tucked away." – Don, 2003 Dodge 2500, 2012 Adventurer 950B
"Our dog, Newton, gets the seat.  The single fold-up seat behind the driver has a milk crate filled with all the stuff we need to set up camp on the exterior.  We also have hoses, boards for leveling under the legs, water filter, etc. " – Tom Martin, 2003 Ford F350, 2005 Lance 1030
"We removed the rear seat and constructed drawers behind the driver's seat to store small items.  We use the rest of the space for things like the Weber grill, tool box, levelers, and other things we need for long trips.  We love having the extra storage space." – Craig Miller, 1999 Ford F350, 1997 Lance 980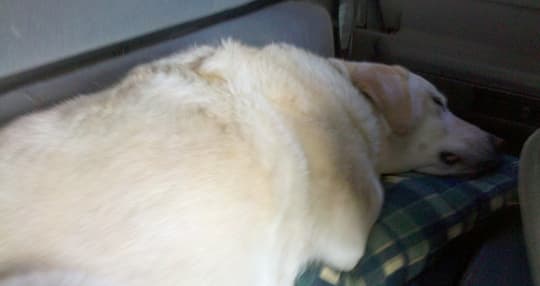 "Piper gets the whole back seat!" – Chuck and Sue Currie, 1995 Ford F250, 2009 Lance 815
"Mainly we store motorcycle gear as we always take our motorcycles with us.  However, I have a 2014 Ram 2500 crew cab four-wheel drive on order (to arrive by May 19th).  I can't wait for the extra room, capacity, and payload!  A hard side truck camper will be in our future." – Mike Shropshire, 2011 GMC Sierra 1500, 2014 Palomino SS-1251
"My two kids.  I could never go camping without them." – Charles Cashion, 1993 Chevrolet C3500, 1995 Lance 990
"I have an extended cab GMC.  I promptly removed the back seats and, in their place, bolted down a section of three-quarter inch plywood covered with an industrial floor mat.  This provides a nice flat surface for stacking/storing items and also leaves room underneath for less used items such as tools, tire jack, chain, and other recovery items.
On the platform itself I have my Pakboat kayak, paddles, life preservers, the jack stands for the camper, and more accessory items like a 12 volt flood light, tarps, ropes, bungie cords, flat repair items, and a 12 volt compressor.  Each trip I may add or remove items depending on the length of the trip and the destination." – Greg, 2013 GMC 3500, 2010 10′ Alaskan cabover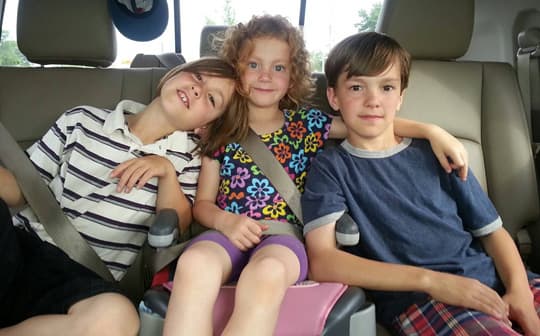 "We fill our backseat with kidlets." – James Dodman, Winnebago pop-up
"As a new camper owner (recently purchased a used camper) I store a folding bike strapped in, several tarps, an outdoor carpet, one camping chair, folding steps, and a shovel – all on the smaller split side with the seat folded up.
Topping the folded bike are a few large old towels which are useful for either the dog or myself on muddy, rainy days, or even for spontaneous swims.  Naturally we don't use the same towel but, once damp or dirty, I spread them back on top of the bike (it's in a protective carry bag) to allow them to dry.
On the longer side, my sixty-five pound dog, Jack, lies on a mat seat protector.  On the floor and under the seat of that side, I store leads, water, food dishes, dog food, bottled water, extra poop bags, a few tools, diet cola bottles, a plastic bag with paper towels, and toilet paper.  Currently everything fits, but it becomes a muddle quickly.
I have designed a three-sided hinged wood rack to place securely on the floor on the smaller side.  That will have two removable shelves creating three compartments that go to the height of the passenger seat back.  It will have mesh on three sides and the top.  I will use these to organize stored items.  It is designed to be opened on the top from the driver's side to keep rain and cold gear handy allowing for an instant adjustment to changing weather.  I will have a cabinet maker friend build it.  On paper I am thrilled with its design and usefulness; the reality may be different.  The folding bike will then go in the camper." – Michele McLeod, 2013 Ford F150 HD, 2002 Northstar 800SC
"Our Global Sun Oven is in the back seat hoping for sunny days." – Judy Funk, 2012 Chevy 3500, 2011 Lance 1181
"I took the seat out and put in a deck storage locker to hold tools and miscellaneous stuff.  Six gallon water jugs go on top (put a two inch lip to keep them put).  Honda generators go on the floor in front of it with a five gallon gas can in between.  Other gas cans ride in a frame with cable locks.  I'm still working at it, but it's working good so far." – Richard LeGrow, 2003 Ford F550, I have fifth wheel now
"I have two dogs, a camping directory, maps, some tools, a fire extinguisher, a cooler, a picnic basket, a spot light, bungees, spare clothing, rubber boots, a camp stove, stools, and small table." – Jim Comperchio, 2013 Dodge Ram 3500HD, 2015 Northstar 850SC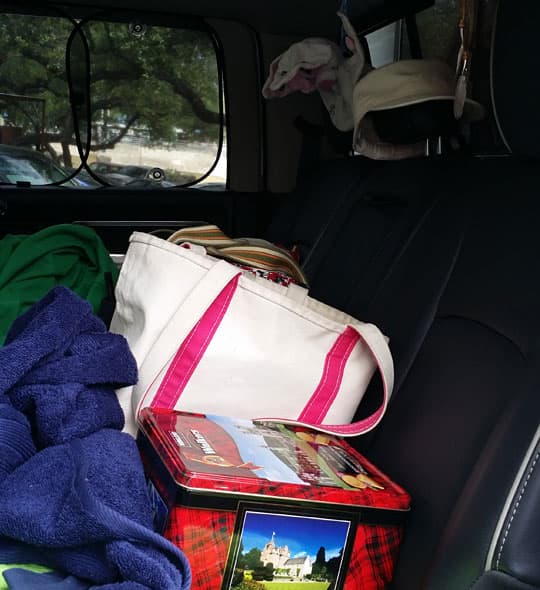 "I have a large square LL Bean canvas tote with important papers and a backpack attached to the passenger seat that contains stuff that needs to be within easy reach (ie: Bluetooth headset, notes, spare reading glasses, paper, other stuff to be added).
I also have a large blue square tote bag that contains dry dog food mixed with vitamins in old medicine bottles (dog eats two coffee scoops per day), two small bottles of water, small dog food plates, dog snacks, my snacks, my medicine in a bag, and other stuff tossed in that's also sorta reachable while driving.  Another bag contains most of my small electronics.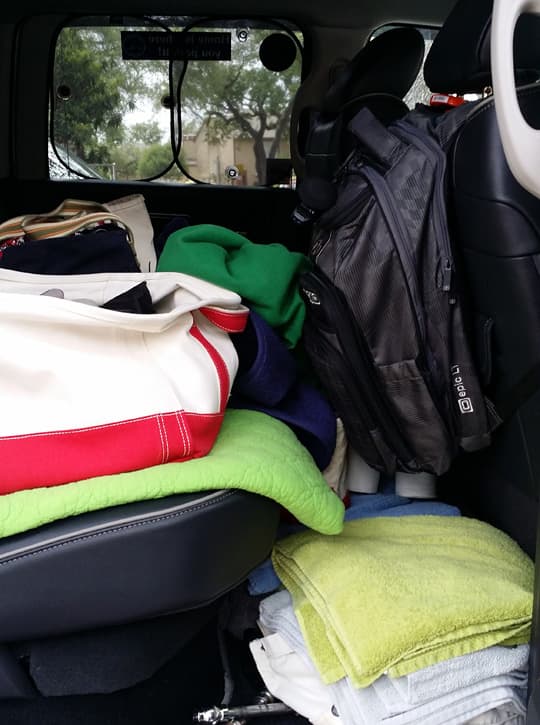 My purse is stuffed with stuff in the middle and easily reachable.  On the floor rear of passenger side is the hitch extension, a two piece tow hitch, and four towels on top of the hitch.  On the driver side floor I have empty bags for shopping or whatever.  Under that is a wrench and a pair of leather gloves.  A tool bag is under one rear seat and the other side has a speaker and woofer.  There are also small cedar blocks and rings scattered on floor to keep the ants out.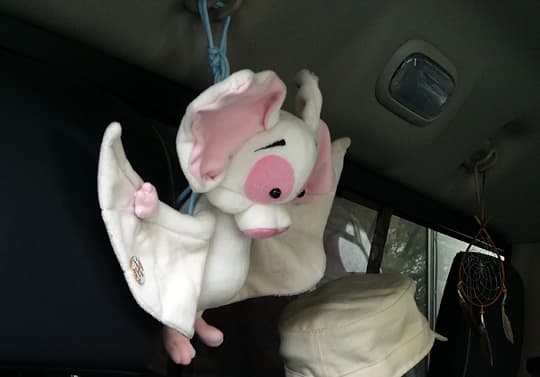 I have my hat on the middle headrest and a white stuffed bat hanging on a hook on the passenger's side rear window.  I also have a dreamcatcher hanging on driver's side.
"DaMonsta" is my two-and-a-half pound Chihuahua.  He gets the entire front passenger seat.  And then whatever else I decide last minute goes in as well." – Carol Baumler, 2012 Dodge Ram 3500, 2014 Capri Sportsman
"For this truck and my past two extended cabs I have removed the rear seat and built a bench for my dog(s).  Under the bench we carry dog stuff, rain jackets, cameras, water, and whatever.
The dogs are able to look out the windows, and move back and forth into the camper as they wish.  One prefers to ride with his head on my shoulder looking out the front window.
I have attached cellphone and GPS signal boosters under the bench, along with an auxiliary 12 volt power outlet for recharging stuff.  Door pockets carry leashes and tennis balls." – Bill and Francine Peters, 2013 Chevy Silverado, 2013 Four Wheel Hawk
"I have two road bikes, one or two black labs, tools, and dog stuff." – Bruce Ostermann, 2006 Chevy Silverado, 2008 Arctic Fox 10'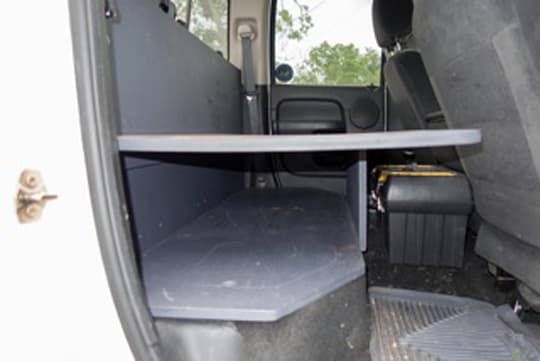 "We have a 2006 Dodge 2500.  The wife and I do wildlife and landscape photography, so we removed the rear seat and built storage for our gear.  I designed it so we could use the existing storage that was below the rear seat.
We also have the floor board space that we use for our tools.  We can also fit a small ice chest for drinks there so we don't have to get in the camper.  We have a Palomino pop-up which it requires the top to be cranked up enough to clear the door.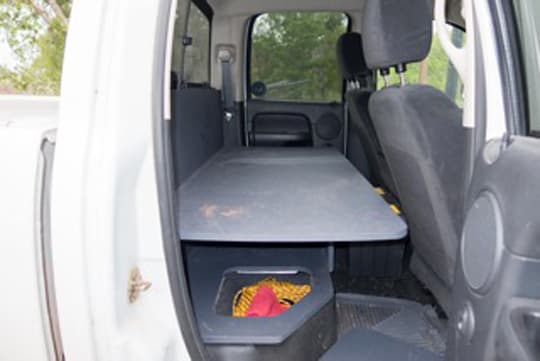 Our camera gear goes on the bottom shelf in Pelican hard cases and our tripods also fit on the bottom too.  On top we put our soft duffle bags with extra clothes and food items.  When our dog goes with us, her bed goes behind the passenger seat.  This also keeps our photo gear out of sight.
The back panel has metal clips that connect to the same attachment point as the seat did.  I also installed a couple of screws into the raised part that was under the seat so the storage unit does not move or rattle around.  Hope this gives you all some ideas on what can be done to increase storage." – Eddie Hayden, 2005 Dodge 2500, 2013 Palomino Bronco
"Poppy, our chocolate lab!  She gets the whole back seat most of the time.  Sometimes we store extra coats under her blanket.  Between the seat and the front we also store our bin full of camping, tourist, and map books, a folding table, reverse osmosis drinking water, extra shoes/boots, and sometimes a screen tent." – Orian Hartviksen, 2011 Ford F350, Northern Lite 8'11"
"First, I took out the back seat.  On the floor are the welded-in mounting bolts from the seats.  I used these as mounts for a storage/deck area.  I used an aluminum under body tool box and mounted that first.  This is used for secure storage (camera, cash, firearms, anything I wish to lock up).
On the other side are bins and general open storage.  Stored there are tools, spare truck parts (serpentine belt, fuel filter etc) small pack for hikes, dog supplies, water filter, bottled water, extra jacket, boots, and other less used items (items which don't fit in the camper or that I need access to while on the road).
On top of this area is a plywood deck that has a tie down rail system.  Part of it is for a small cooler.  I also have a miscellaneous bin that clutter gets tossed into while traveling.  The rest of the area is for our dog.  He loves this spot as it sits high enough he can lay down and still look out the windows." – Jim Plesko, 2006 Chevy, 2012 Lance
"I have a spare tire, extra toilet paper, paper towels, dog pads, dog food, and fishing gear." – Helen Scurzi, 1991 Chevy 3500, 2008 Lance 9'11"
"Most of the extended cab backseat is taken up by Miss Ivy's (the traveling bunny) traveling accommodations.  The rest of the area has a pet carrier, small tables, firewood where permitted, and extra litter (Miss Ivy is litter box trained)." – Richard Balling, 2008 Ford F-250, 2007 Bigfoot 25C94
"Bikes go in first!  Then we pack our traveling tools, a bucket to hold our diesel additives, bike repair tools and spare parts, bike pump, bike helmets, and bunch of other goodies we can't live without." – Ed Amato, 2000 Ford F350, Lance 1050S
"The floor of the backseat has a fish finder.  One side of the bench seat often has fishing gear on it, and the rest of the seat is reserved for the dog!  And it has the hair to show for it." – Ken Woodward, 2012 Ford F150, 1994 Trav-L-Mate
"Dogs, of course!" – Teri, 2009 Chevy 3500, 2009 Eagle Cap 995
"We took the back seat out and installed a plywood floor.  We store two inflatable kayaks and their gear, folding chairs, extra clothing, and the kitty litter box for our cat to use while on the move.  Oh, and the cat sleeps on top of everything." – Don and Sue Graf, 2008 Ford 3500, Arctic Fox 865
"Right now, it's storage for my motorcycle riding gear, a Jensen 32″ television, and water.  When I travel, the Yamaha generator rests back there, extra food, and my overnight bag full of clothes.  My sixteen year old daughter also rides in the back seat." – Jeff Hagberg, 2002 Ford F250 crew cab, 2006 Travel Lite 800SBX
"We took out the back seats and built a carpeted platform for our dogs to ride on.  Under the platform on the driver's side goes two tool boxes.  A guy can't travel without tools!  Under the passenger's side goes things like an extra bag of dog food, but mostly it's reserved for rocks.  For a rock lover, this solves a huge storage problem and has probably saved our marriage." – Audrey Ruccio, 2008 Ford F450, 2008 Host Everest
"We removed the backseat.  It gives us more space.  We store a Kennel Cab, portable BBQ, folding table, two chairs, first aid kit, and a little toolbox." – France Lanouette, 2010 GMC Sierra 3500HD, 2008 Eagle Cap 1160
"Cheryl and I have a 2006 Chevy 1500 crew cab.  The back seats fold forward.  It works best for us just to leave them up in their normal position.  First I put the stuff under the seat; axe, tow straps, hydraulic jack, ratchet straps, etc.  A tool box goes in front of the seat on the floor.  This keeps the heavy stuff forward instead of in the camper.
We have a couple of plastic totes with outer jackets and stuff, a cooler with drinks and snacks, and camera stuff in a small tote.  We also have a bag of maps and tour books.  And last year we got a new dog and he had to go along.  Thus the chew marks on the atlas." – Matt Reinker, 2006 Chevy 1500, 2007 Northstar TC650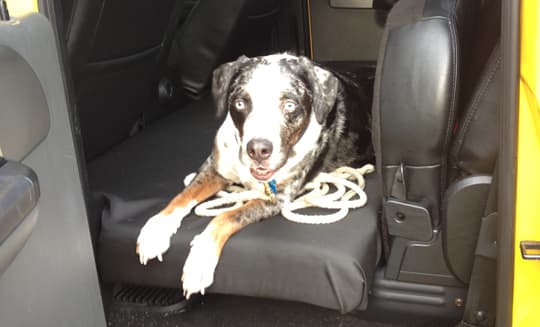 "We have two large, sixty-five and seventy-five pound, Catahoula hounds that love to be by our side at all times.  They both have crazy personalities and are fairly active.
In order to calm them down, without drugs or sedatives, I built a memory foam bed that is basically the size of a twin size bed.  Under this we use the space for storage of unlikely needed items (while camping) like a receiver hitch, tow straps, and extra tools." – Jon Wolstenholme, 2006 Ford F350, 2006 Palomino Maverick M-1000SL
"I have a fold-out table, camp chairs, fly rods, tote with fly fishing gear, rain gear, and a Honda generator." – Tom Warren, 2013 Dodge Ram 3500, 2013, Eagle Cap 1160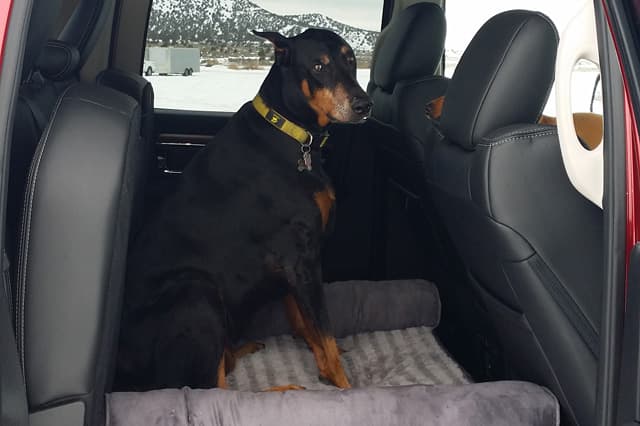 "My dogs!" – Jim Dunlap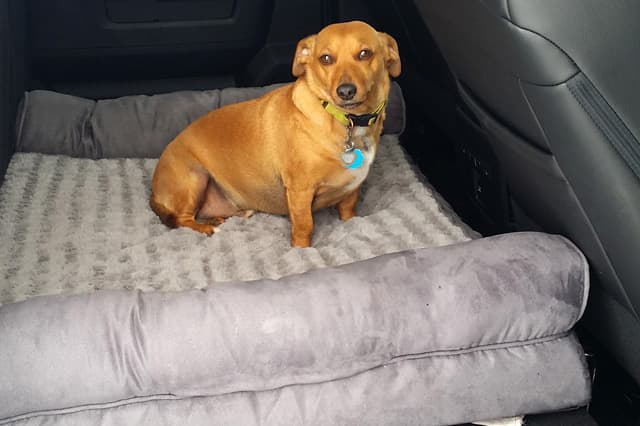 "Since we take very long trips with our rig, we carry mostly dry goods and extra clothing, all in Beakins boxes, which are very stackable." – Bill Gahafer, 2008 Ford F-450, 2014 Lance 1181
"We have a dog crate, dog supplies, tool pouch, drill for the jacks, step stool (to reach the roof clamp-downs), parking pads for the jacks, extendable boat hook, rear hitch, rubber boots, plus a few other odds and ends." – Maaja Sutak, 2012 GMC Sierra HD 2500, 2014 Northstar 850SC
"Mostly just Bucky, our dog, and Evan, our grandson, are in the back seat.  But in addition we have Die Hard jumpstarter/inverter/air compressor, tool boxes and a couple of power tools, and pet supplies." – Barry Schoenwetter, GMC 2500 HD Sierra, 2005 Lance 1030