14 readers report on their experiences with replacing major truck camper appliances including refrigerators, cooktop/ovens, furnaces, water heaters, and water pumps.
The biggest challenge cited in the responses is simply fitting refrigerators through camper doorways.  For decades the truck camper industry has built their campers by placing the refrigerators into the unit before the sidewalls and doors are installed.
When the refrigerators eventually die, it's often impossible to fit the dead or replacement refrigerator through the door without (a) cutting up and destroying the refrigerators or (b) removing the camper door frame.  Thankfully, the readers suggest some solutions including newer and/or smaller refrigerator models that can fit through camper doorways.
This week's Question of the Week was, "Have you upgraded any of your major truck camper appliances for quality, reliability, and performance?"
"I replaced my original refrigerator with a Dometic CR1110 twelve-volt compressor refrigerator.  That model seems pretty popular with truck camper owners that swap out their refrigerators.
After three years of losing food and warm drinks with my compressor refrigerator when camping in hot temperatures, I made the swap.  Now I can keep the refrigerator temperature in the mid-thirties even when it's a 100 degrees out.  Cool down time is less than an hour from start up.  There is no more buying ice and hauling around an extra ice chest.
Of course, with all good things comes a down side.  Compressor refrigerators use quite a bit of power so a solar setup is almost a must.  Enlarging your battery bank is also helpful.  If you boondock for days in a row without moving then a portable solar panel would come in handy or a generator.  If you travel during the day and boondock at overnight then it wouldn't be an issue.
So far it has been the best move I have made.  Of course, in the process, I added 240-watts of solar and increased the battery bank to two Group 31 Lifetime AGM batteries." – Henry Nelsen, 2007 Toyota Tundra, 2012 Northstar Liberty
"In 2013 I finally replaced my absorption refrigerator, a Norcold 300.3, after several failures including having the system rebuilt the year before.  I replaced it with a Dometic CR1110 12-volt compressor refrigerator.
I picked the Dometic CR1110 refrigerator for for these reasons.  One, I could get it through the camper's door without having to dissemble the door and frame.  Two, it would fit into the existing cabinet cavity.  And three, it came with a built-in 120-volt AC to 12-volt DC converter.  I was able to buy it at a fairly local marine supply outlet.
Once installed, this refrigerator has proved itself.  It has been over off-road trips including The White Rim Trail in Canyonlands, The Mojave Road Trail, and – in 2015 -our summer journey which covered over 16,500 miles through Canada and Alaska.
It's nice to reach in and pull out a cold drink when it's over 100 degrees outside!
Above is a video I did on the install." – Alex Blasingame, 2007 Ford F250, 2002 Lance 815
"I purchased an on demand water.  This was not a good solution for our camper because we need to conserve water.  For the short amount of time it runs, the on demand water heater can't get the water hot enough.  For this reason, its better to have the standard propane water heater." – Eugene Roth, 2007 Chevy, 2007 Alaskan 8.5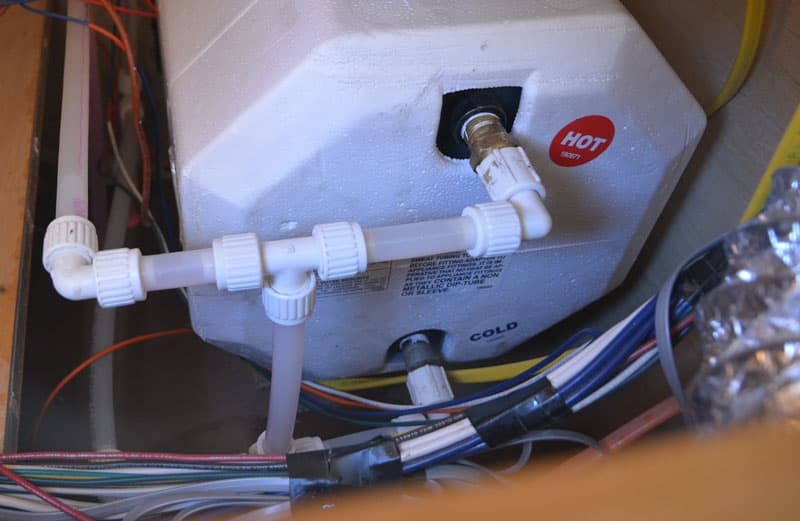 "I have replaced the refrigerator in my truck camper five times.  The refrigerators were all Dometics.  Fortunately, only once was the refrigerator purchase on my dime.
Dometic refrigerators are the weak link in RVing.  A couple were bad at the outset.  The current Dometic refrigerator has been in place for a couple of years and working fine.  Where's that cord of wood to knock on, Gordon?
I've replaced the water pump in my truck camper twice and the water heater once.  The original water heater was still working, but I became concerned about its age.  I didn't want to encounter backcountry problems.  I upgraded to a propane/electric water heater.  The cooktop, oven, and furnace are still originals and working." – Bob Lick, 2003 Dodge 3500, 1993 Alpenlite 11-foot SK
"I added an electronic ignitor to the stove top so that I did not need to use matches or lighters to turn the flame on.  This was definitely a worthwhile upgrade.