This week we innocently asked, "What do you collect while truck camping?"  I expected to hear about pebbles and pins, memories and mementos, and the occasional snow globe or tacky tourist trinket.  No big deal, right?
Well, we got a little of that, and a lot of something else.  The first thing that came up are rocks.  And just when you might be thinking small rocks, one reader comes out and states, "Not little rocks, but big, impressive rocks."
Big impressive rocks?  In a truck camper?  You have to be kidding me.
Then another reader ups the ante and says he's collecting iron ore.  Then the next reader says they collect chain saw animals.  And then it hit me…
All this time I've been carefully writing about the importance of proper truck and camper matching, of staying within payload, of being balanced and safe – and you're all out there collecting giant boulders, iron deposits, and tree trunk animals?  Are you serious?
That's it.  I'm starting Beer Camping Magazine.  To heck with this.
"River rocks, lava rocks, seashore rocks, desert rocks, and mountain rocks. I also collect entry stamps in the National Parks Passport book.  We take pictures of our dogs playing wherever they are.  Memories.  Oh, and yes, more rocks." – Bill Peters, 2013 Chevy Silverado 1500, 2013 Four Wheel Camper Hawk
"We collect shot glasses.  We have been collecting these since our honeymoon ten years ago.  We have them displayed in our family room." – Cari Rowe, Co-Owner of Phoenix Custom Campers, 2007 Ford F350, 2016 Phoenix Flatbed HD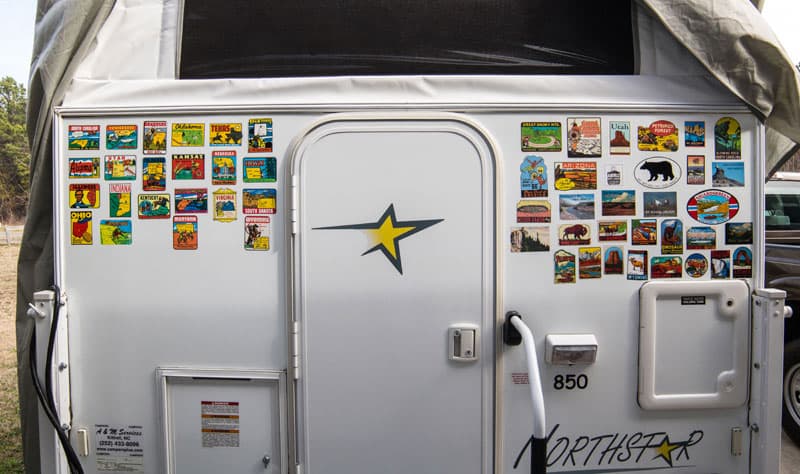 "During the last year I've been collecting decals of locations I've been since I bought the camper.  It brings back memories of my parent's old station wagon." – Bill Rosso, 2016 Ford F250, 2016 Northstar 850SC
"I collect wine glasses so I can reminisce while relaxing.  My husband collects – are you ready – T-shirts.  We also pick up rocks representing the area for our gardens at home." – Jody Smith, 2013 Chevy 3500, 2013 Lance 1172
"Pressed Pennies!  It's the most fun you can have with 51 cents.  There are even apps to locate the machines.  One good app is, "Pressed Penny Finder."  A great website is PennyCollector.com." – S. Frank Lucatorto, 2006 Ford F350, 2014 Lance 1172
"We like to pick up interesting rocks at campsites or places we visit.  We then write the location and date on the rock with a black magic marker.  It's amazing how looking at those rocks will trigger our memory of a great road trip or vacation." – Lloyd Anderson, 2014 Toyota Tundra, 2016 Lance 650
"I'm kind of an amateur geologist, so I collect rocks.  I have iron ore from Michigan's Upper Peninsula, Petoskey stones from Lake Michigan, granite from Maine, fossils from South Dakota, etc." – Patrick Strang, 2011 GMC 3500HD, Lance 995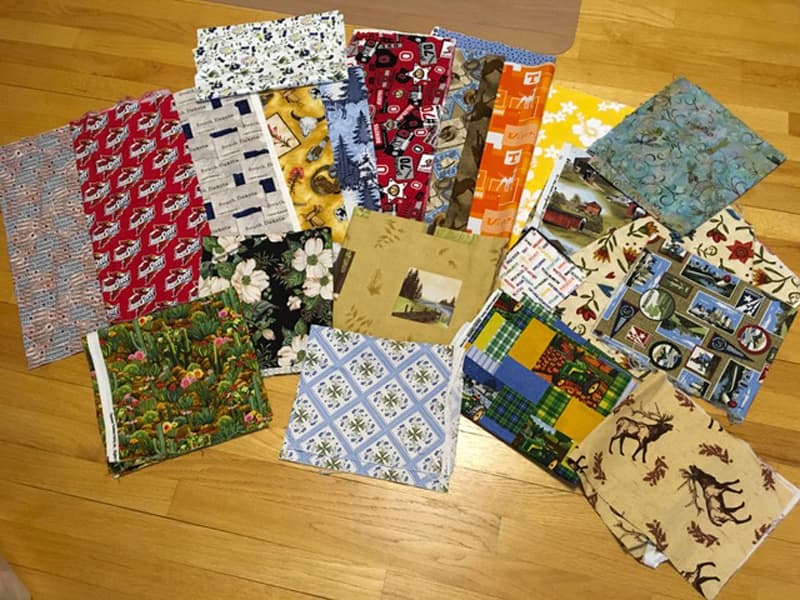 "Fabric!  I search out quilt shop(s) near where we are traveling and my husband agrees to take me there.  If the fabric selection isn't obvious like the Iowa State Cyclones, I ask the store clerk to suggest a fabric that portrays their state, such as the state flower.
I mark the edge of the fabric, so whenever I put this quilt together, I remember where it came from.  I may embroider the state initials into the fabric when the quilt is done.  I have twenty states covered so far." – Susan Visconti, 2015 GMC Sierra 3500HD, 2016 Arctic Fox 990
"We are probably not the normal collectors because we collect sheds (discarded, shedded antlers from deer) and unusual feathers we find in the woods.  Sometimes we find old arrowheads as well." – Daryl Davis, 1997 Ford F350, 2014 Palomino SS-1500
"Elks lodge pins (350+), American Legion license plates (200), Royal Canadian Legion branch ribbons (60), National Park pins, and location pins." – Joe Lamay, 2017 Chevy 3500, Bigfoot 3000-series
"Fond memories!  There's enough stuff at home already." – John and Marylou Wells, 2011 Chevy 3500, 2012 Chalet Ascent S100F
"I collect photographs.  My wife collects trinkets, clothing, and river-polished pebbles." – Philip Tron, 2009 Chevy 3500, 2012 Lance 1050
"Most of what I drag home are rocks, fossils, bones, antlers and such that I find wandering the outdoors.
I take an annual camping trip to Montana, Wyoming, Idaho, and Utah.  My first major stop is a friend's ranch about fifty miles south of Fort Peck.  After many hikes around the ranch, I have come home with many fossils, mule deer sheds, and even two mule deer skulls with the antlers still on.  The arid conditions along with the alkaline soil keep such things in great condition for years, where the same items where I live with the high moisture and acidic soil, would disappear in a couple of years.
As far as things I purchase, I always have my eye open if I stop at some out of the way bait shop.  I'm looking for a number of fishing lures that work very well for me, but are no longer made.  Once in awhile on some back shelf covered with dust I will find a handful of (for me) treasures." – Terry Gfeller, 2015 Ram 2500, 2013 Lance 865
"We are a point in our lives that, when we travel, we only purchase locally made items like a 24-inch tall wooden chicken in Missouri or a 36-inch tall chain saw bear in New Mexico.  No more Chinese trinkets for us." – Erwin Greven, 2002 Chevrolet 2500HD, 2002 Lance 921
"I get a lapel pin at every national, state or municipal park and have a spot in the camper on the back wall that I stick them in.  It's a record of everywhere I've been!" – Karen House, 2005 Dodge Ram 2500, 2005 Lance 811
"Photos, lots of photos.  I have them by the thousands.  The next item in line are those refrigerate magnets.  We have at least one for each place we've been." – Alex Blasingame, 2007 Ford F250, 2002 Lance 815
"I collect rocks and my husband likes antique tools." – Stacie Link, 2016 Ram 2500, 2001 Four Wheel Camper Grandby
"While traveling all over the country, my wife and I collect different things.  I collect sew-on patches for my Memory Jacket while my wife collects silver spoons and Christmas ornaments.  All our collectables are small and, thankfully, fit inside our camper!" – Charles Coushaine, 2001 Ford F350, 2012 Chalet DS116RB
"Rocks – unusual and colorful.  We have obsidian, pumice, lava from the west, and red mica from Newfoundland.  We get any that catch our fancy and display them outside in our flower gardens." – Shelley Pike, 2009 Ford F350, 2006 Lance Sportster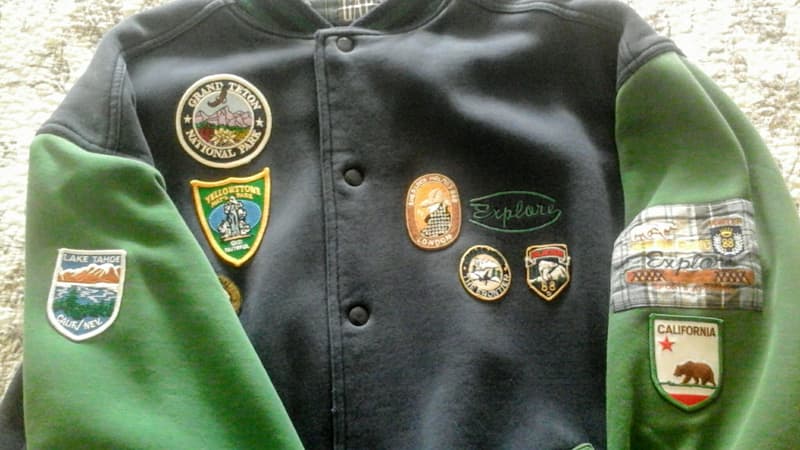 "I don't really collect, but I certainly have an accumulation of stuff.  I like patches from national parks, key fobs, and stickers.  I'm also a sucker for magazine stands while on the road.  I'll invariably pick up an issue that I'd never consider while in the local Barnes & Noble.  I do have to say that I haven't picked up a cracked for decades.  Can you say the same GW?" – Mark Obert, 1999 Ford F250SD, 1999 Lance 920
"As a retired full-timer, I'm trying to reduce my stuff.  There's only limited room in the camper and the storage unit needs to be downsized.  So, I just collect friends and memories, in both my head and camera." – Steve Cordis, 2000 Ford F250, 1996 Skyline Weekender
"The wife and I collect agates and Jasper, and spend time polishing the best examples. Most turn out like semi precious jewels." – Brian Brown, 2000 Ford F550, 2000 Lance 1010
"Magnets, sea shells, brochures, maps, postcards, and state camping guides." – Robert Cabral, 2014 Chevy 1500, 2014 CampLite 6.0
"Rocks!  Not little rocks, but big, impressive rocks.  I have filled my gardens, lined the tops of our retaining walls, and made edgings for paths.  I can't stop!  I hide them under the truck seats, under our clothes in the closest; any place I can think of to get them home.
My poor husband rips his hair out and gives me endless lectures about carrying too much weight, but since I'd rather bring home rocks than clothes or jewelry he can't complain too much!" – Audrey Ruccio, 2008 Ford F450, 2008 Host Everest
"Rocks, shells, pine cones, and beach glass.  I don't take anything from the national parks except photos, the brochure, and memories.  No way do I want to be banned from our national parks!" – Janet and Jim Manis, 2014 Dodge Ram 2500HD, 2016 Travel Lite 960 Illusion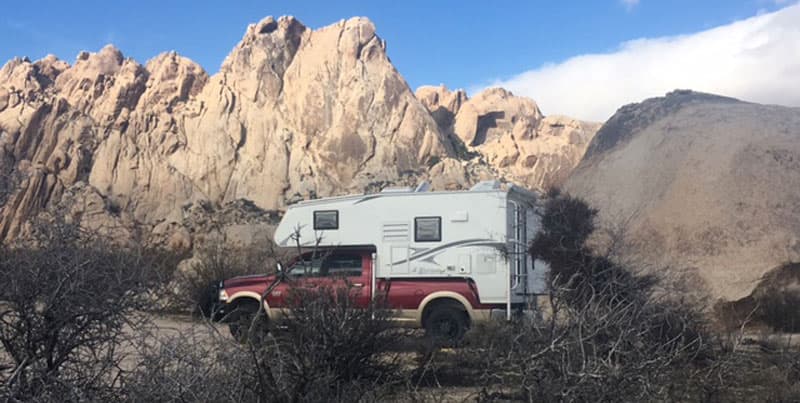 "Dust!" – Jim Catlin, 2011 Ram 3500, 2017 Northstar Laredo
"Patches of all kinds for me and hiking stick emblems for Linda." – Denver and Linda Woods, 1997 Ford F350, 2001 Lance 1121
"All I can think of is Lucille Ball in the movie, "The Long, Long Trailer" collecting her huge rocks!  I'm not that bad, but I do like small colorful stones (maybe I'm part raccoon) and seashells.  The problem is space and weight because I like too many of them.
Like many, my favorite thing to collect is fun T-shirts, but this can get out of hand really fast because I like everything I see.  So what's a girl to do?  I'm going to try to be very discerning in my T-shirt choices and take only a few of the prettiest shells or stones.  The new thing I'm going to try on our Alaska trip this year will be to find unique earrings from special places we visit.
My husband, Mike, has a huge collection of wood planes at home (as in shaving lumber, not flying in the air), so thankfully, his on-the-road collecting takes nowhere near that much space!  His choice is a vintage holdover from childhood, which is flattened pennies." – Paula and Mike Bostic, 1999 Ford F350, 2012 Chalet S95R Ascent
"We have a two dollar bill that was signed with a special message and handed to us by a very nice ole' cowboy in Butte, Montana years ago.  He said that we reminded him of how his wife and him were before she passed away.  It was very special and touching.  We have had that two dollar bill on our camper wall for years.  It was in our first camper, second camper, and the camper we have now.
As for anything else, we have magnetic buttons that I designed and hand out at the rallies my wife and I have hosted." – Rich Bain, 2004 Dodge 3500, 2010 Adventurer 810
"My wife and I have collected at least one unusual rock from each state that we visit. We use them in our yard's landscaping.  We only have six states out east left that we haven't visited." – Mike and Nancy Pohl, 2015 Ford F250, 1985 American Pilgrim 8.5
"Earrings for Linda." – Richard Desrosiers, 2003 Dodge 3500, 2001 Lance
"Sea glass in the northeastern United States and Atlantic Canada beaches." – Ray and Ruth Steinmeyer, 2007 GMC 3500, 2007 Host Yellowstone
"After fourteen trips, twelve of which were to Alaska, my wife said that we mostly collect dust." – Bill Sargent, 2012 Ram 3500, 2009 Lance 971
"We collect magnets.  We pick some for the camper's refrigerator and others for the refrigerator in the house.  My wife loves finding Christmas ornaments.  We have a tree dedicated to the places we have visited while camping or non-camping vacations." – John Dorrer, 2013 Ford F250, 2014 Four Wheel Camper Grandby
"Memories.  They last a long time or at least until CRS really hits.  I collect an occasional small flat pebble and put it on the back bumper.  A few stay for a thousand plus miles." – Bob Nelson, 2015 GMC Sierra 3500, 2013 Arctic Fox 1140
"I collect books all of which I intend to trade back in (most campgrounds have a lending library of some sort).  If I enjoy a book, I cannot part with it.  I also purchase books when I find a rare bookstore.  In fact I am planning a trip to Texas completely around a visit to Archer City where author Larry McMurtry used to run the largest used bookstore on the continent.  It's a much smaller store now, but I long to go.  I find rare books all of the time.  Your refrigerator door is full of magnets – my bedrooms are full of bookcases.
My dog also collects!  No matter where we go, into the wild, a short stop at an isolated boat ramp in Norther Ontario, or to a butte in Montana, he finds and trots back to me with a dog toy.  It's like he has a mission to tidy up after every other dog traveler.
I make sure they are truly abandoned and then store them with the propane tank.  Even during the winter, he must stop and stand on his rear legs to sniff around the door to the propane to check on his inventory.
As a single traveler, I only need one propane tank (even on a long trip), so I removed one.  This leaves plenty of room for dog toys and for other unmentionables, like if I clean up after my two dogs and cannot find a garbage bin.
I also have a 2002 Northstar TC800 pop-up which is better for collecting books.  They can go under the bed in neat stacks and do not get warped." – Michele McLeod, 2013 F150, 2000 Travel Hawk 9.5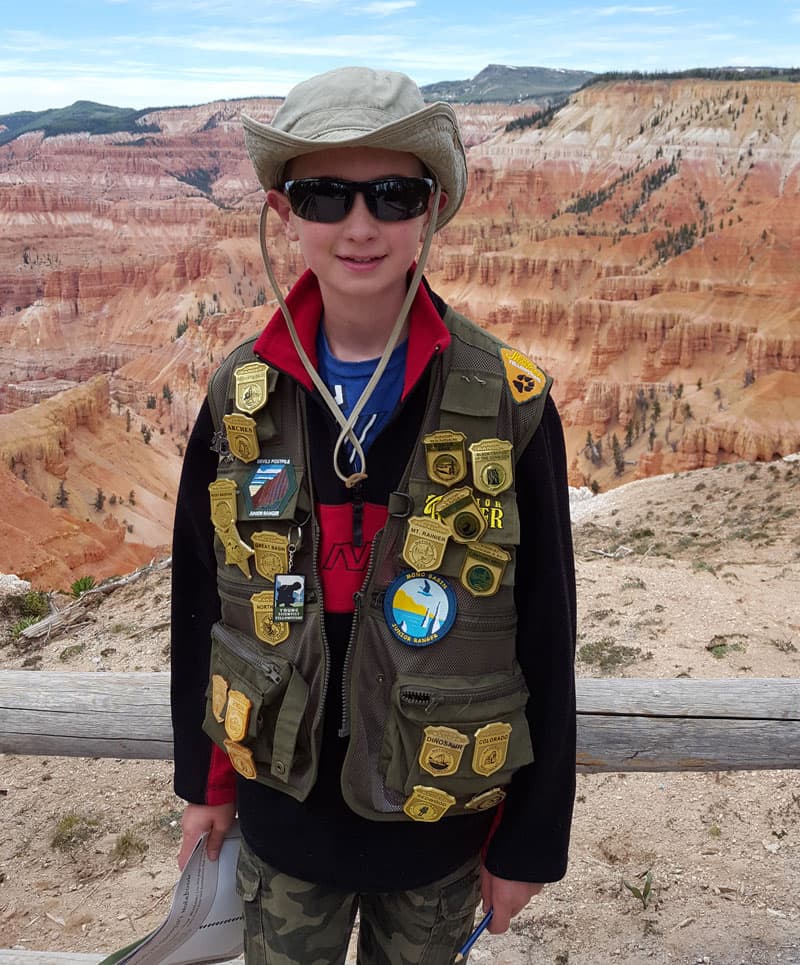 "We collect memories.  Remember the bear on the trestle on the White Pass, Yukon Route train?  Remember the rattlesnake that wouldn't leave the rims of our dually at Mesa Verde?  Remember when the mosquitos were so bad at Missouri Headwaters State Park that we escaped by going to the Lewis and Clark caves and had the puniest ranger ever to give a tour?
Remember the ranger talk in Olympic that acted out the cannibalistic black ninja slug drama that we still reenact?  Riding our bikes on the Hiawatha trail over train trestles and through miles long tunnels and two of our three bike lights failed?  When sister got stuck in the mud in the narrows on Zion?  The baby moose in the Big Horns?
When we put brother's teddy bear on all the bear crossing road signs in Yosemite and took pictures?  The crazy raccoons at Montana de Oro State Park that busted the lock on the ice chest, stole the grapes, and ran way laughing?  Kayaking across the bay and having sister have the worst bloody nose ever on the Morro sand spit while jumping off the dunes?
When the dog got scared at Old Faithful and tried to get on a bus full of Japanese tourists?  When we drove miles up dirt roads to boondock at the north rim of the Grand Canyon and mom cooked a three course meal in the woods?  Cartwheeling in the warm creek that runs along the dunes at Great Sandy Dunes National Park?  When brother at age nine worked so hard all by himself to get a great fire going to roast weenies on July 4th in Rocky National Park and the heavens opened and dumped buckets of rain on it?  When that Rocky rain made all the other campers leave and we hiked the most popular areas wearing trash bags and had the trails to ourselves?
Trying to reconstruct a skeleton from all the bones we found in the river at Mt Rainier National Park?  When mom had to patch brother's bike tires four times at Chadron State Park from all the giant thorns?  The quarter size hail that busted the roof vents at Wind Cave National Park? When brother earned his 40th Junior Ranger badge at Lassen National Park?
Pie and playing in the sprinklers in the orchards at Capitol Reef National Park?  When sister knocked herself flat running into a head-height horizontal tree trunk across the trail at Grand Canyon of the Yellowstone right after the ranger said, "Watch your head"?  Picking and eating berries until we were purple ear to ear at Redwood National Park? Seeing the oldest living things on earth at Great Basin National Park and Bristlecone National Park?
The bitty little island foxes hanging on bitty little twigs over the edge of sheer cliffs at Channel Islands National Park?  When local astronomers taught us about the scorpion constellation and let us look through their telescopes at Black Canyon of the Gunnison National Park?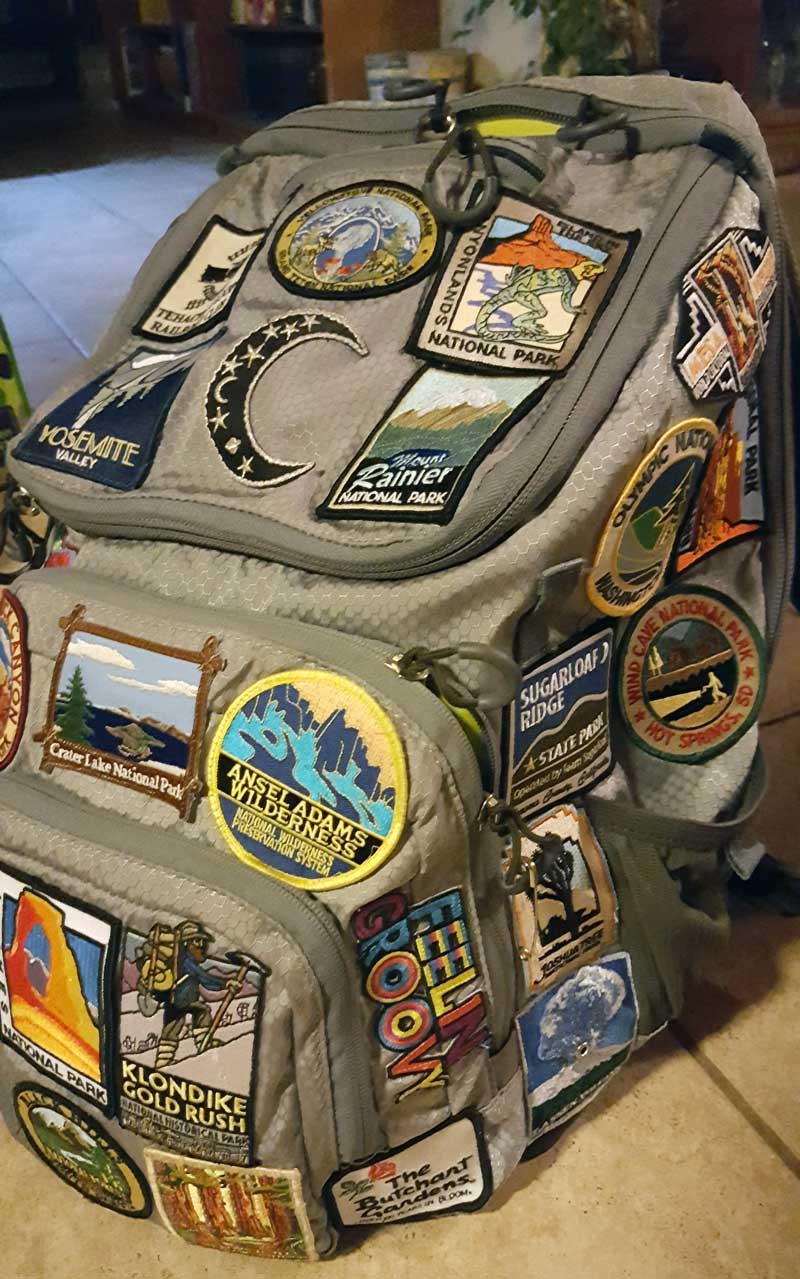 Our memory collection is a priceless treasure and we plan on adding to it for as long as I can get my kids to keep camping with me.  Oh yeah, we also collect smashed pennies and sew-on patches from the parks." – Darcy Hubbard, 2014 Ram 3500, 1998 Lance Legend
"Beer mugs of all types and sizes.  I have half-pint to half-gallon in plastic, glass, mother of pearl, pewter and clay from the west coast of British Columbia to the east coast of Newfoundland, and from Northern Ontario to Florida and some points in between.  Beer mugs are the useful souvenir." – John Desjardins, 2007 GMC Sierra 2500HD, 2002 Globetrotter 911
"Shed Elk and Deer antlers, gold nuggets, shark's teeth, player pianos, and pizza boxes." – W. Banes, 1986 Dodge W250, 1960's Denver West
"Memories only." – Philip Bolding, 2012 Ford F350, 2016 Northern Lite 8'11" QSE