This week we innocently asked, "What do you collect while truck camping?"  I expected to hear about pebbles and pins, memories and mementos, and the occasional snow globe or tacky tourist trinket.  No big deal, right?
Well, we got a little of that, and a lot of something else.  The first thing that came up are rocks.  And just when you might be thinking small rocks, one reader comes out and states, "Not little rocks, but big, impressive rocks."
Big impressive rocks?  In a truck camper?  You have to be kidding me.
Then another reader ups the ante and says he's collecting iron ore.  Then the next reader says they collect chain saw animals.  And then it hit me…
All this time I've been carefully writing about the importance of proper truck and camper matching, of staying within payload, of being balanced and safe – and you're all out there collecting giant boulders, iron deposits, and tree trunk animals?  Are you serious?
That's it.  I'm starting Beer Camping Magazine.  To heck with this.
"River rocks, lava rocks, seashore rocks, desert rocks, and mountain rocks. I also collect entry stamps in the National Parks Passport book.  We take pictures of our dogs playing wherever they are.  Memories.  Oh, and yes, more rocks." – Bill Peters, 2013 Chevy Silverado 1500, 2013 Four Wheel Camper Hawk
"We collect shot glasses.  We have been collecting these since our honeymoon ten years ago.  We have them displayed in our family room." – Cari Rowe, Co-Owner of Phoenix Custom Campers, 2007 Ford F350, 2016 Phoenix Flatbed HD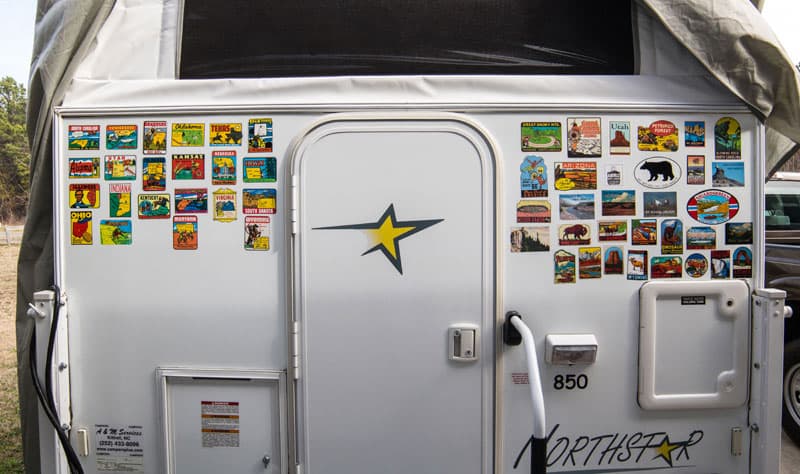 "During the last year I've been collecting decals of locations I've been since I bought the camper.  It brings back memories of my parent's old station wagon." – Bill Rosso, 2016 Ford F250, 2016 Northstar 850SC
"I collect wine glasses so I can reminisce while relaxing.  My husband collects – are you ready – T-shirts.  We also pick up rocks representing the area for our gardens at home." – Jody Smith, 2013 Chevy 3500, 2013 Lance 1172
"Pressed Pennies!  It's the most fun you can have with 51 cents.  There are even apps to locate the machines.  One good app is, "Pressed Penny Finder."  A great website is PennyCollector.com." – S. Frank Lucatorto, 2006 Ford F350, 2014 Lance 1172
"We like to pick up interesting rocks at campsites or places we visit.  We then write the location and date on the rock with a black magic marker.  It's amazing how looking at those rocks will trigger our memory of a great road trip or vacation." – Lloyd Anderson, 2014 Toyota Tundra, 2016 Lance 650
"I'm kind of an amateur geologist, so I collect rocks.  I have iron ore from Michigan's Upper Peninsula, Petoskey stones from Lake Michigan, granite from Maine, fossils from South Dakota, etc." – Patrick Strang, 2011 GMC 3500HD, Lance 995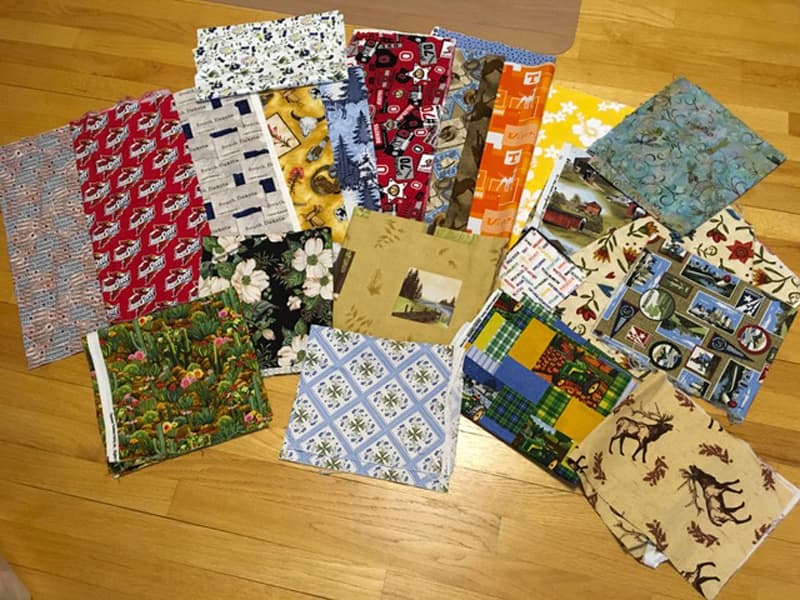 "Fabric!  I search out quilt shop(s) near where we are traveling and my husband agrees to take me there.  If the fabric selection isn't obvious like the Iowa State Cyclones, I ask the store clerk to suggest a fabric that portrays their state, such as the state flower.
I mark the edge of the fabric, so whenever I put this quilt together, I remember where it came from.  I may embroider the state initials into the fabric when the quilt is done.  I have twenty states covered so far." – Susan Visconti, 2015 GMC Sierra 3500HD, 2016 Arctic Fox 990
"We are probably not the normal collectors because we collect sheds (discarded, shedded antlers from deer) and unusual feathers we find in the woods.  Sometimes we find old arrowheads as well." – Daryl Davis, 1997 Ford F350, 2014 Palomino SS-1500
"Elks lodge pins (350+), American Legion license plates (200), Royal Canadian Legion branch ribbons (60), National Park pins, and location pins." – Joe Lamay, 2017 Chevy 3500, Bigfoot 3000-series
"Fond memories!  There's enough stuff at home already." – John and Marylou Wells, 2011 Chevy 3500, 2012 Chalet Ascent S100F