Footwear storage can be a real challenge in a truck camper.  Not only do most of us bring three to four pairs of shoes, sneakers, sandals, and boots, but these items scan be quite large.  Complicating things more is the fact that footwear can get seriously dirty.
With this in mind, TCM reader, Janet Manis, sent in a fantastic Question of the Week, "Where and how do you store shoes in your truck camper?"  Fellow truck campers responded with some fantastic ideas that are sure to move boots, shelf shoes, and sneak sneakers into new and better locations.
"There is a great place under the shower pan in our Northstar.  It is near the door and is perfect for storing shoes." – Jay Knight, Northstar Adventurer
"We store the everyday shoes, hiking shoes, casual shoes, and sandals in the compartment under the dinette.  Dress shoes that we don't use as much go in the compartment under the bed.  We usually take more shoes along than we need." – Allen Brummel, 2008 Dodge Ram 1500, 2016 Northstar 650-SC
"I pulled out all of the drawers to see what was behind them and found that there were spaces at the floor level behind the light weight panels.  I carefully removed several of the panels and we can store quite a few pairs of shoes in these previously unused spaces.
We keep a kitchen type brush just inside the door to clean off dirty boots prior to entering, and a dishpan in the shower for the really dirty ones.  You gotta love truck camping!" – Dave Miller, 2015 Ford F350, 2003 Bigfoot 10.6E
"We purchased a soft rubber entry way mat on Amazon that spans the entry way and we put two pairs of shoes there.  The remaining shoes are kept in the extended cab of the truck." – Ed Graf, 2006 Ram 2500, 2014 Arctic Fox 865
"Back when we owned a simpler Cascade camper, there was an access door to the pickup box in front of the wheel wells.  I miss that.  We now store often-used footwear in a compartment under a dinette seat.  Seldom used boots land in an outside storage compartment." – Philip Tron, 2009 Chevy 3500, 2012 Lance 1050
"We each have a plastic bin with a cover.  The bin can sit outside right by the door for easy access.  It's got a tight-fitting lid so your shoes don't get wet if it rains, and they can be rinsed off if they get dirty.  The bins go in the back seat of the truck as we go down the road." – Laurie Brokaw, 2006 Ford F-250, 2010 Lance 850
"Hi Janet, I hear you.  Those hatches that gave access to the truck bed and that little space under the table leg were our two favorite spots for stashing boots and shoes. We have even made two little screen windows so we could leave those access hatches open in hot weather.
The next option I might suggest is shoe pockets along one wall in the long closet.  We only use about half of ours for hanging long stuff and have put shelves in the other or use those hanging squares for the boots.  If you end up making them you can make the squares large enough for even the largest boots.  I'd use something washable while I was at it.  Good luck and let us know what you decide!" – Charla Schapfel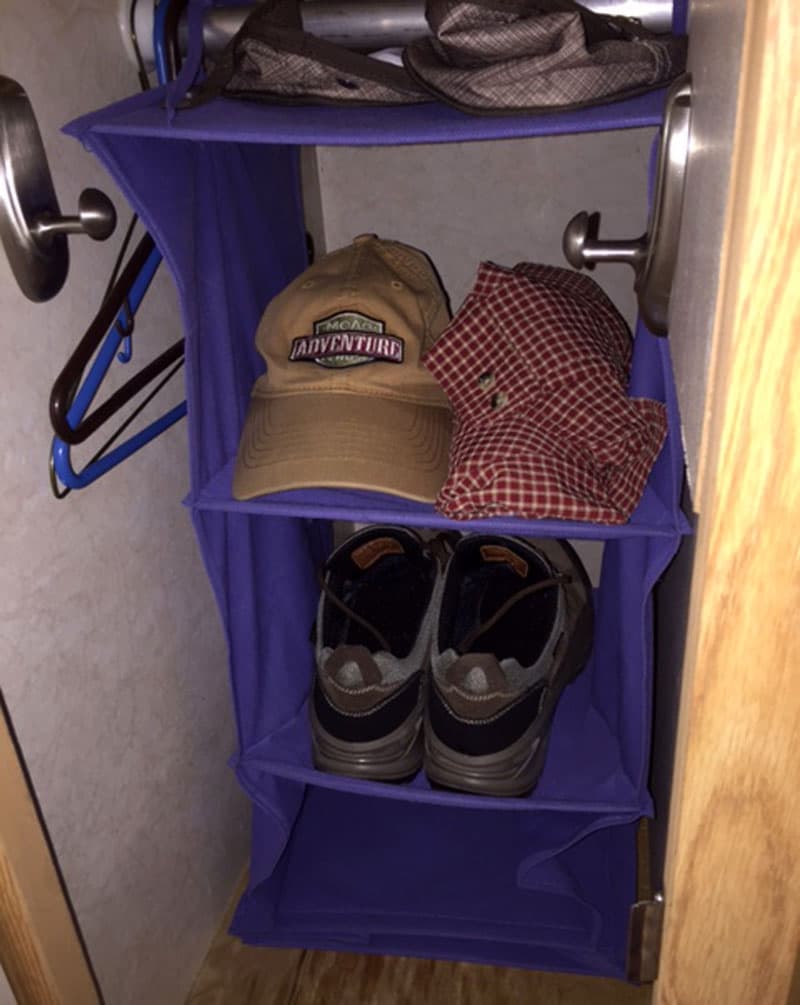 "We have several options for shoes.  If we are on an extended trip that requires several sets of shoes, we store them in a covered plastic bin.  Jackets and rain gear go in a second, stackable bin.  The bin is kept in the truck's back seat area, so we always have our shoes if we leave the camper at a campsite.
In the camper we can store shoes in the closet using a hanging cloth organizer with six compartments from IKEA.  It not only holds several pairs of shoes, but is good for rolled up light jackets and shirts, as well as a big bag of chips.
We also can store hiking shoes and boots in the wheel wells of the truck accessed through small doors in the camper's side walls.  At night we just put the next day's shoes on the floor in an out-of-the-way corner under the table, since we don't have any shoe nibbling pets." – Dave Thalman, 2013 Ram 2500, 2013 Northstar 850SC
"We bought a three drawer plastic case at Walmart.  It fits nicely in the bathroom near the rear door of the camper." – Dave Duval, 2013 Ford F350, 2014 Northstar Igloo 9.5
"My riding boots go along side the toilet, one on each side.  A pair of sneakers could fit on top of them.  I leave my sandals under the table.  Lynn puts her shoes in her closet." – Frank Niehus, 2007 Ford F350, 2007 Arctic Fox 1150
"Shoes are a problem.  We store ours in a shopping bag, and they travel in the back seat of our truck.  This is not convenient, but it's the only solution that makes sense to us so far.  Having a small camper with no obvious accommodation for shoes, we will read reader responses with interest." – Gerry Reeves, 2014 Ford F-250, 2014 Lance 825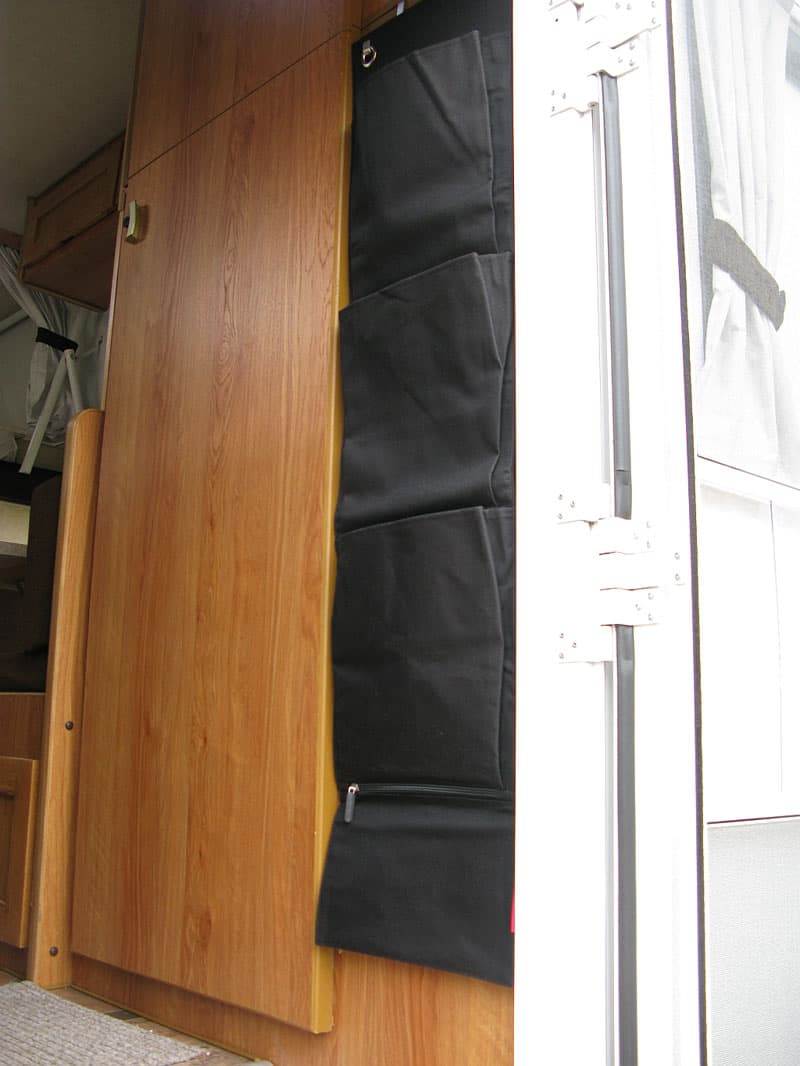 "We hung a fabric organizer near the entry door.  The upper compartments are used for shoes, and the lower compartment is a wonderful place for the remote and other small stuff, like a shoehorn.  No more clutter on the floor entering and leaving the camper." – Joerg Walzenbach, 2008 Chevy Silverado 2500 HD, 2011 Outfitter Apex 8-LB
"We built a 6-inch open-ended platform the size of the foot area under our dinette table.  Several pairs of shoes fit under the false floor, plus it is more comfortable to sit because our feet don't dangle while sitting." – Mike Stephan, 2012 Ram 2500, 2015 Northstar Arrow U 8.5
"We use a flip-top plastic container and keep it in the back seat of the truck.  The plastic container is easy to clean and keeps the shoes and boots out of the way.  We only take the footwear we need for the day into the camper." – Gary Richardson, 2006 Chevy 3500 Crew Cab, 2006 Lance 1181
"We have the room in our triple-slide for a light weight ottoman that can collapse and doubles as a storage bin.  It is great for a seat, shoes, and many other items to store." – John Telesca, 2001 Ford F350, 2013 Chalet TS116
"We have a small closet between the bath and pantry.  We store a coat for each of us there, a broom and dustpan, and the removable drying rod from the shower.  I also keep a hanging shoe holder in that closet that holds six pairs of shoes.  It's nice to have a small designated area.  We also keep a solid air freshener in there to keep shoes and coats smelling fresh." – Nancy Meiners, 1996 Ford F350, 2014 Lance 1050S
"In the storage space under the couch, I keep a boot tray with our shoes on it.  In the 2007 Arctic Fox 990 we recently sold, I had a boot tray for the shoes in the kitchen area under the gas range." – Jenney P. Gallerane, 2012 GMC 3500; looking for 2015 or 2016 F450, 2013 Chalet TS116
"Good question!  Our shoes always seem to be in the way.  Sometimes we just leave them in the aisle or under the dinette table, which is not good.  We do have access to a wheel well on one side where we can store our hiking shoes and wet or muddy shoes, but it's sort of inconvenient.  There is also a small closet next to the refrigerator where we can store other shoes, along with our various hats.
We usually keep a pair of slip-on shoes for each of us in the aisle next to the camper entrance door.  Sometimes we will even put our wet shoes in the shower for temporary storage.  I think the best solution is not to bring so many shoes!  I'm looking forward to seeing other ideas." – Buzz and Sherri Merchlewitz, 1998 Dodge Ram 2500, 2015 Hallmark Ute
"Our camper is has an open storage area under the raised dinette (our camper is a basement model) that is perfect for shoes.  It also holds one or two ice-cream buckets of dog food and the dust buster vacuum.  The hiking boots take up too much room in this cubby so they are stored on the floor of the back seat of the truck.
My husband wears either his hiking boots or camp shoes and I have Crocs, runners, hiking boots, and sandals." – Tricia Mason, 2009 Ford F350, 2008 S&S Montana Ponderosa
"We have a large lined woven basket (leaf/natural material) that we stow under the table when on the road and, after set-up, we place it under the window and toss our shoes in it to keep them all in one place." – Connie Gahris, 2010 Ram 3500, 2014 Lance 1172
"When the camper is off the truck, I have a canvas bag velcroed around the wheel well door.  It's hung on the outside with hooks and eyes.  It comes off easy when camper goes back on camper." – Dave Robbins, 2008 Dakota, 1994 Sunlite pop-up
"We have two compartments next to the side entry door under the pantry.  We usually bring only four pairs a piece, although this rule causes complaints from the co-driver!  On our two and a half month trip last summer she said she was tired of wearing the same shoes each day.  That was something I never thought of.  Since I wear a size 15, my four pairs take a good bit of room." – Robert Mayton, 2014 Ford F-450, 2015 Lance 1172
"Biking and running shoes go under the front seats of the truck.  We have two boot trays on the floor of the back seat area for hiking and Muck boots.  We wear a spare set of running shoes, so nothing actually goes into the camper, except flip-flops or Crocs." – Chuck Webb, 2012 F350, 2015 8.5 Alaskan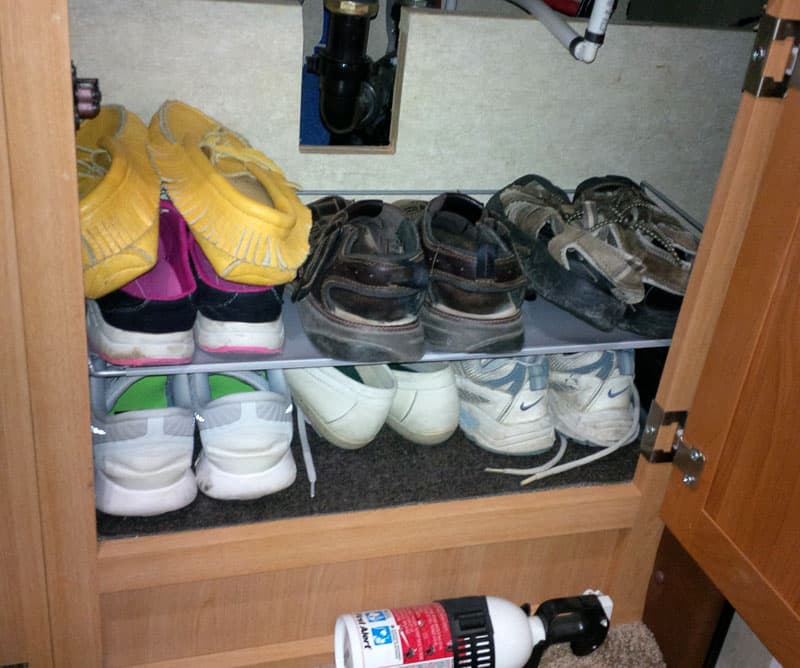 "We have a compartment right by the door.  The salesman who sold us the camper told us he used it as an appliance cabinet and a toaster fit in nicely.  We have small feet, so the 12-inch deep cabinet works great.  I bought a lightweight wire shoe shelf at Bed Bath and Beyond that is about the same length as the door width.  It has a solid plastic shelf so dirt doesn't fall into the shoes on the bottom.  Six pair of shoes fit in well.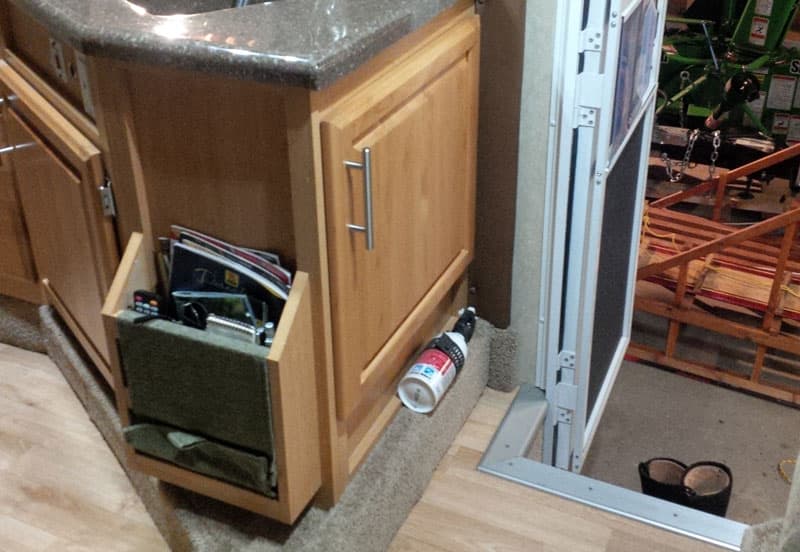 Above: The shoes inside the cabinet (1 photo above this one) are in the cabinet next to the entry way pictured here
My husband's cowboy boots have to go into the back closest to the wall of the camper and are a bit awkward to reach over the shelf.  I can fit about three pairs back there.  It is behind the magazine rack and right next to the door." – Nanette Fliesser, 2013 Chevy Silverado, 2014 Host Mammoth
"The dinette is on a short 18-inch slide.  This leaves just enough room to store shoes.  I've bought two over-the-door shoe holders at Walmart and cut all but the bottom two rows off.  I used the included door brackets to hang on the dinette backs.  I installed grommets on the bottom halves and use them to store stuff in the bunk area." – Neil Womack, 2007 GMC 2500 HD, 2014 CampLite 11
"We also have stored our footwear under the dinette in a garbage bag wire bin.  We have stored dirty boots and shoes in a large sturdy covered plastic bin outside the door, which is usually under the awning.  The covered bin acts as a stool where we can sit to put on our footwear." – Bob and Jan Bromley, 2007 Chevy Silverado, Eagle Cap 850
"We store our muddy boots from ATVing on the rear floor mats in the pickup.  We keep our daily shoes by the door or under the table near the door in the camper." – Allen Jedlicki, 2012 GMC 2500HD, 2014 Wolf Creek 850SB
"In my Northstar TC800, I store shoes in the wheel well in different colored drawstring bags – all drawstrings lightly tied together – so that one can just reach in and pull out the correct shoes and they don't bounce around and get out of reach.
In my hard side truck camper there is a cupboard under the closet right by the door that is fairly deep and high.  I use the same drawstring bags loosely knotted.  Otherwise I find myself having to sit and pull everything out of the cupboard to locate the one elusive sandal, etc.
I have an old dryer rack for running shoes (dryer long dead) that fits over screws on the bathroom wall.  I put damp shoes on this and leave the bathroom vent slightly open. Once dry they are bagged and returned to the shoe cupboard.  I keep my rain boots in the same cupboard, but use clothespins to keep them together.  This cupboard is also where a flashlight, disposable rain ponchos, and spare matches are kept in a container.
I like using the shoe bags because I can move boots or runners to the truck cab if rain is predicted or I know I will be hiking, etc.  This saves having to pull my trike hitch down and open the backdoor if I stop during the day." – Michele McLeod, 2013 Ford F150 HD, 2000 Travel Hawk 9.5
"Since it is always just the two of us, and we have a four person dinette, we built a shelving unit under the dinette for our shoes and boots.  Our hunting boots go in the lowest shelf and house shoes above.  We tacked some cargo netting halfway up the shelves to hold the shoes in place when traveling, but it still leaves enough room to get the shoes in and out." – Ken and Jenn Burton, 2012 GMC Sierra, 2012 Arctic Fox 992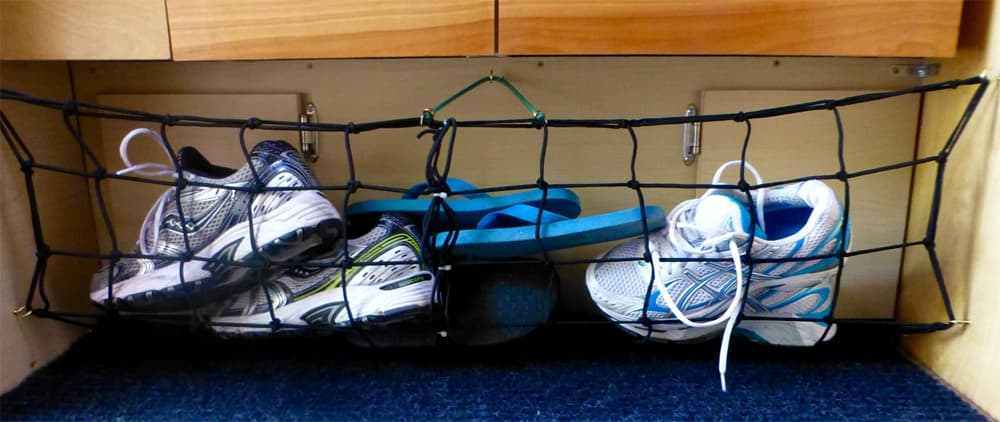 "Had the same problem, shoes everywhere.  I bought two bicycle bungie nets from REI and tied them together.  I then put cup hooks under the toe kick on my driver's side counter.  I pulled the net back and put the shoes behind the net.  They are always where I put them when I need them." – Bill Harr, 2005 Toyota Tundra, 2013 FWC Hawk
"I have wheel well storage on both sides.  On the right side I put rubber boots and hiking boots in zip lock bags.  This area could otherwise get wet and dusty.  Sandals go in a area under the fiberglass shower floor.
On the left side, I store water jugs in the front.  In the rear of this area is where I put my dirty clothing in reusable bags.  I also put can goods in this area in cut down cardboard boxes." – Terrell Jarrett, 2004 Dodge 2500, 1988 S&S 8-5
"We avoid having shoes inside.  We carry an indoor/outdoor carpet piece and stick shoes, boots, and sandals under the camper out of the rain or snow.  They can be a little nippy when it's cold outside, but cleanliness is imperative for us." – Steve Hannan, 2016 Chevy SIlverado 2500HD, 2013 Hallmark Everest
"I did some modifications to the camper wet bath since we don't use the shower or the sink.  I made light wood custom storage shelves to get more room for our gear, clothes, and equipment.  We have our own bag (different colors) for shoes, boots, etc.  The bags are stored on the shelves.  We travel light, so we bring hiking boots, light hiking shoes, sandals, and booties (for colder nights).  Cheers!" – Roch Nadon, 2007 Toyota Tundra, 2007 Okanagan 89W
"We store shoes under the dinette table.  We try to spray them in the evening when we remove them, and air them out on the camper ladder before bringing them in for the evening.  According to my five year old grandson, it still gets a little smelly under the table, but we usually don't play in that area of the camper." – Woody Flickinger, 2003 Dodge 3500, 2012 Arctic Fox 1140
"We use the space under the dinette seat by the rear door.  It is crowded with dog stuff, so there's no room for work boots.  We do carry moccasin style Bean boots, but that is as rough as we get.  We keep our slippers alongside our bed." – Steve Merrill, 2009 Chevy Silverado 3500, 2007 Lance 992
"Excess footwear goes on the floor of the backseat of our truck." – Selena Jones, 2016 Toyota Tundra, 2007 Sunlite
"I keep shoes in the compartment under the dinette seating neatest to the door.  It's the most practical place.  It gets crowded, but it works." – Ken Werner, 2003 Dodge 3500, 2015 Wolf Creek 840
"Wheel well access with shoes in a clear plastic bag works best for us.  Next best is in a clear plastic box in the back seat of the crew cab.  One pair of dress shoes (which very, very seldom get used) goes in cloth shoe bags below the only clothes we hang in a wardrobe (funeral clothes is what we call them).  Sorry, but there is nothing creative about these places." – Firman Schiebout, 2004 Ford F-350, 2012 Northstar 9.5 Igloo U
"Our family of three plus small dog keeps things to the basics.  We have camping shoes, which are pretty much just sturdy runners, and sandals; not flip-slops, but what I call "hiking sandals" with reasonable foot support.  For the adults, something like the Merrell Moab Ventilator and for our daughter (age six this year) something in the same style that doesn't cost $80+ because that's ridiculous to me.  Anyways, that's pretty much all the footwear we bring.
Sometimes I'll bring my hiking boots and we sometimes bring our rain boots.  We usually keep the shoes or boots in the truck, if they're not on our feet.  Sandals and shoes just go on the floor under the dinette table.
We live in Canada.  Most of our camping is done in the mountains where it gets cold at night.  We usually start and end our day with shoes on and wear the sandals during the day.  These kind of sandals are suitable for bicycling, walking, easy hiking (with a child, we're not doing anything intense anyways), and swimming/water walking.
During the day, if we're around the camper, it's easy to throw the shoes in the truck so they're not in the way.  We don't always do this because our camper is small and we spend more time outside.  Leaving the shoes under the table doesn't cause too much trouble for us.  The dog doesn't chew shoes and doesn't mind sleeping next to them either.  If we want our boots, we just dash out to the truck to get them." – Melissa Malejko, 2002 Chevrolet Silverado 2500 HD, 1981 Okanagan
"Most of our camping is boondocking in the mountains.  We take a pair of tennis shoes to wear in and around the camper, and a pair of hiking boots to wear out in the wild.  There is only the two of us (my wife and I), so we take a large litter box (empty) and keep it under the table for one pair of shoes/boots each.  I keep a pair of house slippers in the hamper next to the bed to slip on if I get up in the night.  If we take waders or any other boots, they stay in the back of the crew cab of the truck." – Jerry Smith, 2012 Chevy Silverado 3500HD, 2013 Arctic Fox 992
"We use the wheel well storage areas most of the time.  Sometimes a single pair may sneak under the dinette." – Linda Becker, 1999 Ford F250, 1992 Lance 8
"There is a nice space under the dinette floor for frequently used footgear.  Other footwear goes on the closet floor or, for boots, the wheel well area." – Nancy Rivers, 2004 Ford F250, 2012 Northern Lite 9-6Q Special
"When muddy or wet, shoes go in the truck on the floor.  When they are not muddy or wet, they go on the camper floor under the dinette." – Dave Scobie, 2007 Toyota Tundra, 2015 Outfitter Caribou Lite 6.5
"We are mostly fair weather campers, so boots are in the basement.  Then we each also take two to three pairs of walking shoes and a pair of dress shoes.  Those sit in a large clear plastic bin with a lid at the bottom of the full length wardrobe, which only has shirt/jacket length garments. Since we have a pair out every day, it doesn't take that big of a bin." – Joe Sesto, 2015 Silverado 3500, 2015 Bigfoot 2500 10.6E
"Since we purchased our Eagle Cap 1160, we have a storage cabinet under the coat closet next to the side entry door.  The cabinet has room for any additional shoes or boots that we have with us.  We always bring our high top rubber rain boots (living in Alaska they're a must) and we store these in the rear exterior cargo storage area.  Most of the time the shoes or boots we were wearing during the day end up by the door as we slip them off when we enter the camper.
Although this all sounds well organized, I cannot count the number of times I've stepped on or stumbled over shoes or slippers just outside the overhead when climbing out of bed.  I guess this is just one of those challenges of having a truck camper… but a minor challenge." – Tom Warren, 2013 Ram 3500, 2013 Eagle Cap 1160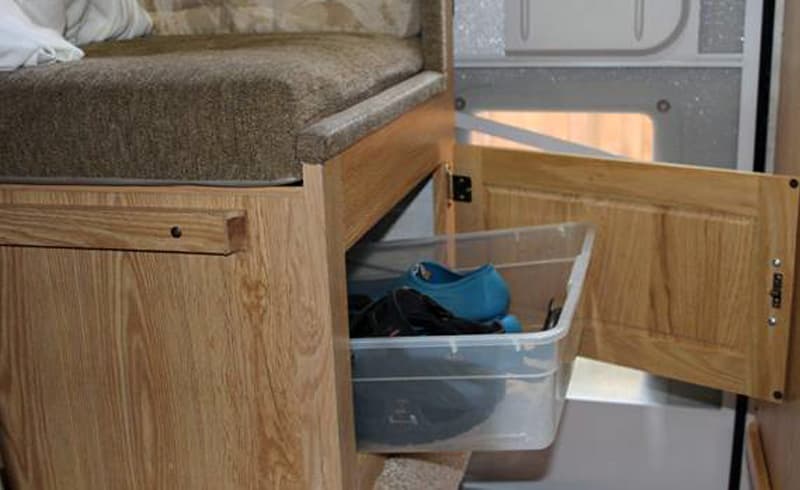 Above: Plastic storage box holds my shoes and swim fins
"I wear a size 12 6E shoe, so my shoes are stored in the cabinet under the dinette seat near the back door.  The forward dinette seat houses the furnace.  I found a plastic storage box that slides into the cabinet and will contain the four pair of shoes I like to bring along; leather walking shoes, tennis shoes, mesh water shoes, and water sandals.
On the side of the storage box we store my wife's swim fins.  The box is helpful in catching all the dirt and debris that is collected on road trips.  Just slide it out and vacuum it clean.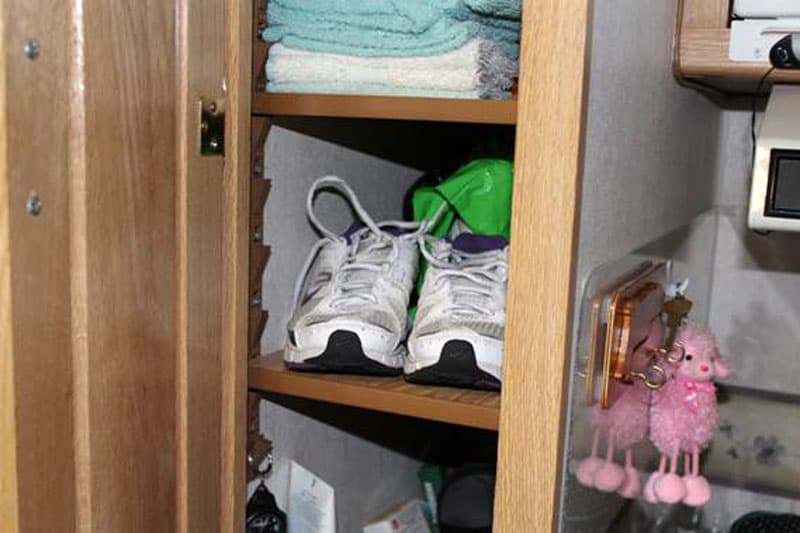 Above: Elaine keeps her size 5 shoes in the cabinet by the stove – 4 to 6 pair can fit
In our Eagle Cap there is a floor to ceiling storage cabinet sandwiched between the bathroom and the stove/counter top.  The top half of the cabinet has four adjustable shelves and they are quite deep.  I use the bottom shelf for my personal take-along stuff and my wife uses her shelf for shoes.  She wears a size 5 shoe so it easily accommodates about six pairs of shoes.
I tend to be the lazy one and don't always put my shoes away at the end of the day.  Hey, let's be logical, I might wear'em again tomorrow.  But, I'm usually reminded that neither one of us wants to wake up in the middle of the night and trip over a size 12 shoe!" – Roger and Elaine Odahl, 2008 Dodge Ram 3500, 2004 Eagle Cap 950
"We put shoes in the cabinets above the dinette.  I can stack two pairs on top of each other.  My husband's shoes have to go in sideways and mine fit straight.  We can carry four pairs each; tennis shoes, hiking, Chacos, and slippers." – Jennifer House, 2015 Ram 3500, 2016 Eagle Cap 1200
"We have a 10 slot canvas shoe holder that we hang on the rod in our dry bath." – Carol Schoenwetter, 2006 2500HD GMC, 2005 Lance 1030
"We have a side entrance and, when we're parked, we kick off our shoes as we come in and leave his on one side of pathway and hers on the other.  We generally only travel with one pair sneakers/hiking shoes, one pair sandals, and one pair slippers each.  Spare pairs are tucked between the mattress and walls on our respective sides of the bed." – Chuck and Jodie Ramsey, 2012 Chevy Silverado 3500, 2014 Adventurer 116DS