Footwear storage can be a real challenge in a truck camper.  Not only do most of us bring three to four pairs of shoes, sneakers, sandals, and boots, but these items scan be quite large.  Complicating things more is the fact that footwear can get seriously dirty.
With this in mind, TCM reader, Janet Manis, sent in a fantastic Question of the Week, "Where and how do you store shoes in your truck camper?"  Fellow truck campers responded with some fantastic ideas that are sure to move boots, shelf shoes, and sneak sneakers into new and better locations.
"There is a great place under the shower pan in our Northstar.  It is near the door and is perfect for storing shoes." – Jay Knight, Northstar Adventurer
"We store the everyday shoes, hiking shoes, casual shoes, and sandals in the compartment under the dinette.  Dress shoes that we don't use as much go in the compartment under the bed.  We usually take more shoes along than we need." – Allen Brummel, 2008 Dodge Ram 1500, 2016 Northstar 650-SC
"I pulled out all of the drawers to see what was behind them and found that there were spaces at the floor level behind the light weight panels.  I carefully removed several of the panels and we can store quite a few pairs of shoes in these previously unused spaces.
We keep a kitchen type brush just inside the door to clean off dirty boots prior to entering, and a dishpan in the shower for the really dirty ones.  You gotta love truck camping!" – Dave Miller, 2015 Ford F350, 2003 Bigfoot 10.6E
"We purchased a soft rubber entry way mat on Amazon that spans the entry way and we put two pairs of shoes there.  The remaining shoes are kept in the extended cab of the truck." – Ed Graf, 2006 Ram 2500, 2014 Arctic Fox 865
"Back when we owned a simpler Cascade camper, there was an access door to the pickup box in front of the wheel wells.  I miss that.  We now store often-used footwear in a compartment under a dinette seat.  Seldom used boots land in an outside storage compartment." – Philip Tron, 2009 Chevy 3500, 2012 Lance 1050
"We each have a plastic bin with a cover.  The bin can sit outside right by the door for easy access.  It's got a tight-fitting lid so your shoes don't get wet if it rains, and they can be rinsed off if they get dirty.  The bins go in the back seat of the truck as we go down the road." – Laurie Brokaw, 2006 Ford F-250, 2010 Lance 850
"Hi Janet, I hear you.  Those hatches that gave access to the truck bed and that little space under the table leg were our two favorite spots for stashing boots and shoes. We have even made two little screen windows so we could leave those access hatches open in hot weather.
The next option I might suggest is shoe pockets along one wall in the long closet.  We only use about half of ours for hanging long stuff and have put shelves in the other or use those hanging squares for the boots.  If you end up making them you can make the squares large enough for even the largest boots.  I'd use something washable while I was at it.  Good luck and let us know what you decide!" – Charla Schapfel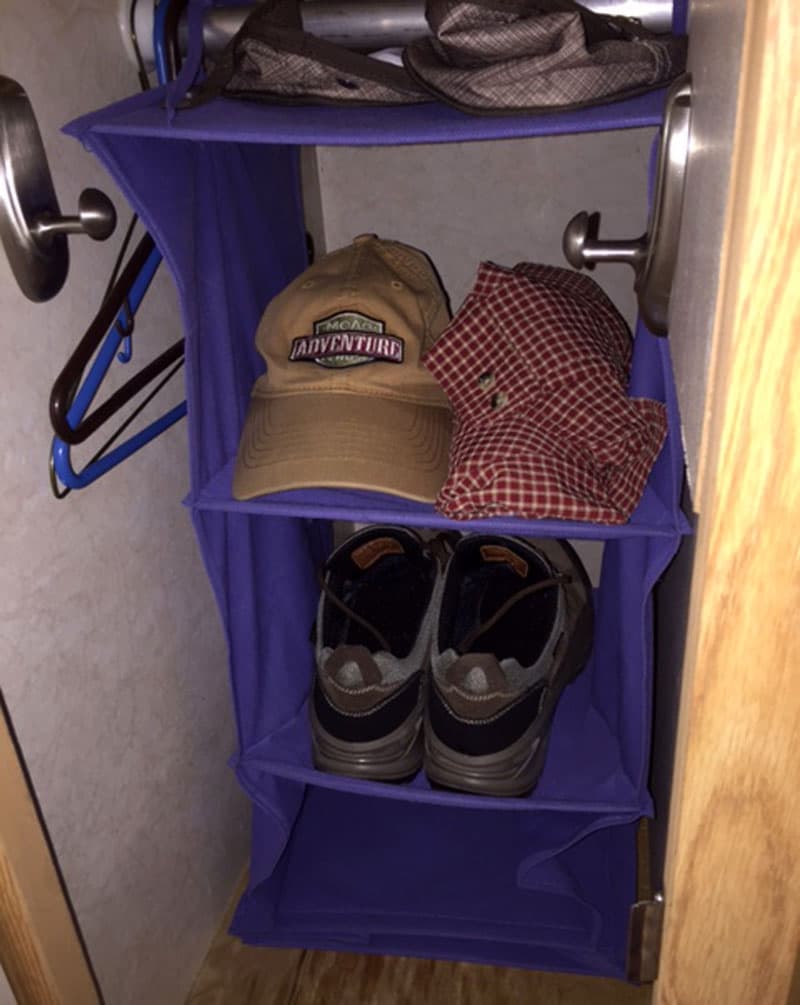 "We have several options for shoes.  If we are on an extended trip that requires several sets of shoes, we store them in a covered plastic bin.  Jackets and rain gear go in a second, stackable bin.  The bin is kept in the truck's back seat area, so we always have our shoes if we leave the camper at a campsite.
In the camper we can store shoes in the closet using a hanging cloth organizer with six compartments from IKEA.  It not only holds several pairs of shoes, but is good for rolled up light jackets and shirts, as well as a big bag of chips.
We also can store hiking shoes and boots in the wheel wells of the truck accessed through small doors in the camper's side walls.  At night we just put the next day's shoes on the floor in an out-of-the-way corner under the table, since we don't have any shoe nibbling pets." – Dave Thalman, 2013 Ram 2500, 2013 Northstar 850SC
"We bought a three drawer plastic case at Walmart.  It fits nicely in the bathroom near the rear door of the camper." – Dave Duval, 2013 Ford F350, 2014 Northstar Igloo 9.5
"My riding boots go along side the toilet, one on each side.  A pair of sneakers could fit on top of them.  I leave my sandals under the table.  Lynn puts her shoes in her closet." – Frank Niehus, 2007 Ford F350, 2007 Arctic Fox 1150
"Shoes are a problem.  We store ours in a shopping bag, and they travel in the back seat of our truck.  This is not convenient, but it's the only solution that makes sense to us so far.  Having a small camper with no obvious accommodation for shoes, we will read reader responses with interest." – Gerry Reeves, 2014 Ford F-250, 2014 Lance 825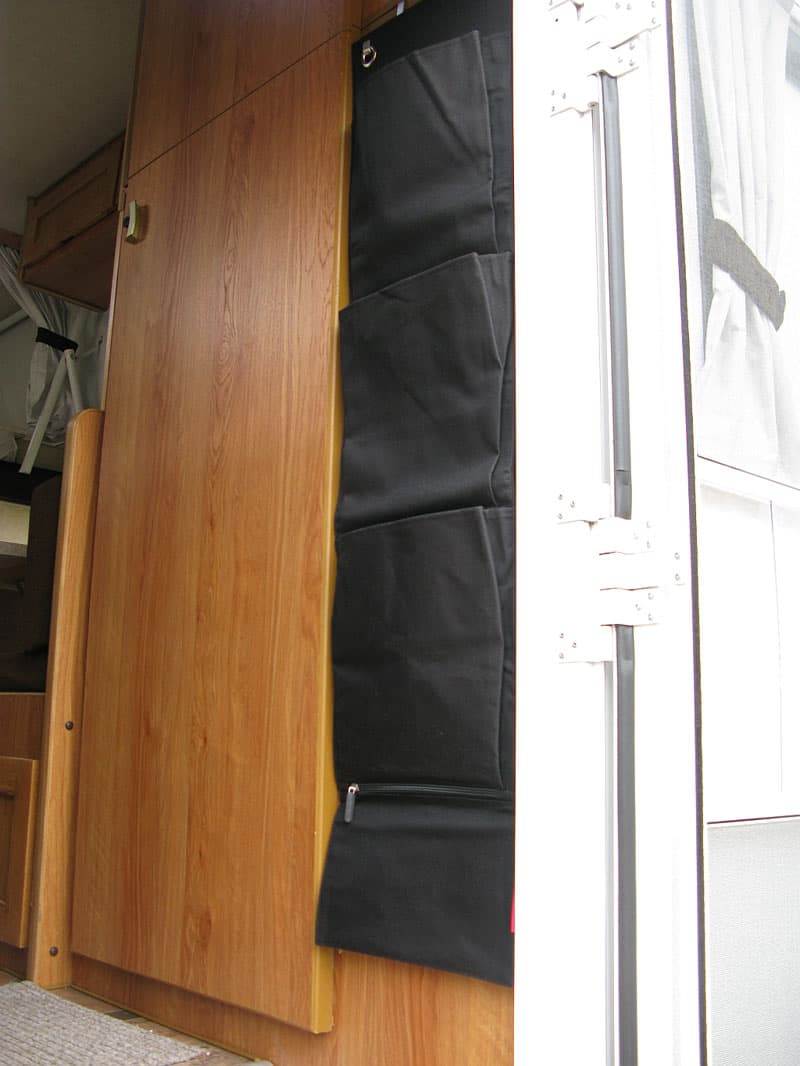 "We hung a fabric organizer near the entry door.  The upper compartments are used for shoes, and the lower compartment is a wonderful place for the remote and other small stuff, like a shoehorn.  No more clutter on the floor entering and leaving the camper." – Joerg Walzenbach, 2008 Chevy Silverado 2500 HD, 2011 Outfitter Apex 8-LB