The camper was built new with a standard office refrigerator that had no special latch like camper refrigerators do.  They loaded up for their first trip out and on the first left turn the refrigerator emptied itself all over the floor.  This included a dozen eggs that all broke and covered nearly the entire floor.  I guess it was quite a mess.
The worst spill that happened to us was the time my wife forgot to fasten the seat belt that held our water jug in place.  It didn't really spill much, but could have taken out a side window if it was a couple inches higher." – Vince Kurpan, 2012 Ford F150, Panther Sierra
"For our first camper many years ago we got a beautiful set of Corelle dishes.  Do you know how many shards of glass come out of a Corelle set?  We found them for years after what we thought was a good cleanup.  Lesson learned?  Corelle is glass.  We use paper on the road and keep a recycle bag of paper for fire starter.
We also learned that a small bungee cord wrapped around the two door handles on the clothes closet in the Chalet will keep the items from flying out." – Anne Brown, 2013 Ford F450, 2013 Chalet TS-116 triple slide
"A brand new computer.  It didn't really fall, but was just as broken.  We had new air bags and went mountain climbing.  It was steep and lots of bounces.  I left the computer on the floor, just so it couldn't fall.  When we got in, the computer had slid all the way to the back because the road was so steep.  One of the bounces must have been too much and she never worked again.  My laptop is now packed between two pillows." – Lois and Dan Zell, Ford F350, 2010 Lance 1040
"My worst mess was not from something falling, but it did result in a mess oozing from the refrigerator.  We arrived home from a trip to find beer all over the floor below the refrigerator.  When we opened the refrigerator, beer was everywhere inside.
I had placed several bottles on their side on the top shelf with a couple of them pointed in opposite directions.  This allowed the sides of the caps to touch.  Due to the bouncing and jostling of the camper, both of the caps unscrewed and allowed beer to spew everywhere.  The moral of the story is, don't lay bottles of beer on their side in a camper refrigerator.  It works every time." – Jim Finck, 2001 Chevrolet 2500HD, 2004 Lance 1010
"In all our years of RVing we've hardly ever had anything fall because I keep everything put away in containers and use bars where needed for traveling.  Our first time with the Lance though we heard a very loud thud and found the heavy, deep pantry drawer on the floor.  That door doesn't like to latch well.  Luckily it didn't do any damage.  I still don't know why that one drawer is made out of metal and so heavy.  We are the second owners, so it could be a modification." – Connie Westbrook, 1997 Ford F250, 1997 Lance Squire 5000
"Just about everything in our back two-door closet fell out until we started using a small bungee cord to tie the handles together.
Everything in the medicine cabinet in the bath has fallen out.  We started using rare earth magnets for their strength as well as inside shelf ledge expanders.  I'm sure there will be more to come." – Greg Ruebusch, 2001 Chevy 2500HD, 2015 Northern Lite 8-11
"Nothing, which is one of the many benefits of owning a pop-up truck camper." – Bob Meigs, 2011 Ram 1500, 2012 Four Wheel Camper Raven model
"We once had a battery operated nine-volt clock come off a wall.  We found pieces of the plastic lens on the floor, table, seat, and comforter.  We didn't find the clock itself until we got home and took the bed apart to wash the linens.  There it was, wedged between the mattress and the headboard!  Did I mention that we had to perform an emergency braking maneuver?" – John Desjardins, 2007.5 GMC 2500HD, 2002 Globetrotter
"We have lost food out of the refrigerator and dishes out of the cupboard.  Our cupboards have airplane style hatch locks and we need to have a pre-flight checklist before taking off.  This includes items outside the camper like tie-downs during and after driving a rough road." – Ted and Joan Berger, 2001 Dodge Ram 2500, 2012 Northstar Laredo
"Drawers!  The manufacturer's plastic catches broke very early on.  I have tried everything from velcro to other types of stops and latches.  So I usually take the drawers out and lay them on the cabover bed prior to traveling." – Neal Williams, 1996 F350 Ford, 2000 Bigfoot 2500
"A brand new portable video tape recorder was stored in the upper cabinet and we thought it was secure.  While traveling heard the KA-BOOM and the recorder was laying broken on the floor.  Never again will heavy items be stored in cabinets including canned goods.  Now, they are either on the floor or on the bed wrapped in a towel so they do not slide around.
I have also have experienced jugs of milk and yogurt falling out of refrigerator while traveling.  I bought the refrigerator door locks.  They failed.  Then, I bought piano wire to secure a lock to eye hook across the face of refrigerator door.  Any empty spaces in the refrigerator are filled with towels to stop items inside from sliding around." – Vic Smith, 1980 Ford F250, 1980 Vanguard 810SW
"We started bungee cording the refrigerator and freezer shut after going over a corrugated road and having the refrigerator door jump off depositing the contents on the floor." – John Beyer, 2006 Ford F350, 2016 Arctic Fox 990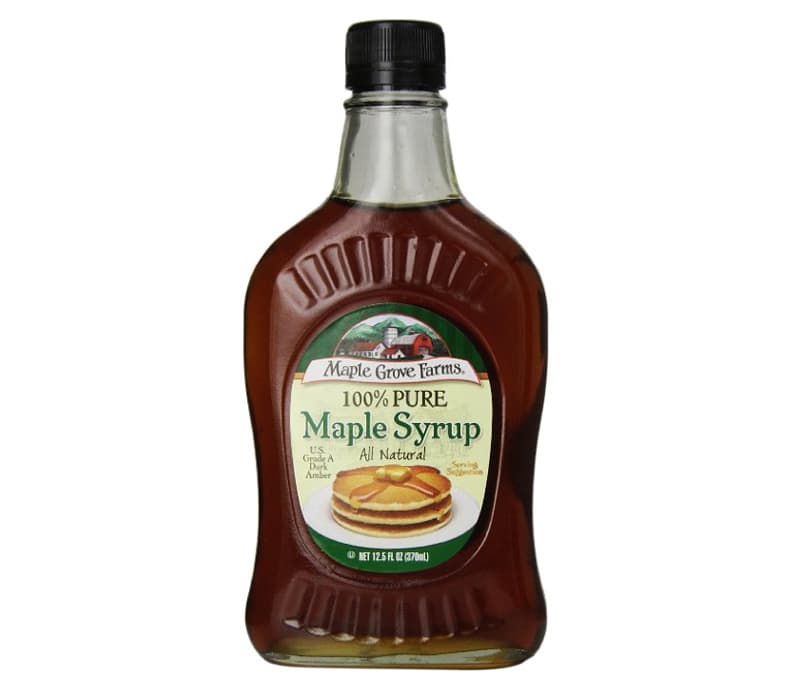 "A near full bottle maple syrup in the top cabinet tipped and the pour spout wasn't snapped into place.  I had syrup on the shelf, under other items, and it found its way through a small crack down the wall.
Lesson learned: check all lids and spouts, and put liquids into a secondary container or a zip lock bag.  This applies to refrigerators also." – Rick Herrington, 2006 Ford F350, 2006 Host Tahoe DS